Last Updated on January 20, 2022
Melvin Kaminsky, best known as Mel Brooks, was born on June 28, 1926, in Brooklyn, New York. Brooks is a multi-hyphenated artist. He is an actor, director, writer and producer. He directed several iconic film comedies, which include The Producers, Blazing Saddles, and Young Frankenstein.
Brooks is also a recipient of Academy, Emmy, Grammy, and Tony Awards. He was the husband of four decades to the late Anne Bancroft.
Early Years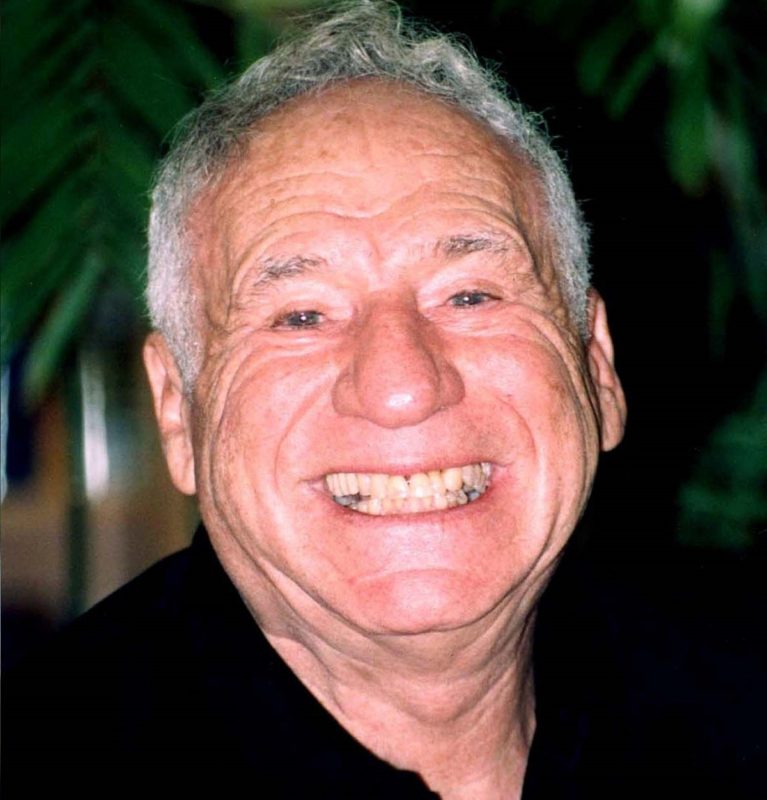 Mel Brooks was born in Brooklyn, but grew up together with his three older brothers in Williamsburg. His parents were Max Brooks and Kate Brookman Kaminsky. When he was two, his father died of kidney disease. Of his father's sudden demise, an older Brooks noted in an interview that he was outraged. He was angry at the world. And so, much of his comedic work was based on anger and hatred.
When he was young, Brooks was a sickly boy. He was also small for his age. Thus, he was frequently bullied by his classmates. When he was nine, his uncle Joe, a cab driver who would chauffer Broadway doormen to and from Brooklyn, took him to see Anything Goes.
The tickets were given as a token of appreciation for his uncle's kindness. After the show, Brooks told his uncle that, without a doubt, he would be a part of the entertainment business. At 14, he learned how to play the drums with the guidance of Buddy Rich, who happened to be living in Williamsburg, too. In that same period, Brooks started to earn a living.
Brooks first attended Abraham Lincoln High School before transferring to Eastern District High School, where he graduated. He majored in psychology at Brooklyn College, but only for a year because he was drafted into the army. He served in the US Army as a corporal in the 78th Infantry Division.
After his service, Brooks made his way to be a part of show business as a comedian. In 1949, he partnered with Sid Caesar, another comedian, to write The Admiral Broadway Revue. A year after, they collaborated again to pen Your Show of Shows.
Iconic Comedy Films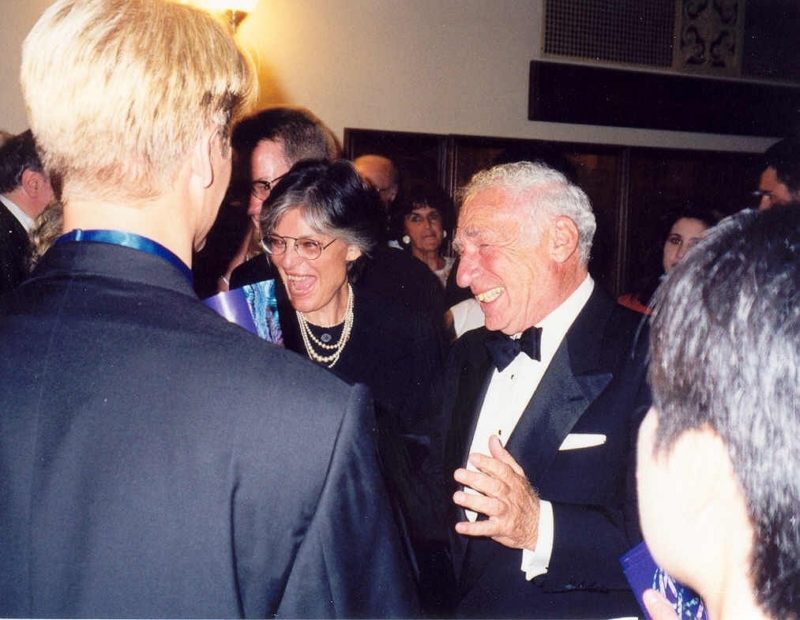 In the mid-1960s, on his own, Mel Brooks received recognition for his work at Get Smart, a TV series starring Don Adams. He also worked on an animated short film, The Critic, which received an Academy Award. In 1968, Brooks directed and wrote his first feature-length film, The Producers.
Zero Mostel and Gene Wilder starred in the hilarious, witty film about two greedy Broadway producers who intentionally produced a play in bad taste. Initially, the film failed to be a box office success, but it earned Brooks an Academy Award in 1969 for Best Screenplay. Decades later, The Producers would be cited as one of the best classic comedy films of the century.
In 1970, Brooks directed another film, Twelve Chairs, and simultaneously worked on the movie script for the animated version of the musical Shinbone Alley. Earlier that year, he also released the film Blazing Saddles, which is a parody of westerns he co-wrote with Richard Pryor.
The film gained domestic success. It earned nearly $120 million in the US alone. Then in the latter part of the year, Brooks unveiled yet another future comedy classic, Young Frankenstein. The film was an immediate hit.
Brooks continued to direct and write quality films over the next couple of decades. His body of work includes Silent Movie (1976), Spaceballs (1987), Robin Hood: Men in Tights (1993), and Dracula: Dead and Loving It (1995). Besides doing onscreen work, Brooks also founded Brooksfilms, his own production company. It produced several notable films like The Elephant Man (1980) and The Fly (1986).
Multi-Awarded Artist
Mel Brooks is part of an elite group of people who have earned multiple Academy, Emmy, Grammy, and Tony awards. He earned one Grammy award for the Broadway adaptation of his film The Producers. He got another one for The 2000 Year Old Man in The Year 2000, a comedy album.
He received an Emmy award for his written work on his variety show, and then decades later, three more statues for his portrayal of Uncle Phil on Mad About You.
In 2013, Brooks received the American Film Institute Lifetime Achievement Award. In 2016, he was the recipient of the National Medal of Arts award presented by President Barack Obama.
Personal Life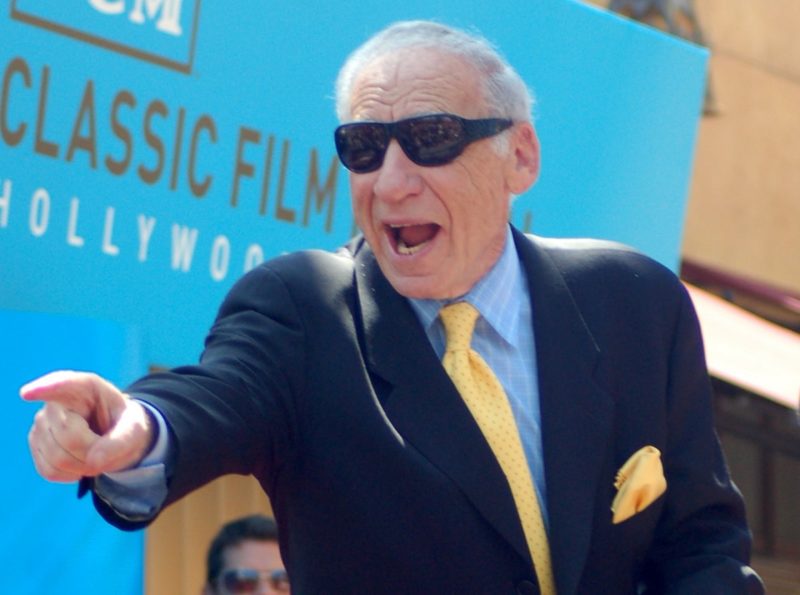 Brooks' first marriage was with Florence Baum. Their union lasted nine years (1953 to 1962) before they divorced. Together, they had three children.
Brooks met popular film, TV, and stage actress Anne Bancroft in 1961 at a rehearsal for a variety show. On August 5, 1964, Brooks and Bancroft got married in Manhattan. The two remained married until 2005 when Bancroft passed away. They had one son, Max Brooks, who authored the series The Zombie Survival Guide and World War Z.
Here are some of the best Mel Brooks quotes.
Mel Brooks Quotes
"I've been accused of vulgarity. I say that's bullsh*t." – Mel Brooks
"Tragedy is when I cut my finger. Comedy is when you fall into an open sewer and die." – Mel Brooks
"As long as the world is turning and spinning, we're gonna be dizzy and we're gonna make mistakes." – Mel Brooks
"Hope for the Best. Expect the worst. Life is a play. We're unrehearsed." – Mel Brooks
"The only thing we don't have a god for is premature ejaculation…but I hear that it's coming quickly." – Mel Brooks
"If you're quiet, you're not living. You've got to be noisy and colorful and lively." – Mel Brooks
"Humor is just another defense against the universe." – Mel Brooks
"I have always been a huge admirer of my own work. I'm one of the funniest and most entertaining writers I know." – Mel Brooks
"Every human being has hundreds of separate people living under his skin. The talent of a writer is his ability to give them their separate names, identities, personalities and have them relate to other characters living with him." – Mel Brooks
"Everything we do in life is based on fear, especially love." – Mel Brooks
"If presidents can't do it to their wives, they do it to their country." – Mel Brooks
"My mind is a raging torrent, flooded with rivulets of thought cascading into a waterfall of creative alternatives." – Mel Brooks
"It's good to be the king." – Mel Brooks
"They make us live in the crap, and now they're taking the crap away? No!" – Mel Brooks
"Look at Jewish history. Unrelieved lamenting would be intolerable. So for every ten Jews beating their breasts, God designated one to be crazy and amuse the breast-beaters. By the time I was five I knew I was that one." – Mel Brooks
"We mock the things we are to be." – Mel Brooks, The 2000 Year Old Man
"But I have bad taste with a deep fount of intellectuality." – Mel Brooks
"Comedy is protest. It's 'I beg to differ,' if you're fancy, or if you're Jewish, 'Hey, listen to this!'" – Mel Brooks
"Rhetoric does not get you anywhere, because Hitler and Mussolini are just as good at rhetoric. But if you can bring these people down with comedy, they stand no chance." – Mel Brooks
"You got to be brave. If you feel something, you've really got to risk it." – Mel Brooks
"Well, just being stupid and politically incorrect doesn't work. You can be politically incorrect if you're smart." – Mel Brooks
"Life literally abounds in comedy if you just look around you." – Mel Brooks
"Oh, I'm not a true genius. I'm a near genius. I would say I'm a short genius. I'd rather be tall and normal than a short genius." – Mel Brooks
"It's talent. Either you got it or you ain't." – Mel Brooks
"He who hesitates is poor." – Mel Brooks
"Anybody can direct, but there are only eleven good writers." – Mel Brooks
"My job is to go out and entertain the most people possible." – Mel Brooks
"Bad taste is simply saying the truth before it should be said." – Mel Brooks
"Look, I don't want to wax philosophic, but I will say that if you're alive you've got to flap your arms and legs, you've got to jump around a lot, for life is the very opposite of death." – Mel Brooks
"Every human being has hundreds of separate people living under his skin. The talent of a writer is his ability to give them their separate names, identities, personalities and have them relate to other characters living with him." – Mel Brooks
"I don't believe in this business of being behind, better to be in front." – Mel Brooks
"I have always been a huge admirer of my own work. I'm one of the funniest and most entertaining writers I know." – Mel Brooks
"I'm rather secular. I'm basically Jewish. But I think I'm Jewish not because of the Jewish religion at all." – Mel Brooks
"If Shaw and Einstein couldn't beat death, what chance have I got?" – Mel Brooks
"I'm still a horse that can run. I may not be able to win the Derby, but what do you do when you retire? People retire and they vegetate. They go away and they dry up." – Mel Brooks
"I've always loved songwriting, and I vowed to be a songwriter like Cole Porter when I was only 9 years old." – Mel Brooks
"My favorite expression is: When you go up to the bell, ring it? Or don't go up to the bell." – Mel Brooks
"It would be hypocritical of me to take issue with anything in questionable taste, seeing that I invented bad taste in films." – Mel Brooks
"There's no such thing as too far. If it works it's funny, if it doesn't work it's too far, it's stupid. Really there's no such thing as 'too far.' You're joining the politically correct when you use words like 'too far.' You don't want to join the army of politically correct." – Mel Brooks
"A cinema villain essentially needs a moustache so he can twiddle with it gleefully as he cooks up his next nasty plan." – Mel Brooks
"The audience. They see the name Mel Brooks, they want something really funny. They don't want to be moved; they don't want to be taught any lessons. But I get more letters for Twelve Chairs and Life Stinks than I get from any other movies, because people actually agree with the philosophy, or were moved, or they love the movie." – Mel Brooks
"My movies were not reaping the kind of emotional rewards that I wanted. I wanted them to be appreciated and they weren't. I didn't want the reviews to say, 'Mel Brooks has made another movie,' and you get the title somewhere in the second paragraph." – Mel Brooks
"There's a lot of things that I've done to stick into the box set. You never have it this good. I think people should bargain. They shouldn't just buy the set, it's a little expensive [anyway]. But they should say – I'll give them dialogue, I'm a good writer." – Mel Brooks
"The thing is to be brave and move the audience with you, instead of cater to the lowest common denominator, you know, slipping on a banana peel and falling on your ass. You got to move the audience a little further ahead in terms of their appreciation of what is comedy. It's complicated." – Mel Brooks
"If God wanted us to fly, He would have given us tickets." – Mel Brooks
"Everything starts with writing." – Mel Brooks
"My mother is very short – four-eleven. She could walk under tables and never hit her head." – Mel Brooks
"My job is to go out and entertain the most people possible." – Mel Brooks
"We rest our case on the production numbers." – Mel Brooks
"Critics can't even make music by rubbing their back legs together." – Mel Brooks
"My liveliness is based on an incredible fear of death. In order to keep death at bay, I do a lot of 'Yah! Yah! Yah!' And death says, 'All right. He's too noisy and busy. I'll wait for someone who's sitting quietly, half asleep.'" – Mel Brooks
"Look at Jewish history. Unrelieved lamenting would be intolerable. So for every ten Jews beating their breasts, God designated one to be crazy and amuse the breast-beaters. By the time I was five I knew I was that one." – Mel Brooks
"Comedy is serious – deadly serious. Never, never try to be funny! The actors must be serious. Only the situation must be absurd. Funny is in the writing, not in the performing. If the situation isn't absurd, no amount of joke will help." – Mel Brooks
"You're always a little disappointing in person because you can't be the edited essence of yourself." – Mel Brooks
"I don't know what to say so I'll just say what's in my heart…badoom, badoom, badoom." – Mel Brooks
"You want to be as smart as you can about being stupid." – Mel Brooks
"When I was a little kid, if somebody said they were thirty-five, I'd say 'Oooh, they're going to die soon'. But as I get older it doesn't mean a thing. You mustn't ever give in. Never give in to thinking you're old, because you're never old. Your mind, and I tell you this and listen to me carefully, your mind is never, ever old, it's eternally young." – Mel Brooks
"Cat angels are the reason there are no mice angels." – Mel Brooks
"Never retire! Do what you do and keep doing it. But don't do it on Friday. Take Friday off. Friday, Saturday, and Sunday, go fishing…Then Monday to Thursday, do what you've been doing all your life. My point is: Live full and don't retreat." – Mel Brooks
"If you're alive, make a lot of noise, because life is the very opposite of death." – Mel Brooks
"I don't think in terms of results at all. I think: what next insanity can I shock the world with?" – Mel Brooks
"I knew it… I'm surrounded by assholes!" – Mel Brooks
"Being short never bothered me for three seconds. The rest of the time I wanted to commit suicide." – Mel Brooks
"There's not enough bad taste! I LOVE bad taste! I live for bad taste! I am the spokesman for bad taste!" – Mel Brooks
"A brushstroke of vanity is good to add into the mix, to balance your timidity. We're all blessed with a lot of timidity and a lot of worry and anxiety, and vanity is a good antidote." – Mel Brooks
"All short women have a delayed fuse. Marry a taller woman: My wife was an inch or 2 taller than me; it's a sign of security." – Mel Brooks
"My mind is a raging torrent, flooded with rivulets of thought cascading into a waterfall of creative alternatives." – Mel Brooks
"I know how to make it a great musical. I've got to. It's like I've got to see it on stage." – Mel Brooks
"These men both publicly and privately have done so much for me. Without Nathan Lane and Matthew Broderick I would be living in a little motel just around the corner here, trying to make ends meet." – Mel Brooks
"A lot of music is mathematics. It's balance." – Mel Brooks
"Angel of Death ain't kissing me! I'm full of garlic!" – Mel Brooks
"When you come to Germany as a Jew you have an uneasy feeling, but I've always felt okay in Berlin." – Mel Brooks
"A cinema villain essentially needs a moustache so he can twiddle with it gleefully as he cooks up his next nasty plan." – Mel Brooks
"You're always a little disappointing in person because you can't be the edited essence of yourself." – Mel Brooks
"The brilliance of Max Brooks is that he always quotes authorities at the back of his books that never existed. Like a Russian professor he made up that validates a story or character." – Mel Brooks
"Anybody can direct, but there are only eleven good writers." – Mel Brooks
"I'll accept bad taste in a minute, as long as there's some great comedy minds and performances." – Mel Brooks
"I was in the army, and to me it was like a newsreel." – Mel Brooks
"If you stand on a soapbox and trade rhetoric with a dictator you never win." – Mel Brooks
"Immortality is a by-product of good work." – Mel Brooks