Last Updated on May 10, 2022
In every industry, particularly in design, it's inevitable for a trend that was "in" decades ago to come back and reign once more. This is the case with Memphis textures. Most people may have already seen this design before but are unaware of its name. If you're one of them, let's have a quick overview of the Memphis design.
Though it may sound like a perfect band name or a design movement, "Memphis" was inspired by a Bob Dylan song, Stuck Inside of Mobile with the Memphis Blues Again. Italian furniture designer Ettore Sottsass and his group of friends – also furniture designers – were in a meeting when Dylan's song played in the background. The meeting was about creating designs outside of the box. They proposed to push the boundaries of creative design where they would celebrate and create what others deemed as "wrong" in terms of design styles and concepts. The 'rebel' group adopted "Memphis" as their name to mark the significance of their assembly. And so, the Memphis Group was born – and the Memphis design followed.
At its core, the Memphis design is a combination of several existing design movements. Art Deco inspires the most prominent style – so there are always geometric figures present in Memphis textures. Another style they've adopted is Pop Art, which is evident in the way the design uses bold palettes.
The Memphis design peaked from 1981 to 1987. Its strong geometric figures, mix-and-match motifs, and clashing bright colors became the hallmark of postmodern 80s design.
Today, the Memphis design is back. Many designers in various fields and niches use a touch of Memphis design to create their own collection. The shocking pop of color and figures of the design can instantly draw the attention of many which make it an excellent style for advertising design concepts.
20 Popping Memphis Textures
If you're in need of cool, eye-catching Memphis design or wish to explore this bright, popping style, here are 20 of the best Memphis textures you can check out. Download any of these sets to save time, money and resources.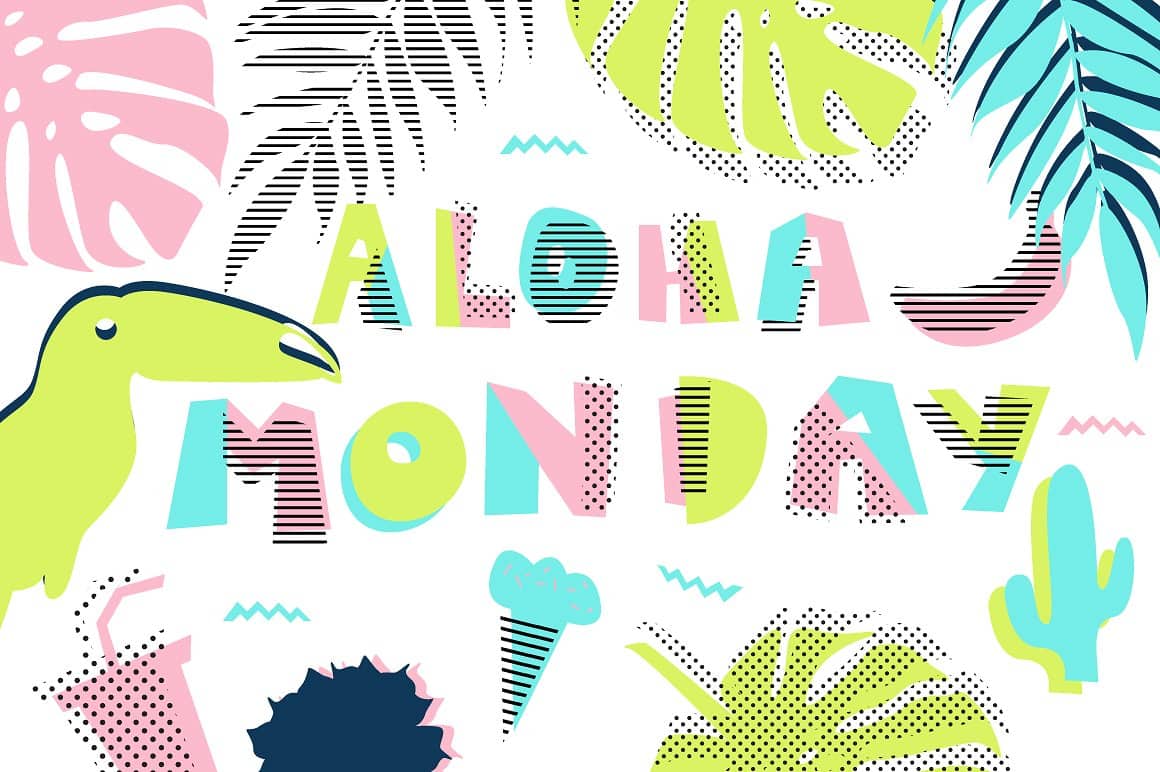 Designed by Ira Derenskaya, the Hawaii Vector Set contains Hawaii doodles with days of the week in Memphis retro style. Each design is in PNG format with elements and words on transparent background. The cool, bright, hand-drawn vectors are suitable for logos, social media posts, greeting cards and posters.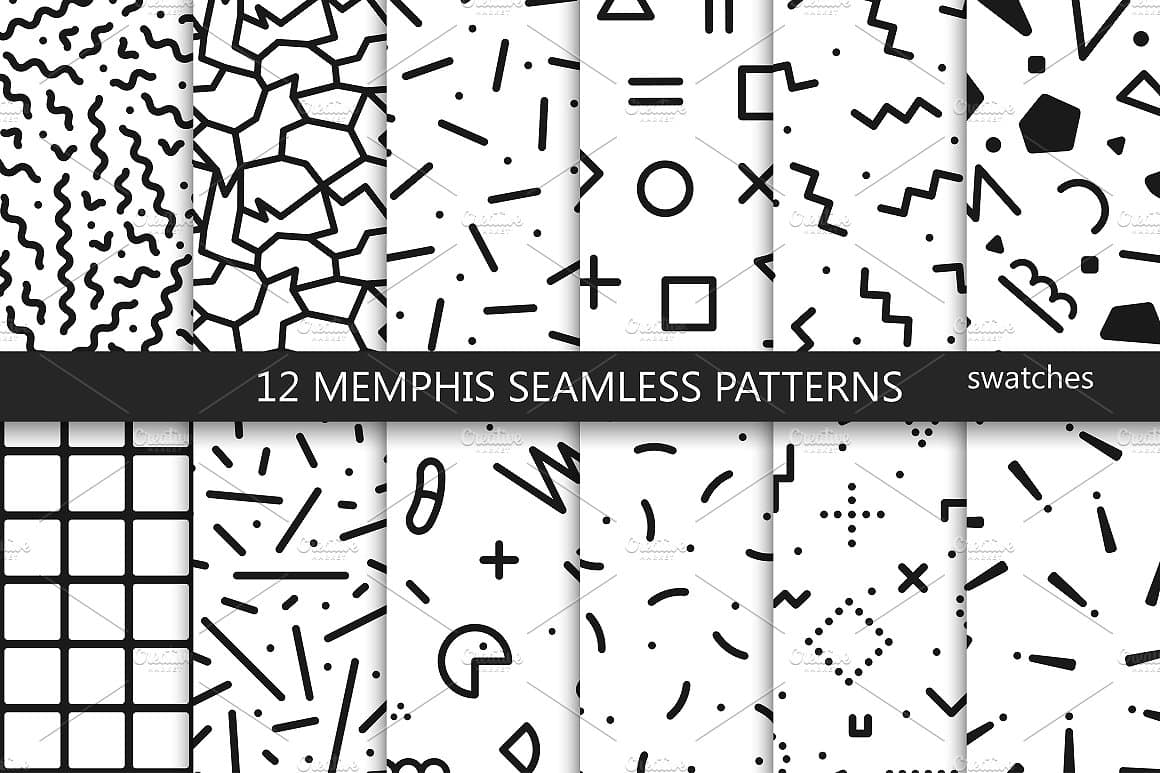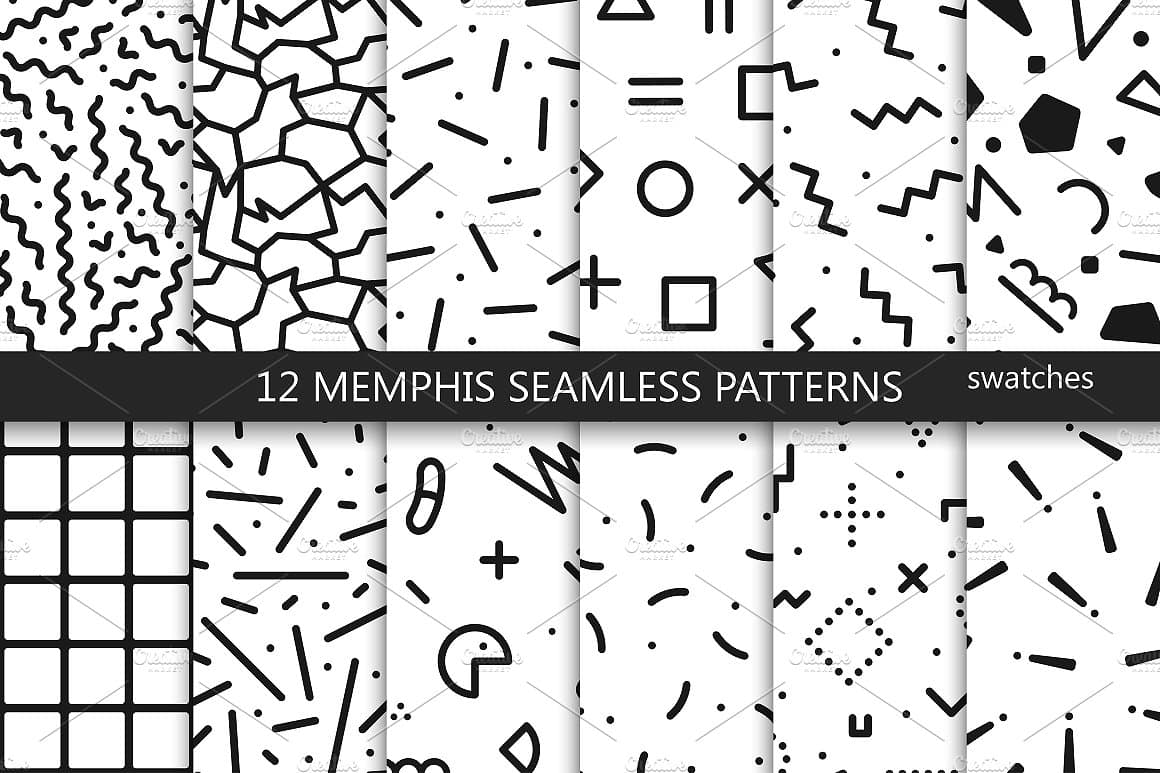 Designed by ExpressShop, the Memphis Seamless Patterns set includes 12 swatches of Memphis patterns with 80s to 90s fashion vibes in black and white textures. Each design is suitable for interiors, scrapbooking projects, photo albums, business cards, posters, wallpapers, wrapping papers and cloth designs, among others.
Designed by PonyHead, the Spring 80s set includes 31 pieces of patterns and prints in geometric and Memphis design style. The fresh, soft designs are ideal for merchandising projects, wrapping papers, greeting cards, personal blogs, online shops and so on.
 Designed by MalinaShop, the Memphis Seamless Pattern set includes three vector EPS and three JPG files of abstract geometric backgrounds in retro style of Memphis Italian design. Each design is ideal for banners, decorations, prints, wallpapers, cards, posters and social media backgrounds.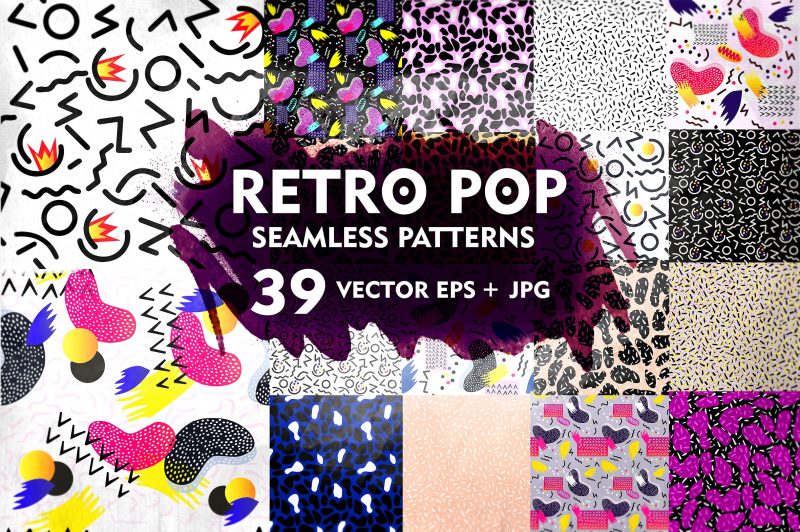 Designed by Katja Gerasimova, the Retro Pop Pattern Set contains 39 retro pop seamless patterns for personal or commercial use. Each retro aesthetic is suitable for textile projects, wedding invites, party and greeting cards, scrapbooking projects, wrapping papers, banners, backgrounds and wallpapers. The pack includes 39 hi-res JPG files and 39 easy-to-edit vector EPS files.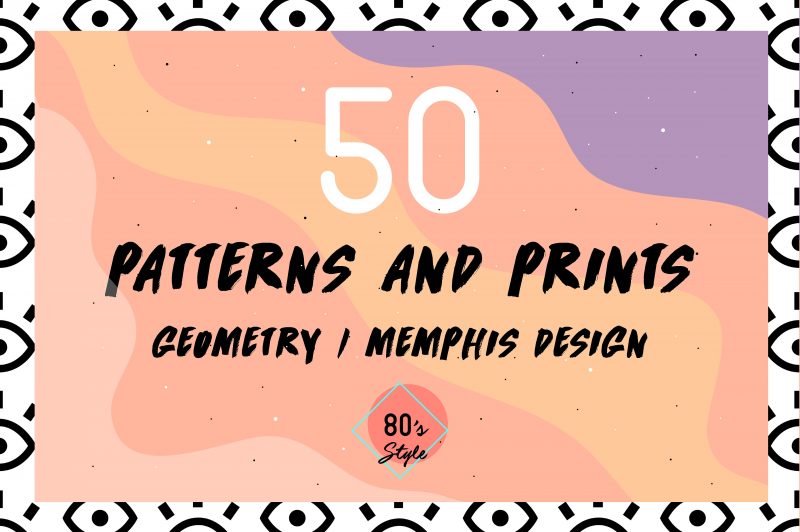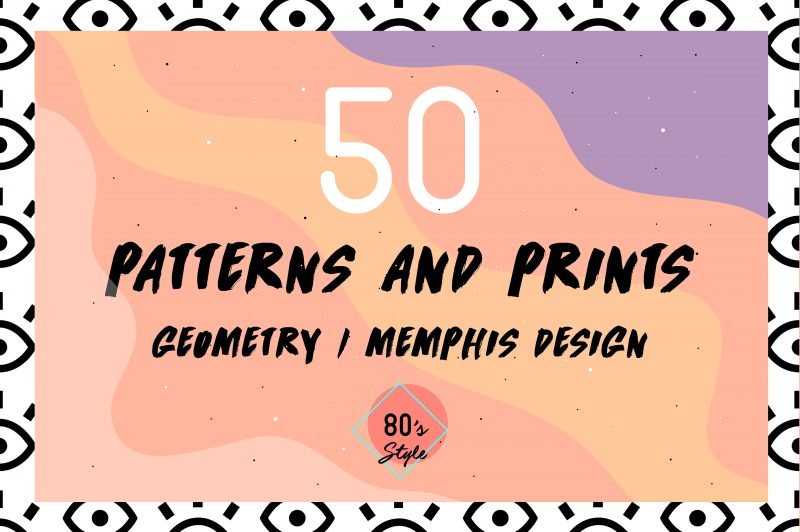 Designed by PonyHead, this 50 Geometric Patterns pack contains 35 seamless 80s vibe patterns and 15 futuristic backgrounds. Each design is ideal for retro style t-shirt designs, wrapping papers, posters, cards, personal blogs, e-businesses and magazines.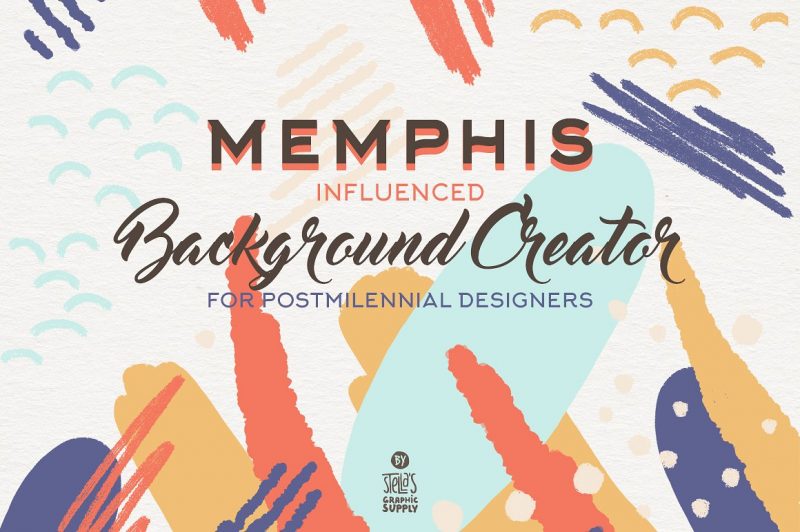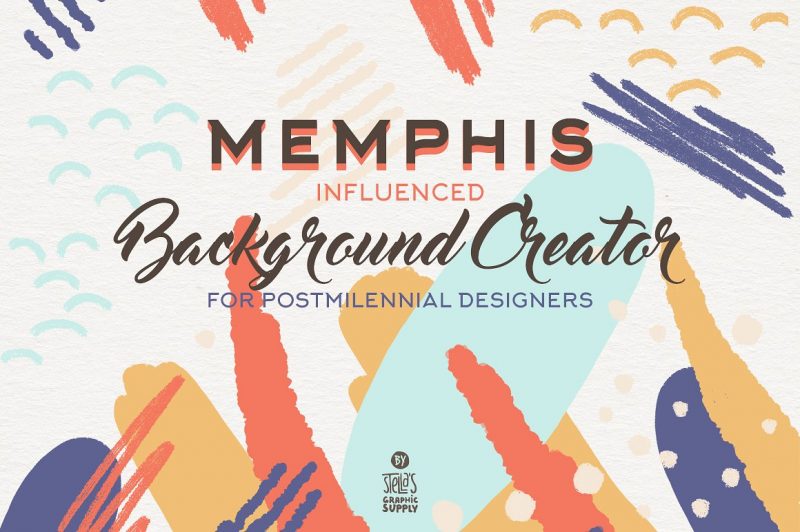 Designed by Stella's Graphic Supply, the Memphis Background Creator set includes 30 ready-to-use backgrounds in PNG format, a PSD file, 10 palettes and a how-to video on how to create Memphis backgrounds.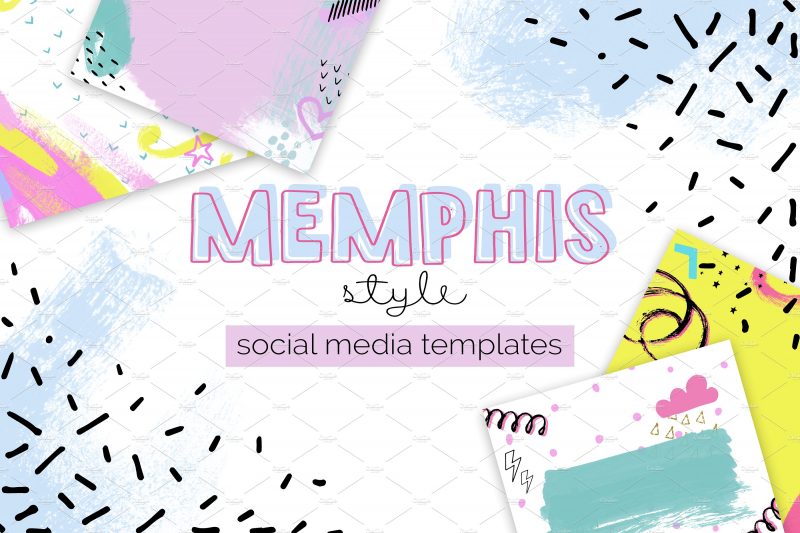 Designed by Elena Bobrysheva, the Memphis Style Templates set contains four square, different design templates suitable for advertising design projects, particularly on Facebook and Instagram. The pack contains instructions on how to create new content in less than five minutes.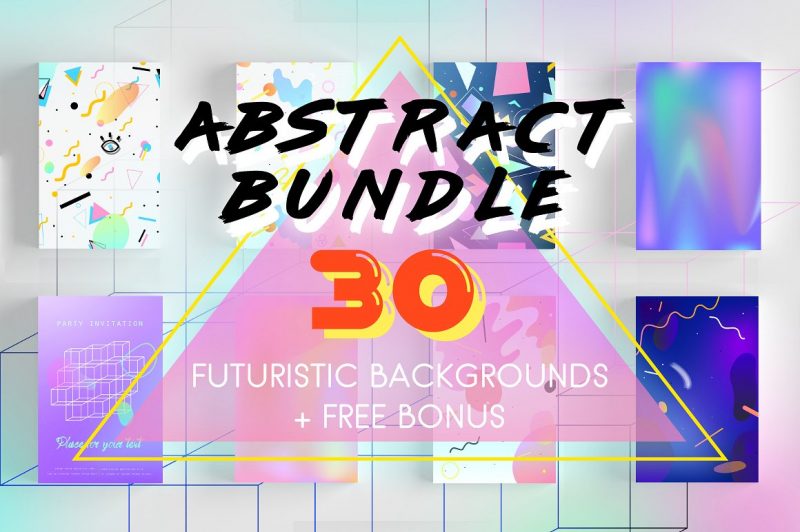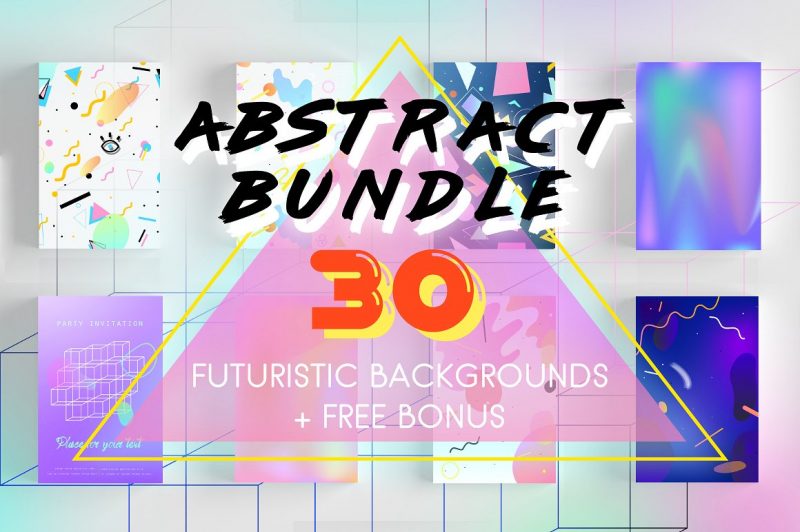 Designed by PonyHead, this Abstract Bundle includes 30 eye-catching backgrounds, prints and patterns in 80s, 90s and futuristic retro vibes. The design varies in gradients, holographic lights and geometric shapes. The bundle is great for any design project that requires cool, unique, retro features.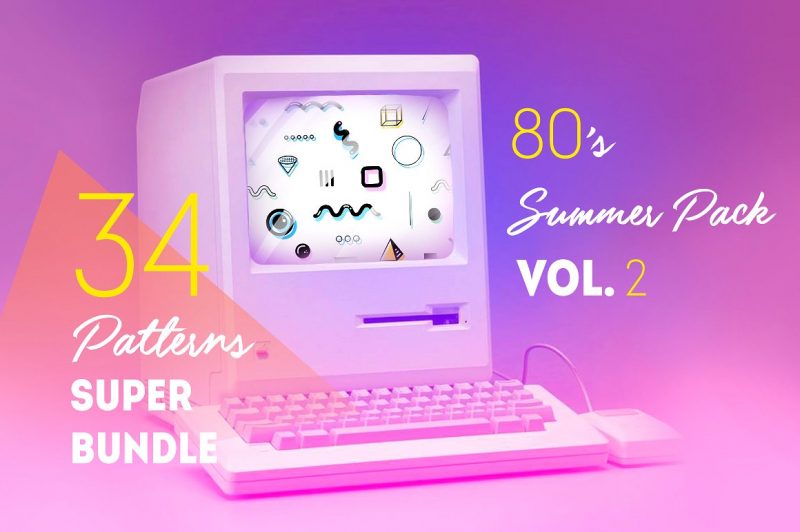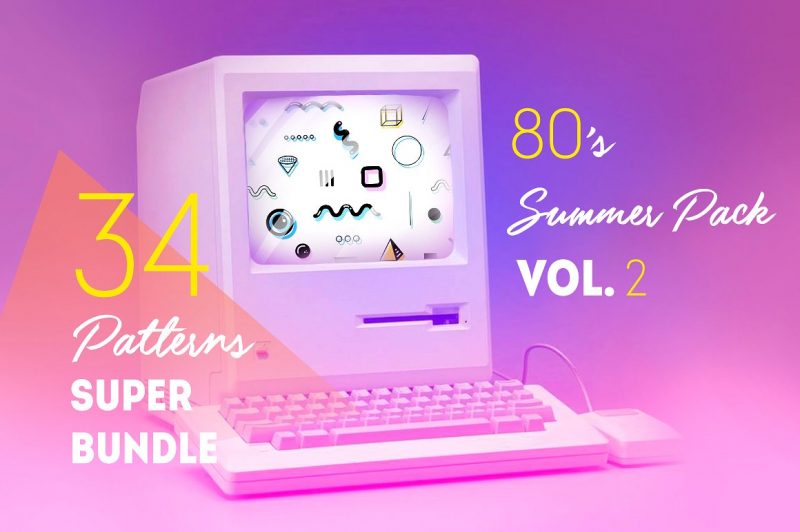 Designed by PonyHead, the Geometric 80s Style Patterns set contains 34 unique retro-style vector seamless patterns. The trendy, high-quality abstract designs are great for party and greeting cards, merchandise branding, e-zines, online shops and personal blogs.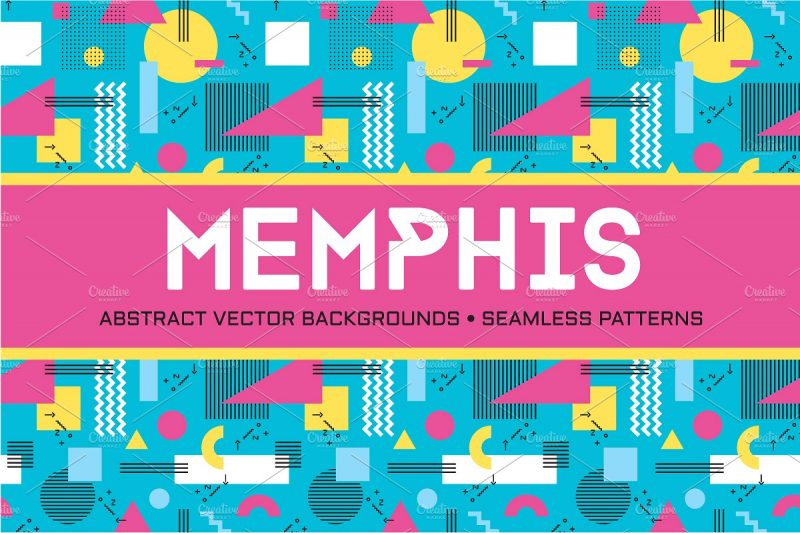 Designed by Sergey Korkin, the Seamless Patterns Memphis Style contains eight hi-res, JPG-format Memphis style geometric backgrounds suitable for practically every design project that requires a retro-vibe.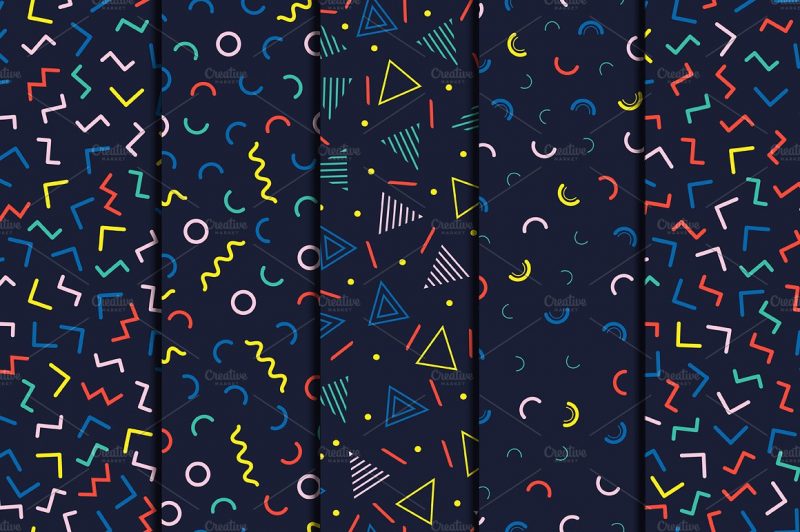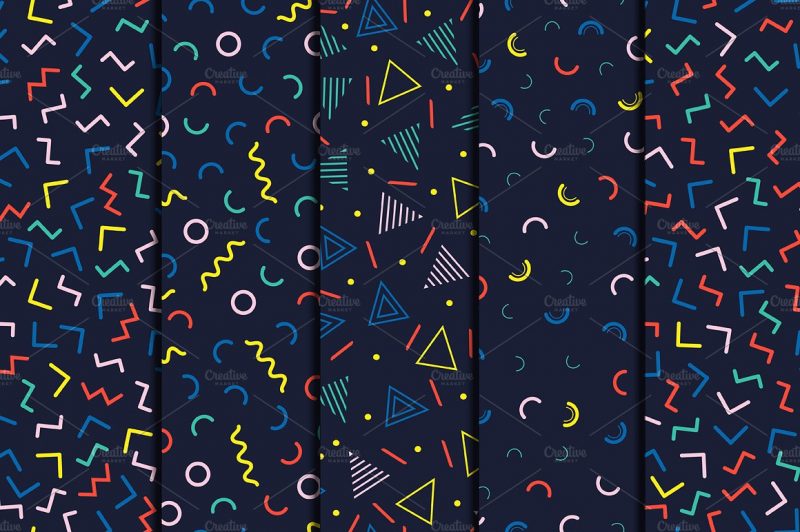 Designed by Krolja, the Memphis Geometric Pattern Set includes eight JPG-format seamless patterns oozing with 80s hipster fashion. The jumbled abstract design in black and white textures are great for printing, website design, scrapbooking patterns and tiling.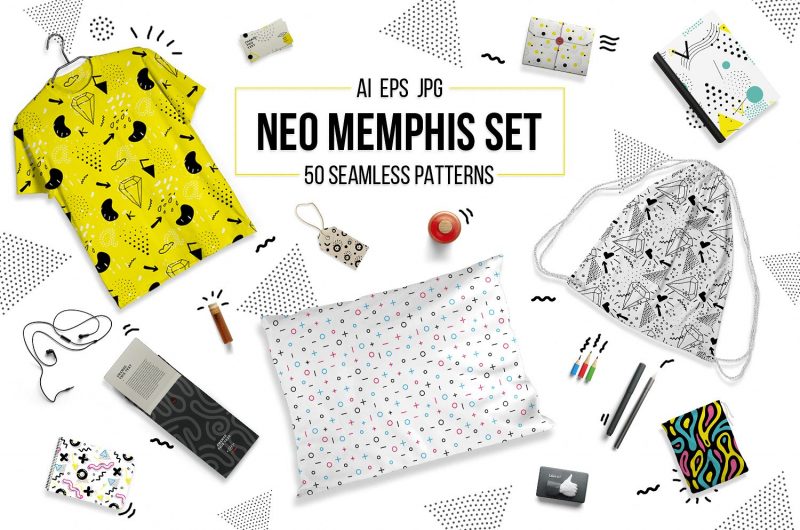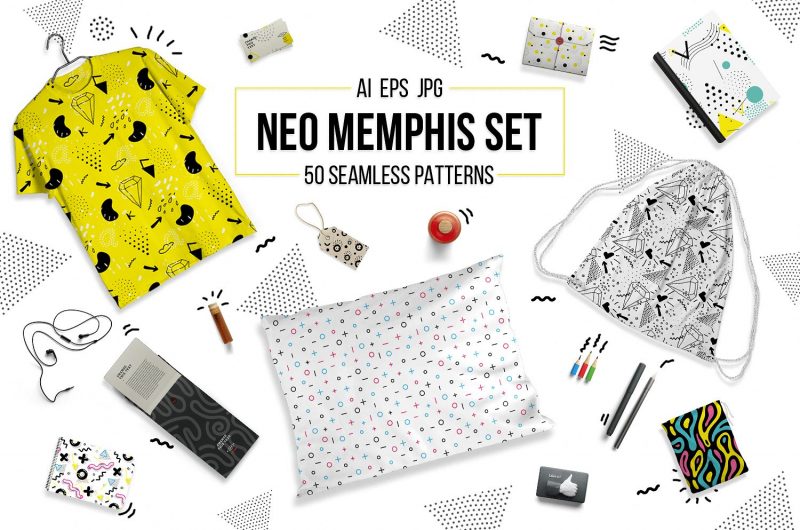 Designed by Softulka, the 50 Memphis Seamless Pattern Set contains 50 abstract patterns displaying 80s to 90s fashion styles. The colorful, geometric backgrounds set in Memphis style are ideal for stickers, banners, posters, greeting cards and social media posts.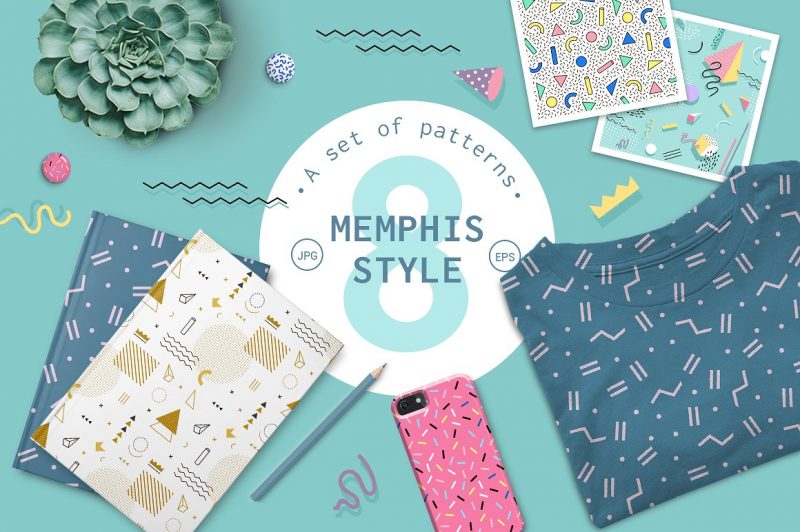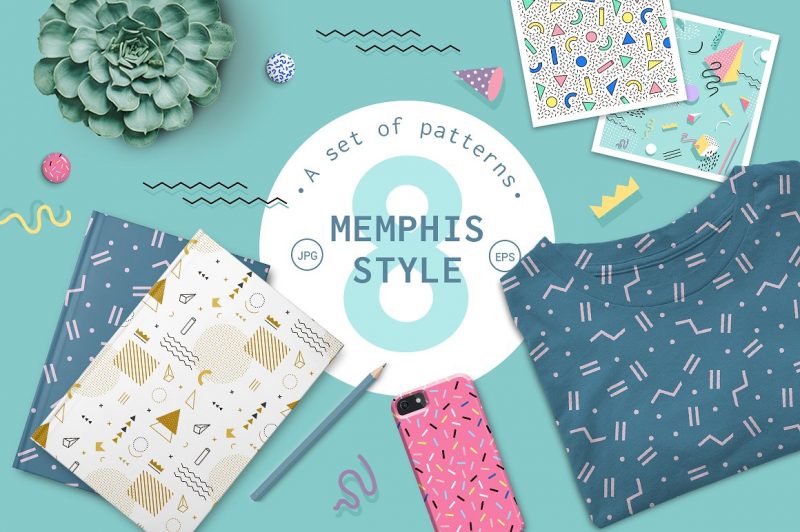 Designed by Fay Francevna, Geometric Patterns Memphis Style contains eight patterns in geometric elements. The designs are ideal for postcards, fashion branding, covers, icons, stamps, fabric designs and book covers.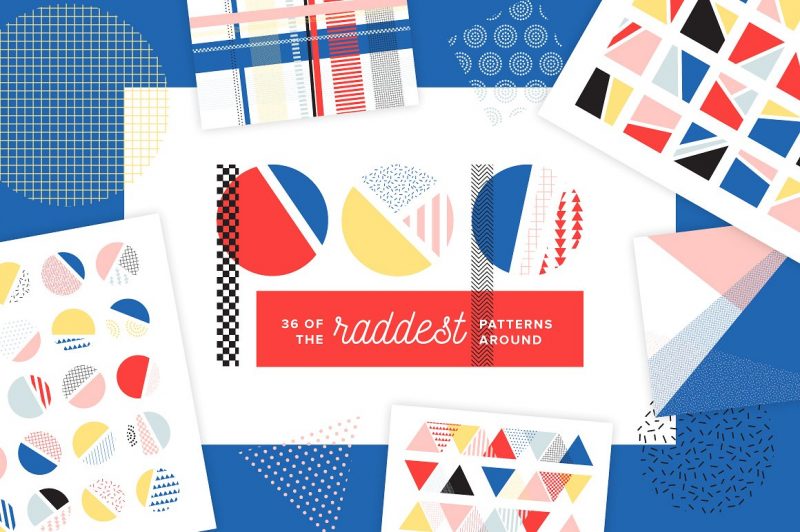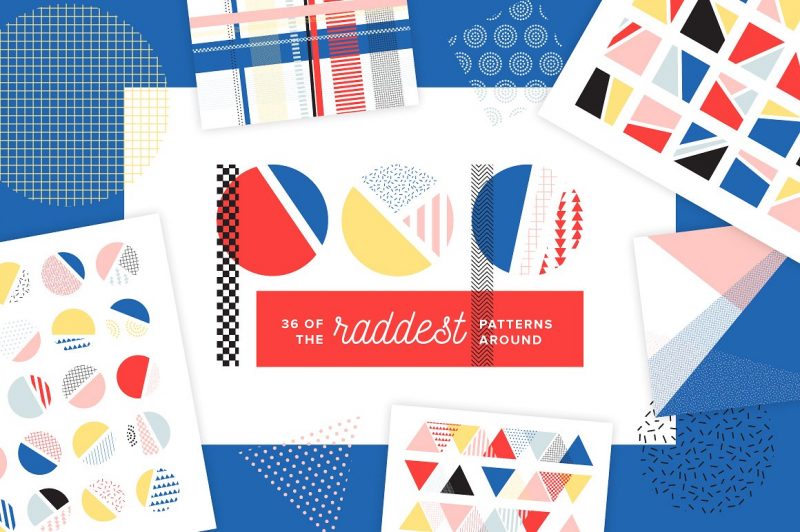 Designed by Anughara Design, POP Pattern Bundle includes 11 basic patterns and 26 color-blocked trendy patterns to suit all kinds of design projects. Each retro-style design is enabled for editing to aid in making custom-made creations with geometric designs.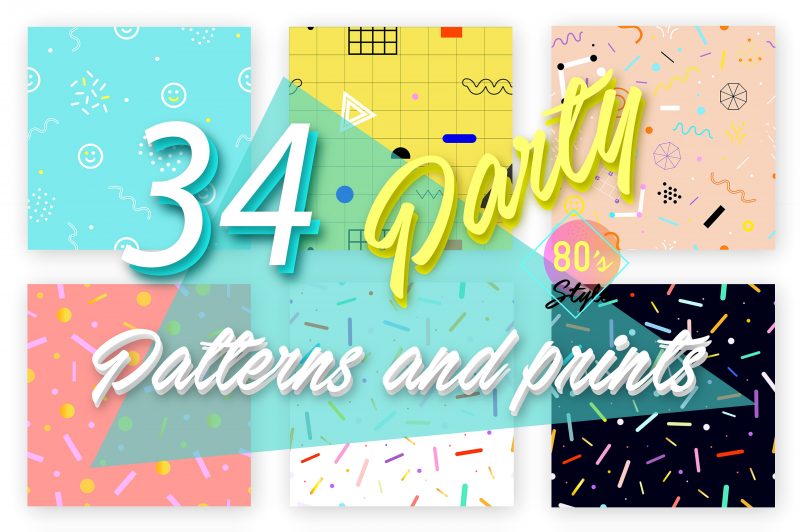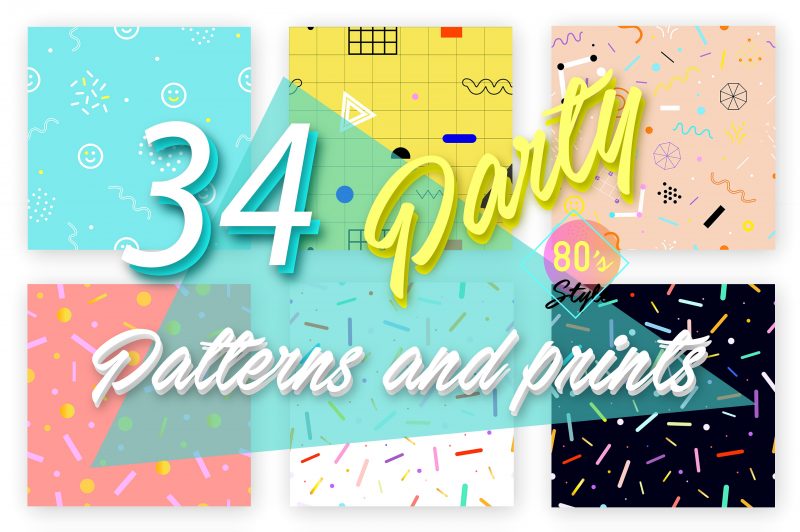 Designed by PonyHead, the 34 Party Patterns/Prints set includes 34 bright, colored, 80s style vector seamless patterns and prints. The trendy graphics in the pack easily add a retro vibe in any project design like gift cards, fabric designs, wrapping papers and personal blogs.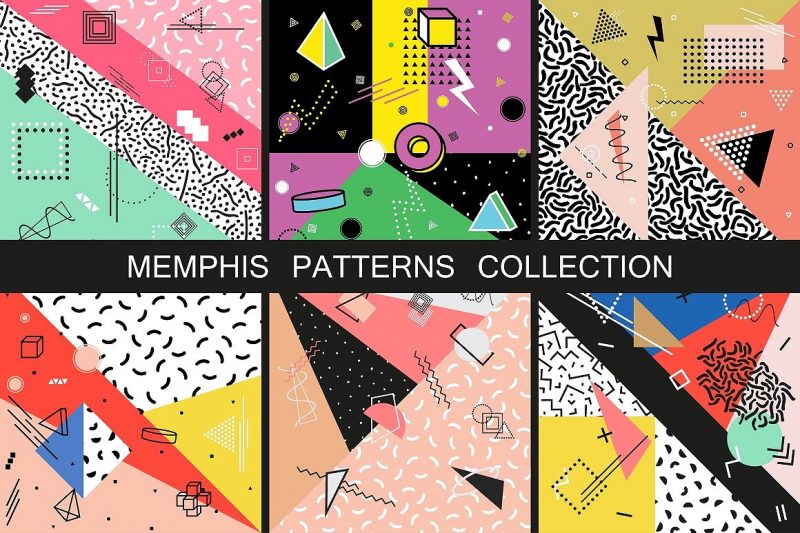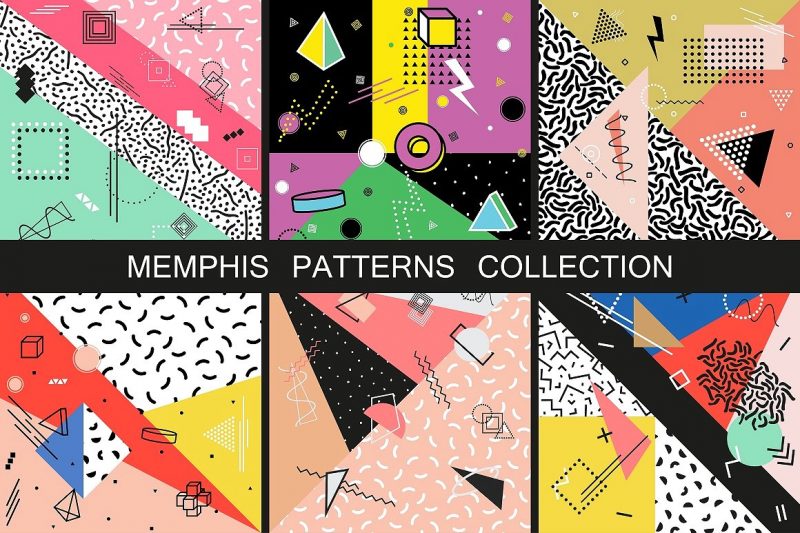 Designed by ExpressShop, the Memphis Patterns set is a collection of vector Memphis patterns in abstract design and geometric shapes. Each pattern exudes a strong retro fashion style. The bundle is suitable for festive décor projects, wallpapers, posters, album covers and clothing design.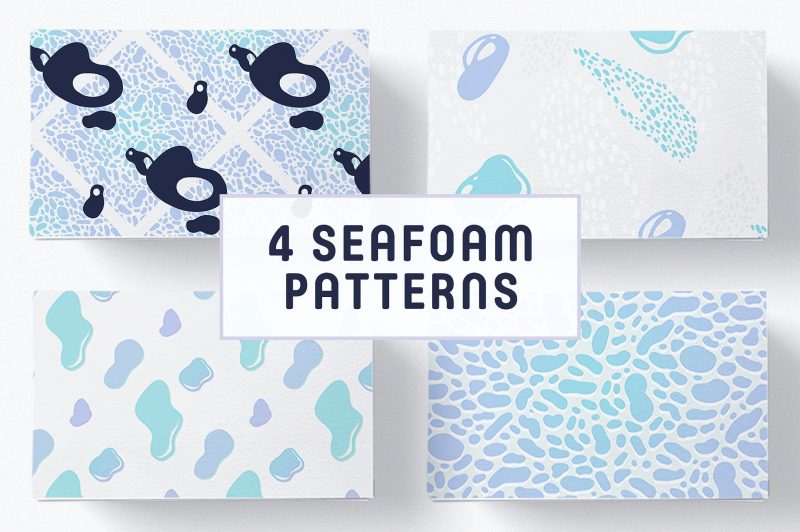 Designed by Crystals and Pixels, the 4 Seamless Seafoam Patterns set is a collection of seafoam inspired patterns best for gift packaging, marketing projects and clothing designs. Each pattern has transparent background for effortless customization.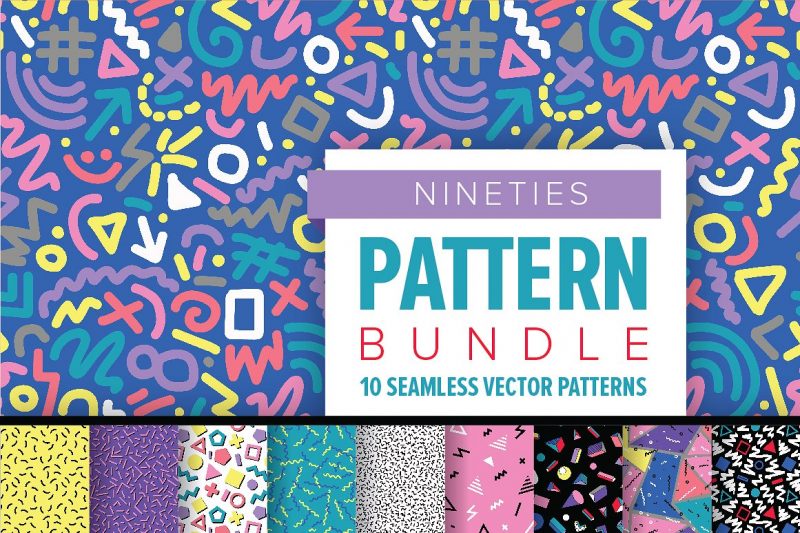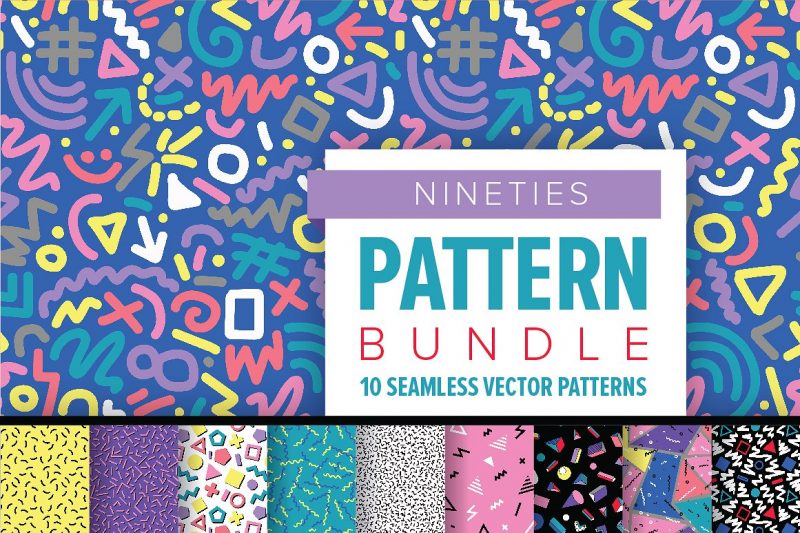 Designed by Anughara Design, NINETIES Pattern Bundle contains 10 patterns and global swatches in JPG and PNG formats. The unique patterns are great to add an unmistakable retro vibe to any graphic design project.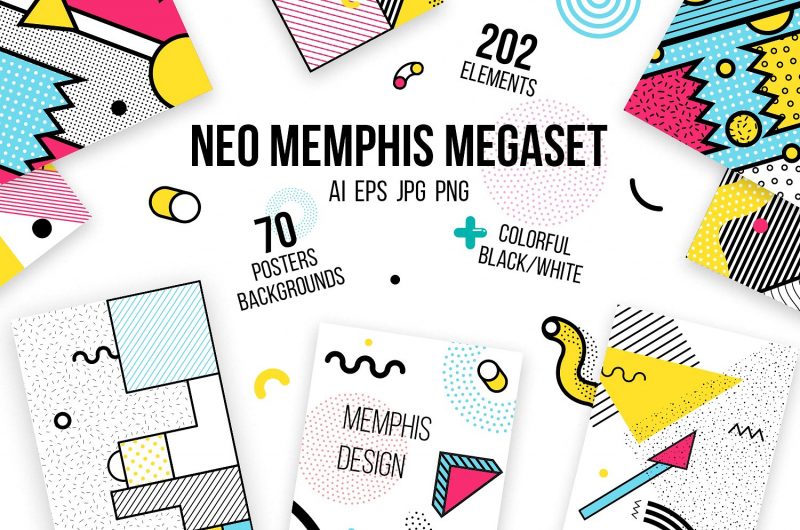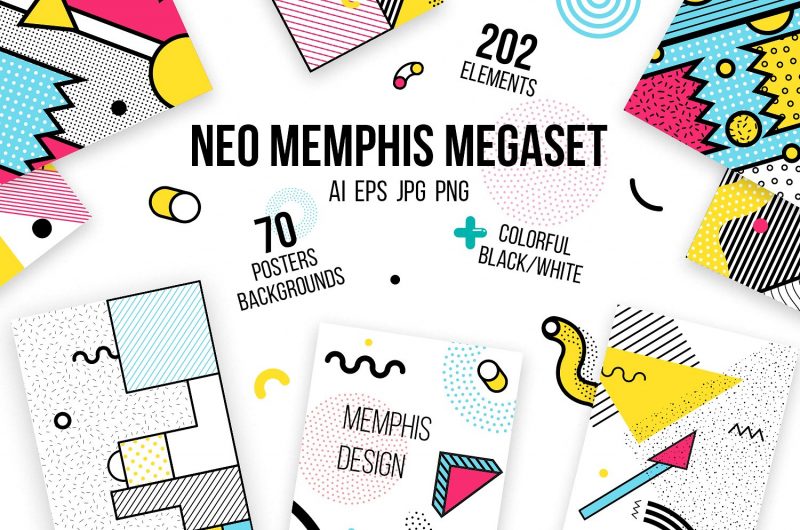 Designed by Softulka, the 272 Patterns set contains 70 posters and backgrounds and 202 design elements, all in Memphis style. The colorful collection is perfect for stickers, banners, greeting cards, posters, social media posts and web graphic designs.
Make your design concept be a crowd favorite with these Memphis textures. All bundles are available for instant purchase and download.