WordPress is easy to use most of the time. Yet, when you need to move a WordPress site to another server, it can be a painful process.
An above par migration will ensure that your website experiences NO downtime, that all links are working correctly upon completion of migration, and that NO data is missing. Automating this process is the best way to make sure that your site will be up and running quickly after migration.
Moving your WordPress site on your own is can be very tedious. It involves many steps, and in the event that you commit an error at any stage, you can wind up with a fatally damaged site.
WordPress Migration Plugins
If you are looking for a less wearisome choice, you will want to have a look at any of the listed WordPress migration plugins given below. Plugins can simplify the process by giving you a simple configuration, automatic backup of data during migration, and a confirmation that the data is intact.
Using plugins to handle website migration helps to secure data integrity, reduces the risk of errors, and minimizes downtime of your website. These plugins make WordPress website migration faster, easier, smoother, and cost-effective as well.
There are many options for such plugins. We have compared all the well-known ones in the market to help you make an informed choice.
First, let us consider them all before going into the details: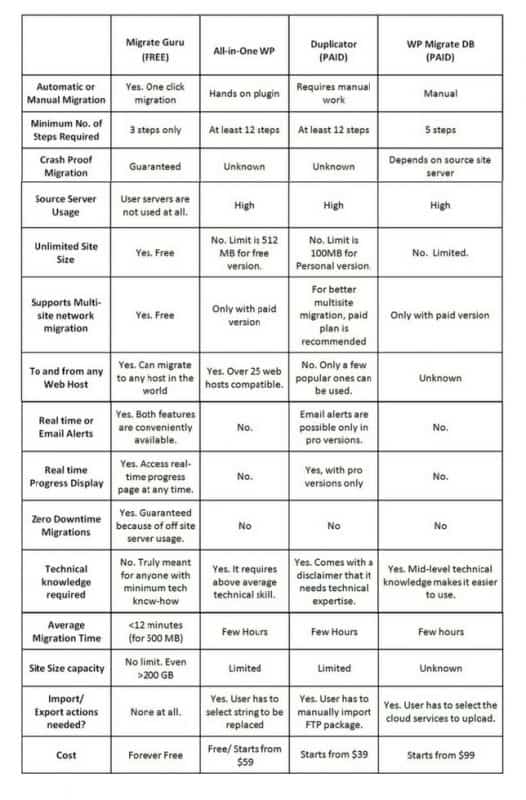 Migrate Guru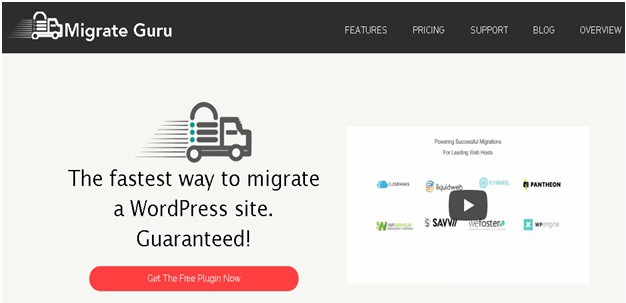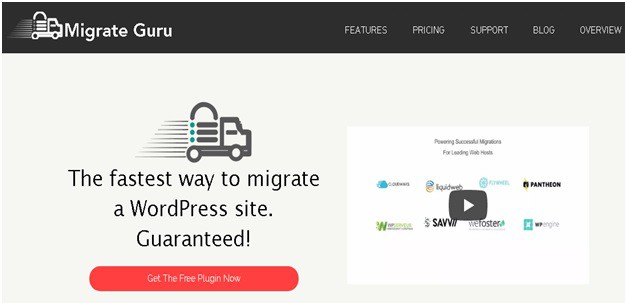 As Migrate Guru user Jim Carroll testifies:
"(As a global futurist) I'm often moving my websites on various platforms. I've used Migrate Guru to do this of late, and I gotta say – it just works, is easy, and does a site migration completely, without errors or fuss. The migrated site was a perfect clone of the original site!"
The plugin is extremely easy to use and just eliminates a huge chunk of the manual steps in a flash. Migrate Guru is from the house of BlogVault, the trusty backup plugin that took the world by storm five years ago.
In fact, the Migrate Guru plugin was built using BlogVault insights from over 500,000 successful migrations. It has an outstanding success rate as well.
Migrate Guru Features:
Simple ONE-CLICK migration.
It supports seamless multi-site network migration.
The plugin uses Migrate Guru server resources to move a copy of your site to the destination you choose. This way, your servers are not used at all.
With Migrate Guru, you can move your WordPress site to any destination host in the world, without any problems whatsoever. All you need are your destination's cPanel or FTP details.
NO technical skill needed! Migrate Guru just needs your destination site details. Simply input them in the plugin form, click Migrate, and verify your email address.
It makes use of off-site servers, i.e. it copies the site to be migrated onto its own servers and uses those resources to move the site. This eliminates possible mishaps and creates a smooth WordPress migration.
Most of the other plugins need to be installed on both ends of the migration. When you use Migrate Guru, you only need to install it on the LIVE site.
Compatible with all hosts such as WP Engine, Flywheel, Pantheon, Liquid Web, and many others.
Capable of handling large website sizes, such as migrations of sites even larger than 200 GB.
Pros:
The migration process is fully automatic.
You only need to install it on the live site.
Migrations don't fail or risk your site as they run on Migrate Guru
You're notified on the progress of the migration (via email alerts and a real-time migration progress screen).
NO storage space required. Migrate Guru resources are used, so that yours are not depleted.
NO overload on site.
Cons:
There is a cap of five (5) site migrations per month.
It does not allow for migration of a site to a subdivision of a multi-site network.
Price: Free!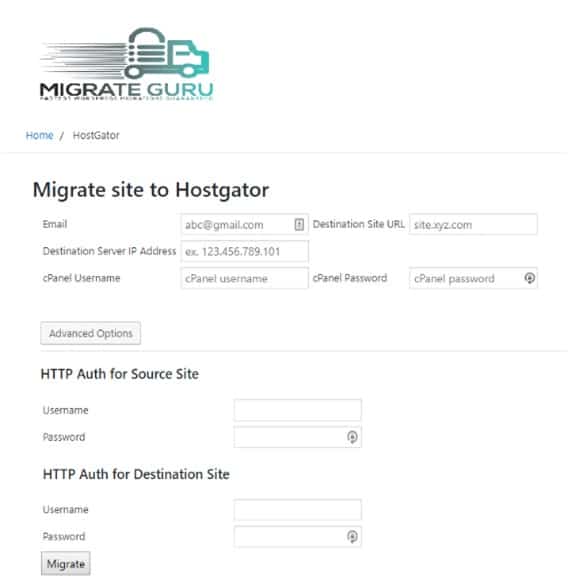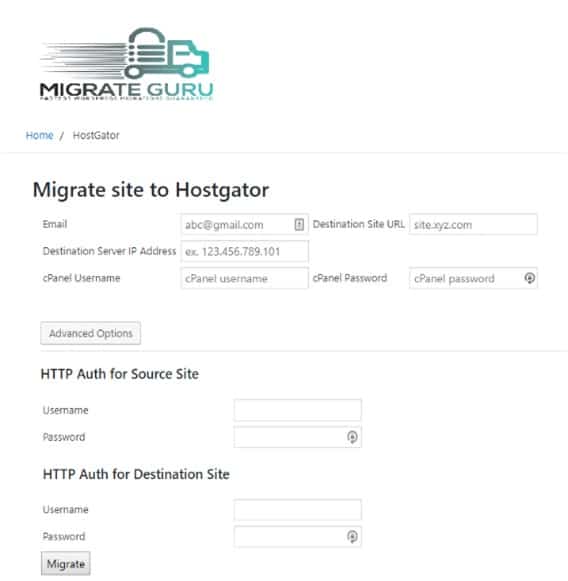 You can download Migrate Guru here.
Duplicator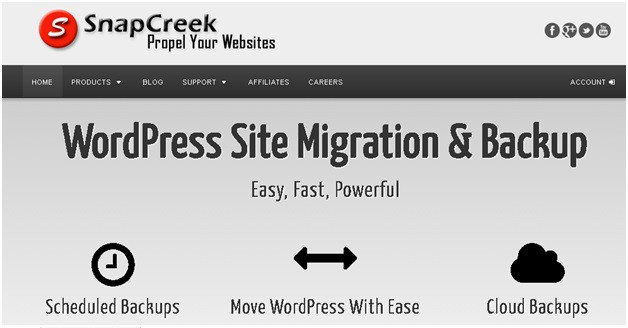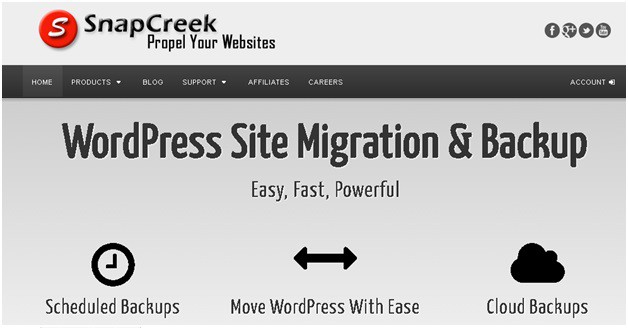 Using the Duplicator plugin, WordPress users can migrate, copy, move, or clone a site from one location to another. It also serves as a simple backup utility.
Duplicator bundles all the site's plugins, themes, content, database, and WordPress files into a simple zip file called a package. This package can then be used to easily migrate a WordPress site to any location you wish.
Duplicator Features:
Scheduled backups.
Integrated transfer to cloud storage services such as Dropbox, Google Drive, and Amazon S3.
Duplicator handles both serialized and base64 serialized string replacement. WordPress migration and WordPress backups are easily handled by this plugin.
Multithreaded for better functionality with large websites and databases.
Database creation built into installer.
Connect to cPanel directly from installer.
Additional developer support.
Pros:
Duplicator lets you know the progress of the migration process, via emails, if not real-time.
WordPress is NOT required for installation as the package contains all site files.
You can move on the same server, across servers, or any location where a WordPress site can be hosted.
It pulls down a live site to localhost for development.
You can bundle up an entire WordPress site for easy re-use or distribution.
There are NO messy import or export SQL scripts.
Cons:
It's a very hands-on plugin, i.e. you need technical expertise to upload the files via FTP.
You will need to perform at least 12 steps involving processes like: creating a package, and filling up a form to get the URLs updated on your own.
Duplicator relies on your live site server to move your site. Depending on your server resources and the size of your site, this process could prove fatal, even before the migration is complete.
There is a limit on the site size unless you purchase an expensive $119 or more plan. Similarly, the majority of the features are accessible only via these plans.
As Duplicator uploads the archive file to your destination in chunks, there is NO assurance that it can handle a large WordPress site.
Duplicator is a paid plugin. The more expensive Pro versions have majority of the features, so you cannot try them out for free.
Price: Starts from $39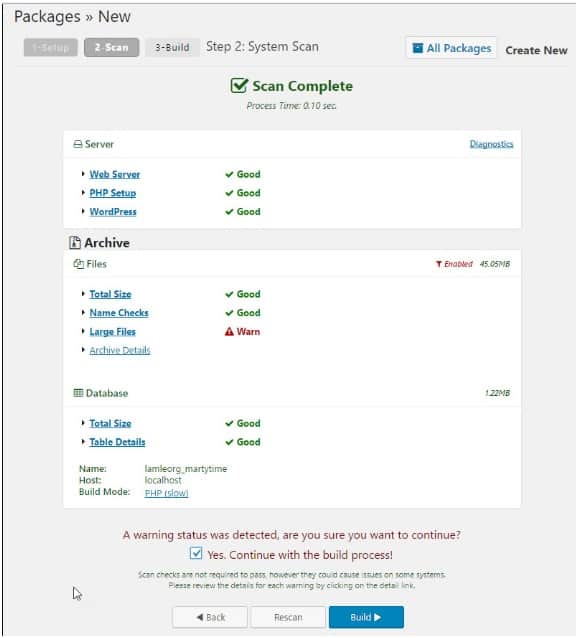 You can install Duplicator here.
All-in-One WP Migration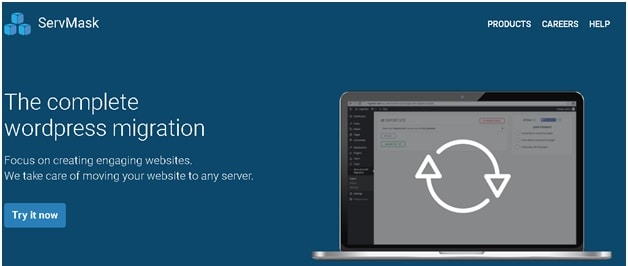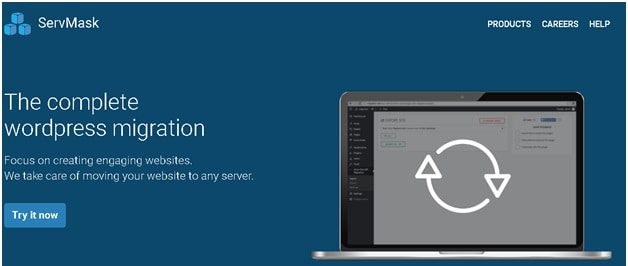 All-in-One Migration plugin exports your WordPress website completely. This ensures the inclusion of the database, media files, plugins, and themes. NO technical knowledge is required for this plugin to be used.
You can upload your site to a different location with a drag-and-drop into WordPress. There is an option to apply an unlimited number of find and replace operations on your database during the export process. The plugin will also fix any serialization problems that occur during the find/replace operation.
All-in-One Migration Features:
All-in-One Migration plugin is mobile compatible. It is, in fact, the first plugin to offer TRUE mobile experience on WordPress versions 3.3 and up.
There are NO limitations on host or Operating System.
NO need to be constrained with upload size restrictions.
It has zero dependencies.
The plugin supports mySQL and mySQLi.
You can migrate parts of a multi-site to single sites.
Pros:
It is easy to understand.
The export compatibility is good for ALL major Cloud services like S3, Google Drive, Dropbox, Box and
The plugin does NOT have any dependencies, making it compatible with ALL PHP hosting providers.
A little expensive due to price, but it makes the migration process easier.
Cons:
The All-in-One Migration plugin is a hands-on product that needs you to set it up and configure it on your own. That means migrating a site requires you to export a copy of it first, and then you must import it to your destination.
It requires you to know your live and destination site path so as to perform Find and Replace functions.
Selecting strings to replace is sometimes not easy for users.
All-in-One Migration plugin makes the use of your live site's resources to move the copy to the new destination. Depending on your server resources and the size of your site, this process could make your site malfunction even before the migration is complete.
For larger sites, e.g. sites more than 512MB, you need to use the paid version.
WordPress MUST be installed on the live and destination server.
Price: Starts from $69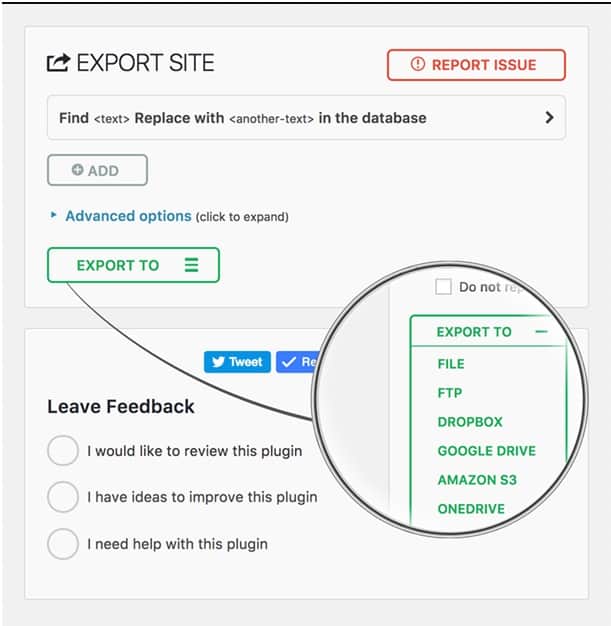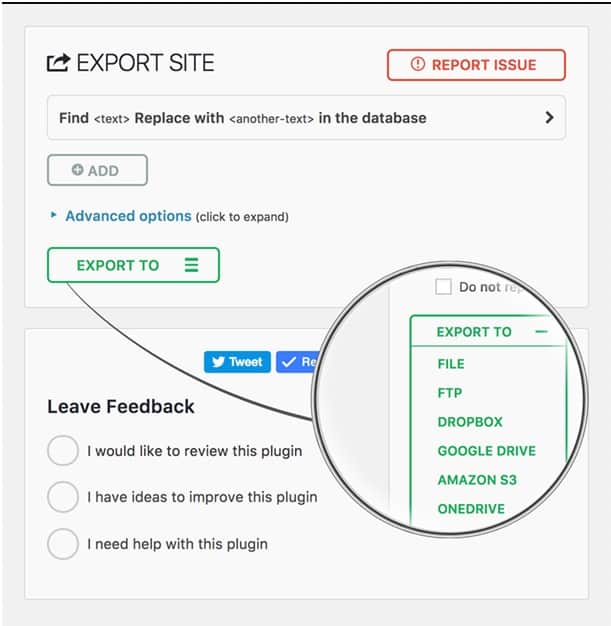 You can install All-in-One WP Migration here.
WP Migrate DB


WP Migrate DB allows you to copy your database from one WordPress, and install it to another in your dashboard. It's a useful plugin for syncing a local development database with a live site. This plugin is recommended for developers who build client sites locally.
WP Migrate DB handles updating content, widgets, and menus to a new site's URL. It can also handle serialised data. It is used by the likes of Chris Coyier, the master of all things CSS-related, and Pippin Williamson, who is one of the WordPress community's leading plugin developers.
WP Migrate DB Features:
WP Migrate DB is great for migrating the database when moving sites between servers, or when you are ready to launch a site and move the database from your local environment to the live server.
It has three main functions: you can export your database, pull your database from a location, and push your database to a different location.
This plugin is constantly being updated. Getting help is easy with the support team.
With the option to pause or resume and even cancel your migration while it's running, you are in complete control of your website migration.
Migrate DB Pro also allows you to exclude certain post types from the backup according to your preferences.
Pros:
You can backup your website before running a migration. Your database will first be backed up before running the migration and replacing it.
WP Migrate DB Pro detects serialized data and runs a special Find and Replace on it to ensure that the data is not corrupted.
With WP Migrate DB Pro installed on both sites, you can simply pull the live database down and replace your local database, even if you local database isn't publicly accessible.
Cons:
To import the file which contains all of your data, you need to use a third-party database management tool. This might be difficult for those who are not as experienced in WordPress-related things.
WP Migrate DB is a very hands-on product that needs you to set it up and configure it. Moreover, it only creates a copy of your site's database, while importing is left up to you. You can do this via phpMyAdmin or an FTP client.
You only have limited site(s) within WP Migrate DB, unless you go for the more expensive options.
You need a Pro account to gain access to most of the added features, like being able to push and pull your databases, exclude useless data, and save migration profiles.
Price: Starts from $99
You can install WPMigrate DB here.
Who Wins? Who Loses?
One of these plugins may suit you more than the others, depending on your technical knowledge and precise needs. I'll attempt to separate a couple of various situations to help you pick the best migration module.
If you're confident about your technical skills, then try Duplicator.
WP Clone will let you migrate without needing an FTP program. Just be wary of the 10 to 20 percent chance of failure though.
All-in-One WP Migration can claim mobile-friendliness, but it is available as a premium account only.
The same goes for WP Migrate DB, for its paid premium features.
Migrate Guru, however, is the new kid on the block. I am confident about its worthiness and use it personally. It's FREE and comes from the reliable folks who created BlogVault, which is popular backup plugin that gained plenty of acclaim in the past five years. It ticks ALL the requirement boxes spectacularly. Why not give it a try?
I hope we have helped you choose the right WordPress Migration plugin to use. All the best, and bon voyage to your website!