Last Updated on March 3, 2023
A business leader and entrepreneurial disruptor, Miki Agrawal has made a name for herself in several different industries. Thanks to her game-changing work with acclaimed businesses such as TUSHY, WILD, & THINX, she has managed to build a reputation and a following.
More than just another name in an industry filled with names, Agrawal has developed into someone who has faced patriarchal forces while building a path to becoming one of the most empowering female CEOs around.
While her path to success was anything but short and easy, her ability to engage directly with audiences has made it easy to share her story. Agrawal has already been named one of the Fast Company's Most Creative People as well as a Young Global Leader by the World Economic Forum.
Utilizing her unique industry insights as well as her decades of experience in the entrepreneurial field, Agrawal has taken time to pen several books that seek to fuel others in much the same way.
Let's dive into the written word of Miki Agrawal to see how it can fuel others to thrive and find success in their ways.
Disrupt-Her: A Manifesto for the Modern Woman
Developing a career as unique and innovative as Miki Agrawal's requires a willingness to disrupt convention and betray standard practices. In Disrupt-Her: A Manifesto for the Modern Woman, Miki Agrawal aimed at 13 core and common beliefs that have been deemed acceptable by society. Bookending each chapter, Agrawal asks her readers to answer a series of questions so that these practices and ideas can be applied in life.
Agrawal pens in Disrupt-Her, "You can still live in a childlike state of curiosity, playfulness, and awe and be a responsible adult on and off the job."
Backing up her own ideas, Agrawal has enjoyed a career that includes farm-to-table dining, period-proof underwear, best-in-class toilet bidets, and her series of best-selling books and public speaking engagements.
Agrawal invites her readers to take action, affirming themselves while helping them to manifest their own credos while bringing to life their own stories. What's more, Agrawal makes these stories palatable and adaptable for inside the workplace, giving readers the tools, motivations, and affirmations that they need to evolve their life, business, and future.
An empowering exploration of what we can accomplish when we set our minds to it, Disrupt-Her is Miki's call to action for every figure looking to embrace and enhance their future.
Do Cool Sh*t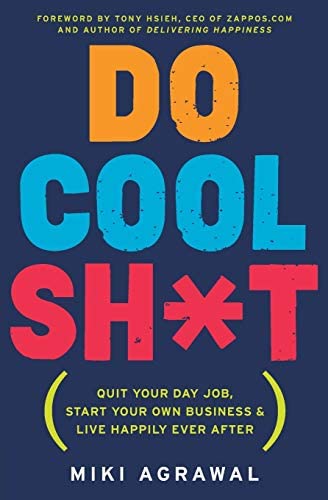 If Disrupt-Her was a middle finger to the patriarchy and a call to action for other disrupters, Do Cool Sh*t is an invocation much along the same line. Released following Agrawal's success with Disrupt-Her, Do Cool Sh*t was published with the goal of inspiring individuals to take action and pursue what they want in life. In the intervening years since the book was published, it has galvanized a community, while workshops have been created based on its teachings.
In Do Cool Sh*t, Miki Agrawal details how entrepreneurs can begin the process of establishing their businesses while breaking free from the chains of a conventional time clock. Agrawal details working with a shoestring budget, building a business plan, and even ways to test your product while getting free press coverage. Each chapter is bookended with takeaways and actionable systems that can be put in place in life.
The book is ideal for social entrepreneurs, newcomers to the industry, or even individuals looking for motivation. Do Cool Sh*t is Miki Agrawal's way to open their eyes and inspire others to take action to get what they want in life.
Upcoming Third Release
A fighter against the patriarchy and often its target, Miki Agrawal is far from done spreading the insights and words that have helped forge her career thus far. After finding success and a voice with her prior two releases, Agrawal has teased an upcoming third release: Miki Agrawal's Heart Philosophy: Principles for Inner Wisdom.
The newest release by disruptor Miki Agrawal aims to share philosophy and invocations based upon peace, love, and a more feminine-based approach to philosophy. Focusing on connection, abundance, and freedom, Agrawal hopes that readers will find themselves going beneath their layers in order to find their most honest and truthful rebirth.
A common saying and one of her favorite phrases, Agrawal focuses on the idea that "Iteration is Perfection" and her latest publication certainly enhances that idea. In her book, Agrawal notes that the most well-known philosophers are men, pointing to Jesus, Socrates, Buddha, Aristotle, Thich Nhat Hanh, and more. Agrawal adds, "Their teachings are wonderful but are coming from a singular perspective – a masculine perspective."
Agrawal suggests that Heart Philosophy is helpful for readers looking to reindeer their lies in new ways, finding peace and purpose that perhaps may have been shrouded. Agrawal suggests that Heart Philosophy focuses on clamming the mind, feeding the deep-feeling heart, and connecting closely with the soul. Through her work with Heart Philosophy, Agrawal wants readers to manifest their richest hopes and most fertile and potent grams as they dig beneath layers of themselves to be rebirthed.
Exploring Other Projects With Miki Agrawal
At the time of this writing, Miki Agrawal has deeply invested in a multitude of industries thanks to her far-ranging approach to building brands and defining her business focus.
Agrawal first attended Cornell University in 2001, where she graduated with a Bachelor of Science in Business and Communication. After leaving school behind, Agrawal would take a short foray into the realm of investment banking as an analyst in New York City, a job that she left by the wayside after the profound and tragic impacts of 9/11 caused her to rethink her life.
Wild: Farm-to-Table Pizzeria
After leaving banking behind, Miki was quick to change her focus to something more impactful, something that she felt was more important. A string of farm-to-table pizzerias under the name Slice would mark Agrawal's first foray into the entrepreneurial world. The restaurant has since been rebranded as Wild and can be found in multiple locations throughout New York City, Brooklyn, and Guatemala.
Thinx: Taking on the Patriarchy
Prior to her success as a motivational speaker and author, Agrawal had also found success with the wildly popular (and important) work at Thinx. Focusing on crafting something as inclusive as it was comfortable, Agrawal would introduce Thinx to the world as a period-proof underwear company focused on disrupting the industry.
Tushy: Best In Class Toilet Bidet Attachment
In addition to her game-changing work at Thinx, Agrawal continues to grow Tushy as the top-rated bidet attachment as ranked by New York Magazine. Inspired by personal health issues as well as her Japanese and Indian background, the Tushy bidet attachment has become a best-in-class leader in the field. Each purchase of a Tushy bidet contributes directly toward addressing the global sanitation crisis.