Who Is Miley Cyrus?
Miley Cyrus, born Destiny Hope Cyrus, is an American singer, songwriter, and actress whose music cuts across different genres, including pop, hip hop, and country-pop.
Quick Facts
| | |
| --- | --- |
| Full Name: | Miley Ray Cyrus |
| Popular Name: | Miley Cyrus |
| Gender: | Female |
| Birth Date: | November 23, 1992 |
| Age: | 30 years |
| Parents: | Billy Ray Cyrus and Tish Finley |
| Siblings: | Braison Chance Cyrus, Noah Lindsey Cyrus, Brandi Cyrus and Trace Cyrus |
| Birth Place: | Franklin, Tennessee |
| Nationality: | American |
| Ethnicity: | White |
| Education: | Heritage Elementary School and Options for Youth Charter Schools |
| Marital Status: | Divorced. |
| Sexual Orientation: | Bisexual |
| Wife/Spouse: | N/A |
| Children: | N/A |
| Dating: | N/A |
| Net Worth: | 200 million |
| Source of Wealth: | Singing, Songwriting, Acting, Endorsement Deals, and Other Personal Investment Ventures |
| Height: | 5′ 5″ (1.65 m) |
| Weight: | 48 kg; In pounds: 106 lbs. |
Early Life and Career Information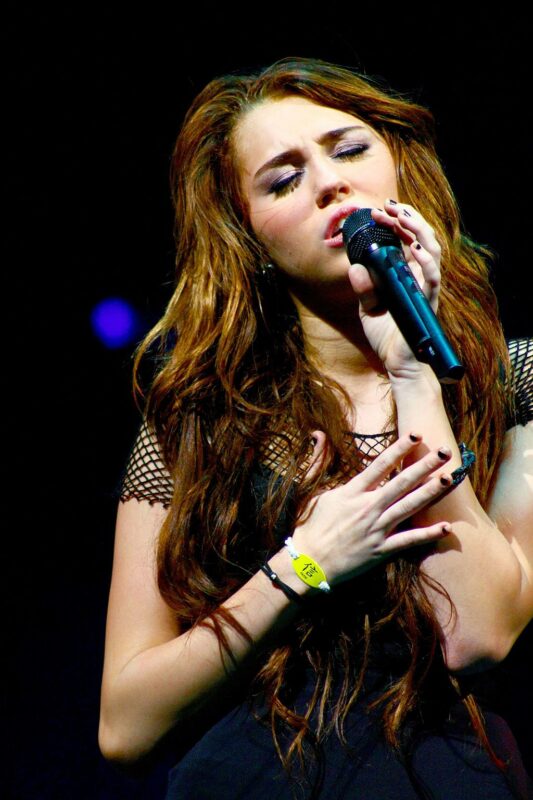 Miley Cyrus was born on November 23, 1992, to Billy Ray Cyrus and Tish Finley. She attended the Heritage Elementary School and later, the Options for Youth Charter Schools. Billy Ray Cyrus is a renowned singer and actor, so it's easy to see where Miley got her talents from.
Before she became a professional singer, Miley Cyrus featured in the television show, Hannah Montana. The show was an instant hit and got her christened the "teen idol."
When Miley released her first album in June 2007, she decided to name it Hannah Montana 2: Meet Miley Cyrus, after the Hannah Montana show. She has since gone ahead and released plenty of songs, while also taking up roles in movies and television series in between.
Miley Cyrus' Net worth
Miley Cyrus' net worth was a staggering $200 million, as of 2023. She has earned her fortune through her album sales and successful concert tours, as well as acting, endorsement contracts, and other personal investment ventures.
1. Miley Cyrus the Actor
Miley Cyrus is one of the few musicians who was already a high income-earner before venturing into the music industry. Miley landed a role in the sensational television series, Hannah Montana, when she was only 11 years old. According to reports, she was taking home as much as $15,000 for every episode she appeared in the series.
In addition to her role in the television series, Hannah Montana, Miley Cyrus has featured in scores of commercially successful movies. She made her professional film debut in the movie Bolt, which went on to gross $114 million in revenue.
Other commercially successful films that Miley Cyrus has featured in include The Last Song, LOL, and So Undercover. Not to mention, her role as a judge and advisor in the television reality TV show, The Voice. Her per-episode salary in the voice was an estimated $13 million.
2. Miley Cyrus the Singer
Though Miley Cyrus was already considerably rich before she became a professional musician, she owes much of her net worth to singing and concert tours. The series, Hannah Montana, gave her enough spotlight and by the time she decided to venture into music, she was already a valuable brand.
Miley's first independent album, titled Hannah Montana 2: Meet Miley Cyrus, went triple platinum, earning her an estimated $10 million in sales.
Before releasing her second album, Miley Cyrus embarked on music tours and concerts, such as the Best of Both Worlds Tour, which ultimately translated to more money in her bank accounts. Her second album, titled Breakout, was also a tremendous success, earning the pop star approximately $6.2 million in sales.
2009 was one of Miley Cyrus' most successful years as a musician. She released several popular songs and embarked on her first world tour – the Wonder World Tour.
According to Money Nation, the Wonder World Tour was a commercial success for the singer, grossing some $67 million. In 2013, Miley released yet another album titled Bangerz. The album grossed around $66 million, which included $4 million in sales and $62 million in tours and concerts.
3. Miley Cyrus Houses and Cars
Miley Cyrus once lived in a 6,500 square feet ranch-style mansion based in Hidden Hills, Los Angeles. She acquired the property at a cost of $5 million but sold it in spring 2018 at nearly the same amount she purchased it.
She now lives in her $2.4 million bachelorette pad located in Blue Anchor Road, Malibu, CA. The house miraculously survived the November 2018 California wildfire that burned down one of her properties in the same neighborhood.
In addition to her Malibu home, Miley also owns several properties, including a $5.8 million home in Franklin, Tennessee. In terms of cars, the singer owns several of them, including a Range Rover Sport, an Infiniti G35, two Mercedes Benz, an ML 450 Hybrid, to mention but a few.
How Miley Cyrus Spends Her Money
Miley Cyrus not only earns big bugs, but she is also a lavish spender. The singer has a love affair for posh cars and expensive jewelry. Miley is also a celebrated philanthropist, and has countless charitable organizations that she actively donates to. In 2013, she was named the fourteenth most charitable celebrity in the world.
The following are some of the organizations she either supports or has supported in the past:
• Blessings in a Backpack,
• Cystic Fibrosis Foundation,
• Elizabeth Glaser Pediatric AIDS Foundation,
• Elton John AIDS Foundation,
• Entertainment Industry Foundation,
• Habit for Humanity,
• Kids Wish Network,
• Love is Louder Than the Pressure to Be Perfect,
• Make-a-Wish Foundation,
• Music for Relief,
• NOH8 Campaign,
• St. Jude's Children Research Hospital,
• The JED Foundation,
• To Write Love on Her Arms,
• United Service Organization and
• Youth Service America,
Plus, her own Happy Hippie Foundation that seeks to rally young people to help fight the injustice that's faced by vulnerable populations, such as the homeless and LGBT youth.
In terms of brand endorsements, Miley Cyrus has worked with Marc Jacobs, Converse, and her 2009 clothing like – Miley Cyrus and Max Azria.
Life Lessons from Miley Cyrus
1. Never forget where you came from
Miley Cyrus may be a successful singer now, but she doesn't forget what propelled her to stardom. That's why she often takes up acting roles, just so she can remember where it all began.
2. Help others grow
Your success is only important to the extent that you use it to lift others up. Miley Cyrus understands this all too well, which is why she has featured in competitions that are aimed at discovering and nurturing talent, such as The Voice.
3. Grow from criticism
Fame and fortune come with the curse of more enemies and haters. Haters will always make a meal out of your humble background, provocative wardrobe, or glamorous lifestyle. But you shouldn't let their opinions define you. Pay attention to their criticisms, but don't let it go to your head.
Here are some fabulous quotes by Miley Cyrus:
"I don't want to be perfect, but I do want to be a role model. My mom always tells me that imperfections equal beauty. All of us are imperfect."
If you believe in yourself anything is possible.
"My dad says I could sing before I could talk, if that's possible. I was always humming and things like that."
"My mom is always telling me it takes a long time to get to the top, but a short time to get to the bottom."
"The only people that you really have, that I learned, are your family, because they love you no matter what."
Conclusion
Miley Cyrus may not feature among the top 10 richest singers. But considering her age, she is surely one of the wealthiest and most inspirational celebrities today.