Last Updated on March 8, 2022
No matter the circumstances, we have all gone through periods of missing someone in our lives. Whether a friend has moved away or a loved one has had to travel for work, we all know what it is like to have that ache in our heart from being apart. Sometimes, the very worst kind is missing someone who has already passed on, knowing we'll never see them again.
The pain of missing someone is hardly ever the same. Each circumstance is unique and can range of missing someone a little to downright agony, depending on how much that person meant to you and how long you've been apart.
But is there a science or definition behind missing people? And more importantly, what can we do about it?
Why Do We Miss People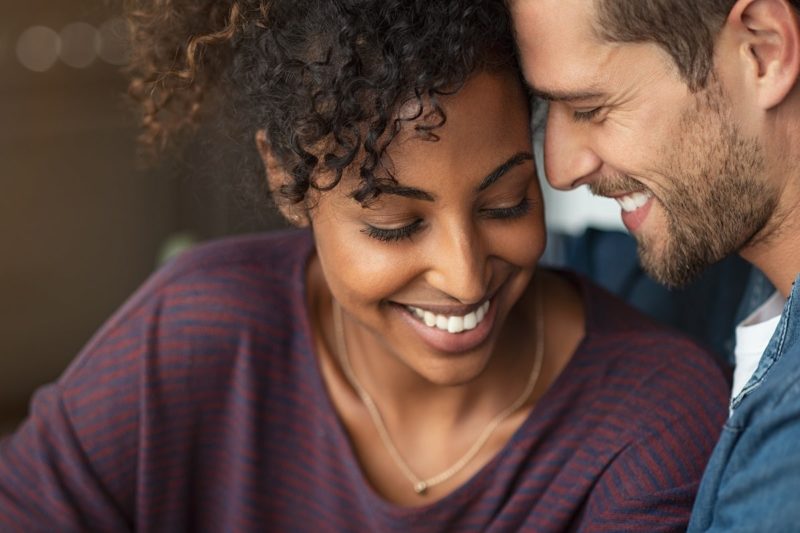 The most common type of missing someone is missing someone you love who is not currently with you. Either they had to leave for work or they had to move. Pining for someone is no fun and while most people think that this is purely a simple feeling, the truth is there is some body chemistry at work as well.
Basically, missing someone is largely driven by changes in your body's chemistry. Research has shown that when you are around people you love or care about, your body releases certain chemicals like oxytocin, dopamine, serotonin, and even adrenaline. This is in tandem with the usual testosterone or estrogen. Due to the increase in the production of these chemicals, we feel happier and more at peace. 
We have all felt this. This is why we are happier and even more energetic around really good friends and especially around a significant other. The body's chemistry is naturally elevated.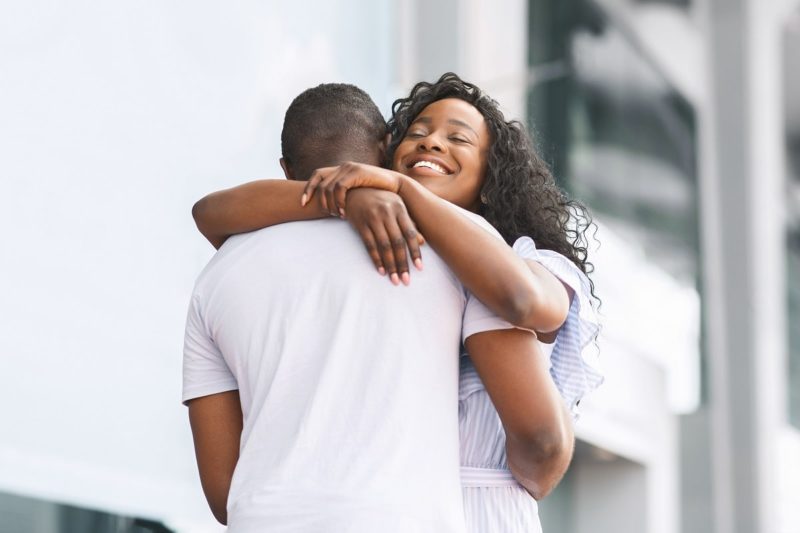 However, when that person has to leave or hasn't been around for a long time, the body's chemistry, or internal circuitry, changes again. This time the production of the "feel good" chemicals begin to decrease and as it happens, we start to get sadder and sadder.
Decreased levels of serotonin and dopamine can cause sadness and mood swings that can take us from a big high to a very sad low. This feeling of unhappiness mixed in with their absence, permanent or temporary, makes us miss the other person, as we believe we can only be happy around them. That, scientifically speaking, is what makes us miss a person.
But, of course, that's just the physical explanation. There are still aspects of missing someone that can't be explained by science. These are matters of the heart. Loving someone can truly lead to beautiful times and wonderful memories.
On the flip side, it can be very sad when we have to be apart from those we love.
What to Do When You Miss Someone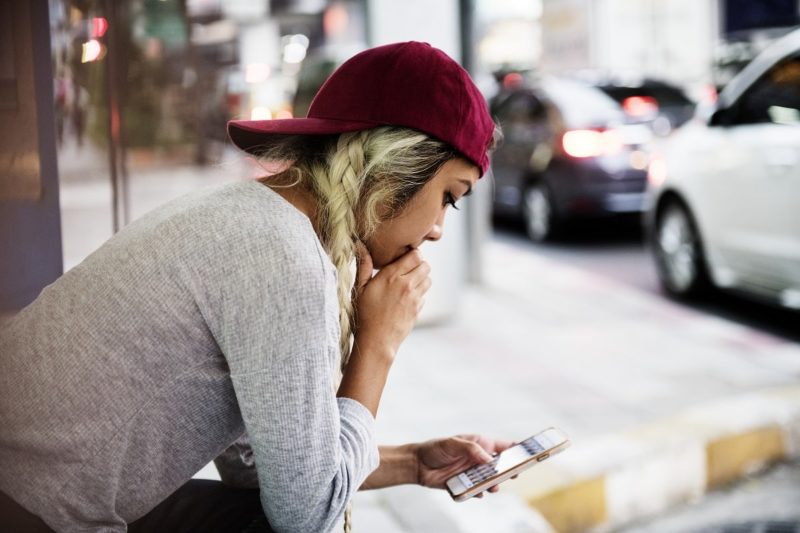 It's completely normal to miss loved ones. What's important is what we do when we are in this situation. If we aren't prepared to deal with missing someone we love, this can lead to unhealthy and unhappy thoughts and it's important that we prevent this downward spiral.
Instead, we should focus on healthy ways of missing someone instead. If we focus on these, we can miss someone and still move forward with our lives, or at least until we see them again.
One of the most important things we can do when we miss someone is to redirect our focus into productive activities. If we have hobbies like painting or dancing or running, this is the perfect time to indulge in them.
This is especially true for exercise that will help the body naturally release some happiness-inducing chemicals. Moreover, when we keep ourselves busier, we have less time to think about our sadness.
Another thing we can do is to try something new. Sometimes when you miss someone, that feeling is amplified when you do things that you used to do together. Instead of going to that café you both loved so much, try a new and fun restaurant instead. Making new memories keeps you from unhealthily clinging to the old ones.
And lastly, don't feel scared to express yourself. If you miss someone, another healthy way of dealing with it is to express your emotions. Don't keep them bottled up inside or they will just make you sadder. Instead, talk to the person you miss and tell them just how you feel.  
Here are 80 touching quotes about missing a loved one:
Miss You Quotes
"But nothing makes a room feel emptier than wanting someone in it." – Calla Quinn, All the Time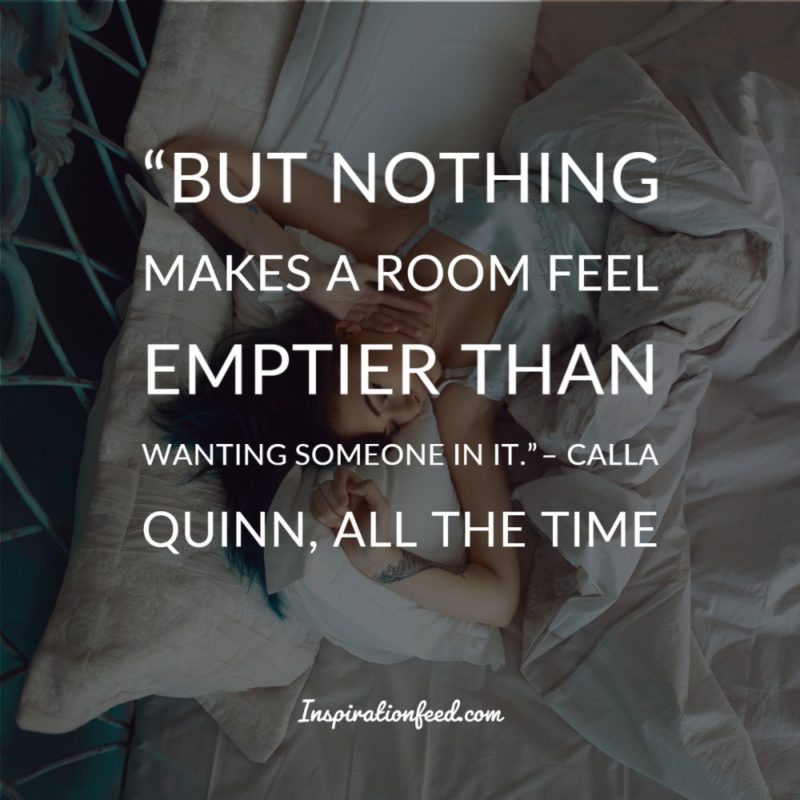 "I just…I just miss him. And I hate being so alone." – Suzanne Collins, The Hunger Games
"The silence isn't so bad, till I look at my hands and feel sad. Because the spaces between my fingers are right where yours fit perfectly." – Owl City, Ocean Eyes
"If I had a single flower for every time I think about you, I could walk forever in my garden." – Claudia Adrienne Grandi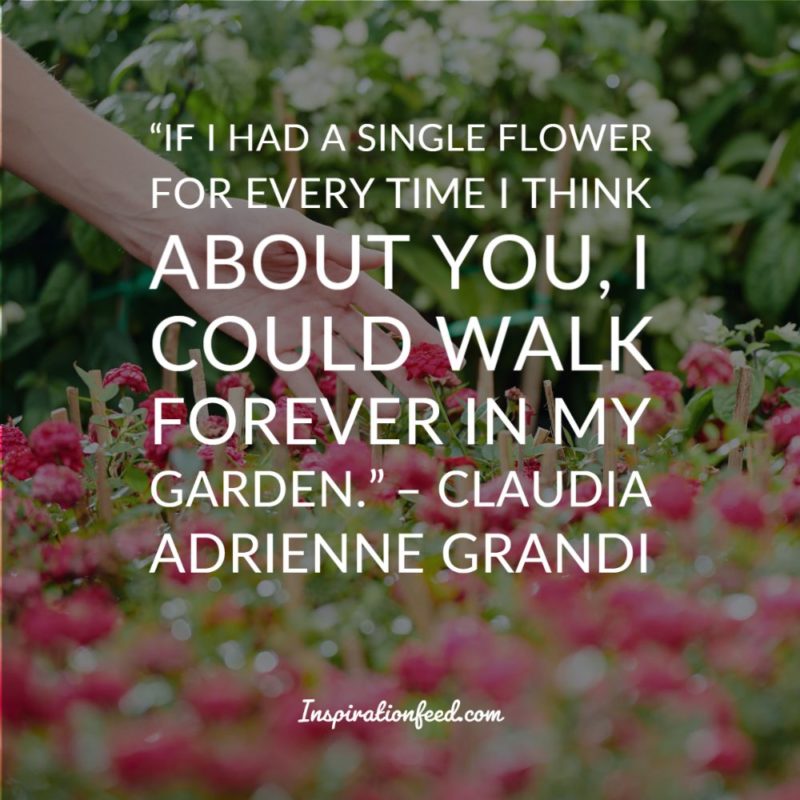 "If you go, then I'll miss you…terribly" – Julia Hoban, Willow
"I just…I just miss him. And hate being so alone. Does he miss me- He must" – Suzanne Collins, The Hunger Games
"Time moves on for us, for you it stands still. You will be forever ageless as we grow old, your smile will never wrinkle, nor will that shine in your eyes fade…" – Kendal Rob
"The worst thing you can do if you missing someone or need them is let it hide from them." – Pooja
"I miss those kisses and the way I used to sleep in your warm hug. I miss the way you made me eat breakfasts and I miss the way you made me laugh. I miss you…" – Himmilicious
"Just as it did when I spoke to you that day from the phone, your face comes into focus more and more as I hold you here beside me." – Craig Clevenger, Dermaphoria
"And I don't even like you, but the pain of life without you is biting." – Jamie Weise
"Maybe I'm too late to be your first. But right now, I'm preparing myself to be your last." – Sid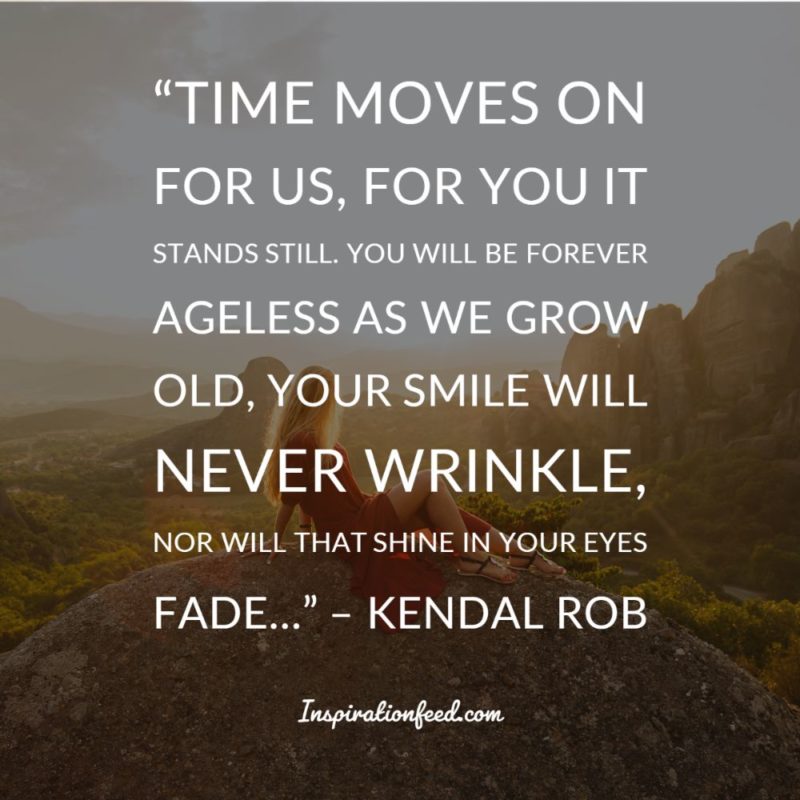 "Seeing her cry still made me feel the same way it did earlier." – Faraaz Kazi
"And they can't understand, what hurts more— missing the other person, or pretending not to." – Khadija Rupa, Unexpressed Feelings
"You're going to make the new friend impressed if you keep remember her when she'd forgotten." – Toba Beta, My Ancestor Was an Ancient Astronaut
"Sometimes your very existence seems nothing, sometimes it's your shadow I yearn for or a glimpse of it." – Ehddah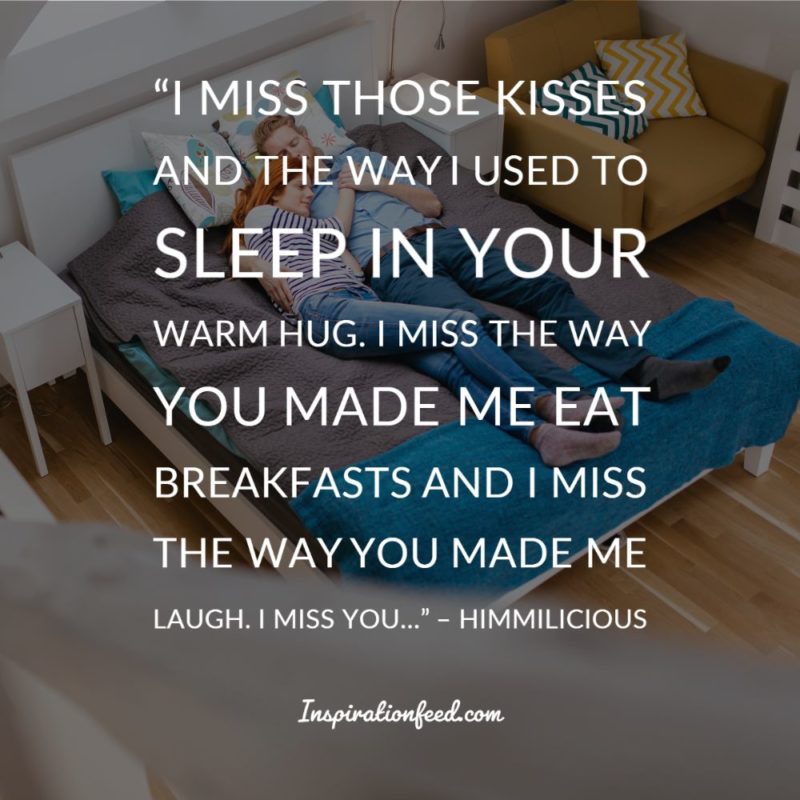 "I never want to miss a day without you" – Maria Koszler
"Sometimes neither distance makes the heart grow fonder nor absence lessens surging passions." – Faraaz Kazi, More Than Just Friends
"Your unconditional love made an everlasting imprint on my heart & life forever." – Heather Wolf, Kipnuk the Talking Dog
"The scary thing about distance is you don't know whether they'll miss you or forget you." – The Notebook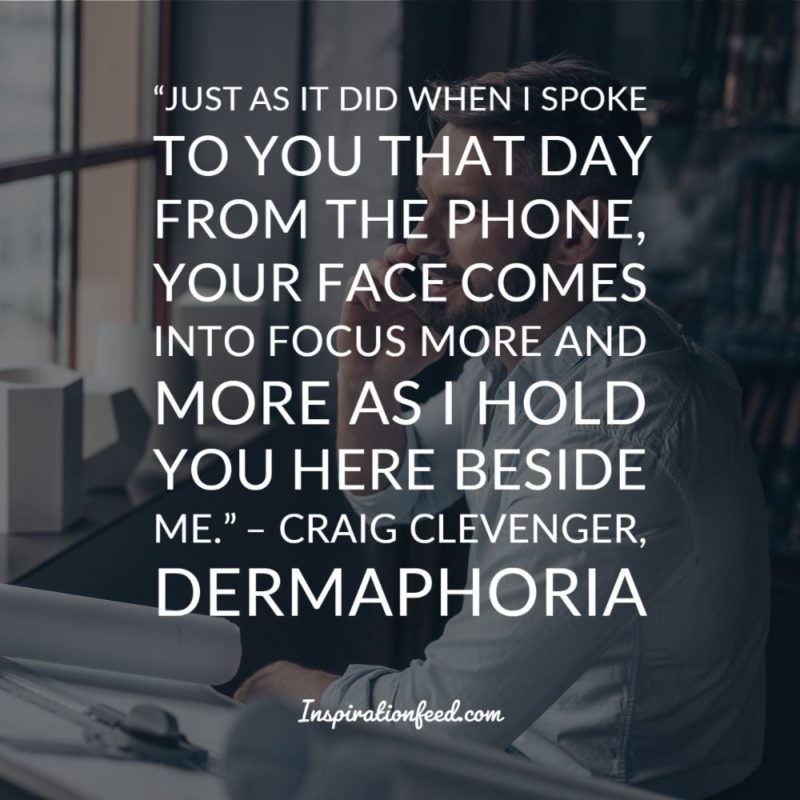 "Missing someone is not about how long it has been since you have seen them or the amount of time since you have talked…it is about that very moment when you are doing something and wishing they were there with you." – Dru Edmund Kucherera
"Distance unites missing beats of two hearts in love" – Munia Khan
"I can deal with anything in this world, except your silence." – Varsid
"I wish for you the wisdom to realize that it's okay to miss something, but not want it back." – Steve Maraboli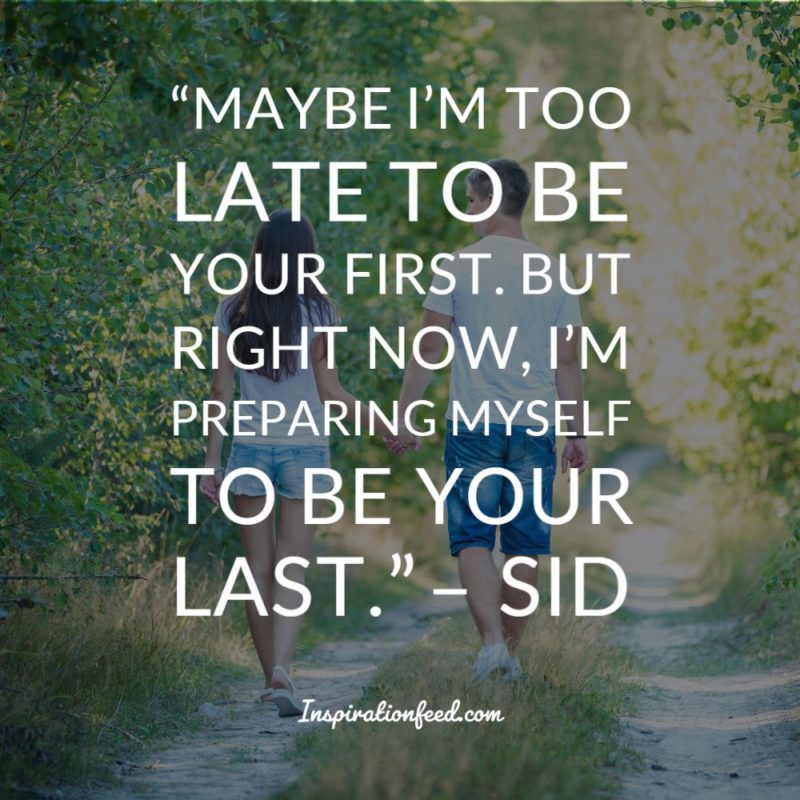 "You're like the broken chapter of my favorite story." – Leylah Attar, Mists of the Serengeti
"He kisses me like he misses me, even before I have to go." – Carlyon, The Cherry House
"I hear them say 'Why do I miss someone I haven't even met?' How about not missing someone because it feels like they've been with you all along?" – Nicola An, The Universe at Heartbeat
"You never know how hard it is to remember things and act like you forgot everything…" – Danya Krish
"I just wanted you to know you were missed." – Megan Erickson, Tied to Trouble
"Some poets write pages upon pages because their hearts have a song to sing and their melodies cannot be contained in a single stanza…and I find myself typing out a quote because my soul is still gasping for breath, and all the words form a single sentence: I miss us." – Alfa
"If you never left again, I would still spend the rest of my life missing you." – Tessa Bailey, Too Hot to Handle
"We'll meet again, but you're a lifetime away, and I need you now." – Karen Quan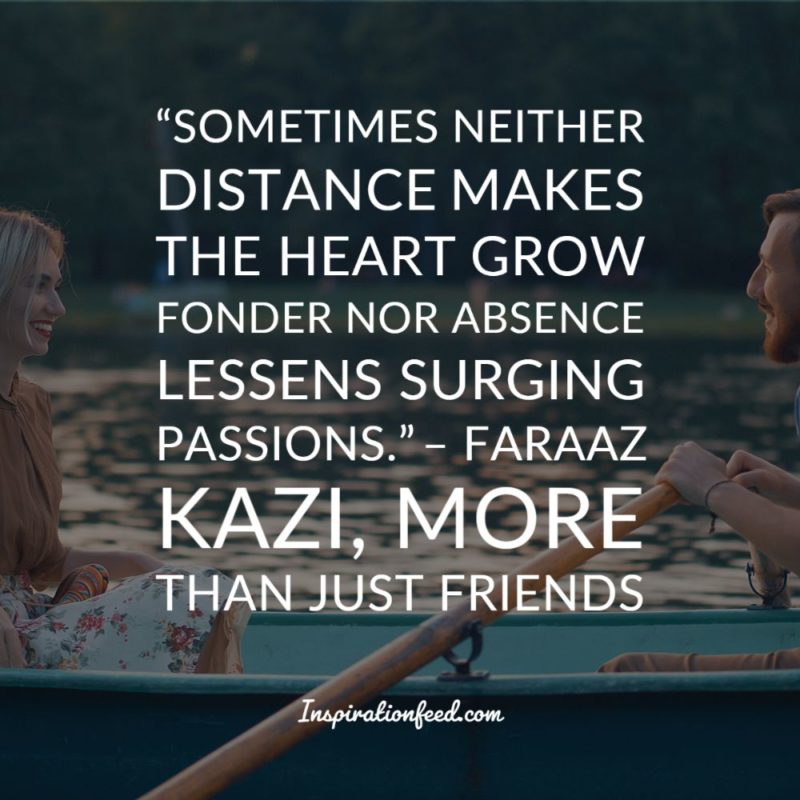 "My world is a million shattered pieces put together, glued by my tears, where each piece is nothing but a reflection of YOU." – Sanhita Baruah
"Missing you is flashes of our past and fantasies of our future with the hard irony of the absence of our present as present occurs." – Zhi
"Plant a good seed in people who have fertile hearts. When you are away, they'll miss you. When you are coming again, they can't wait!" – Israelmore Ayivor, The Great Hand Book of Quotes
"It's the person that calls you up because they're eating at 'our favorite spot,' and it made them think of you and miss being there with you. That's a friend, to me." – Crystal Woods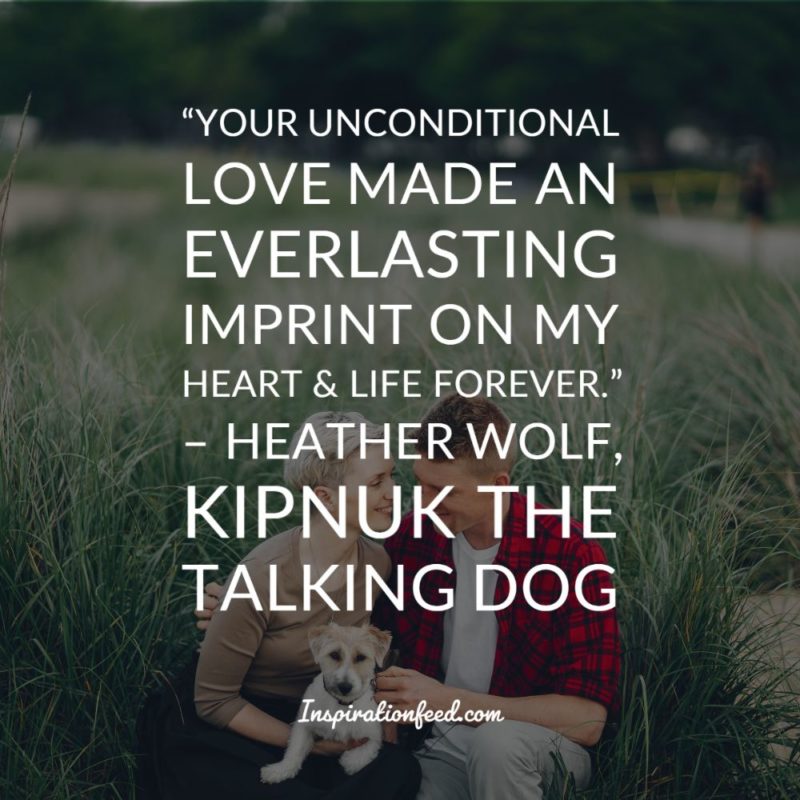 "Missing you is the hardest part of my day." – M@ri@
"Even the most colorful garden appears like a graveyard without you." – Saravana Kumar Murugan
"This isn't goodbye, okay. There are no goodbyes…not between us." – Stephens, Effortless
"I'm still missing you. Well I guess that I have, I guess that I have never really had you." – Tegan Quin
"The mountain between us is one I cannot climb." – Charles Martin, The Mountain Between Us
"No, I can't close my eyes without you in my dreams." – Luke Bryan
"Her tears still lay, unattended, on my bosom…I wouldn't wipe them, for she might stop paying me visits." – Aporva Kala
"In true love the smallest distance is too great, and the greatest distance can be bridged." – Hans Nouwens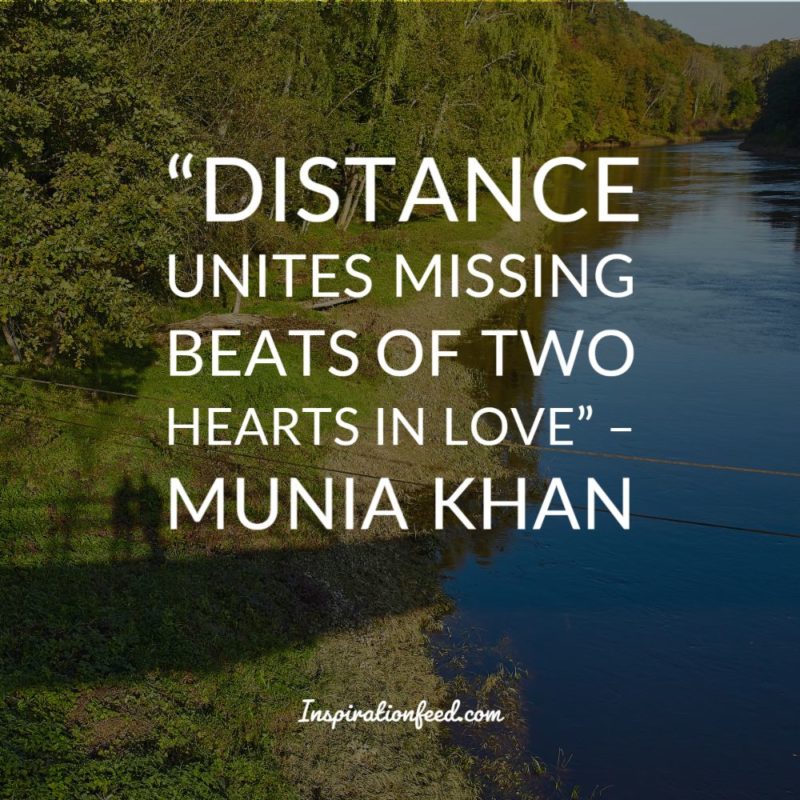 "Life is so short, so fast the lone hours fly, we ought to be together, you and I." – Henry Alford
"When we miss someone, often, what we really miss is the part of us that with this someone awakens." – Luigina Sgarro
"Sometimes, when one person is missing, the whole world seems depopulated." – Lamartine
"Missing someone enlightens how the person means to you and broadens the feelings shared." – Unarine Ramaru
"A hug for you means I need you. A kiss for you means I love you. A call for you means I'm missing you." – Beth Odeboza
"It's hard when you miss people. But you know if you miss them, that means you're lucky. It means you had someone special in your life, someone worth missing." – Nikki Schiefelbein
"I miss you deeply, unfathomably, senselessly, terribly." – Franz Kafka
"What is the opposite of two? A lonely me, a lonely you." – Richard Wilbur
"I miss you in ways that not even words can understand." – Gemma Troy
"Love is missing someone whenever you're apart, but somehow feeling warm inside because you're close in heart." – Kay Knudsen
"He kisses me like he misses me, even before I have to go." – J. Carlyon
"But nothing makes a room feel emptier than wanting someone in it." – Calla Quinn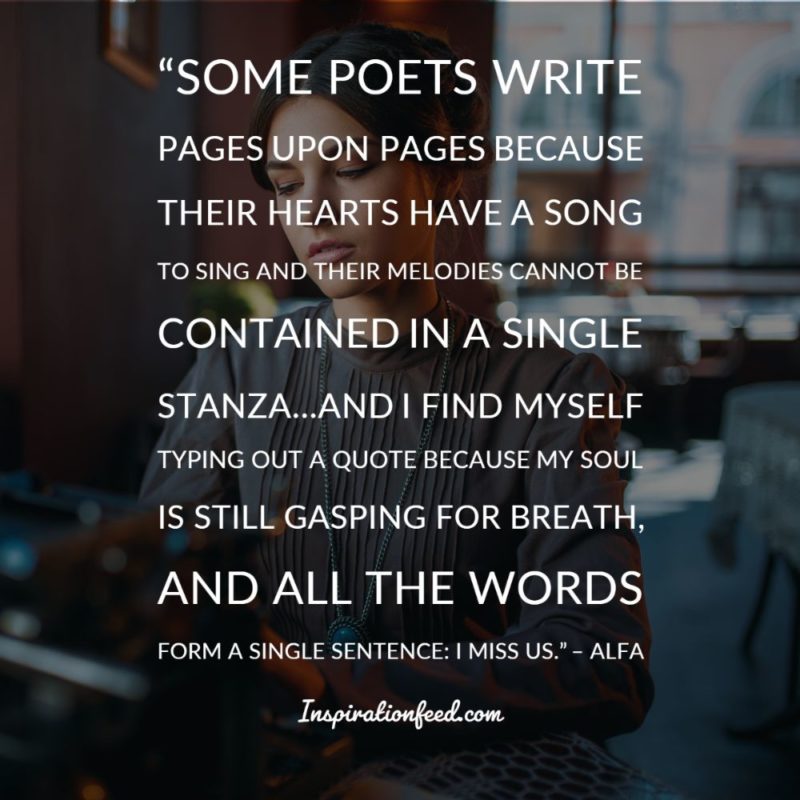 "No matter where you go, you will always be in my heart." – Anthony T. Hincks
"My world is a million shattered pieces put together, glued by my tears, where each piece is nothing but a reflection of you." – Sanhita Baruah
"We only part to meet again." – John Gay
"You can love someone so much, but you can never love people as much as you can miss them." – John Green
"Missing someone and not being able to see them is the worst feeling ever." – Nathanael Richmond
"Remembering our loved ones is breathing life into their fading images that we might once more see their faces and pass along a tearful 'I miss you.'" – Richelle E. Goodrich
"It's strange how many ways there are to miss someone. You miss the things they did and who they were, but you also miss who you were to them. The way everything you said and did was beautiful or entertaining or important. How much you mattered." – Robin Roe
"He kisses me like he misses me, even before I have to go." – J. Carlyon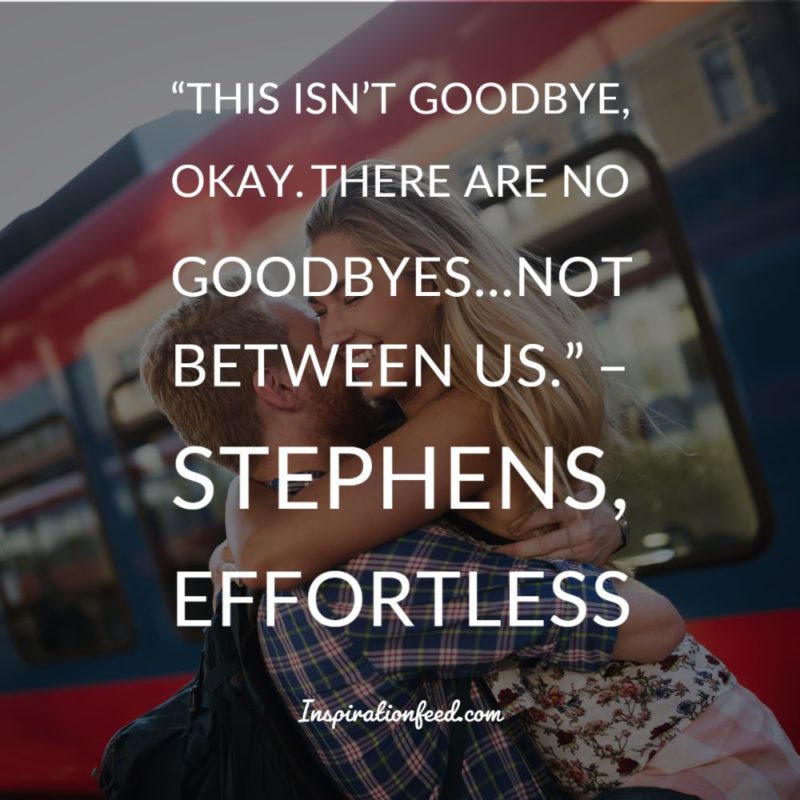 "And yet I want to be human; I want to be thinking of him because then I feel he is alive somewhere, if only in my head." – Sally Green
"You know someone is very special to you when days just don't seem right without them." – John Cena
"No matter where you go you will always be in my heart." – Anthony T. Hincks
"Missing someone is a part of loving them. If you're never apart, you'll never really know how strong your love is." – Gustave Flaubert
"I don't know what they are called, the spaces between seconds – but I think of you always in those intervals." – Salvador Plascencia
"Long after I have given up, my heart still searches for you without my permission." – Rudy Francisco
"The beauty of the sea is that it never shows any weakness and never tires of the countless souls that unleash their broken voices into its secret depths." – Zeina Kassee
"And they can't understand, what hurts more—missing the other person, or pretending not to." – Khadija Rupa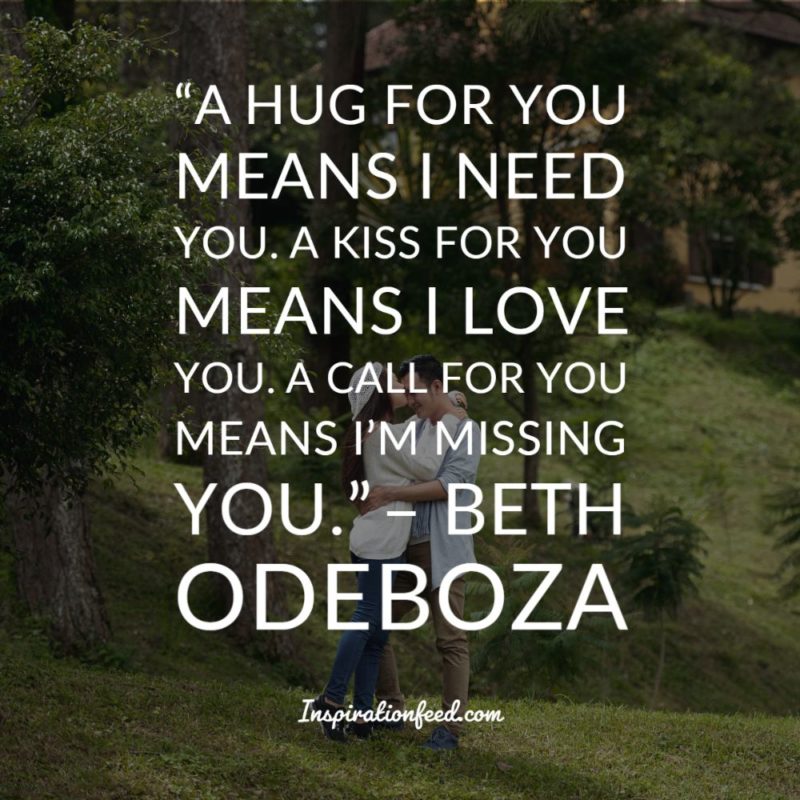 "How you can already miss someone when you are in the same room with them, I have no idea. But I do." – Karen Harrington
"The joy of having something comes from the length of time you have been wanting it, expecting it. Happiness really lies in the expectation. So once you achieve it, it loses its charm for you." – Osho
"The heart is as transparent as the depths of the ocean; One can only see until the light is gone." – Meredith Taylor
"Perhaps one day we will meet again as characters in a different story, may we'll share a lifetime then." – Pavana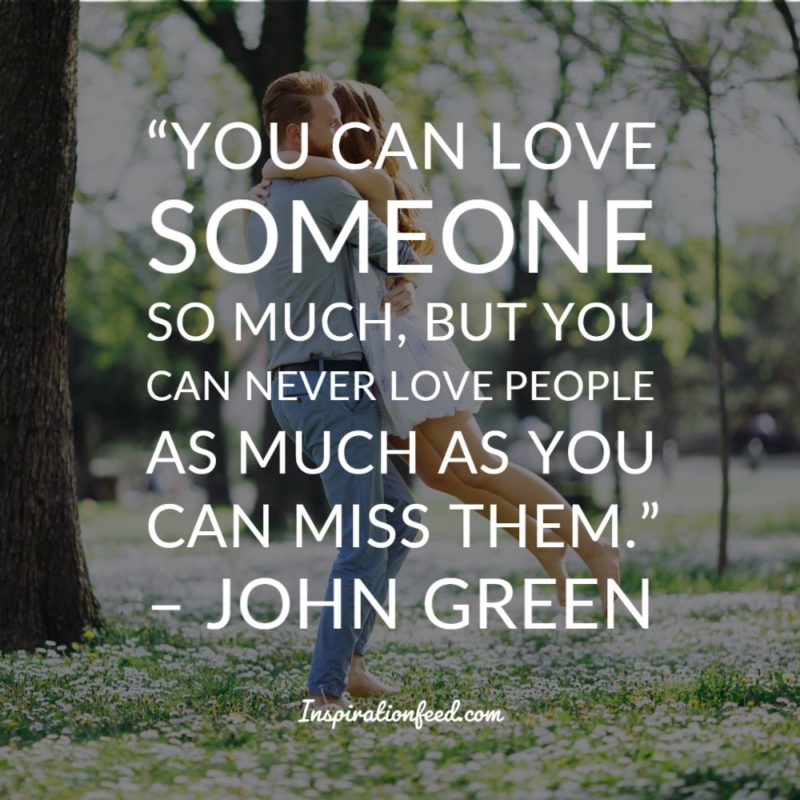 "I wish for you the wisdom to realize that it's okay to miss something, but not want it back." – Steve Maraboli
"I miss your voice because it is a symphony; your scent because it is a treasure; your smile because it is a jewel; your hug because it is a masterpiece; and your kiss because it is a miracle." – Matshona Dhliwayo
"When we miss someone, often, what we really miss is the part of us that this someone awakens." – Luigina Sgarro
"Love is missing someone whenever you're apart, but somehow feeling warm inside because you're close in heart." – Kay Knudsen