Last Updated on March 8, 2022
Not all TV stands are created equal. 
From the materials used to the storage options, there are dozens to choose from! Before buying one, you need to consider design, function, and how it would fit into the overall theme of your home. 
Do you want something small that could accommodate just your TV and DVD player? Or maybe you want an entire cabinet for storing game devices, speakers, and books? Do you prefer all-wood furniture or a mix of stone, wood, and metal? How big of a space do you have for it?
These are just a few of the questions you'll have to ask before making a purchase. Keep in mind that along with other big-ticket items in your place (i.e. couch, sofa, coffee table), a TV stand or media console will become a focal point. All eyes are going to be drawn to it eventually; so picking a timeless piece is a good idea.
Gorgeous TV Stand Designs
Your TV stand should be both functional and beautiful. It should tie all the elements of the room together while serving its main purpose (holding your TV set). Looking to buy one for your home? Let these modern TV stands inspire you.
1. Modern Solid Wood TV Stand
Wood is always a wise choice when it comes to picking furniture. And this minimalist console TV stand is perfect for any contemporary or mid-century theme. The slatted doors are not just for aesthetics; they ensure easy remote control signal access as well as heat dissipation for electronics. With a splendid walnut finish, it's really more of a work of art. 
2.
Modern Stone Boat-Shape Design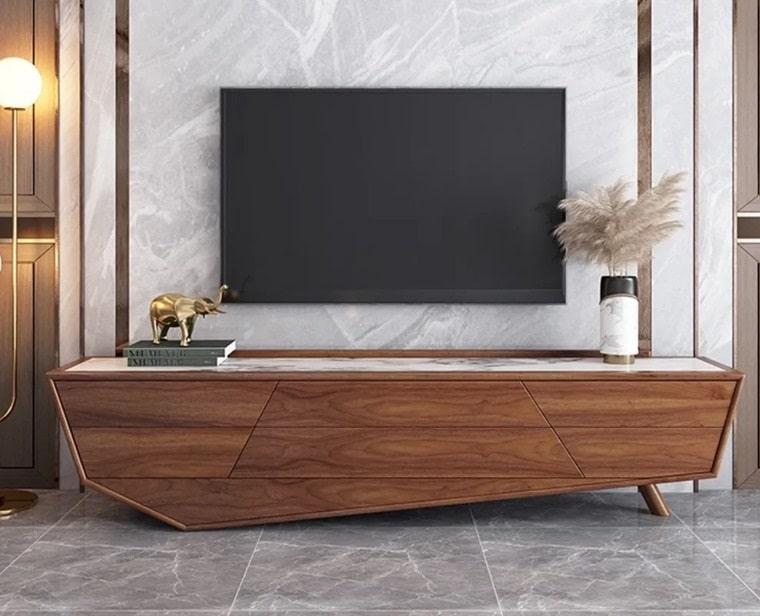 Want to have a conversation piece in your living room? Then you can't go wrong with this one-of-a-kind TV stand. With a glossy tabletop, six (6) spacious drawers, and a surprising sailboat shape, it's going to be a magnificent addition to your home. 
3.
Retractable Wood Media Console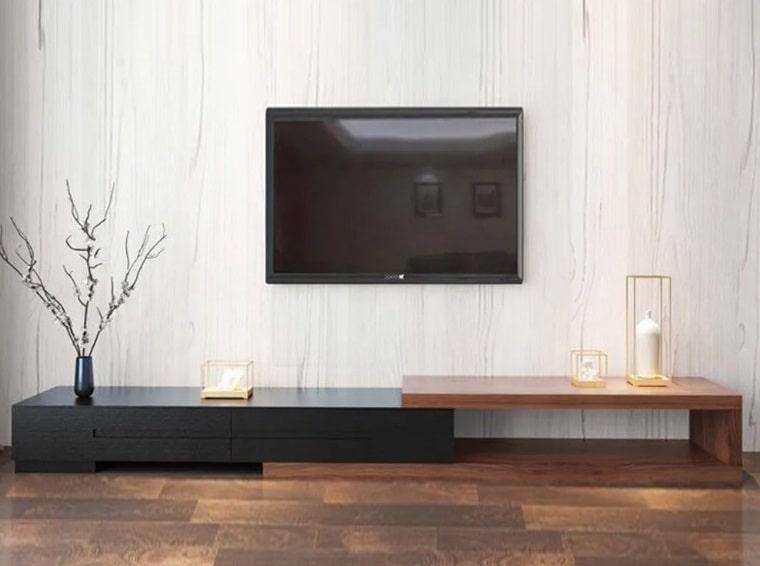 This two-color media unit is all about form and function. It's great for small or large living areas with its unique retractable design, allowing you to extend shelf space. With both closed and open shelving, you can choose which items to hide and which to display. 
4.
Black Wall-Mounted Floating TV Stand
A floating TV stand is unobtrusive and provides a fresh look to any room. It's easier to clean underneath, too! The rounded corners give off a soft, discreet vibe while preventing sharp bumps. You can opt to have the TV stand on top or mounted on the wall. 
5.
Modern Rectangular Media Console
Add a touch of minimalism to your place in this understated rectangular media console. Clean, solid, and elegant, it's also heavy-duty to carry your TV, game consoles, remotes, and DVD player. Its timeless walnut veneered panel will lend an organic feel to your space.
6.
Wall-Mounted Floating Stone TV Stand
When choosing a TV stand, it's good to look at it in terms of investing for the future. You'll want something durable and beautiful; so you and your family can continue using it for years. Well, this modern floating TV stand is just that. With natural veining patterns and a glossy finish, it's like having practical artwork in your home.
7.
Solid Rubberwood Media Console
Sleek, graceful, and charming, this TV stand features a handcrafted wave-like design that's truly eye-catching. It has rounded edges to protect you from bumps or scrapes. Plus, the tall cast legs give it needed height (and is also quite convenient when cleaning).
8.
Expandable Stone TV Stand
This pinewood TV console will look amazing in any area in your home, be it your bedroom or living room. The stone top will stylishly display all your wares. The built-in open storage on the side will carry daily-use items such as remotes, tissues, or magazines. It can even serve as your tea caddy!
9.
Contemporary Extendable TV Stand
Every contemporary home needs efficient and updated components. This media unit is all that and more. It boasts of a sintered stone top that's durable and scratch-resistant. And with an extendable bottom shelving option, you'll always have more space when you need it.
10.
PU Leather TV Cabinet
Looking for unique, artsy furniture? If you're in the market for something less cliché, this luxurious TV cabinet boasts of a PU leather upholstered design and gold stainless steel legs. Modern, unique, and with ample storage, all that's missing are art pieces to display on it.
11.
White Stone TV Stand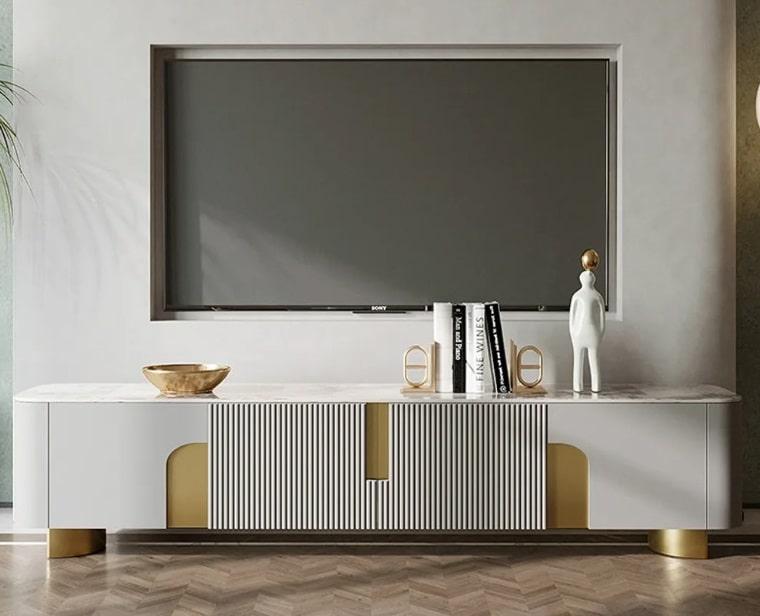 White is always on point. For those who want to give their spaces a fresh, breathable vibe, this white stone TV stand with baked finish and ribbed design is perfect. And with polished, rounded corners, it's a safe option for families with little kids.
12.
Oval Stone TV Stand with 3D Electric LED Flame
A fireplace can make any home instantly look and feel cozy. Get a similar vibe with this modern TV stand with 3D flame effect! It's odorless and eco-friendly so it's safe for everyone. Meanwhile, the diamond-patterned PU leather design on the sides will give your room a luxurious aura. 
All of these gorgeous TV stands are available at Povison. 
Povison is an exclusive furniture store offering sustainable luxury home décor made from eco-friendly materials. Their talented designers take into account price, style, and function to give you quality elements that last. Designed with your taste and comfort in mind, their furniture will surely complete any area in your home.