Last Updated on March 8, 2022
What Is A Modular Home?
A modular home refers to a home that's constructed indoors, usually in a factory or factory-like setting. Modular homes are constructed on sites that they'll not necessarily be used. After the building process, a modular home is transported to the buyer's site, where the home is carefully assembled and permanently installed by a professional builder.
Contrary to popular misconception, a modular home isn't the same as a mobile home, despite their near-similarities in definition. Also known as manufactured homes, mobile homes are movable dwellings that have no permanent foundation.
On the other hand, modular homes are simply regular homes that are built off-site. Once they're assembled on their intended site, modular homes remain there permanently.
What Does the Assembly Process for Modular Homes Looks Like?
The assembly process for modular homes begins by putting together sections that have been constructed in a climate-controlled environment. These sections are often built, taking into consideration the nature of the site where the homes will be installed.
The construction process also takes into account various customization features as requested by the buyer. For instance, you can discuss with the manufacturer on your desired type of floor and countertops, as well as cabinet styles, plumbing and electrical fixtures, exterior finishes, etc.
After all the parts are ready to make up a complete home, they're transported to the building site, where professional builders assemble them using cranes. It's worth noting that once a modular home has been assembled and installed, it's difficult to further customize it to your requirements.
Differences Between Modular Homes and Homes Built On-site
As we've already pointed out, the fundamental difference between modular homes and regular homes is that modular homes are built off-site before being transported and assembled in a different location.
Secondly, modular homes are built indoors, which makes the construction process quick and easy. As opposed to homes built on-site, modular homes do not experience delays occasioned by factors like bad weather.
Also, modular homes are constructed under more specific building rules and regulations, making them more reliable than traditional homes.
Another significant difference between modular homes and homes built on-site is with regards to pricing. On average, modular homes tend to be the more affordable option.
The following aspects contribute to the relative affordability of modular homes.
• Lack of architect fee – As the homes are pre-fabricated, their architectural plans come pre-designed and ready to use. That eliminates the hefty architect fees you may otherwise pay for homes built on-site. Even in cases where architect fees apply, they hardly ever exceed 10% of the construction cost, which is still incredibly cheap.
• Lack of General Contractor fee – When building a home on-site, you'll inevitably require a General Contractor to supervise and inspect the construction process. And GEs come with a price. Fortunately, modular homes eliminate the need for a General Contractor, as all the inspections happen in the factory.
• Lack of dumpster fee – Homes built on-site are usually characterized by loads of trash, which require some extra investment to clear from the site. The case is quite different with prefab homes, where there's usually little-to-no waste involved.
• Reduced labor costs – There are plenty of things that could cause delays when building on-site, ranging from bad weather to heavy traffic that prevents workers or materials from getting to the site on time. The financial burden that results from these logistical challenges is often passed onto the homeowner. Again, these are not challenges you'll face with modular homes, as the entire construction project takes place inside a factory.
• Lower permit fees – Lastly, modular homes attract lower permit fees. Evidently, there are numerous reasons to invest in a modular home. Of course, that's not to mean that all modular homes are alike. Since these homes are developed by different companies employing different expertise, there are bound to be significant variances in quality, service, and price.
As a matter of fact, there are a few aspects that might make the cost of modular homes a bit inhibitive. For instance, the transportation fee may be too high, depending on the site where the homes are to be assembled. There are also hefty crane fees to contend with.
But on average, modular homes are far more affordable, stylish, and durable compared to traditional homes.
Top 6 Modular Home Companies
1. Wheelhaus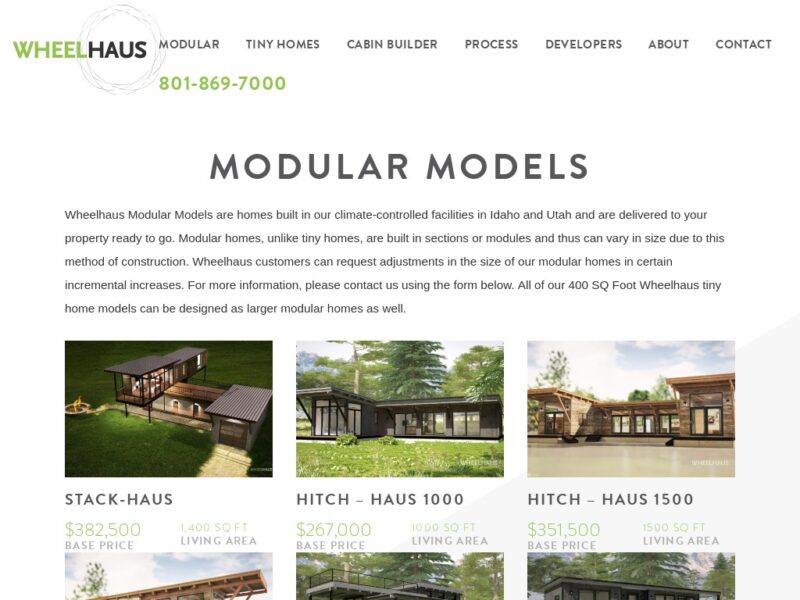 Website: http://wheelhaus.com/
Headquarters: Idaho, United States
Wheelhaus offers energy-efficient and luxurious modular homes at industry-competitive rates. The homes also come with a guarantee of craftsmanship, high quality, and outstanding durability, ensuring that you get value for your money each time.
At first glance, you may dismiss modular homes by Wheelhaus as boring and uninspiring, seeing as the company uses traditional log cabins. However, a closer look reveals structures that are furnished with state-of-the-art amenities that you would expect in most luxurious homes today.
Modular homes by Wheelhaus are also easy to assemble, with the set up usually taking between 2 and 5 days after delivery. Plus, you're entitled to a 1-year structural warranty. And here's the best part – Wheelhaus lets you stay in one of their facilities and get a glimpse of the quality before placing your order.
2. Ma Modular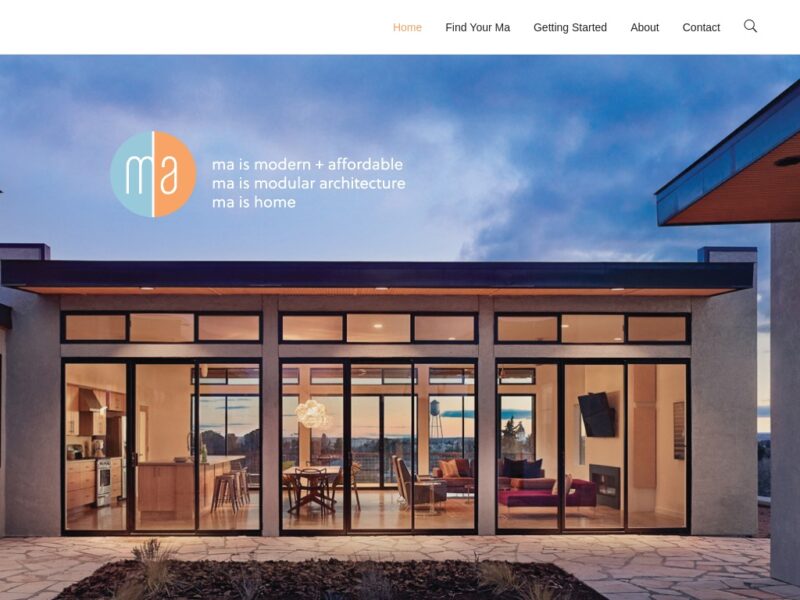 Website: http://mamodular.com/
Headquarters: Austin, Texas, United States
One of the features that makes Ma Modular outstanding is the company's flexibility of floor plans for all their modular homes. Clients can request floor plans between 525 and 1,660 sq. ft., depending on their budget needs and project requirements.
Ma Modular operates under three major tenets – quality, affordability, and speed. Partnerships between the company and professional development teams ensure that the final product is a real work of craftsmanship.
On their website, you can take a visual tour of Ma factories and interviews with previous clients to have a feel of the kind of user experience to expect from the company. Regardless of the complexity of your project, Ma Modular homes are often ready in less than 180 days.
3. Wikkelhouse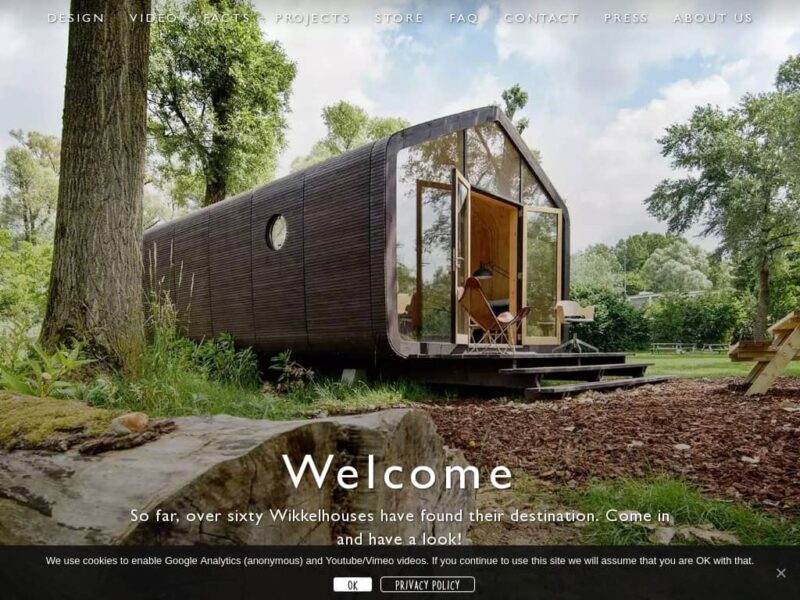 Website: https://www.wikkelhouse.com/
Headquarters: Amsterdam, the Netherlands
Wikkelhouse loosely translates to "wrap house", which speaks volumes about homes by this modular home building company. The company takes the whole idea of modular homes to a whole new level, by focusing on the construction of cardboard-based homes.
Wikkelhouse modular homes are constructed by wrapping 24 cardboard layers around 1.2-meter-wide core segments. The homes are then finished by covering them using protective and waterproof film.
One of the best things about Wikkelhouse homes is that you can add the segments indefinitely. That allows you to vary the length of your home, depending on the size of your project and budget needs.
Also, as modular homes by Wikkelhouse are mostly made of cardboard, the homes are highly eco-friendly and completely reusable. Experts project that Wikkelhouse homes can last up to 100 years or even more depending on their owners' care and maintenance plans.
4. KODA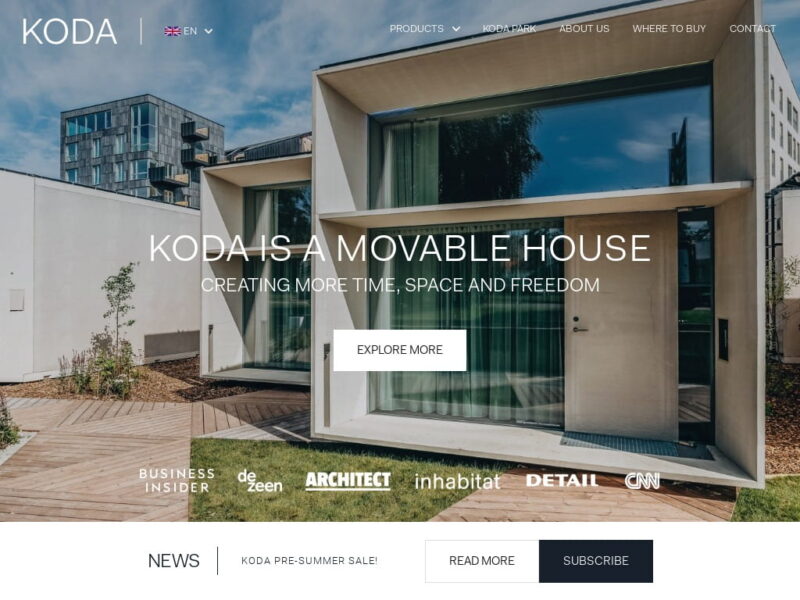 Website: http://www.kodasema.com/
Headquarters: Estonia
This Estonian-based company has also earned its place among globally-renowned modular home builders, and understandably so. The company is particularly famous for developing micro-homes that feature a blend of minimalism and efficiency.
Homes by Koda are constructed from maintenance-free concrete, with 25m² as the standard floor size. That makes them a special recommendation for minimalists out there, or clients looking for decent, stylish, and budget-friendly modular homes.
Despite the minimalistic size of Koda modular homes, the structures still feature all conveniences required for modern living, including a bathroom shower, small terrace, and a detached bedroom area.
Other special amenities include solar panels as well as smart home technology, such as adjustable LED lighting and digital door locks. There's even the possibility of customizing the features to further suit your personal needs.
Koda homes take approximately 24 hours to put together, and about 7 hours to disassemble for transportation to their target installation site.
5. Node
Website: https://node.eco/
Headquarters: Seattle, Washington, United States
Node deploys the latest technology to fabricate highly-functional and efficient homes that feature carbon-negative capabilities. The homes come with built-in renewable water and energy technologies. If you're looking for a modular homes company that takes environmental conservation seriously, then you might want to look in the direction of Node.
The company also prides itself on its relatively shorter turnaround, while allowing clients to customize their units using the available mix-and-match modules. Some of the customization features include choosing your preferred floor and countertop material, floor plans, lighting requirements, et cetera.
There are plenty of photos you can view to pick a home that fits your needs. After that, the staff at Node will take you through a tour where all your questions will be addressed in a bid to help you hone in on the home of your choice.
6. Dwellito
Website: https://www.dwellito.com/
Headquarters: Arizona, United States
The modular home shopping process at Dwellito is quick and easy. First, you browse from the available photos and pick a home that catches your fancy. Even after locating your dream home, you can still discuss with the company to further personalize it to your specifications. You may need to shell out a few more bucks for that, but it's worth every penny.
It's also advisable that you search for homes on Dwellito by comparing the available features against the price tag. If you're ever in doubt, you can leverage the company's unbiased reviews to get a glimpse of what previous clients had to say.
After honing in on your preferred home, you can proceed to contact the company and inquire more about the home and the possibility of further customization. If everything looks okay, the company will issue you with an estimate.
What if you cannot fund your dream home? No need to fret. Dwellito partners with renowned lenders and allows their clients to apply for no-interest financing, making the modular home buying process by this company a hassle-free experience.
Wrap Up
Modular homes are the in thing. No matter where you sit, there are more advantages to reap from investing in these homes, as opposed to homes built on-site. We hope you found this guide useful, and can proceed to order your prefab home from one of the reputable builders we've recommended here.