Baptized as Agnes Gonxha Bojaxhiu (Anjezë Gonxhe Bojaxhiu; Albanian), Mother Teresa was the founder of the Order of the Missionaries of Charity. She devoted her life to serving 'the poorest of the poor', and helped to spread the message of love across the world. Considered as one of the greatest humanitarians of the 20th century, she was canonized as a saint on September 4, 2016.
She received all kinds of praises and recognition, one of which was the 1979 Nobel Peace Prize. But people today remember her most for her charitable work, and her efforts in reminding people about their responsibility to 'love the unloved'.
Mother Teresa: Earlier Life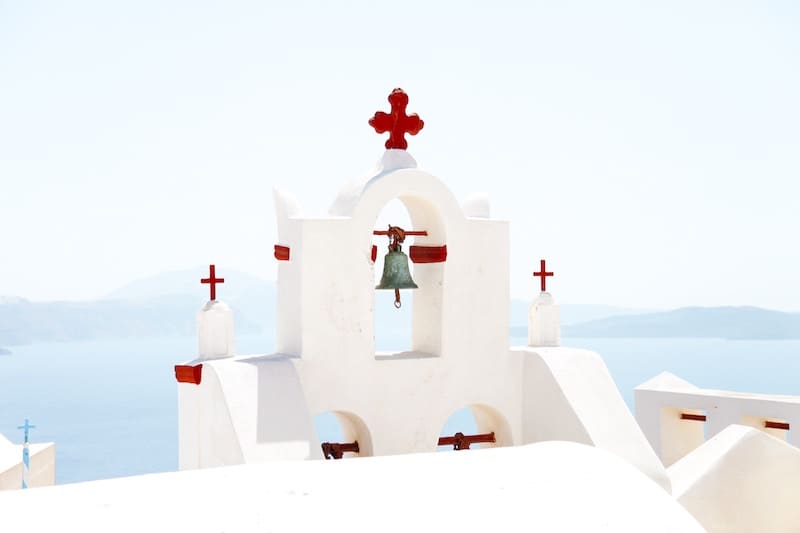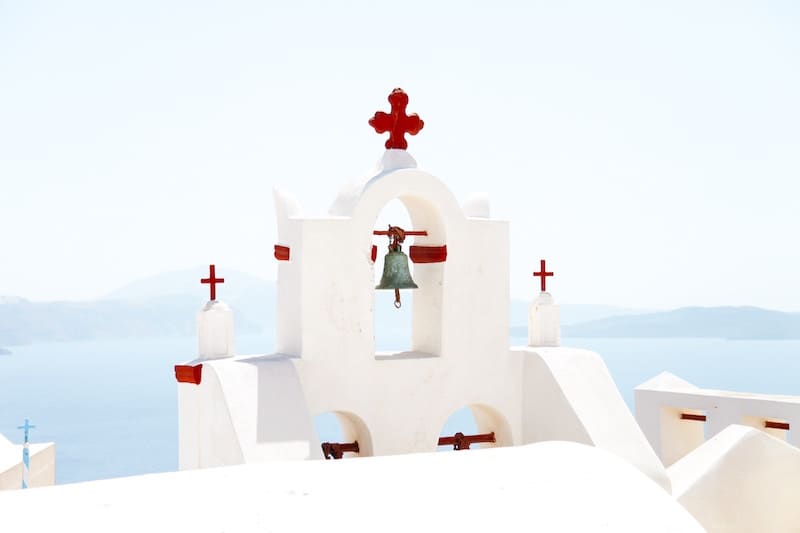 Born to parents Nikollë (Nikola) and Dranafile Bojaxhiu on August 26, 1910, her birth name Anjezë 'Agnes' Gonxhe meant "rosebud" or "little flower" in Albanian.
She was baptized the day after, on August 27, which she considers her 'true birthday'. Agnes was exposed early on to a life of compassion and service through her mother. She also became fascinated by the works of Bengal missionaries.
Unfortunately, she experienced an early loss when her father died when she was but eight years old. It was at the age of 12 that she felt a call to charity. Her resolve was strengthened after she prayed at the shrine of the Black Madonna.
So in 1928 at the tender age of 18, Agnes left her family to become a nun and join the Sisters of Loreto in Dublin. This is where she would learn English as well as begin her training as a missionary. A year later, she would be sent to Darjeeling, in the lower Himalayas, where she would learn Bengali and teach at St. Teresa's School near her convent.
Agnes took her first religious vows on May 1931. She wanted to be named after the patron saint of missionaries, Thérèse de Lisieux, but decided instead on its Spanish spelling, Teresa. While still a teacher at the Loreto convent school in Entally, eastern Calcutta, Teresa took her Final Profession of Vows on May 1937. As was custom, she took on the title of "Mother", becoming known today as the beloved Mother Teresa.
Mother Teresa: Later Works and Life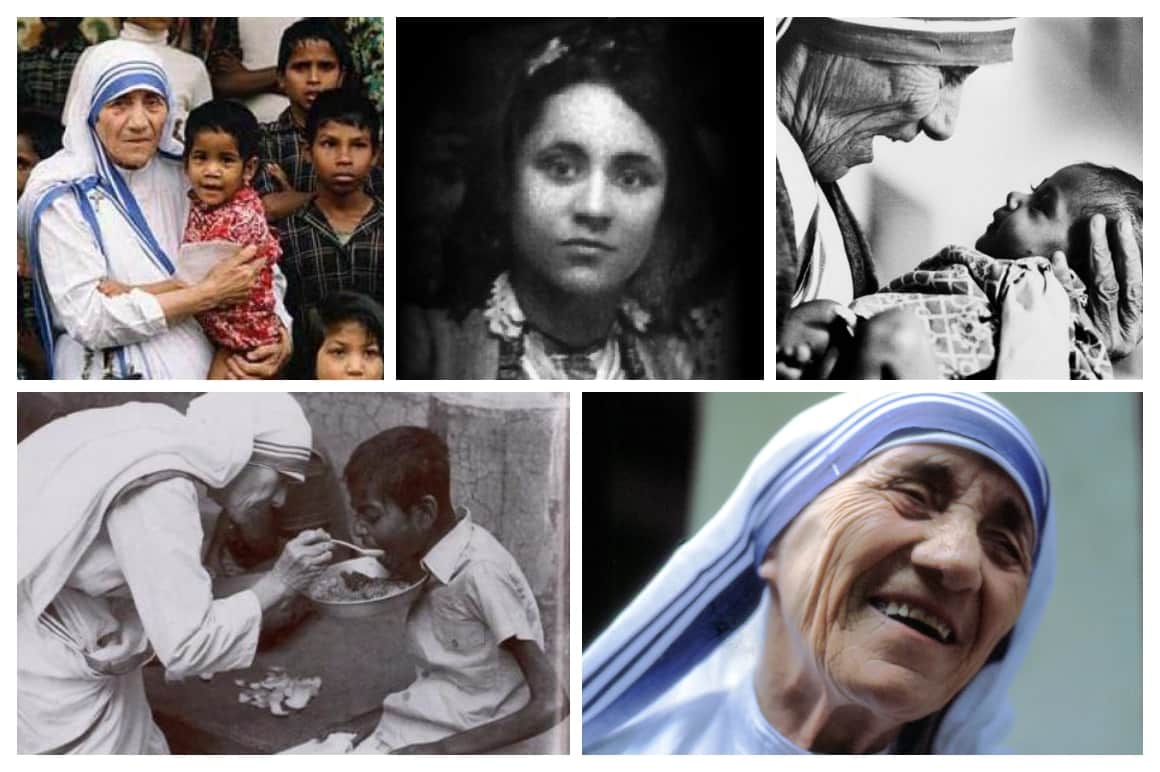 Mother Teresa stayed and served in Saint Mary's High School for Girls in Calcutta for almost 20 years. In 1944, she became the school's headmistress. She saw education as a way for them to improve their situations. However, she became more and more aware of the desolate situation in Calcutta, especially during the Bengal famine of 1943.
In September 1946, Mother Teresa experienced something that would ultimately change her life forever. She later described it as "the call within the call". During her train travel for a retreat, she believed that Christ spoke to her, telling her to work instead to help Calcutta's poorest and sickest people.
However, this call would require her to abandon her teaching and her convent. After a year of seeking official permission, she was finally granted approval. In August of 1948, Mother Teresa exchanged her traditional Loreto habit with a simple, white cotton sari with a blue border.
After just six months of basic medical training, she went to the slums to answer her calling of 'loving the unloved'. In October 1950, Mother Teresa won canonical recognition for the Missionaries of Charity, which would help her in her mission. Today, the Missionaries of Charity boasts of thousands of members, with hundreds of foundations in 123 countries.
Mother Teresa finally rested on September 5, 1997, at the age of 87, after years of service to humanity. Her work and unfaltering love for the poor is indeed an inspiration to all. Learn from her wisdom with these Mother Teresa quotes.
30 Mother Teresa Quotes on Service, Life, and Love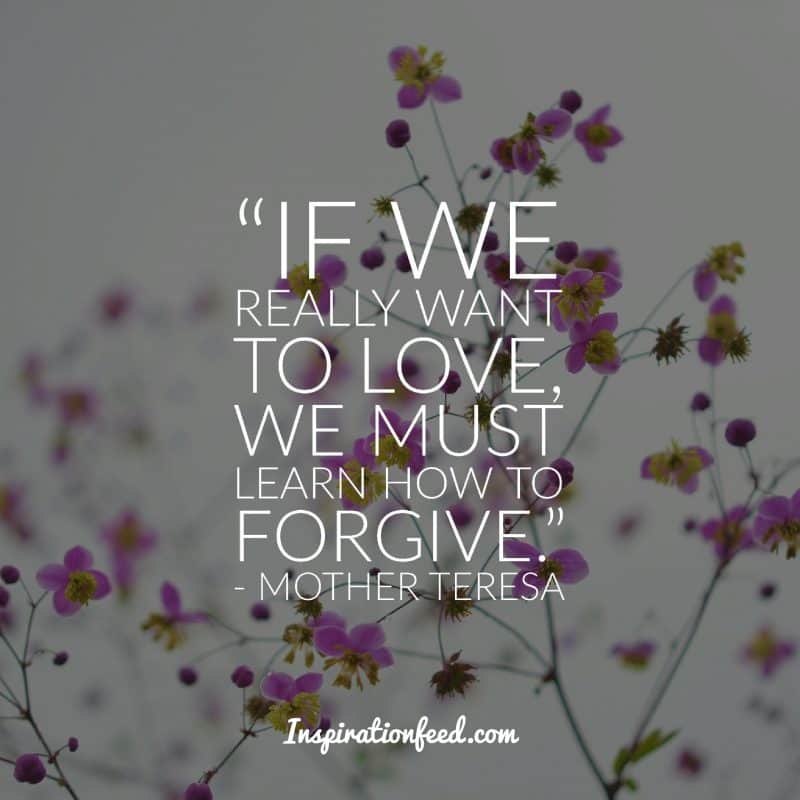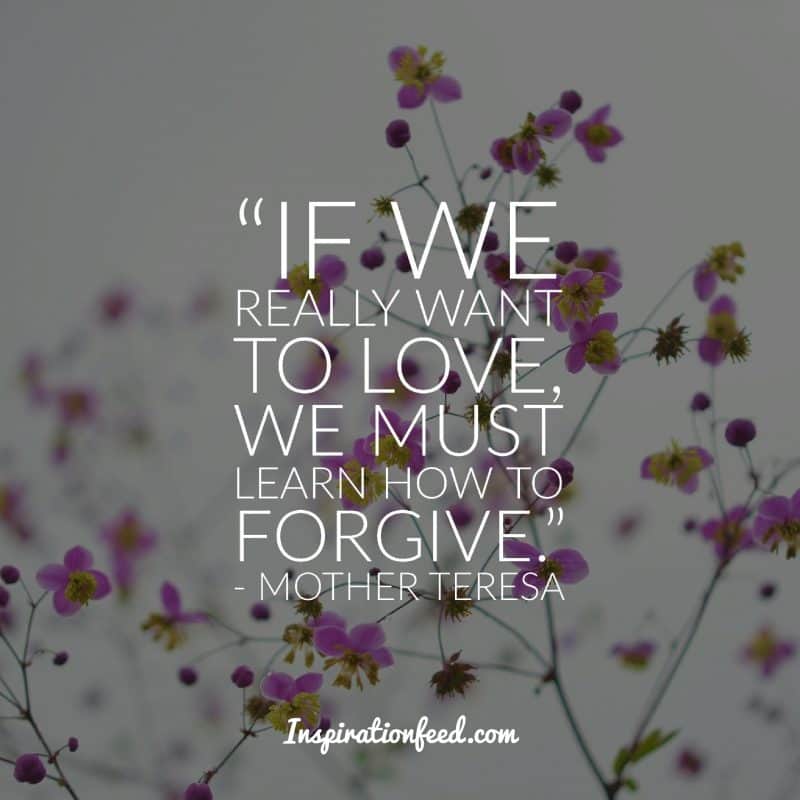 "If we really want to love, we must learn how to forgive." – Mother Teresa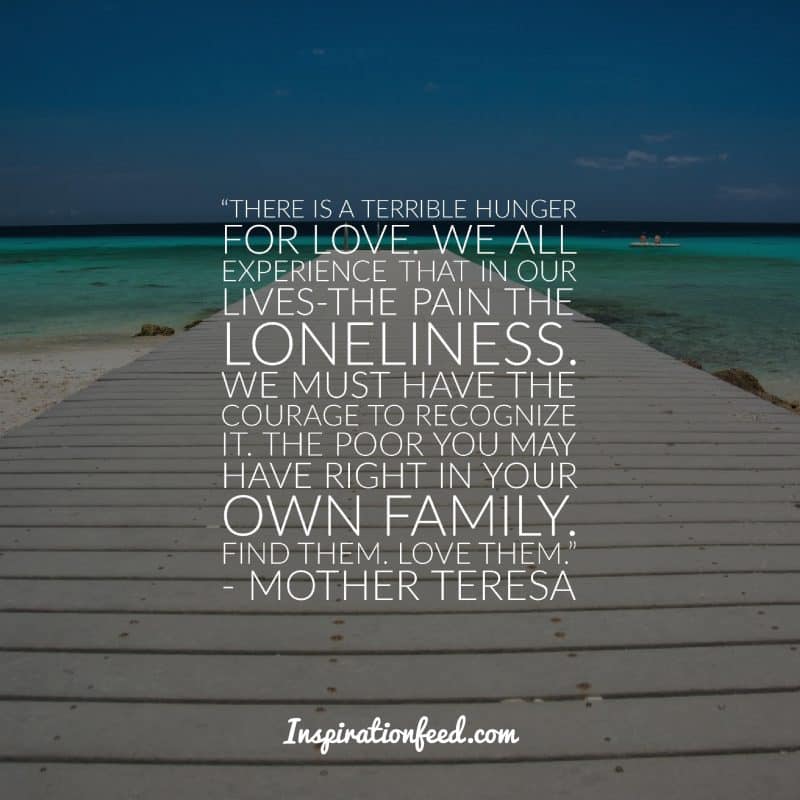 "There is a terrible hunger for love. We all experience that in our lives-the pain the loneliness. We must have the courage to recognize it. The poor you may have right in your own family. Find them. Love them." – Mother Teresa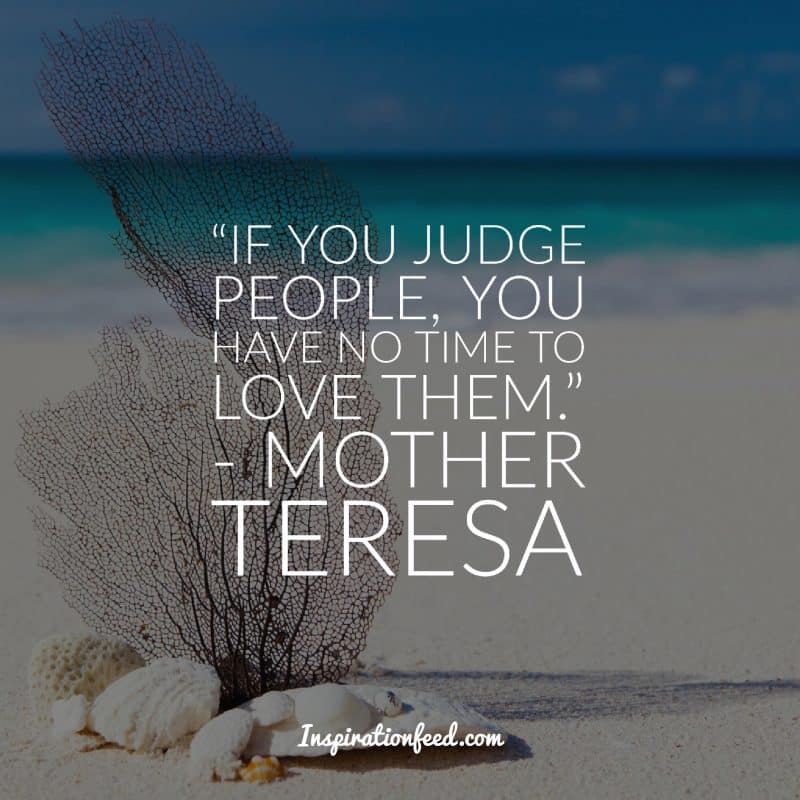 "If you judge people, you have no time to love them." – Mother Teresa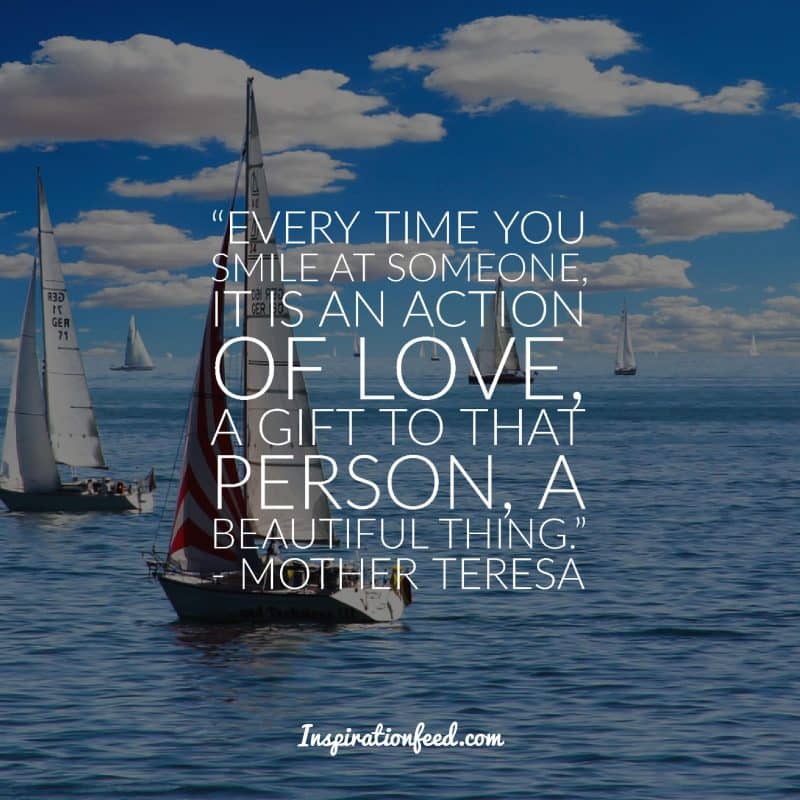 "Every time you smile at someone, it is an action of love, a gift to that person, a beautiful thing." – Mother Teresa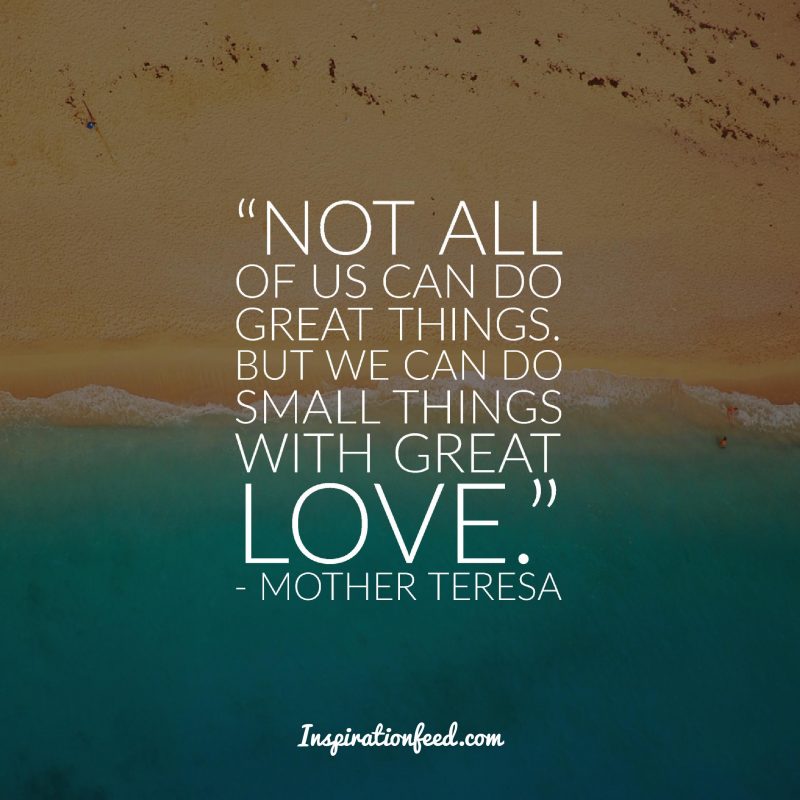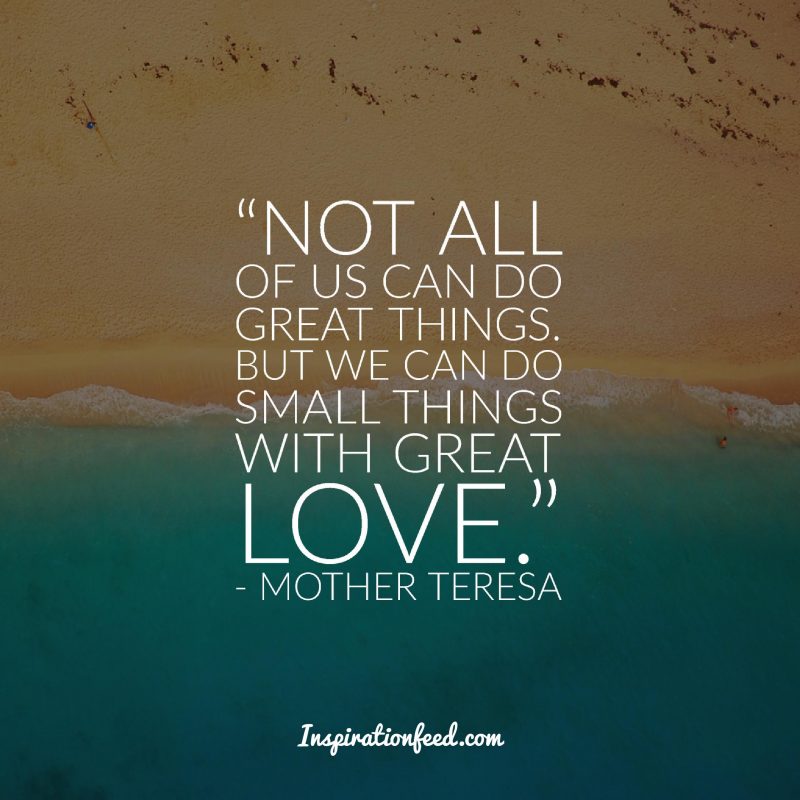 "Not all of us can do great things. But we can do small things with great love." – Mother Teresa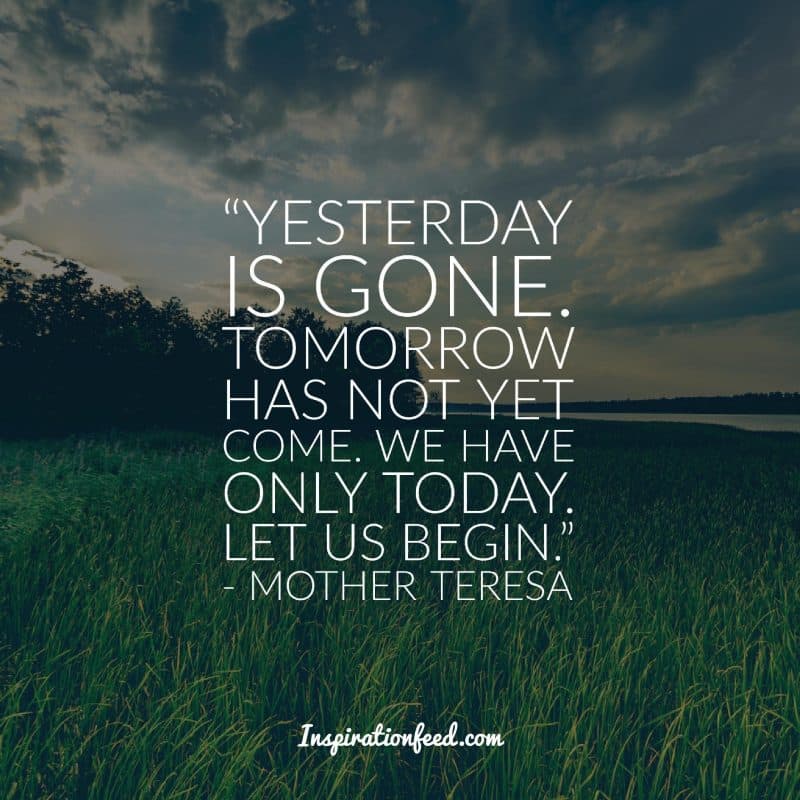 "Yesterday is gone. Tomorrow has not yet come. We have only today. Let us begin." – Mother Teresa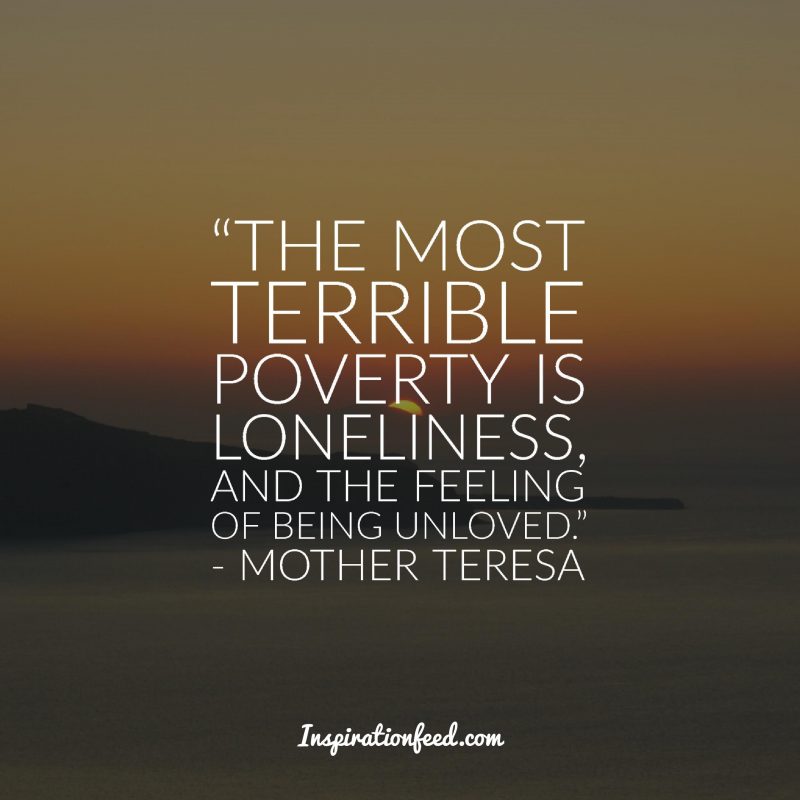 "The most terrible poverty is loneliness, and the feeling of being unloved." – Mother Teresa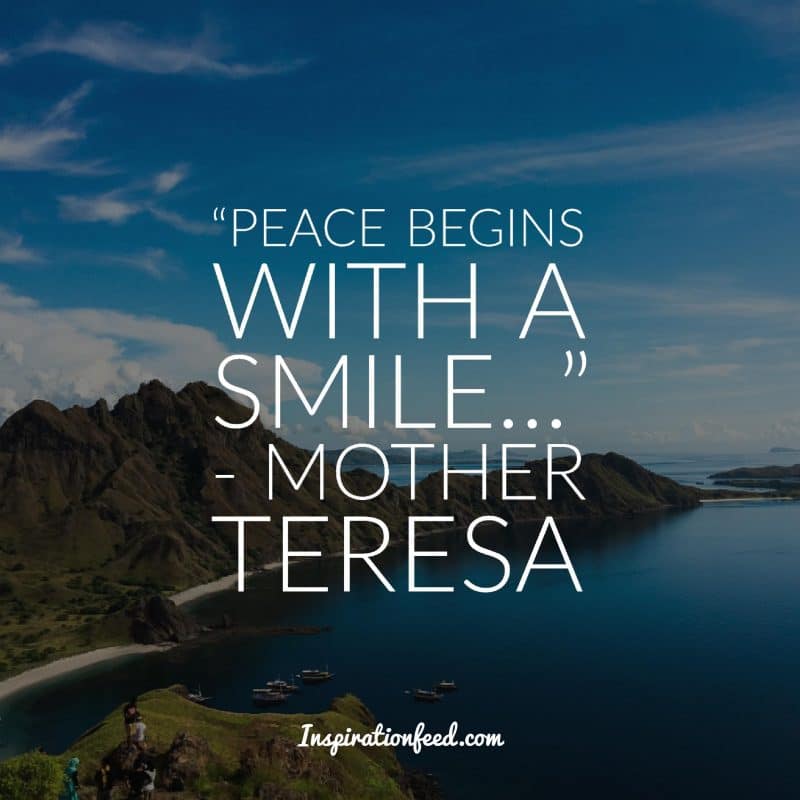 "Peace begins with a smile…" – Mother Teresa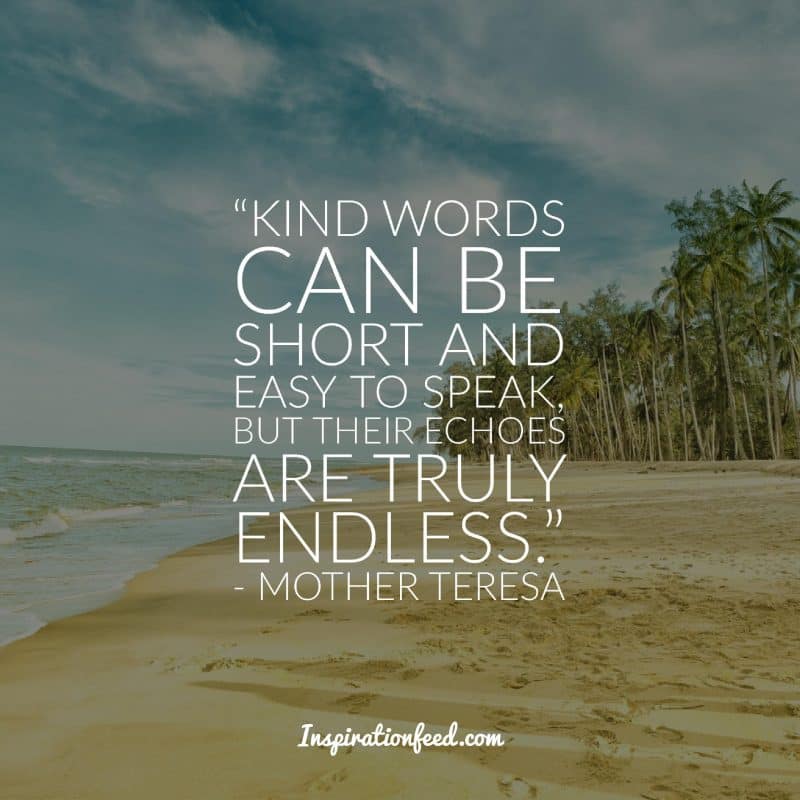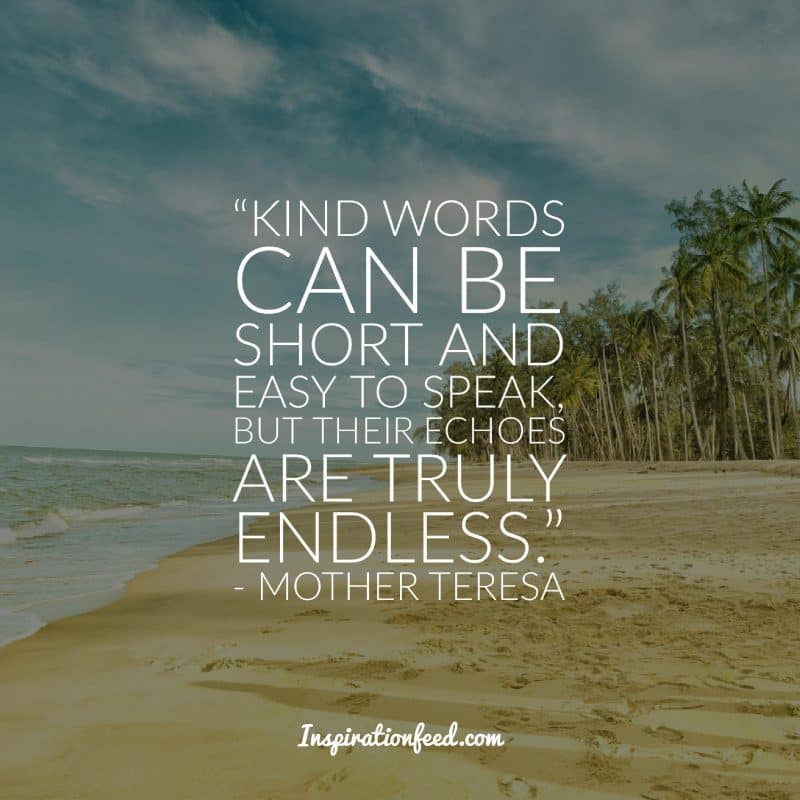 "Kind words can be short and easy to speak, but their echoes are truly endless." – Mother Teresa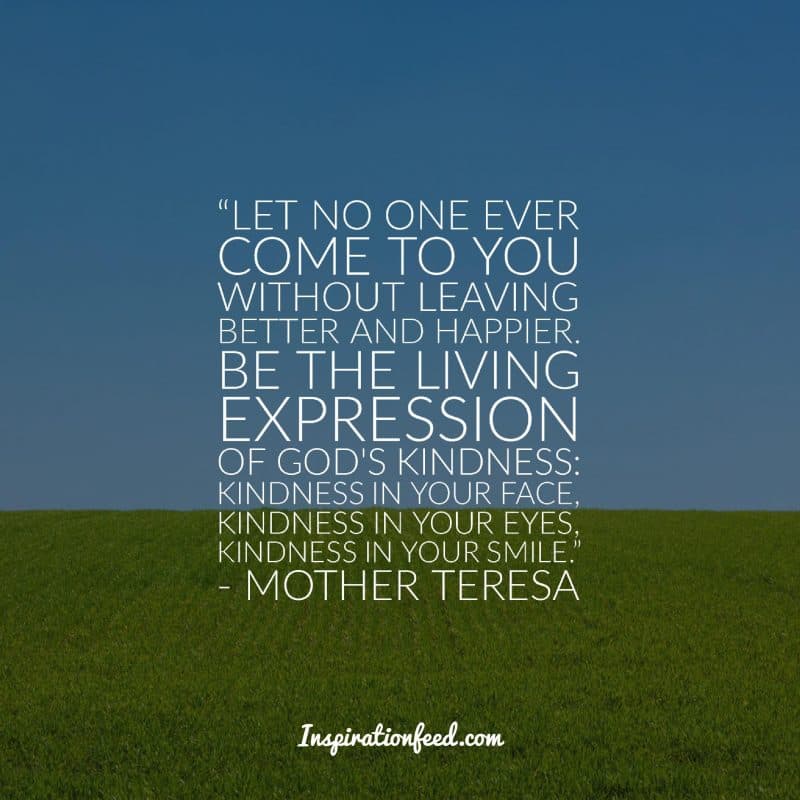 "Let no one ever come to you without leaving better and happier. Be the living expression of God's kindness: kindness in your face, kindness in your eyes, kindness in your smile." – Mother Teresa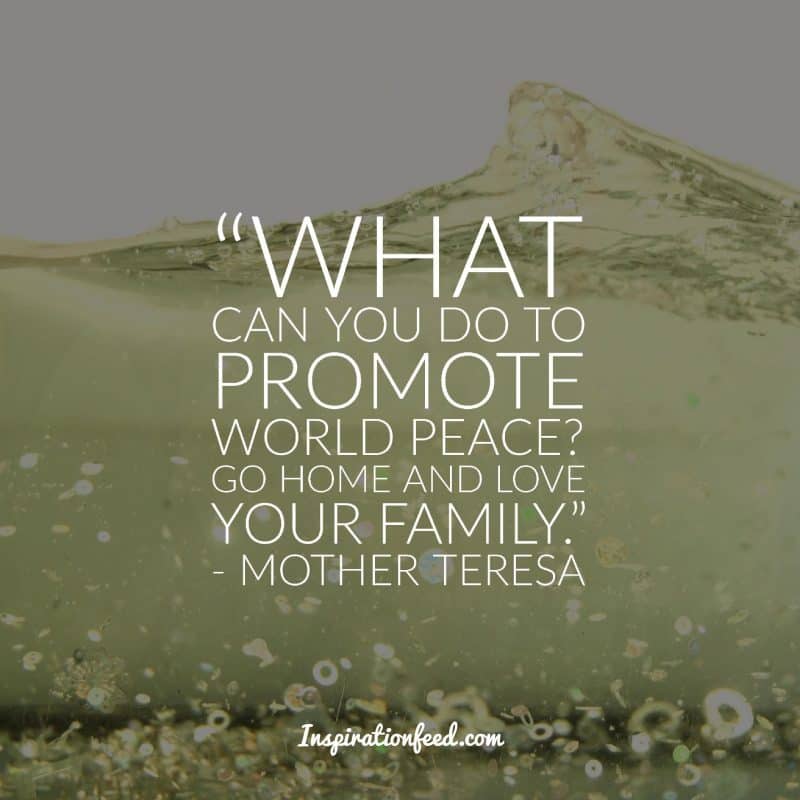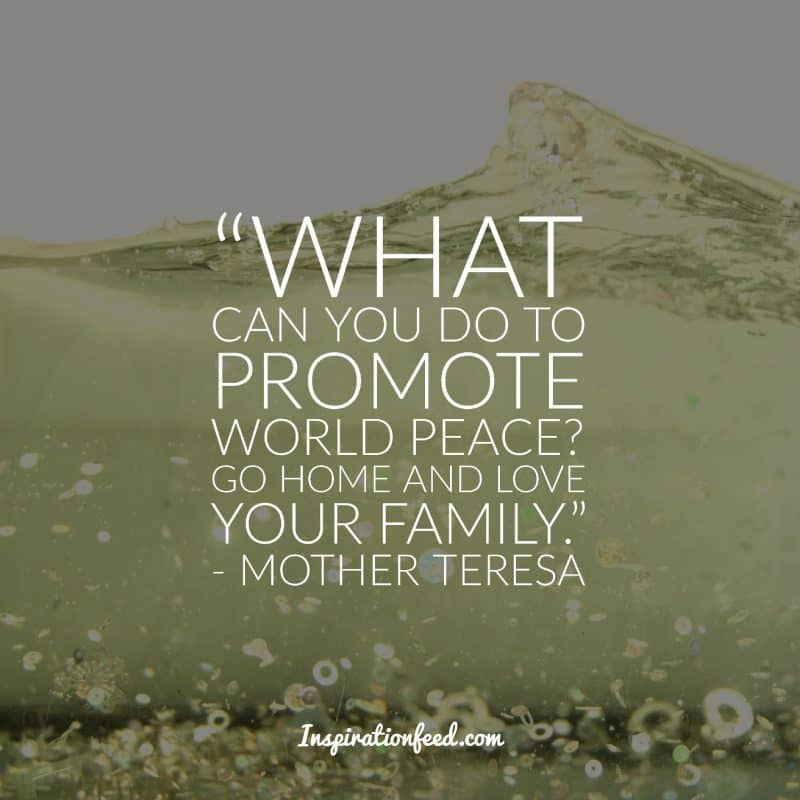 "What can you do to promote world peace? Go home and love your family." – Mother Teresa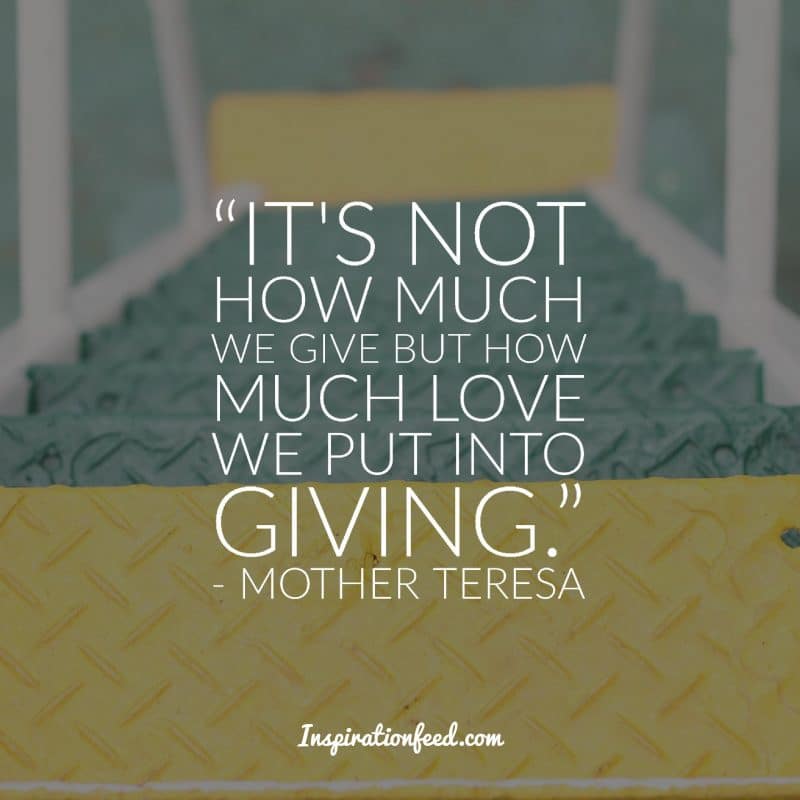 "It's not how much we give but how much love we put into giving." – Mother Teresa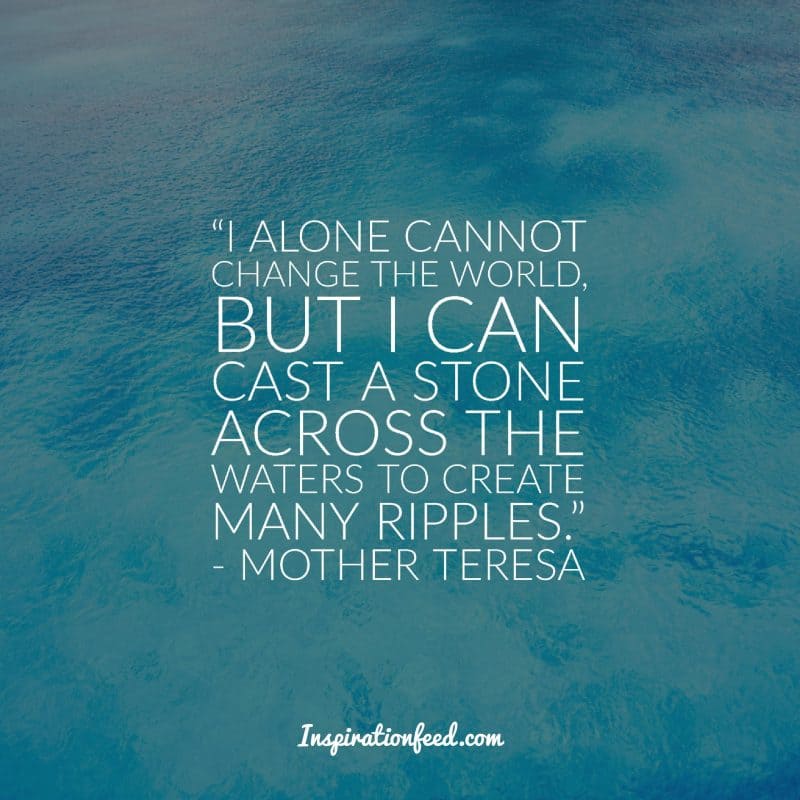 "I alone cannot change the world, but I can cast a stone across the waters to create many ripples." – Mother Teresa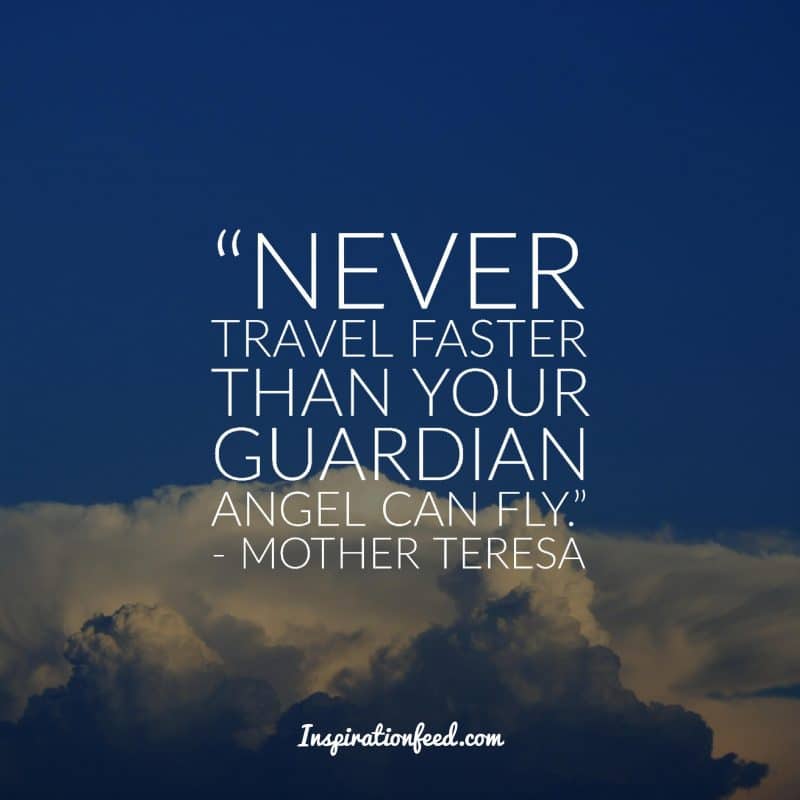 "Never travel faster than your guardian angel can fly." – Mother Teresa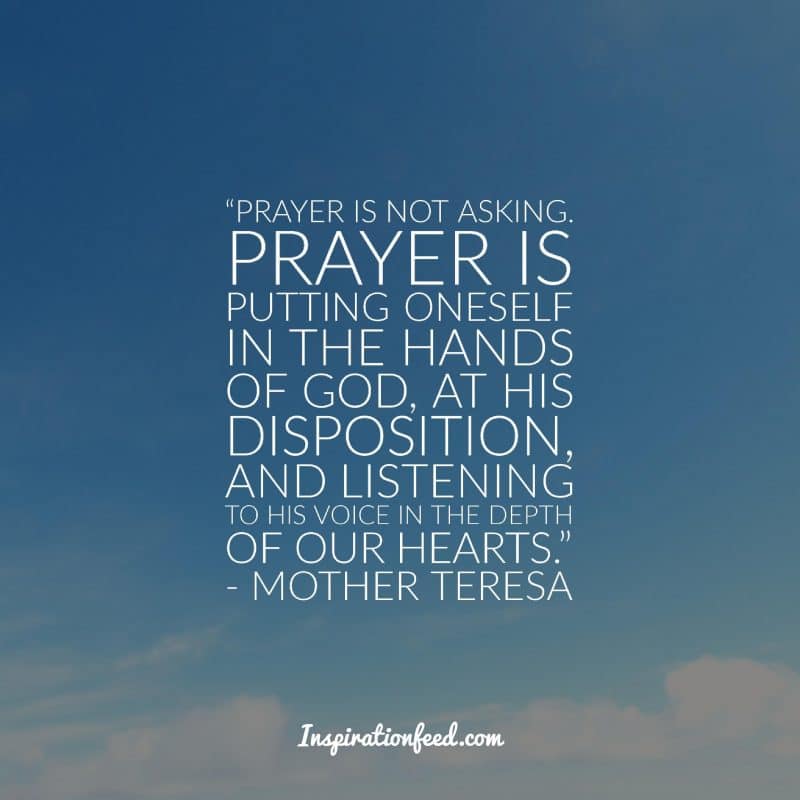 "Prayer is not asking. Prayer is putting oneself in the hands of God, at His disposition, and listening to His voice in the depth of our hearts." – Mother Teresa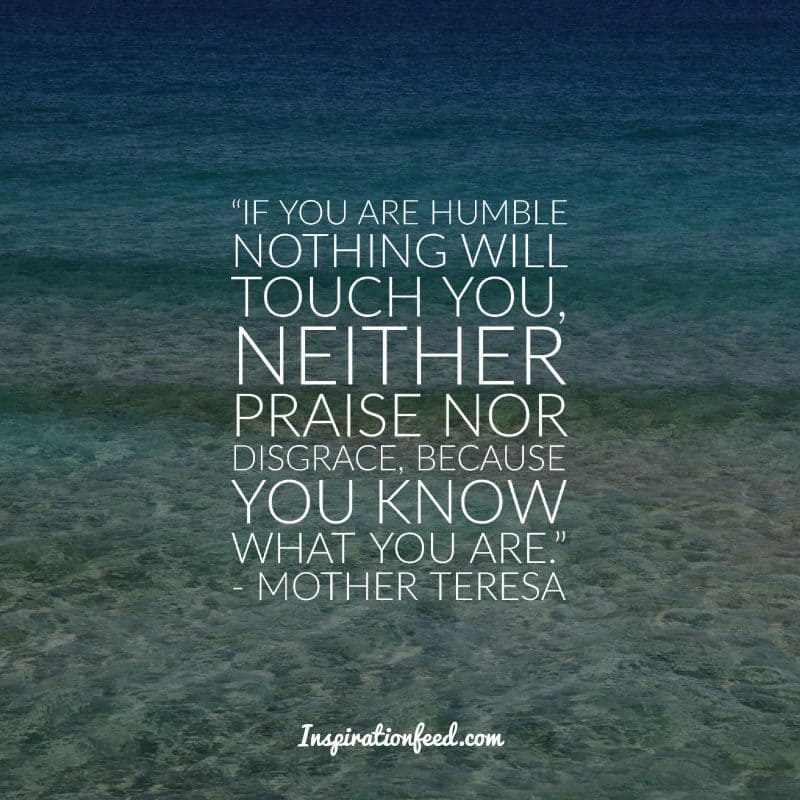 "If you are humble nothing will touch you, neither praise nor disgrace, because you know what you are." – Mother Teresa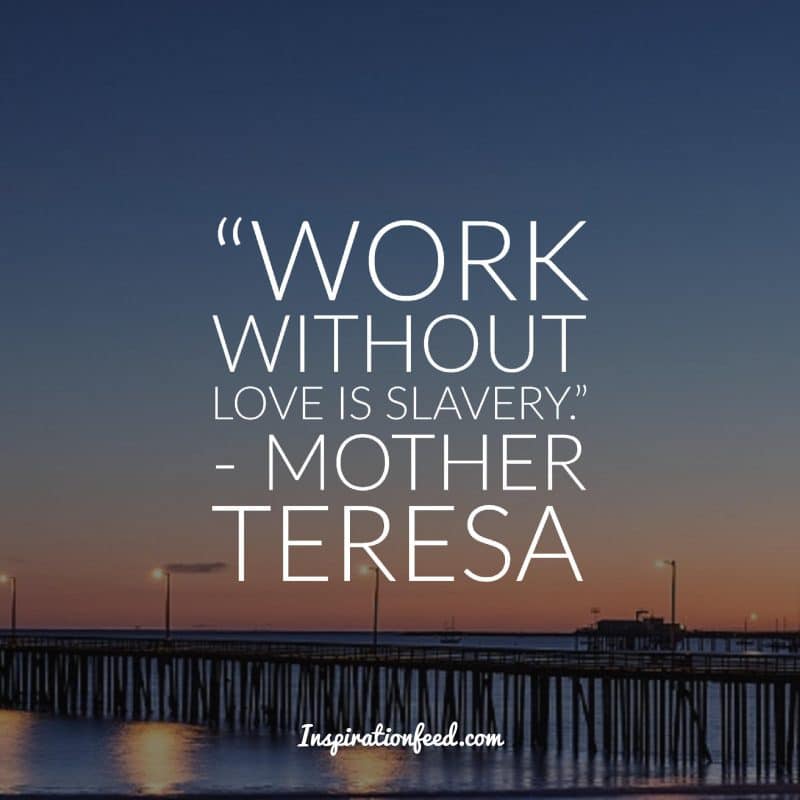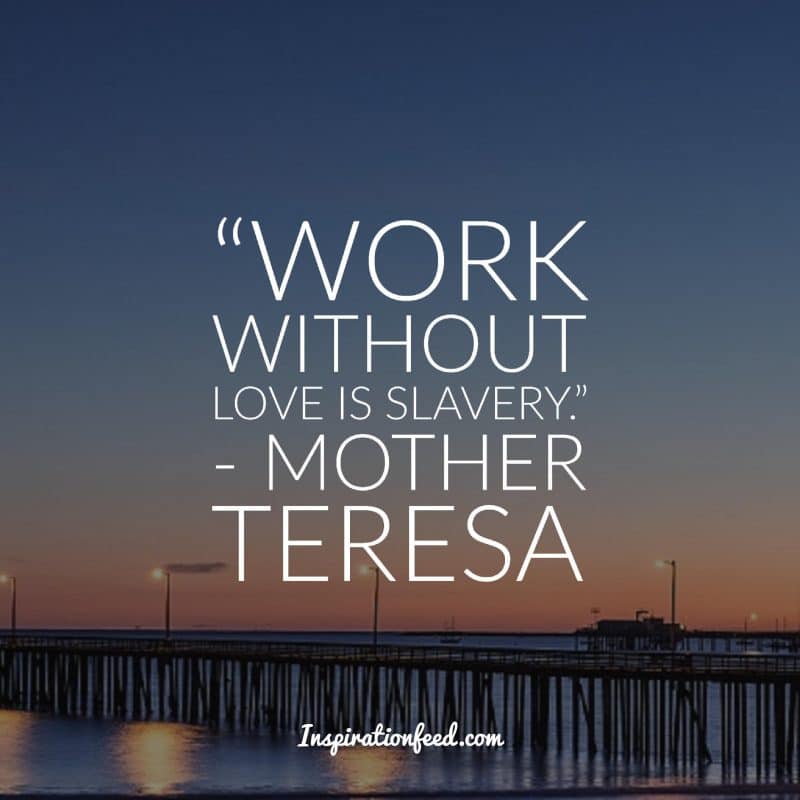 "Work without love is slavery." – Mother Teresa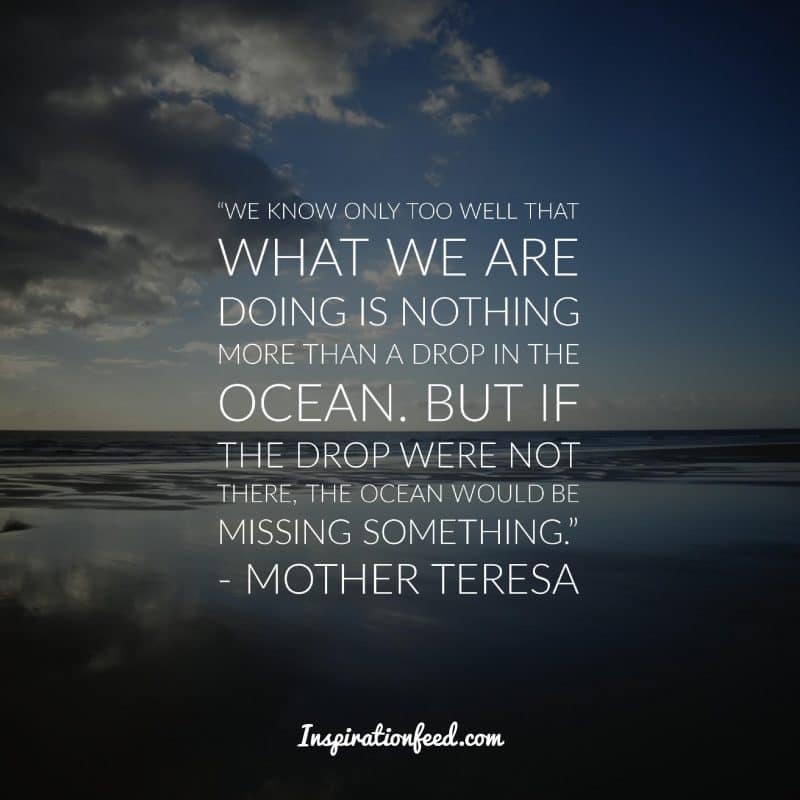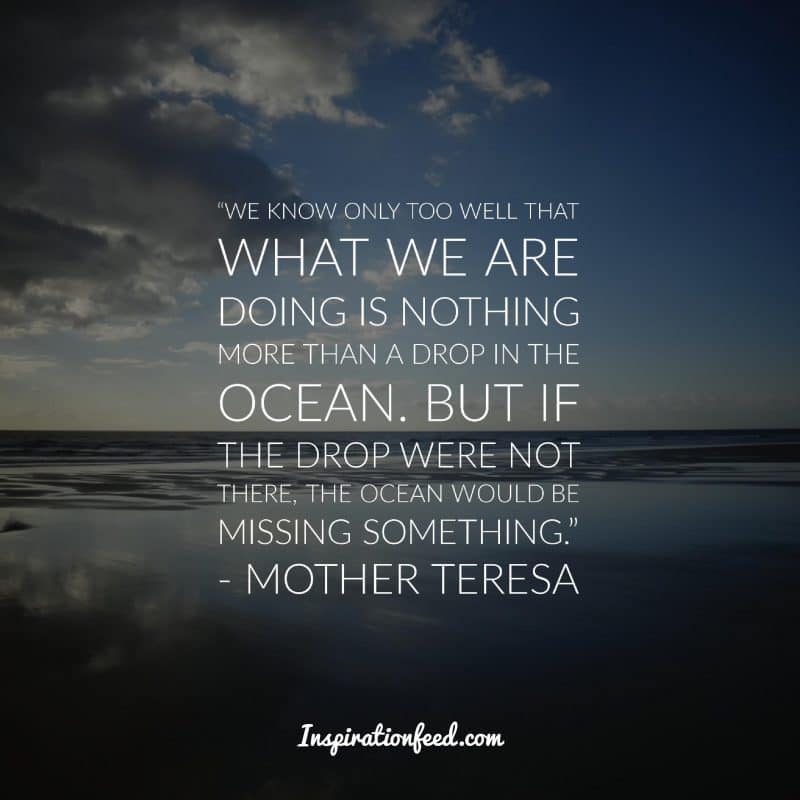 "We know only too well that what we are doing is nothing more than a drop in the ocean. But if the drop were not there, the ocean would be missing something." – Mother Teresa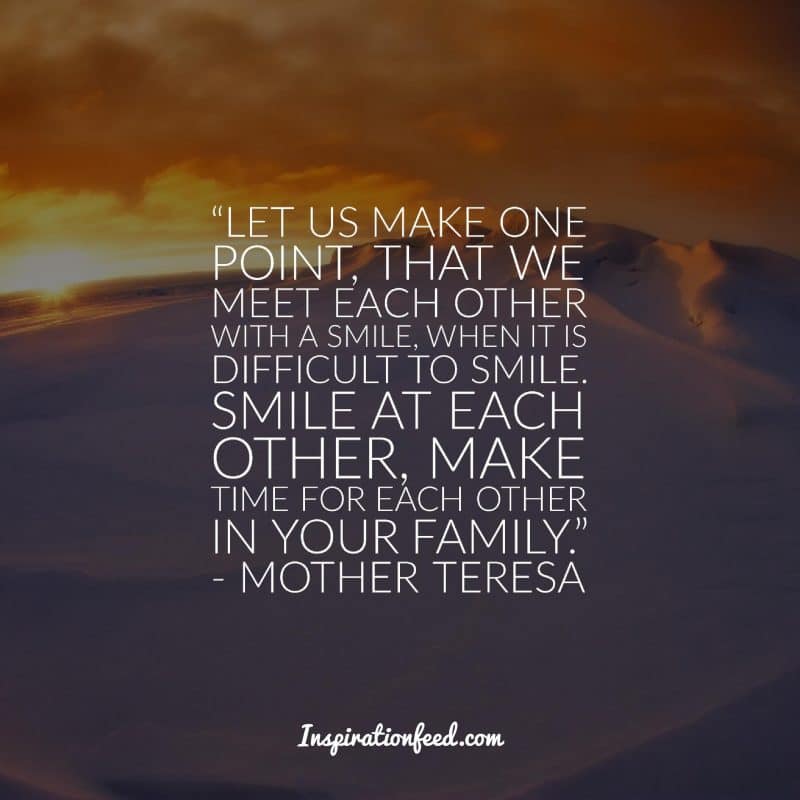 "Let us make one point, that we meet each other with a smile, when it is difficult to smile. Smile at each other, make time for each other in your family." – Mother Teresa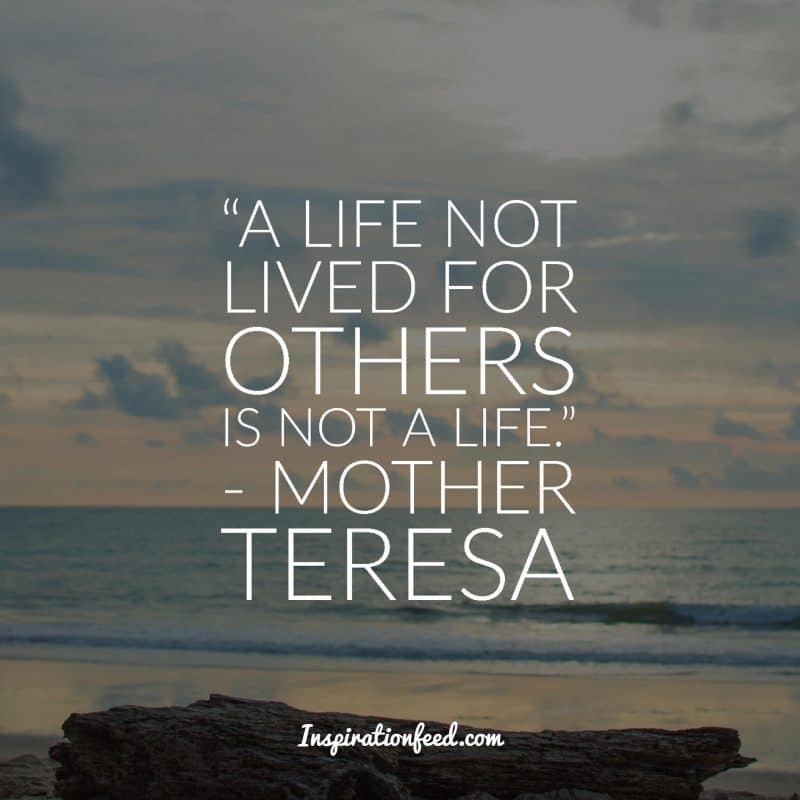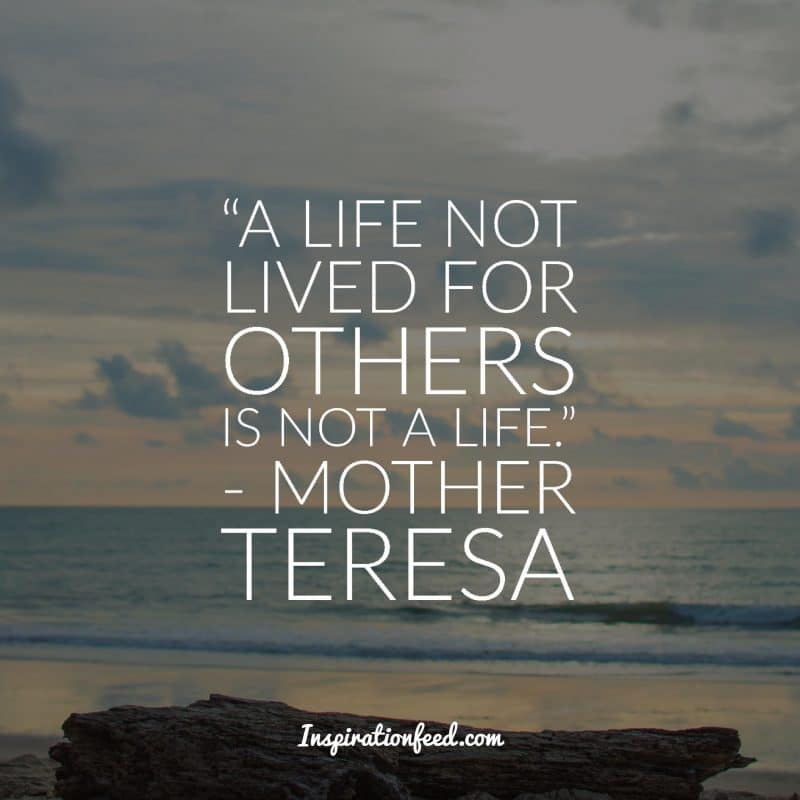 "A life not lived for others is not a life." – Mother Teresa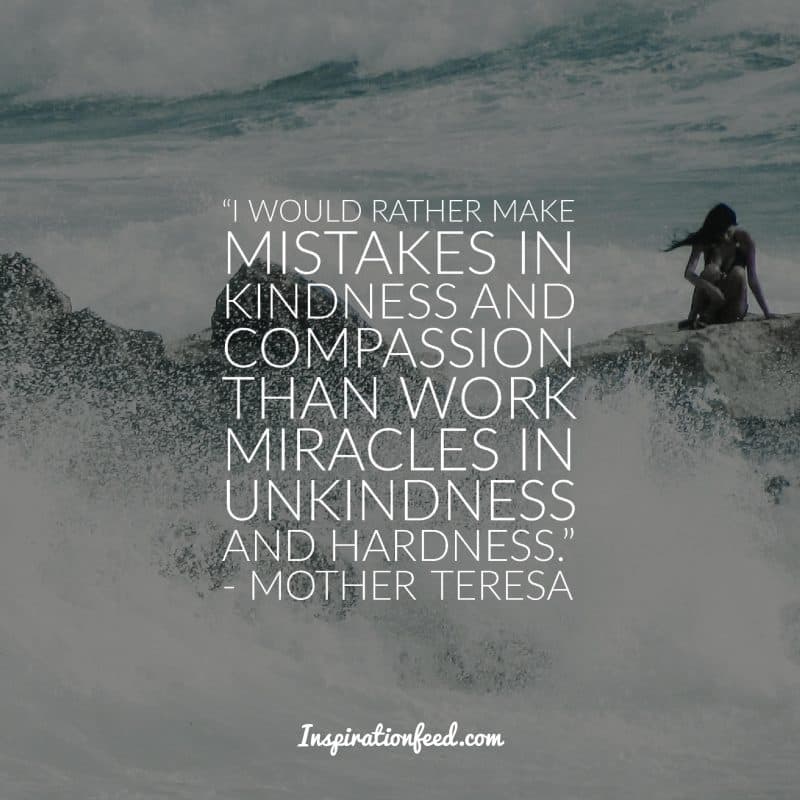 "I would rather make mistakes in kindness and compassion than work miracles in unkindness and hardness." – Mother Teresa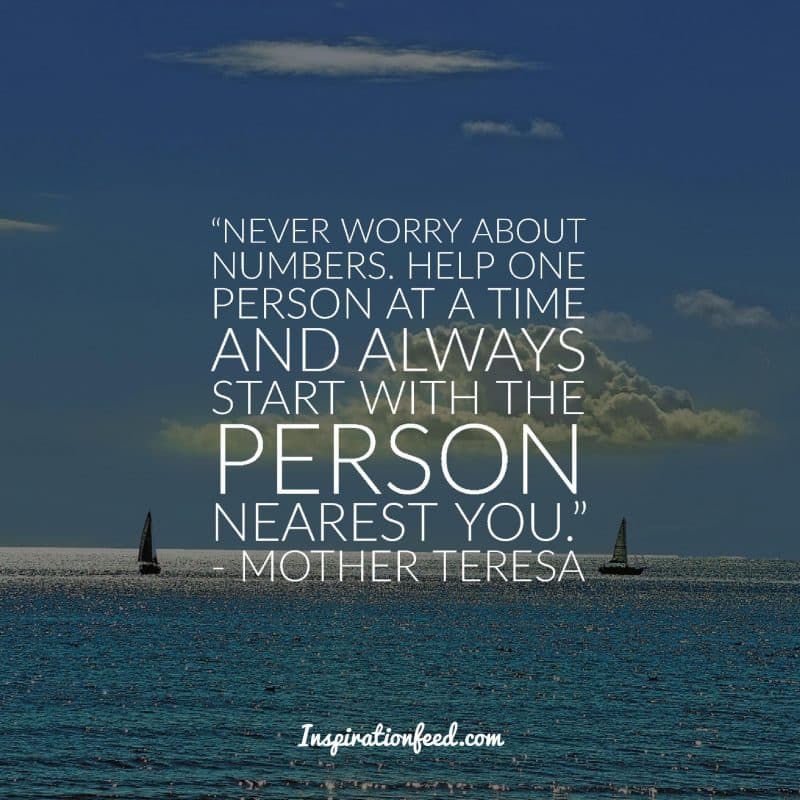 "Never worry about numbers. Help one person at a time and always start with the person nearest you." – Mother Teresa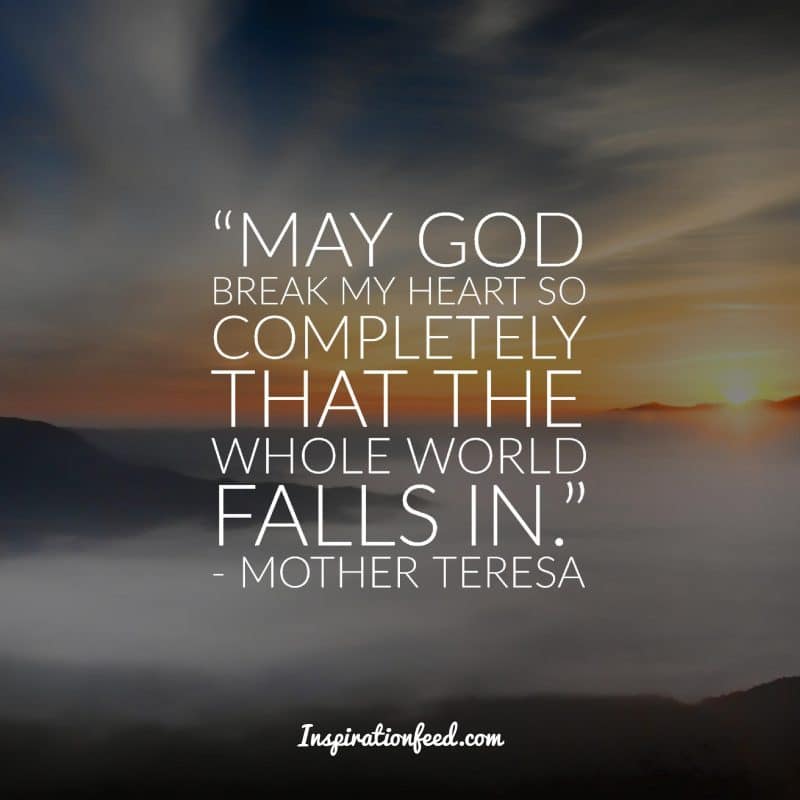 "May God break my heart so completely that the whole world falls in." – Mother Teresa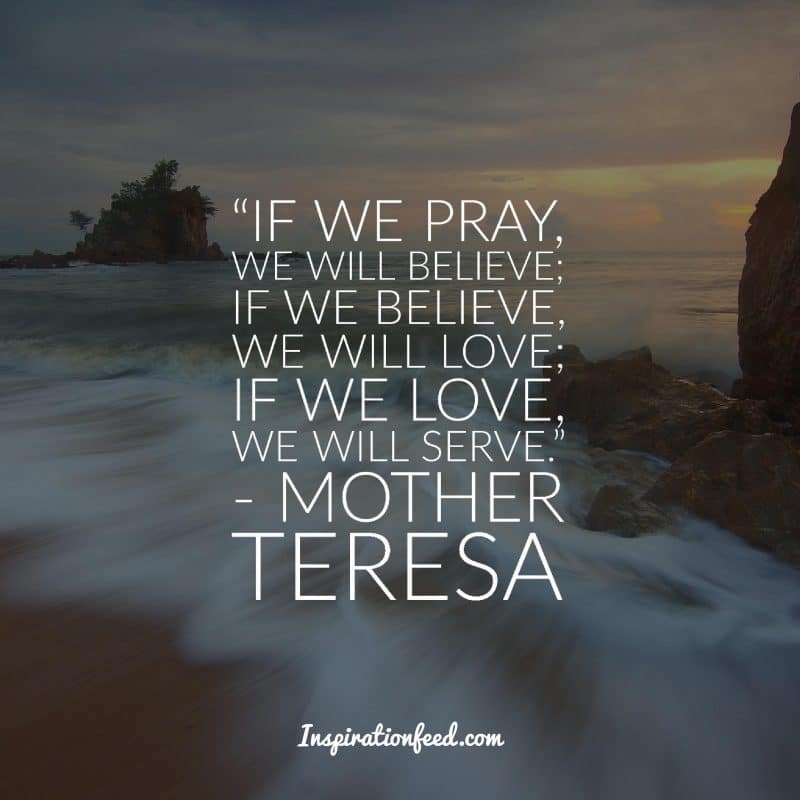 "If we pray, we will believe; If we believe, we will love; If we love, we will serve." – Mother Teresa
"Without patience, we will learn less in life. We will see less. We will feel less. We will hear less. Ironically, rush and more usually mean less." – Mother Teresa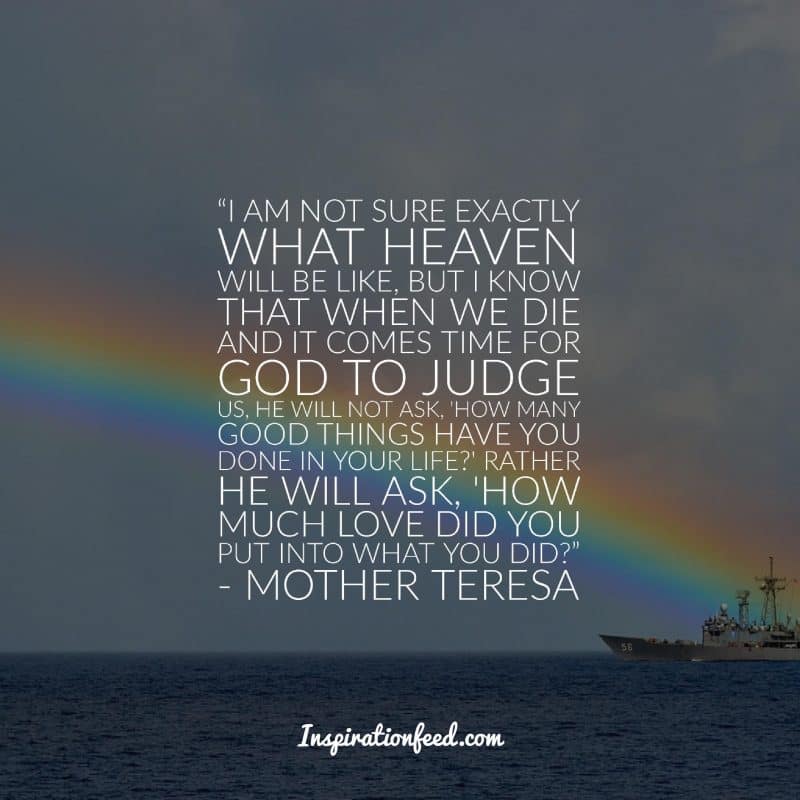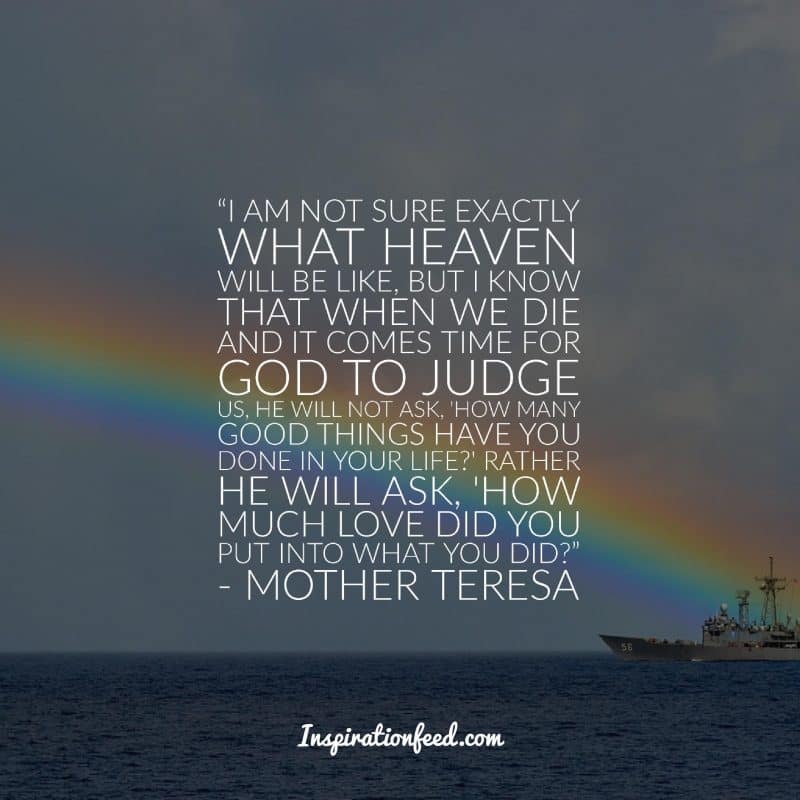 "I am not sure exactly what heaven will be like, but I know that when we die and it comes time for God to judge us, he will not ask, 'How many good things have you done in your life?' rather he will ask, 'How much love did you put into what you did?" – Mother Teresa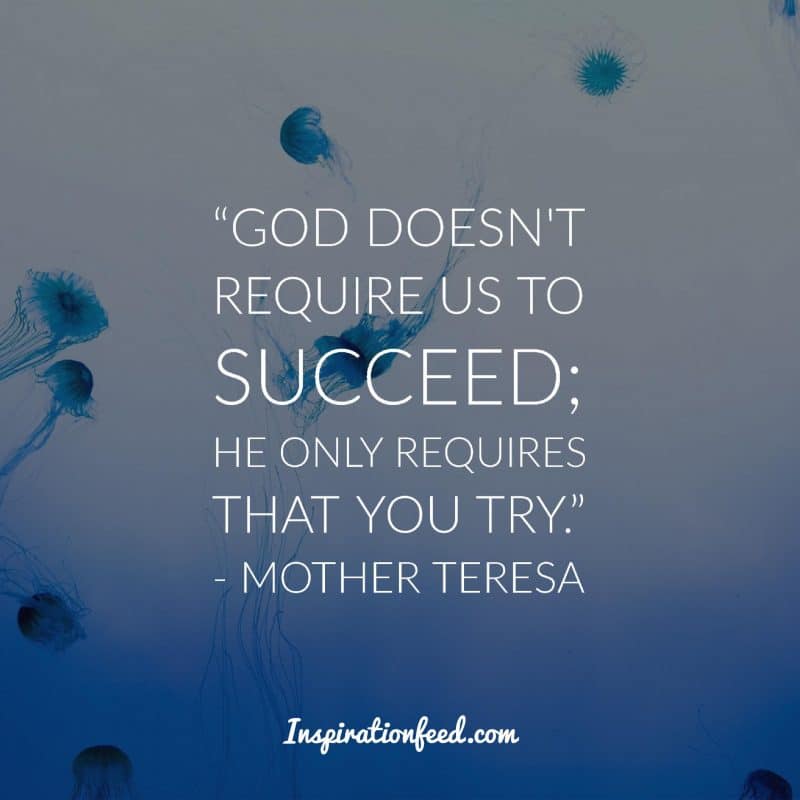 "God doesn't require us to succeed; he only requires that you try." – Mother Teresa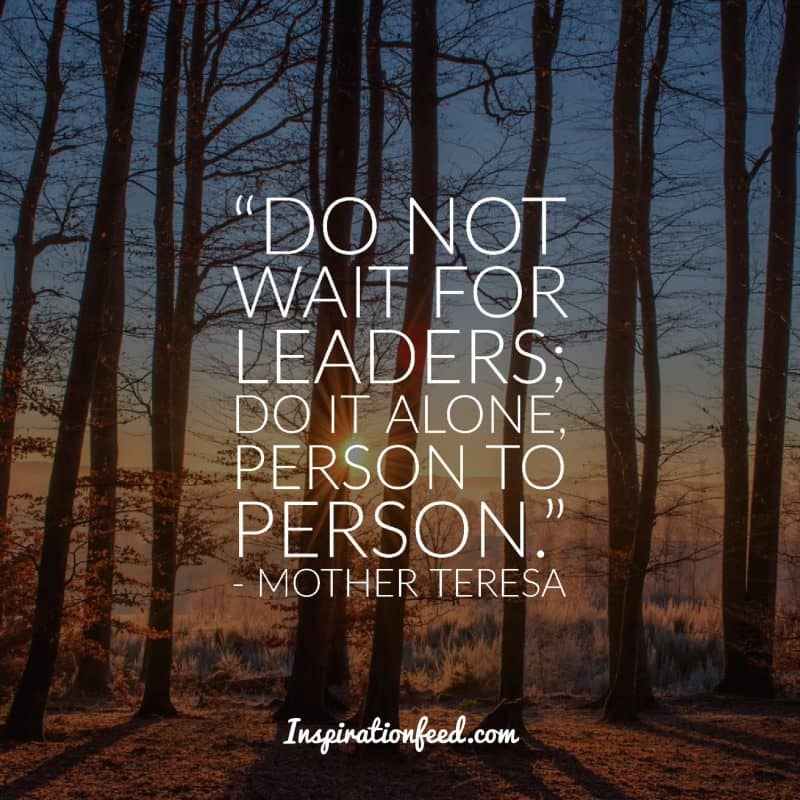 "Do not wait for leaders; do it alone, person to person." – Mother Teresa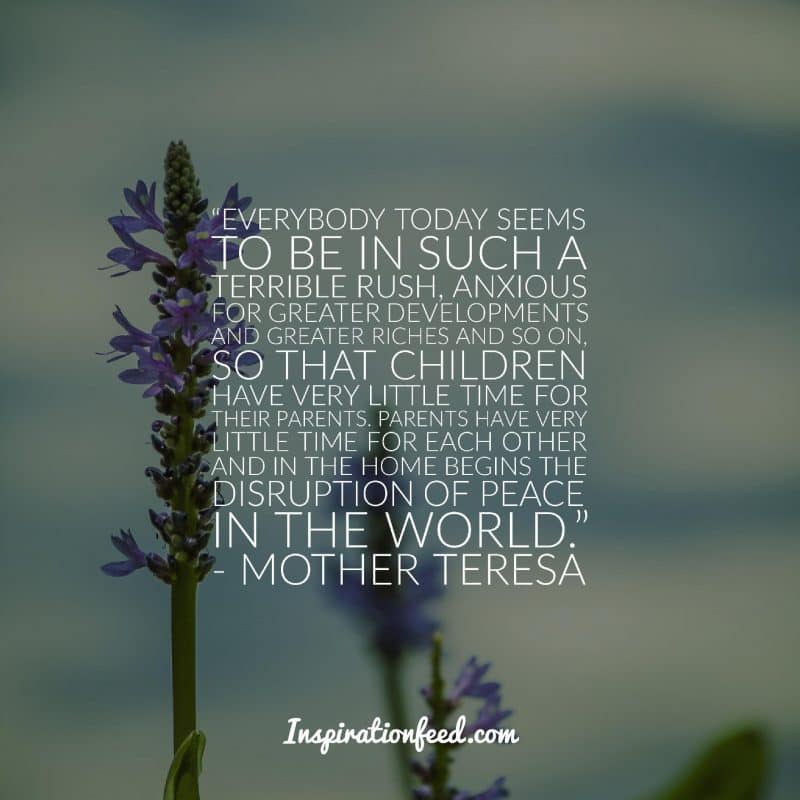 "Everybody today seems to be in such a terrible rush, anxious for greater developments and greater riches and so on, so that children have very little time for their parents. Parents have very little time for each other and in the home begins the disruption of peace in the world." – Mother Teresa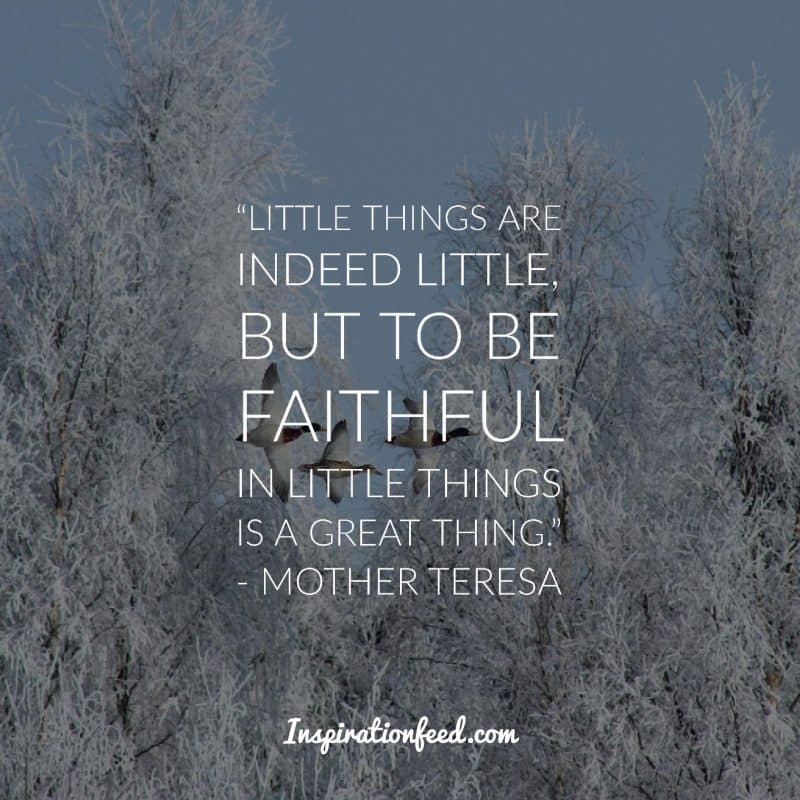 "Little things are indeed little, but to be faithful in little things is a great thing." – Mother Teresa