Last Updated on March 8, 2022
Celebrated every second Sunday in May in the United States, Mother's Day is an annual holiday, honoring maternal figures and recognizing the contributions of women to our society.
Around 40 countries worldwide celebrate this occasion in a myriad of ways. Mother's Day, much like the role of a mother in a child's upbringing, is varied and diverse. Each country observes the holiday in their own way on a different date. 
The History of Mother's Day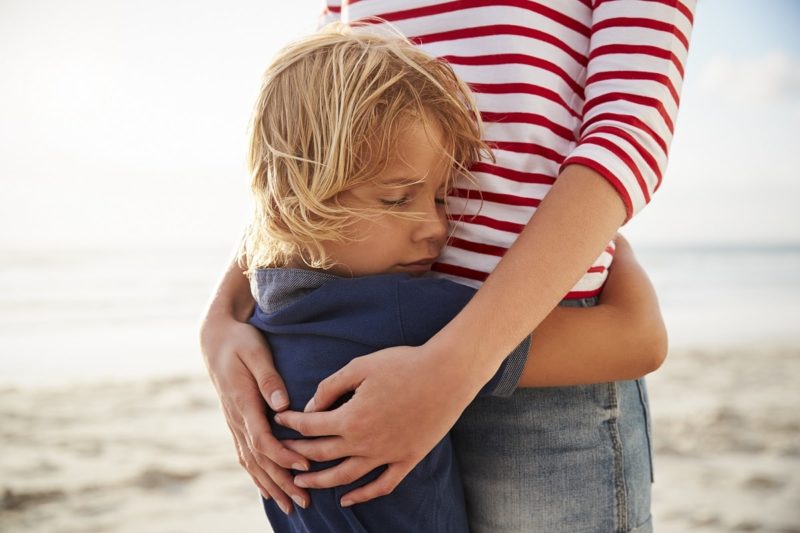 Some of the oldest Mother's Day traditions can be traced back to ancient Egyptians, who honored Isis, a goddess revered as the Mother of Pharaohs. The Greeks and Romans had special celebrations for mothers as well. They held festivals in honor of goddesses Cybele and Rhea.
In the United States, Ann Reeves Jarvis inspired the tradition back in the early 20th century. Having lost children to various diseases, she founded the Mother's Day Work Club to help other women learn how to take care of their children. She also wished someone would put up a memorial day solely for mothers for all their sacrifices.  
Three years after Ann's death, her daughter Anna Maria Jarvis went on to start a commemoration of her mother and all the mothers of their church who served valiantly in the Mother's Day Work Club. 
After receiving financial support from John Wanamaker, a department store owner in Philadelphia, Reeves put together the first Mother's Day celebration at a Methodist Church. She urged people to wear a white carnation as a badge, visit their mother on this special day, or attend church services. 
Wanamaker also held a special service at one of his stores on the same day, which drew a crowd of thousands. 
Anna Jarvis was unmarried and childless her entire life. Yet, people fondly called her Mother Jarvis as she was a selfless, nurturing figure in her community throughout her lifetime. 
She organized a massive campaign that would last six years, lobbying for the adoption of this special holiday to the national calendar. She sent letters to newspapers and prominent politicians. The custom quickly spread to several states across the country and beyond.
In 1912, West Virginia proclaimed Mother's Day as an annual holiday, while Pennsylvania followed suit a year later. All her efforts paid off in 1914 as President Woodrow Wilson declared every second Sunday of May as Mother's Day.
Eventually, the celebration became heavily commercialized that Jarvis resorted to campaign against the holiday she started, even lobbying to have it removed from the national calendar.
Mother's Day Around the World
Other countries celebrate this special occasion on the second Sunday of May as well—including Canada, India, New Zealand, and France. However, countries have varying traditions and customs.
Thailand, for instance, observes the holiday in August, during the birthday of their queen Sirikit. Ethiopia honors their mothers during Antrosht, a multi-day celebration where families gather, sing songs, and feast on good food. 
Mexico celebrates the annual holiday on the 10th of May. Mothers are often serenaded by mariachi bands and showered with flowers. Kids handmake gifts for their mothers and mother figures, while churches hold special services. 
Traditions may have evolved over the years. However, some things remain unchanged. Like in America, Mother's Day gifts in South Africa and Australia often consist of carnations, which is the official flower for this special occasion.
Women Empowerment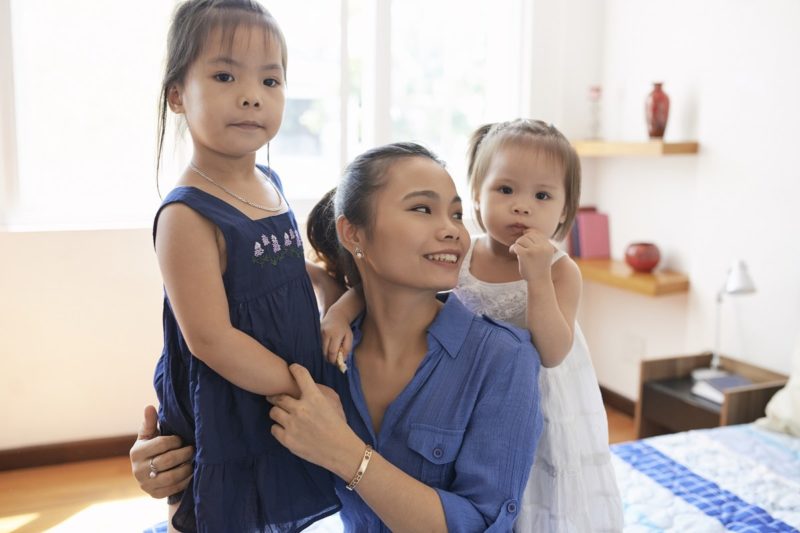 Mother's Day has also been a historic day for political and feminist causes. Coretta Scott King, for example, hosted a march on Mother's Day in 1968 to show support for underprivileged women and children in society. Two years later, other women's organizations used the holiday to raise awareness of the importance of equal rights and childcare. 
All around the world, moms have a special day where their efforts are honored and appreciated. Different countries might have their own way of recognizing and celebrating Mother's Day; however, they all have the same purpose: honoring mothers and mother figures who've changed their lives. 
Although consumerism has tainted its authenticity, the holiday will always serve as a reminder of the important role that mothers play in our lives.
Although we should all express our gratitude to our mothers every day, the special holiday gives us a great reason to show our love and appreciation to our mothers in a more pronounced and special way that they really deserve.
Here are 90 short and sweet quotes for Mother's Day: 
Mother's Day Quotes
"You are evidence of your mother's strength, especially if you are a rebellious knucklehead and regardless she has always maintained her sanity." – Criss Jami, Killosophy
"There is no teacher equal to mother and there's nothing more contagious than the dignity of a father." – Amit Ray
"Our sons shall not be taken from us to unlearn? all that we have been able to teach them of charity, mercy and patience." – Julia Ward Howe
"When the last woman dies, the last man dies!" – Ernest Agyemang Yeboah
"Behind every great man, there is a MOTHER!" – Nitya Prakash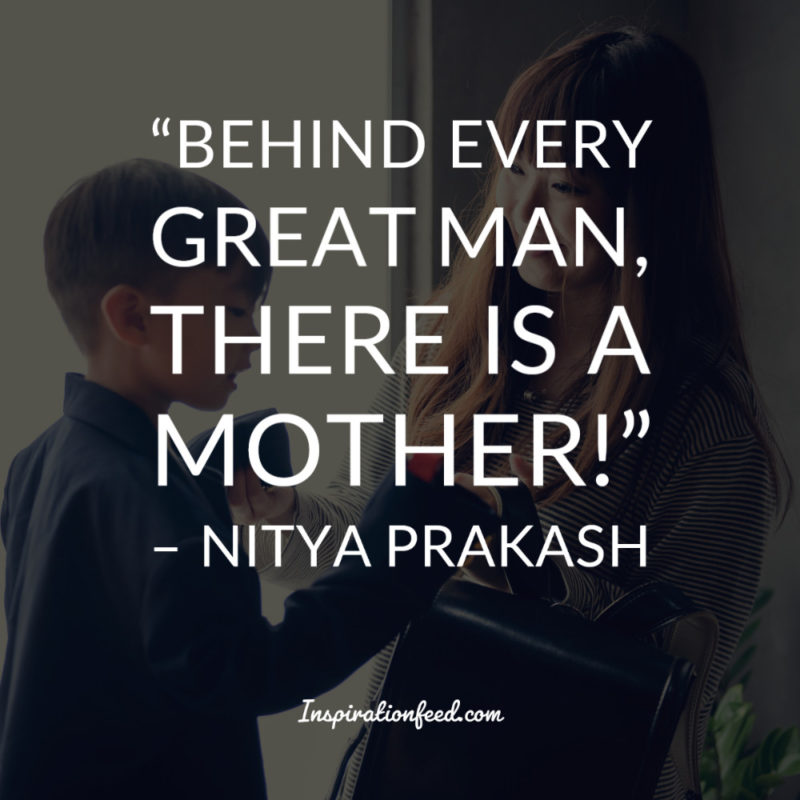 "The word 'mother' must be replaced with the word 'extraordinary' because they precisely are!" – Mehmet Murat Ildan
"A family raised well by a Mother is one of the great wonders of the world." – Nitya Prakash
"As I reflect on all my friends and colleagues in my life on this special occasion… Mother is only half the word that immediately comes to mind." – Mark W. Boyer
"Successful mothers are not the ones that have never struggled. They are the ones that never give up." – Sharon Jaynes
"It's not easy being a mother. If it were easy, fathers would do it." – The Golden Girls
"My mom is a hard worker. She puts her head down and she gets it done. And she finds a way to have fun. She always says, 'Happiness is your own responsibility.'" – Jennifer Garner
"A mother's arms are more comforting than anyone else's." – Princess Diana
"My mother is my root, my foundation. She planted the seed that I base my life on, and that is the belief that the ability to achieve starts in your mind." – Michael Jordan
"All mothers are working mothers." – Unknown
"Mother – that was the bank where we deposited all our hurts and worries." – T. DeWitt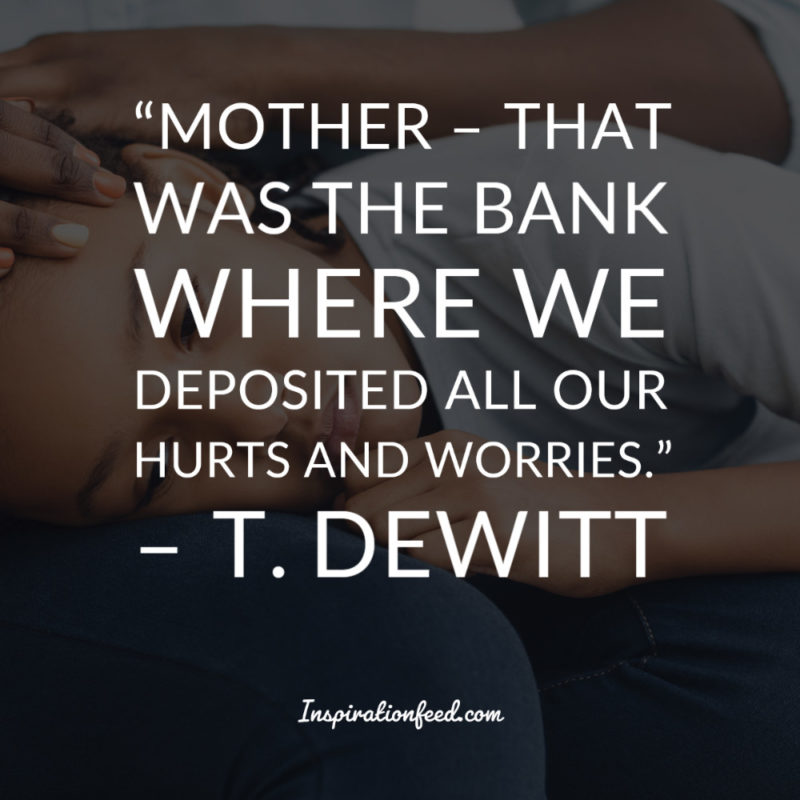 "My mother never gave me any idea that I couldn't do whatever I wanted to do or be whomever I wanted to be. I don't know if she ever realized that the person I most wanted to be was her." – Unknown
"A mother is a person who seeing there are only four pieces of pie for five people, promptly announces she never did care for pie." – Tenneva Jordan
"I would say that my mother is the single biggest role model in my life, but that term doesn't seem to encompass enough when I use it about her. She was the love of my life." – Mindy Kaling
"When your mother asks, 'Do you want a piece of advice?' it is a mere formality. It doesn't matter if you answer yes or no. You're going to get it anyway." – Erma Bombeck
"My mother is a walking miracle." – Leonardo DiCaprio
"[Motherhood is] the biggest gamble in the world. It is the glorious life force. It's huge and scary—it's an act of infinite optimism." – Gilda Radner
"My mother was the one constant in my life. When I think about my mom raising me alone when she was 20, and working and paying the bills, and, you know, trying to pursue your own dreams, I think is a feat that is unmatched." – Barack Obama
"Mothers and their children are in a category all their own. There's no bond so strong in the entire world. No love so instantaneous and forgiving." – Gail Tsukiyama
"Kids don't stay with you if you do it right. It's the one job where, the better you are, the more surely you won't be needed in the long run." – Barbara Kingsolver
"Sometimes the strength of motherhood is greater than natural laws." – Barbara Kingsolver
"My mother has always been my emotional barometer and my guidance. I was lucky enough to get to have one woman who truly helped me through everything." – Emma Stone
"Mother's love is peace. It need not to be acquired, it need not be deserved." – Erich Fromm
"Youth fades; love droops; the leaves of friendship fall; A mother's secret hope outlives them all." – Oliver Wendell Holmes
"If at first you don't succeed, try doing it the way mom told you to in the beginning." – Unknown
"To describe my mother would be to write about a hurricane in its perfect power." – Maya Angelou
"The best place to cry is on a mother's arms." – Jodi Picoult
"He didn't realize that love as powerful as your mother's for you leaves its own mark." – J.K. Rowling, Harry Potter
"We are born of love; Love is our mother." – Rumi
"A mother is she who can take the place of all others but whose place no one else can take." – Cardinal Meylillod
"There is no way to be a perfect mother…but a million ways to be a good one." – Unknown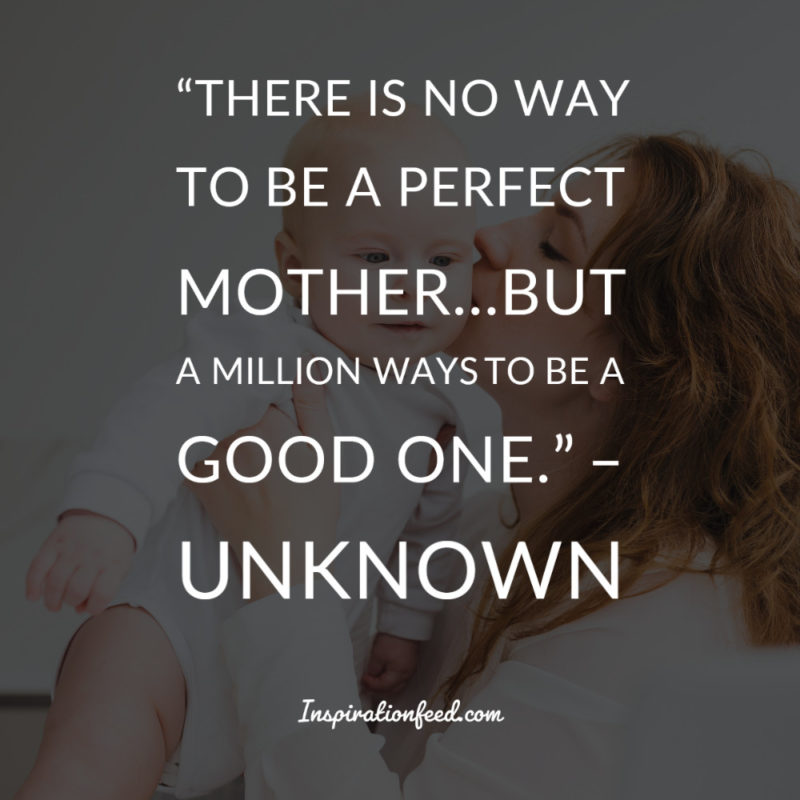 "Mama was my greatest teacher, a teacher of compassion, love and fearlessness. If love is sweet as a flower, then my mother is that sweet flower of love." – Stevie Wonder
"There is nothing as powerful as a mother's love, and nothing as healing as a child's soul." – Unknown
"Mother love is the fuel that enables a normal human being to do the impossible." – Marion C. Garretty
"As far as I'm concerned, there's no job more important on the planet than being a mom." – Mark Wahlberg
"Who ran to help me when I fell, and would some pretty story tell, or kiss the place to make it well? My mother." – Ann Taylor
"The heart of a mother is a deep abyss at the bottom of which you will always find forgiveness." – Honore De Balzac
"Life began with waking up and loving my mother's face." – George Eliot
"There will be so many times you feel like you've failed. But in the eyes, heart and mind of your child you are super mom." – Stephanie Precourt
"Mama: The glue that holds everything together. Even when she feels she may fall apart." – Unknown
"Being a mother is learning about strengths you didn't know you had, and dealing with fears you didn't know existed." – Linda Wooten
"Mothers are endowed with a love that is unlike any other love on the face of the Earth." – Marjorie P. Hinckley
"Of all the gifts that life has to offer, a loving mother is the greatest of them all." – Unknown
"I am like a flower that is raised with love by you. You help me grow up big and strong. Mom, thanks for all you do!" – Unknown
"When you are a mother, you are never really alone in your thoughts. A mother always has to think twice, once for herself and once for her child." – Sophia Loren
"A mother's hug lasts long after she lets go." – Unknown
"[A] mother is one to whom you hurry when you are troubled." – Emily Dickinson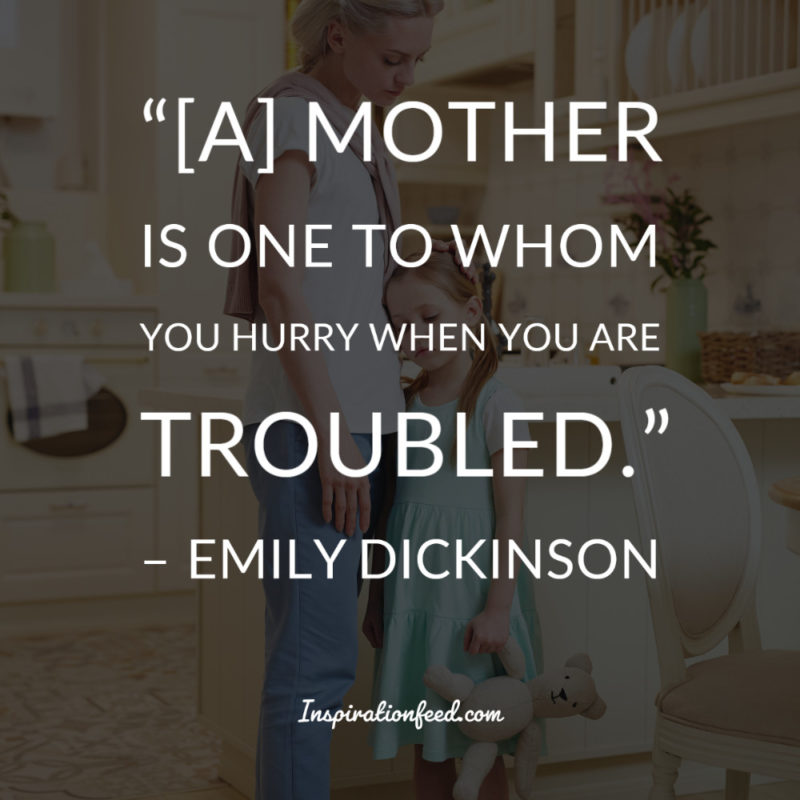 "A mother's arms are made of tenderness and children sleep soundly in them." – Victor Hugo
"The phrase 'working mother' is redundant." – Jane Sellman
"My mother had a slender, small body, but a large heart – a heart so large that everybody's joys found welcome in it, and hospitable accommodation." – Mark Twain
"Everybody wants to save the Earth; nobody wants to help Mom do the dishes." – P.J. O'Rourke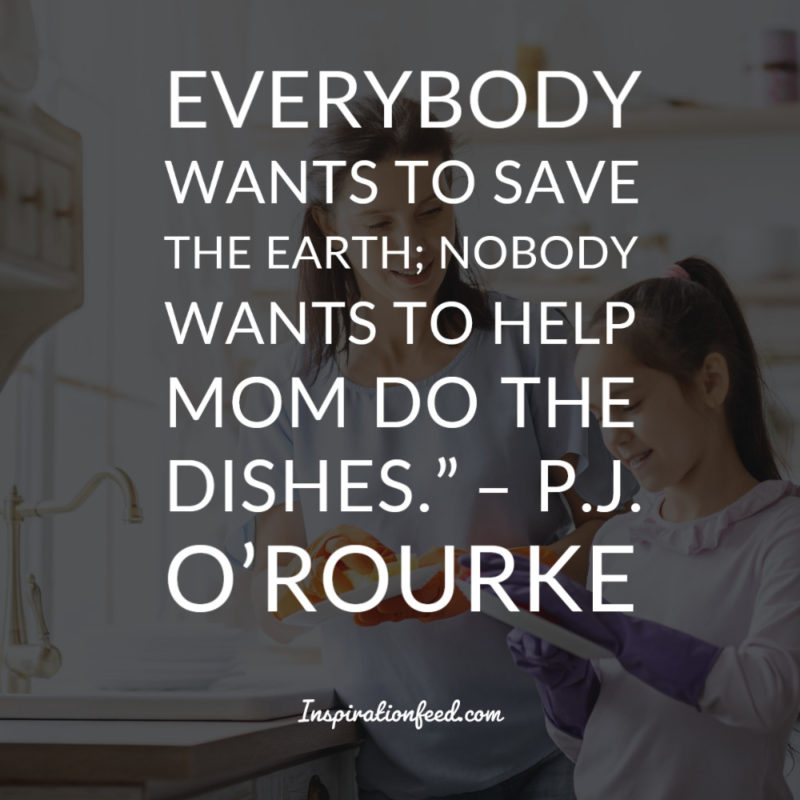 "Being a mother is an attitude, not a biological relation." – Robert A. Heinlein
"If evolution really works, how come mothers only have two hands?" – Milton Berle
"I remember my mother's prayers and they have always followed me. They have clung to me all my life." – Abraham Lincoln
"I believe in the strength and intelligence and sensitivity of women. My mother, my sisters [they] are strong. My mum is a strong woman and I love her for it." – Tom Hiddleston
"She raised us with humor, and she raised us to understand that not everything was going to be great—but how to laugh through it." – Liza Minnelli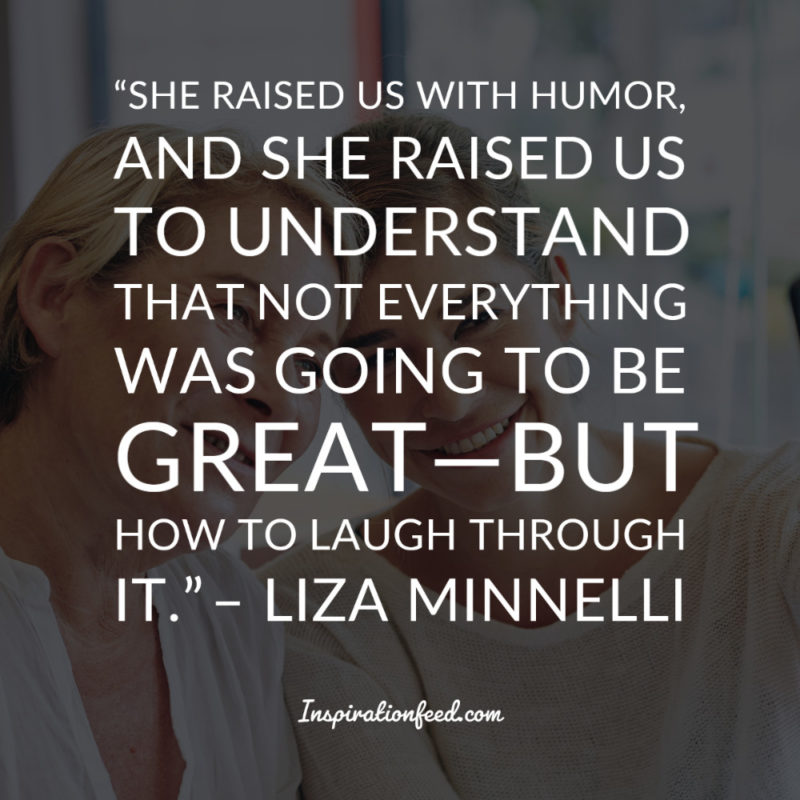 "Biology is the least of what makes someone a mother." – Oprah Winfrey
"Motherhood has a very humanizing effect. Everything gets reduced to essentials." – Meryl Streep
"My parents elected me president of the family when I was 4. We actually had an election every year and I always won. I'm an only child, and I could count on my mother's vote." – Condoleezza Rice
"I tell my kids, 'I am thinking about you every other minute of my day.'" – Michelle Obama
"I'm still amazed at how my mother emerged from her lonely early life as such an affectionate and level-headed woman." – Hillary Clinton
"I unapologetically and unabashedly am deeply biased toward my mother." – Chelsea Clinton
"It has been a terrible, horrible, no good, very bad day. My mom says some days are like that." – Judith Viorst
"I'll never go a day without my mama." – Boyz II Men
"Motherhood: All love begins and ends there." – Robert Browning
"My mom had four kids, one with special needs. She had a full-time job, and she still came home and made dinner for us every night, from scratch. It was amazing." – Eva Longoria
"I think every working mom probably feels the same thing: You go through big chunks of time where you're just thinking, 'This is impossible – oh, this is impossible.' And then you just keep going and keep going, and you sort of do the impossible." – Tina Fey
"You sacrificed for us. You're the real MVP." – Kevin Durant
"It's the job that I take most seriously in my life and I think it's the hardest job." – Debra Messing
"Don't listen to anyone's advice. Listen to your baby…There are so many books, doctors, and well-meaning friends and family. We like to say, 'You don't need a book. Your baby is a book. Just pick it up and read it.'" – Mayim Bialik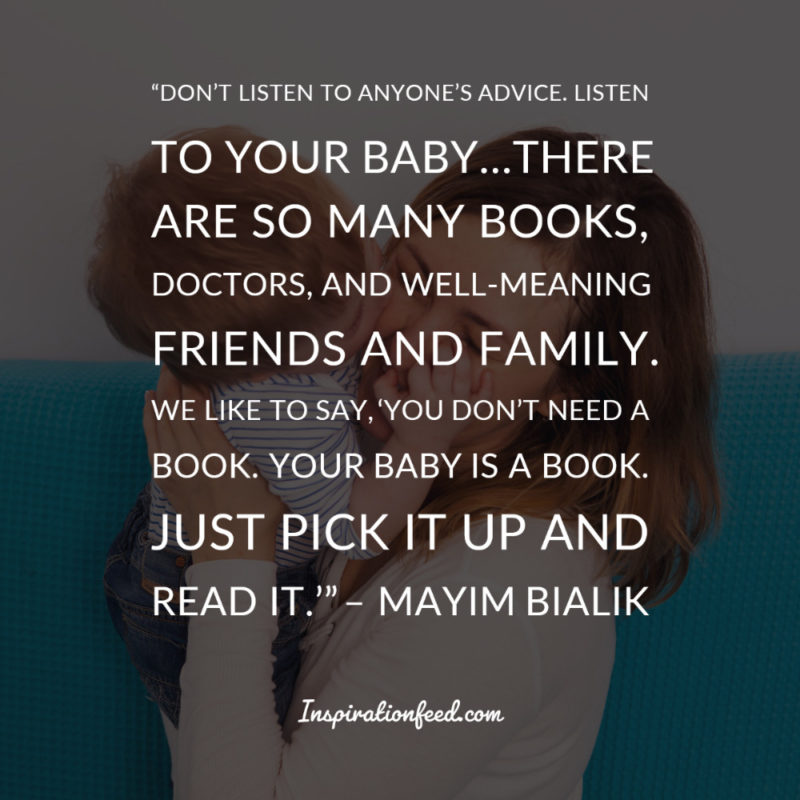 "Having children just puts the whole world into perspective. Everything else just disappears." – Kate Winslet
"I see myself as mom first. I'm so lucky to have that role in life. The world can like me, hate me or fall apart around me and at least I wake up with my kids and I'm happy." – Angelina Jolie
"Being a mom has made me so tired. And so happy." – Tina Fey
"[Motherhood is] 'heart-exploding, blissful hysteria.'" – Olivia Wilde
"The films I've made for children have been my hardest work, my best, because kids deserve the best." – Emma Thompson
"Acceptance, tolerance, bravery, compassion. These are the things my mom taught me." – Lady Gaga
"As my mom always said, 'You'd rather have smile lines than frown lines.'" – Cindy Crawford
"My mom is my hero. [She] inspired me to dream when I was a kid, so anytime anyone inspires you to dream, that's gotta be your hero." – Tim McGraw
"[My mother] always said I was beautiful and I finally believed her at some point." – Lupita Nyong'o
"[What's beautiful about my mother is] her compassion, how much she gives, whether it be to her kids and grandkids or out in the world. She's got a sparkle." – Kate Hudson
"I like my body so much better after I had kids. Is that a crazy thing to say? I'm more womanly. I feel sexier." – Reese Witherspoon
"There were times when, in middle school and junior high, I didn't have a lot of friends. But my mom was always my friend. Always." – Taylor Swift
"It's been a huge joy, this experience of being a mom…I don't know how to articulate it yet, because it is so fresh." – Claire Danes
"You instantly become less selfish. You can't be the biggest person in the world anymore—they are. [Motherhood] really grounds you." – Keri Russell
"There's no such thing as a supermom. We just do the best we can." – Sarah Michelle Gellar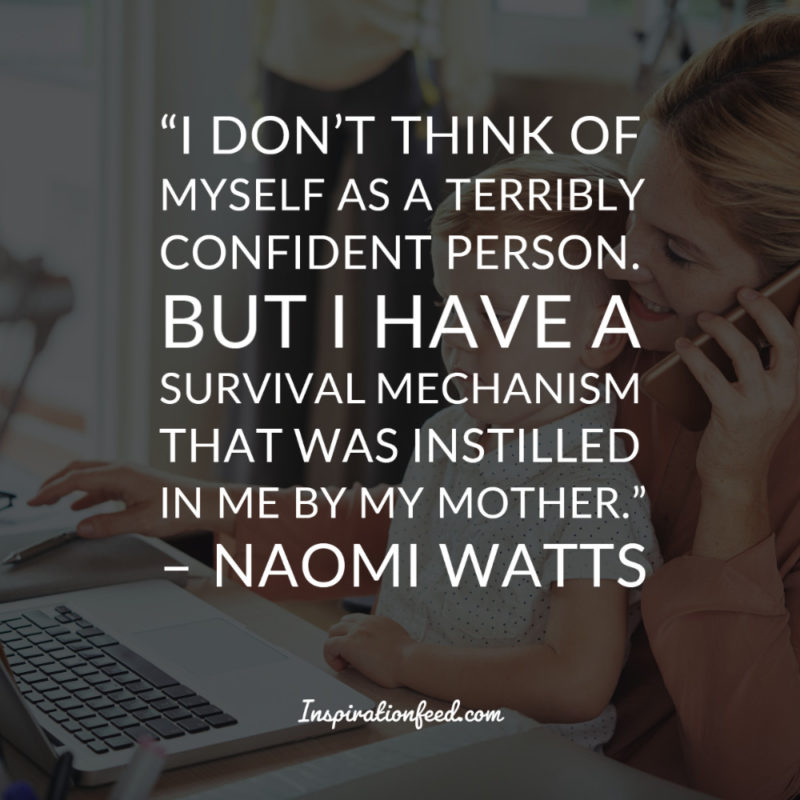 "I don't think of myself as a terribly confident person. But I have a survival mechanism that was instilled in me by my mother." – Naomi Watts