Last Updated on March 8, 2022
Inspirational and entertaining, Muhammad Ali is celebrated as one of the best sporting figures of all time not only for his exceptional skills inside the boxing ring but also for his wit.
His life was riddled with pain and struggle. Nonetheless, he lived his life with joy and purpose, never failing to inspire and empower others.
Early Years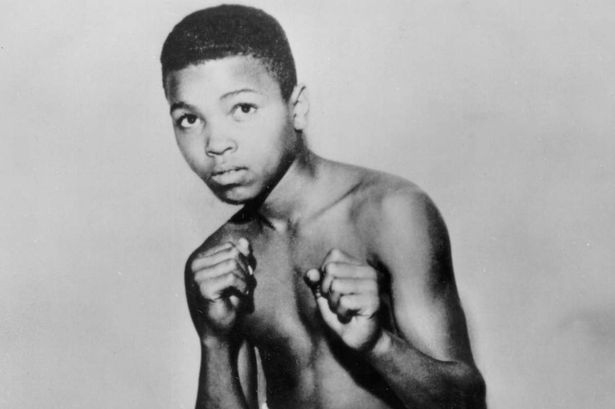 Muhammad Ali was born in Louisville, Kentucky, as Cassius Marcellus Clay Jr. He picked up his first pair of boxing gloves when he was 12 years old after an encounter with Louisville police officer and boxing coach Joe E. Martin.
He was hesitant to take up the offer, but after watching a show called Tomorrow's Champion, he decided to give it a shot. Fred Stoner took him under his wing and trained him well. Ali made his boxing debut in 1954.
He went up against Ronnie O'Keefe and won by split decision. Six years later, Ali competed at the Summer Olympics and took home a gold medal for the light heavyweight division. In the same year, he entered the professional boxing scene.
Throughout the first few years of his career in boxing, he was known as Cassius Clay. He only changed it to Muhammad Ali when he converted to Islam.
Muhammad Ali, the Boxer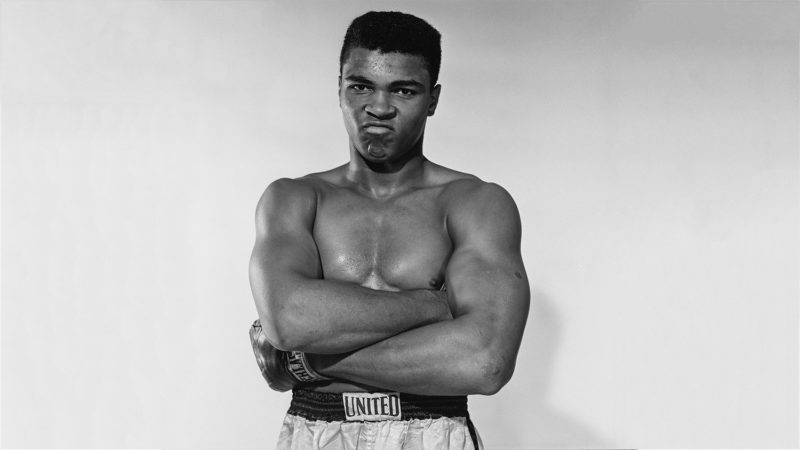 Muhammad "The Greatest" Ali was the first boxer to claim three heavyweight champion titles. At 22 years old, he earned his first championship win when he defeated Sonny Liston.
Ali refused to serve in the Vietnam War as he was opposed to the unnecessary bloodshed. As a result, he was stripped of all his titles, arrested and found guilty of draft evasion. It took years for him to return to the ring.
Ali appealed to the Supreme Court, and they eventually overturned his conviction. He ended his hiatus from boxing with a fight against George Foreman—an undefeated world heavyweight champion at that time—in the historic "Rumble in the Jungle" bout in 1974.
Ali won the match by knockout. In February of 1978, he fought against Leon Spinks and lost. Ali would have his revenge seven months later, winning his third championship title and setting a new record for the Most Lineal World Heavyweight championship wins.
Throughout his career, Ali earned notable records, including the Most Expensive Boxing Memorabilia and the Guinness World record for the Most Heavyweight World Title Recaptures.
With only three championship wins, Ali retired from boxing in 1981 when his health started to deteriorate. Even then, he continued to touch lives through his philanthropic efforts. He was diagnosed with Parkinson's syndrome in 1984.
Muhammad Ali, the Poet and Artist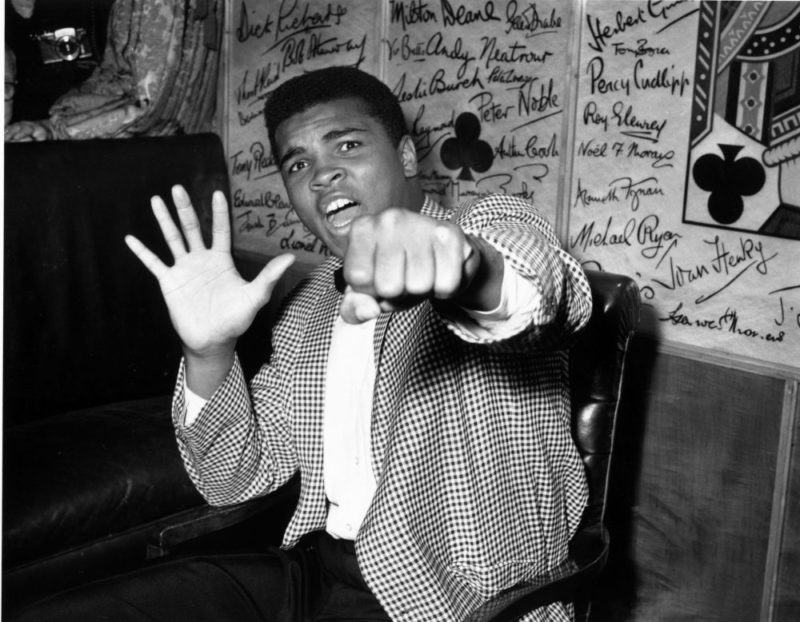 The world's greatest boxer always had a way with words. Ali had a habit of using rhyme and rhythm when he was conveying his thoughts.
It was quite useful for intimidating his opponents inside the ring, but it was even more powerful outside of it when he used it as a tool for activism. Often, he would also use it to entertain.
Ali was more than a boxer—he was a poet and a musician too. He is sometimes referred to as the first rap artist, having paved the way for artists such as The Last Poets and Gil Scott-Heron.
Ali released a spoken word album titled "I Am the Greatest" in 1963, which many count as a precursor to hip hop and rap music. His record earned him a Grammy nomination, and it wasn't the last. "The Adventures of Ali and His Gang vs. Mr. Tooth Decay" would earn him a second nomination for Best Recording for Children.
Many artists look up to him, including Eminem, LL Cool J, and Sean Combs, who have all cited him as an inspiration for their music.
Muhammad Ali, the People's Champion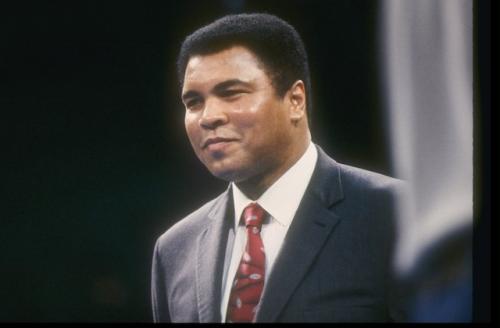 Generations will remember him not just for becoming the first three-time heavyweight champion of the world, but for being the people's champion. At a time when walking down the street was nearly impossible for African-Americans, Muhammad Ali never failed to stand up for what he believed in.
Ali refused to serve in the war as it was against the very tenets of his religion. He was also opposed to the US involvement in the war. He took part in The Longest Walk to show his support for Native Americans.
Following the attacks on the Twin Towers, Muhammad Ali stood up for Muslims, telling whoever would listen that Islam is a religion of peace. Throughout his lifetime, he donated to charity organizations helping the disadvantaged.
Muhammad "The Greatest" Ali passed away in 2016, but his legacy will forever live on in history books.
Here are 64 of the best Muhammad Ali quotes to inspire you:
Muhammad Ali Quotes
"Friendship… is not something you learn in school. But if you haven't learned the meaning of friendship, you really haven't learned anything." – Muhammad Ali
"I hated every minute of training, but I said, 'Don't quit. Suffer now and live the rest of your life as a champion.'" – Muhammad Ali
"He who is not courageous enough to take risks will accomplish nothing in life." – Muhammad Ali
"I done wrestled with an alligator, I done tussled with a whale; handcuffed lightning, thrown thunder in jail; only last week, I murdered a rock, injured a stone, hospitalized a brick; I'm so mean I make medicine sick." – Muhammad Ali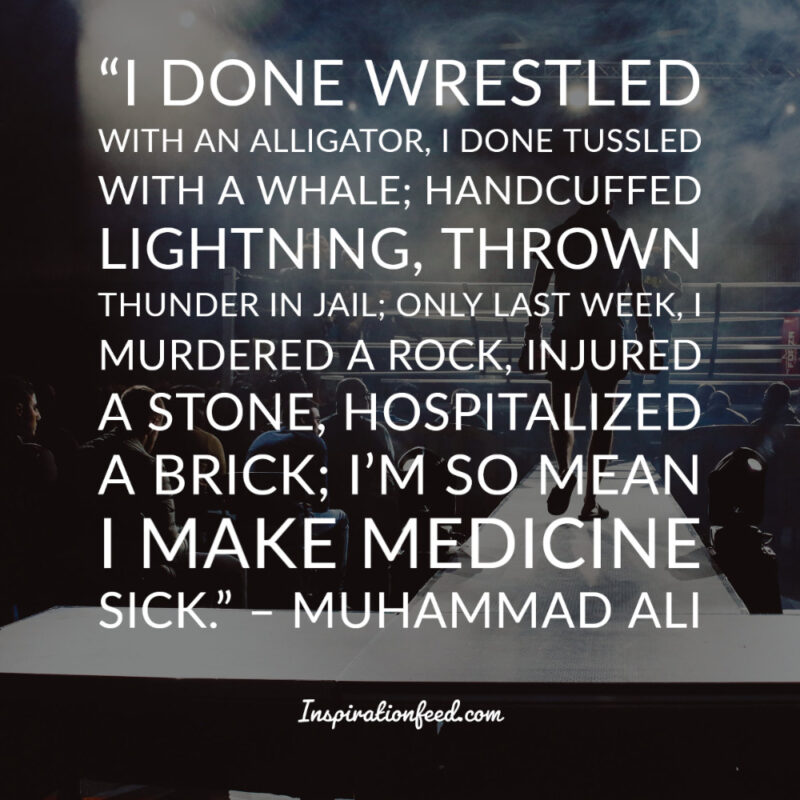 "Silence is golden when you can't think of a good answer." – Muhammad Ali
"It's just a job. Grass grows, birds fly, waves pound the sand. I beat people up." – Muhammad Ali
"Life is a gamble. You can get hurt, but people die in plane crashes, lose their arms and legs in car accidents; people die every day. Same with fighters: some die, some get hurt, some go on. You just don't let yourself believe it will happen to you." – Muhammad Ali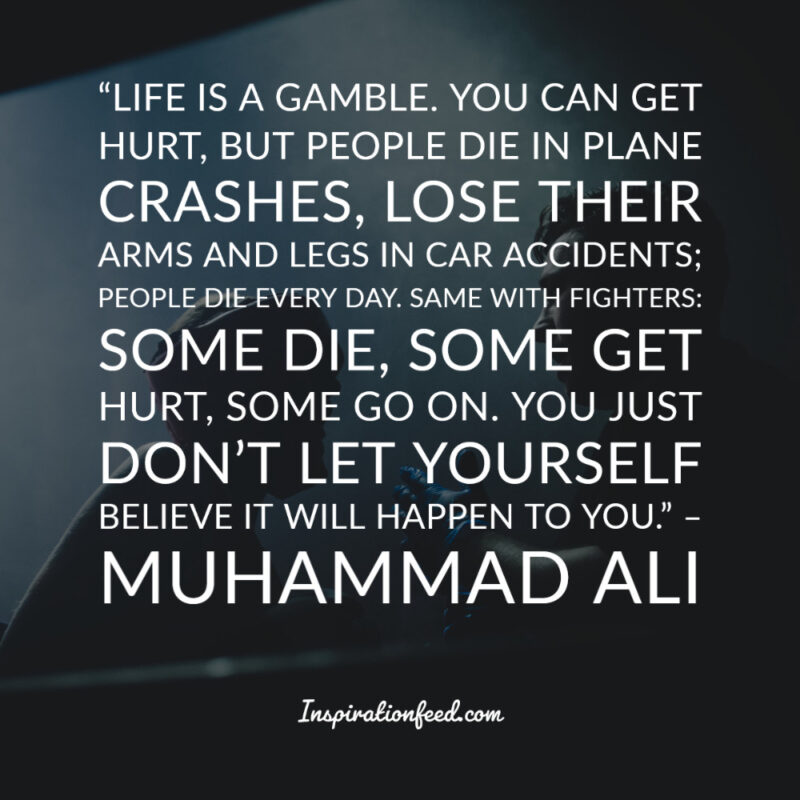 "Float like a butterfly, sting like a bee." – Muhammad Ali
"It isn't the mountains ahead to climb that wear you out; it's the pebble in your shoe." – Muhammad Ali
"I know where I'm going and I know the truth, and I don't have to be what you want me to be. I'm free to be what I want." – Muhammad Ali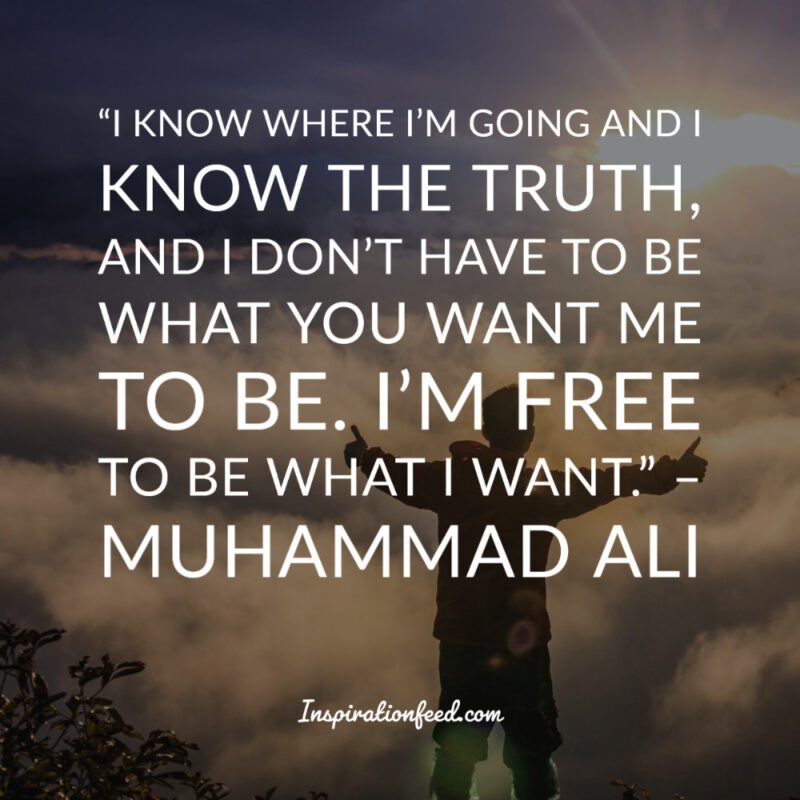 "A man who views the world the same at fifty as he did at twenty has wasted thirty years of his life." – Muhammad Ali
"It's the repetition of affirmations that leads to belief. And once that belief becomes a deep conviction, things begin to happen." – Muhammad Ali
"It's not bragging if you can back it up." – Muhammad Ali
"If you lose a big fight, it will worry you all of your life. It will plague you – until you get your revenge." – Muhammad Ali
"If you even dream of beating me you'd better wake up and apologize." – Muhammad Ali
"To be able to give away riches is mandatory if you wish to possess them. This is the only way that you will be truly rich." – Muhammad Ali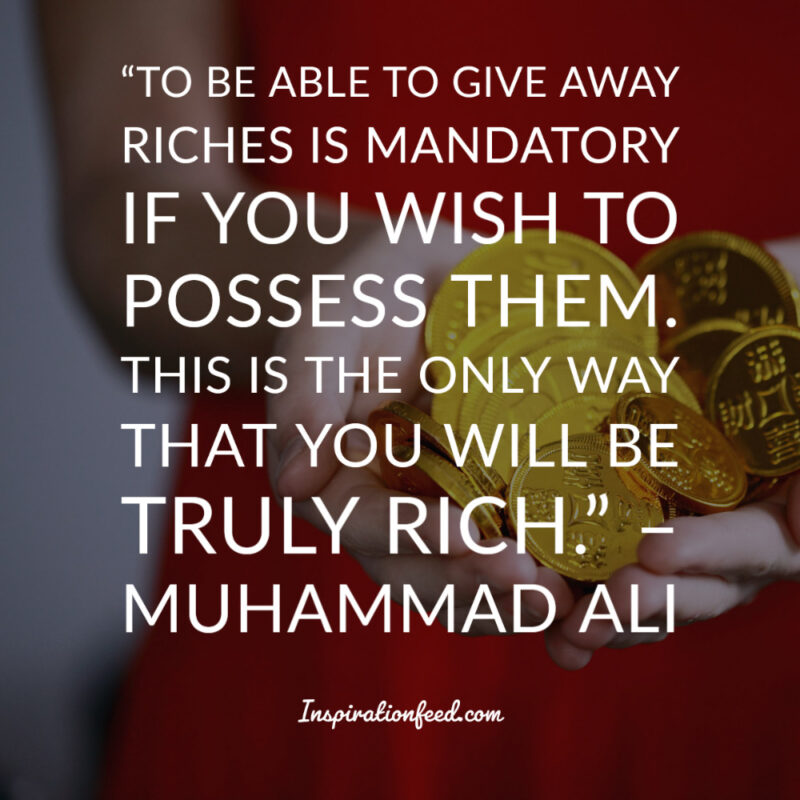 "Sonny Liston is nothing. The man can't talk. The man can't fight. The man needs talking lessons. The man needs boxing lessons. And since he's gonna fight me, he needs falling lessons." – Muhammad Ali
"My trainer don't tell me nothing between rounds. I don't allow him to. I fight the fight. All I want to know is did I win the round. It's too late for advice." – Muhammad Ali
"I wish people would love everybody else the way they love me. It would be a better world." – Muhammad Ali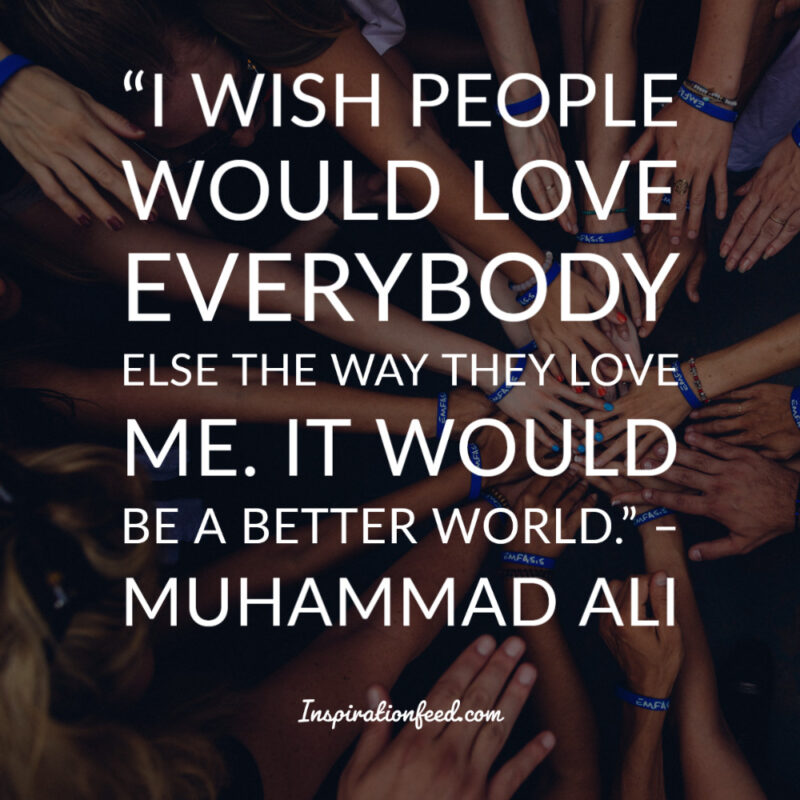 "No one knows what to say in the loser's locker room." – Muhammad Ali
"Only a man who knows what it is like to be defeated can reach down to the bottom of his soul and come up with the extra ounce of power it takes to win when the match is even." – Muhammad Ali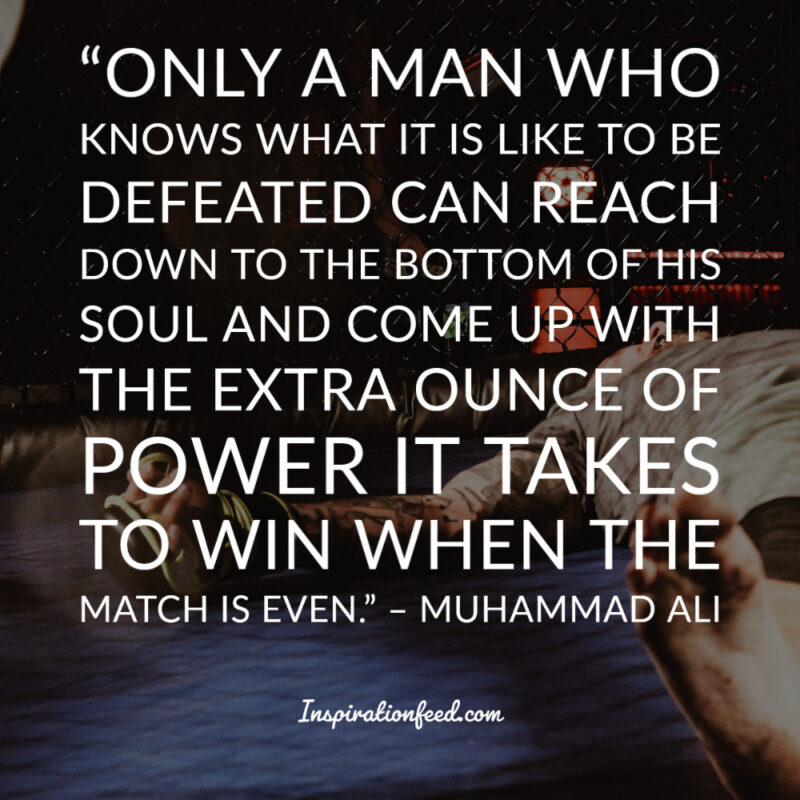 "I'm so fast that last night I turned off the light switch in my hotel room and was in bed before the room was dark." – Muhammad Ali
"My principles are more important than the money or my title." – Muhammad Ali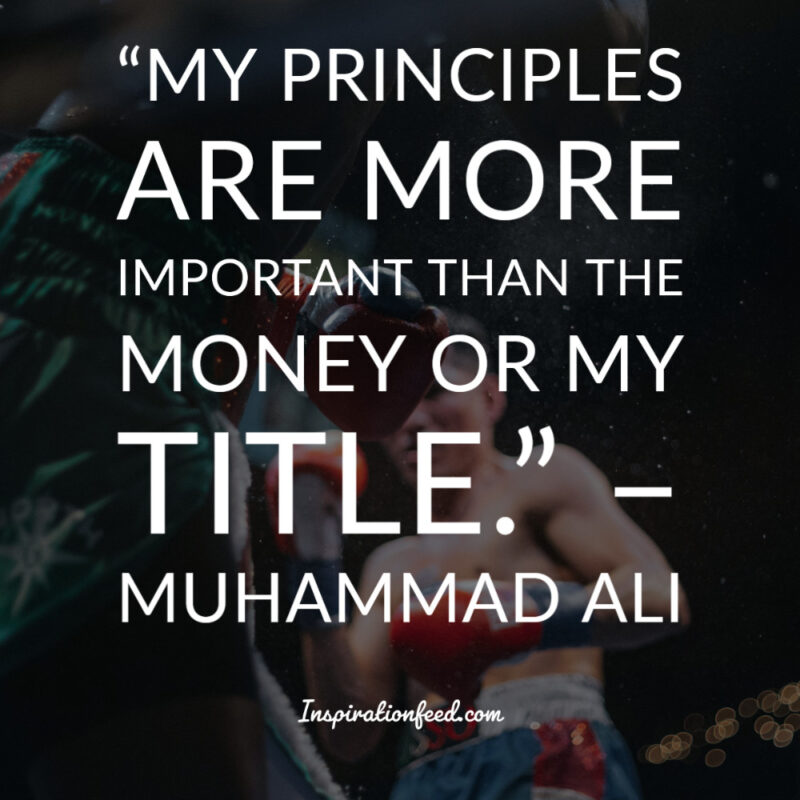 "At home I am a nice guy: but I don't want the world to know. Humble people, I've found, don't get very far." – Muhammad Ali
"People don't realize what they had till it's gone. Like President Kennedy, there was no one like him, the Beatles, and my man Elvis Presley. I was the Elvis of boxing." – Muhammad Ali
"I've made my share of mistakes along the way, but if I have changed even one life for the better, I haven't lived in vain." – Muhammad Ali
"A rooster crows only when it sees the light. Put him in the dark and he'll never crow. I have seen the light and I'm crowing." – Muhammad Ali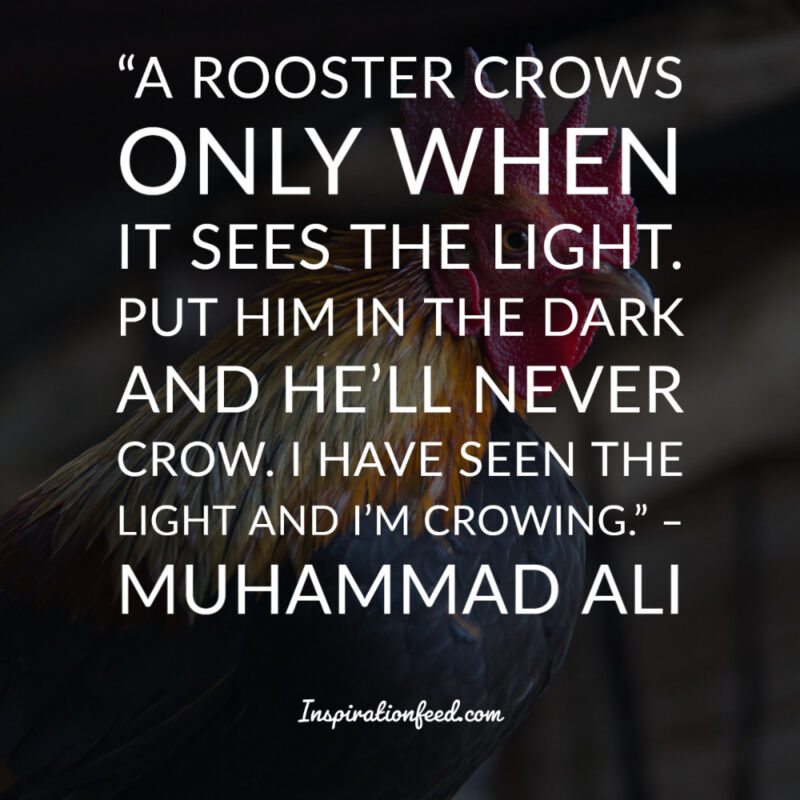 "Service to others is the rent you pay for your room here on earth." – Muhammad Ali
"I don't have to be what you want me to be." – Muhammad Ali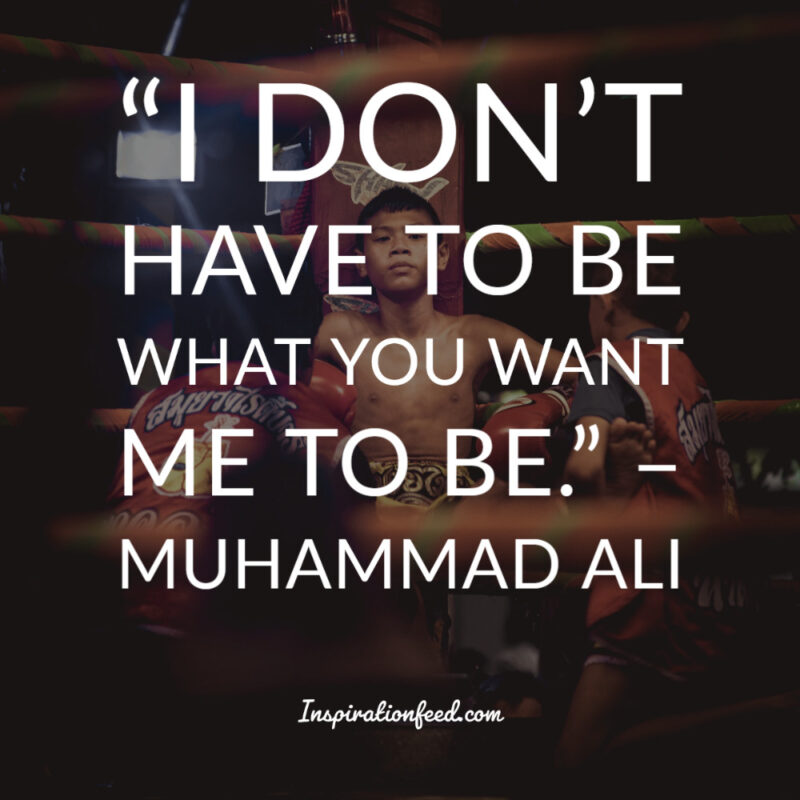 "I've seen George Foreman shadow boxing, and the shadow won." – Muhammad Ali
"I said I was 'The Greatest,' I never said I was the smartest!" – Muhammad Ali
"I am an ordinary man who worked hard to develop the talent I was given. I believed in myself, and I believe in the goodness of others." – Muhammad Ali
"My only fault is that I don't realize how great I really am." – Muhammad Ali
"I'm the greatest thing that ever lived! I'm the king of the world! I'm a bad man. I'm the prettiest thing that ever lived." – Muhammad Ali
"It's lack of faith that makes people afraid of meeting challenges, and I believed in myself." – Muhammad Ali
"My way of joking is to tell the truth. That's the funniest joke in the world." – Muhammad Ali
"The fight is won or lost far away from witnesses – behind the lines, in the gym, and out there on the road, long before I dance under those lights." – Muhammad Ali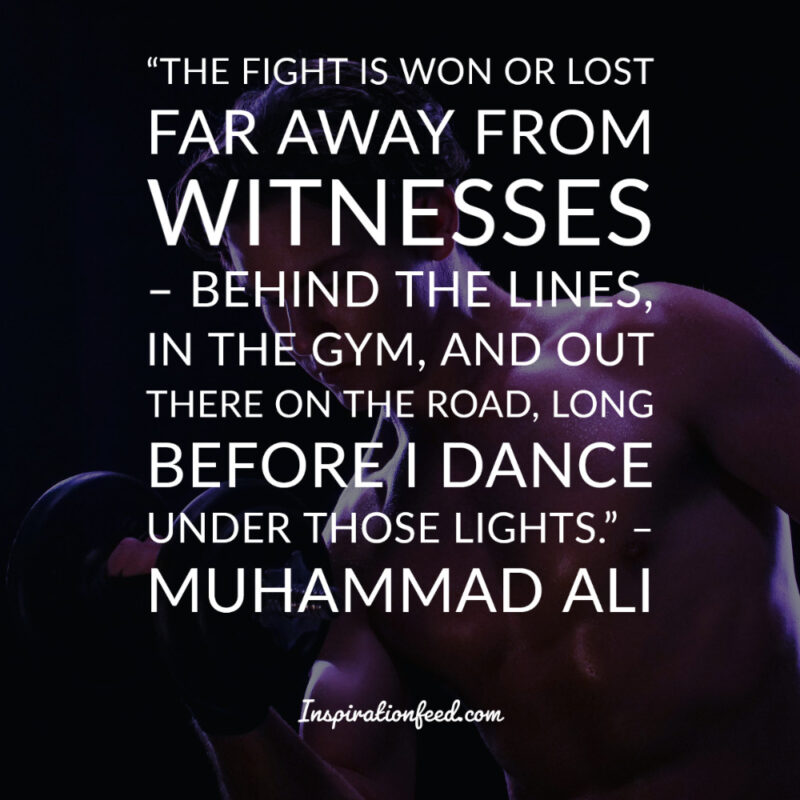 "I'm not the greatest; I'm the double greatest. Not only do I knock 'em out, I pick the round." – Muhammad Ali
"When you can whip any man in the world, you never know peace." – Muhammad Ali
"I'm no leader; I'm a little humble follower." – Muhammad Ali
"Ali's got a left, Ali's got a right – when he knocks you down, you'll sleep for the night; and when you lie on the floor and the ref counts to ten, hope and pray that you never meet me again." – Muhammad Ali
"I never thought of losing, but now that it' s happened, the only thing is to do it right. That's my obligation to all the people who believe in me. We all have to take defeats in life." – Muhammad Ali
"The man who has no imagination has no wings." – Muhammad Ali
"Superman don't need no seat belt." – Muhammad Ali
"I should be a postage stamp, because that's the only way I'll ever get licked. I'm beautiful. I'm fast. I'm so mean I make medicine sick. I can't possibly be beat." – Muhammad Ali
"I am the greatest, I said that even before I knew I was." – Muhammad Ali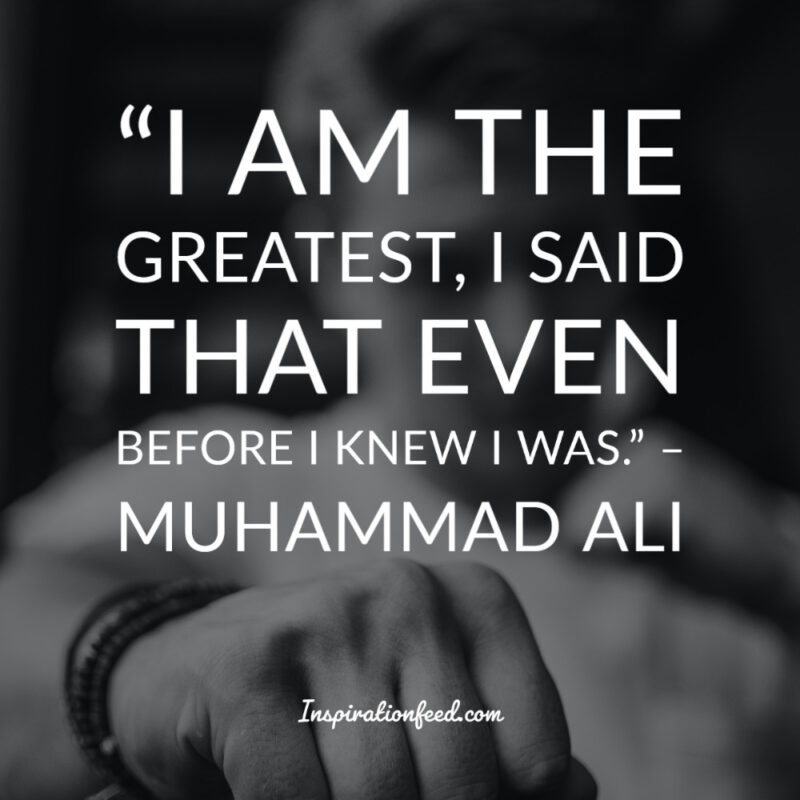 "Wars of nations are fought to change maps. But wars of poverty are fought to map change." – Muhammad Ali
"I always bring out the best in men I fight, but Joe Frazier, I'll tell the world right now, brings out the best in me. I'm gonna tell ya, that's one helluva man, and God bless him." – Muhammad Ali
"I calculate that I took 20,000 punches, but I earned millions and kept a lot of it. I may talk slow, but my mind is OK." – Muhammad Ali
"Age is whatever you think it is. You are as old as you think you are." – Muhammad Ali
"It's hard to be humble, when you're as great as I am." – Muhammad Ali
"I figured that if I said it enough, I would convince the world that I really was the greatest." – Muhammad Ali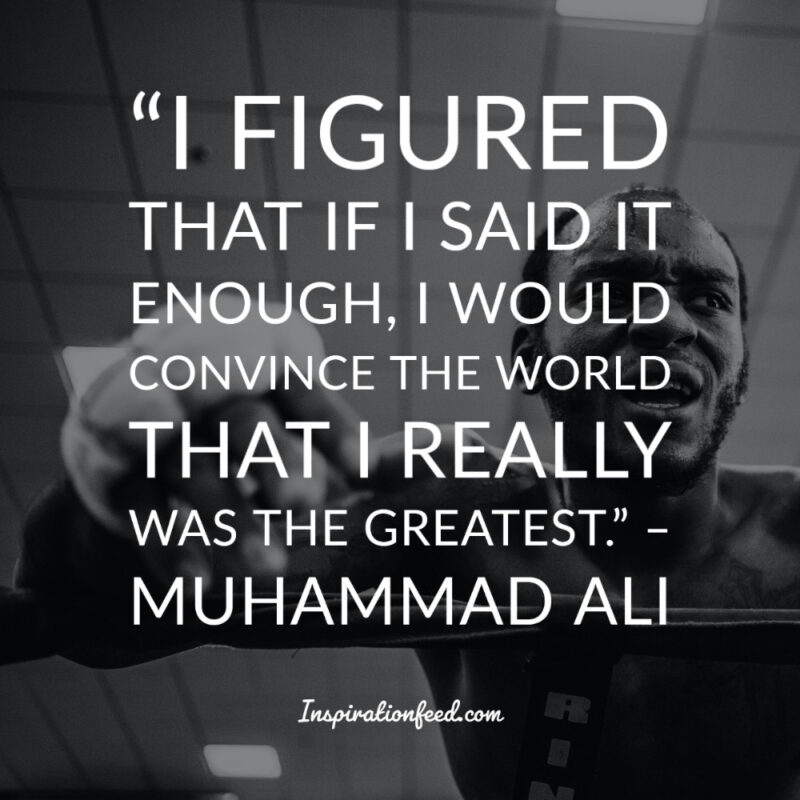 "Old age is just a record of one's whole life." – Muhammad Ali
"When I won the Golden Gloves in 1960, that made me realize I had a chance. And when I won at the Olympics, that sealed it: I was the champ." – Muhammad Ali
"There are no pleasures in a fight but some of my fights have been a pleasure to win." – Muhammad Ali
"You think the world was shocked when Nixon resigned? Wait till I whup George Foreman's behind." – Muhammad Ali
"I shook up the world, I shook up the world." – Muhammad Ali
"I wanted to use my fame and this face that everyone knows so well to help uplift and inspire people around the world." – Muhammad Ali
" To be a great champion, you must believe you are the best. If you're not, pretend you are." – Muhammad Ali
"What you are thinking about, you are becoming." – Muhammad Ali
"I don't count my sit-ups. I only count when it starts hurting because they're the only ones that count." – Muhammad Ali
"I'm the best. I just haven't played yet."– Muhammad Ali
"I'm gonna show you how great I am." – Muhammad Ali
"Friendship is not something you learn in school but if you haven't learned the meaning of friendship you really haven't learned anything" – Muhammad Ali