Last Updated on March 3, 2023
Who Is Nancy Pelosi?
Nancy Patricia D'Alesandro Pelosi is an American politician who's the current Speaker of the United States House of Representatives, a position she has held since 2019 as well as from 2007 to 2011.

Pelosi holds the record as the only woman in U.S history ever to have served as speaker. By virtue of her prestigious position, Pelosi comes 2nd in the presidential line of succession, right after vice president Kamala Harris.

Besides serving as Speaker, Nancy Pelosi has also served as United States representative from California since 1987. She is a member of the Democratic Party.
Quick Facts
| | |
| --- | --- |
| Full Name: | Nancy Patricia D'Alesandro Pelosi |
| Popular Name: | Nancy Pelosi |
| Gender: | Female |
| Birth Date: | March 26, 1940 |
| Age: | 82 years |
| Parents: | Thomas D'Alesandro Jr. and Annunciata M. "Nancy" Lombardi D'Alesandro |
| Siblings: | Thomas L. J. D'Alesandro III, Franklin D. Roosevelt D'Alesandro, Nicholas D'Alesandro, Joseph D'Alesandro, and Hector D'Alesandro |
| Birth Place: | Baltimore, Maryland |
| Nationality: | American |
| Ethnicity: | Italian |
| Education: | Institute of Notre Dame and Trinity College |
| Marital Status: | Married  |
| Sexual Orientation: | Straight |
| Wife/Spouse: | Paul Frank Pelosi |
| Children: | Alexandra Pelosi, Paul Pelosi, Jr., Jacqueline Pelosi, Nancy Corinne Pelosi, and Christine Pelosi |
| Dating: | N/A |
| Net Worth: | USD 120 million  |
| Source of Wealth: | Politics and Other Ventures |
| Height: | 5′ 5″ (1.65 m) |
| Weight: | 60 kg; In pounds: 132 lbs. |
Early Life
Nancy Pelosi was born on March 26, 1940, in Baltimore, Maryland, to Italian-American parents Thomas D'Alesandro Jr. and Annunciata M. "Nancy" Lombardi D'Alesandro.

At the time of her birth, Pelosi's father was serving as a Democratic congressman from Maryland. Seven years later, Thomas D'Alesandro Jr. became the Mayor of Baltimore.

Pelosi's mother, Annunciata Lombardi, was also involved in politics. She organized Democratic women's events and taught her children the importance of social networking.

Nancy's brother, Thomas D'Alesandro III, who's also a Democrat, served as the Mayor of Baltimore from 1967 to 1971.

Coming from a family with deep political ties, it was only a matter of time before Nancy Pelosi also followed in her parents' footsteps. Pelosi involved herself with politics at a fairly young age. She attended many of her father's political events and helped him at his various campaigns.
Career Information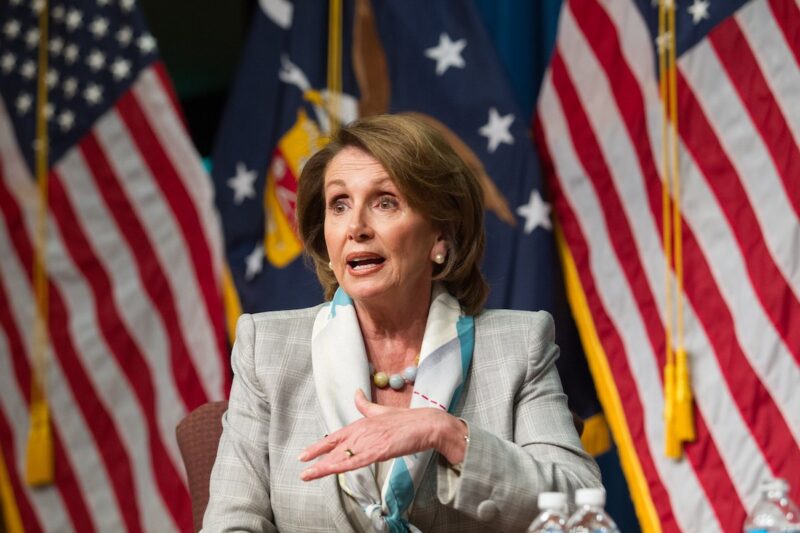 Nancy Pelosi graduated from the Institute of Notre Dame High School in Baltimore in 1958. She then enrolled at Trinity College in Washington, D.C., graduating from the institution in 1962 with a Bachelor of Arts in political science. She later moved to San Francisco, where she became deeply involved in Democratic politics.

In 1976, Nancy Pelosi was elected as a Democratic National Committee member from California. She served in that capacity until 1996.

In 1981, Pelosi was appointed head of the California Democratic Party, a position she held until 1983.

In June 1987, Nancy Pelosi assumed office as the 5th District congresswoman after winning the special election following the death of Sala Burton. Pelosi represented the 5th District until 1993. Following the redrawing of the district boundaries after the 1990 Census, Pelosi went on to represent the 8th District from 1993 to 2013, and then the 12th District from 2013 to present.

In 2007, Pelosi was elected Speaker of the United States House of Representatives. She served as Speaker until 2011 when she lost to the Republican Party. However, she was once again elected as Speaker in January 2019.

Other notable political positions that Nancy Pelosi has held include:
• House Minority Whip (2002 – 2003)
• Leader of the House Democratic Caucus (since 2003)
• House Minority Leader (2003 – 2007)
Nancy Pelosi's Net Worth
Nancy Pelosi has enjoyed an illustrious political career. She has also earned millions from her political endeavors. As of 2023, Pelosi had a net worth of $120 million.

As Senator, Nancy Pelosi earned an annual salary of $174,000. Her salary increased to $223,500 following her election as Speaker.

The following is Nancy Pelosi's net worth milestones:

In 2009, the Center for Responsive Politics (CRP) claimed that Pelosi's net worth was $58,436,537. Five years later, CRP reported that her net worth had shot to $101,273,023.

In 2012, Pelosi reportedly had a net worth of $26.4 million, according to estimates by Business Insider. Two years later, Roll Call estimated that the firebrand politician had a net worth of $29.35 million.

It's also worth noting that the $120 million is Nancy Pelosi's combined net worth with that of her husband, Paul Frank Pelosi.

Paul Frank Pelosi is an investor and owner of the venture capital, financial consulting, and real estate investment firm, Financial Leasing Services, Inc. Through this company, Nancy and Paul own substantial stakes in giant companies like Apple, Facebook, Walt Disney Co., Comcast, and Shutterfly.

The Pelosis are also associated with several real estate properties in California.
Lessons from Nancy Pelosi
1. Leave your mark

Nancy Pelosi will go down in history as the first woman in the United States to serve as speaker. She will also be remembered as the first female Speaker to serve for two non-consecutive terms.

2. Be consistent in your ideals

Pelosi is one of the longest members of the Democratic Party. She has consistently defended her party's ideals even when doing so did not exactly produce favorable outcomes.

3. Do the right thing regardless of the implications

Nancy Pelosi is a firebrand politician who doesn't shy away from speaking her mind or making tough decisions. During her tenure as Speaker, Pelosi oversaw the impeachment of President Donald Trump not once but twice.
Famous Quotes by Nancy Pelosi
"Bipartisanship is nice, but it cannot be a substitute for action, not having it cannot prevent us from going forward."
"Democratic priorities remain clear: to provide a tax cut for working families, to promote policies that produce jobs and economic growth, and to assist millions of our fellow Americans who have lost their jobs through no fault of their own."
"Don't underestimate your opponent, but don't overestimate them, either."
"I really want women to know their power, to value their experience. To understand that nothing has been more wholesome in the political process than the increased involvement of women."
"Think of an economy where people could be an artist or a photographer or a writer without worrying about keeping their day job in order to have health insurance."
Wrap Up
Nancy Pelosi is an American politician who is best known as the current Speaker of the United States House of Representatives. Prior to becoming Speaker, Pelosi held numerous prestigious positions, including serving as United States representative from California since 1987. Thanks to her various political endeavors, Pelosi has a net worth of $120 million, which is the combined net worth with that of her husband.