Last Updated on January 24, 2023
Millions of people visit New York City every year for both business and leisure purposes. And if your career or your company is taking you to the Big Apple, the sheer amount of possibilities on offer when it comes to food, transportation, and entertainment can easily be overwhelming, especially if you're not used to being in a big city.
So, whether you're planning a flying visit or a lengthy business trip, read on for our guide to getting the most out of visiting New York for work.
#1. Airports:
There are several airport options to fly into and out of if you're going to arrive in New York by air. John F. Kennedy Airport is the largest and most popular of the options, especially if you are arriving in New York from outside of the US. It's located in Queens and hosts over fifty million passengers each year.
From JFK, you can get to Manhattan on the AirTrain which will drop you off at Penn Station and costs just $5 per ride. Or you can get a yellow cab or Uber which will set you back around $55.
La Guardia Airport, also located in Queens, is the best option for domestic flights. It's also the closest airport to Manhattan if you need to get into the city quickly, but bear in mind that the only way of getting there is by cab.
Finally, Newark is an option if you're looking for a cheaper flight option or if you're hoping for faster immigration clearance. However, bear in mind that over 70% of flights arrive late here, so make sure you're prepared for a delay.
#2. Getting Around: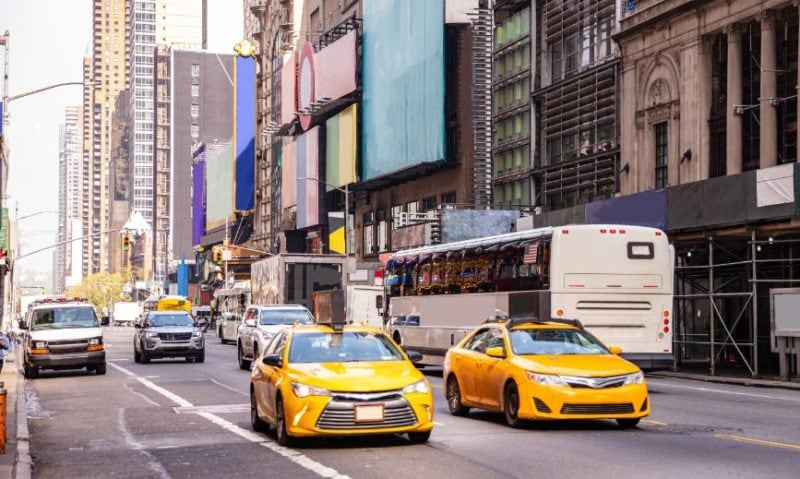 When it comes to getting around New York City, the best options are definitely walking or taking the subway. Cabs are available, but they are expensive, and you may end up frustrated and stressed since they're often stuck in the busy city traffic jams. Manhattan is a gorgeous part of the city to walk through at any time of year, and you'll probably see plenty of other suited professionals walking to work and lunch – or even having a meeting in the park if you're visiting when the weather is nice.
The NYC subway is the best way to get around – the 7th most used subway worldwide with almost two billion yearly users, it serves all five boroughs and allows you to get just about anywhere for under three dollars.
#3. Where to Stay: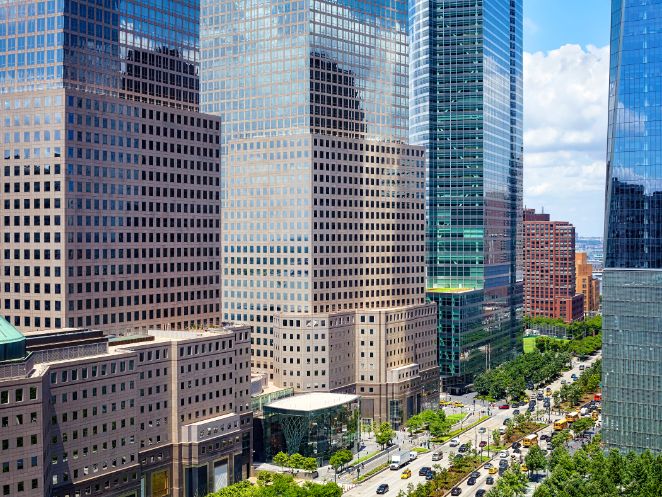 When it comes to choosing somewhere to stay, you're certainly not going to be down on options for accommodation in New York City. Take a number of factors into consideration including your company policies for budget, where you'll need to be in the city for work during your trip, and the facilities that you are going to need. There are hundreds of different hotels to choose from ranging from $50 per night to over $500.
If you're staying for longer or want a more comfortable stay, then it's worth looking into alternative accommodation to hotels. NYC is one of the most popular cities in the world on Airbnb for business travelers, but bear in mind that local authorities are cracking down on Airbnb rentals and there are strict rules to adhere to. Alternatively, you may want to consider an option like Blueground where you can rent apartments starting at 30 days in New York for a comfortable, home from home experience.
Blueground offers furnished apartments suitable for business travel; they come with a fully equipped kitchen, a living area that can double up as a workspace, laundry facilities, and all the awesome service perks that you'd expect from a hotel like cleaning and 24-hour concierge. Many of their Manhattan premium buildings also include business centers, coworking spaces or tenant lounges should you need to host a meeting.
#4. Finding Somewhere to Work:
If you want to get out of your hotel or apartment to work, then there is no end of options to consider in the Big Apple. Co-working spaces are popular here; these are areas where freelancers or sole traders can work together with small teams – there are plenty to choose from in New York; a quick Google search will bring up the ones closest to your accommodation or you could ask for recommendations at the front desk.
A popular trend these days in NYC is restaurant based co-working spaces, which can be a great idea if you want to try all the best food that the city has to offer while you're there for business. These spaces combine unique New York architecture, existing real estate infrastructures and plenty of space for anybody who wants a productive day's work. Whether you've got emails to send, spreadsheets to complete, video conferences to hold or anything else and you're happy with being done by 4-5 pm, this could be a fantastic option for you.
If not, NYC is home to over two hundred Starbucks, which make great places to work.
NYC is one of the most exciting cities in the world to visit for a business trip.