Last Updated on January 11, 2022
Who Is Nicolas Cage?
Nicolas Kim Coppola, better known as Nicolas Cage, is an American actor, film producer, and television producer. Cage rose to prominence through films like Rumble Fish (1983), Valley Girl (1983), and Racing with the Moon (1984). The award-winning actor gained widespread recognition in the nineties and has been considered as one of Hollywood's finest actors since then.

Nicolas Cage has been widely acclaimed for his ability to star in a variety of film genres, ranging from action thrillers to comedies and even horror films. In October 1997, he made Empire Magazine's list of The Top 100 Movie Stars of All Time, debuting at number 40 on the list. The following year, Premier Magazine placed Cage at number 37 on its 100 Most Powerful People in Hollywood.
Quick Facts
| | |
| --- | --- |
| Full Name: | Nicolas Kim Coppola |
| Popular Name: | Nicolas Cage |
| Gender: | Male |
| Birth Date: | January 7, 1964 |
| Age: | 58 years |
| Parents: | August Coppola and Joy Vogelsang |
| Siblings: | Marc Coppola and Christopher Coppola |
| Birth Place: | Long Beach, California |
| Nationality: | American |
| Ethnicity: | Italian, German, and Polish |
| Education: | Beverly Hills High School, Justin-Siena School, UCLA School of Theater, Film, and Television, and American Conservatory Theater |
| Marital Status: | Married. Previously married to actress Patricia Arquette (from 1995 until their divorce in 2001), singer and songwriter Lisa Marie Presley (from 2002 until their divorce in 2004), Alice Kim (from 2004 until their divorce in 2016), and Erika Koike (from 2019 until their divorce the same year) |
| Sexual Orientation: | Straight |
| Wife/Spouse: | Riko Shibata |
| Children: | Weston Coppola Cage (from a previous relationship with actress Christina Fulton) and Kal-El Coppola Cage (from his marriage to Alice Kim) |
| Dating: | N/A |
| Net Worth: | USD 25 million (as of March 1, 2021) |
| Source of Wealth: | Acting, Film Production, Television Production, and Other Ventures |
| Height: | 6′ 1″ (1.83 m) |
| Weight: | 89 kg; In pounds: 196 lbs. |
Early Life and Career Information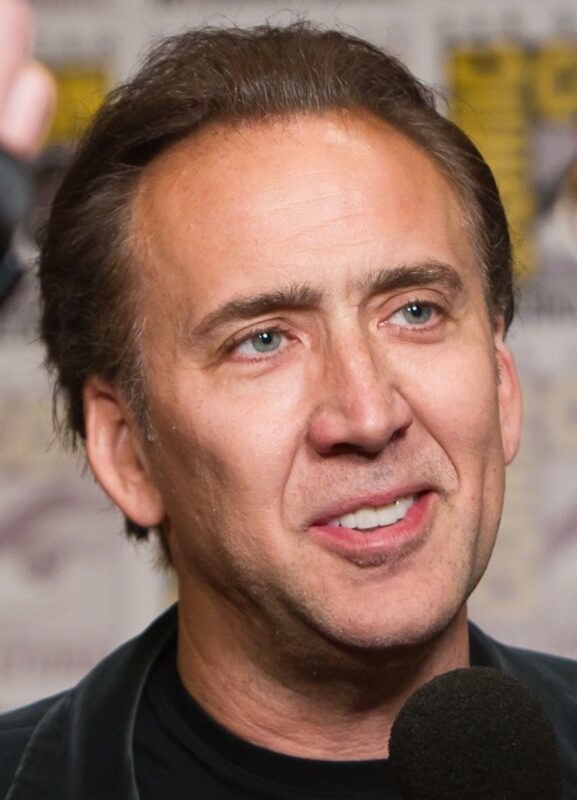 Nicolas Cage was born on January 7, 1964, in Long Beach, California, to August Coppola and Joy Vogelsang. His father was a professor of literature, whereas his mother was a dancer and choreographer.

Cage made his cinematic debut playing a minor role in the 1982 film Fast Times at Ridgemont High. He appeared in a series of films throughout the 80s, most of which were low profile movies. They include Rumble Fish (1983), Valley Girl (1983), Birdy (1984), Racing with the Moon (1984), Peggy Sue Got Married (1986), Moonstruck (1987), Raising Arizona (1987), and Vampire's Kiss (1989).

Nicolas Cage continued to land lower-profile movies in the early 90s, including Wild at Heart (1990), Honeymoon in Vegas (1992), and Red Rock West (1993). From the mid-90s, Cage began appearing in mainstream films like Leaving Las Vegas (1995), The Rock (1996), Con Air (1997), Face/Off (1997), Snake Eyes (1998), and City of Angels (1998). Other notable films during this period include Gone in 60 Seconds (2000) and Windtalkers (2002). His final breakthrough came in 2004 following his starring role on National Treasure.

Nicolas Cage has since starred as well as appeared in scores of other films, including:

• Lord of War (2005)
• The Wicker Man (2006)
• Ghost Rider (2007)
• Next (2007)
• National Treasure: Book of Secrets (2007)
• Bangkok Dangerous (2008)
• Knowing (2009)
• The Bad Lieutenant: Port of Call New Orleans (2009)
• Kick-Ass (2010)
• Season of the Witch (2010)
• The Sorcerer's Apprentice (2010)
• Ghost Rider: Spirit of Vengeance (2012)
• The Croods (2013, as a voice actor)
• The Frozen Ground (2013)
• Joe (2013)
• Dog Eat Dog (2016)
• Mom and Dad (2017)
• Mandy (2018)
• Color Out of Space (2019)
• The Unbearable Weight of Massive Talent (2019)
• The Croods: A New Age (2020, as a voice actor)
• The Family Man (2020)

Besides acting, Nicolas Cage has also enjoyed a successful career as a film director. He made his directorial debut in the 2002 film Sonny.

Nicolas Cage also owns the film production company Saturn Films. Through Saturn Films, Cage has produced several films, including Shadow of the Vampire (2000) and The Life of David Gale (2003).

Like most accomplished Hollywood stars, Nicolas Cage has received numerous accolades for his outstanding acting skills. In 1996, Cage won an Academy Award courtesy of his performance in the film Leaving Las Vegas. The same year, he won a Golden Globe Award as well as a Screen Actors Guild Award for his role in the same movie.
Nicolas Cage's Net Worth
As of March 1, 2021, Nicolas Cage had a net worth of $25 million. Cage has earned his wealth almost exclusively from acting. Some of his most commercially successful films include Ghost Rider and The Croods (which he lent his voice to).

While Ghost Rider was a critical failure, the film earned over $45 million during its opening weekend, before grossing more than $208 million worldwide by March 25, 2007. On the other hand, The Croods was both a critical and commercial success. The movie grossed more than $585 million from a budget of $135 million.

However, it's worth pointing out that Nicolas Cage's net worth could have been way higher than the current $25 million, considering that he was at some point one of Hollywood's highest-paid actors. Cage is believed to have earned at least $200 million in movie salaries alone over the course of his acting career. For instance, the 'Ghost Rider' star earned over $150 million in movie salary between 1996 and 2011.

Some of Cage's highest-paying films include:

• Snake Eyes, where he earned $16 million,
• Gone in Sixty Seconds, where he took home $20 million,
• Windtalkers, which paid him $20 million, and
• National Treasure, where he earned $20 million

So, why isn't Nick's current net worth commensurate with his career earnings?

Well, Nicolas Cage has earned quite some bad publicity for his lavish lifestyle and profligate spending. Between 2000 and 2007, Cage reportedly purchased 15 personal homes, a private jet worth $30 million, a private island in the Bahamas worth $7 million, 4 luxury yachts, and a fleet of high-end cars. Not to mention several pieces of art, jewelry, and artifacts, including a 67 million-year-old dinosaur skull.

With this runaway spending, it was only a matter of time before the Internal Revenue Service (IRS) came knocking on Nicolas Cage's door.

In 2009, the IRS filed a tax lien against a property owned by Cage in New Orleans. It emerged that the actor had failed to pay up to $6.2 million in federal income taxes.

As it turned out, this was only the beginning of Cage's financial woes. He is currently facing other lawsuits for outstanding loans, including suits by East West Bank and Red Curb Investments.
Lessons from Nicolas Cage
1. Identify your passions and pursue them diligently

Nicolas Cage knew he was destined to be an actor after watching James Dean in the film East of Eden. He later confessed in an interview saying, "Nothing affected me—no rock song, no classical music—the way Dean affected me in Eden. It blew my mind. I was like, 'That's what I want to do."

2. Sometimes you've got to play smart to win

At the age of 15, Nicolas Cage requested his uncle and film director Francis Ford Coppola to offer him a chance to appear in a film. But since working under Coppola would create the impression of nepotism, the young Nicolas changed his name from Nicolas Kim Coppola to Nicolas Cage, as he is presently known.

3. You win some, you lose some

Despite being such a talented actor, it's worth noting that some of Cage's projects were epic failures. Examples include the 2006 remake of The Wicker Man and Joe (2013).
Famous Quotes by Nicolas Cage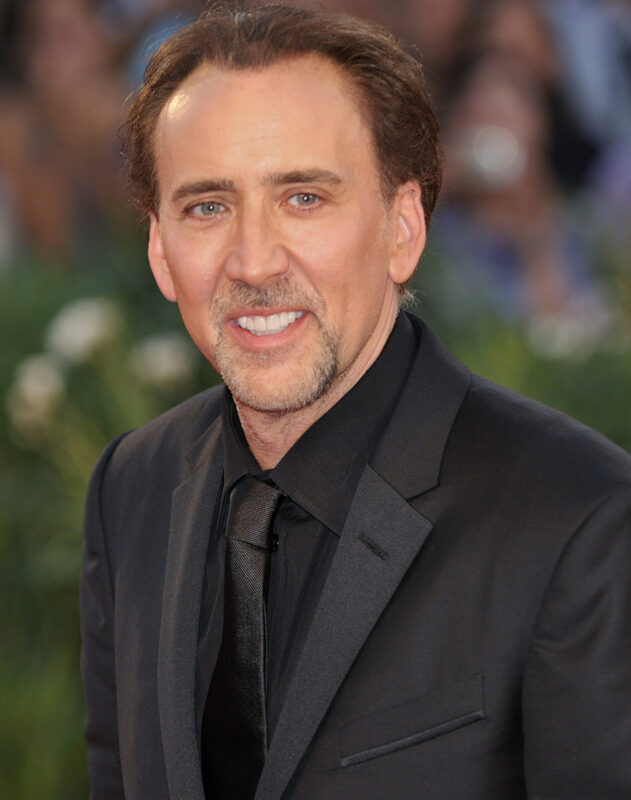 "'Celebrity' is a word I take great umbrage with. I'm actively anti-celebrity."
"I think what makes people fascinating is conflict, it's drama, it's the human condition. Nobody wants to watch perfection."
"I use technology for communication, but I don't have a Blackberry or an iPhone. I use an outdated cell phone, but I'm fine with it."
"Picasso said, 'Art is a lie that tells the truth.' What if you just want to tell the truth and not lie about it?"
"The end of the world is on people's minds. We have the power to destroy or save ourselves, but the question is what do you do with that responsibility."
Wrap Up
Nicolas Cage has managed to build a strong personal brand ever since he broke onto the limelight in the 80s. Although he has lost millions courtesy of his spendthrift lifestyle, Cage is still way richer than many actors and filmmakers