Last Updated on January 24, 2023
Who Is NLE Choppa?
Bryson Lashun Potts, better known by his stage name NLE Choppa, is an American singer, songwriter, rapper, and internet personality.

Bryson rose to prominence courtesy of his January 2019 single titled Shotta Flow. The song peaked at the #36 spot on the Billboard Hot 100 and was certified platinum by the Recording Industry Association of America (RIAA).
Quick Facts
| | |
| --- | --- |
| Full Name: | Bryson Lashun Potts |
| Popular Name: | NLE Choppa |
| Gender: | Male |
| Birth Date: | November 17, 2002 |
| Age: | 20 years |
| Parents: | Angeleta Ellis Potts, father unknown |
| Siblings: | Unknown |
| Birth Place: | Memphis, Tennessee |
| Nationality: | American |
| Ethnicity: | African-American and Jamaican |
| Education: | Cordova High School |
| Marital Status: | Single |
| Sexual Orientation: | Straight |
| Wife/Spouse: | N/A |
| Children: | Clover Brylie Potts (with a woman named Mariah) |
| Dating: | N/A |
| Net Worth: | USD 3 million  |
| Source of Wealth: | Singing, Songwriting, Rapping, Social Media, and Other Ventures |
| Height: | 6′ 1″ (1.86 m) |
| Weight: | 75 kg; In pounds: 165 lbs. |
Early Life and Career Information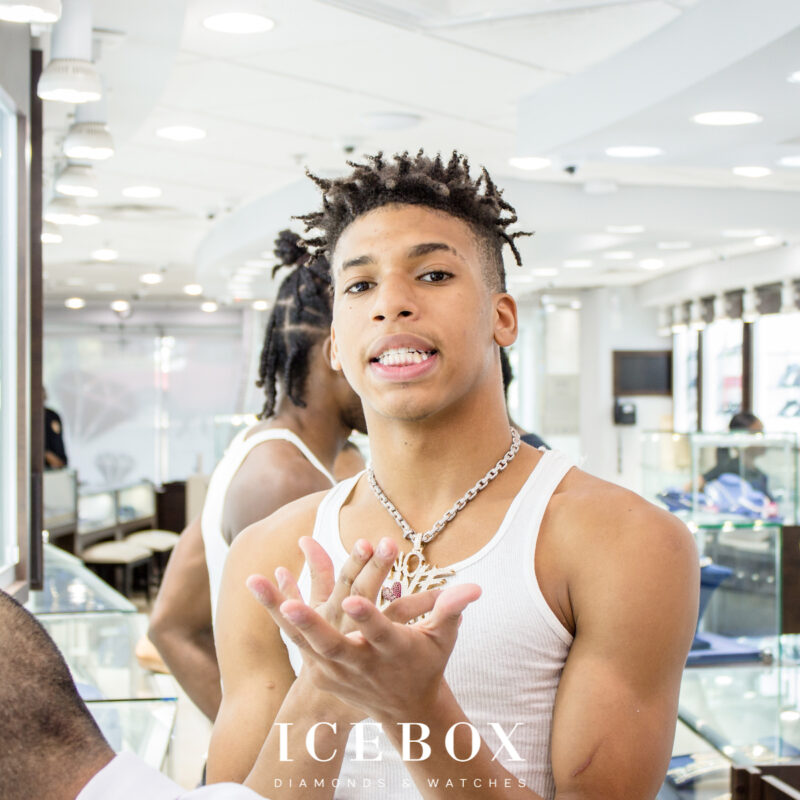 NLE Choppa was born on November 17, 2002 in Memphis, Tennessee, to Angeleta Ellis Potts. Choppa began freestyling with his friends when he was 14 years. He eventually started to take music seriously at the age of 15.

NLE Choppa released his first song in February 2018 under the moniker YNR Choppa, titled No Love Anthem. On July 22, the same year, he released his debut mixtape titled No Love the Takeover. In December, Choppa featured in a cypher-style song by his Shotta Fam collective known as No Chorus Pt. 3. His performance in the song's accompanying video was outstanding, making him an instant online sensation.

Inspired by his growing popularity, NLE Choppa continued working on more musical projects. His breakout single was Shotta Flow released in January 2019. The video to the song racked up over 10 million views within the first month.

In May 2019, Shotta Flow peaked at #96 on the Billboard Hot 100. The song later peaked at #36 before being certified platinum by the RIAA.

A month after releasing Shotta Flow, NLE Choppa followed up with the song's sequel titled Shotta Flow 2. Shotta Flow 2 was also well-received, with the video to the song amassing over 20 million views within the first two months.

Following the success of Shotta Flow 2, NLE Choppa became the subject of a bidding war. Reports indicate that some record labels were willing to pay as much as $3 million to sign him. However, he turned down all these offers. Instead, he signed with the distribution company, UnitedMasters, in a deal that would see him keep his master recordings as well as publishing.

NLE Choppa went on to release a couple of singles over the next few months, including Capo, Birdboy, Blocc Is Hot, and Free YoungBoy. The music video to Free YoungBoy has since earned more than 19 million YouTube views.

On December 20, 2019, NLE Choppa released his debut extended play (EP) titled Cottonwood. And in 2020, he released his studio album, Top Shotta. Later in the year, he released his second mixtape, From Dark to Light.
NLE Choppa's Net Worth
NLE Choppa may be relatively younger than many rappers. But he has already amassed incredible fame and fortune, considering his age and the duration he has been in the rap game.

As of 2023, NLE Choppa had a net worth of $3 million. A huge chunk of his wealth comes from the sale of his music.

In addition to music sales and royalties, NLE Choppa has also established himself on various social media platforms and earns decent commissions from sponsored ads and monetized posts. As of the time of writing, his YouTube account had racked up 3.61 million subscribers.
Lessons from NLE Choppa
1. It's never too early to start

NLE Choppa began freestyling when he was 14 years and never looked back. Two years later, his music was already going viral.

2. Turn every adversity into opportunity

Despite his cheerful public persona, NLE Choppa actually struggles with depression. One of the ways he combats the condition is by meditating and rapping about it in his music. Also, the rapper served a jail term in a juvenile detention center. Although he has never revealed why he was arrested, he has termed his time at the detention center as a major turning point.

3. Collaborate with others

He may be young, but NLE Choppa already understands the significance of forging meaningful collaborations in the rap industry. He has since worked with several popular rappers, including Roddy Ricch and Meek Mill.
Famous Quotes by NLE Choppa
"Before it happened. When I looked at the video that they recorded, I'm like, "Man this is crazy. This is like the exact same vision I had, like in a dream I kept having, that I chase," you know what I'm saying? I pretty much envisioned all this, for sure."
"I'm handling it well. I already had a lot of maturities, because I've been through a lot. I've been through a lot more than what an average 16-year-old goes through. I already just had maturity. It wasn't any more playing, for real now. This business is serious. I had to cut it all the way up, tight."
"My parents really think I wake up late but I really be chilling in my room after I wake up to avoid interactions as much as possible because I love being alone."
"Whatever is out of the element that I don't do is a no for me. I'm not going to let anybody force me to do anything, I ain't going to look at no money to do it. That ain't me. I don't care how much you paying me, or what you say. None of that."
"When I make a song, I make sure that it's a hit. You know what I'm saying. Like the quality over the quantity part. If I make one song in a session, I be like, I'm done, this the junk."
Wrap Up
NLE Choppa may only be 20 years of age, but he is already far more successful than many rappers. He has his consistency and passion for music to thank for his runaway success and jaw-dropping net worth.