Last Updated on January 20, 2022
Christmas may be over, but for many of us, that doesn't mean that the party's finished. With belated office holiday parties, the start of wedding and engagement party season, and endless birthday celebrations, there's no better time to pick party outfits that you can invest in now and wear all year long. Pick classic pieces you love now, and you'll be able to wear them year after year.
Here are three of our favorite occasion wear outfits that you can wear all year round:
A Simple Midi Dress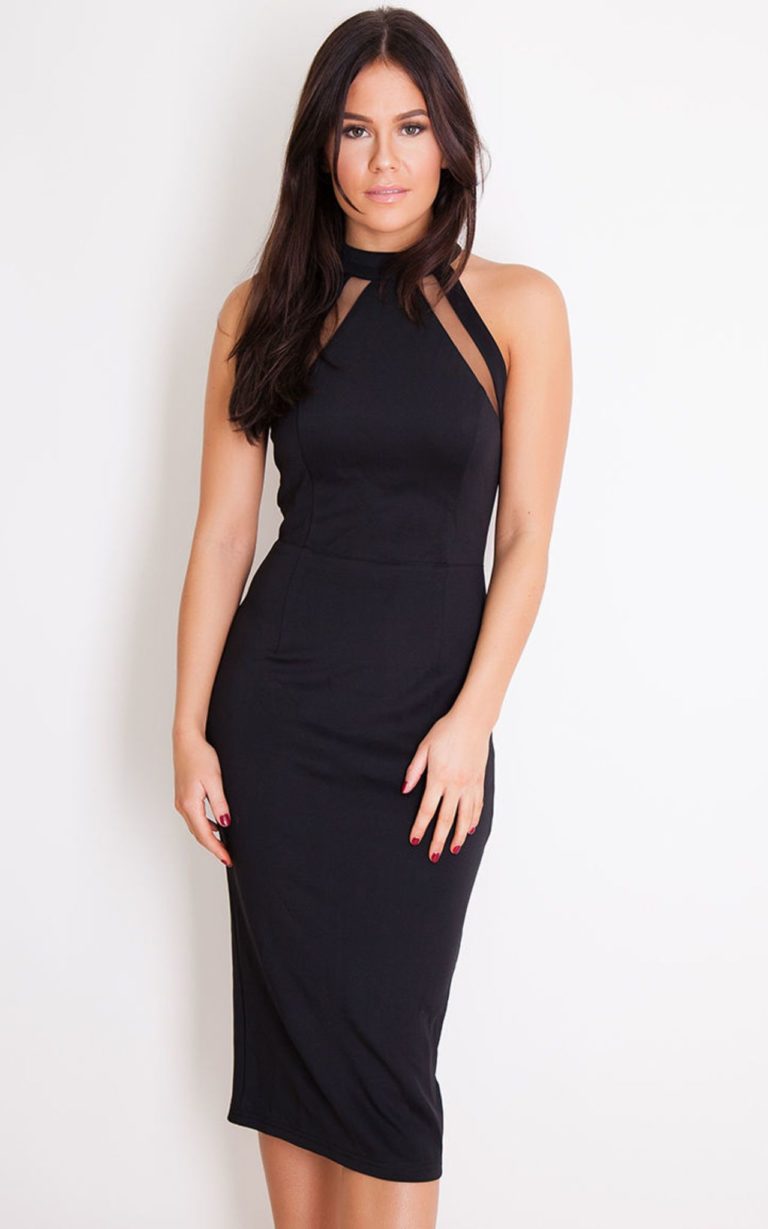 Alesia Mesh Panel Bodycon Midi Dress in Black
If you're looking for a dress that you can wear to several different occasions, then it is key to choose something that you can accessorize in a myriad of different ways. This simple bodycon fit midi dress certainly fits the bill. With black or nude shoes and accessories, it will look chic, effortless and elegant.
Alternatively, inject a vibrant, statement feel, by pairing it with red patent leather heels and a matching clutch.
The best thing about this versatile dress is that as well as being perfect for the holiday season, you can also wear it to weddings, bridal showers, christenings, dinner parties, and a whole host of other formal occasions. It has the potential to be the hardest working dress in your wardrobe!
Lovely Lace
Lyla High Neck Lace Top Midi Dress in Navy
Whether you're looking for an outfit for a night out, a wedding, or any other kind of special occasion, you can't go wrong with lace. It immediately adds a touch of classic elegance to any outfit and has a timeless appeal that means you can wear it season after season.
We love this minimalist navy blue midi dress with lace detailing. It has a detachable waist tie, allowing you to cinch in your waist and create an enviable hourglass figure. Incredibly versatile, when paired with a suit jacket and sensible shoes, this dress could be worn to the office.
Add heels and dramatic chandelier earrings and you're date night ready.
Sparkle and Shine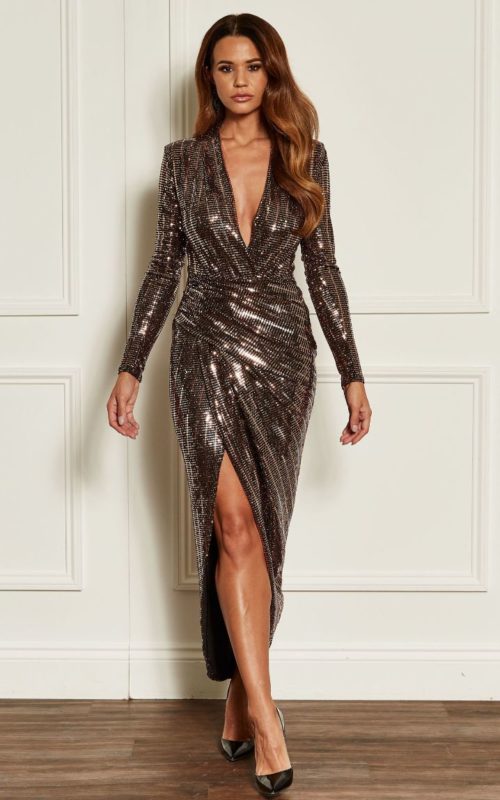 Rose gold deep v wrap over sequin dress
Want to make a statement and really stand out from the crowd? Then there's only one solution: sequins, and plenty of them! A sequin dress will capture the light of the room as you enter it, causing your dress to sparkle. There is no better party statement piece.
We love this drama-filled sequin dress in on-trend rose gold, which features a plunging neckline and a leg-lengthening thigh split. It wouldn't look out of place on the red carpet, so this dress is perfect for formal occasions, such as black tie events, or cocktail parties.
There's no need to worry about accessories because this dress doesn't need the support of any additional sparkly baubles: instead, just add leg-lengthening heels and go!