Last Updated on January 24, 2023
Who Is Oprah Winfrey?
Oprah Gail Winfrey, popularly known as Oprah Winfrey, is an American talk-show host, television producer, media executive, actress, and philanthropist. Born Orpah Gail Winfrey, Oprah Winfrey is most famous for hosting her talk show – The Oprah Winfrey Show. The show was broadcast from Chicago and ran in national syndication for a period of 25 years (1986 – 2011).
The Oprah Winfrey Show is arguably the highest-rated television talk show in history. That success certainly reflected in Oprah's bank accounts as by the dawn of the new millennium, Winfrey was the wealthiest African American on the planet. She also holds the title for being the first African-American billionaire in North America.
In addition to her impressive wealth, Oprah has also been ranked by numerous publications as the world's most influential woman. Read on as we unpack her billion-dollar empire.
Quick Facts
| | |
| --- | --- |
| Full Name: | Oprah Gail Winfrey |
| Popular Name: | Oprah Winfrey |
| Gender: | Female |
| Birth Date: | January 29, 1954 |
| Age: | 68 years |
| Parents: | Vernon Winfrey and Vernita Lee |
| Siblings: | Patricia Lofton, Patricia Lee Loyd, and Jeffrey Lee |
| Birth Place: | Kosciusko, Mississippi |
| Nationality: | American |
| Ethnicity: | African-American |
| Education: | Lincoln High School in Milwaukee, Nicolet High School, East Nashville High School, and Tennessee State University |
| Marital Status: | Unmarried but in a close romantic relationship with Stedman Graham |
| Sexual Orientation: | Straight |
| Wife/Spouse: | N/A |
| Children: | None |
| Dating: | Stedman Graham |
| Net Worth: | 3.6 billion |
| Source of Wealth: | Media Proprietorship, Television Presenting and Journalism, Film and Television Production, Acting, and Entrepreneurship |
| Height: | 5′ 6″ (1.69 m) |
| Weight: | 77 kg; In pounds: 170 lbs. |
Early Life and Career Information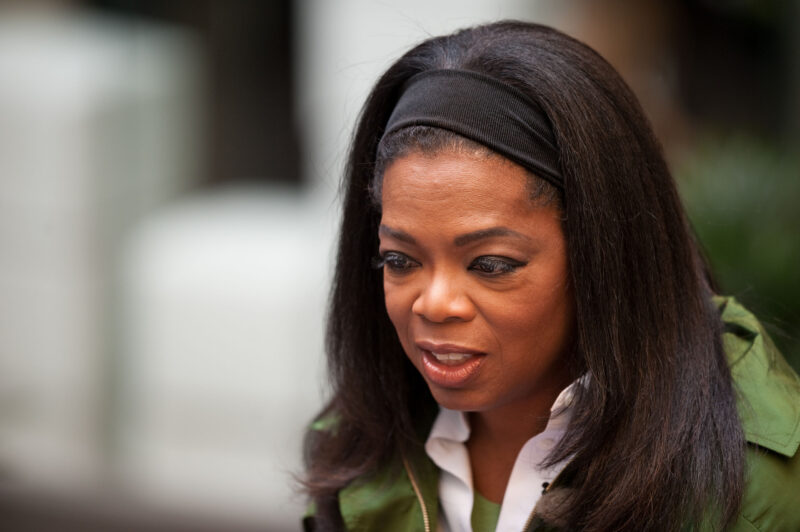 Oprah Winfrey was born on January 29, 1954, in Kosciusko, Mississippi, to Vernon Winfrey and Vernita Lee. At the time of her birth, Oprah's father was working in the Armed Forces before becoming a barber, coal miner, and city councilman later on. Her mother was an unmarried teenage housemaid.
Vernita Lee struggled with raising her daughter and occasionally sought help from her mother, Hattie Mae. When she was 14, Oprah Winfrey became pregnant with a son who died due to preterm birth.
Oprah attended several schools and frequently came face to face with class and racial discrimination. When she was 17, and at the time attending East Nashville High School, her television star began to shine when she won a Miss Black Beauty Tennessee pageant. She would later land a job as a news anchor at a local black radio station known as WVOL.
Oprah's new job as an anchor only pushed her further onto the limelight as she was now sought by various local media outlets. Her break finally came in January 2, 1984, when she founded The Oprah Winfrey Show.
Oprah Winfrey's Net Worth
As of 2023, Oprah Winfrey had a net worth of $3.5 billion. Oprah has earned a bigger portion of her wealth from her successful talk show – The Oprah Winfrey Show. According to reports, the show was such a tremendous success that it singlehandedly made Winfrey a millionaire at the age of 32.
After the Oprah Winfrey Show received national syndication, Winfrey negotiated rights to the program and founded her own production company. Oprah's net worth grew exponentially and by the time she turned 41, she was $340 million rich, surpassing Bill Cosby as the wealthiest African American in North America.
By the dawn of the new millennium, Oprah's net was a staggering $800 million, making her the richest African American on earth. In 2006, Oprah Winfrey became the highest-earning television personality in the US.
She took home a whopping $260 million that year and two years later, Oprah's annual income from her various television endeavors was an estimated $275 million.
In addition to The Oprah Winfrey Show, Oprah has also earned her wealth from various business ventures. The same year that the Oprah Winfrey Show came to an end, Oprah launched her cable channel known as Oprah Winfrey Network (OWN). As of 2015, the channel had penetrated more than 80 million households. In 2017, Discover Communications acquired a 24.5% stake in OWN from Winfrey at a cost of $70 million.
Besides OWN, Oprah Winfrey is also into media publication and is associated with O, The Oprah Magazine.
Another notable business venture by Oprah is her sponsorship deal with WW (formerly Weight Watchers). She acquired a 10% stake in this company in 2015 for $43.2 million. The company's fortunes rose drastically after its association with Oprah and a few years later, her $43.2 million investment in the company had translated to more than $400 million.
Endorsement Deals
Oprah Winfrey is such a powerful brand that companies have always been eager to enter into endorsement partnerships with her. Some of the brands she has endorsed throughout her career include Apple TV and Kraft Heinz.
Big Screen Gigs
Oprah Winfrey has featured in numerous critically-acclaimed films such as The Color Purple (1985), Beloved (1998), The Butler (2013), and Selma (2014). Oprah's big screen endeavors also include the production of television shows and documentaries. Whatever she earns from her various big screen gigs, it definitely adds to her overall net worth.
Real Estate Portfolio
Oprah Winfrey's real estate portfolio is an estimated $200 million. Her most expensive real estate property is a 23,000 square feet mansion in Montecito, California, that she acquired in 2001 for $52 million. The mansion is currently valued at more than $90 million.
She has several other properties, including:
• Another property in Montecito purchased in 2019 at a cost of $6.85 million,
• A 23-acre horse farm located in Santa Barbara, California, that she bought at an auction,
• A 7,300 square-foot estate on Washington's Orcas Island purchased in 2018 for $8.275,
• An 8,700 square-foot property in Telluride, Colorado, acquired in 2014 at a cost of $14 million, and
• Several properties in Maui.
Life Lessons from Oprah Winfrey
The one obvious life lesson we can learn from Oprah Winfrey is that anyone can make it in life regardless of their background. Oprah was born into a poverty-stricken family and everything in her childhood appeared designed to put her down. But she weathered these storms to become the valuable and wealthy brand she is today.
Another invaluable life lesson from Oprah's success story is to always keep your eyes on the prize. While attending Nicolet High School, Winfrey was frequently reminded of her poor background and the fact that she was black. However, she didn't let her schoolmates' opinions define her.
Lastly, Oprah reminds us that wealth is only meaningful to the extent that you use it to inspire others. Winfrey is one of the world's top philanthropists. She doesn't hesitate to inject money into a cause that she believes in.
Quotes by Oprah Winfrey
"Be thankful for what you have; you'll end up having more. If you concentrate on what you don't have, you will never, ever have enough."
"Luck is a matter of preparation meeting opportunity."
"Passion is energy. Feel the power that comes from focusing on what excites you."
"Surround yourself with only people who are going to lift you higher."
"The biggest adventure you can ever take is to live the life of your dreams."
"The more you praise and celebrate your life, the more there is in life to celebrate."
"Think like a queen. A queen is not afraid to fail. Failure is another steppingstone to greatness."
"Turn your wounds into wisdom."
"Where there is no struggle, there is no strength."
Related: Inspirationfeed.com/oprah-winfrey-quotes/
Conclusion
Oprah Winfrey is unarguably one of the most inspirational women in the world. In her, we can draw several critical lessons on success and humanity.