Once you get a shiny new PC, you might catch yourself wondering what software you need to install on it first. Of course, a lot depends on what you will be using your device for. If you want to use it for work, you will probably need to install programs like Microsoft Word and Excel or Skype.
If your goal is to use your computer for leisure, you may want to download a media player or Spotify, or maybe Steam if you want to have access to the latest games.
However, there are also maintenance tasks that every computer user should be performing regardless of why they bought a new PC. Among these are decluttering the drive, scanning for performance issues, taking care of privacy threats, and more.
While there are ways to do these tasks by yourself, it can take a lot of time and might not necessarily give you the best results. For instance, inexperienced users might accidentally delete an important file while trying to free up space in their system, which can cause some programs to malfunction. So, what should you do to ensure that the maintenance part is taken care of?
The first thing is to realize that there are already existing solutions that can help you maintain your PC daily. They are called PC optimization tools. Some of the most popular tools on the market were developed by such brands as Iolo, Auslogics, and IObit. There are also programs like Outbyte PC Repair from smaller-scale developers.
The Outbyte tool is noteworthy because it includes practically all features needed for successful and long-term system maintenance in terms of functionality. In other words, with this tool installed on your computer, you can be sure that all necessary tasks can be done in one place.
Below we will look deeper into the reasons why installing Outbyte PC Repair on your new PC is worth considering.
Outbyte PC Repair: What is it?
Outbyte offers its users a comprehensive suite of tools for enhancing PC performance. The program has features that can be used for diagnosing your system, decluttering the drive, securing your computer from privacy threats, and improving speed and battery life.
These features can help you with resolving issues that may affect the proper functioning of your Windows 10 system and interfere with a smooth user experience. In addition, Outbyte can help automate some of the related maintenance activities.
Versatile Scan and Repair Function
The first feature we will focus on is Outbyte's ability to scan your system for potential issues. Along with detecting those, it can take the next step of repairing them. From speed-related problems to finding unnecessary files and applications, the scan can help you discover aspects that may affect your computer's performance.
Also, the tool can identify the causes of app crashes and vulnerable aspects in your security setup, such as potential privacy issues. The program can repair most of the issues when you click 'Repair' but others will need your personal attention. In this case, the software will notify you about such items.
5 Power Tools at Your Service
Some users may realize that their computer needs maintenance in a specific area. In order to facilitate this Outbyte software offers the five Power Tools which give you quick access to dealing with particular aspects of your Windows 10 device.
Uninstaller
The Uninstaller shows you exactly what apps your device currently has and allows you to remove those. Some of them you may not need but they could have been installed along with other programs that come along with Windows 10 or downloaded accidentally.
At times when there is an extreme shortage of free space, it can affect Windows 10's performance even though it's a rather rare issue. The Uninstaller feature allows you to go through the list of programs and remove the items you don't need.
It is worth mentioning that while you can perform this task by using the Windows 10 Uninstaller Outbyte PC Repair ensures that absolutely no files are leftover after uninstalling an app. It also can happen that the default Windows Uninstaller might not be able to detect some of the applications installed on your PC that you might want to get rid of.
Stop Popups
Most users don't appreciate regular popup messages from websites or programs, especially if they are trying to concentrate on an important task—or even when just playing a game. While some of the popups can be useful for work or other activities others can be activated unwillingly when you simply miss a certain tick box during a program's installation or visit an unfamiliar website.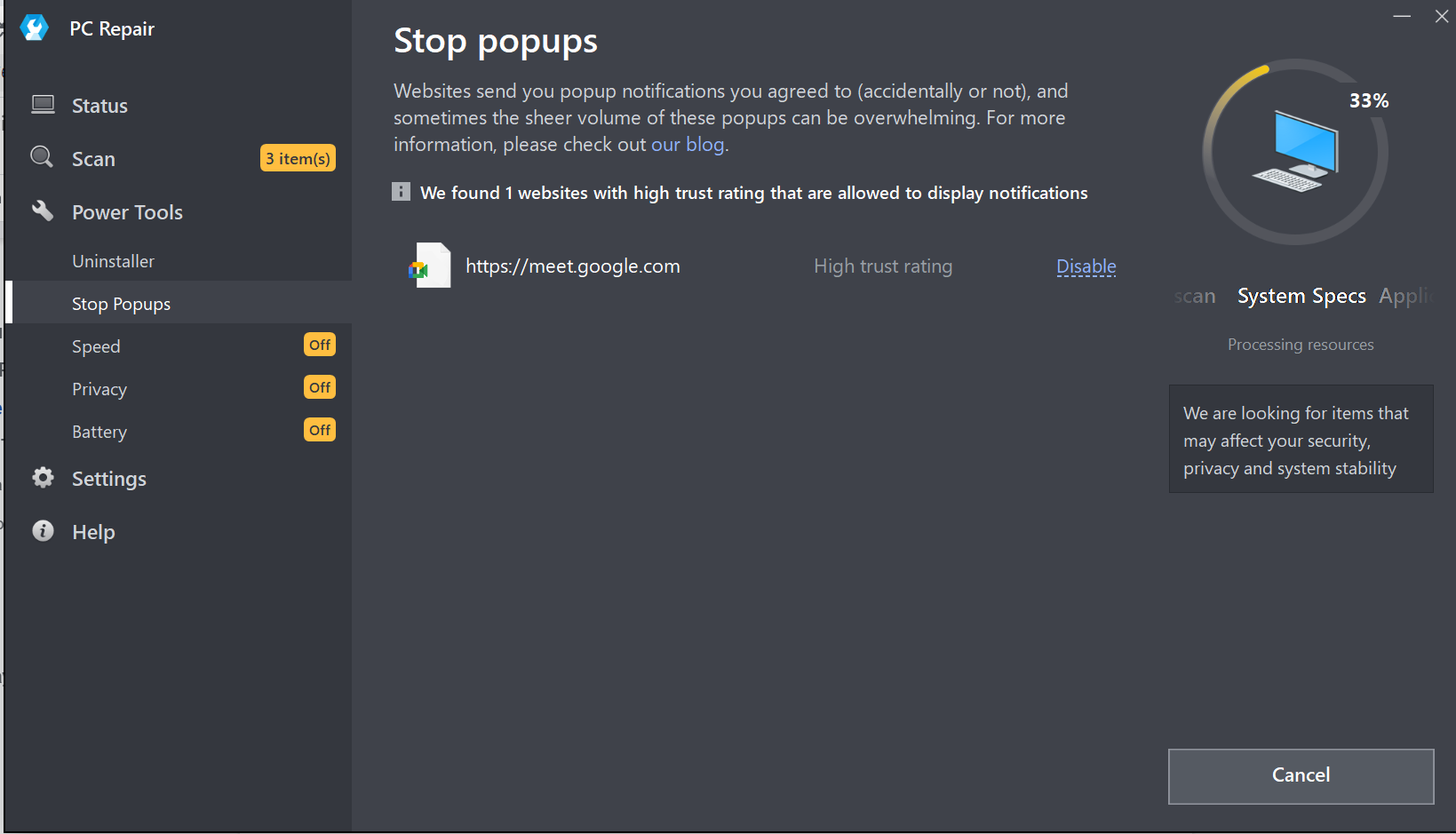 Instead of being bothered by yet another popup, you can choose what popups you give permission to by using the "Stop Popups" tool. The feature allows users to audit and disable their popups from one screen so they are not distracted by unnecessary messages again
You can also see if the popup comes from a trustworthy source so it is easier to decide if it poses any privacy or security threats.
Speed
It is important to maximize your system performance for the tasks that rank high on your priority list. Whether you want your Office Word documents, your browser, or a game to perform optimally, Outbyte has an option for this as well.
The 'Speed' feature makes it possible by making sure that your PC resources aren't being diverted to apps you don't use while boosting the performance of essential programs by giving them higher CPU and task manager priority.
Users set their preferences within the Speed Power Tool and choose among 3 available options: boosting your web browser, apps, or games so that the setup suits their specific needs better.
Privacy
Most Windows 10 devices are used for online tasks as well, so it is crucial that personal details stay safe. You need protection from hackers, but also from apps and websites that collect users' information without their knowledge.
With the Privacy tool activated you can prevent your details from being shared or stolen via apps or untrustworthy websites, and make your web browsing experience safe. Also, you can make sure that your deleted confidential files won't be recoverable and clean up your browser history, and tracking cookies on a daily basis. By automating this task you can always stay protected, even if you forget to maintain your computer's privacy yourself.
Battery
Windows 10 delivers impressive functionality but it still can quickly drain your battery if you're working on a laptop and using power-hungry programs or services. The Outbyte 'Battery' tool extends your battery's run time whenever you're not connected to an energy source.
Small changes, such as dimming the screen, not running unnecessary services, or stopping animations can give you more work time than you're used to. The feature comes along with 3 customization modes shown on the screenshot below.
Takeaway
The Outbyte PC Repair will be appreciated by users who want to save their time and get results in a safe and hustle-free way. The program's features can be used individually for specific purposes as well as combined in order to improve Windows 10 performance. The software has a user-friendly interface that allows fixing most of the issues with a few clicks right within the program.