Last Updated on January 11, 2022
Being human carries with it a certain desire to know who you are, where you're going, and why you're here, to begin with. Sometimes, these questions compound over time, and suddenly, you're faced with an existential crisis. Those questions reach critical mass, causing panic attacks, stress, and more.
Some people even consider horrible thoughts like suicide if the crisis is extreme enough. Navigating this experience can be challenging, so we've put together this helpful list of tips for positively navigating your crisis for the best outcome. Keep reading to learn more!
Don't Run Away From Friends and Family
A common practice during an existential crisis is to isolate oneself and seek answers without any support, and while alone time is certainly helpful, you shouldn't completely isolate yourself from other people; especially the people you love. Having an existential crisis means questioning your purpose, but where can you find a large part of that purpose? Your friends and family, of course!
Friends and family offer not only a support system for us but also a sense of belonging. Humans are social creatures; we like to be surrounded by those that are like us, that care about us, and that gives us a sense of community. Why sacrifice your best support group to find your purpose, when some of it lies within that group?
Don't Be Afraid of the Big Questions That Come With It
During an existential crisis, you're going to ask some big questions, whether or not you necessarily want to ask them. The key here is to not shy away from those big questions. For example, if one of your questions is "why am I here?", there may be a deeper issue at hand.
Maybe you're unhappy or unfulfilled in your job, your marriage, or some other aspect of your life; but you've ignored it to the point where you're questioning everything.
A good tactic for this question is to write down or take a mental note of everything that adds value to your life, and everything that doesn't. This is important, because you may find that the "doesn't add value" section is much larger than you thought.
When we say "adds value", we're talking about something that makes you feel happy, fulfilled, and content. Everything else is secondary!
It's OK To Question Your Faith
If you're a religious person, you may find yourself questioning your faith or your belief in God altogether. This is a classic existential question, but it's one you shouldn't avoid. It's ok to question your faith, your God, and your beliefs.
Many of us fall into belief patterns because of habit or the way we were raised, even if they don't make sense or aren't compatible with our lives.
You'll likely run into judgment or scrutiny from faithful family members, friends, or members of your congregation. Expect this, accept it, and keep asking questions. Remember that these questions came into your mind for a reason, so don't ignore them!
Be Truthful With Yourself
Sometimes, the truth hurts. That's the nature of it. It isn't always pretty, dolled-up, or pleasant, and that's the whole point of seeking the truth.
An existential crisis is nothing more than your mind's way of saying "hey, there's a greater truth here that I want to know." There's nothing wrong with finding these truths, but you must be truthful with yourself first and when you find the answers you're looking for.
If during your search you find that certain aspects of your life are unfulfilling and bringing you misery, be honest about why that is.
Is it the people in those areas of your life? Is it because of your decision-making? Is it because you've gotten complacent?
Now, when we say truthful, that doesn't mean be overly harsh with yourself, either. There's a difference between telling yourself the truth and just being downright self-destructive. If you've failed in an area of life, admit your failure and commit to change; don't just say "I suck" and leave it at that.
Seek Help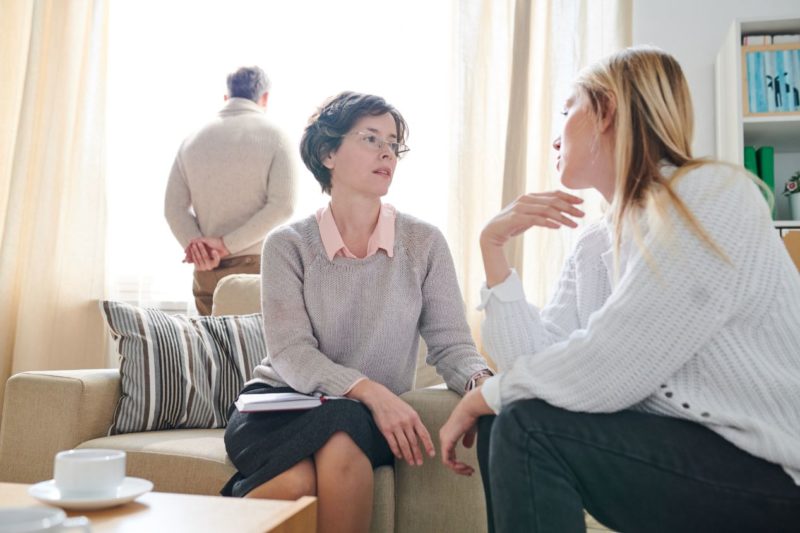 Existential crises can sometimes reach a point where you're struggling to get through them on your own. This is where seeking help comes in, whether it's from a counselor or even a religious figure you trust to help you answer these questions. A religious figure will help you find your answers through faith, whereas a counselor or psychiatrist will help you find the deep-rooted issues behind your crisis.
Whichever route you choose, just be sure you go into it with an open mind. You're probably going to find some answers that surprise you or that contradict long-held beliefs. That's the beauty of an existential crisis, you get to ask those important questions and find the answers…even if they're not pretty.
Man's search for meaning is an ongoing battle with himself, but the day we stop asking questions is the day we give up hope of ever finding it. Don't be afraid to ask the tough questions.