Last Updated on March 8, 2022
Born on July 12, 1904, in Parral, Chile, Pablo Neruda was a renowned poet and a controversial diplomat. He was often the center of controversy because of his association with Chile's Communist Party and his open allegiance to Fidel Castro and Fulgencio Batista.
However, his poetic prowess was never in question. In 1971, he was the recipient of the Nobel Prize for Literature. Neruda's exceptional body of work made historians and poets alike call him "the greatest poet of the 20th century."
Early Life
Pablo Neruda's parents were José del Carmen Reyes, a railroad worker, and Rosa Basoalto, a teacher. His birth name was Ricardo Eliecer Neftalí Reyes Basoalto. His mother died shortly after his birth. When Neruda was two years old, his family moved to Temuco, a relatively small town in the southern part of Chile. Soon after, his father remarried.
The Poet
By all accounts, Neruda was a clever boy. At age 10, he began writing poetry. Three years later, he formally launched his literary career as a writer for the La Mañana, a local daily newspaper. The publication granted him the chance to publish his articles and poems as a contributor.
Gabriela Mistral, the principal of the Temuco Girls' School, was also an accomplished poet. She encouraged Neruda to pursue his passion. At that time, Neruda's father had tried to dissuade him from writing. The older Neruda didn't care for his son's poems. This was likely the reason why the young poet assumed the pseudonym Pablo Neruda honoring Jan Neruda, another Czech poet. He legally changed his birth name to Pablo Neruda in 1946.
Neruda continued to submit his articles and poems to various newspapers and magazines. In 1921, he relocated to Santiago to study some more in the hopes of becoming a French professor. During that period, Neruda experienced isolation and hunger. He also began to live a bohemian lifestyle.
In 1923, Neruda published Crepusculario, his first complete book of poems. His written works were described as subtle and elegant. A year later, he published his second book, Twenty Love Poems and a Song of Despair. It was a collection of poems inspired by a sad love affair. The book became an instant success. In fact, up to this day, it is considered one of his best works.
For the next two decades, Neruda wrote prodigiously, climbing among the ranks of the best poets of the 20th century. He received several prestigious awards and accolades. Aside from his Nobel Prize for Literature, he was also the recipient of the International Peace Prize (1950), Lenin Peace Prize (1953) and the Stalin Peace Prize (1953).
The Diplomat
At age 20, with two published books under his name, Neruda had already been recognized as one of the most accomplished Chilean poets. Soon after, Neruda abandoned his French lessons and decided to commit all his time to his art. In quick succession, he launched three more books: Attempt of the Infinite Man in 1926, Rings in 1926, and The Enthusiastic Slingshooter in 1933.
But even with his accomplishments, Neruda's poetry was not enough to be a stable source of income. As such, he did part-time work as a translator and continued to publish articles for newspapers and magazines. Without a steady job, his future seemed uncertain.
But through his wits and smarts, he became honorary consul to Rangoon, Burma (presently Yangôn, Myanmar). For five years, Neruda was the representative of Chile in Asia. However, he continued to live in near poverty since there was no salary involved with being honorary consul. Moreover, he was suffering from intense loneliness.
From Burma, the Chilean poet relocated to Colombo in Ceylon (presently Sri Lanka). He progressively became identifiable within the South Asian people. It was during this period in Asia, between 1925 and 1931 that Neruda wrote Residence on Earth (it was officially published in 1933). In this book, Neruda used a highly individualized poetic method. His personal struggles brought about dreadful visions of corruption, chaos, and death. The perplexing and incomprehensible poems both enticed and repelled his readers.
In 1930, Neruda became consul in Batavia (presently Jakarta). There he met, fell in love with, and married Maria Antonieta Hagenaar, a Dutch woman. Two years later, the couple went back home to Chile. In 1933, Neruda became the Chilean consul to Buenos Aires, Argentina. There he met and formed a close friendship with Federico García Lorca, a well-known Spanish poet.
Death
On September 23, 1973, just two years after receiving his Nobel Prize, Neruda died in Santiago, Chile. Officially, his death was attributed to prostate cancer. However, there are several allegations that the renowned poet died of poisoning.
He passed away shortly after dictator Augusto Pinochet gained considerable power. Neruda was an outspoken supporter of Salvador Allende, Pinochet's predecessor.
Here are 30 of the best quotes by the esteemed Chilean poet.
The Best Pablo Neruda Quotes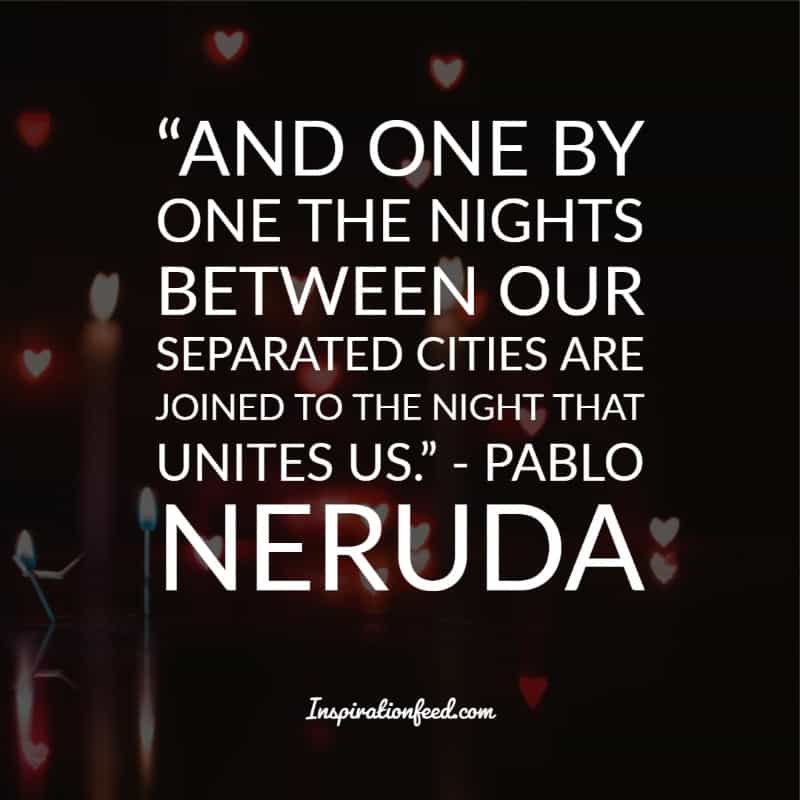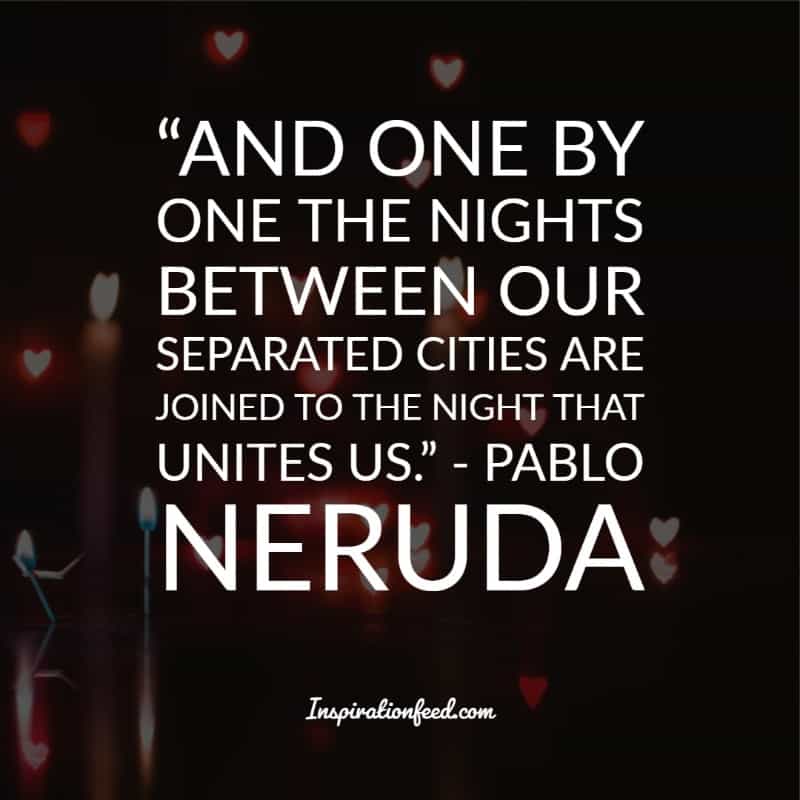 "And one by one the nights between our separated cities are joined to the night that unites us." – Pablo Neruda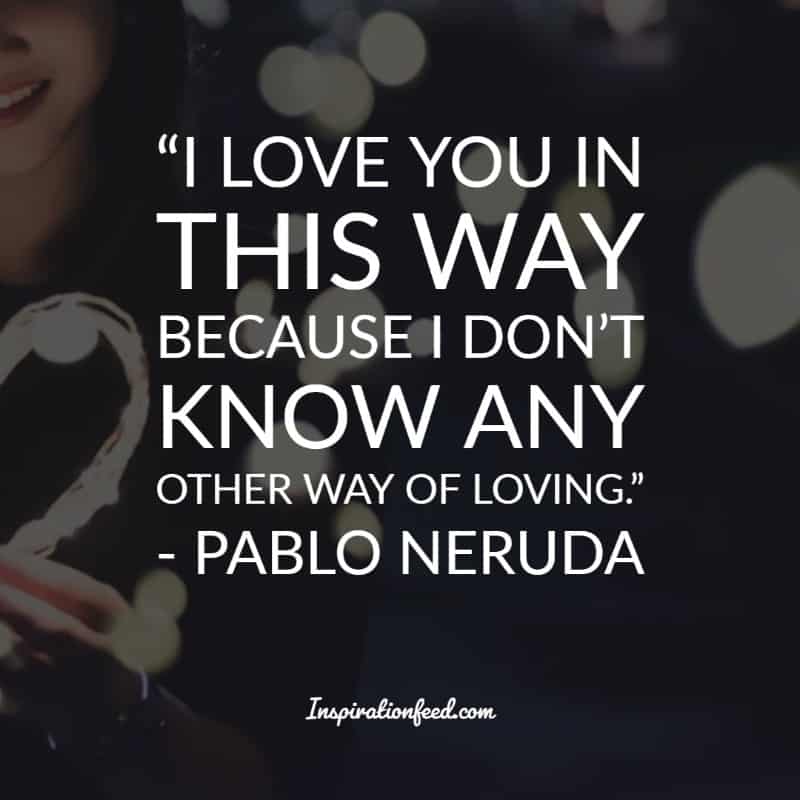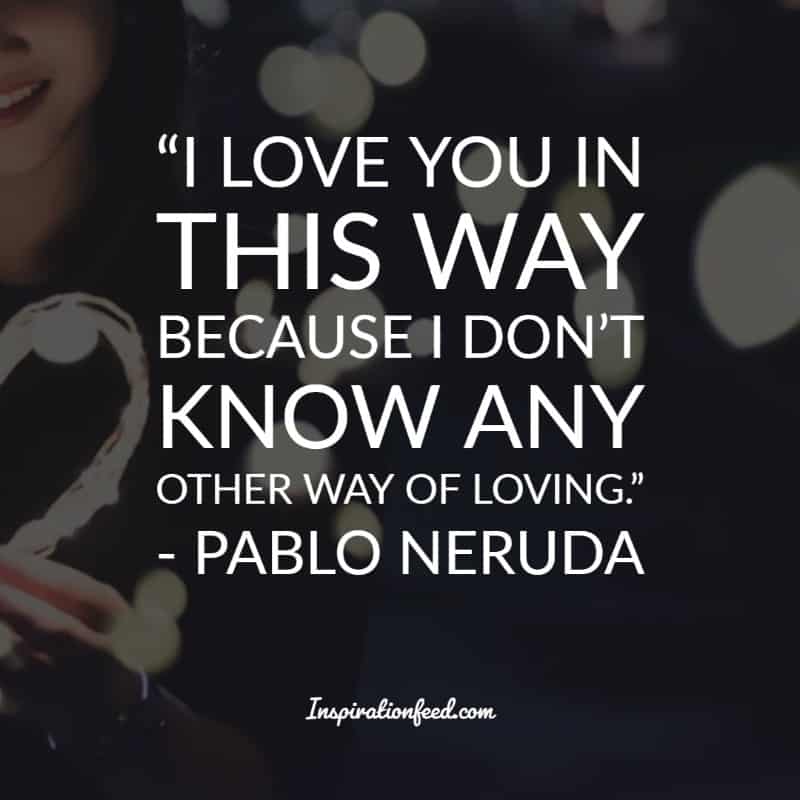 "I love you in this way because I don't know any other way of loving." – Pablo Neruda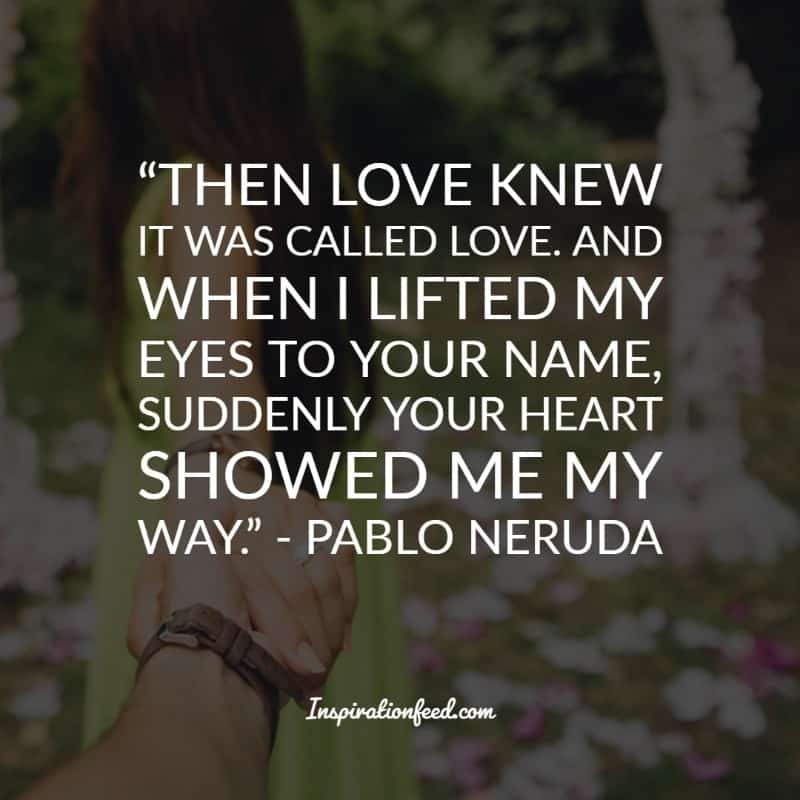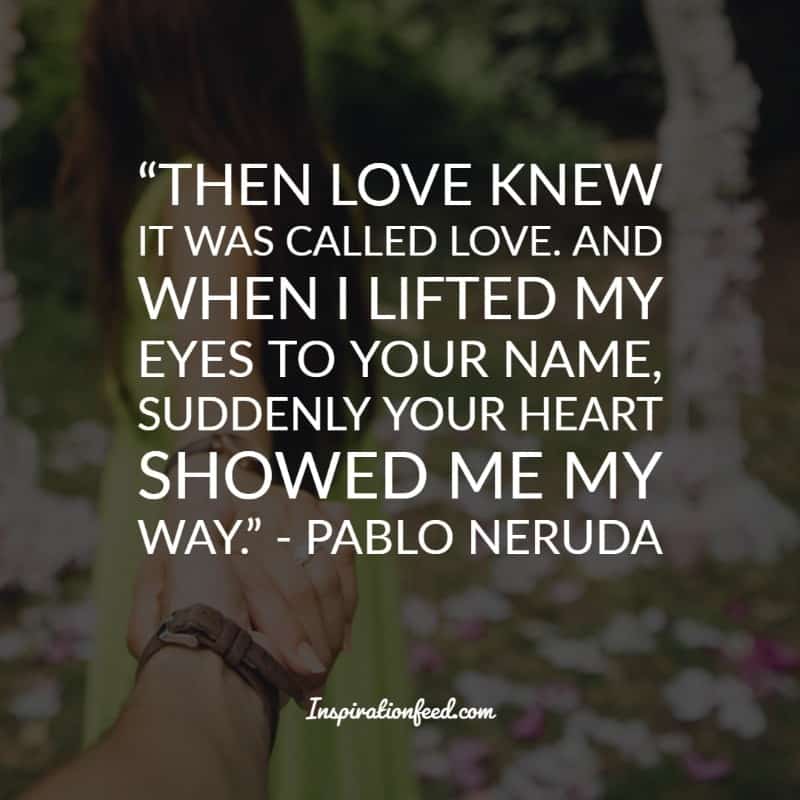 "Then love knew it was called love. And when I lifted my eyes to your name, suddenly your heart showed me my way." – Pablo Neruda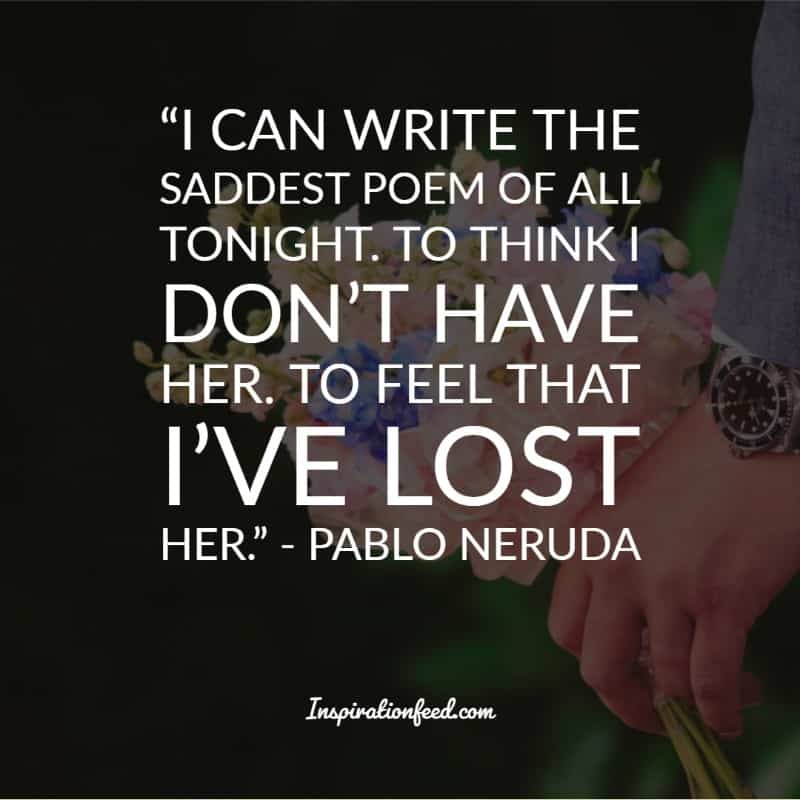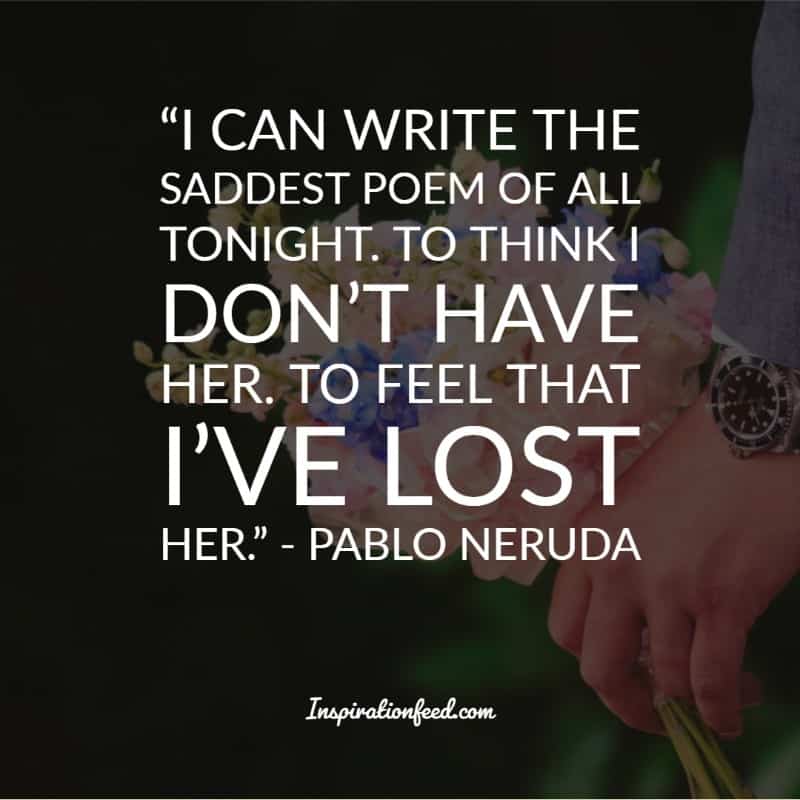 "I can write the saddest poem of all tonight. To think I don't have her. To feel that I've lost her." – Pablo Neruda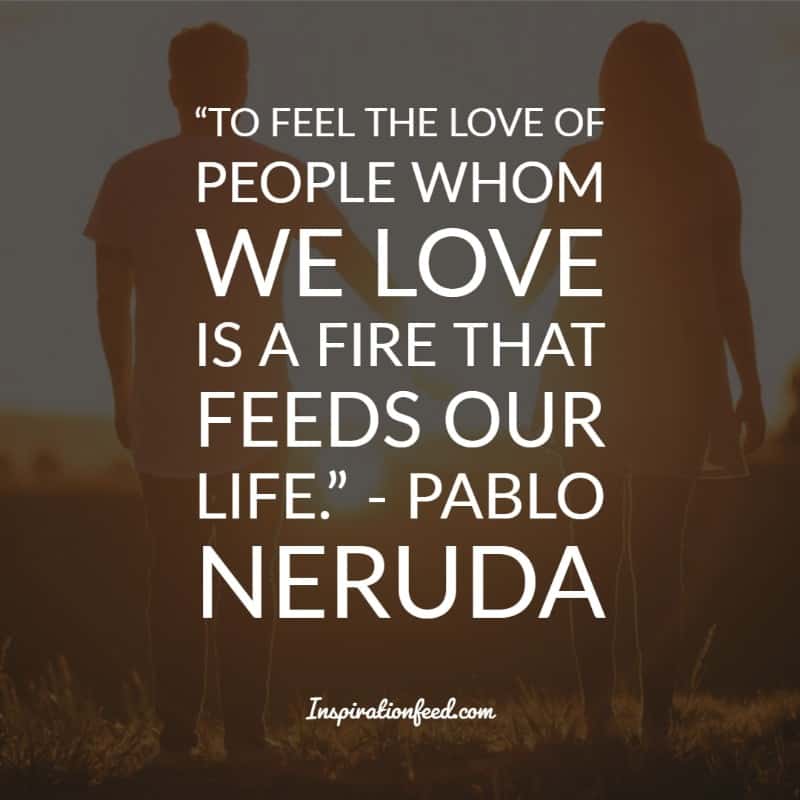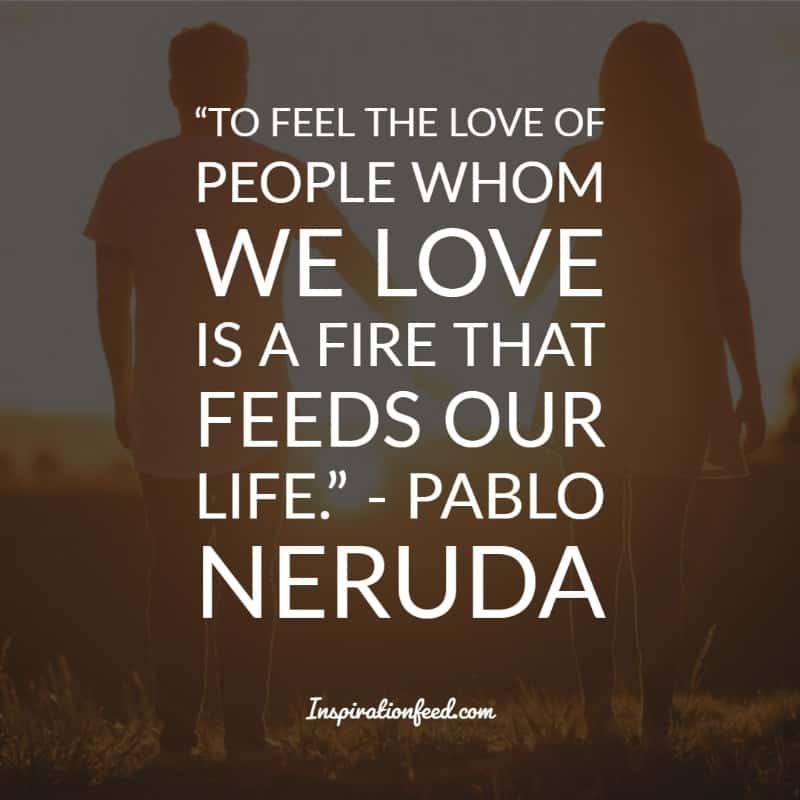 "To feel the love of people whom we love is a fire that feeds our life." – Pablo Neruda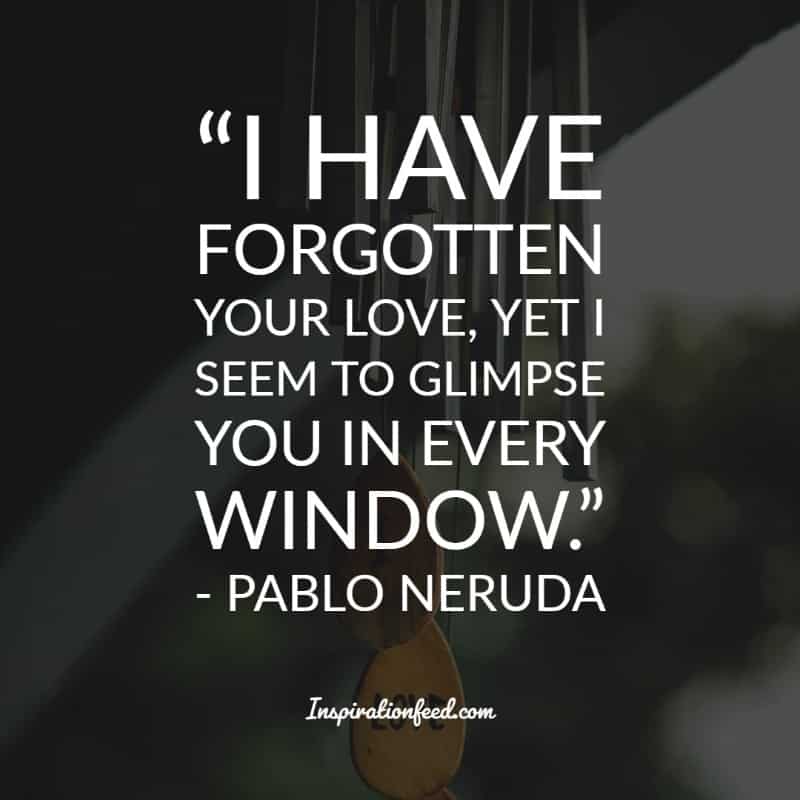 "I have forgotten your love, yet I seem to glimpse you in every window." – Pablo Neruda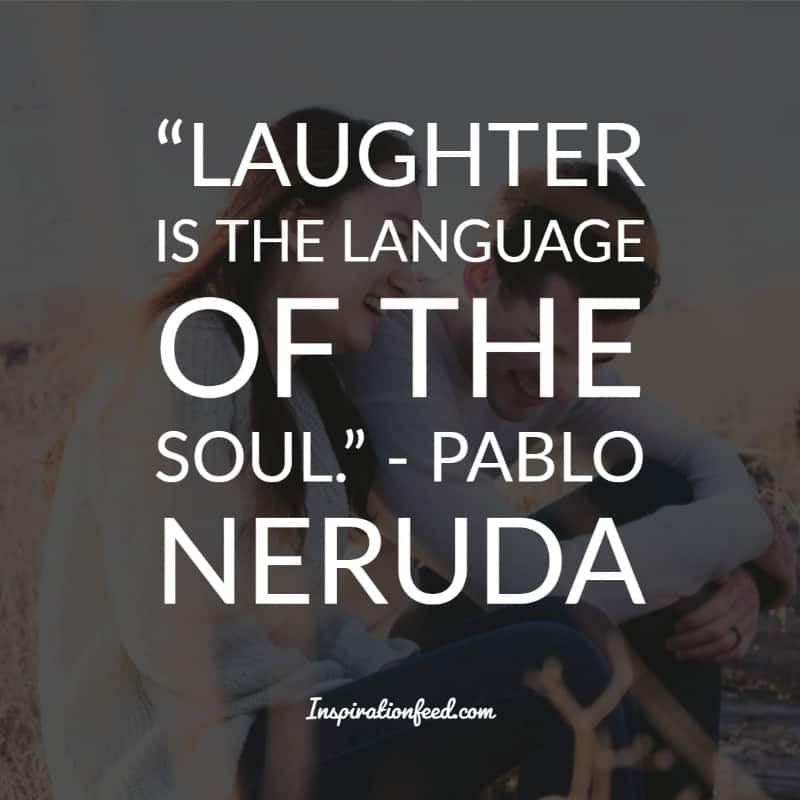 "Laughter is the language of the soul." – Pablo Neruda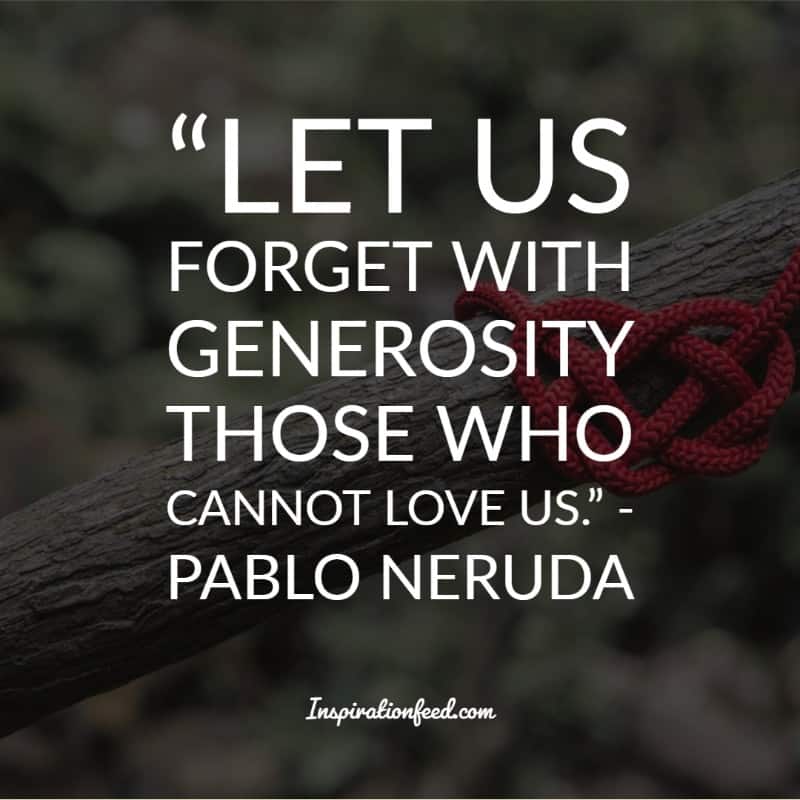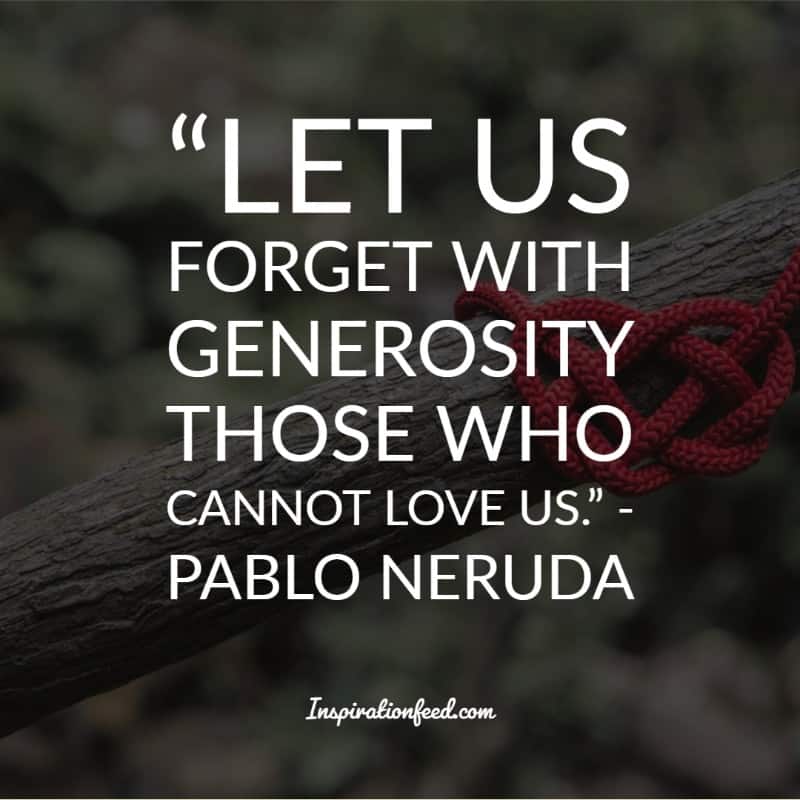 "Let us forget with generosity those who cannot love us." – Pablo Neruda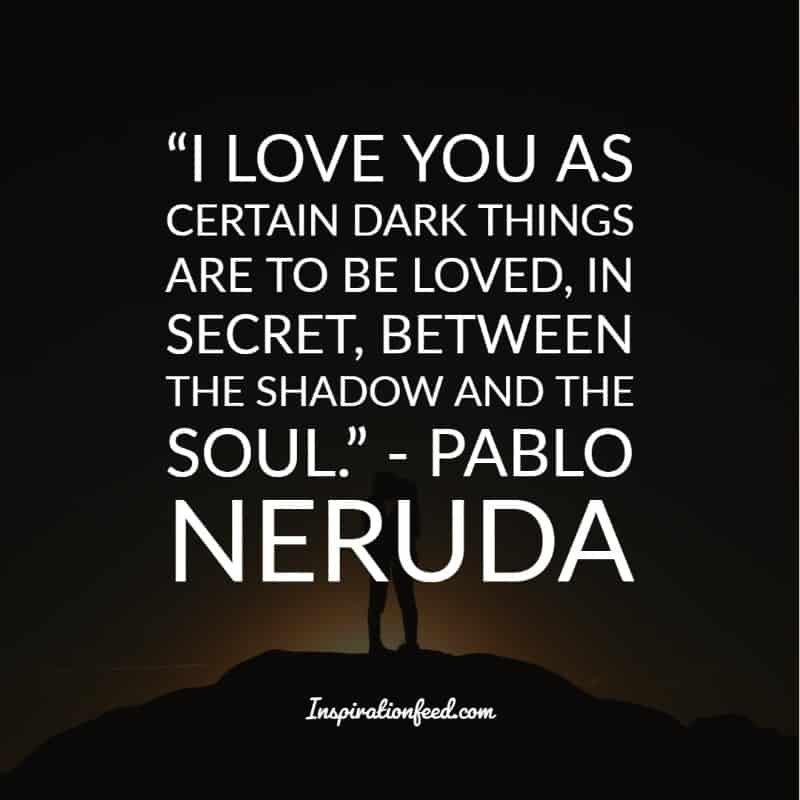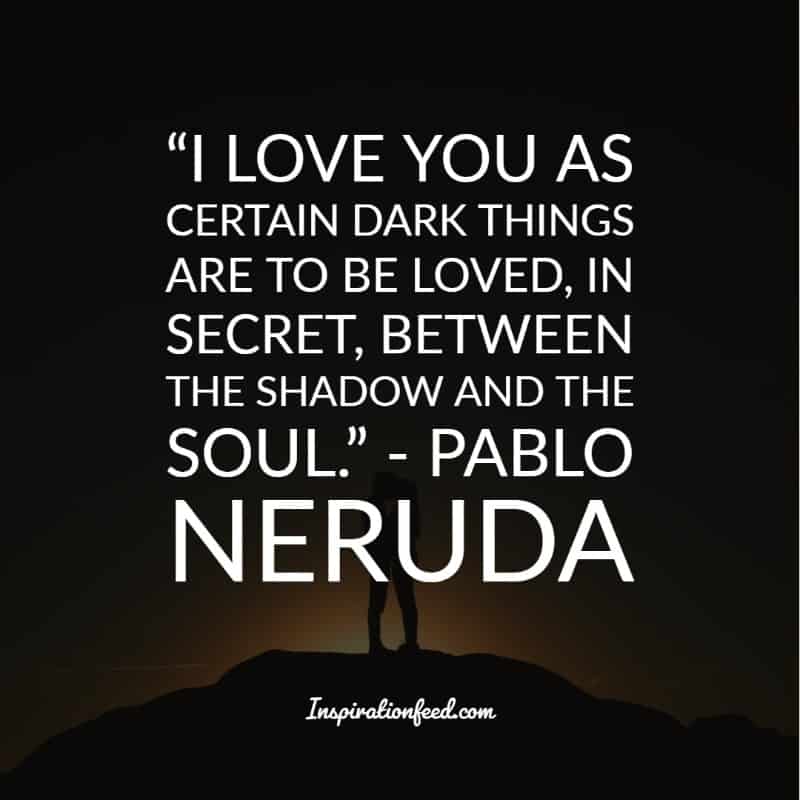 "I love you as certain dark things are to be loved, in secret, between the shadow and the soul." – Pablo Neruda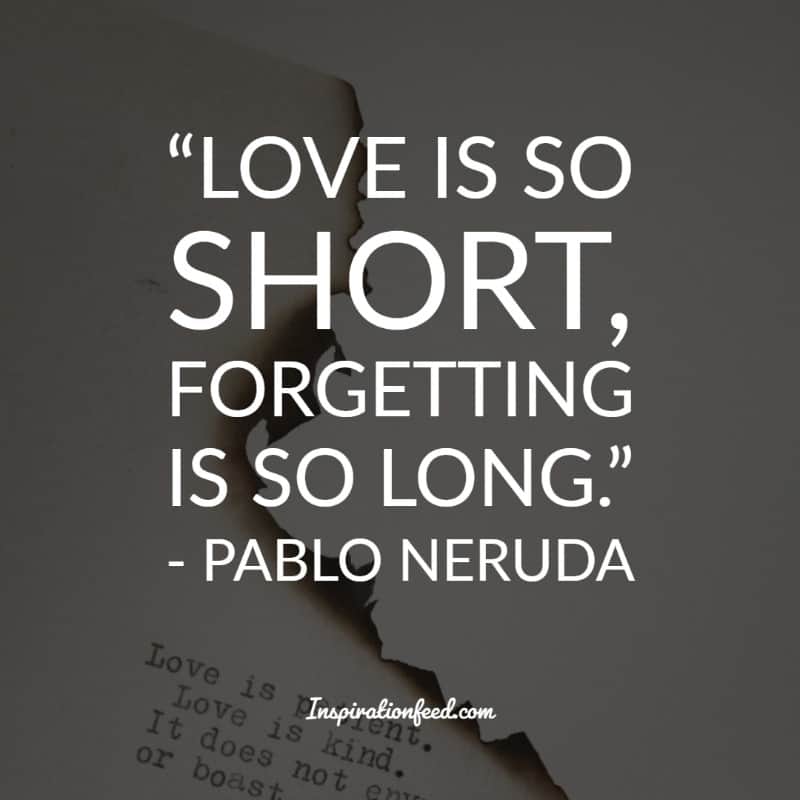 "Love is so short, forgetting is so long." – Pablo Neruda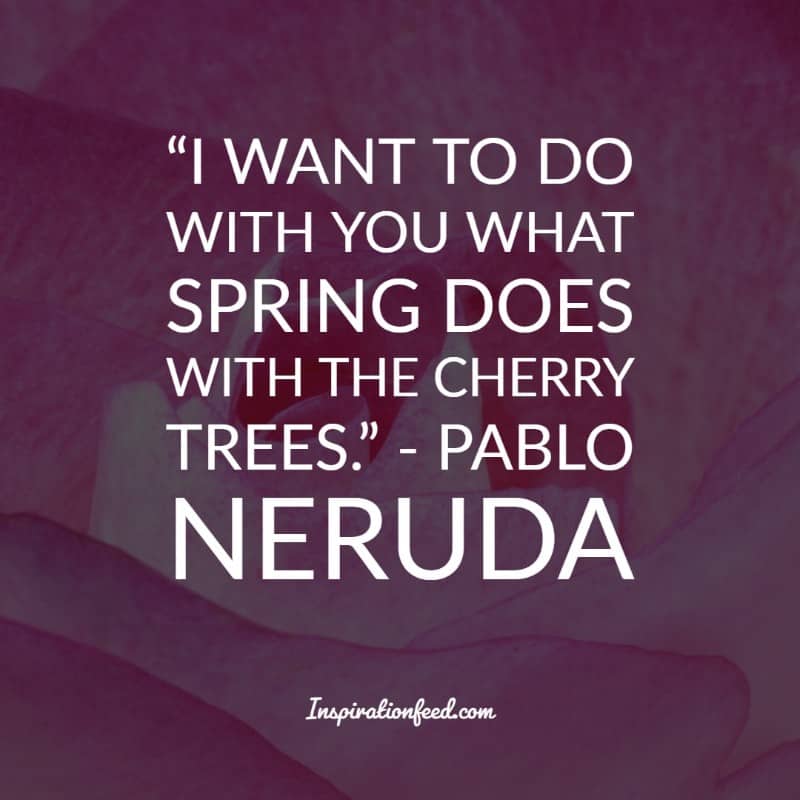 "I want to do with you what spring does with the cherry trees." – Pablo Neruda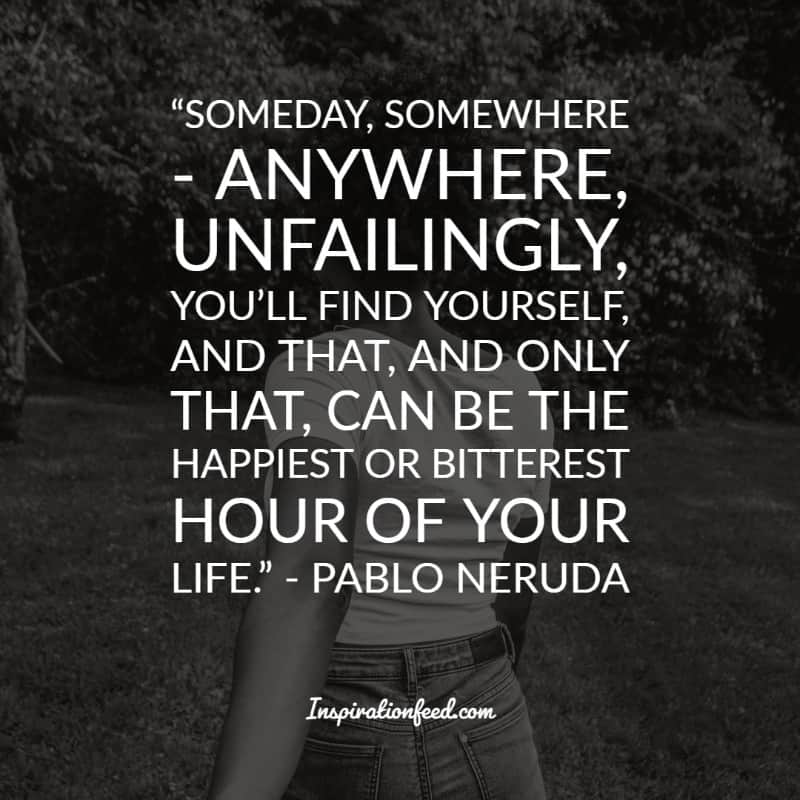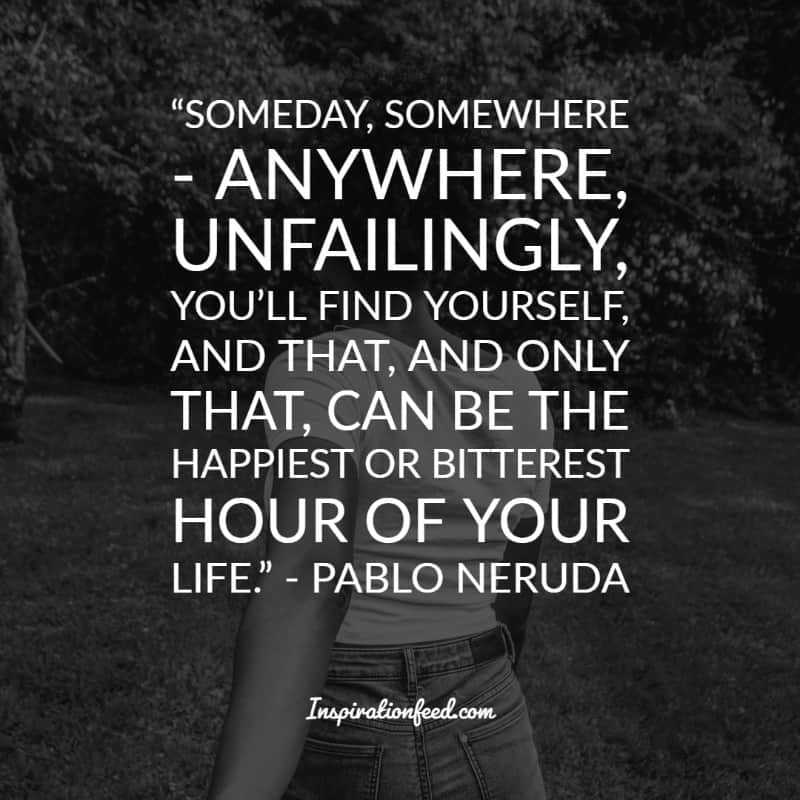 "Someday, somewhere – anywhere, unfailingly, you'll find yourself, and that, and only that, can be the happiest or bitterest hour of your life." – Pablo Neruda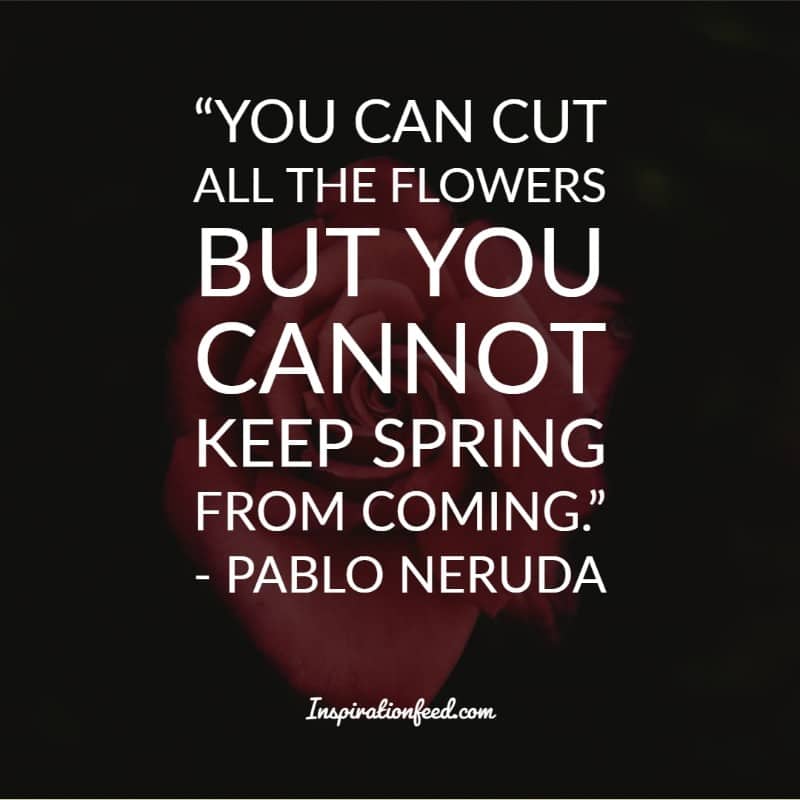 "You can cut all the flowers but you cannot keep Spring from coming." – Pablo Neruda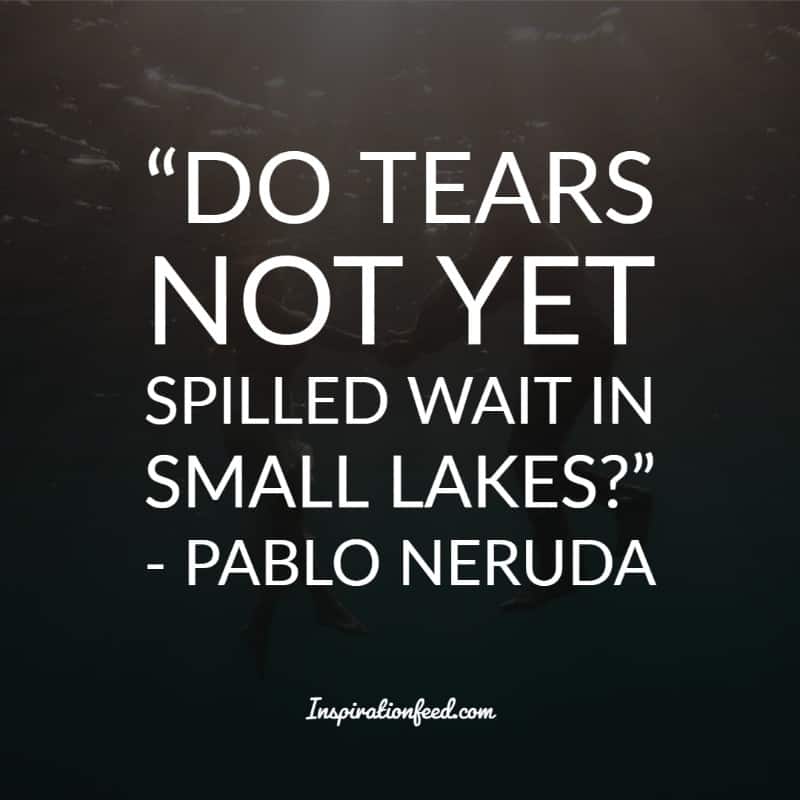 "Do tears not yet spilled wait in small lakes?" – Pablo Neruda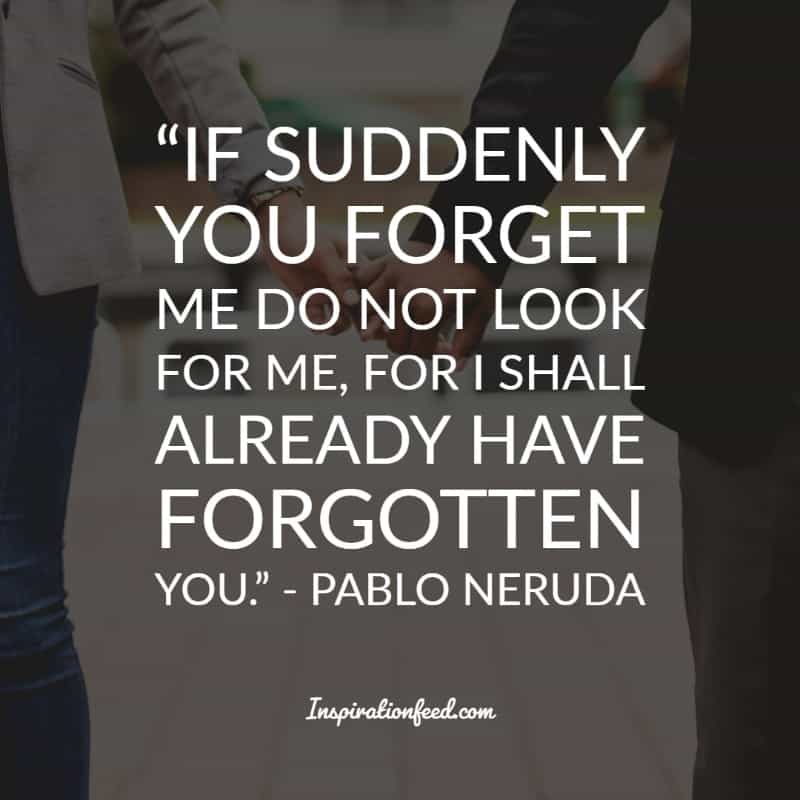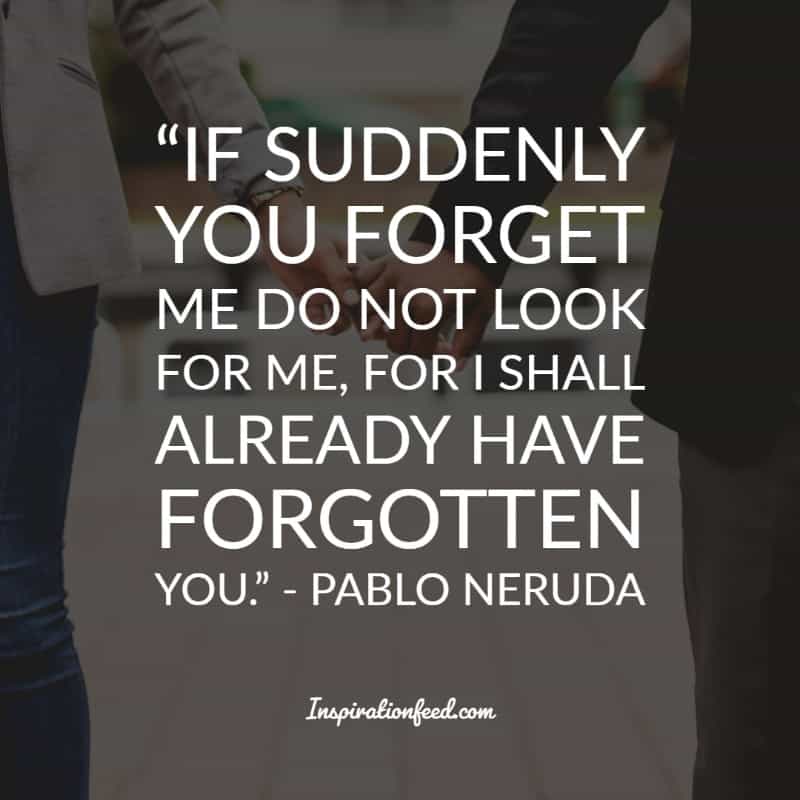 "If suddenly you forget me do not look for me, for I shall already have forgotten you." – Pablo Neruda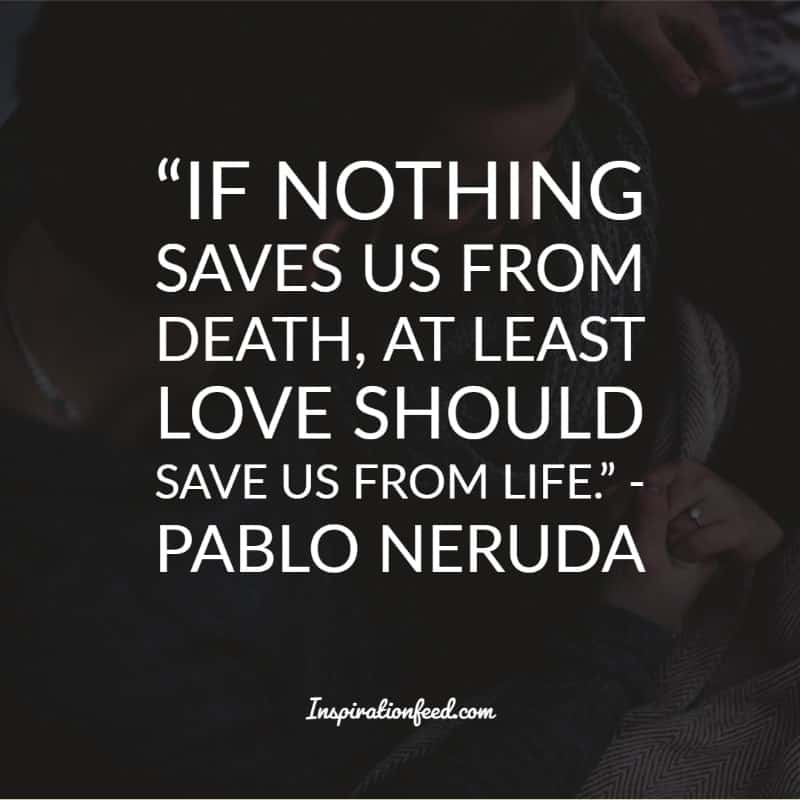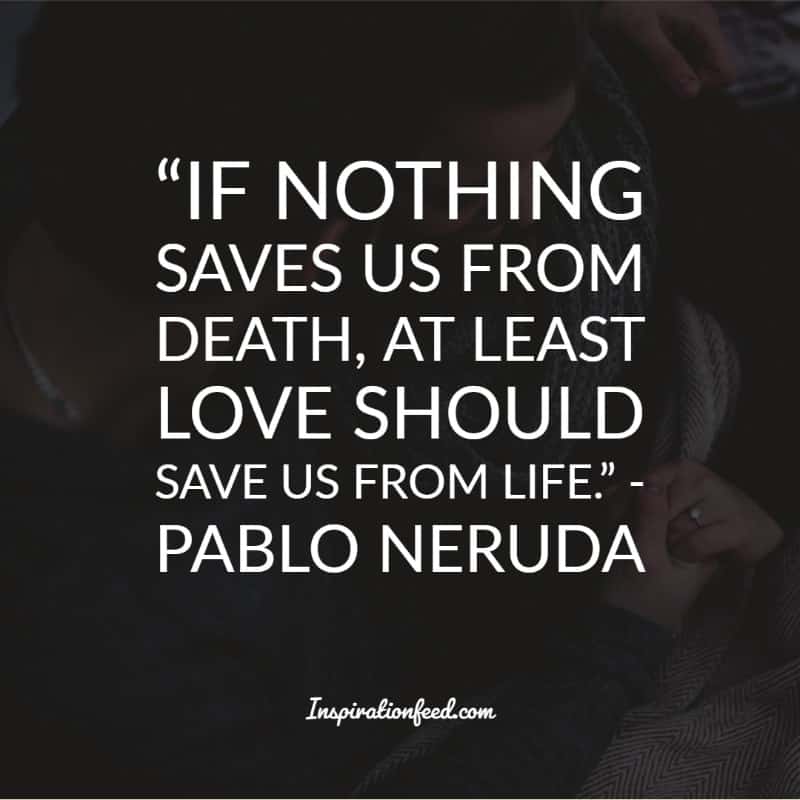 "If nothing saves us from death, at least love should save us from life." – Pablo Neruda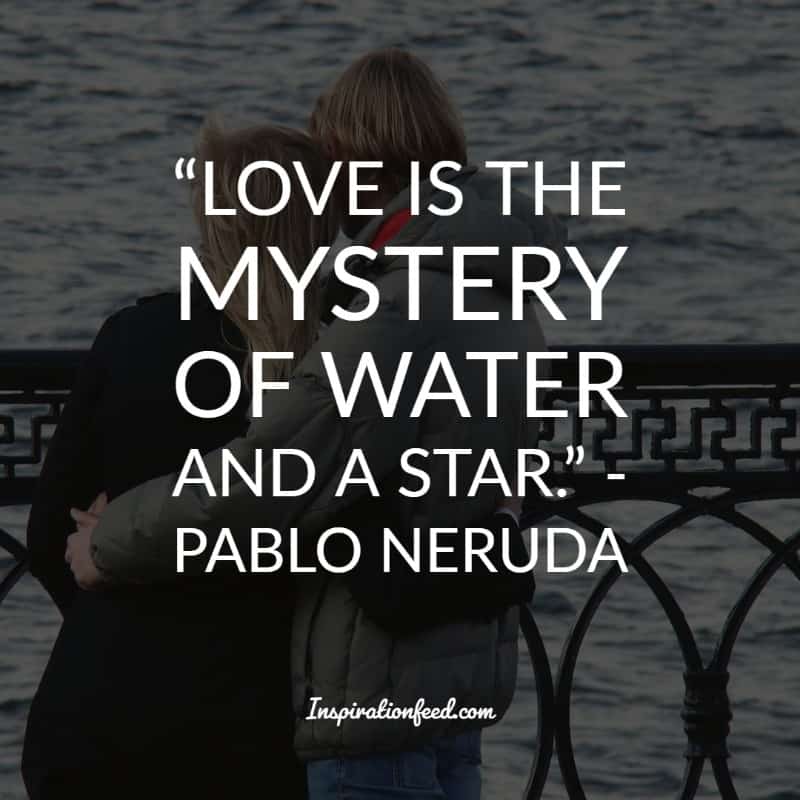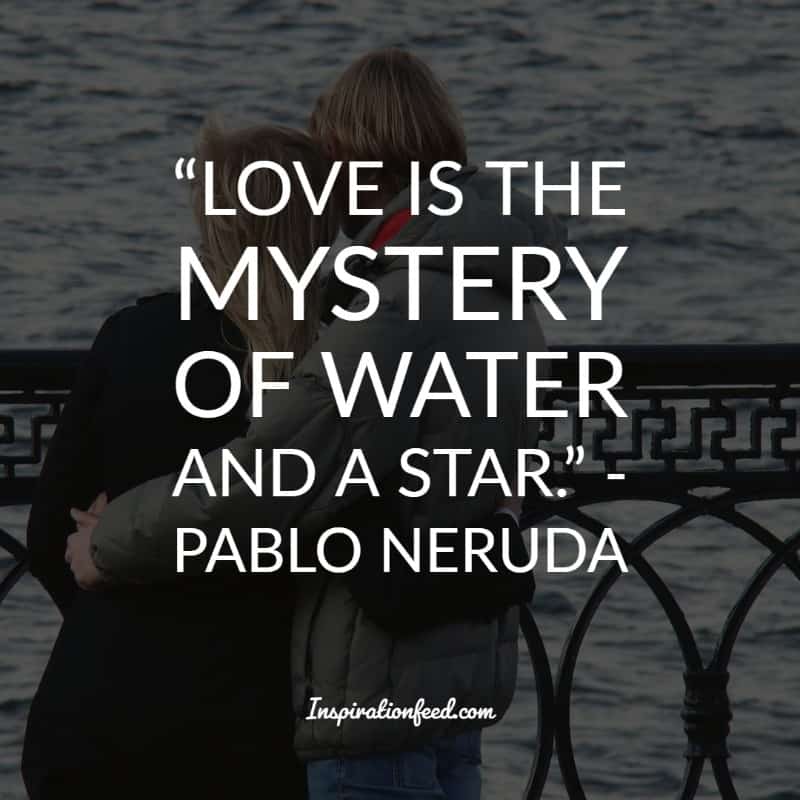 "Love is the mystery of water and a star." – Pablo Neruda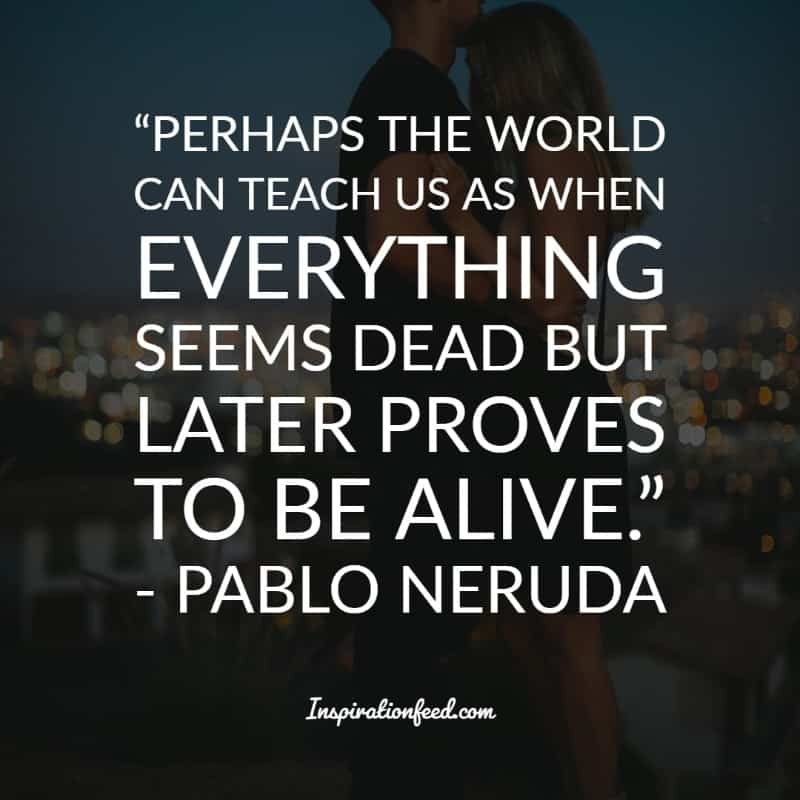 "Perhaps the world can teach us as when everything seems dead but later proves to be alive." – Pablo Neruda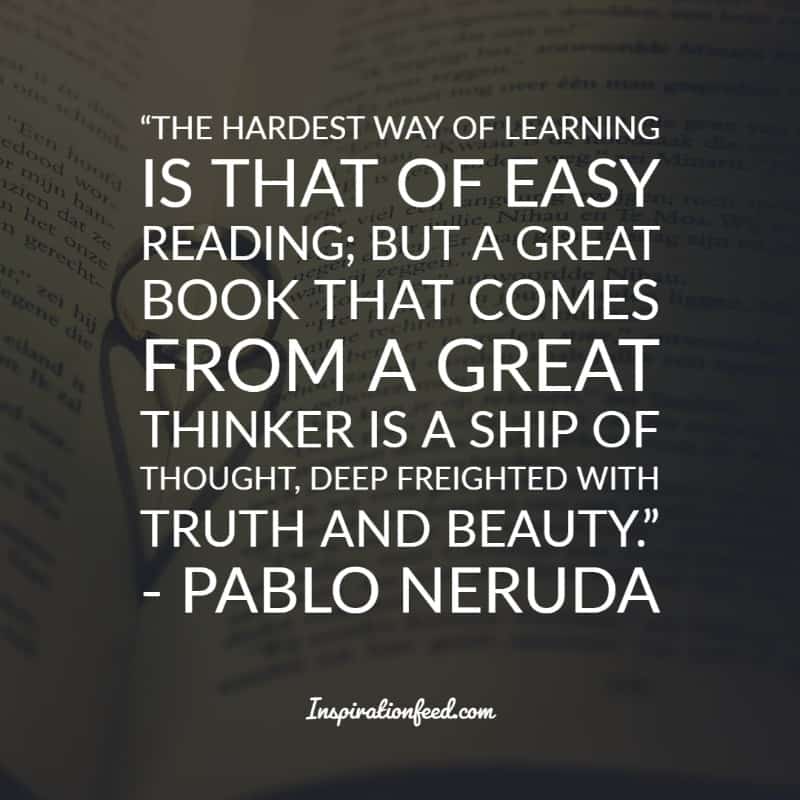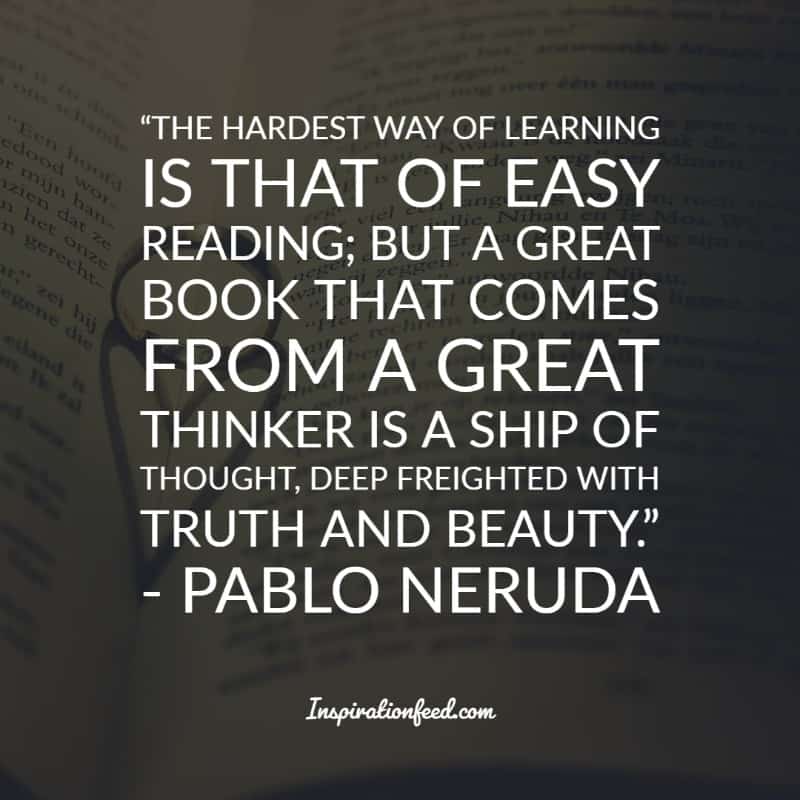 "The hardest way of learning is that of easy reading; but a great book that comes from a great thinker is a ship of thought, deep freighted with truth and beauty." – Pablo Neruda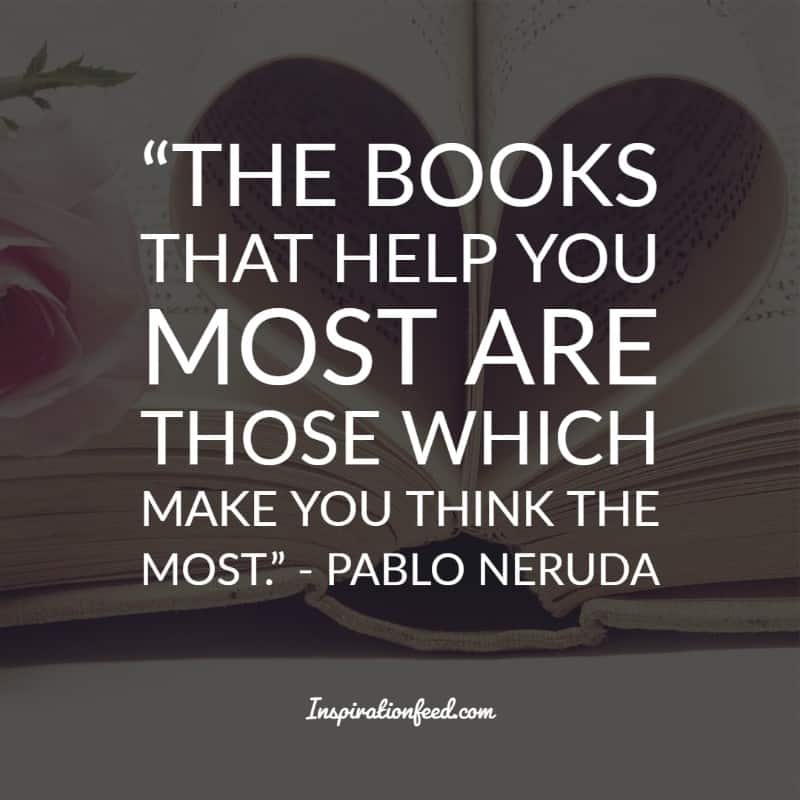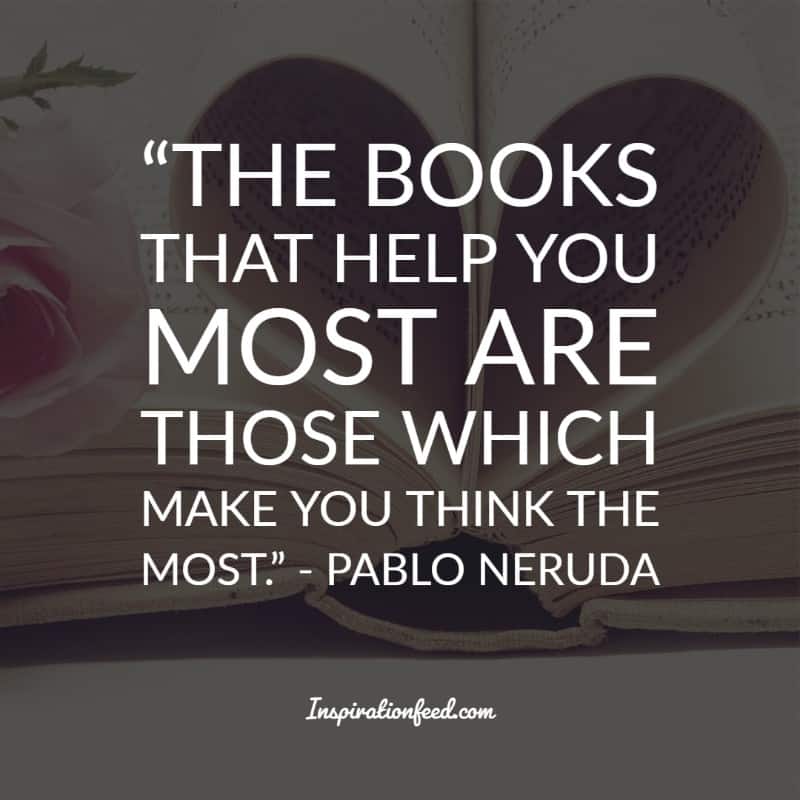 "The books that help you most are those which make you think the most." – Pablo Neruda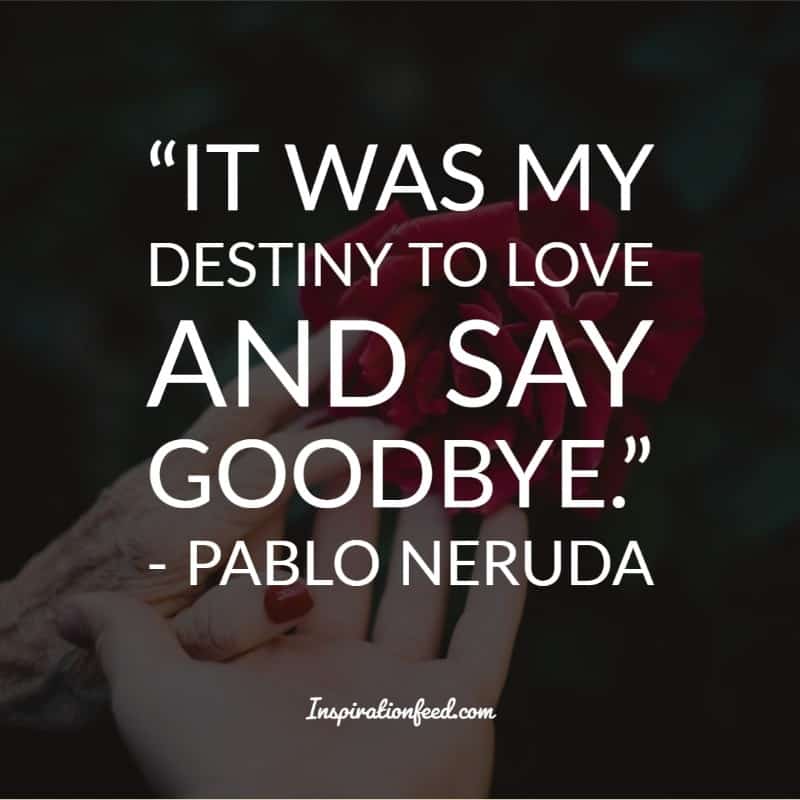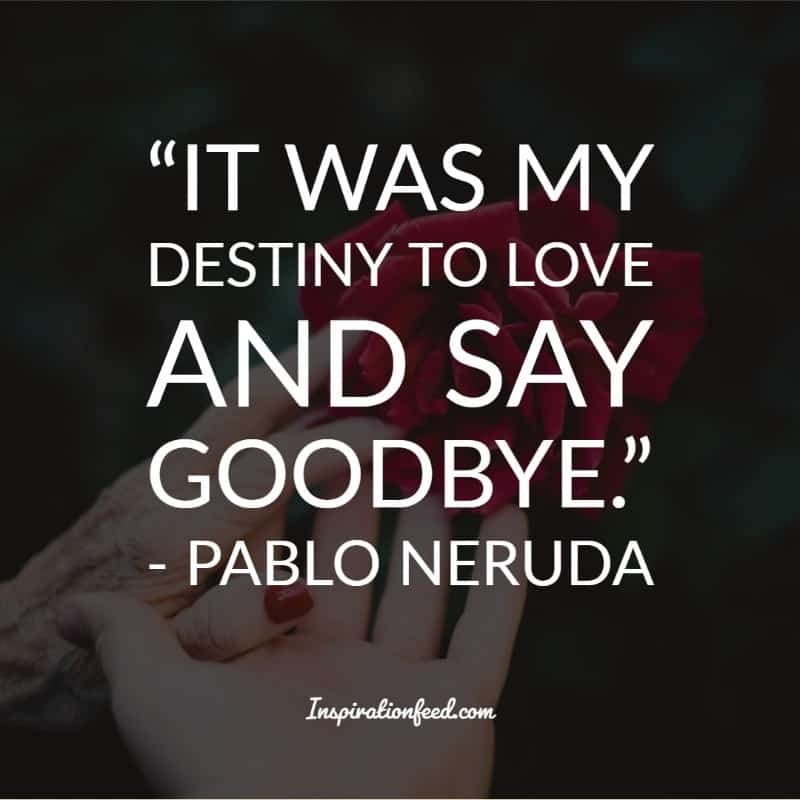 "It was my destiny to love and say goodbye." – Pablo Neruda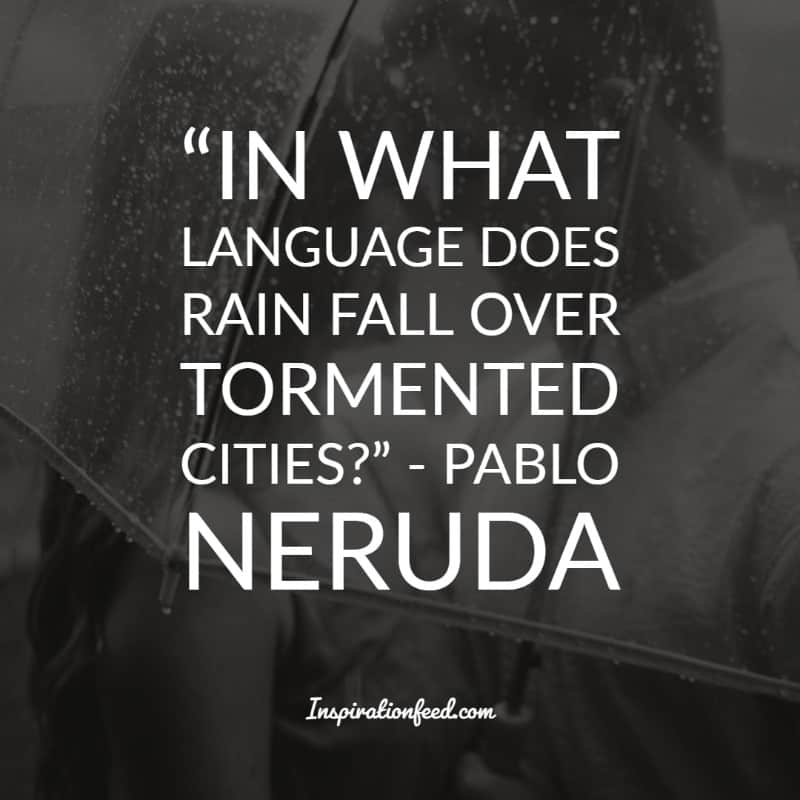 "In what language does rain fall over tormented cities?" – Pablo Neruda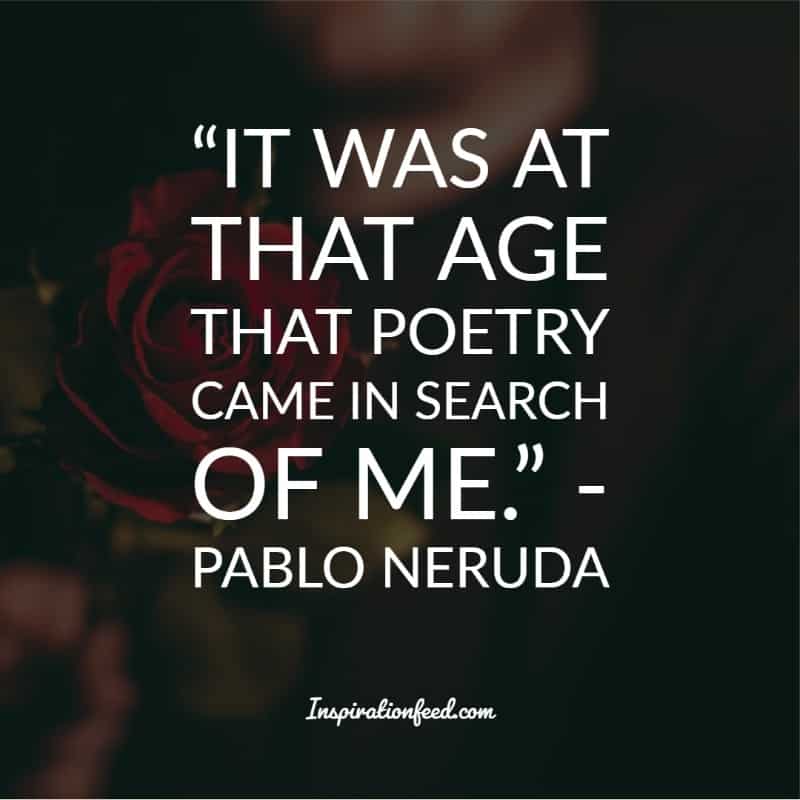 "It was at that age that poetry came in search of me." – Pablo Neruda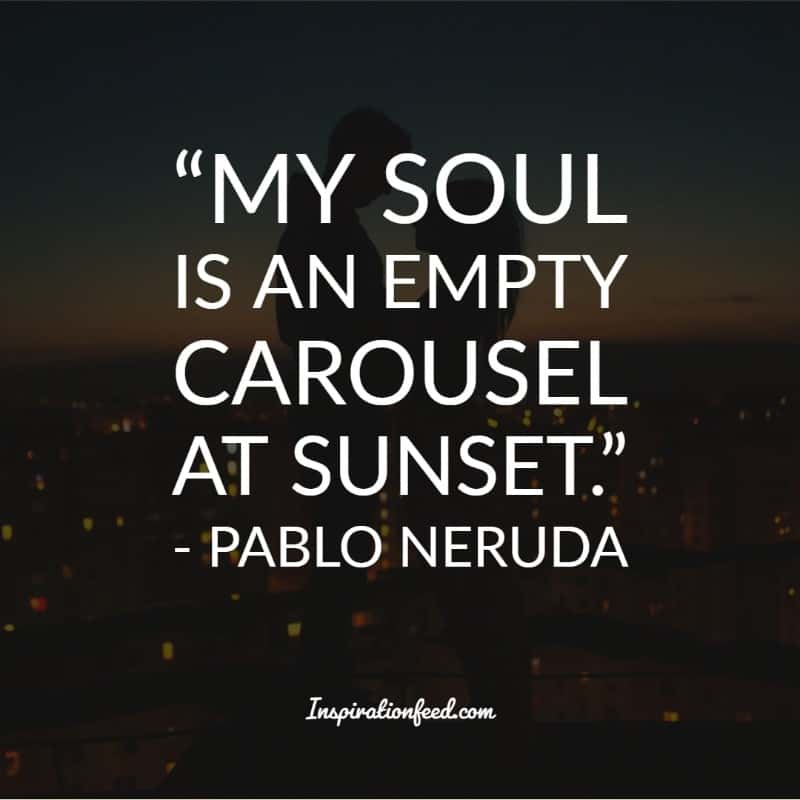 "My soul is an empty carousel at sunset." – Pablo Neruda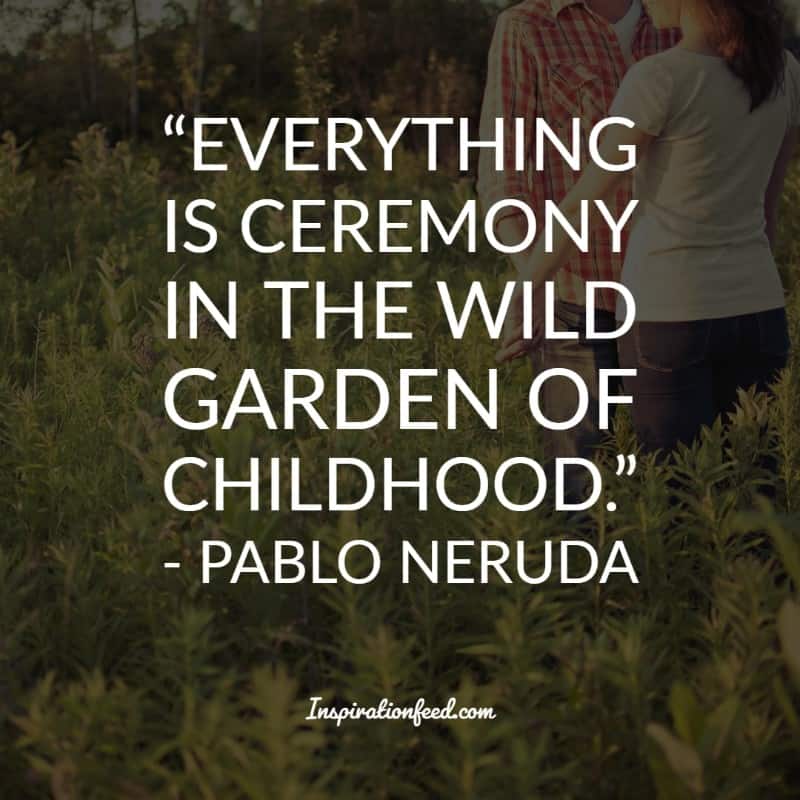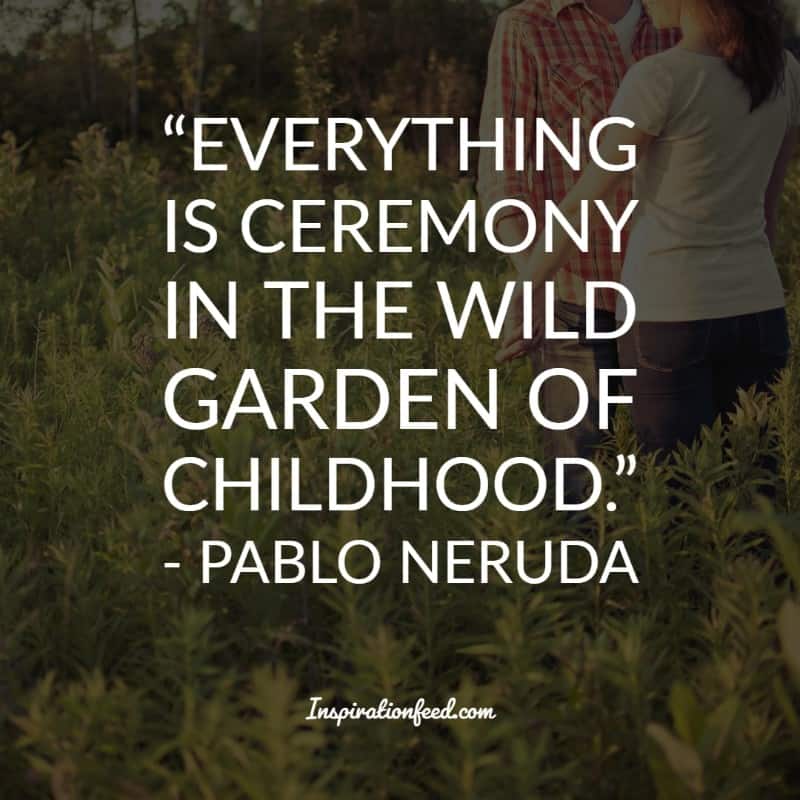 "Everything is ceremony in the wild garden of childhood." – Pablo Neruda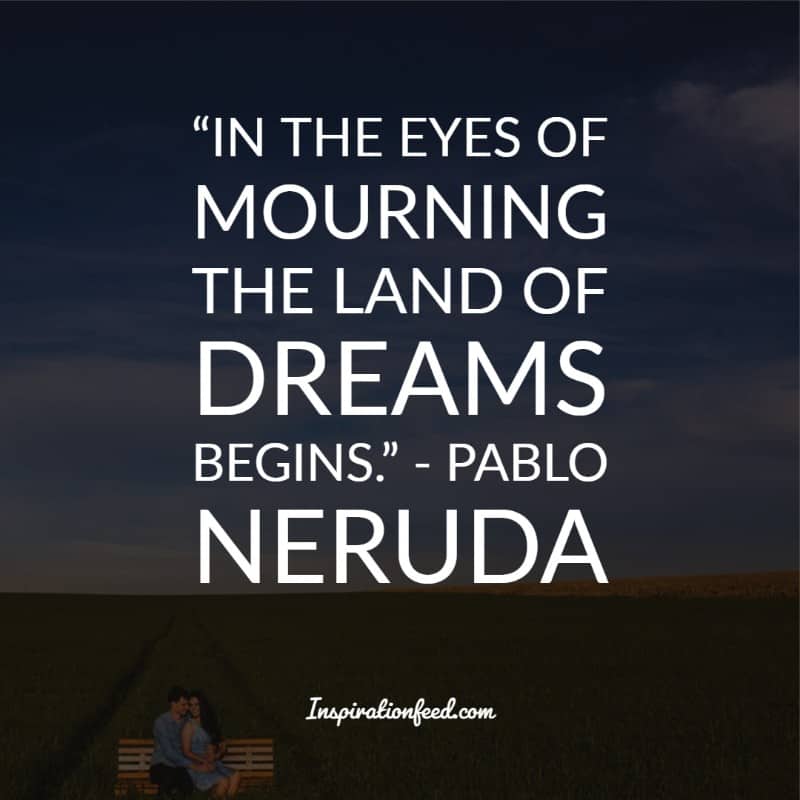 "In the eyes of mourning the land of dreams begins." – Pablo Neruda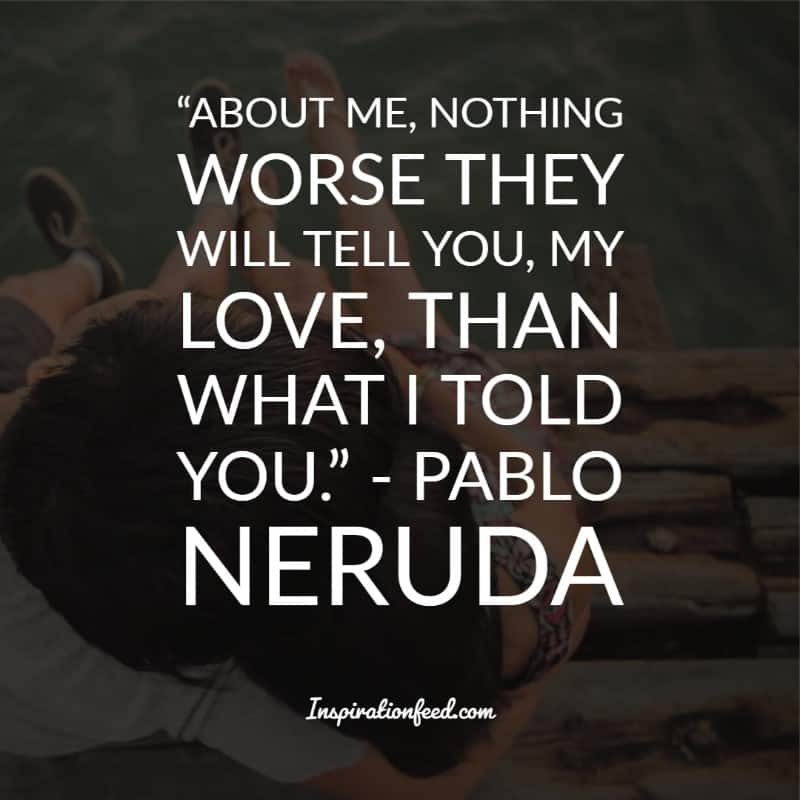 "About me, nothing worse they will tell you, my love, than what I told you." – Pablo Neruda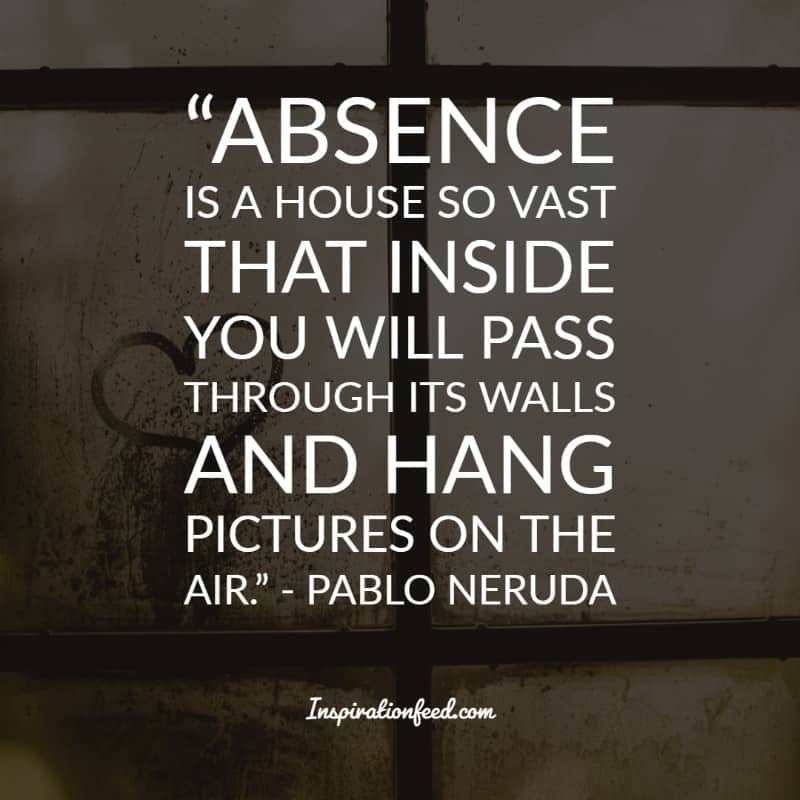 "Absence is a house so vast that inside you will pass through its walls and hang pictures on the air." – Pablo Neruda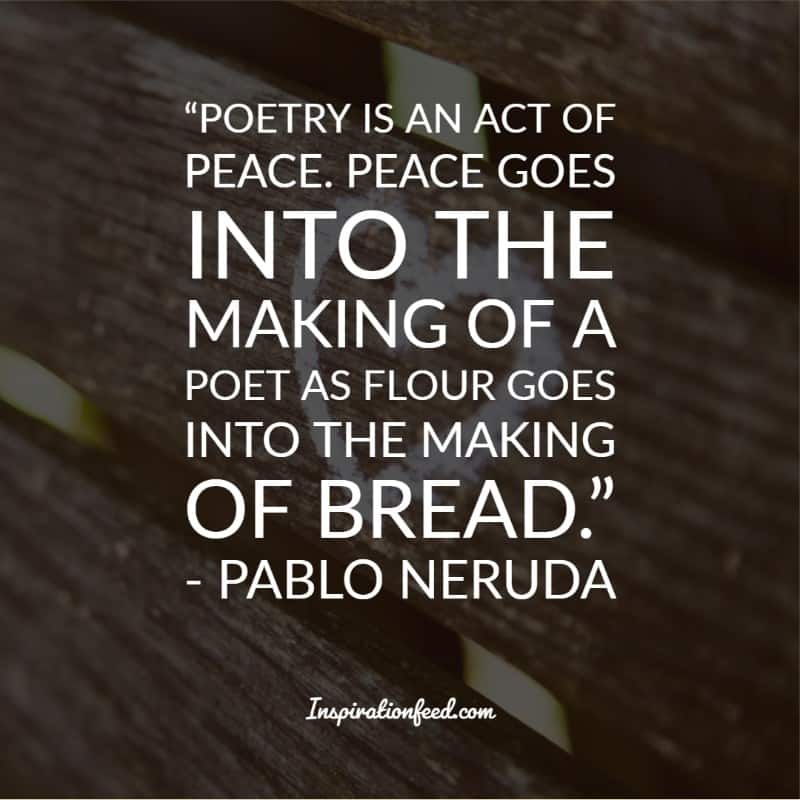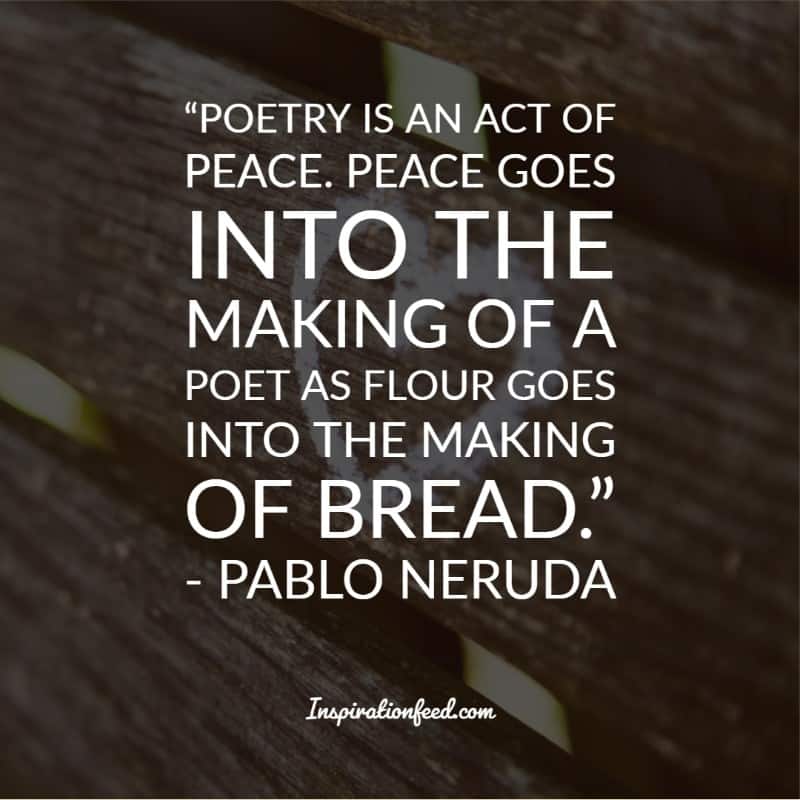 "Poetry is an act of peace. Peace goes into the making of a poet as flour goes into the making of bread." – Pablo Neruda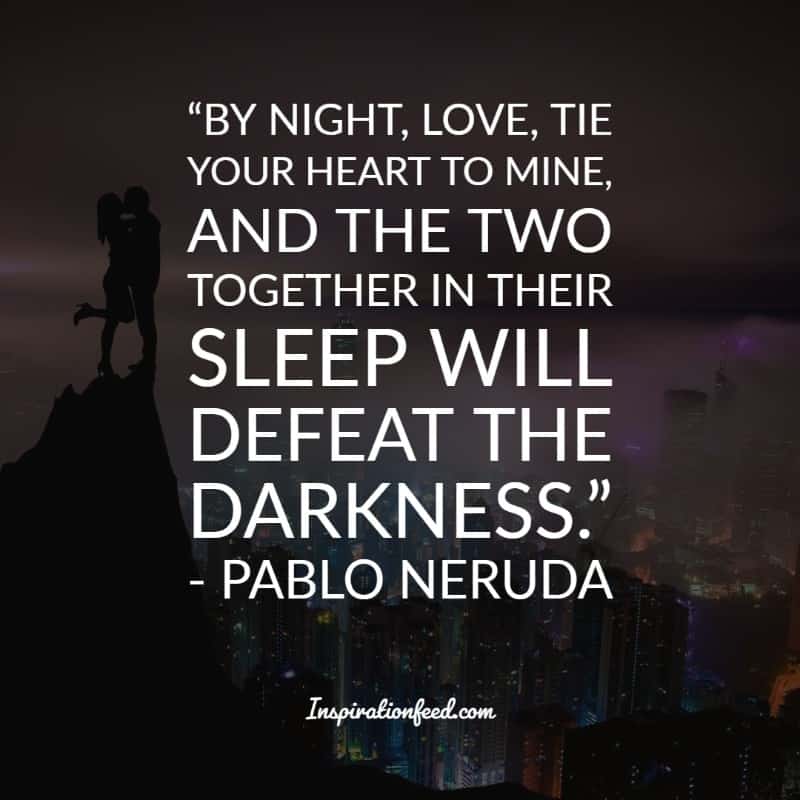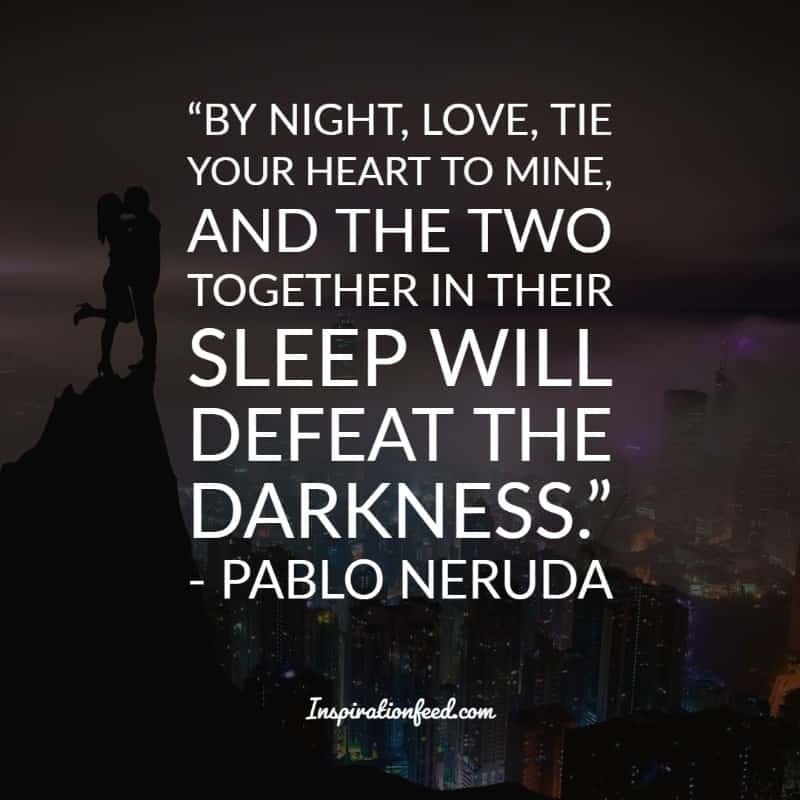 "By night, Love, tie your heart to mine, and the two together in their sleep will defeat the darkness." – Pablo Neruda