Perhaps no other artist during the 20th century could rival the popularity and fame that surrounded Pablo Picasso. Famous for being a co-founder of the Cubist movement as well as other art styles, he was much loved for his artistic accomplishments and contributions to the world of art.
People were enamored not only to his pieces, but also to his rather interesting personal life, frequently dotted with affairs, politics, and of course, art.
Pablo Picasso: Early Life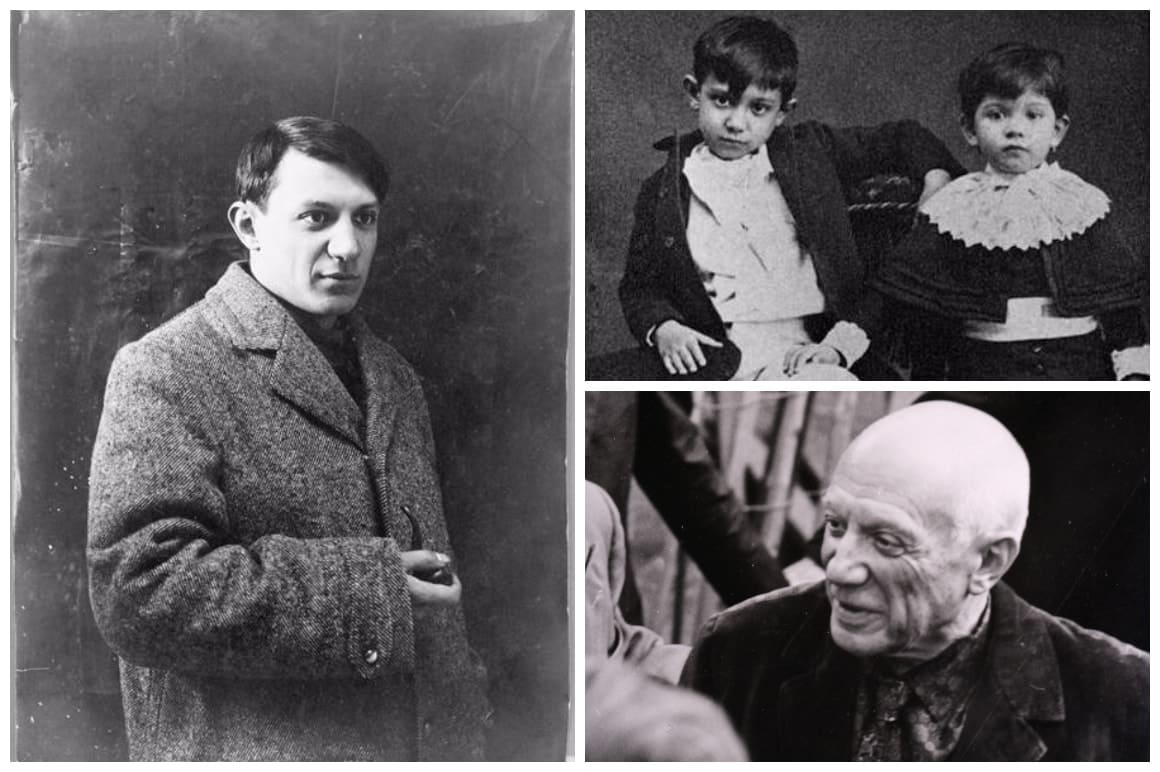 Born on October 25, 1881, in Málaga, Spain, the painter's full name is thus: Pablo Diego José Francisco de Paula Juan Nepomuceno María de los Remedios Cipriano de la Santísima Trinidad Martyr Patricio Clito Ruíz y Picasso. This is in honor of various relatives and saints.
A first child for Don José Ruiz y Blasco and María Picasso y López, his mother somehow felt that Pablo Picasso would be destined for greatness. He had two other siblings: Lola and Conchita.
Early on, he showed interest and skill in drawing. In fact, it was said that his first words were 'piz, piz', which is a shortened form of 'lápiz', the Spanish word for pencil. His father, a painter and art teacher, would give him his first formal instructions on oil painting and figure drawing when he was seven years old. However, as young Picasso's skills grew, his studies suffered.
In 1895, after the death of his sister, Conchita, the family moved to Barcelona where Picasso attended the School of Fine Arts. His father convinced school officials to admit him to an advanced class through a particularly challenging entrance exam that often took regular students a month to complete. Pablo Picasso finished it in just a week.
As with his earlier education, he found the environment stifling and preferred to sketch scenes around the city instead. Soon enough, his father and uncle decided to send him to Madrid's Real Academia de Bellas Artes de San Fernando, the premier art school in Spain. At 16 years of age, it was his first time to be on his own. But again, like earlier attempts at formal education, Picasso grew weary and skipped classes to paint around the city.
In 1899, Picasso returned to Barcelona and became acquainted with all kinds of artists and intellectuals of that time. It was then that he began to experiment with different kinds of painting style that would eventually become evident in his later works.
Pablo Picasso: Later Works and Struggles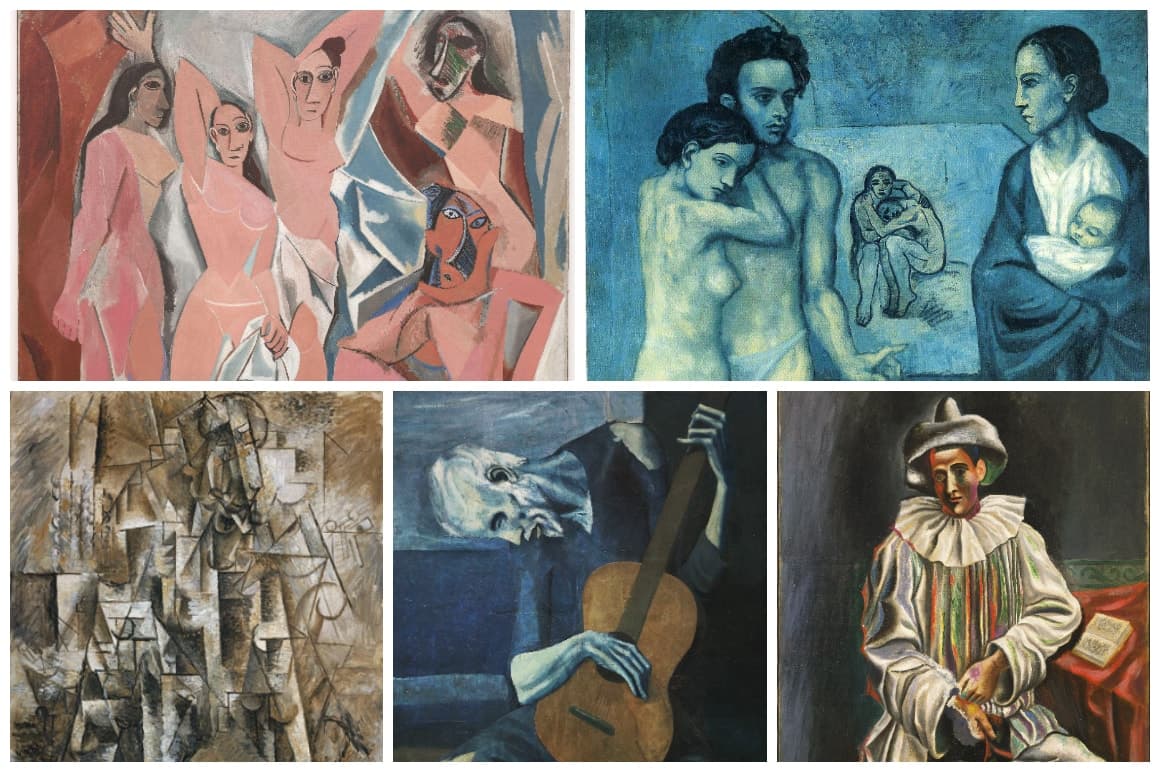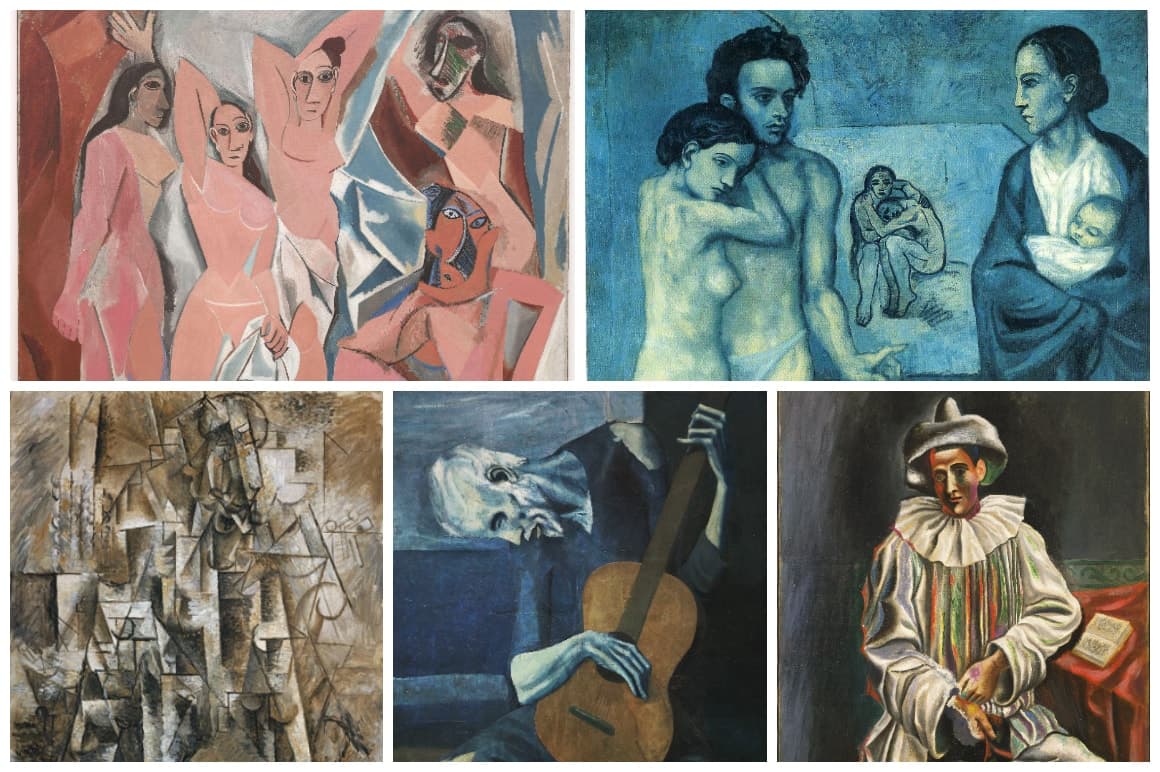 Pablo Picasso's works could be categorized into periods, for each time influenced in him a different technique and feel to his pieces that would make each of them stand out on their own. For instance: the period during 1901–1904 would be considered the Blue Period. This is due to the often gloomy paintings, done in shades of blue and blue-green, only occasionally penetrated by other colors.
The period during 1909–1919 was crucial in that, Picasso began his experiments on cubism, developing analytic cubism with Georges Braque from 1909 to 1912. From then to 1919, a new style called "Crystal Cubism" would emerge, based on his artworks that consisted of "hard-edged square-cut diamonds" with an intermittent element of collage.
Despite Pablo Picasso's fame and fortune, his personal life was riddled with several turbulent love affairs, mostly with younger women. One of the first was Olga Khokhlova, a ballerina and his first wife.  Then there was art student Françoise Gilot, with whom he had two children. But it was his second wife, Jacqueline Roque that remained with him until his death on April 8, 1973, at the age of 91.
There's no doubt that Pablo Picasso was one of the most celebrated artists of the 20th century. His desire to innovate and play with styles is what set him apart from other painters of the decade. That's why his artworks are not only diverse, but also beautifully unique. See if you can uncover your own creativity by reading the best Pablo Picasso quotes compiled here.
30 Pablo Picasso Quotes on Creativity
"If you don't know what color to take, take black." – Pablo Picasso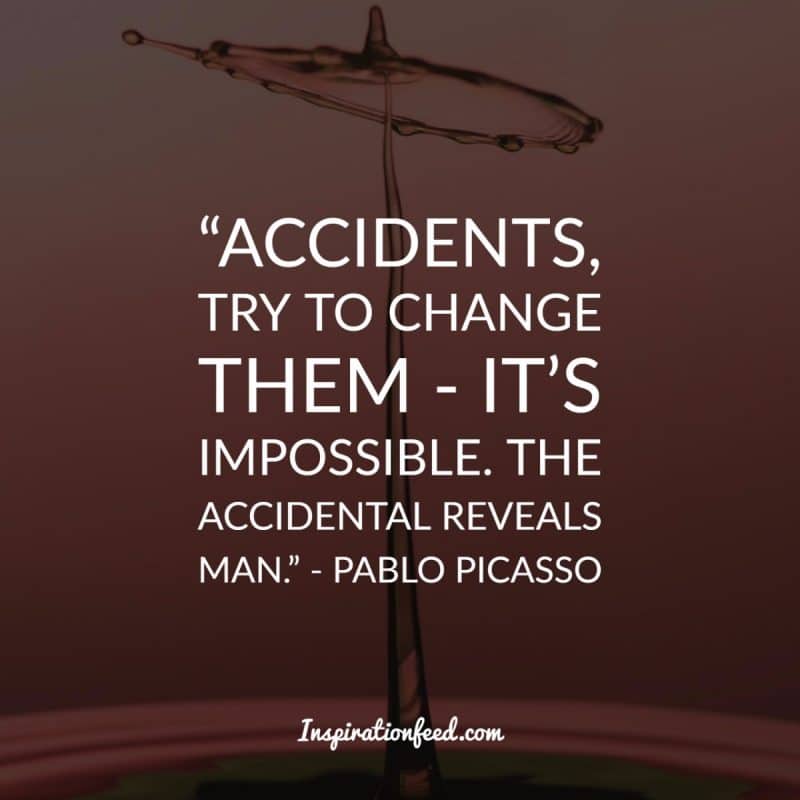 "Accidents, try to change them – it's impossible. The accidental reveals man." – Pablo Picasso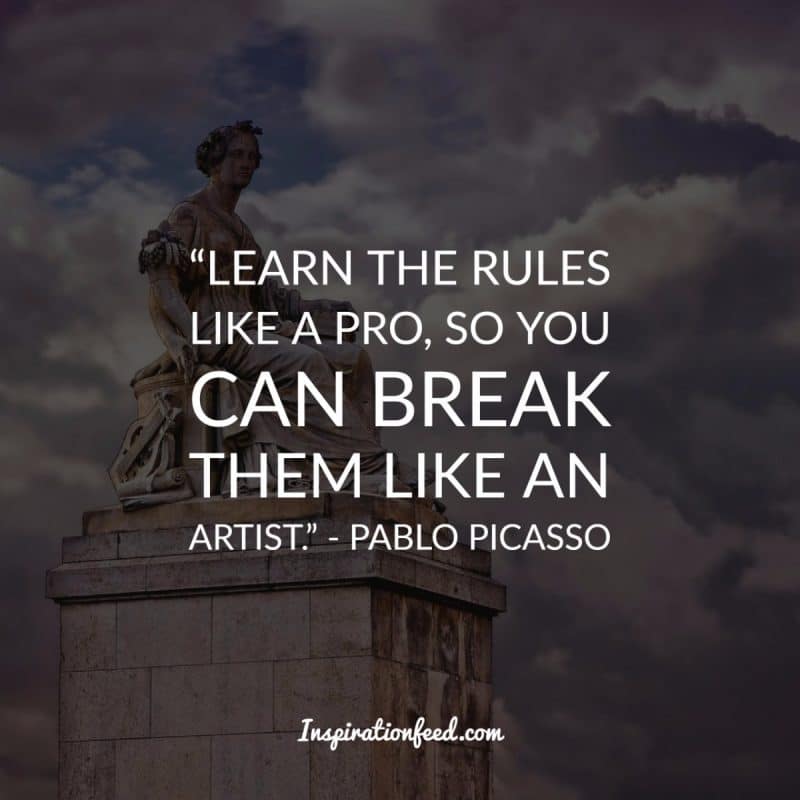 "Learn the rules like a pro, so you can break them like an artist." – Pablo Picasso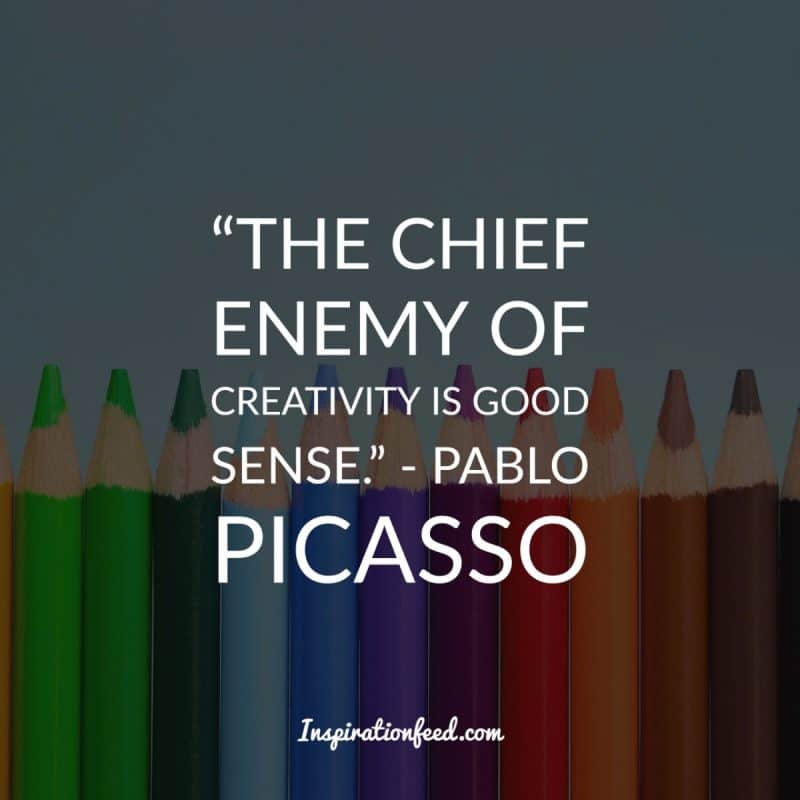 "The chief enemy of creativity is good sense." – Pablo Picasso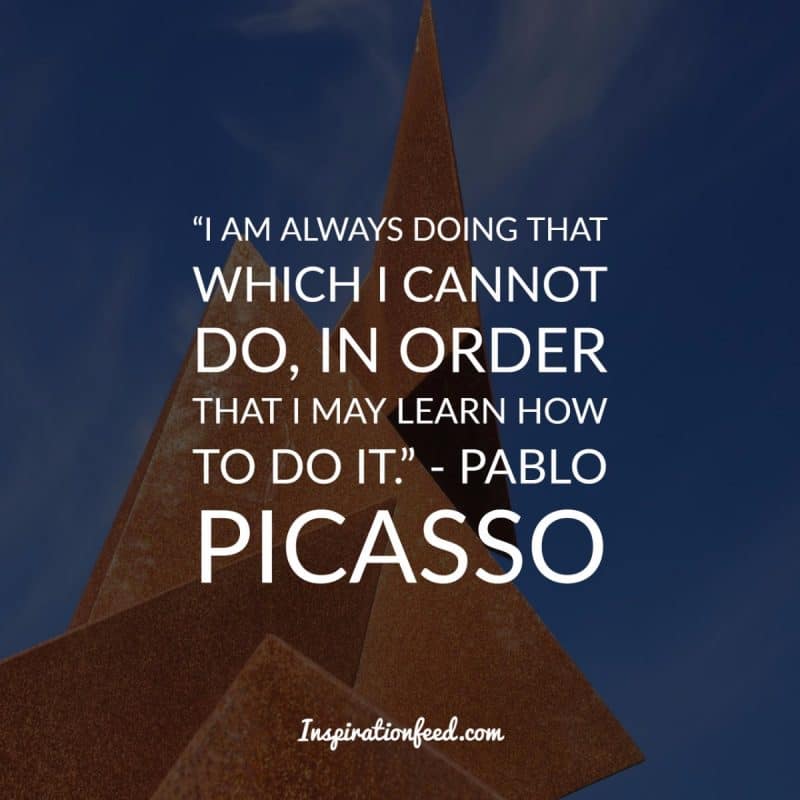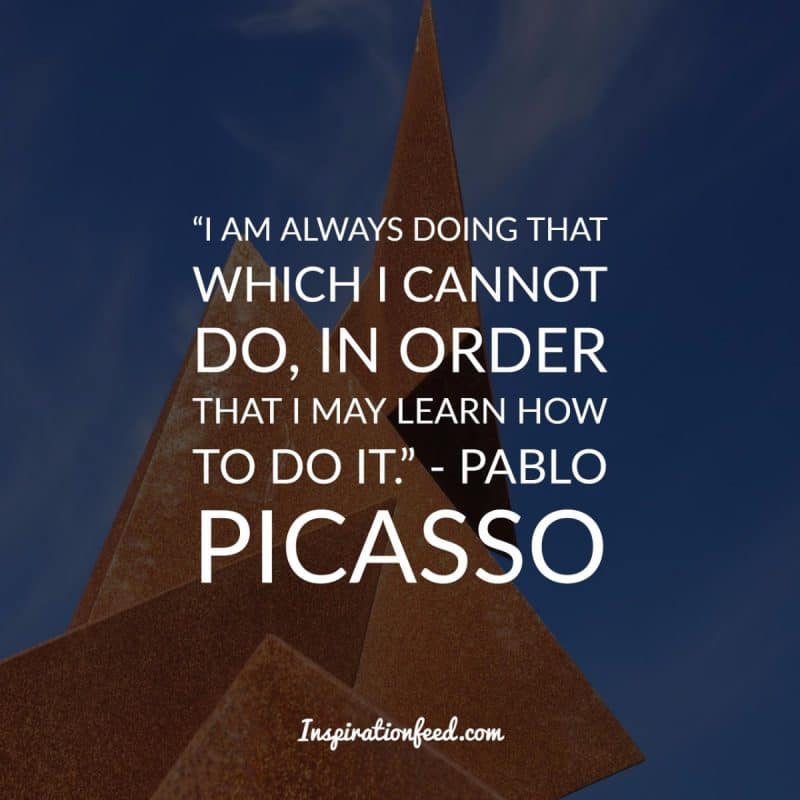 "I am always doing that which I cannot do, in order that I may learn how to do it." – Pablo Picasso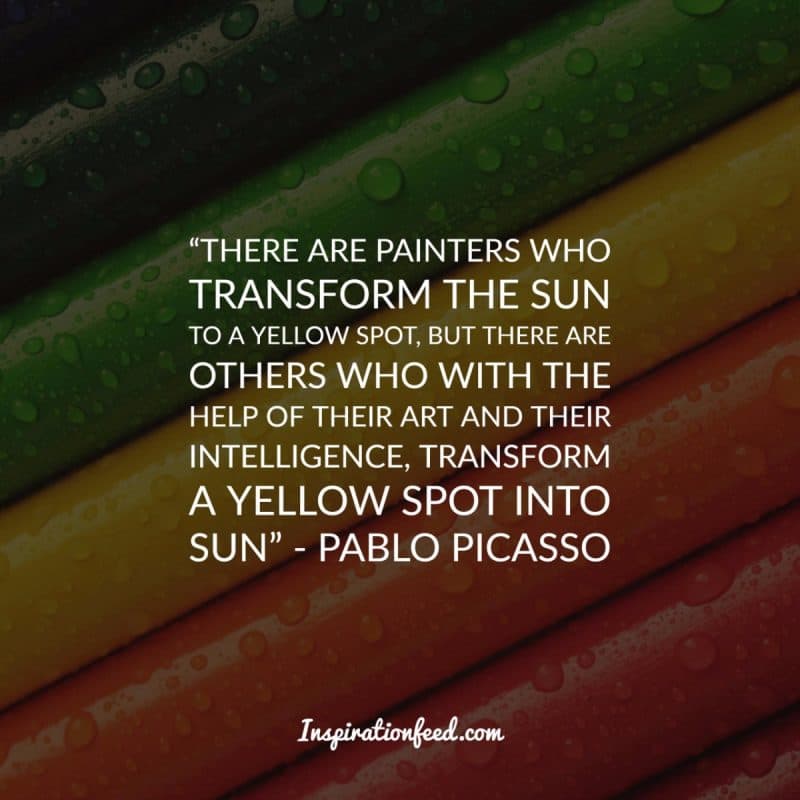 "There are painters who transform the sun to a yellow spot, but there are others who with the help of their art and their intelligence, transform a yellow spot into sun" – Pablo Picasso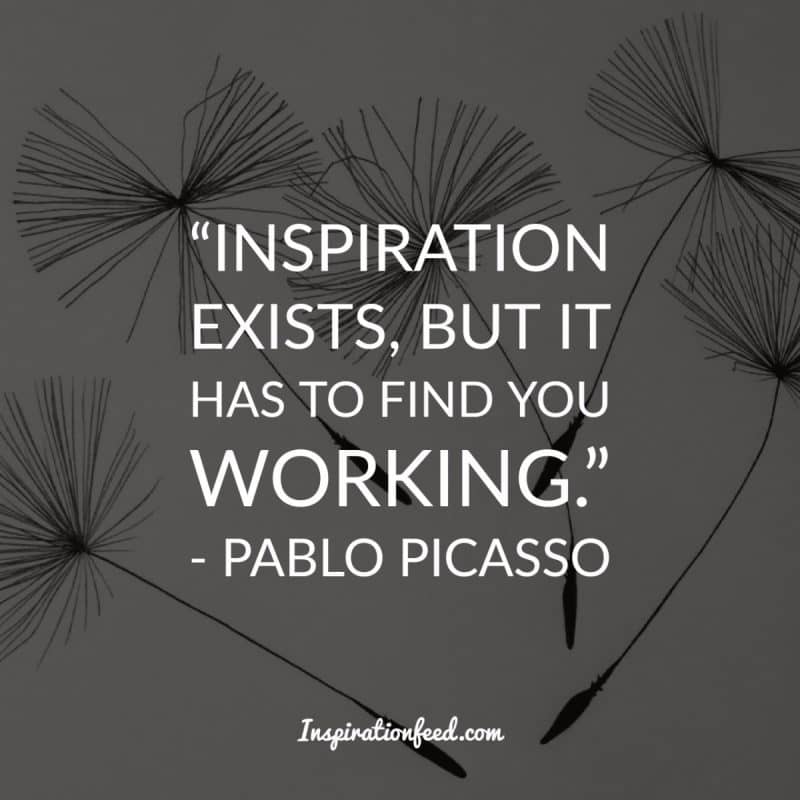 "Inspiration exists, but it has to find you working." – Pablo Picasso
"What do you think an artist is? …he is a political being, constantly aware of the heart breaking, passionate, or delightful things that happen in the world, shaping himself completely in their image. Painting is not done to decorate apartments. It is an instrument of war." – Pablo Picasso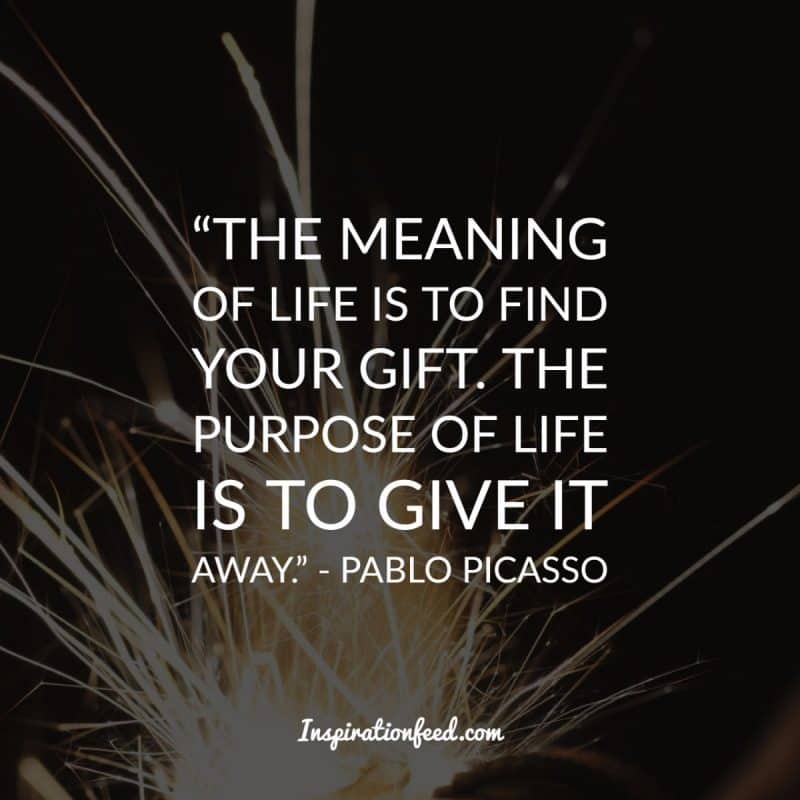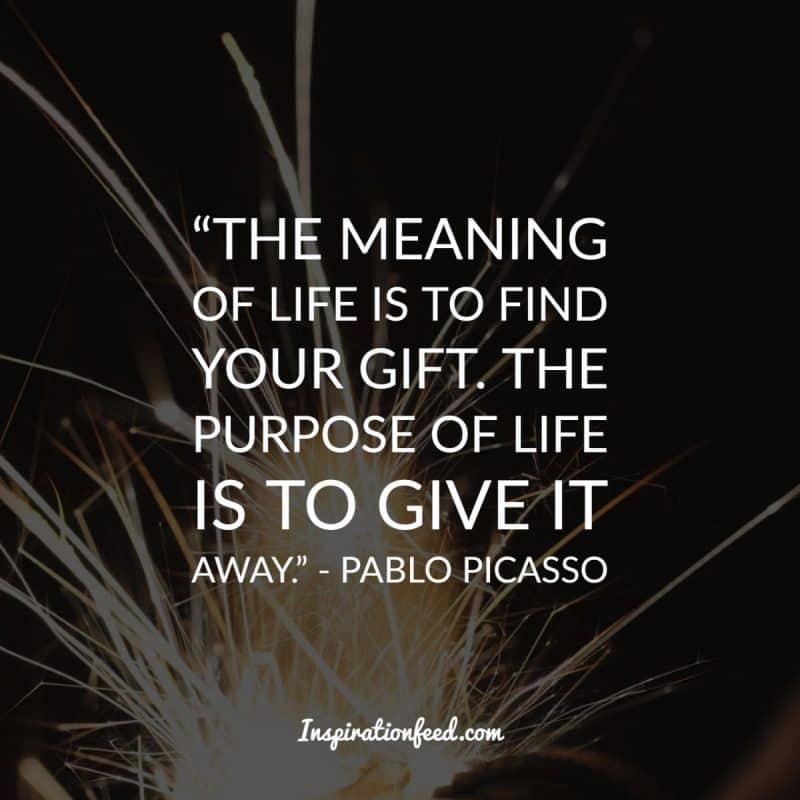 "The meaning of life is to find your gift. The purpose of life is to give it away." – Pablo Picasso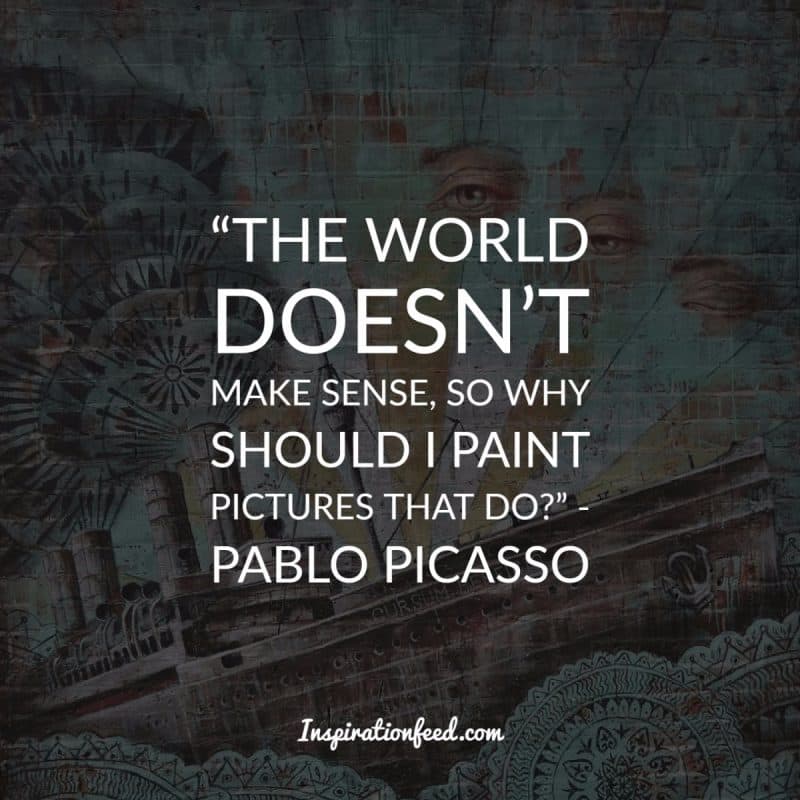 "The world doesn't make sense, so why should I paint pictures that do?" – Pablo Picasso
"If I paint a wild horse, you might not see the horse… but surely you will see the wildness!" – Pablo Picasso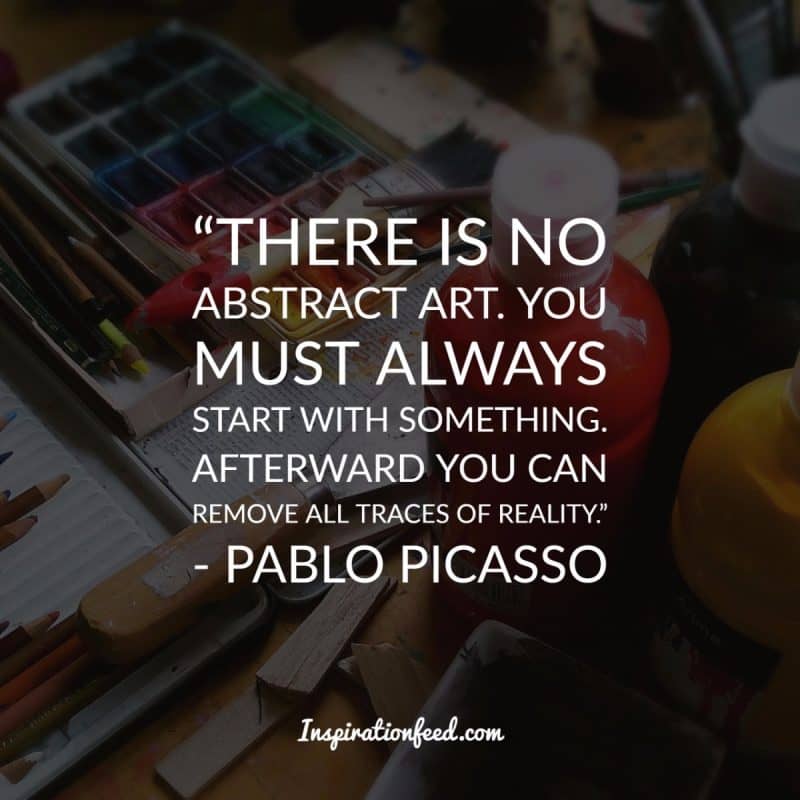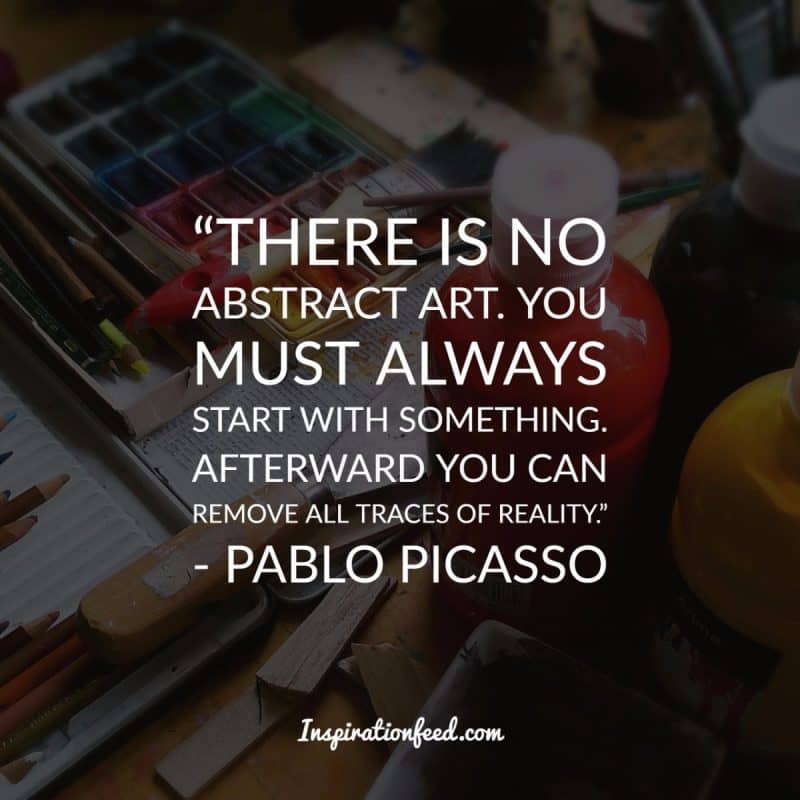 "There is no abstract art. You must always start with something. Afterward you can remove all traces of reality." – Pablo Picasso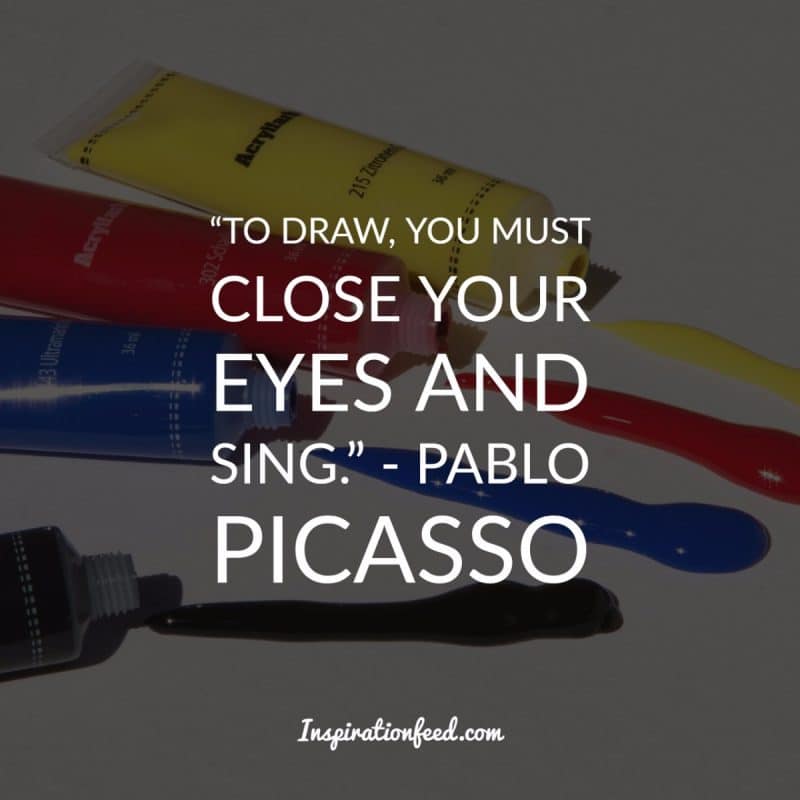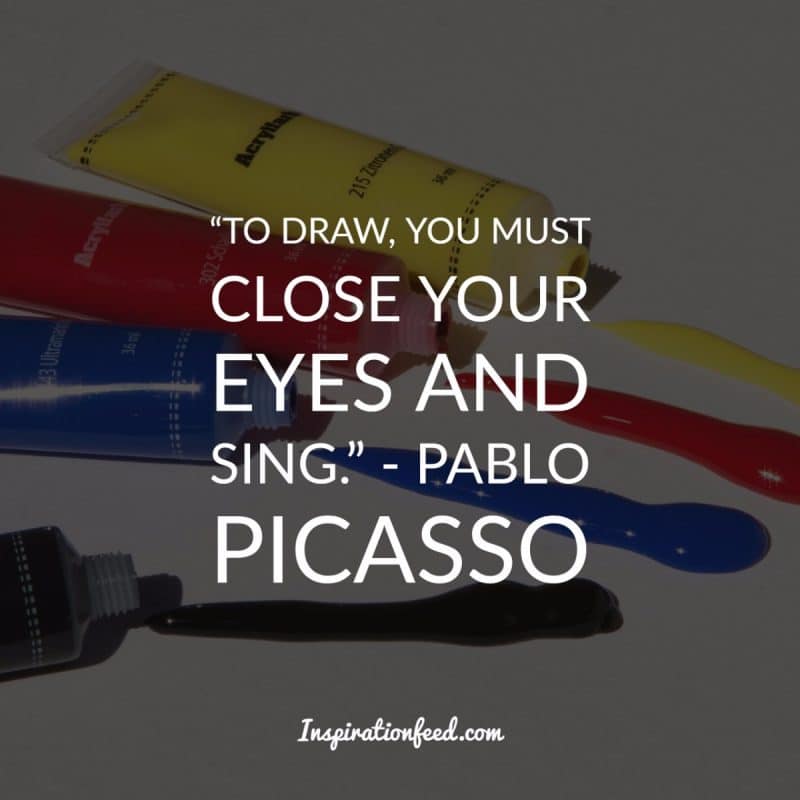 "To draw, you must close your eyes and sing." – Pablo Picasso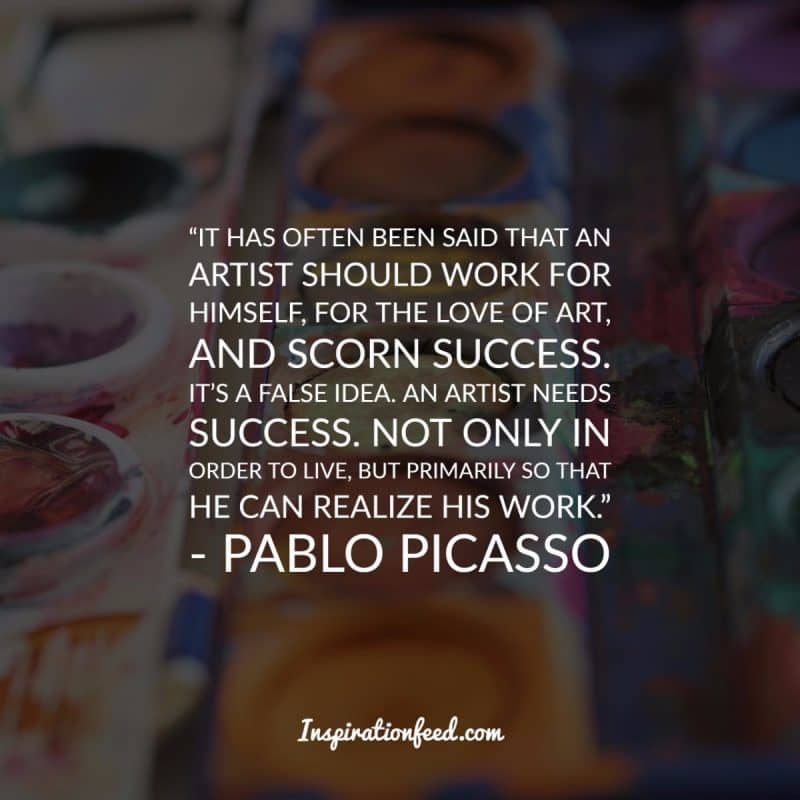 "It has often been said that an artist should work for himself, for the love of art, and scorn success. It's a false idea. An artist needs success. Not only in order to live, but primarily so that he can realize his work." – Pablo Picasso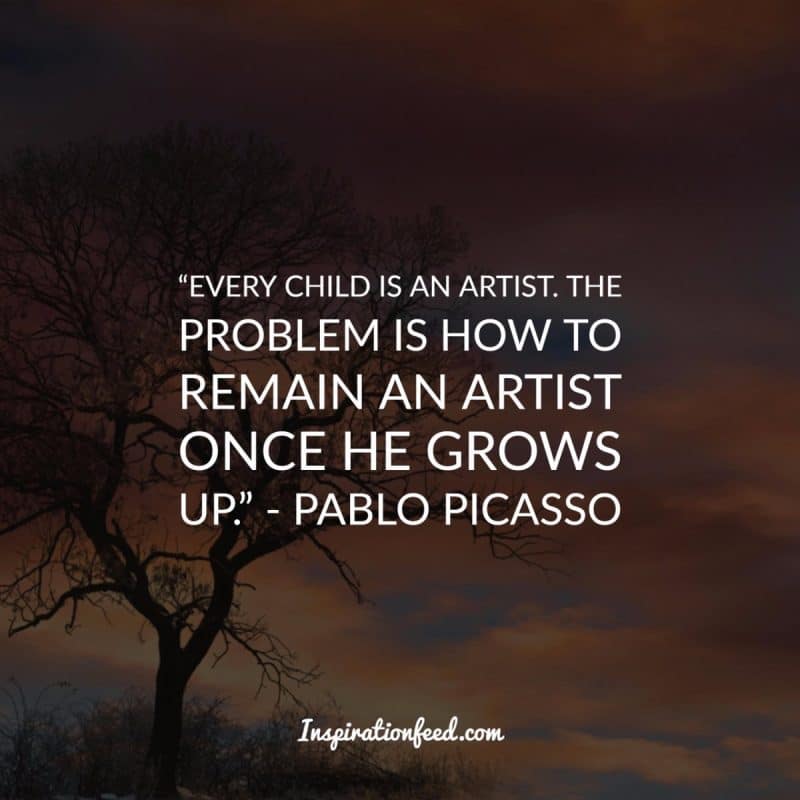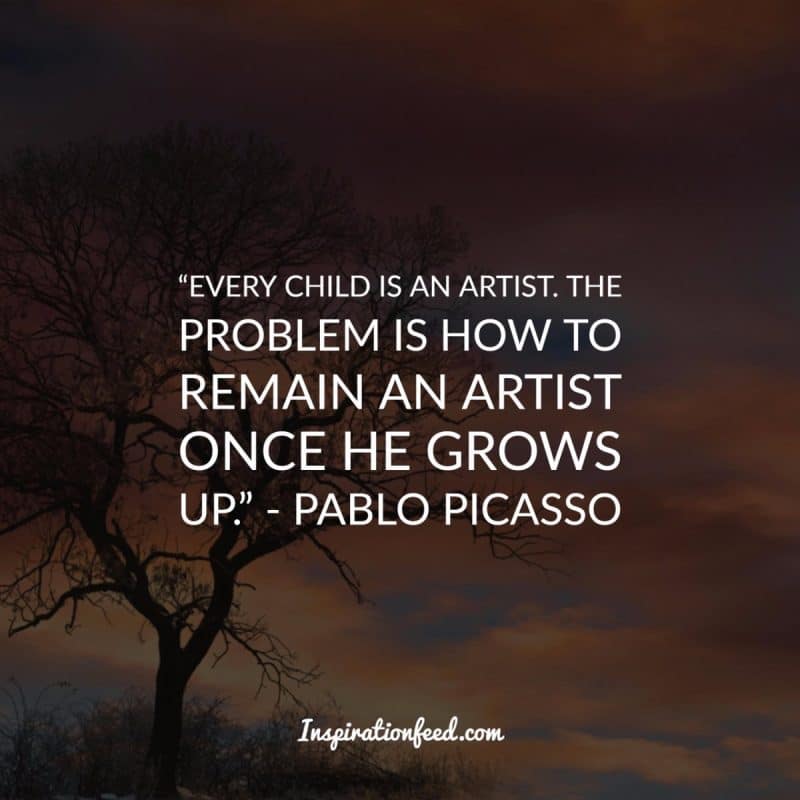 "Every child is an artist. The problem is how to remain an artist once he grows up." – Pablo Picasso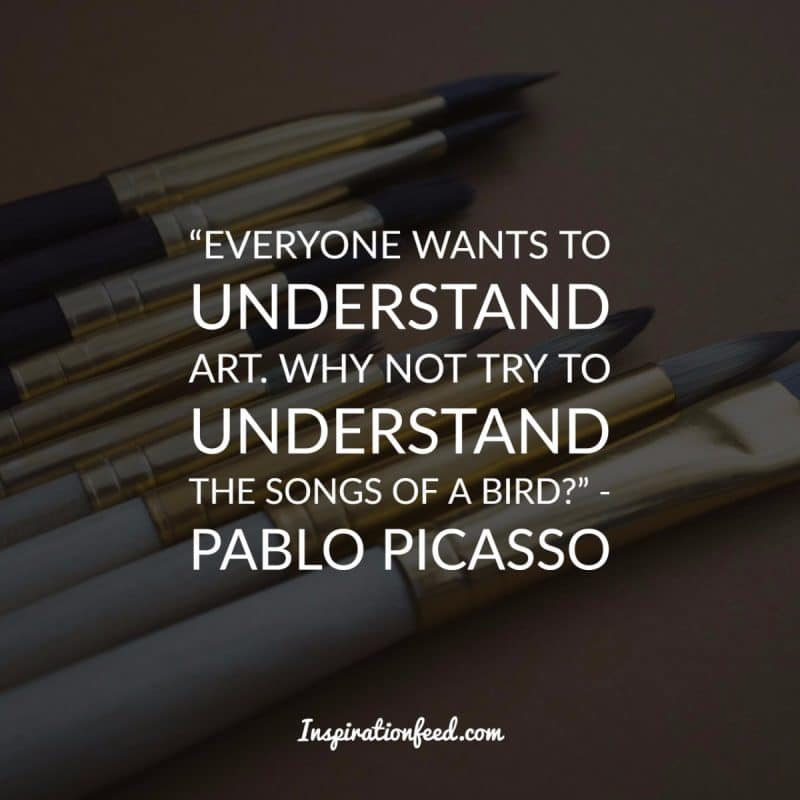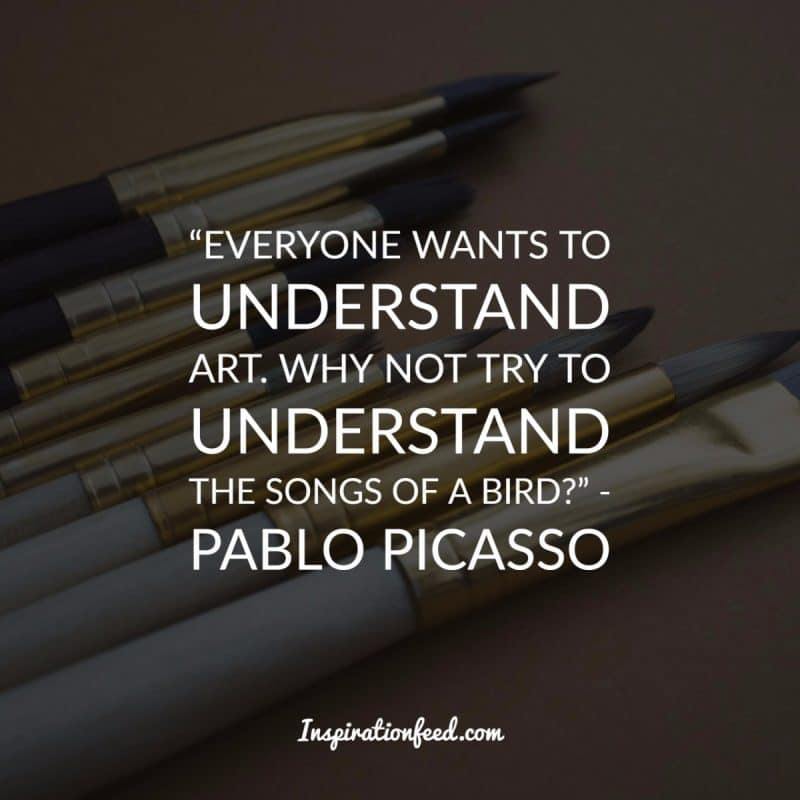 "Everyone wants to understand art. Why not try to understand the songs of a bird?" – Pablo Picasso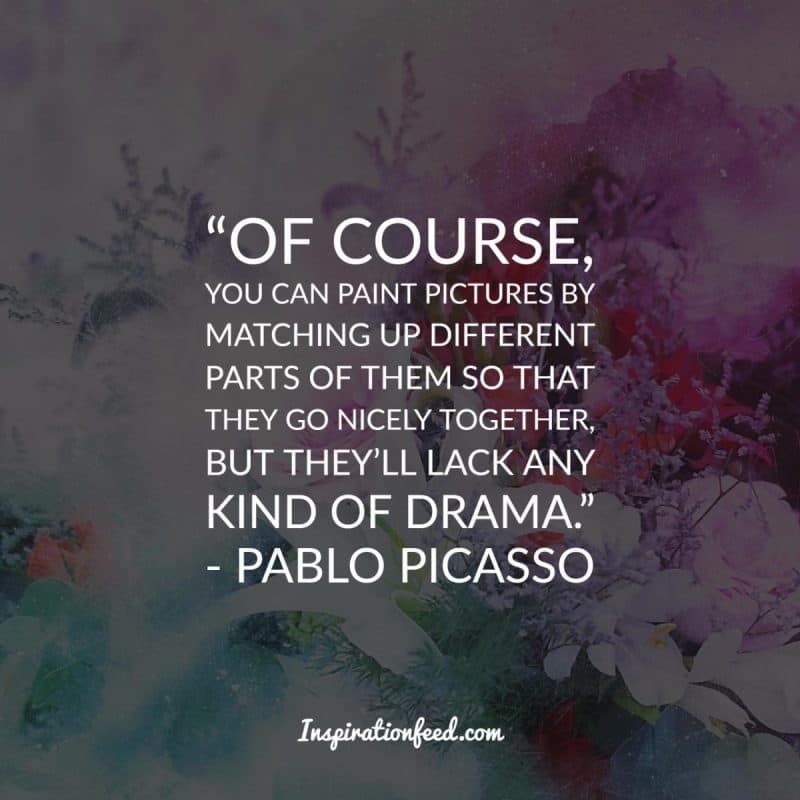 "Of course, you can paint pictures by matching up different parts of them so that they go nicely together, but they'll lack any kind of drama." – Pablo Picasso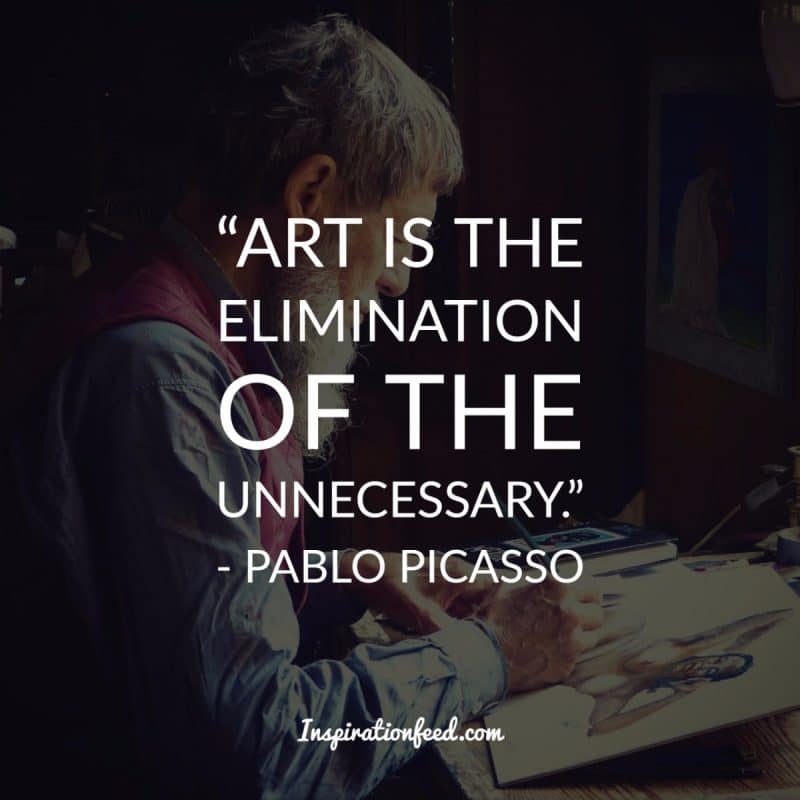 "Art is the elimination of the unnecessary." – Pablo Picasso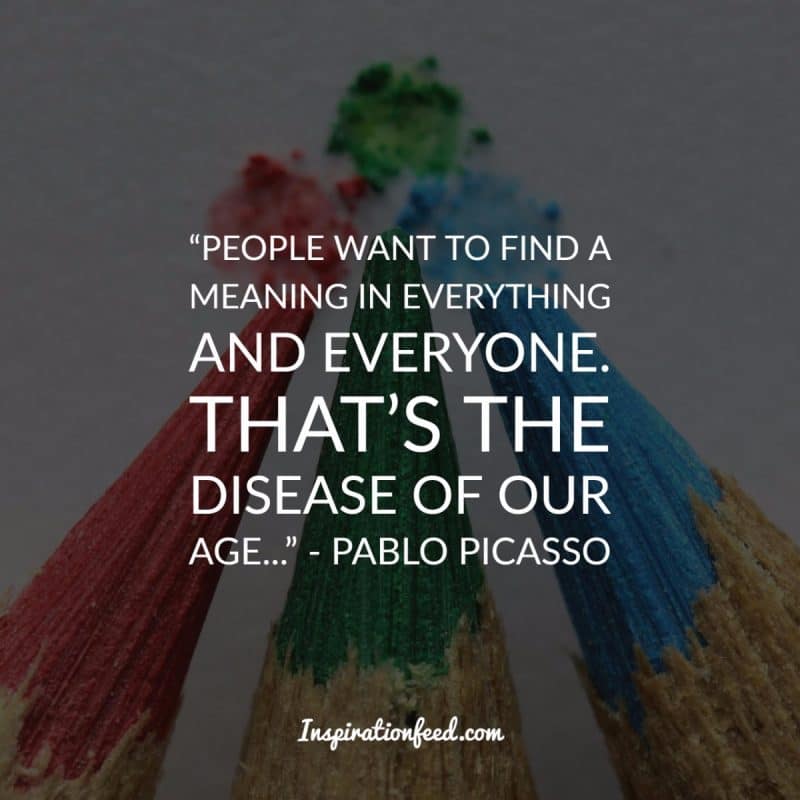 "People want to find a meaning in everything and everyone. That's the disease of our age…" – Pablo Picasso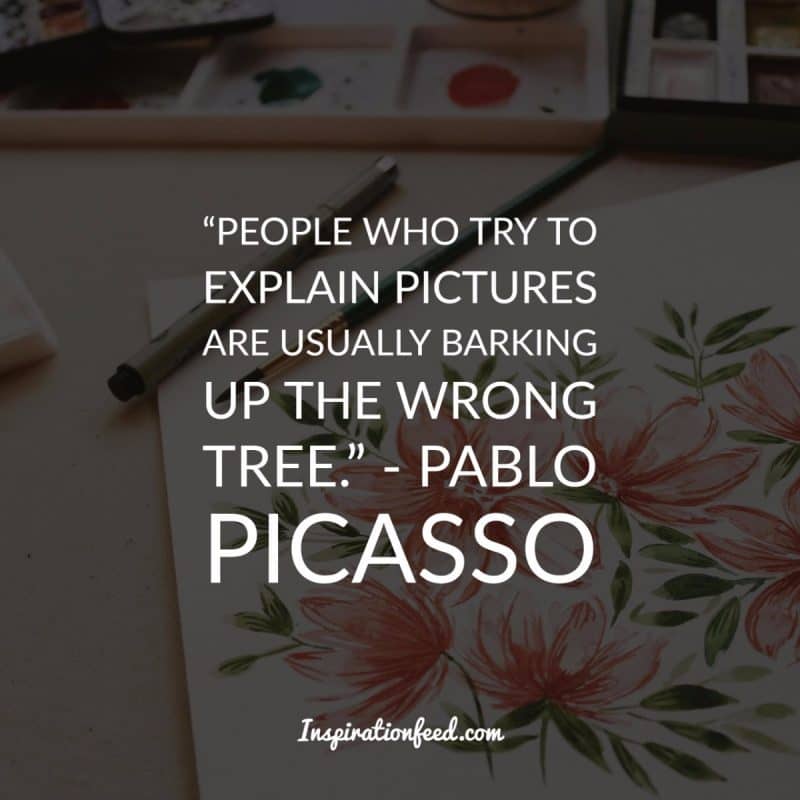 "People who try to explain pictures are usually barking up the wrong tree." – Pablo Picasso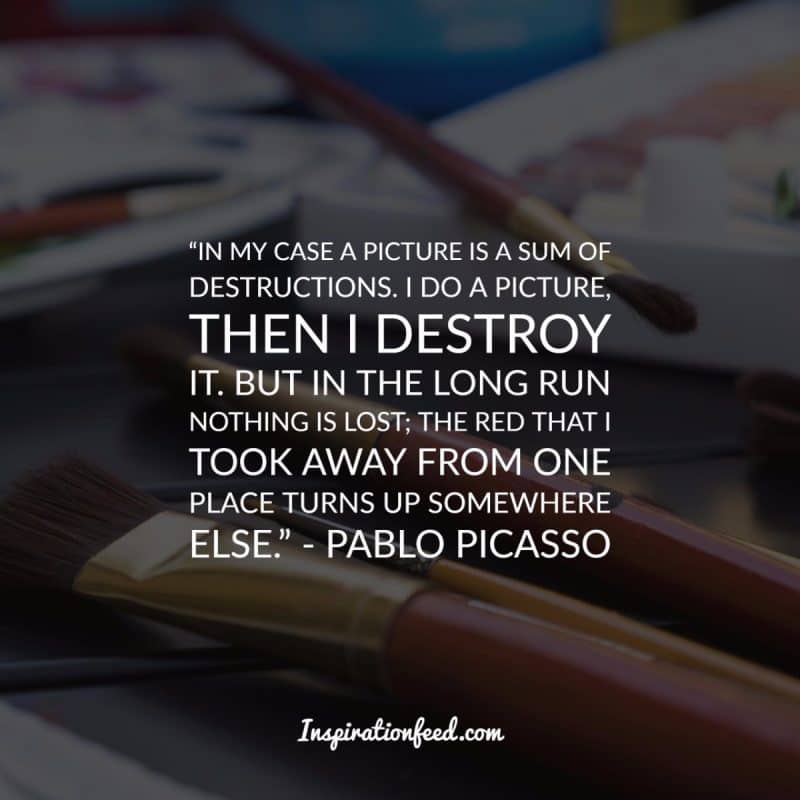 "In my case a picture is a sum of destructions. I do a picture, then I destroy it. But in the long run nothing is lost; the red that I took away from one place turns up somewhere else." – Pablo Picasso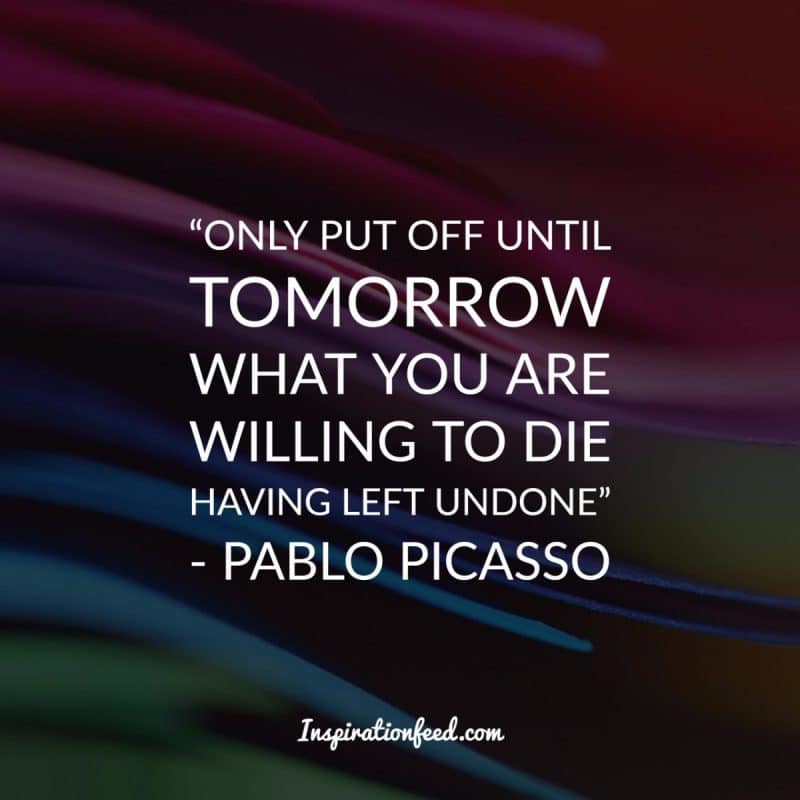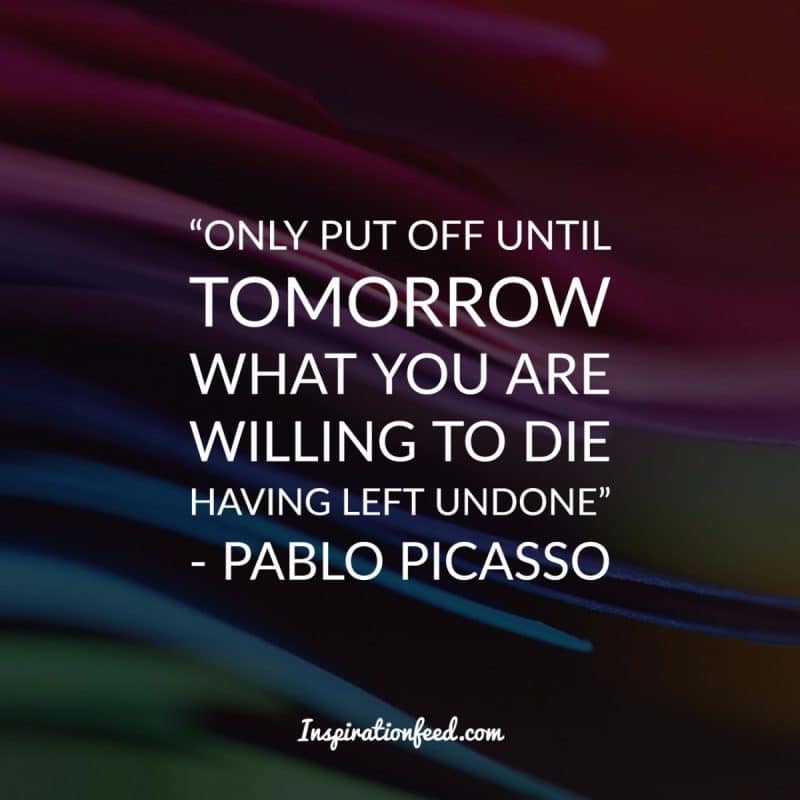 "Only put off until tomorrow what you are willing to die having left undone" – Pablo Picasso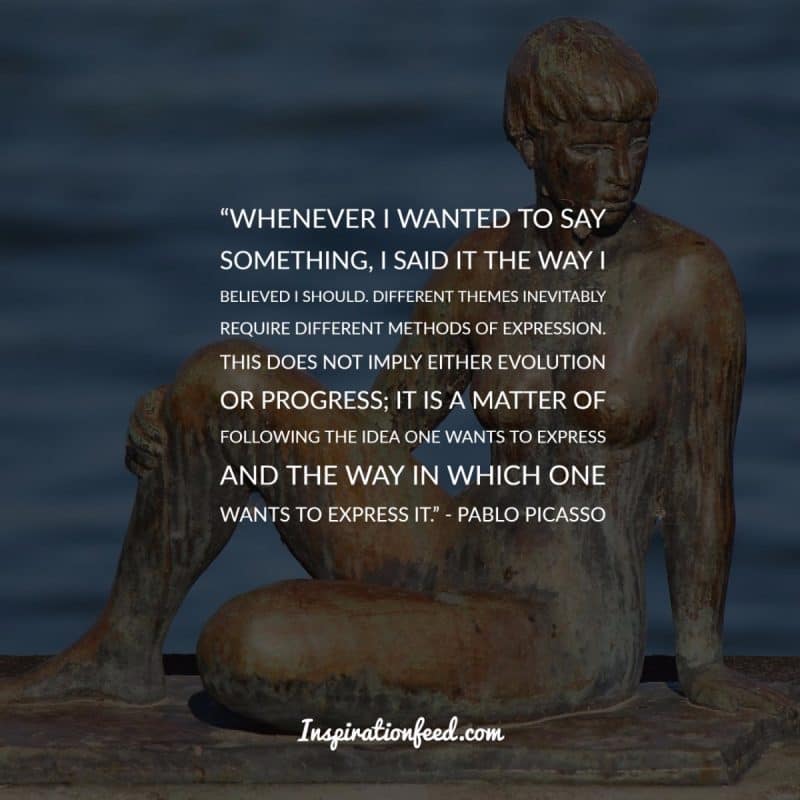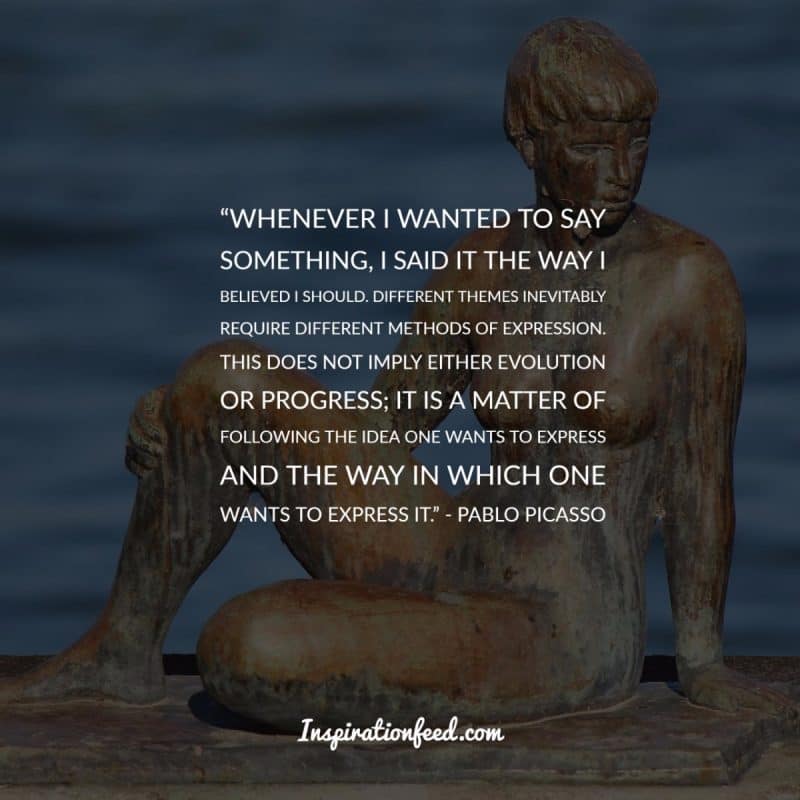 "Whenever I wanted to say something, I said it the way I believed I should. Different themes inevitably require different methods of expression. This does not imply either evolution or progress; it is a matter of following the idea one wants to express and the way in which one wants to express it." – Pablo Picasso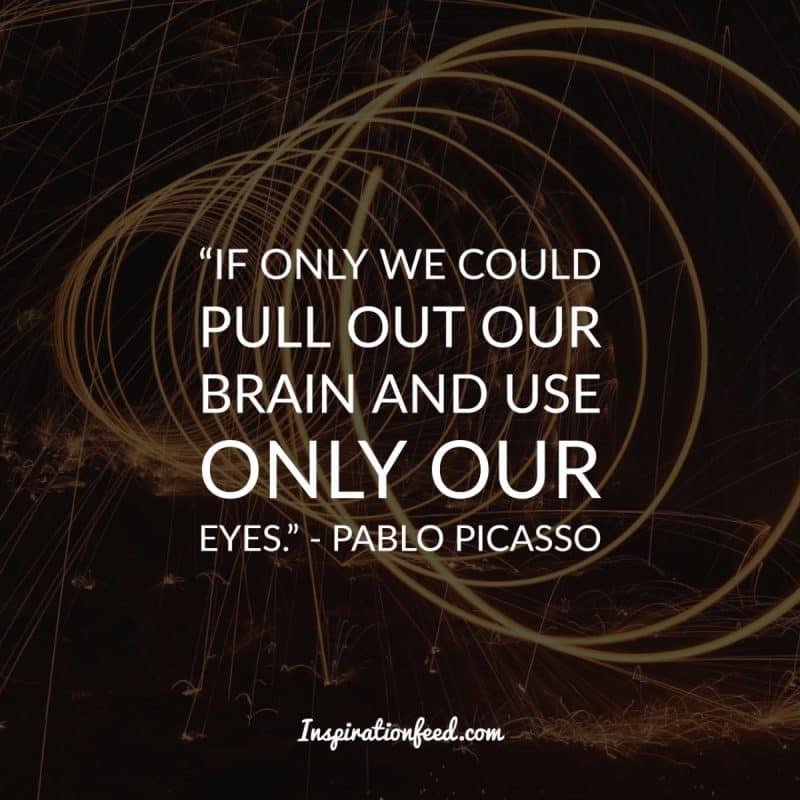 "If only we could pull out our brain and use only our eyes." – Pablo Picasso
"When I was as old as these children, I could draw like Raphael, but it took me a lifetime to learn to draw like them." – Pablo Picasso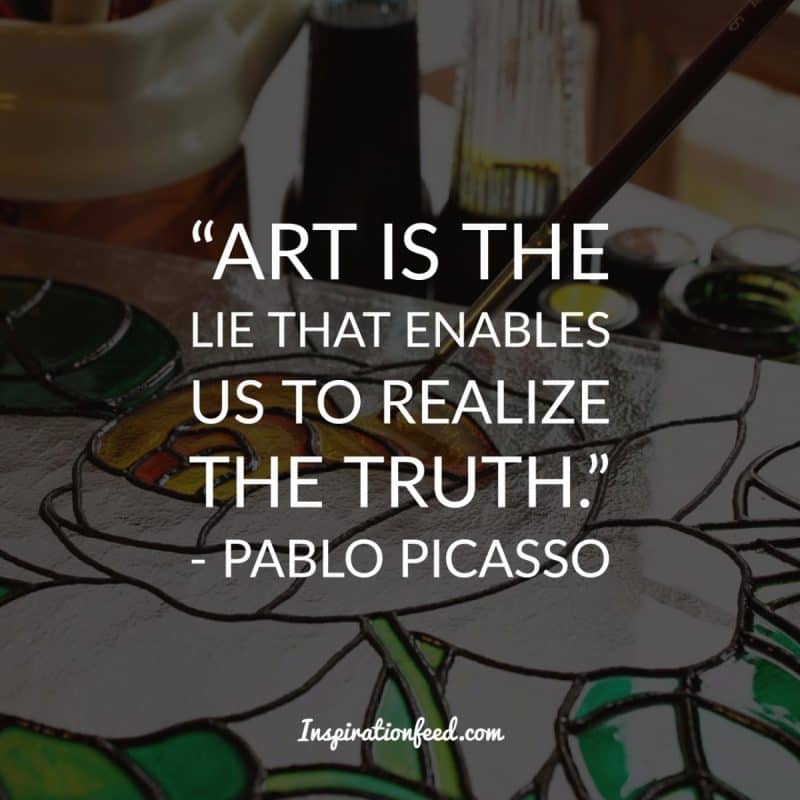 "Art is the lie that enables us to realize the truth." – Pablo Picasso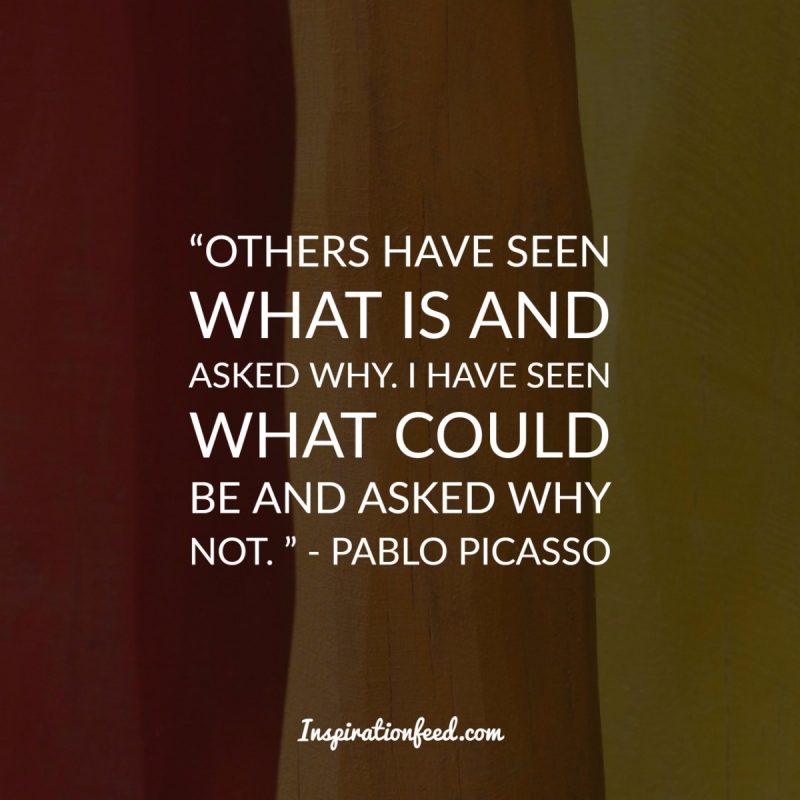 "Others have seen what is and asked why. I have seen what could be and asked why not. " – Pablo Picasso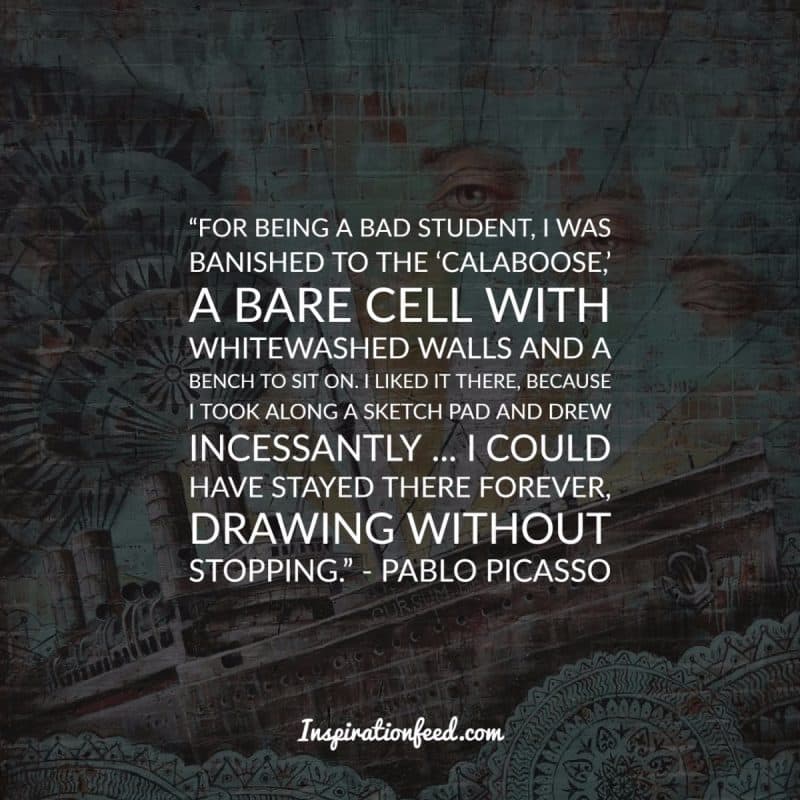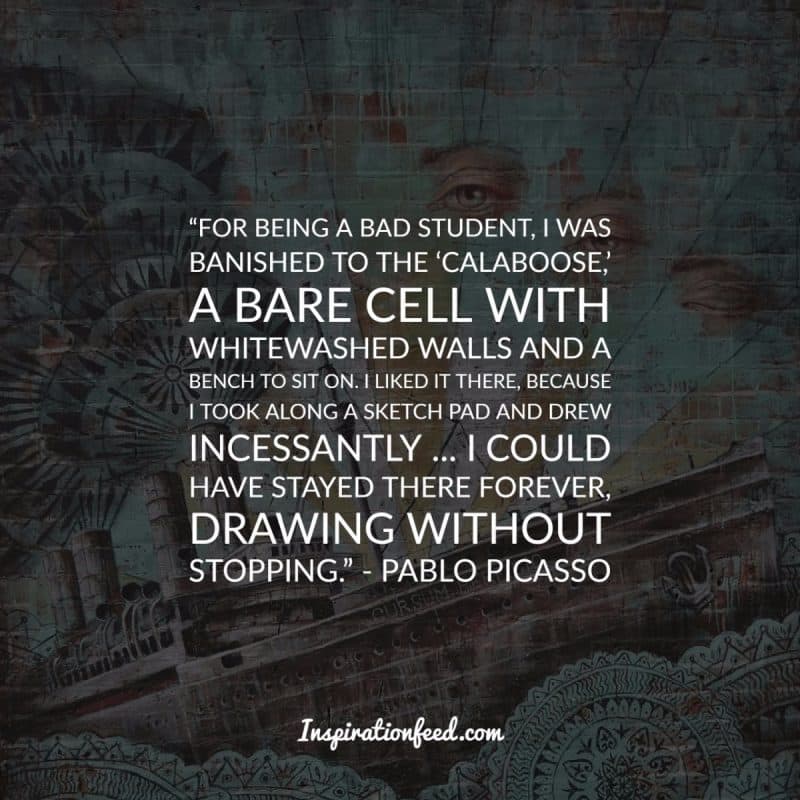 "For being a bad student, I was banished to the 'calaboose,' a bare cell with whitewashed walls and a bench to sit on. I liked it there, because I took along a sketch pad and drew incessantly … I could have stayed there forever, drawing without stopping." – Pablo Picasso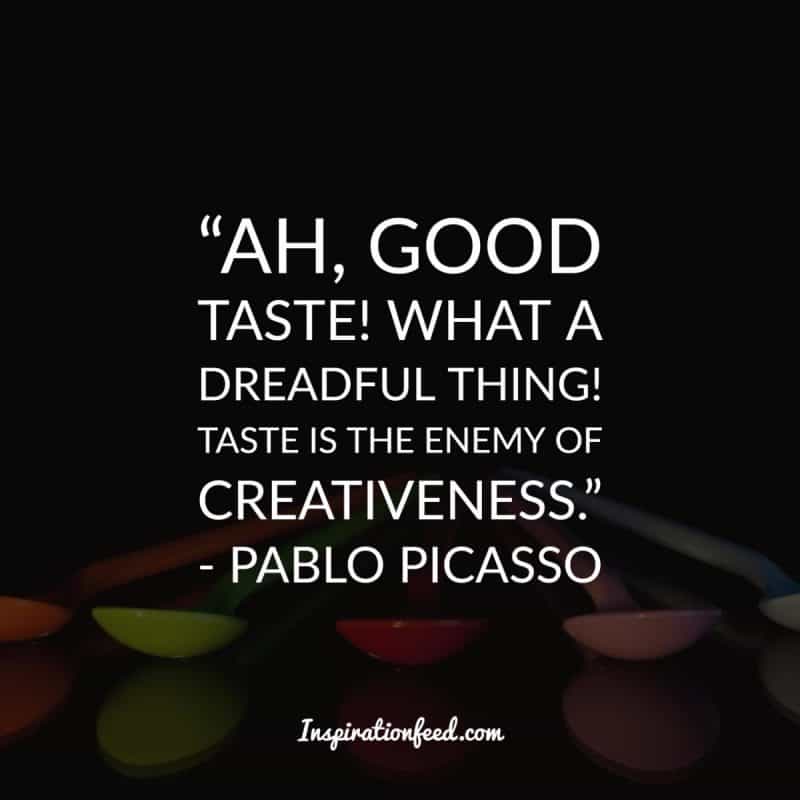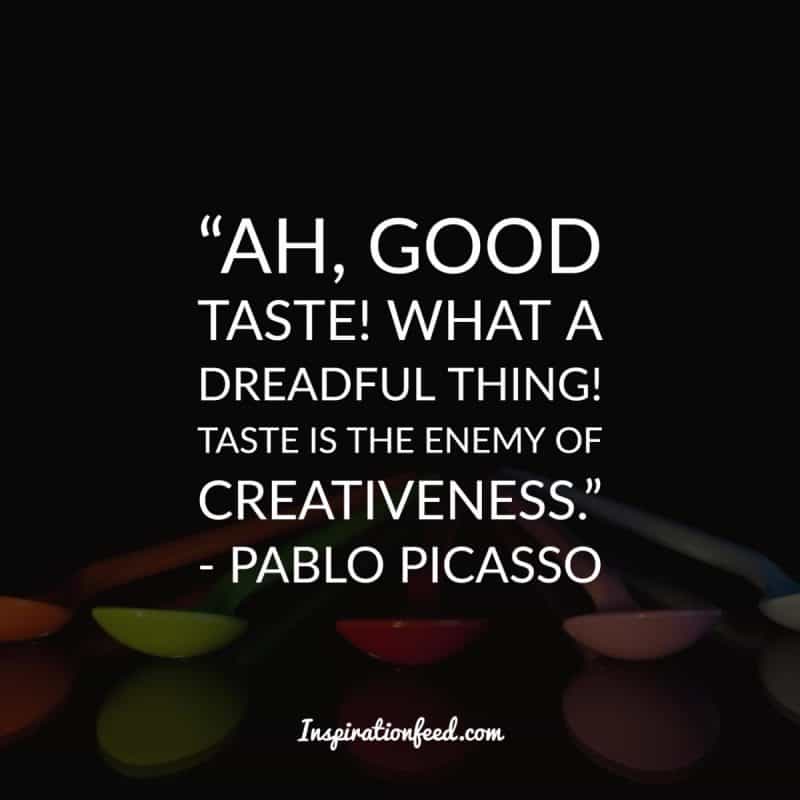 "Ah, good taste! What a dreadful thing! Taste is the enemy of creativeness." – Pablo Picasso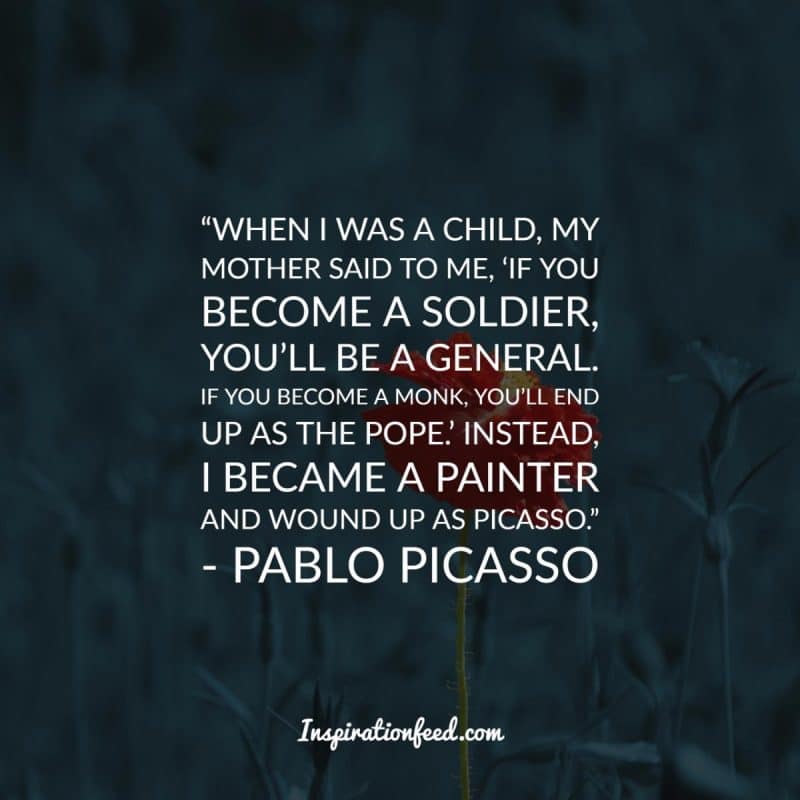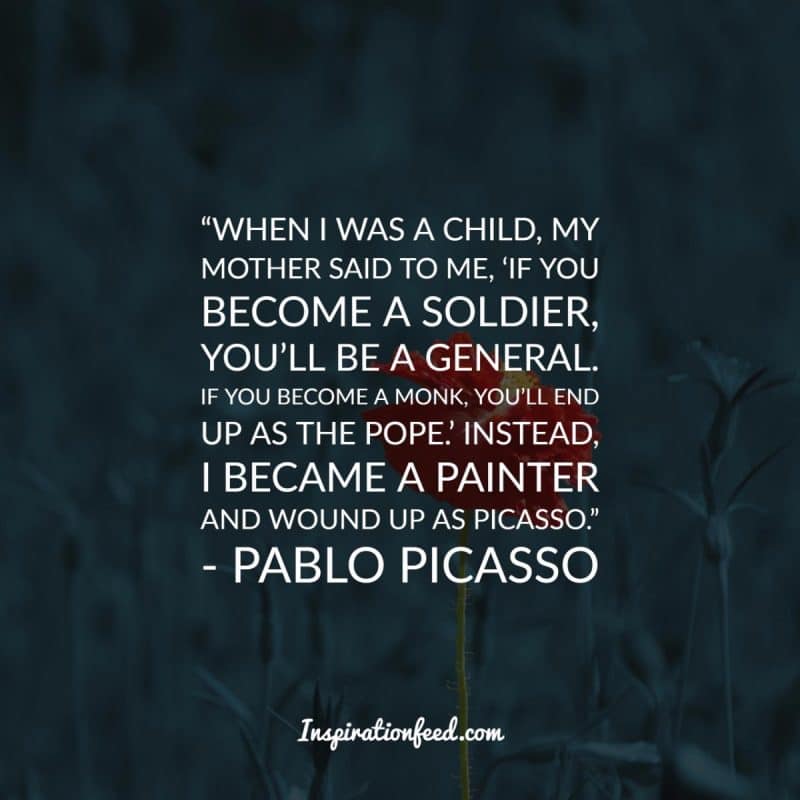 "When I was a child, my mother said to me, 'If you become a soldier, you'll be a general. If you become a monk, you'll end up as the pope.' Instead, I became a painter and wound up as Picasso." – Pablo Picasso