Driving sales is an essential part of any business, so it's pretty obvious that packaging would become the key industry that it has become. How else should customers decide to pick your products above all other options presented to them? Take a look at some exquisite packaging designs that showcase the level of finesse that is required when wanting to make a difference:
Babees Honey
More often than not, it's simplicity that turns a good design into a truly exceptional one. For instance, these honey jars are absolutely exquisite in their color choice and simplicity.
Gnome Bread-hat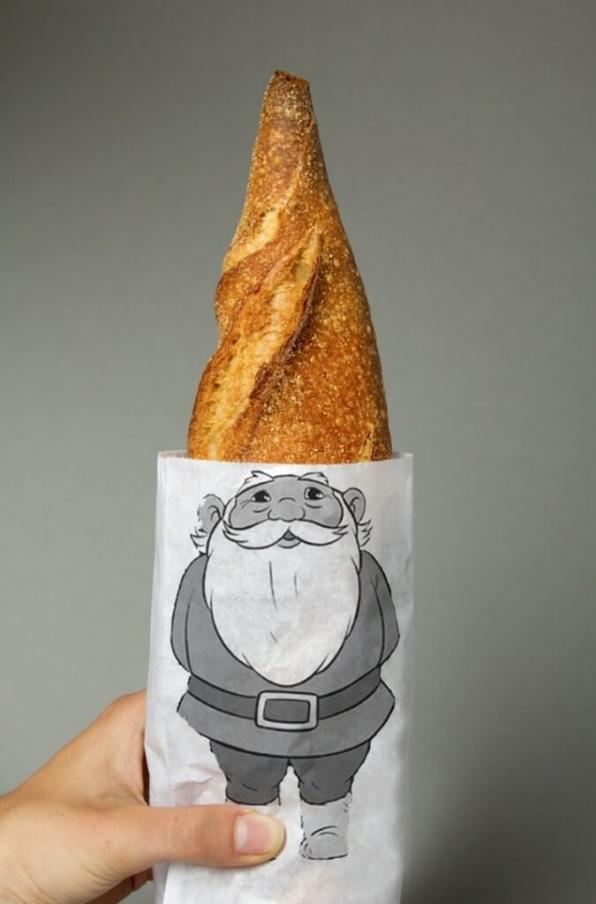 Buying bread has become truly mundane, yet from time to time, clever designers can make even this unavoidable task enjoyable. Lo Siento Studio managed to transform a bread bag into a story with their one-of-a-kind design.
Fruity Juice Containers
Food always tastes better when it's visually inviting, so why shouldn't juice benefit the same treatment? These tiny juice containers are absolutely adorable since they look just like sweet, succulent slices of fruit.
Modern Headphone Design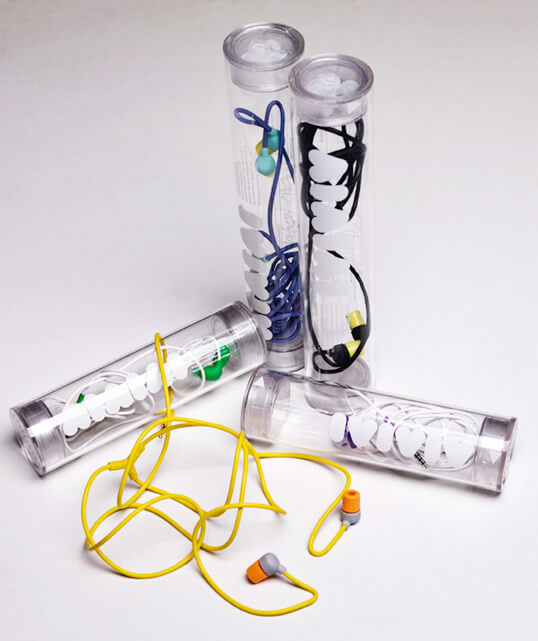 These futuristic-looking packages are simply to-die-for. Designed by AIAIAI, these seemingly simple headphones are presented in a nigh-irresistible fashion.
Yummy Ice Cream Packaging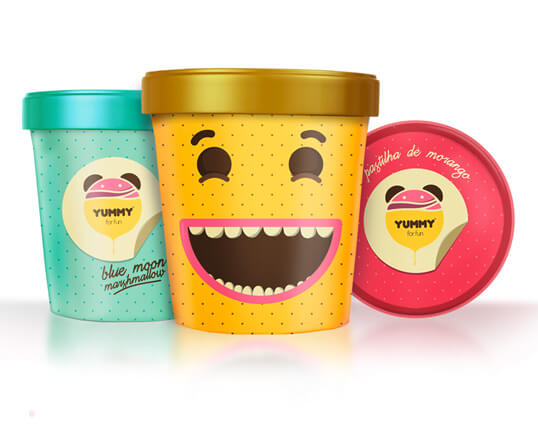 There are few of us who truly can say that they would prefer eating fruit instead of ice cream. Even so, the luscious texture of ice cream has rarely been paired-up with such a clever packaging design. Colorful, cartoonish and inviting, these designs are truly inviting.
Handyman's Screwdriver Kit
Utility is an essential factor of a successful design, and in this particular case, it's safe to assume that the designers managed to perfectly include it into this screwdriver kit. Men care for easy-to-use, practical things and a portable tool box seems downright ingenious. So if you can't carry your screwdriver kit home, what's the point in buying it in the first place?
Mixed-emotions Vodka
There truthfully are few creative ways in which to present certain items. Take alcohol: scotch is scotch and vodka is vodka. The liquid is either caramel-brown or crystal-clear. But that takes the mystery out of the concoction. Yet with these emotion-inspired packages, a buyer is sure to take a moment and ponder his decision.
TeaPee Herbal Teas
Granted, the name does inspire the design, but even so, this eloquently clean design is stunning and inviting. More importantly, the tea bags themselves are also constructed as tiny pyramids so as to mirror the packaging design.
Sweet Caramel Packaging Style
The thing about caramels is that they remind us of our childhood. We craved these sweet treats and often bought them at family-run stores in simple, tiny paper bags. So Karamelleriet employed the help of Bessermachen to better reflect the handmade aesthetic of their product. In the end, they achieved this simply irresistible design that takes us back to our younger, caramel-filled days.
Mini Oliva Olive Oil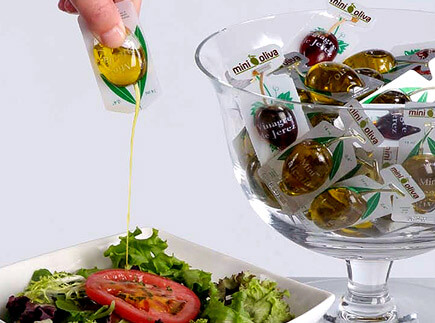 Mini Oliva have accomplished a truly remarkable thing: they have successfully refuted the well-known saying that "size matters" with their mini olive-oil packages. Salads on-the-go are simply more appealing then accompanied by such a well-designed dressing.
Breakfast Package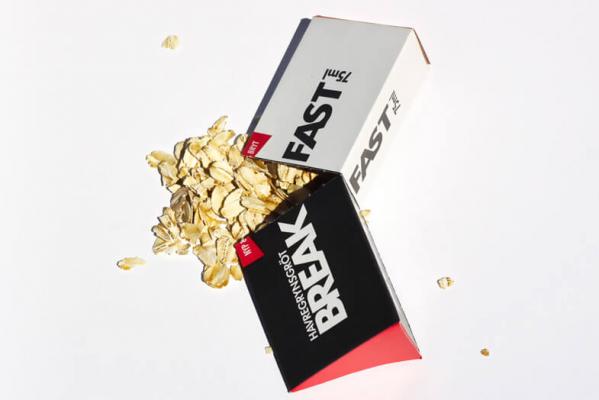 Niklas Hessman may have taken the word "breakfast" somewhat literally. In so doing, he managed to design a simple oatmeal package that needs to be broken (and rather fast) in order to be consumed.
Festina Waterproof Watches
Nowadays, companies can't only be ingenious: they have to be bold as well. So if you're selling a product that was engineered for water (as Festina claims), why not show off its water-repelling capabilities? That's precisely why the watch manufacturer decided to place its watches in water-filled bags.
Nike Air Kicks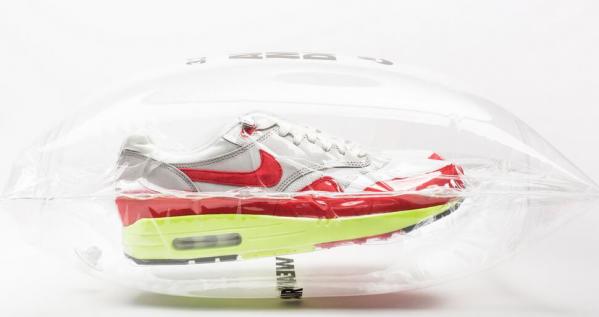 Since we're on the topic of elements and have already discussed water, let's hop on over to Nike, a company that takes pride in kicks that make you feel as if you were walking on air. So they decided to package the product accordingly. With the use of this clever design encompassing air-filled plastic bags, Nike successfully conveys the idea of light and comfortable. Shipping is also that much safer.
Interactive Vodka Bottle
A great design is also interactive and Smirnoff nailed this one with the help of J Walter Thompson, world renowned designer. He ingeniously incorporated the idea of fruit into the product's design, so that consumers are clear on what fruit flavor they are choosing.
Butterfly Tea Bags
Yena Lee is the designer responsible for this sublimely delicate packaging idea. The idea behind the concept is quite simple: great-tasting tea will always be on a consumer's shopping list, yet for special occasions, having such a neatly-packaged product will always come in handy.
Scratch: Stigma-free Ready Meal
When Phil Pinnell started Scratch, he thought about our busy schedules and lack of time. Preparing a healthy meal is, for most hard-working adults, both frustrating and difficult. That's how Scratch was born: a deliciously simple solution to a rather difficult task. Everything is cooked in under 8 minutes. Guilt free and effortlessly.
Pistachio Packaging
Function and user satisfaction are key factors when designing a ready-to-use product such as this pistachio pack. Maija Rozenfelde, the designer responsible for this sweet and inviting product, drew inspiration from the delicious pistachio nuts contained within.
Nike Football Stadium Shoe Box
We have to admit that Nike simply deserves the reputation it currently has. This soccer supporter incorporated an unmatched love of the sport when it came up with the 2007 Cannes-Lion stadium shoe box design. Granted, there was only a limited number of shoe boxes that customers could purchase, but they encompassed everything from the stadium itself to the shouting fans.
Dovely Tea
Dovely Tea is part of a line of handmade gift goods designed to be a unique and memorable. "The package is hand made, using letterpress, silkscreen and stamping techniques and then hand assembled including the origami tea bags."
Bloom Chips
Snacking is just one of those things that you simply don't kid around with. That's why Bloom Chips came up with a packaging solution that doubles as a chip bowl. The package simply fans out when the ring is removed.
Regardless of whether you are a fan of attractive packaging, one thing is clear: it's a necessary evil. So why not make things fun with a creative concept that's bound to cause joy?