Last Updated on January 24, 2022
Who Is Pat Sajak?
Patrick Leonard Sajdak, popularly known as Pat Sajak, is an American television personality and actor. On television, Sajak is best known as a long-term host of the game show Wheel of Fortune.

During his career hosting Wheel of Fortune, Pat Sajak has received 19 Daytime Emmy Award nominations under the category Outstanding Game Show Host, winning three times.

Sajak is also a former weatherman.
Quick Facts
| | |
| --- | --- |
| Full Name: | Patrick Leonard Sajdak |
| Popular Name: | Pat Sajak |
| Gender: | Male |
| Birth Date: | October 26, 1946 |
| Age: | 75 years |
| Parents: | Leonard Anthony Sajdak and Joyce Helen |
| Siblings: | David Sajdak and William Backal |
| Birth Place: | Chicago, Illinois |
| Nationality: | American |
| Ethnicity: | White and Polish |
| Education: | Farragut High School (now Farragut Career Academy), Columbia College Chicago, and Defense Information School (DINFOS) |
| Marital Status: | Married. Previously married to Sherrill Sajak (from 1979 until their divorce in 1986) |
| Sexual Orientation: | Straight |
| Wife/Spouse: | Lesly Brown Sajak |
| Children: | Patrick Michael James Sajak and Maggie Marie Sajak (all from current marriage) |
| Dating: | N/A |
| Net Worth: | USD 70 million (as of August 1, 2021) |
| Source of Wealth: | Game Show Hosting, Acting, and Other Ventures |
| Height: | 5′ 10″ (1.77 m) |
| Weight: | 80 kg; In pounds: 176 lbs. |
Early Life and Career Information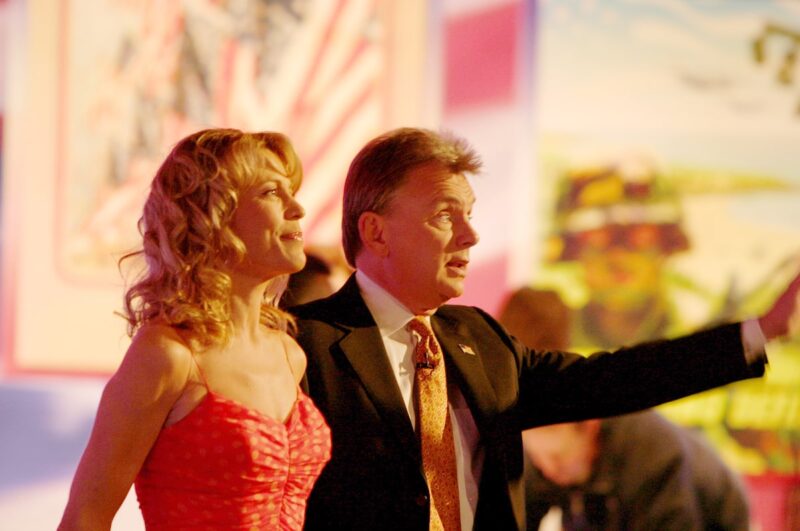 Pat Sajak was born on October 26, 1946, in Chicago, Illinois, to Leonard Anthony Sajdak and Joyce Helen. Both of his parents were factory workers. Sajak's father died when he was very young and his mother later married Walter Backal.

While in College, Pat Sajak successfully applied for a news anchor job at the local radio station, WEDC. In 1968, Sajak joined the US Army at the height of the Vietnam War. During his stint in the army, Pat served as a disc jockey for the American Forces Vietnam Network radio.

Inspired by his deejaying and news anchor jobs, Sajak developed a passionate interest in the entertainment industry. In the late 70s, he moved to Los Angeles, California, in search of a stable job in the entertainment industry. In 1977, he was offered a full-time job as a weatherman at Los Angeles-based KNBC-TV.

In 1980, Pat Sajak kicked off his game show hosting career by hosting two game show pilots, including Press Your Luck for Ralph Edwards and Puzzlers for Mark Goodson. The following year, he was offered a chance to replace Chuck Woolery as the Wheel of Fortune host by game show impresario Merv Griffin. However, the proposal didn't go down well with the then-president of NBC, Fred Silverman. Apparently, Silverman thought that Sajak was too local and hence less inspiring.

But convinced that Sajak could deliver, Merv Griffin refused to film new episode in a bid to convince Silverman to hire Sajak. After a bit of push and shove that led to the dismissal of Silverman and his position taken by Brandon Tartikoff, Sajak was eventually accepted to Wheel of Fortune. He has hosted the show ever since and his current contract runs through 2022.

In 2018, Sajak became the longest-running host in the history of game shows, surpassing the record which was previously held by Bob Barker who hosted The Price Is Right (1972 – 2007). He was feted with a Guinness World Records title on March 22, 2019 for those achievements.

Besides Wheel of Fortune, Pat Sajak has also appeared in several films and television series, including the comedy film Airline II: The Sequel (1982) and the NBC soap opera Days of Our Lives.
Pat Sajak's Net Worth
Pat Sajak's long and illustrious television career has translated into millions in his bank account. As of August 1, 2021, Sajak had a net worth of $70 million.

As you may have guessed, much of Sajak's wealth comes from hosting the game show Wheel of Fortune. He currently earns $15 million annually from the show alone. For comparison's sake, that's $5 million more than his co-host, Vanna White.

Now, the Wheel of Fortune tapes 6 shows per day on two Thursdays and two Fridays every month. So, technically, Pat only works four days per month. Which means that his $15 million annual salary is basically a 48-days' work. To break it down further, Sajak earns $312,500 per workday or $52,083 per show.

Considering that he only works four days a month, it's safe to assume that Pat Sajak pursues plenty of other income-generating opportunities in the meantime. Plus, he has definitely earned from his numerous appearances in films and other television shows.
Lessons from Pat Sajak
1. Keep trying until you find what works

After college, Pat Sajak accepted numerous jobs, including a deejay job in the US Army, before discovering his game show hosting talents.

2. Bloom where you're planted

Sajak has hosted Wheel of Fortune for over three decades now. And he has performed exceptionally well, which explains why CBS has been reluctant to let him go.

3. Speak your mind boldly

Sajak is an open conservative who is known for speaking his mind without fear or reservation. For instance, he has long been a climate change skeptic.
Famous Quotes by Pat Sajak
"I guess I can be moderately amusing at times, but the idea of standing up in front of 200 people with beers is just too frightening."
"It seems to me we have been in a rhetorical arms race in this country, with each side unwilling to lay down its weapons for fear – usually justified – the other side would beat them to a pulp."
"Sometimes you just stumble into something that works, and here I am a quarter of a century later."
"That's the trouble with trying to influence an undecided voter. First you have to find one."
"The most important political task facing the out-of-power party – the Democrats for now – is creating a villain to run against. It's certainly easier than developing some grand new ideas or policies on which to campaign."
Wrap Up
Pat Sajak is a long-term host of Wheel of Fortune and has sort of become the face of the game show. Besides hosting Wheel of Fortune, Sajak also involves himself in other ventures, including political activism as well as making cameo film and television appearances. He has racked up a $70 million net worth from his various endeavors over the years.