Last Updated on January 20, 2022
From fully equipped outdoor kitchens to quaint garden-embedded hangouts, life at home has definitely made its way outdoors. While grass and plants are always great, hardscaping adds an entirely new level of function and design to any backyard, flower garden, or lawn. Thanks to concrete pavers, the number of ways you can completely revolutionize the property beyond your four walls are limitless. 
Research says that investing 5 to 15 percent on your property's landscaping and exterior elements can recoup practically the same in home value. Therefore, what you implement into your outdoor living space for stylization or function is bound to mean a return on your investment. Let's take a look at five of the easiest ways to revolutionize your exterior with paver stones and the help of a professional paving contractor. 
1. Bring Old-World Inspo to Your Patio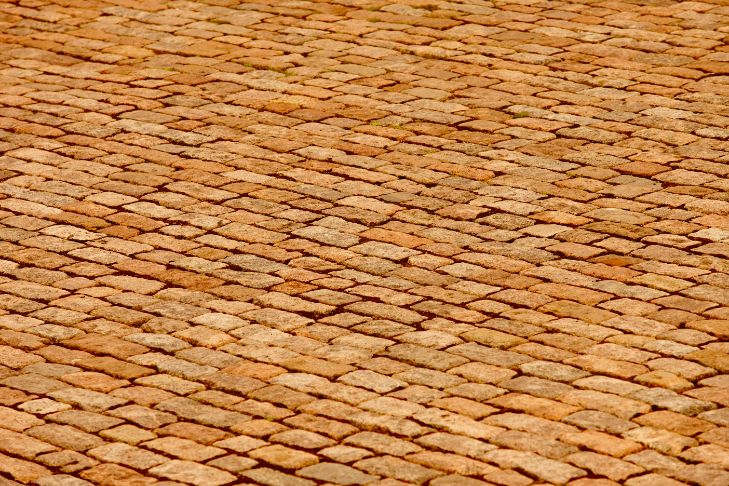 A patio can be one of the greatest investments if you love to entertain. Even more noteworthy, 84 percent of homeowners say they find being at home more enjoyable with a patio, and it will definitely help if your patio is more than a grey slab of concrete. If you have a more rustic or traditional home exterior, you can totally get away with giving your patio an Old-World feel.
The secret? Cobblestone style paving stones. These hewn stones have softened edges, often come in classic squared or rounded shapes, and usually offer a collaboration of antiquated color hues like charcoal, moss, and sand. To give the pavers an even softer appearance, many have slightly rounded tops and a lack of sharp lines. A good cobblestone example is Cambridge Cobblestone from Belgard. 
2. Create Impressive Complementary Walkways in Your Landscape
The National Association of Landscape Professionals says that contemporary or even geometric patterns are specifically trending in exterior landscaping. If you've yet to punch up your walkways or have yet to integrate walkways at all, working in a footpath created with geometric paver stones could truly bring new life to your property.
You have so many impressive directions to take thanks to the numerous geometrically shaped pavers from some of the big brands like Belgard and Angelus. For example, Symmetry paver stones from Angelus can be laid in a number of layouts, from intricate to simple, but all with clean lines and attractive geometric shapes. 
3. Inject Upscale Personality Into Your Driveway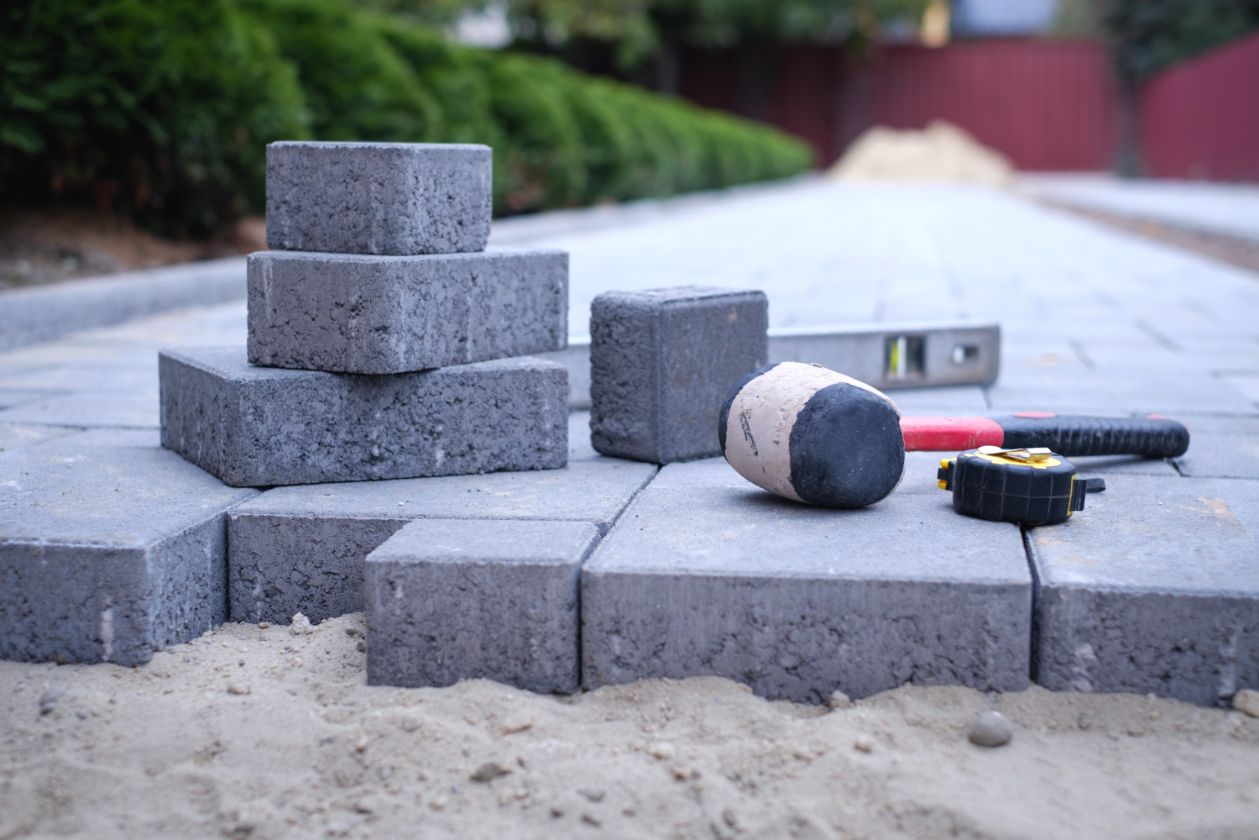 The driveway leading to your garage or circling in front of or around your home takes up a lot of visual space. If you've only managed to install gravel or pavement, you are missing out on a huge opportunity to truly highlight your property. If you take advantage of all that visual space and deck it out with upscale paver stones, you can give your entire home and property a new personality. Simply take a look at some before and after photos from Titan Pavers in Los Angeles for just how much of a difference the right paver stones, in the precise layout, can make.
A bland and boring driveway can be completely transformed into an upscale surface. If you are all about luxury level design, you may want to consider something like Catalina Grana pavers, which have this straightforward, interlocking pattern, smooth surfaces, and completely high-end personality about them. You could also opt for a permeable paver option to help deter problems with water puddles or runoff because they allow water to slip through and into the ground. 
4. Beautify Your Backyard Oasis with Style and Function
What once used to be a property implement for only the wealthy has quickly evolved into an almost necessity for homeowners in some parts of the country—swimming pools. If you have a pool in your backyard, your backyard oasis is never quite complete without the right hardscaping features to surround it. Paver stones give you a plethora of options to beautify your pool area, whether you want a zen-like design or something uber-luxury in appeal.
Randomized or more natural patterns can be especially attractive around some pools. For example, if you have a pool surrounded by lush landscaping and natural beauty, you may want to stick with paver stones that blend right into the scenery with rough-textured surfaces and more natural patterns. Nevertheless, if you prefer a flashier pool area with upscale vibes, you could definitely opt for a more formal stone to achieve that look. 
5. Enhance an Outdoor Kitchen with Designer Attributes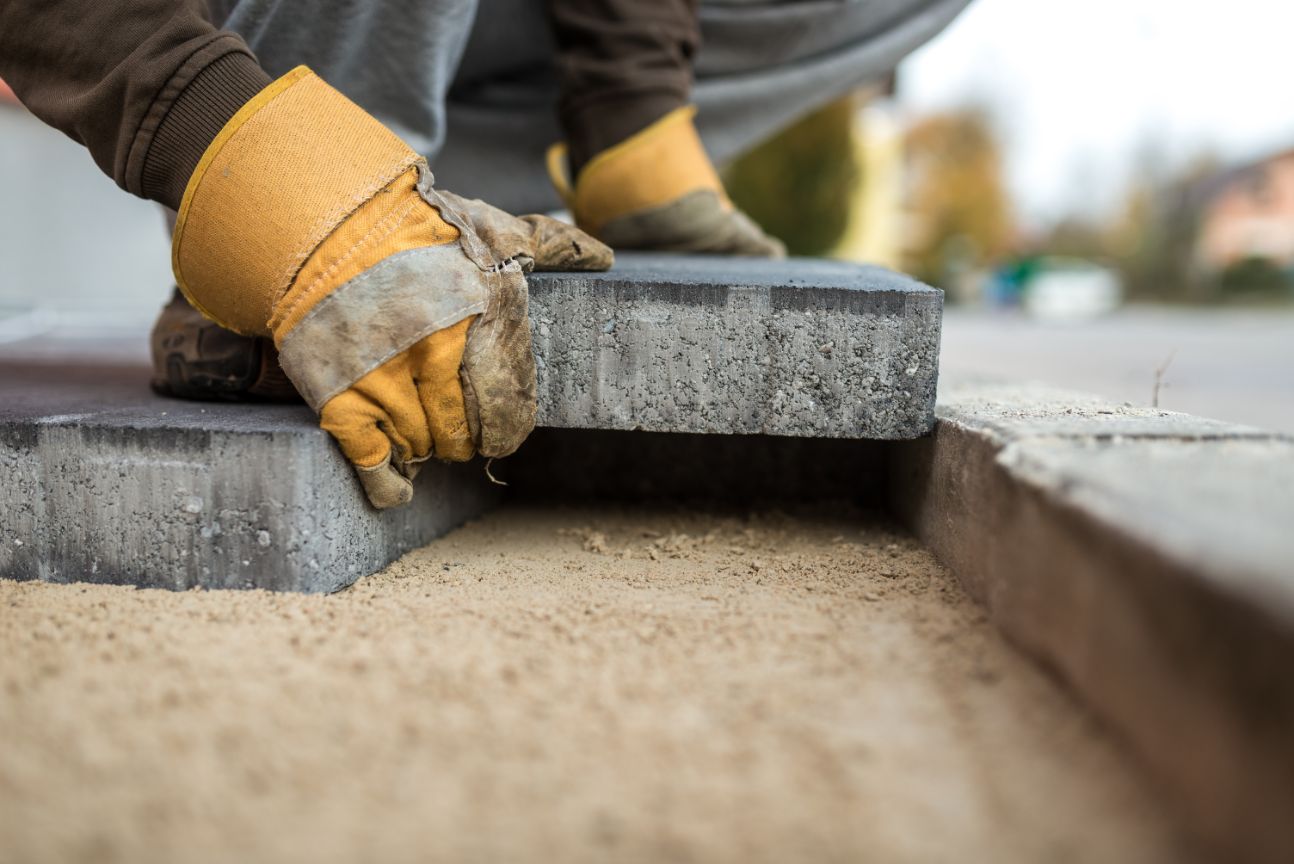 Outdoor kitchens are a step above outdoor patios with a barbecue grill parked to the side. These impressive outdoor living spaces can offer everything a cook would need to do full meal prep right out in the open air. From dining areas and bars to cooktops and brick ovens, all those implements in your outdoor kitchen deserve a worthy platform to tie together the space. Outfitting the floor with the right paver stones can do just that. 
One of the biggest design trends in outdoor kitchens is implementing plank-style paver stones. These long, rectangular slabs mimic the patterns that are often found on the floor in the in-house kitchen that may be outfitted with luxury vinyl plank or otherwise. Timberline paving stones are a good example. If the outdoor and indoor flooring have similar attributes, the transition from one space to the next can feel much more seamless. 
Final Thoughts on Reinventing Your Outdoor Space with Paver Stones 
Whether you live in a Tudor-style home, a humble cobblestone cottage, or a red-brick mansion, you can find paver stones that will complement the exterior design of your home. Not only do implemented hardscape features add monetary value, but they also add functionality and usage value. With the help of the best paving contractor, you can take a dull and possibly dysfunctional part of your home's exterior and make it something you and every passerby can truly appreciate.