Last Updated on January 25, 2022
Who Is Peyton Manning?
Peyton Williams Manning is a former American football player who played as a quarterback for two National Football League (NFL's) clubs – the Indianapolis Colts and the Denver Broncos.

Manning played 14 of his 18 seasons as a professional football player for the Indianapolis Colts before winding up his career at the Denver Broncos.
Quick Facts
| | |
| --- | --- |
| Full Name: | Peyton Williams Manning |
| Popular Name: | Peyton Manning |
| Gender: | Male |
| Birth Date: | March 24, 1976 |
| Age: | 45 years |
| Parents: | Archie Manning and Olivia Williams Manning |
| Siblings: | Eli Manning and Cooper Manning |
| Birth Place: | New Orleans, Louisiana |
| Nationality: | American |
| Ethnicity: | English, Scottish, German, Swiss-German, and French |
| Education: | Isidore Newman School and The University of Tennessee |
| Marital Status: | Married  |
| Sexual Orientation: | Straight |
| Wife/Spouse: | Ashley Manning  |
| Children: | Marshall Williams Manning and Mosley Thompson Manning |
| Dating: | N/A |
| Net Worth: | USD 250 million (as of July 1, 2021) |
| Source of Wealth: | American Football Salary, Endorsement Deals, and Other Ventures |
| Height: | 6′ 5″ (1.96 m) |
| Weight: | 104 kg; In pounds: 230 lbs. |
Early Life and Career Information
Peyton Manning was born on March 24, 1976, in New Orleans, Louisiana, to Archie Manning and Olivia Williams Manning. His father is a former NFL quarterback.

Manning attended Isidore Newman School, where he began playing football seriously. During his high school years, Peyton earned two prestigious awards – the Gatorade Circle of Champions National Player-of-the-Year Award and Columbus (Ohio) Touchdown Club National Offensive Player-of-the-Year Award. He was considered one of the most sought-after high school football players of his time, attracting the interest of up to 60 colleges.

After high school, Peyton Manning joined and played college football for the University of Tennessee. During his senior season, he led the Tennessee Volunteers to the 1997 SEC Championship Game.

In 1998, Peyton Manning was selected by the Indianapolis Colts in the 1998 NFL Draft, emerging the first overall pick. He played for the Colts from 1998 to 2010, inspiring the club to a record 8 division championships, 2 AFC championships, and 1 Super Bowl title in Super Bowl XLI.

Following a neck surgery, Manning did not play any game in the entire 2011 season. He was eventually released by the Indianapolis Colts and went on to sign with the Denver Broncos. On March 7, 2016, Manning announced his retirement from professional football.

Peyton Manning received numerous awards and recognitions over the course of his football career, including:

• Super Bowl Most Valuable Player Award (XLI)
• 2 Super Bowl champion (XLI, 50)
• 2 NFL Offensive Player of the Year Awards (2004 and 2013)
• 5 NFL Most Valuable Player Awards (2003 -2004, 2008 -2009, and 2013)
• 7 First-team All-Pro Awards (2003–2005, 2008 – 2009, and 2012 – 2013)
• 14 Pro Bowl (1999 – 2000, 2002–2010, and 2012–2014)
Peyton Manning's Net Worth
As of July 1, 2021, Peyton Manning had a net worth of $250 million. The vast majority of Manning's wealth comes from his 18-year-long career as an American football player.

At the peak of his football career, Manning was one of the highest-paid players, earning up to $18 million per season in football salary, and over $40 million from his various endeavors. By the time he hung his boots, Peyton had earned $248, 732,000 in total football salary alone.

In addition to football salary, Peyton Manning also earned his millions from endorsement deals. He has appeared in television commercials for renowned brands like Papa Johns, DirecTV, and Buick. Other notable brands that Peyton has endorsed include ESPN, Sony, Reebok, Master Card, Spring, and Gatorade. The legendary football quarterback reportedly earns between $10 and $25 million annually from endorsement deals even in retirement.

Besides football salary and endorsement earnings, the following are other ventures that Peyton Manning has undertaken over the years, which also contributed to his current net worth:

i. Television hosting and film acting

On March 24, 2007, Peyton manning hosted NBC's Saturday Night Live. He made multiple subsequent appearances on the show in 2008 and 2015.

On July 12, 2017, Manning hosted the 2017 ESPY Awards. Manning's television endeavors also include guest-voicing on a 2009 episode of The Simpsons.

In the film industry, Manning is best known for lending his voice to the 2017 movie, Ferdinand.

ii. Writing

In 2000, Manning partnered with his father to co-author a book titled Manning: A Father, His Sons, and Football Legacy.

iii. Restaurant business

Peyton owns at least 20 Papa John's pizza franchises in Colorado.
Lessons from Peyton Manning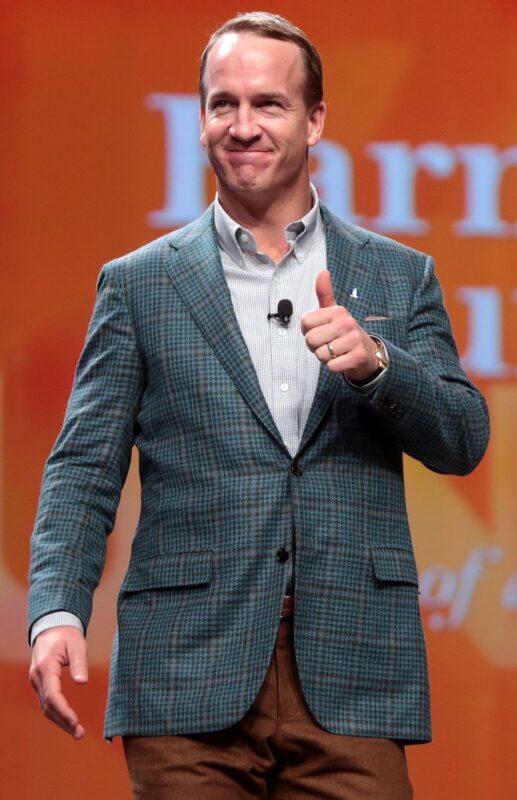 1. Talent will get you to the top, but it takes consistency and resilience to stay there

Peyton Manning is famous for his sheer determination and unwavering resilience even in the face of imminent defeat. And thanks to his consistency, Manning is one of the few footballers to have spent over ten seasons in one franchise.

2. Leave your mark wherever you go

In addition to the numerous awards and recognition he earned for his amazing football talents, Manning was also considered one of NFL's most influential figures. In October 2017, the Denver Broncos unveiled a bronze statue of Peyton outside the Lucas Oil Stadium. The move saw Manning join the short list of football legends ever to have been immortalized in a statue.

3. Use your achievements and privileges to uplift others

Shortly after kicking off his professional football career, Peyton Manning established his own charity known as the Peyback Foundation. The foundation seeks to address the plight of disadvantaged children in Tennessee, Indiana, and Louisiana.
Famous Quotes by Peyton Manning
"If you work hard and you play well, all those critics quiet themselves pretty quickly."
"It takes 20 years to build a reputation and five minutes to ruin it."
"It's not wanting to win that makes you a winner; it's refusing to fail."
"Pressure is something you feel when you don't know what the hell you're doing."
"The most valuable player is the one that makes the most players valuable."
Wrap Up
Peyton Manning is considered one of the greatest American football quarterbacks of all time. But he didn't earn that feat overnight. Instead, it took him several years of hard work and determination. Thanks to football as well as his other off-field endeavors, Manning currently boasts a $250 million net worth.