Last Updated on March 8, 2022
Who Is Phil Mickelson?
Philip Alfred Mickelson is an American professional golfer who's one of the only 12 golfers in the history of the sport to have won three of the four majors. Mickelson has won every major apart from the U.S Open, where he finished runner-up six times.

Collectively, Philip Mickelson has won 44 golf events on the PGA Tour, including, 1 PGA Championship (2005), 1 Open Championship (2013), 3 Masters Titles (2004, 2006, and 2010), and 5 major championships. He is also credited for being a life member of the PGA Tour, in addition to achieving a career-high world ranking of #2 multiple times.

Other notable achievements by Michelson include featuring among the top 50 of the Official World Golf Ranking for a record 25 consecutive years and spending more than 700 weeks among the world's top 10 male golfers.
Quick Facts
| | |
| --- | --- |
| Full Name: | Philip Alfred Mickelson |
| Popular Name: | Phil Mickelson |
| Gender: | Male |
| Birth Date: | June 16, 1970 |
| Age: | 51 years |
| Parents: | Philip Mickelson and Mary Santos Mickelson |
| Siblings: | Tim Mickelson and Tina Mickelson |
| Birth Place: | San Diego, California |
| Nationality: | American |
| Ethnicity: | Portuguese, Swedish, Finnish, and Sicilian |
| Education: | Cathedral Catholic High School, University of San Diego High School, and Arizona State University |
| Marital Status: | Married  |
| Sexual Orientation: | Straight |
| Wife/Spouse: | Amy McBride Mickelson |
| Children: | Amanda Brynn, Evan Samuel, and Sophia Isabel |
| Dating: | N/A |
| Net Worth: | USD 400 million (as of March 1, 2021) |
| Source of Wealth: | Earnings from Golf Winnings and Touring, Endorsement Deals, Writing, and Other Ventures |
| Height: | 6′ 3″ (1.91 m) |
| Weight: | 91 kg; In pounds: 200 lbs. |
Early Life and Career Information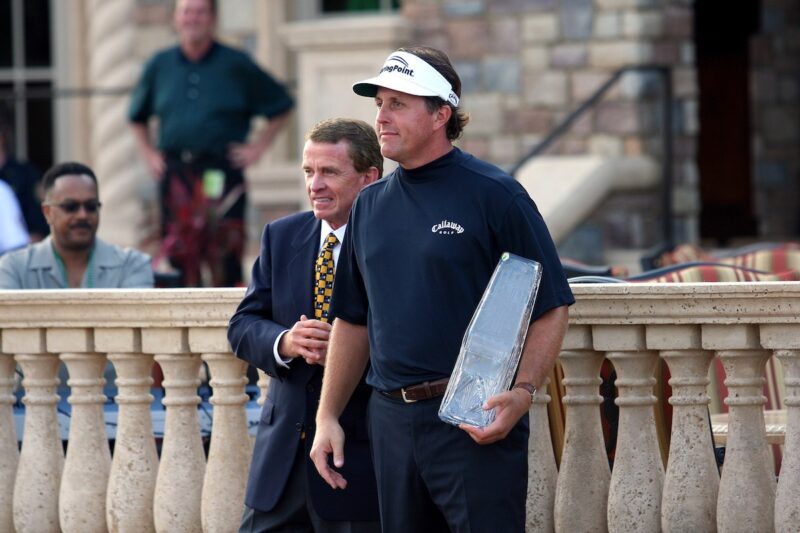 Phil Mickelson was born on June 16, 1970, in San Diego, California, to Philip Mickelson and Mary Santos Mickelson. His father was a naval aviator who later became an airline pilot and part-time golfer.

Mickelson started playing golf way before starting school. During this time, he mostly played under his father's tutelage. As he watched his right-handed father swing, Michelson would mirror his style using his left hand. He was eventually able to play golf using his left hand, thereby earning the nickname 'Lefty.'

After graduating from the University of San Diego High School in 1988, Phil Michelson proceeded to Arizona State University on a full golf scholarship. Mickelson continued playing golf while pursuing his studies, and was considered one of the most promising golfers during his collegiate years. He won 3 NCAA individual championships as well as 3 Haskins Awards (1990 – 1992).

By the time he left college, Michelson had won a record 16 tournaments and became the second collegiate player in the history of golf to earn first-team All-American honors for 4 consecutive years. He finally graduated from Arizona State University in 1992.

After graduating from college, Phil Michelson immediately turned professional. He participated in several golf tournaments over the years, winning quite a few and breaking multiple records.

In 2004, Phil Mickelson won his first major championship during his 13th year on the PGA Tour. Over the next couple of years, Mickelson became one of the household names in the global golf fraternity.

In 2019, Mickelson became the oldest golfer ever to have won the AT&T Pebble Beach Pro-Am. He was 48 years old at the time.

Michelson's most recent major golfing event was the Saudi International Golf Tournament held in February 2020, where he tied for third position.
Phil Mickelson's Net Worth
Phil Michelson has enjoyed a highly successful career on the golf course, and his efforts have translated into millions in his bank accounts. As of March 1, 2021, Michelson had a net worth of $400 million.

According to conservative estimates, Phil Michelson has earned north of $800 million from his career in professional golf. At the peak of his career, Michelson would comfortably earn between $80 million and $100 million annually. More recently, his annual earnings stagger between $40 million and $50 million.

Interestingly, a significant portion of Phil Michelson's wealth doesn't actually come from golf winnings and touring, but endorsements. In a typical year where Michelson earns $50 million, only $10 million of that amount comes from winnings, touring, and bonuses. The remaining $40 million usually comes from endorsements. Some of the notable brands that Michelson has endorsed include Amgen, Callaway, Enbrel, ExxonMobil, Ford, Grayhawk, Intrepid Financial Partners, KPMG, Rolex, and Titleist.

Phil Michelson has also invested heavily in real estate. In 1999, Michelson and his wife Amy acquired a home in La Jolla, California, for $1.65 million. The couple sold the property in 2012 for $2.745 million. In January 2020, Michelson purchased an undeveloped lot in Jupiter, Florida. Although the purchase amount is unknown, the property's value is estimated to be reasonably high, considering that the same neighborhood will host golfer Tiger Woods and retired basketball player Michael Jordan.

In addition to his personal property, Phil Michelson also co-owns several golf courses in Arizona. The investors offer private memberships for these courses for an annual fee.
Lessons from Phil Mickelson
1. Patience is a virtue

Phil Michelson turned professional immediately after graduating from college in 1992. But it was not until 2004 that he got his first major win. Not many golfers would wait that long before giving up on their dreams.

2. True success in sports doesn't only consist in winning

Although winning a game is sweet, it's sweeter when you know you treated everyone with respect, particularly your opponents. Michelson once said, 'I try to respect everybody out here: players, caddies, fans, media.'

3. A fighting spirit will get you places

Like many sportsmen and women, Phil Michelson's golfing career has been plagued by a number of setbacks, mostly in the form of injuries. However, Michelson has been remarkable in coming back from seemingly insurmountable obstacles.
Famous Quotes by Phil Michelson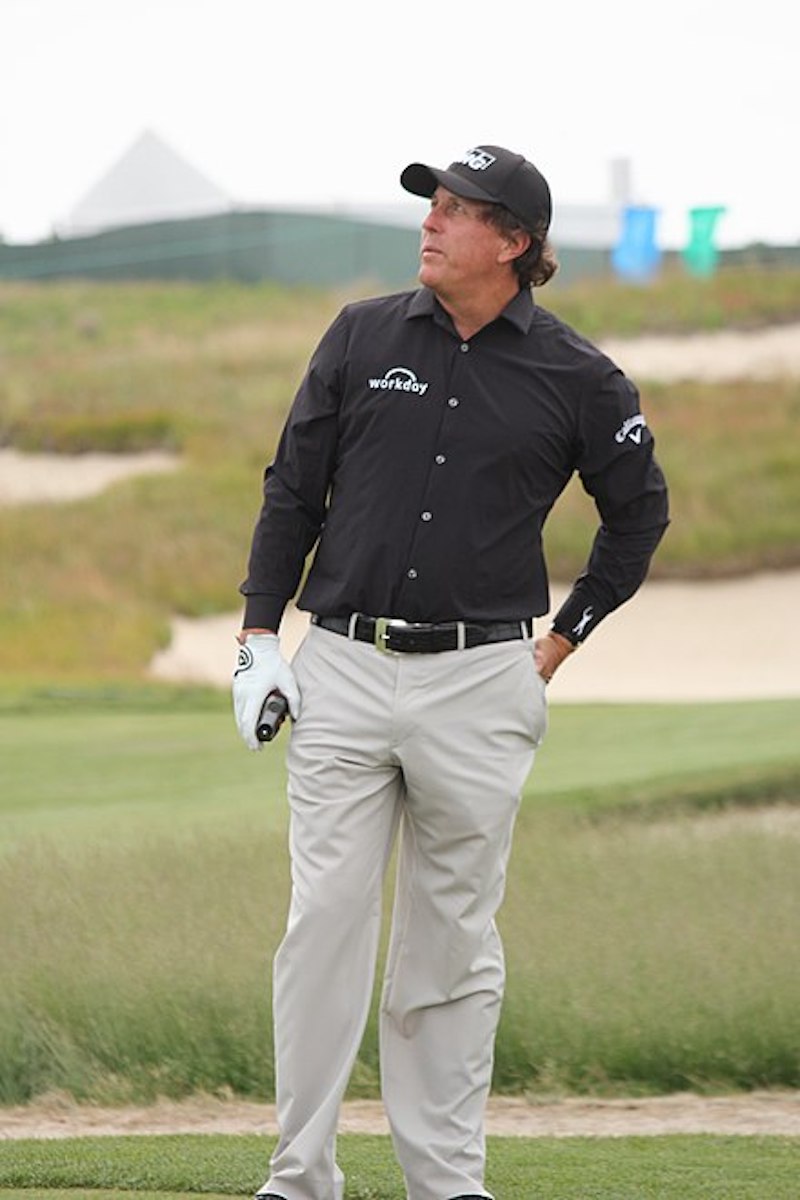 "A great shot is when you pull it off. A smart shot is when you don't have the guts to try it."
"I think a college education is important no matter what you do in life."
"My family has reduced the effect of my career on my self-esteem. When I'm with them, they make me feel special regardless of how I play."
"The more you study the course, the more you appreciate what a great test it is."
"The object of golf is not just to win. It is to play like a gentleman, and win."
Final Word
Philip Michelson has undoubtedly earned himself a place among the best golfers of all time. And going by his recent form, it's safe to conclude that Michelson is not about to bow out of the golf course. The legendary golfer has earned more than $800 million throughout his professional career and currently has a net worth of $400 million.