Adobe Photoshop is a household name as far as photo editing is concerned. Photoshop comes with millions of features, is compatible with numerous operating systems, and is a highly reliable photo editor. But it has its fair share of drawbacks. Most notably, the subscription fee.
Thankfully, there are plenty of Adobe Photoshop alternatives that get the work done just as efficiently and come with relative affordability as a bonus feature.
The following is a rundown of the eight most recommended photo editing software alternatives to Photoshop.
Procreate is a powerful sketching, painting, and illustration alternative to Adobe Photoshop that's compatible with iOS 12.0 or better. The software boasts a user-friendly layout and a cocktail of photo editing features, including true-to-life pencils, advanced layer composition, inks and brushes, and unique digital tools.
Procreate also comes with extra palm support, which takes away the worries of drawing over your canvas accidentally. The software maintains an ever-growing library of brushes that allow users to further personalize their photos.
On the Procreate website is a free handbook that gives you a glimpse of the amazing features and tools that the app offers. And the best part is that you only have to pay $9.99 worth of download fee, then you can enjoy lifetime access to Procreate's incredible offers.
Rebelle by Escape Motion may be a bit more expensive than Procreate, but there's a lot to enjoy by paying the $89.99 regular cost. You can even opt for a free trial and determine the suitability of the app for your needs before committing to it full-time.
In terms of image editing, the first feature that you'll love about this software is its true-to-life painting experience, thanks to the use of authentic watercolors and acrylics. To add a more realistic touch to your photo editing, Rebelle mimics how paint behaves in the real world. You can simulate drops of color getting blown in different directions. And while you're at it, you also get to determine the blow length as well as drip size and even the amount of water to use with the paints.
Rebelle's Tilt option allows users to choose the direction they'd like their colors to run. The tool is compatible with Windows 7, 8, and 10, as well as OS X 10.11 or better.
The only drawback with Rebelle is its fewer number of brush presets compared to other Photoshop alternatives.
3. PhotoWorks
PhotoWorks is a powerful photo editor for PC that combines a versatile toolkit with a user-friendly interface. It doesn't matter if you are not skilled at image editing, once you start the software, you will feel like a duck to water. In comparison with Photoshop or Lightroom, this program is pretty cheap and doesn't require a high-end computer. There is a free trial version for you to check out.
PhotoWorks has a unique engine powered with AI, so you can enhance your images literally in just a click. Apply auto correction, improve color balance, get rid of various distortions, erase unwanted objects, change image background, etc. – all of that without reading tons of manuals.
If you are into portrait editing, this photography software for PC can quickly become your working horse. Use Portrait Magic to smooth skin, remove spots and whiten teeth. The Face Sculpt feature allows you to tweak face features: narrow down the jaw, make the eyes larger or lips plumper. There are some other features that pro-level users will definitely take advantage of, for example, working with RAW files, applying 3D LUT presets, using Tone Mapping, tweaking Curves and others. 
With this photo editing software, you can add an icing to your cake and enhance your images with 100+ one-click effects, cool stickers and stylish captions. The only drawback – there is no batch processing.
ArtRage comes with numerous realistic digital painting tools, including pencils, canvas textures, and watercolor. But what distinguishes ArtRage's media painting tools is the ease with which you can customize them.
The app is also designed with an intuitive and minimalistic interface that disappears as soon as you start your painting work and reappears when you're done. That eliminates distractions, allowing you to focus on the artwork project at hand. The software's interface is also so designed that the tools you don't use frequently are hidden in pods, ensuring that only the popularly-used tools remain visible.
ArtRage supports OS X 10.8 or newer, as well as Windows 7, 8, 10, and Vista. One notable drawback with this software is its workflow issues that occur when you're resizing a brush.
Photopea doesn't just resemble Photoshop in design and functionality, but in the user experience as well. If you're already acquainted with Adobe Photoshop, you'll have an incredibly easy time using Photopea. That's because most of the standard image editing tools are similar between the two apps.
Photopea may not come with some of the high-end features you'll find in Adobe Photoshop, such as content-aware fill. But it still packs various image editing tools that the average artist and designer can use. And all that comes free of charge. The software supports layers, layer masks, and allows users to blend modes. It also offers numerous selection tools, ranging from standard masques to a magnetic lasso.
Photopea supports various file formats, including .PNG, .JPG, and .RAW. You can even import PSD files directly from other image editing tools like Photoshop, GIMP, and Sketch.
This web-based Photoshop alternative comes with both freemium and premium plans. One major con with Photopea is that the free version features lots of invasive ads.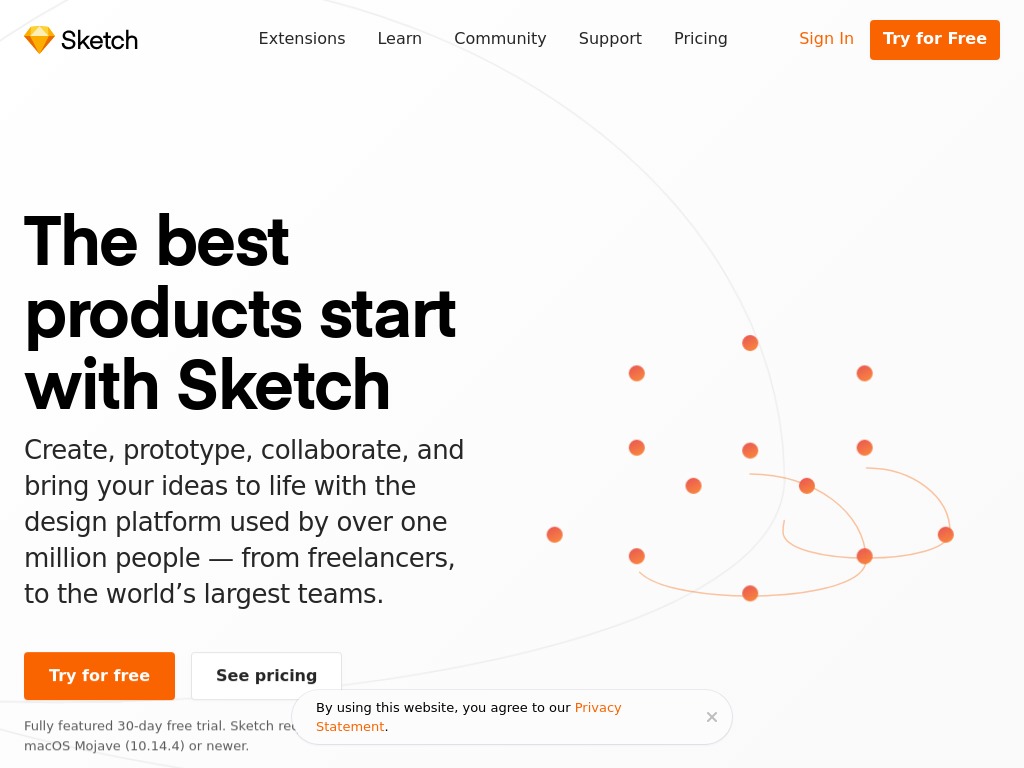 Just like Photopea, Sketch also comes with several photo editing tools that you'll find in Photoshop. Of course, at a competitive price of $99/year. There's even an option of trying Sketch for free, for those who'd like to have a feel of the software before throwing their full weight behind it.
Sketch supports infinite vector shapes and zooming, making it the ultimate go-to Photoshop alternative for artists working with projects that require multiple resolutions. Users have the option of developing their graphics from primitive shapes or building their projects from scratch using the Pencil or Vector tools.
Another noteworthy feature of Sketch is that it includes four major sub-categories, namely PIP Camera, Photo Scrapbook, Photo Collage, and Photo Effect. With these sub-categories, you can apply unlimited effects to your photo without necessarily having to install several different applications.
Sketch also boasts a simple user interface that includes layers, gradients, style presets, and color pickers. And there are numerous community-created Sketch plugins that you can take advantage of.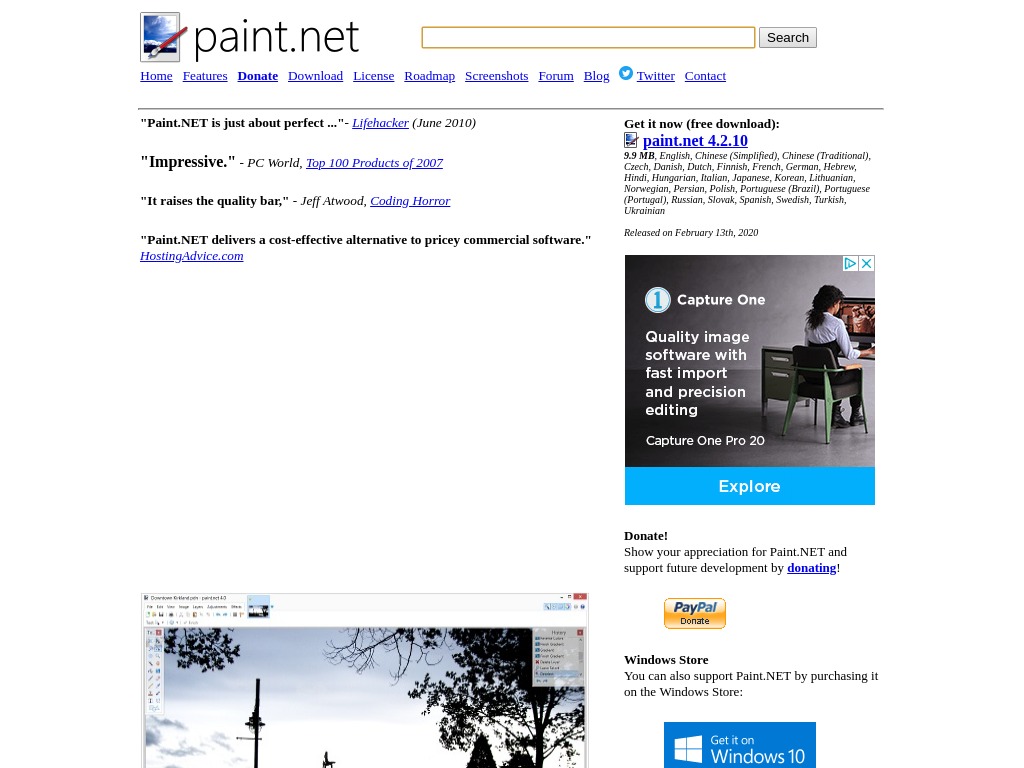 Paint.NET was designed as a more affordable and user-friendly replacement for Windows' Microsoft Paint software. The tool implements a tabbed document interface where a single window comes with multiple panels, allowing you to move across the panels using tabs. And to make the tabbed documents ease to navigate, the tabs are displayed using a tiny thumbnail image as opposed to a text description.
Another strong selling point of Paint.NET is its remarkable editing speed. Other notable features include a 3D rotate-zoom function that you use to recomposition your images, and a history tool to quickly undo an action. The software supports rulers, gradients, drawings, as well as multiple layers with blending modes. And in terms of file formats supported, you can upload your work to Paint.NET using .PDN, .BMP, .JPG, .PNG, .GIF, .TGA, .TIFF, and .DDS.
A notable drawback with Paint.NET is that it only works with Windows Operating system.
Affinity Photo is compatible with both Mac, Windows, and iPad. Besides allowing you to import your files in various standard file formats, Affinity Photo also supports file uploads from other image editing software, such as Photoshop. It boasts several photo editing features that you'll find in Photoshop, including adjustment layers, color managements, masks, a healing brush, CMYK & RGB editing, lens correction, and dynamic paint brushes.
Affinity Photo comes with a RAW processor that's integrated into the workspace, allowing you to work on a RAW image on one tab as you simultaneously work on a PSD or JPEG in another tab. The software also prides itself on its higher editing speeds, fewer system crashes, and plenty of undo functions.
In terms of affordability, you only pay a one-off fee and enjoy Affinity Photo's image editing features for a lifetime – no monthly subscription.
However, Affinity Photo is not recommended for novices.
GIMP is an acronym for GNU Image Manipulation Program. As a Photoshop alternative, you can use GIMP either as your basic paint program or as an expert photo retouching software. GIMP serves various other roles, including working as an online batch-processing system as well as an image format converter. With this image editor, there's no limit to how far you can go in manipulating your photos.
Another thing to love about GIMP is its wider compatibility. The app supports Windows as well as macOS and Linux. Still on compatibility, GIMP supports numerous file formats, ranging from .PNG to .GIF, .JPEG, .TIFF, and even .PSD.
Like any innovative photo editor tool, GIMP comes with plenty of paint features, including brush, pencil, clone, and airbrush. You also get access to transformation tools like rotate, shear, scale, and flip, as well as color correction and a vast array of plugins. Editing tools, such as layers, curves, levels, and masks make GIMP all the more desirable as a Photoshop alternative.
Remember…
None of the photo editing tool that we've reviewed here rivals Adobe Photoshop in terms of ease of use and range of functionalities. However, they're a more affordable option for artists and designers dealing with small, day-to-day editing tasks.