Last Updated on January 24, 2023
People snap lots of portraits nowadays – including selfies, headshots, and group portraits. Not all turn out perfect when they are snapped however, and often the lighting may be off, the photo may look blurry, the colors may be dull, or it may have other issues.
To fix these issues and come up with portraits that look amazing you need an editor that is up to the task. Preferably it should be one that is designed to understand human features and provide you with numerous options to improve your portraits.
That, in a nutshell, is exactly what PhotoWorks can do. It is known for being a powerful photo editor, and it has numerous special features that make it an excellent editor for portraits.
Automatically enhance the lighting and colors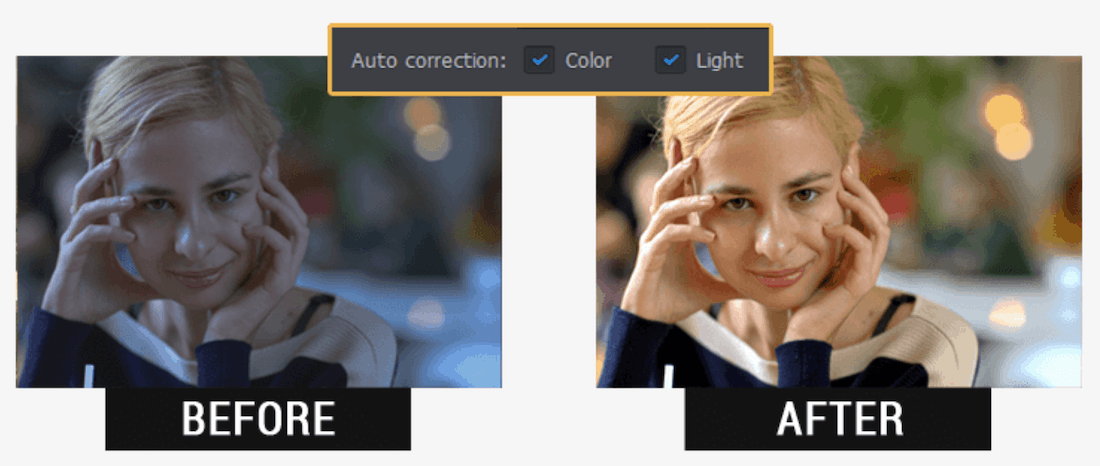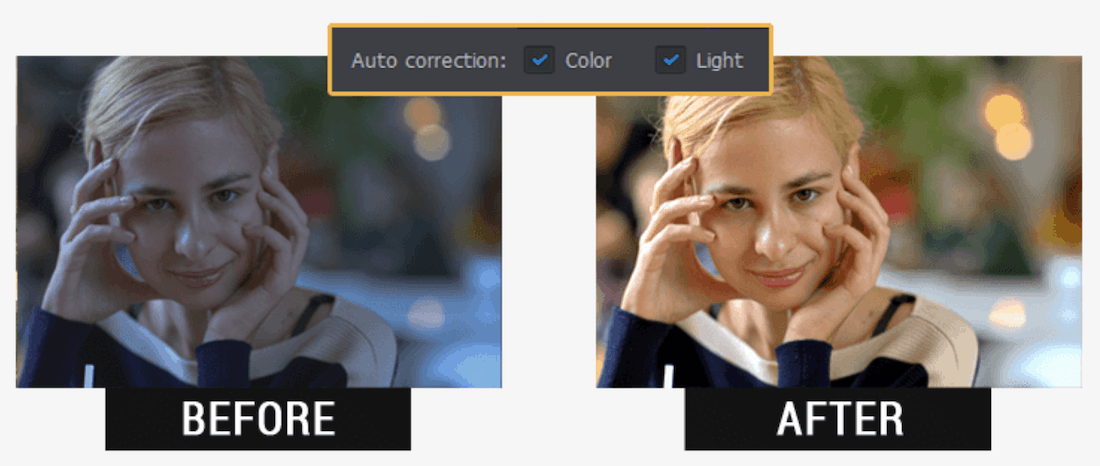 One of the easiest ways to fix overexposed or underexposed portraits or any issues with the color balance is with PhotoWorks' automated enhancement module in the main section of the Enhancement tab.
Beside the 'Auto correction' option you can select either Light or Color depending on whether you want to balance the lighting or the colors in your photos.
The histogram located near the auto enhancement module will let you see how the tones are distributed in the photo and help you to decide what adjustments are necessary. After you automatically enhance the photo you can fine tune it further by tweaking the manual settings.
Quickly retouch photos with a single click
The Portrait Magic tool is another important feature that makes PhotoWorks' a great portrait editor. It is a smart tool that is designed specifically to recognize faces and provide a wide range of touch up tools.
In group shots it is possible to even select the face that you want to edit so that you can individually edit each one in different ways.
All it takes to apply any of the tools in Portrait Magic is a single click – making it truly an easy way to improve portraits. With its tools you will be able to:
Smooth skin

and hide wrinkles while preserving a natural look.

Reduce glare

and face shine due to oily skin or reflected light.

Sharpen eyes

to accentuate them and make them look more vibrant.

Apply digital lipstick

to give your lips a different tint.

Adjust the skin tone

to give yourself a slight tan.
Together these tools will let you dramatically alter your portraits with touch ups that look polished and professional.
Experiment with new hair colors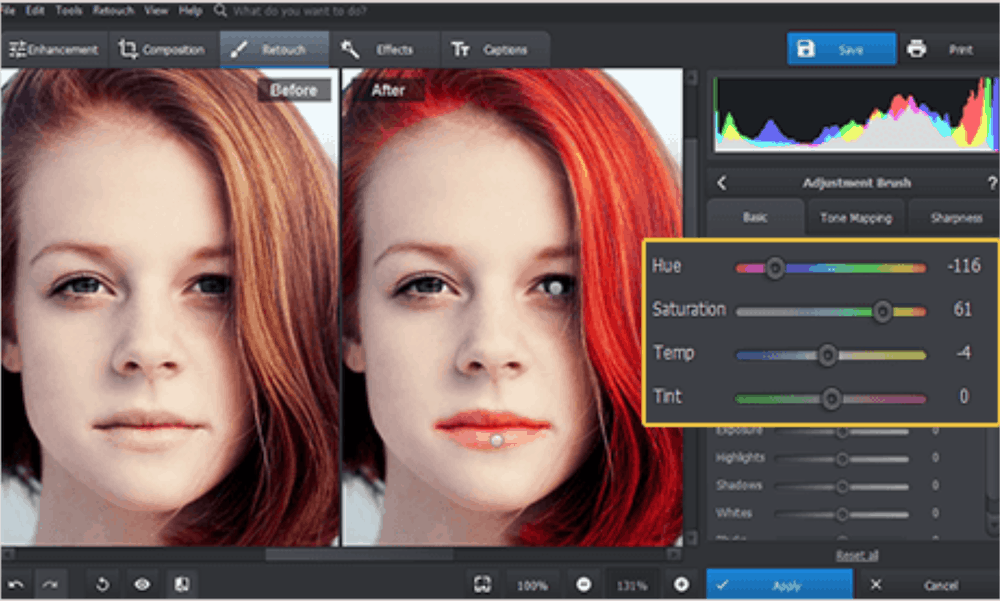 Have you ever wanted to see what your hair would look like if you dyed it a different color? In PhotoWorks you'll have the tools that you need to experiment with new hair colors in your portraits.
All that you need to do to change hair color in your photo is use the Adjustment Brush in the Retouch tab to paint over the hair in your photos. Once you do you can open up the Tone Mapping section and select the color that you want your hair to be.
To make your hair look more natural you can try out different blend options and see which fits best. By the time you're done you could've gone from a light blonde to a raven brunette, or even given yourself purple or pink-colored highlights.
Hide imperfections using a smart brush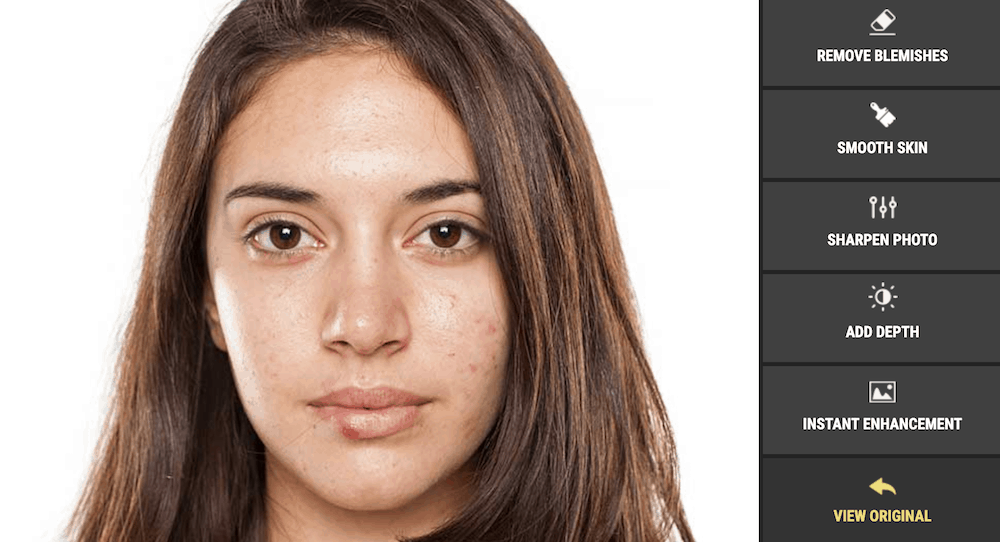 As effective as the automated and smart tools in PhotoWorks are, in some cases more precise touch ups will be required. For that you can use the Healing Brush – a smart brush that will let you quickly touch up and hide imperfections in a specific area.
Just like all the other tools in PhotoWorks, the Healing Brush is designed to be easy to use. All you need to do is adjust its size and paint over the scar, wrinkle, mole or other skin imperfection that you want to hide – and it will disappear.
If you feel that you look a bit bleary-eyed in some portraits you can even use the Healing Brush to make the bags under your eyes vanish.
Comprehensive features to edit portraits
While the features listed above are a big part of the reason why PhotoWorks is an excellent portrait editor – they are really just the start. Its comprehensive features will provide you with many other ways that you can edit your portraits, such as to:
Improve the frame and composition

by cropping your portrait using helpful composition grid overlays as a guide.

Apply digital makeup

in any tint that you like by using the Adjustment Brush to select the area you want to beautify.

Get rid of red eye

in portraits that had the camera flash too close to the subject.

Fix blurry photos

and restore detail

in shots that may be a bit indistinct.

Apply creative blur

or bokeh effects to make the background look unique and draw attention to the subject.

Transform the style of your photo

using the many different creative filters that are available.
All in all the only real limit when you edit portraits in PhotoWorks is how far your imagination and creativity can stretch.
"So why should I use PhotoWorks?"
By this point you should have a fairly solid idea of what PhotoWorks can do and the many ways that you can use it to edit your portraits.
More importantly you should also be able to see how easy it is to use due to its intuitively designed, smart, and automated features.
The simple fact of the matter is that you should use PhotoWorks because it will let you effectively edit your portraits in any way you see fit – without having to go through a steep learning curve. All it will require is a few minutes for you to familiarize yourself with its interface and features, and you'll be good to go.
Don't just take our word for it though – try out PhotoWorks for yourself and put it through its paces to see firsthand what it can do and how simple it makes it to edit your portraits.