Last Updated on January 24, 2023
Pizza is widely considered a comfort food. That's due to its often-high levels of fats, calories, and carbohydrates.
Nonetheless, pizza is one of the yummiest foods ever. Its delectable taste will surely have you licking your fingers and dying for a second treat. The fact that pizza comes in a variety of toppings (pepperoni, mushrooms, peppers, chicken, onions, etc.) makes it all the more delicious.
But just how much do you know about pizza?
Well, I guess not so much, besides of course being the most scrumptious food you can ever treat your taste buds to. That's why I've prepared a collection of 100+ amazing pizza facts.
Go through the below collection and hopefully, you'll find a fact or two to make you fall in love with your pizzeria once again.
1. 14-inch pizzas are the most popular size in the United States.
2. 93% of Americans order a pizza at least once a month
3. A single cheese pizza slice contains around 272 calories.
4. A typical daily pizza serving accounts for more than half of the lycopene in your diet.
5. About 350 slices of pizza are consumed every second in the US.
6. Alaska-based restaurant Airport Pizza uses planes for pizza delivery.
7. Almost 20% of restaurants in the United States are pizza restaurants.
8. Americans eat about 100 acres of pizza each day.
9. Anchovies are the least favorite pizza topping in America.
10. Blotting a slice of pizza before eating it could reduce its calorie content.
11. British pizzeria Crazy Pedro's made a Cadbury Creme Egg Pizza.
12. Brooklyn-based Vinnie's Pizzeria made a pizza box out of real pizza.
13. Common pizza toppings in Japan include squid and mayo.
14. Currently, there are 245, 244 pizza restaurants in the world.
15. Dan Janssen from Maryland, US, stuck to a pizza diet for more than 25 years.
16. Death row inmate Philip Workman requested vegetarian pizzas as his final meal.
17. Deep-fried pizza is a common choice in Scotland.
18. Domino's founder Tom Monaghan has a degree in pizza-ology.
19. Domino's is the largest pizza chain in the world.
20. For children, 44% of pizza consumption occurred at lunch.
21. Frozen pizzas originally tasted like cardboard.
22. Halloween night is the most popular night for ordering pizza.
23. 'Happy Pizza' in Cambodia is cooked with marijuana.
24. Hawaiian Pizza traces its roots not from Hawaii, but Canada.
25. In 1993, Domino's '30 Minutes or Less' slogan was subject to a series of lawsuits.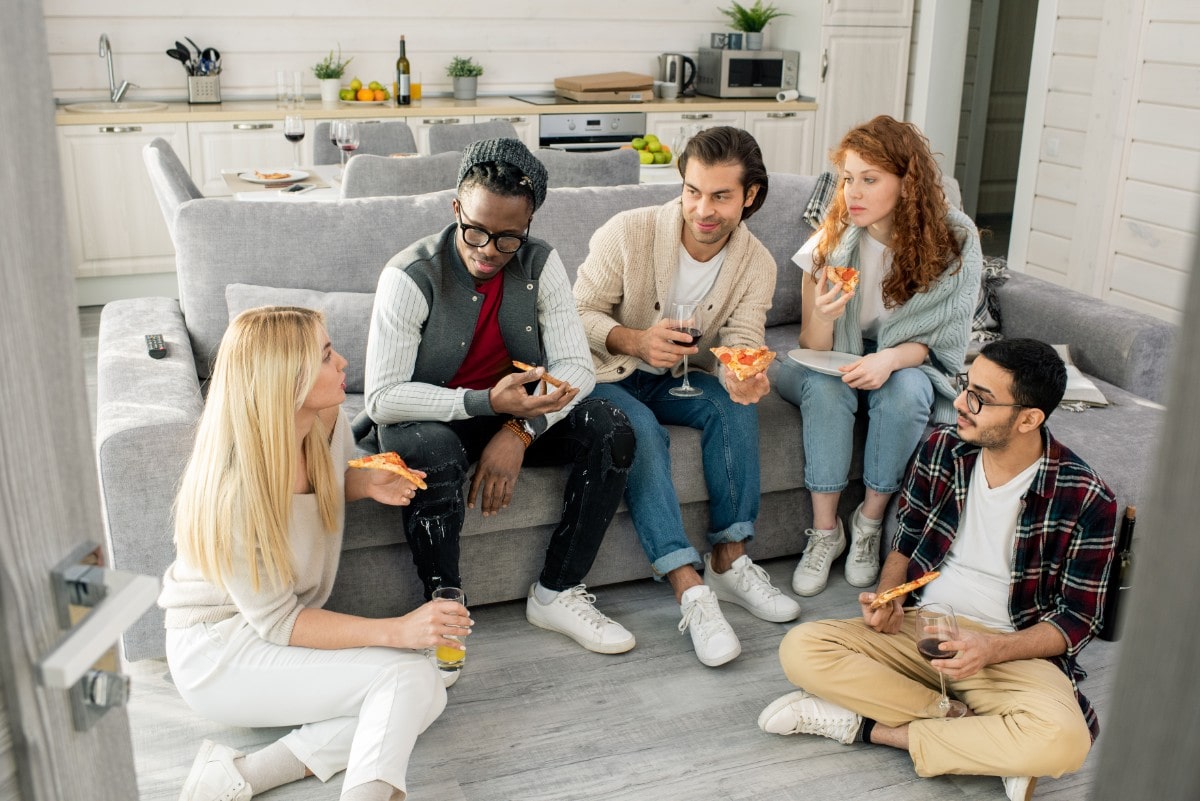 26. In 2008, pizza saved a delivery man from getting robbed when he threw hot pizza over to his assaulters.
27. In 2010, pizza helped the police incriminate a serial killer. This was after an undercover cop obtained a DNA sample of the 'Grim Sleeper' from a slice of pizza at a birthday party.
28. In 2013, Domino's made DVDs that smelled like pizza.
29. In 2014, a woman safely reported an ongoing burglary in her house by calling 911 to 'order a pizza.'
30. In 2015, Manchester Metropolitan University offered courses for a 'degree in pizza.'
31. In 2017, Domino's opened up for wedding registry to allow pizza-loving couples and parents to register for their favorite pizza flavors.
32. Ira Nevin, returning G.I., invented the gas-fired pizza oven in 1945.
33. Italy passed a bill in the protection of their traditional pizza.
34. Jack DeLuca started selling frozen pizzas in 1952.
35. Joseph Bucci invented the frozen pizza in 1950.
36. Many celebrities today once worked in the pizza industry.
37. More non-pizza products with pizza flavors have been developed over the years.
38. Mozzarella is the ideal pizza cheese.
39. NASA funded & tested a 3D printer that can make pizza for astronauts.
40. New York City was home to the first pizzeria in the US.
41. New York has a so-called 'Pizza Principle.'
42. October is national pizza month in the US.
43. One in six males aged 2 to 39 eat pizza for breakfast, lunch, or dinner on any given day.
44. Over 1 billion frozen pizzas are sold in the United States each year.
45. Papa Johns is the third largest pizza chain in the world.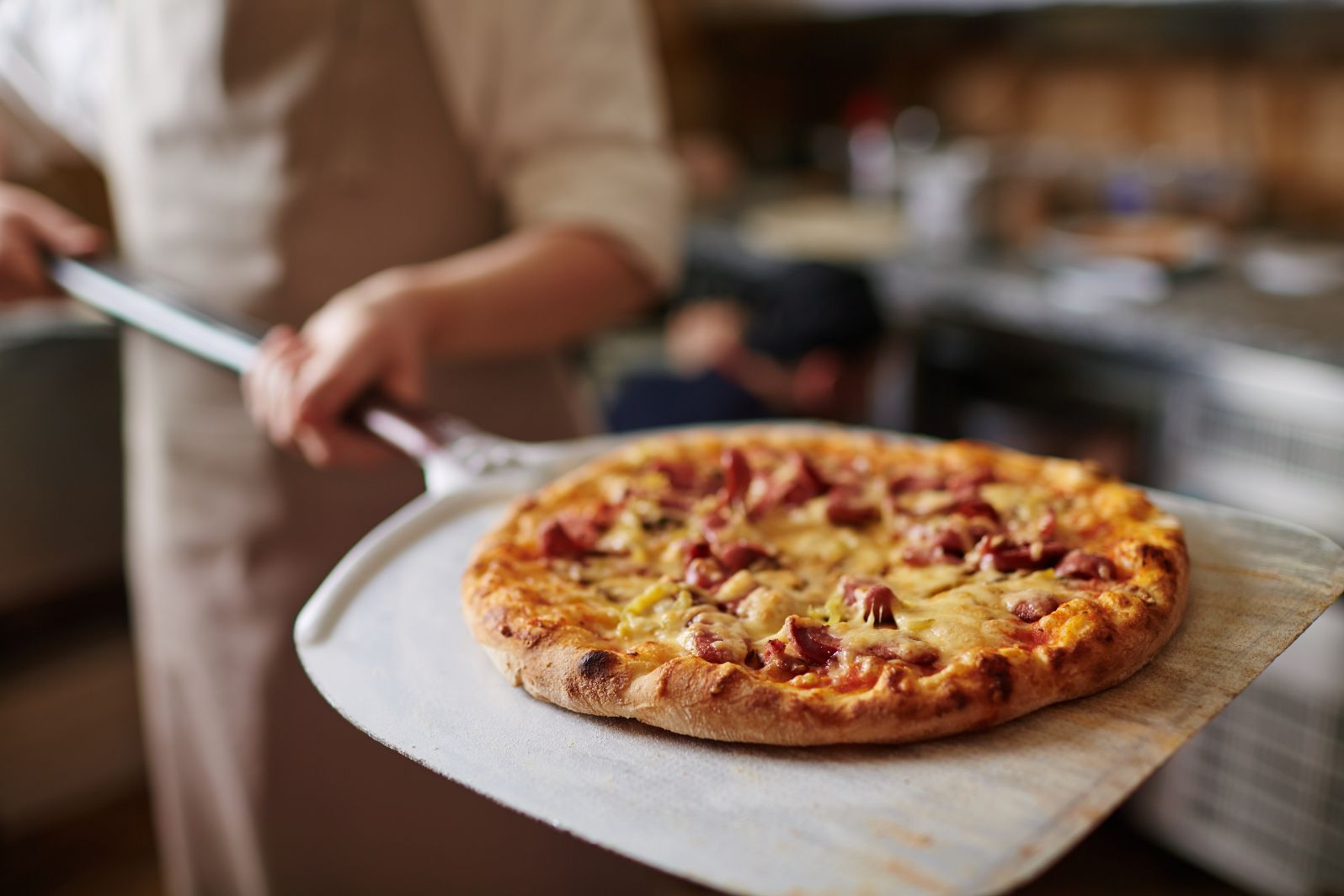 46. Pepperoni is America's favorite pizza topping.
47. Pizza ATMs debuted in the United States in 2016.
48. Pizza become popular in the US after World War II.
49. Pizza can reduce esophageal cancer risks by 59% due to its lycopene content.
50. Pizza chefs strive to achieve what they call 'the crumb.'
51. Pizza chefs use an exclusive pizza lingo.
52. Pizza compelled contemporary Italian authors to label Neapolitans with 'disgusting' eating habits.
53. Pizza consumption has increased American's consumption of cheese by 41% since 1995.
54. Pizza consumption is highest during Big Game Days.
55. Pizza could only last two hours when unrefrigerated.
56. Pizza covers several important food groups! It has grains from the crust, milk from the cheese, meat from toppings, and vegetables from the sauce and toppings.
57. Pizza had an exclusive art show dedicated to it in 2013.
58. Pizza has a mathematical formula known as the Pizza Theorem.
59. Pizza has developed healthier versions throughout the years.
60. Pizza Hut is the second largest pizza chain in the world.
61. Pizza Hut once aimed to engrave their logo on the moon by using lasers.
62. Pizza Hut, the famous fast food pizza restaurant, used to have its own perfume. It reportedly smelled like freshly baked pizza dough.
63. Pizza in Scotland is known for its nutty texture.
64. Pizza inspired Macaulay Culkin to form a band.
65. Pizza is a 55 billion dollar industry.
66. Pizza is more popular for dinner than it is for breakfast or lunch.
67. Pizza is the Italian word for pie.
68. Pizza Man remains to be the sole superhero movie with pizza as its theme.
69. Pizza Margherita got its name from Italy's Queen Margherita.
70. Pizza only came to America by the late 1800s.
71. Pizza was first developed as an easy and affordable meal for low-income families.
72. Pizza-like food has been present as early as the Neolithic age.
73. Pizzas only sell by the pie, exclusively.
74. Saturday is the most popular day of the week for pizza.
75. Some pizzerias include ashes from Mount Vesuvius in their pizza ovens.
76. Telegraph inventor Samuel Morse labeled pizza as a 'nauseating cake.'
77. The 'Gum Line' is a pizza chef's nightmare.
78. The Associazione Verace Pizza Napoletana regulates the Neapolitan pizza standards.
79. The average cost of a slice of pizza in New York City is equivalent to the price of a subway ticket.
80. The Celentano Brothers became the first brand of frozen pizza to be sold nationally.
81. The deep-dish pizza originated from Chicago.
82. The domain Pizza.com was only worth $20 back in 1994.
83. The first documented pizzeria in the world was open in Port 'Alba in Naples, Italy during the late 1800s.
84. The first known documentation of the word "pizza" is from 997 C.E.
85. The first North Korean pizzeria opened in 2009, and through the intervention of none other than Kim Jong-Il.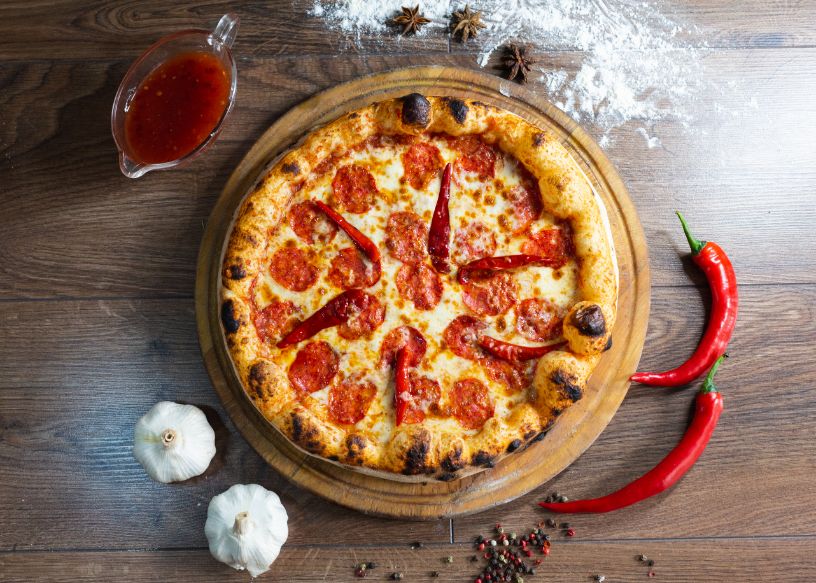 86. The first pizza is thought to have been invented in Naples in the early 1500s.
87. The first pizza order via computer was made in 1974 by researchers from The Artificial Language Laboratory, Michigan State.
88. The first pizzeria in the United States was called Lombardi's. It was started in 1905 in Brooklyn, New York.
89. The Heaven Scent Pizza is a mini pizza specially made for dogs.
90. The Japanese put mayonnaise on their pizza.
91. The label of Most Extravagant Pizza goes to the aptly named 'Luxury Pizza.'
92. The largest pizza was 122' 8" inches in diameter. The pizza, known as Ottavia, was made in Rome, Italy, from 100% gluten-free ingredients.
93. The largest pizza-only trade show in the world is the Pizza Expo.
94. The largest tip given for a single pizza delivery cost more than $1,268. It came from a delivery made by James Gilpin to the Wesleyan University.
95. The longest-running criminal jury trial in American history is the Pizza Connection Trial. The case involving mafia members who colluded with pizza restaurants to traffic drugs ran from 1985 up to 1987.
96. The most expensive pizza in the world costs about $12,000. The pizza, known as The Louis XIII, is the creation of Master Chef Renato Viola of Italy. It comes in a variety of toppings, including lobster, buffalo mozzarella, three types of caviar, etc.
97. The shape of the original Italian pizzas was square.
98. The top five nights (holidays) for pizza are: Halloween, Super Bowl Sunday, New Year's Eve, Thanksgiving Eve, and New Year's Day.
99. The U.S. government considered pizza as a vegetable in 2011.
100. The world record for pizza eating goes to Christian Dumitru from Romania. Dumitru ate over 200 pounds of pizza in a week.
101. The world record for pizza eating is 40.5 slices of pizza in ten minutes. The record was set by speed eating champion Joey Chestnut at a contest held in New York's Time Square.
102. There is a Pizza Brain Museum of Pizza Culture in Philadelphia.
103. There is a reason behind the universal square-shaped boxes of the circular pizza. The shape is more convenient and affordable to produce.
104. There is an official professional sporting event for pizza dough spinning.
105. Tofu is the most popular pizza topping in India.
Summary
Long-term consumption of fat-laden foods can predispose you to various chronic illnesses, including obesity, diabetes, and heart disease.
Therefore, remember to consume pizza only as an occasional treat. Better yet, insist on pizza prepared from natural, unrefined ingredients.