Last Updated on March 8, 2022
Before we jump into this article, I just would like to share a little backstory that will show you why these plugins must not be overlooked. As any webmaster would be, I'm obsessed with stats and analytics.
While looking through google analytics I noticed that more and more people all over the world are visiting my website. I hate to make indefinite assumptions, but I will bet you money not everybody who visits my website knows how to read, write, or speak the English.
Personally I use Google Chrome, I love the browser and consider it the best in the world. Now I don't want to get into browser war, and argue about who or what is better.
The bottom line is that this is based solely on my opinion. Whenever I visit a European website google chrome ask me if i would like the text to be translated to english. While I find this very convenient, I do not know if anybody else is provided with the same experience.
For this exact reason you cannot assume that every single person that stumbledupon your website has the ability to translate your website into their language.
Now you can definitely bet some money that people will leave your site is they cannot understand the language, or have no ability to translate. If they are browsing for pleasure, they are not going to waste their time trying to find a solution. I know I would not, so why should they?
Now that you have a clear understanding of why translation tools/plugins should be a vital part of your website. To help you select the best option for your website, we have gathered some of the most useful translation based plugins we could find.
Look around, check out the plugins and see what will suit you best. Keep in mind that these plugins can help you to reach a lot of new users. By being able to translate your valuable information in to different languages your popularity strongly increases!
Automatically translates your blog in 48 different languages! The number of available translations will depend on your blog language and the translation engine you will chose to use. This plugin has been downloaded over 457,126 times! I don't think that many people can be wrong. 

This simple language translation plugin allows your users to quickly translate your webpages, through a widget on your blog. You have the option to select the title of the Widget, which will be displayed above the language translation form.
Users simply have to select their desired language and it will automatically translate the webpage for them at a good standard, meaning that even foreign users can read your content.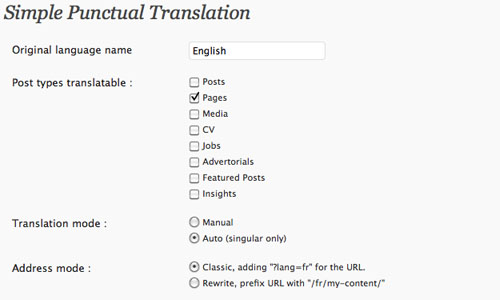 Simple Punctual Translation is a plugin for WordPress that allow to translate any post type in another languages. The user features can be summarized in the ability to switch between multiple languages and on the single view of content. Thus, a page can be translated in X languages.
Transposh translation filter for WordPress provides a very unique approach to blog translation. It allows your blog to combine automatic translation with human translation aided by your users with an easy to use in-context interface.
In the sidebar the user can easy find their country's flag and click it, thus automatically translating the text to their language!
SDAC Translate is a very simple to use plugin. Inside the option menu the admin is allowed to use Google Translate to translate your site's content in multiple languages using a simple sidebar widget that is fully customizable. The plugin is extremely light weight, and should not gradually slow down your websites performance.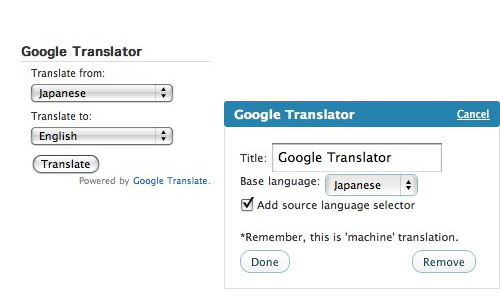 Google Translate right in your sidebar! Your readers will be easily able to translate your blogs content to their language directly from the sidebar!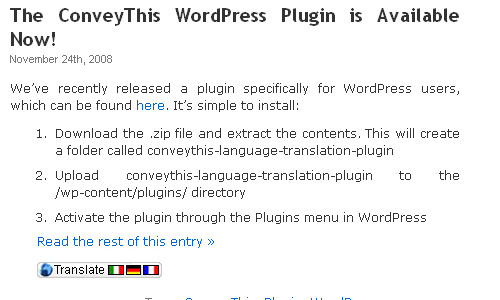 ConveyThis Blog Translator is a free translation button provided by ConveyThis allowing visitors to translate your website into over 50 languages.
ConveyThis is powered by Google Translate and combines all it's translation functionality into one small, easy to use button. Once installed, the button will appear at the bottom of every post on the main page, as well as at the bottom of the individual posts.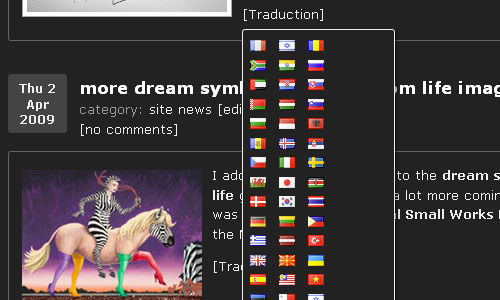 Google AJAX Translation allows your readers to translate your blog posts, pages, or comments into 52 languages. A "Translate" button can be added to the bottom or top of posts, pages, and/or comments.
When the button is clicked a popup window opens showing a list of available languages. The user will simply click their designated language, and you are good to go!
Bens Translator is a plugin for WordPress that generates translated pages using Google Translator. The pages are cached by your webserver and displayed as a normal webpage. This allows indexing by Google and other search engines to boost your traffic.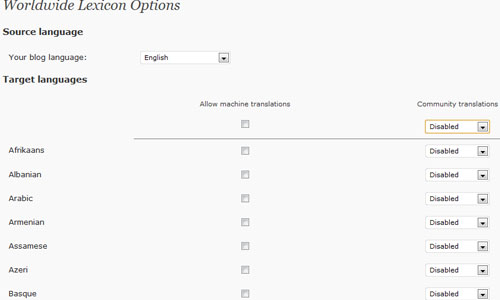 The Worldwide Lexicon translator enables you to publish in any language, using any combination of machine, community and professional translators.