Last Updated on March 3, 2023
Is 2020 the year that you will update your pool? These days, people have more pool design options than they've ever had before. The earliest American swimming pools were simple, rectangular, and didn't offer much room for any ambitious designs.
Now, though, things are different.
Pool owners can now choose from a wide variety of materials and designs to uplevel the look of their pool. One of those options is using pool mosaics to make the look of your pool more unique. As a matter of fact, swimming pool mosaics provide one of the simplest ways to give your pool a makeover.
Here are 20 popular pool mosaic trends that are catching on in 2020.
1. Hibiscus and Other Garden Flowers
One of the top pool trends of 2020 is going with a natural look. People are building pools to complement their gardens, and they're surrounding existing pools with shady trees and other vegetation. In an article for HGTV, Chelsea Faulkner explains that "lush garden landscaping is the most popular way to pretty up an above-ground pool." Garden scapes have found popularity among in-ground pools as well.
Your garden doesn't have to stay outside the pool, though. You can bring floral elements into your pool with these hibiscus flowers.
2. Outlined Turtle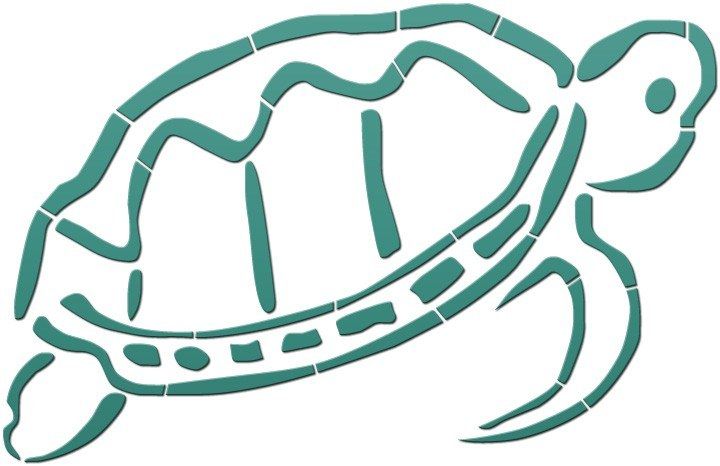 The great thing about 2020 trends is that they're so varied. While some home designers are going for simple and elegant, others prefer bright and eye-catching designs. Both are equally welcome in the current trends. On the simpler side, this classic outlined turtle provides just a little something extra to make a pool unique.
3. Glow-in-the-Dark Turtle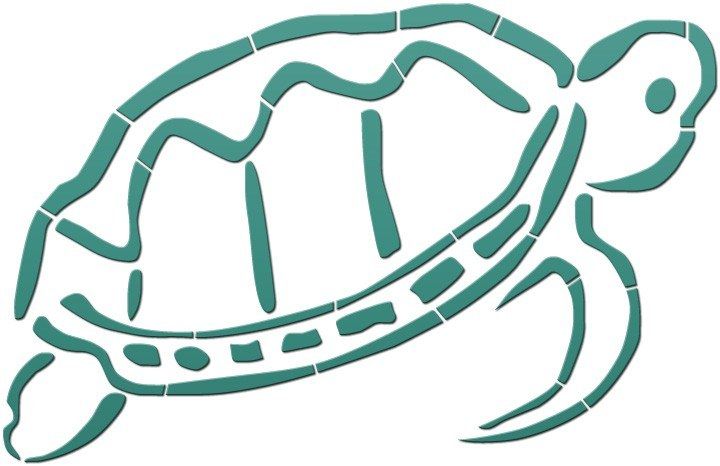 On the brighter and more vibrant side, there's this glow-in-the-dark turtle. This little guy will make himself at home in your pool just like the turtle above, but he also enjoys the spotlight. Glow-in-the-dark mosaic tiles absorb sunlight by day and then start glowing as soon as the sun goes down. They've gotten popular among night swimmers.
4. Metallic Mini Dolphin
Metallics and sparkles have found their way into lots of 2020 trends. They're not just for makeup and fashion. As a matter of fact, metallics are finding their way into several pools this year.
Take this metallic dolphin, for example. It's just shiny enough to catch the light in interesting ways, but it also blends in nicely with a lot of current pool decor.
5. Sunburst Medallion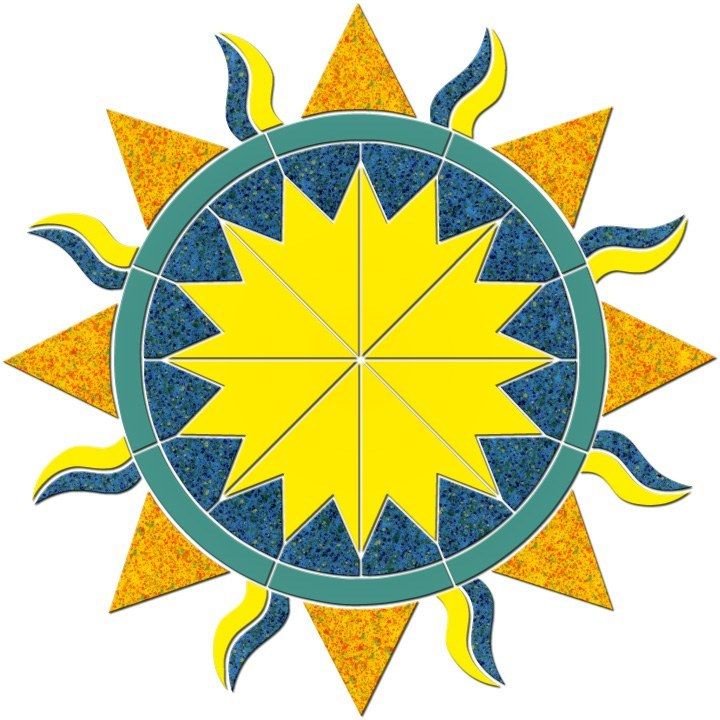 In 2020, some people are adding something new to traditional pool colors. Obviously, blues and greens for swimming pools aren't going away anytime soon, but these days, a lot of people want to add an extra pop of color. A sunburst medallion provides just enough contrast without any clash.
6. Swimming Mermaid

Mermaids have also become a popular pool design choice this year. And why not? Mermaids can bring some magic and mythos to your pool. This swimming mermaid is popular right now among swimmers of all ages. She adds a bit of fun, but she does it in an elegant and gentle way.
7. Outlined Mermaid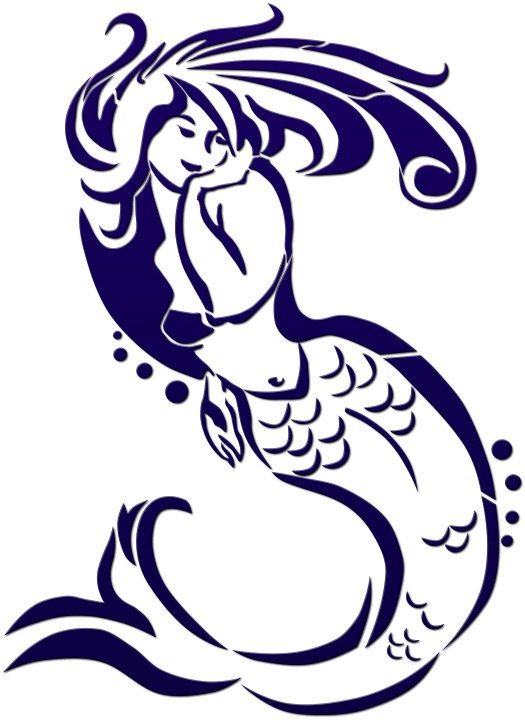 Here's another mermaid design that has become popular in 2020. This mermaid is a slightly more minimalist choice than the one above, but she still adds grace and beauty to pool designs. These outlined mosaics let pool owners combine the new and the traditional for a great design balance.
8. Glass Coral Reef
In 2020, a pool isn't just a pool. More and more homeowners want to turn their pools into private oases. For some, this means giving their pool an ocean theme.
This glass coral reef mural provides a great way to do that. Bright and colorful, it adds an eye-catching element to pool design.
9. Seahorse
This seahorse combines two 2020 pool trends in one: the ocean theme and the non-blue color choice. Seahorses are some of the world's most fascinating creatures, and this particular seahorse adds a unique element to ocean-themed swimming pools.
10. Electric Blue Butterfly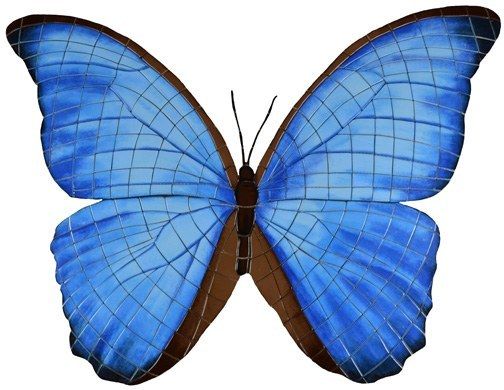 Many 2020 design trends are inviting abstract concepts into the mix. However, 2020 still leaves room for realistic design choices. This electric blue butterfly fits into both styles.
On its own, it adds a simple touch to a classic design. As part of a mural, it can take a pool to a more abstract place.
11. Monograms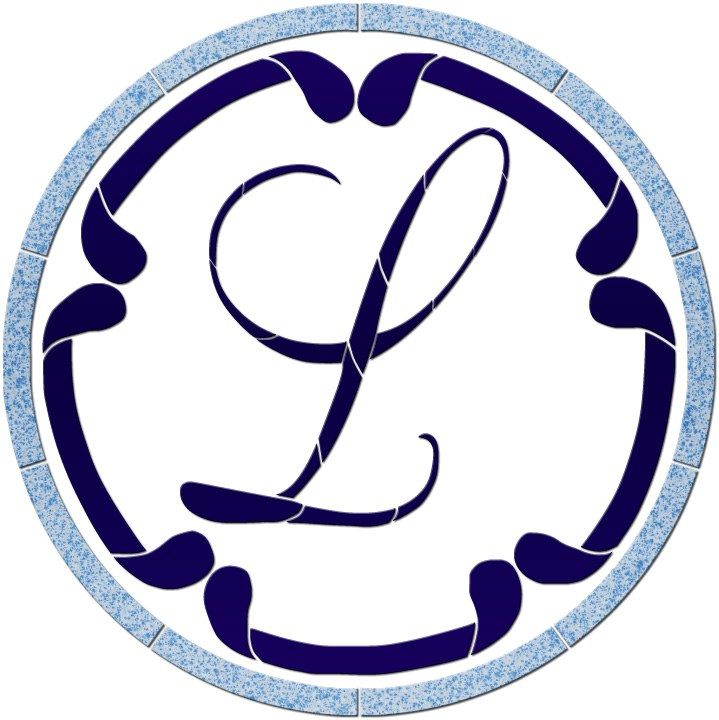 The monogram trend actually started several years ago, but in some design areas, it's still going strong in 2020. Pool design is one of those areas. Monograms let people put a truly personalized stamp on their pool.
12. Blue Fish Medallion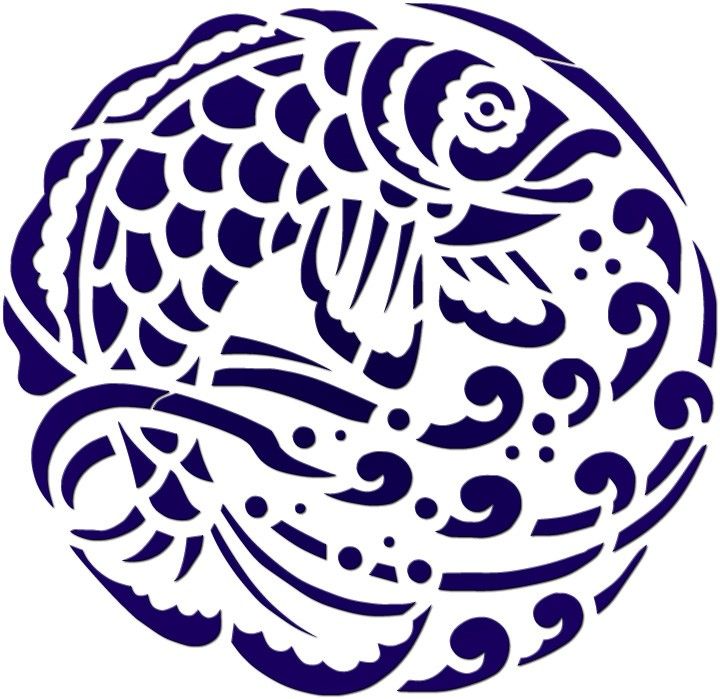 We discussed medallions earlier in this article. Here's another one that has gained traction in 2020. Today's pool design trends are moving away from sharp, rectangular designs in favor of curves and softer looks.
Medallions like this blue fish contribute to this overall design focus.
13. Fleur de Lis

Fleur de lis will always be a popular choice, including among designs for 2020. This fleur de lis pattern was designed to accent pool steps. It provides a simple pop of contrast in what may otherwise be a straightforward design.
14. Drop-In Fleur de Lis Pool Mat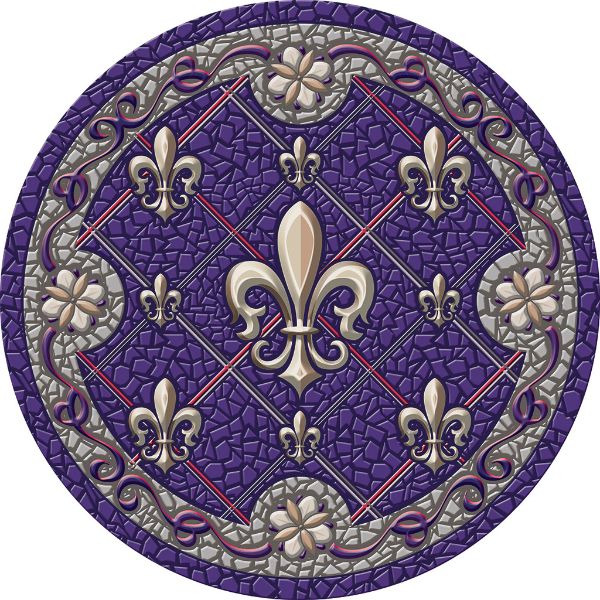 Here's another approach to the fleur de lis design: the drop-in vinyl pool mat. Today's homeowners want a lot of choices, and these drop-in mats provide those choices. These mats come in several designs, which means that homeowners can get more than one and then switch out their pool designs on a regular basis.
15. Radiant Beauty Step Marker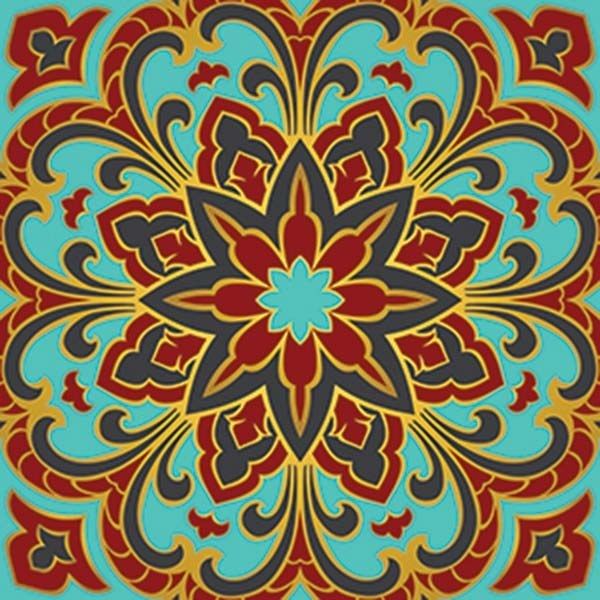 Step tiles provide a great way to draw the eye without overwhelming the viewer, even when the design is bright and colorful. This design, for example, steps away from the usual pool colors and provides a pop of contrast.
16. Hummingbird With Flower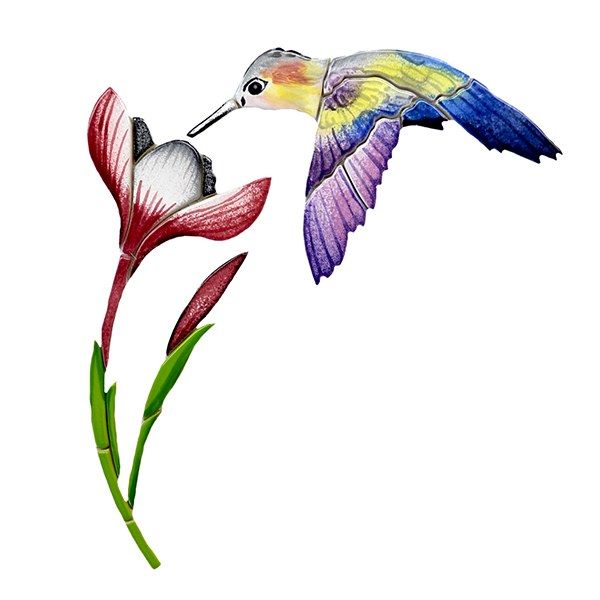 Hummingbirds go back to the garden themes that we've already discussed a couple of times. Hummingbirds are beautiful, multicolored, and gentle in their design, so they make a good choice for those who want something that's both different and lovely at the same time. You can use a hummingbird on its own or as part of an entire garden scene.
17. Crystal Sky Mandala
While 2020 fashion trends include softer patterns such as crocheted sweaters, many 2020 design trends are embracing softer patterns, too. This crystal sky mandala provides a perfect example. The gentle blue curves bring an element of relaxation into the pool.
The mandala doesn't draw too much attention to itself, but it can still stand out from the rest of the pool.
18. Beach Ball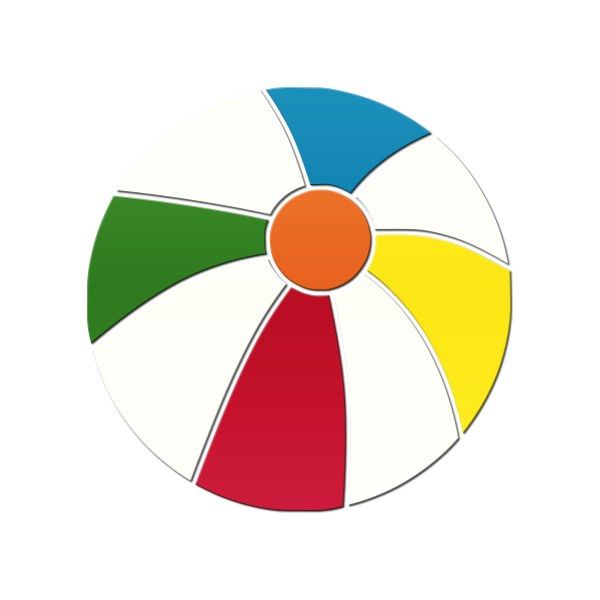 On the other hand, the 2020 fashion runways also feature bright, bold colors. Highlighter prints have gotten a lot of attention lately. While you probably won't be bringing highlighter colors into your pool (although you may come close with those glow-in-the-dark tiles we mentioned earlier), you can embrace some bright colors with tiles such as this beach ball. It makes a good choice for people who like to host pool parties all summer long.
19. Mini Seashell
The seashell brings us back to the ocean theme. The slightly metallic design catches the light and brings pools right in line with the latest 2020 trends. Of course, it's also a timeless design, which means that it will still look good in your pool long after 2020 ends.
While a lot of homeowners want to stay up-to-date on design trends, many also want to think long-term. This seashell provides the best of both options.
20. Glass Tile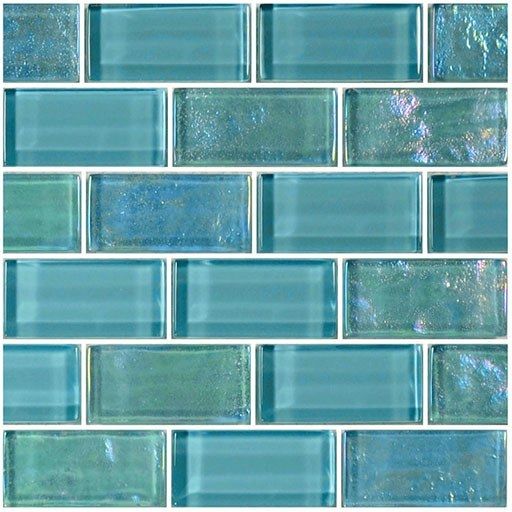 Finally, a lot of homeowners are choosing simple glass tiles for their pool design. "One of the high-end materials that are really on-trend is glass tile," says this article from Trendir.
"It looks great, feels high end, and can vary in price point, which is always a great way to go." Glass tile may be trendy now, but it's also unlikely to go out of style any time soon. You can use glass tile to create unique, one-of-a-kind looks.
Make It Your Own
At the end of the day, 2020 trends are all about leaning into your own choices and going with the designs that you like best. Pool mosaics help you do just that by creating a look that's uniquely yours. Take some time to explore your mosaic pool options and find the look that fits your aesthetic.