Last Updated on March 8, 2022
When it comes to your next design project, think about this: A picture is worth a thousand words, but a font speaks louder than words.
Our digital landscape today is so sharp, so upfront, and so innovative that people – consciously or not – become aware of every graphic, color, and font used in a design. The font element particularly draws the attention of people. This is mainly because, by nature, we connect easily with the visual representation of things. So, if we see something written using a cool or pretty font, the chances are that we'll remember what we've read. That is the power of the right font for a design.
Now, there are a lot of fonts available and a hundred more being created every day. So choosing THE one to use for your next design project can be a bit daunting. This is especially true because some of the differences between two fonts are miniscule that you'll deliberate if those tiny variances matter or not. And then there's the fact that almost all fonts have multiple typefaces. Sounds confusing? Let's break it down.
Fonts 101
A font is a group of typefaces that share similar characteristics. On the other hand, a typeface is a specific or individual type of that font. Take "Arial" for instance. It has a lot of typeface variations, but every single one of them falls under one parent font, which is Arial. A specific example of a typeface is Arial Narrow Italic.
In an outsider's point of view, the difference between font and typeface may be trivial or unnoticed. But, as a designer, each dissimilarity is glaring and pertinent in making the decision of which font and typeface to use.
Making the Decision
As for the decision-making, there are a number of variables to consider. One is the target audience. Every font is pretty, but they can't all be categorically useful for every project. For instance, Comic Sans MS will look inappropriate in an industry like banking and finance. Alternatively, fonts often used in the said commerce may look too rigid or plain when used in projects like entertainment or special events. When you know your target audience or the demographic you'd want to entice, you have moved past one hurdle in choosing the right font for your next project.
It all boils down to research to see which of all the pretty fonts out there you can use to elevate your design to the next level. To get you inspired, here are 20 pretty fonts you can choose from.
Trasandina by TipoType
Trasandina is a very unique font-family: a modern, versatile, workhorse typeface with a special personality, given by the mix of humanist and geometric models, remaining far from both extremes.
This typeface has 9 styles plus their matching italics, it has an incredible wide range of weights, from very thin to an ultra thick stem. Trasandina's versatility also resides in the +800 characters that each weight includes, having several open type features and language support for more than 200 languages. This font has been specially designed for web (using hinting instructions), making it work in small and large sizes on different types of screen resolutions.
TT Rounds Condensed by TypeType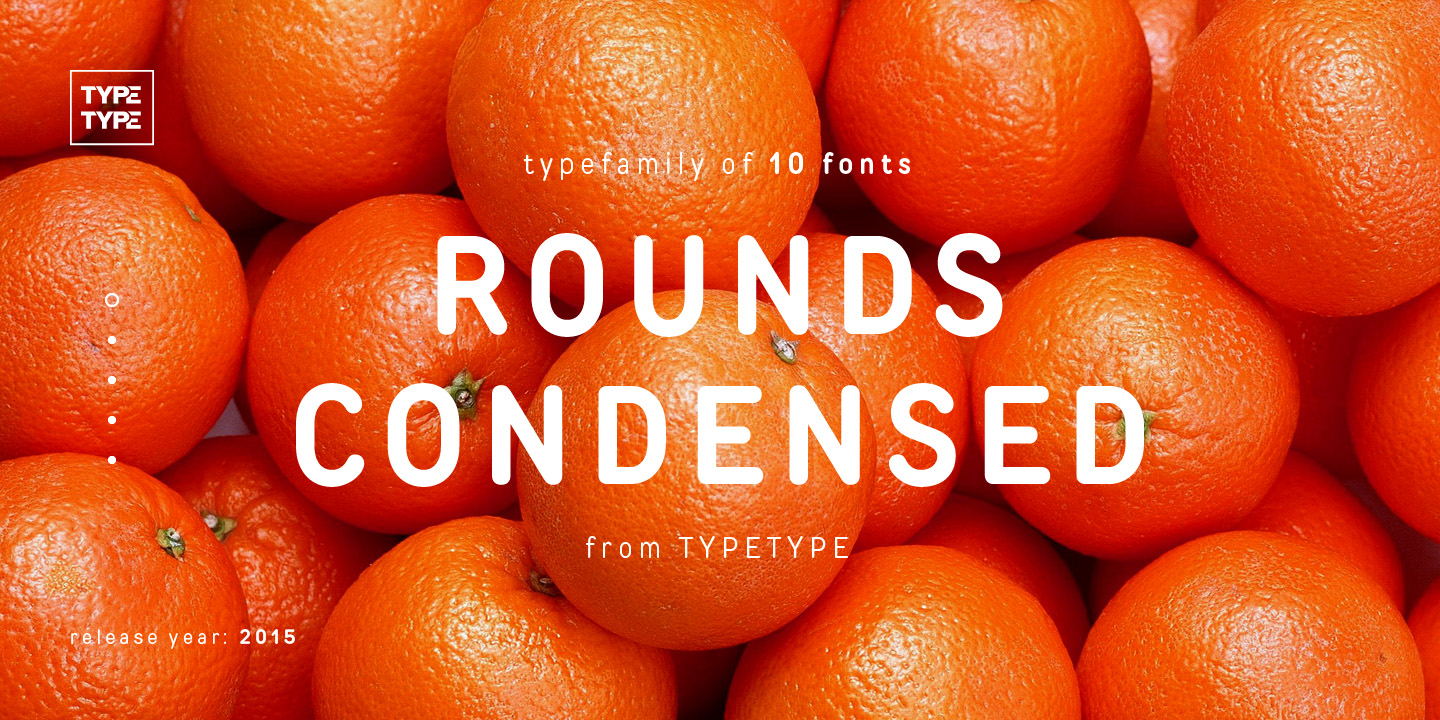 Rounds Condensed — this is the condensed version of the Rounds fontfamily. Rounds Condensed has a very kind and gentle temperament. It contains the most popular typefaces styles: Thin, Light, Regular, Bold, Black and Italics. All fonts are made so that they can be used for short texts (eg logos and headers), and in the long text sets (such as a paragraph of text or newspaper article).
Hudson NY by Andrew Footit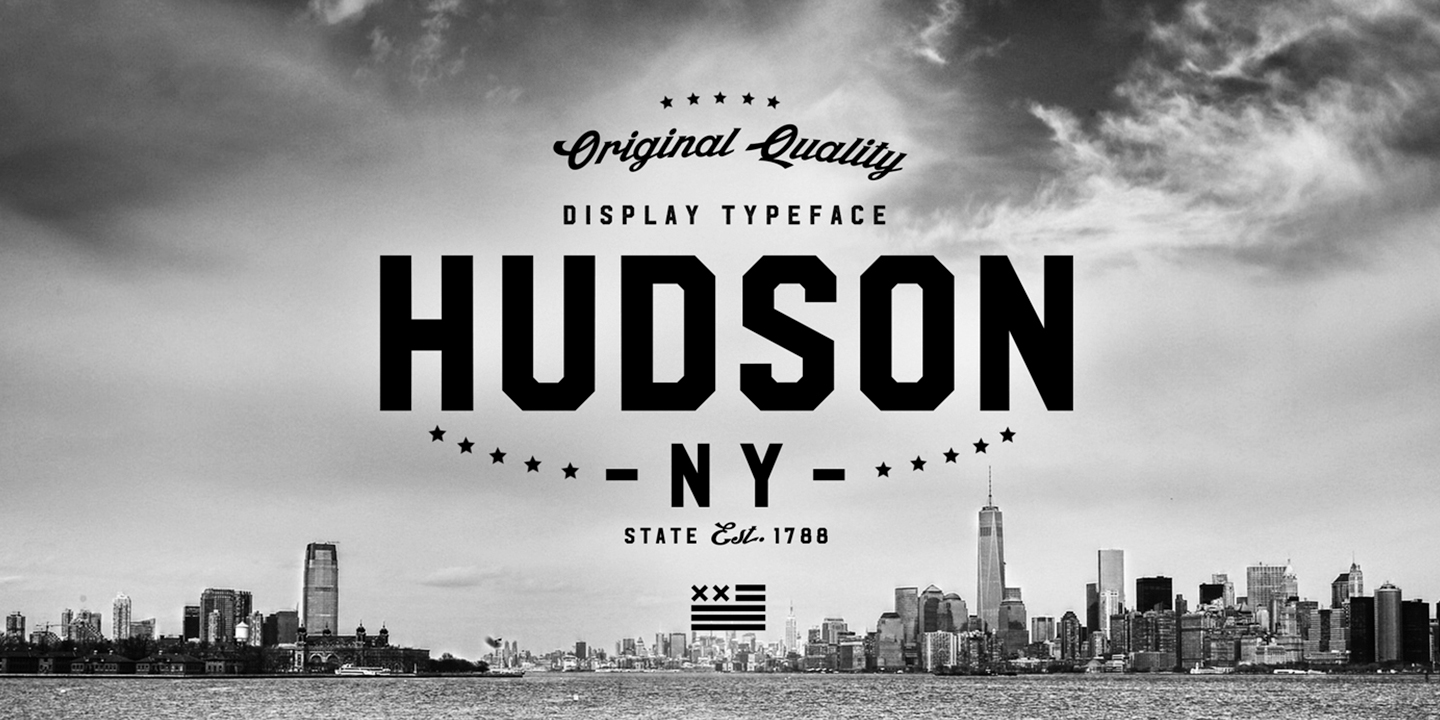 Hudson NY is a display font that gives you strong and bold typography with three different styles that make up the family, a regular, serif and slab serif. Hudson NY is an adaptation and progression of Roper Font, and like Roper font it comes in regular and a press versions, giving the user some cool options when creating artwork. The golden thread that ties this family together is its American sports and college styling, it gives Hudson NY an authentic look but at the same time there is a modern approach to the character set.
Bambino New by Mindburger Studio
'Bambino New' font is a geometric sans serif with humanist readability. It comes in 7 different weights, 14 styles and plenty of OpenType features. It can be said it's an arrogant cousin of Bambino font , mostly because of its legibility, personality and attitude. Each character has been carefully crafted and implemented with properly modified italics.
Mastadoni by Schizotype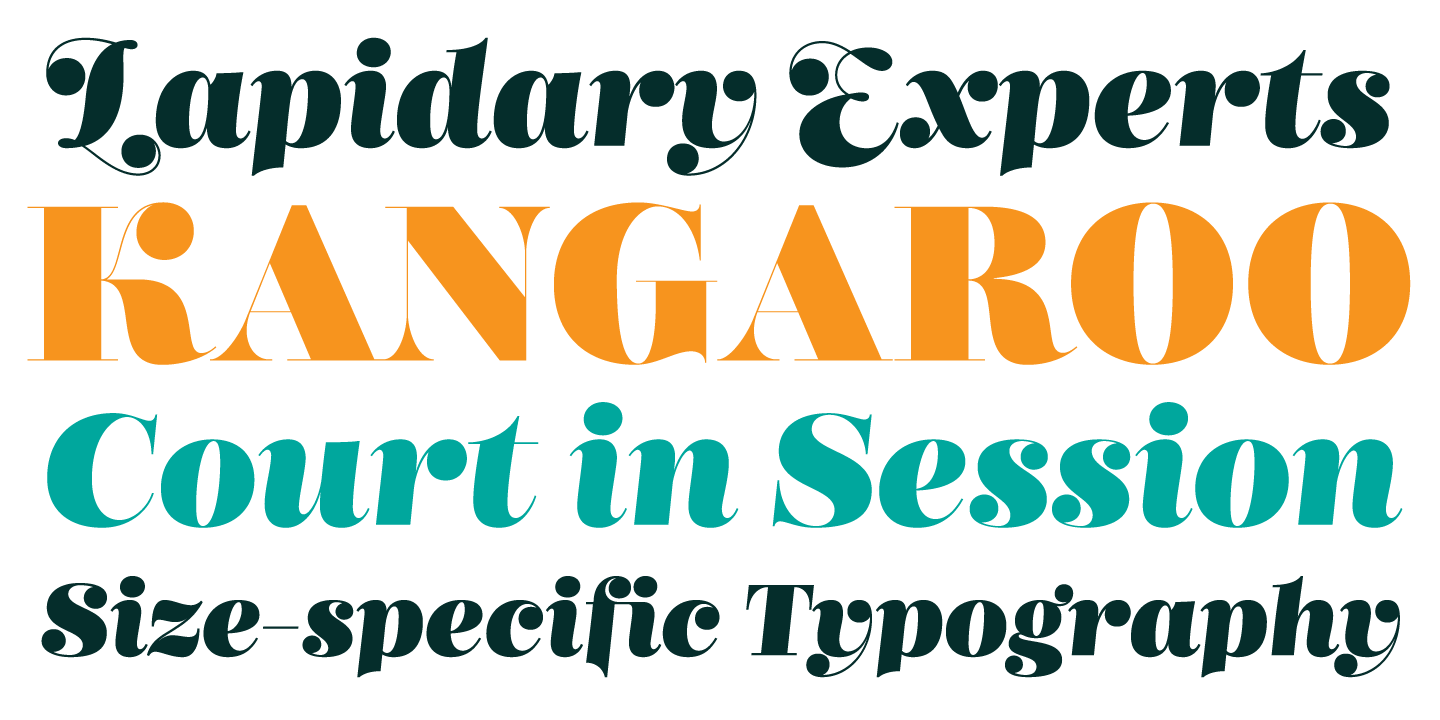 Mastadoni is a bold headliner/masthead typeface, with high vertical contrast in a Didone style. This is a typeface with a big x-height, small cap-height and stubby ascenders and descenders, which contribute to an overall appearance somewhat different from must Didones, and make for some interesting layout possibilities in tight spaces.
Journey by Fenotype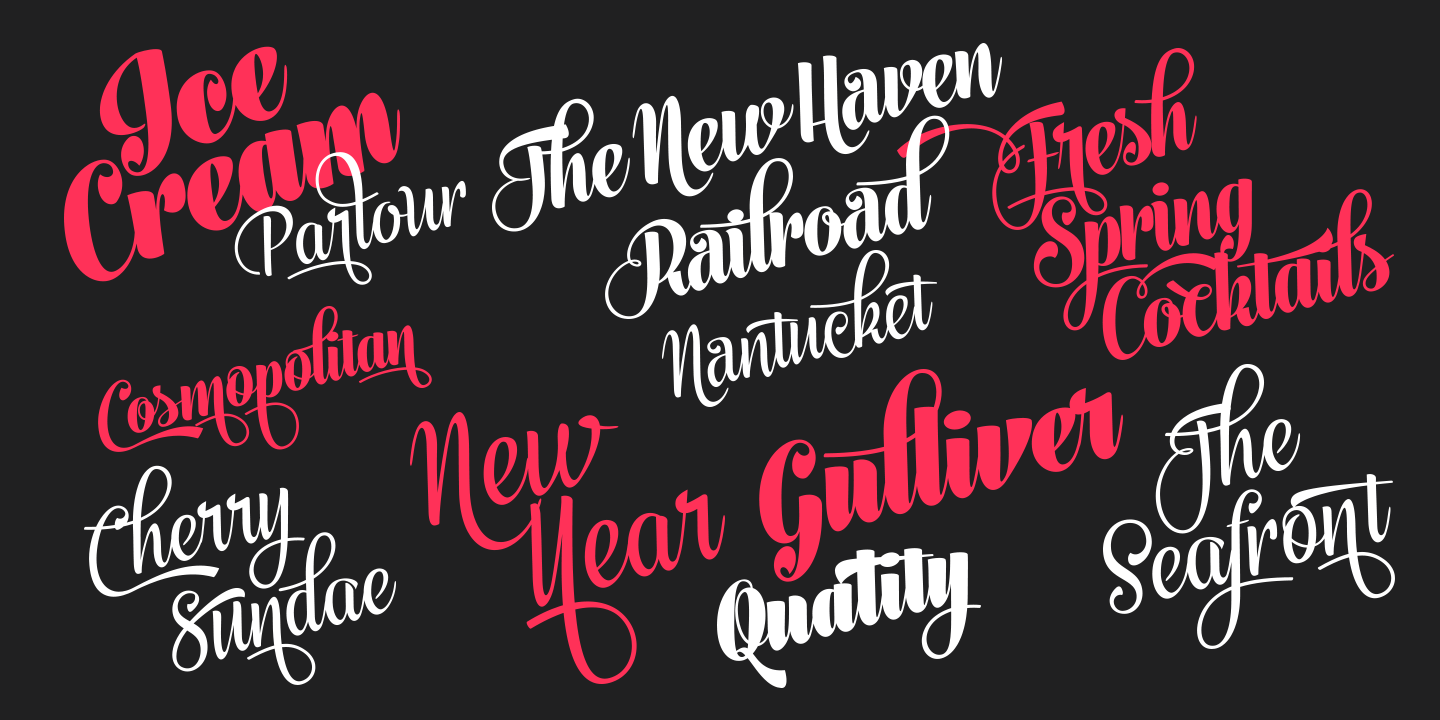 Journey is a smooth and elegant vintage script family of four weights and a matching ornament set. Journey is packed with Alternate characters that let you easily create headlines, logos & posters with a custom-made feeling. It has a minimum three alternatives to every basic letter: To activate the alternates click on Swash, Stylistic or Titling Alternates in any OpenType Savvy program or manually choose from even more alternate characters from the Glyph Palette.
Curve by Arne Freytag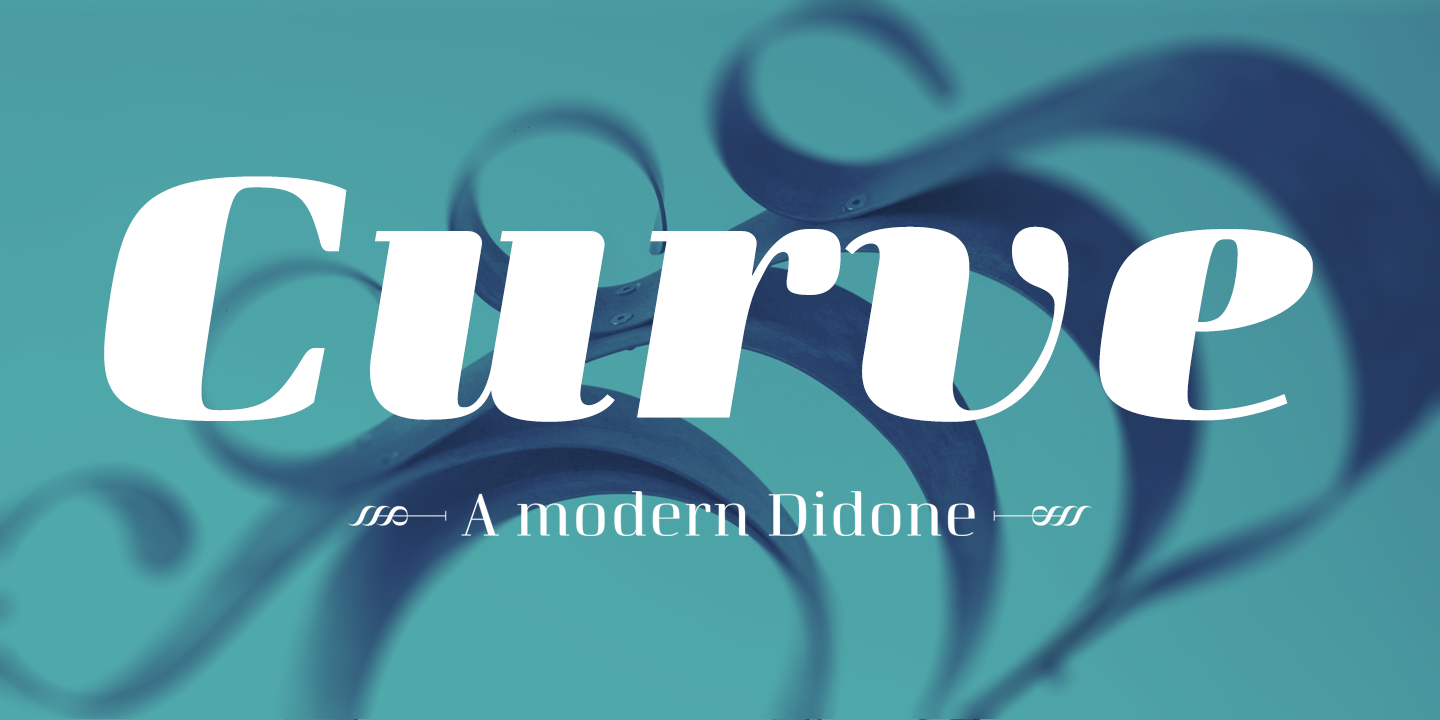 Curve is a modern neo-classical typeface family with some features of the Didone genre, but especially designed for contemporary typography.  A large x-height not only creates space in the letters for extra-bold styles, but also lends Curve an open and generous character in the more narrow and semi-bold versions. It has 616 glyphs with small caps, numbers and ligatures in 10 weights. Curve is perfect for logos, brands, magazines and editorial and for setting trends in fashion and design.
Blanc by Latinotype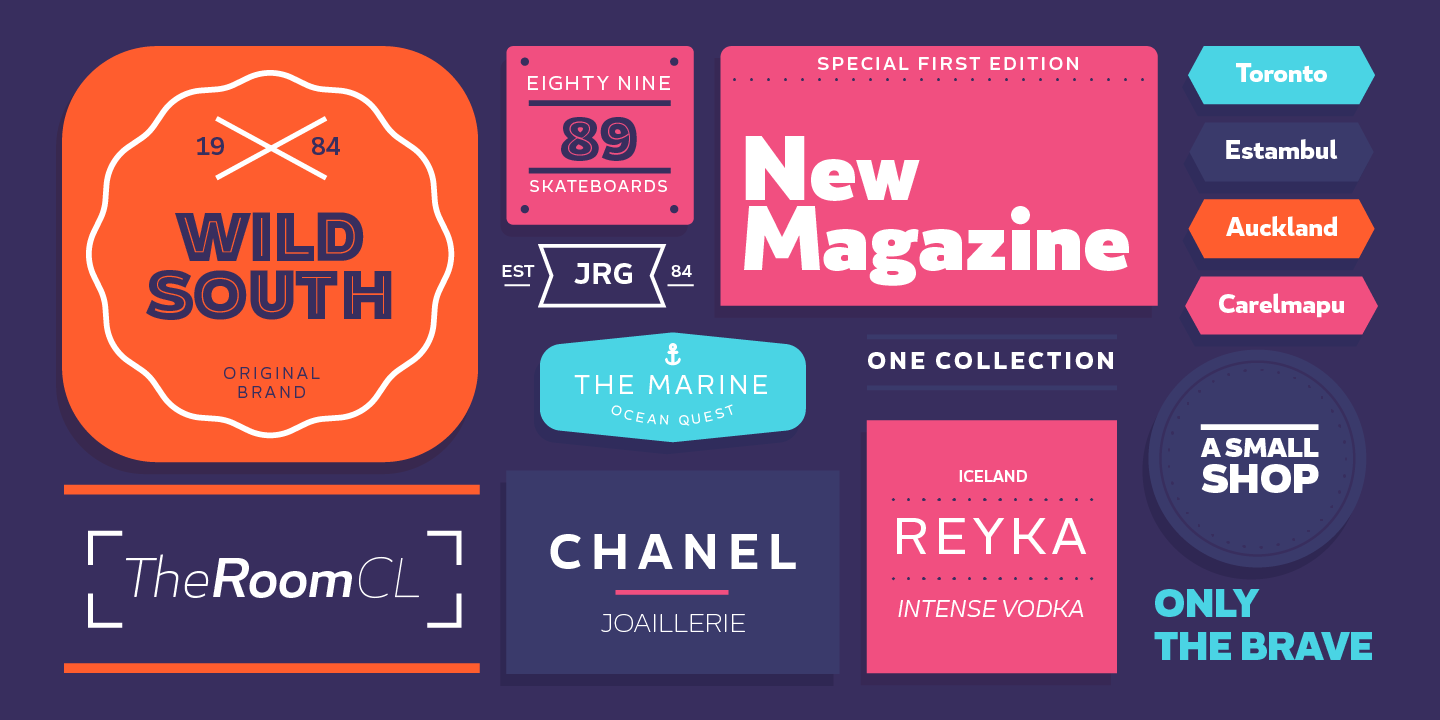 Blanc is a functional humanist sans typeface with a marked personality and great style that make it ideal for use in headlines. Blanc is an ode to neutrality: a geometric face characterised by low contrast between thick and thin strokes with calligraphic features that emphasise specific glyphs. Blanc comes with 8 weights and an inline version that make it well-suited for headings and subheadings, corporate designs, advertising, publishing, etc.
Aldo Pro by Sacha Rein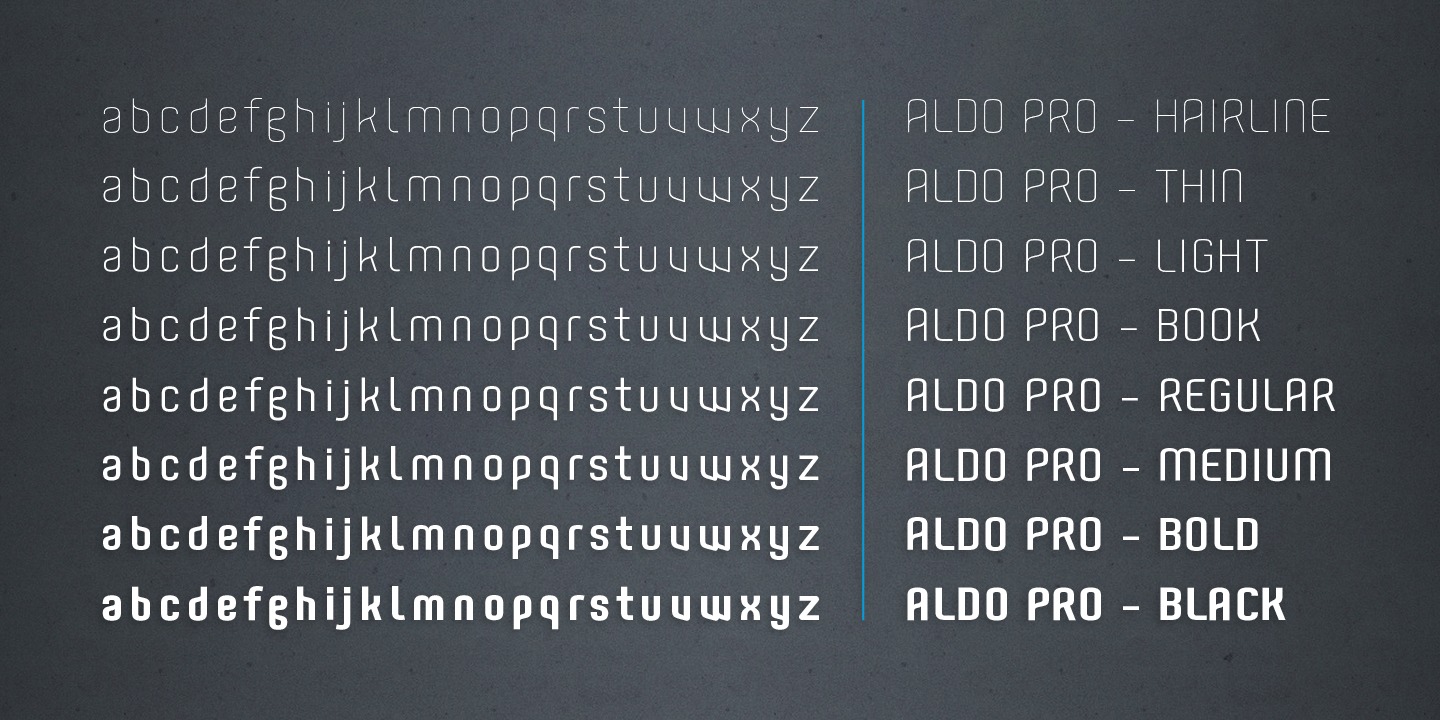 Aldo Pro is a contemporary sans serif OpenType font family designed by Sacha Rein. With 8 weights from hairline to black and an extended latin character set of 690 glyphs it is suitable for all typesetting needs, from advertising and branding to web and screen.
Bellico by Seventh Imperium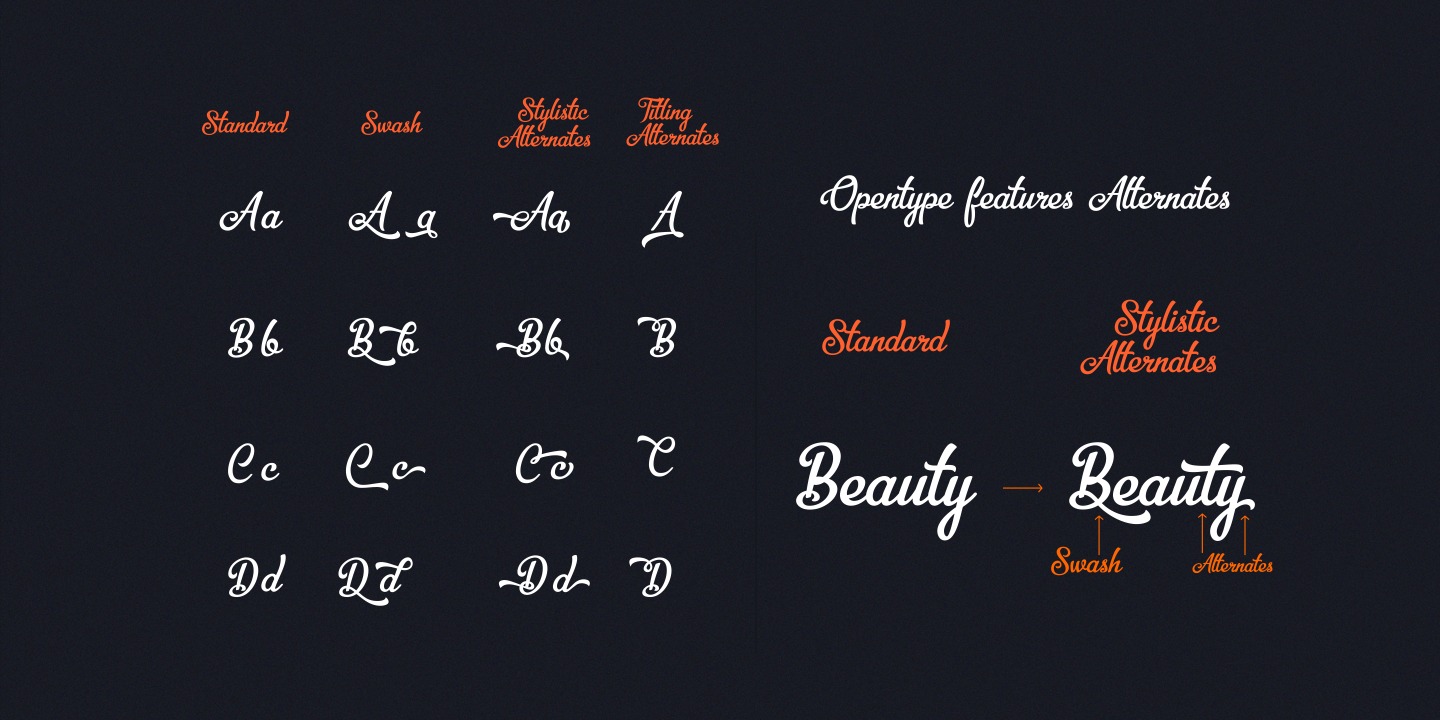 Bellico is a beauty script typeface with a large range of alternates that fits any kind of various purpose with a bunch of alternative character to easily create cool text,logos, headlines. etc.
Averta by Intelligent Design
Averta is intended for use in a variety of media. The central styles (Light through Bold) are drawn to perform at text sizes, while the extremes are spaced tighter to form more coherent headlines. The dynamism of the true italics adds a complementary touch to the whole family and provides extra versatility, making Averta an excellent tool for a range of uses, from signage to branding and editorial design. Averta comes in eight weights with matching italics and supports over two hundred languages with an extended Latin, Greek and Vietnamese character set.
Catfish by My Creative Land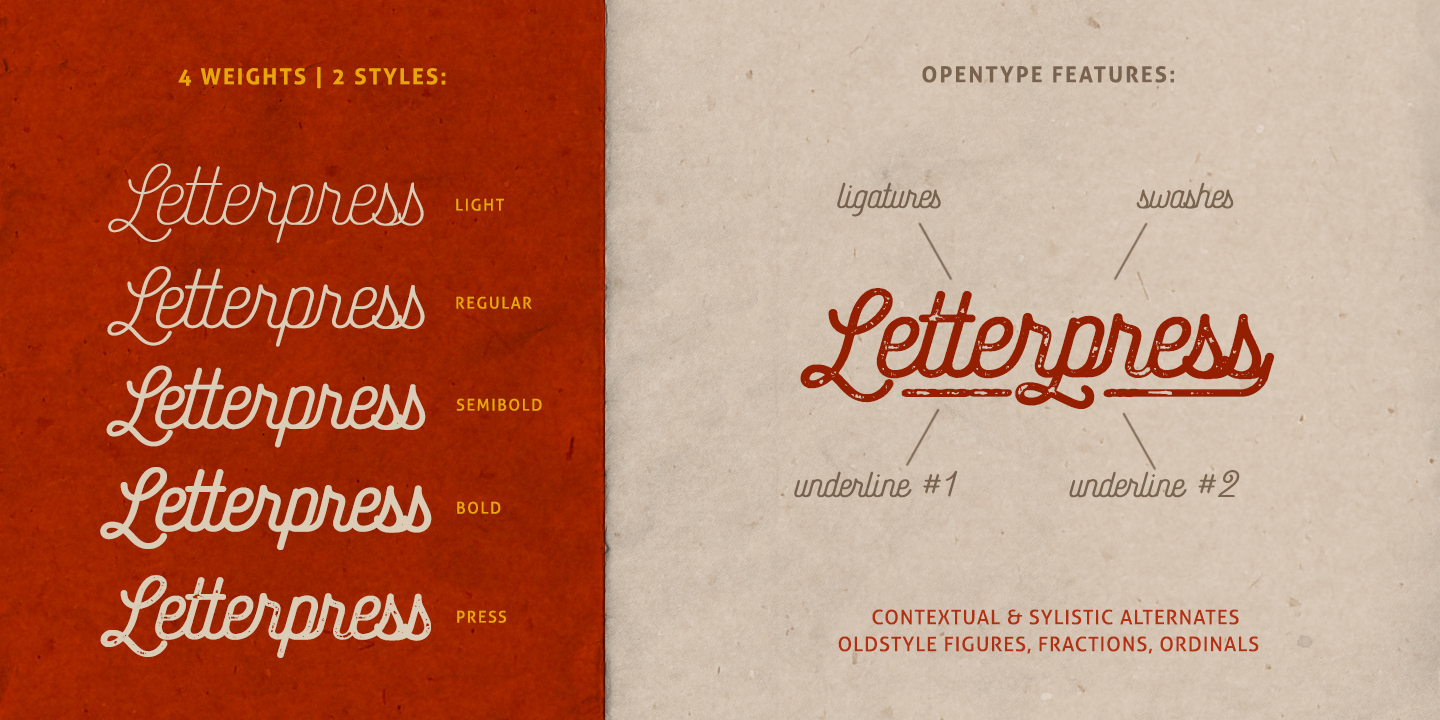 Catfish is a monoline geometric script with a touch of classic and vintage and can be used for various purposes such as logos, badges, t-shirt design, signage, labels, book cover design, posters etc…
Inka by Carnoky Type
Inka is a friendly and welcoming modern serif typeface with wide universality in functions (various editorial usages as books, journal, newspapers…). The concept and the scope of the complete type family are based on the principle of optical sizes of the typeface designed for the particular use of the size of typesetting. Inka consists of several drawing variations for the typesetting of small sizes (Small), text typesetting (Text), larger typesetting sizes (Title), and headlines sizes (Display).
Akko Pro Condensed by Linotype

Akko has a wide range of weights, with options including complementary italics and a new Condensed range. The Akko typeface family is available as a suite of OpenType™ Pro fonts, allowing for the automatic insertion of small caps, ligatures and alternate characters. Pro fonts also offer an extended character set supporting most Central European and many Eastern European languages. And new Paneuropean versions introduce support for Cyrillic and Greek.
Intro Rust by Fontfabric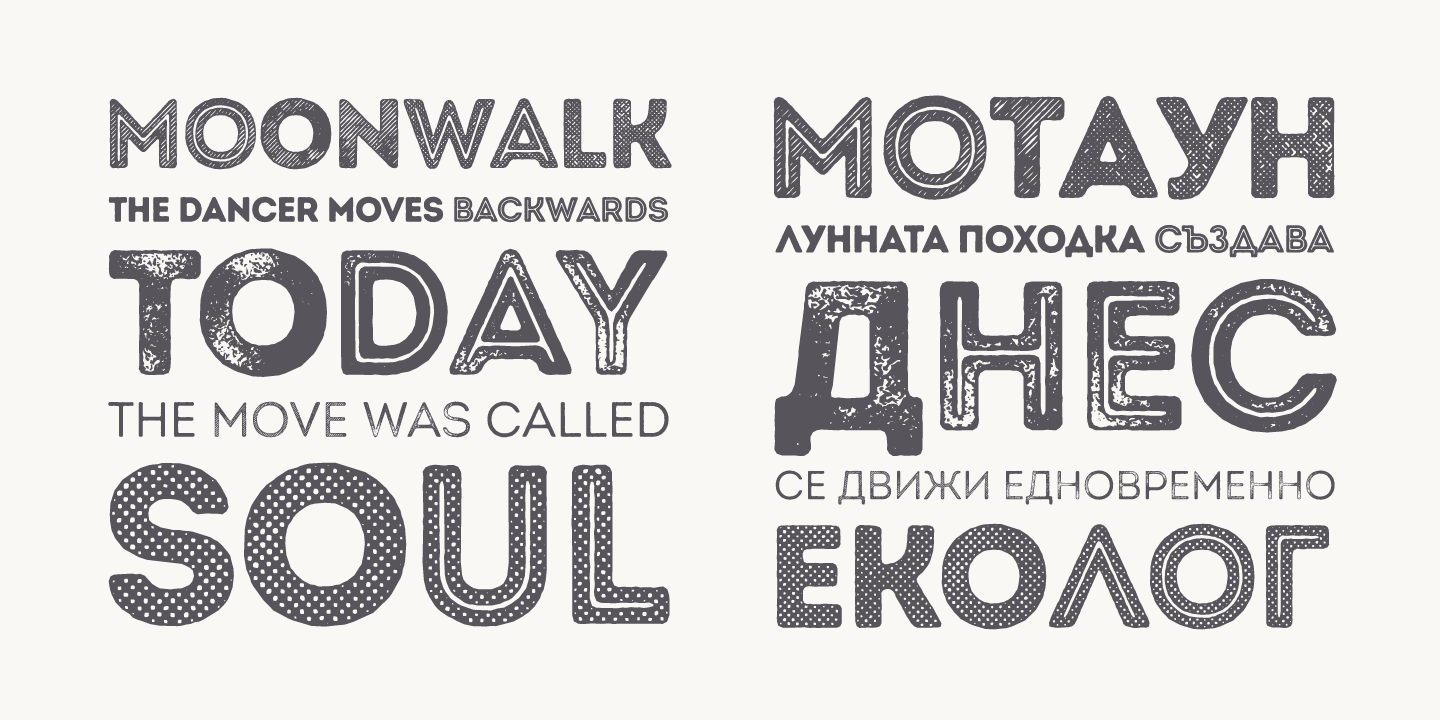 Intro Rust is one of the biggest packages on the market, including 214 fonts. The font family is a rough version of the famous Intro. Intro Rust includes 4 sub-families – Intro Rust, Intro Script, Intro Head and Intro Goodies. It can be used to create almost all types of design projects like print materials and web design. Just use your imagination and your project will become more alive and vivid than ever with one of the Intro Rust fonts. You want to make a greeting card or a package design, or even a brand identity? Feel free to play with all the patterns and shapes, scripts or those cool fonts with the dots and that will lead you to your next successful project.
Brandon Grotesque by HVD Fonts
Brandon Grotesque is a sans serif type family of six weights plus matching italics. It was designed by Hannes von Döhren in 2009/10. Influenced by the geometric-style sans serif faces that were popular during the 1920s and 30s, the fonts are based on geometric forms that have been optically corrected for better legibility.
Brandon Grotesque has a functional look with a warm touch. While the thin and the black weights are great performers in display sizes the light, regular and medium weights are well suited to longer texts. The small x-height and the restrained forms lend it a distinctive elegance.
ITC New Baskerville by ITC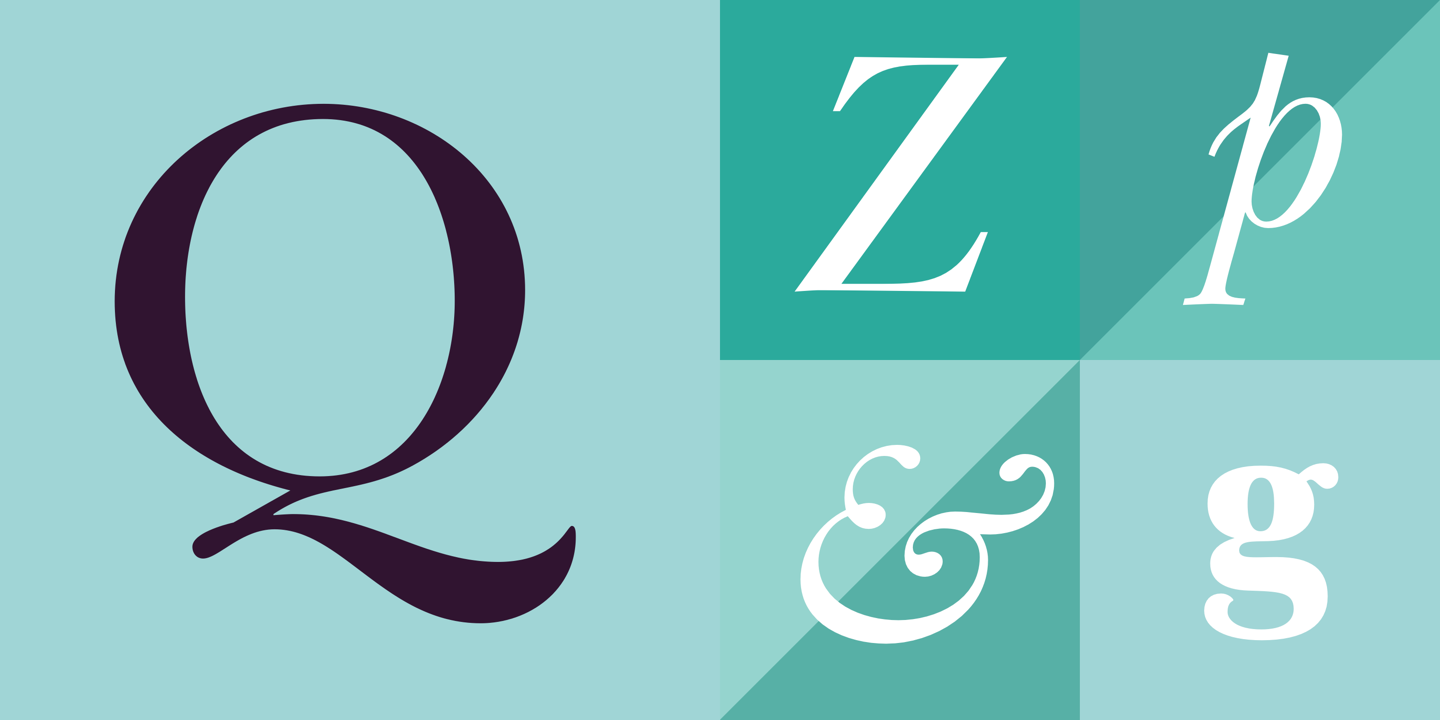 ITC New Baskerville is one of many contemporary type families based on the work of John Baskerville (1706-1775), a writing master and printer from Birmingham, England, whose types were cut by the punchcutter John Handy. Baskerville produced a masterpiece folio Bible for Cambridge University, and today, his types are considered to be fine representations of eighteenth-century rationalism and neoclassicism. It makes an excellent and very readable text face; its sharp, high-contrast forms make it suitable for elegant advertising settings as well.
Brandon Text by HVD Fonts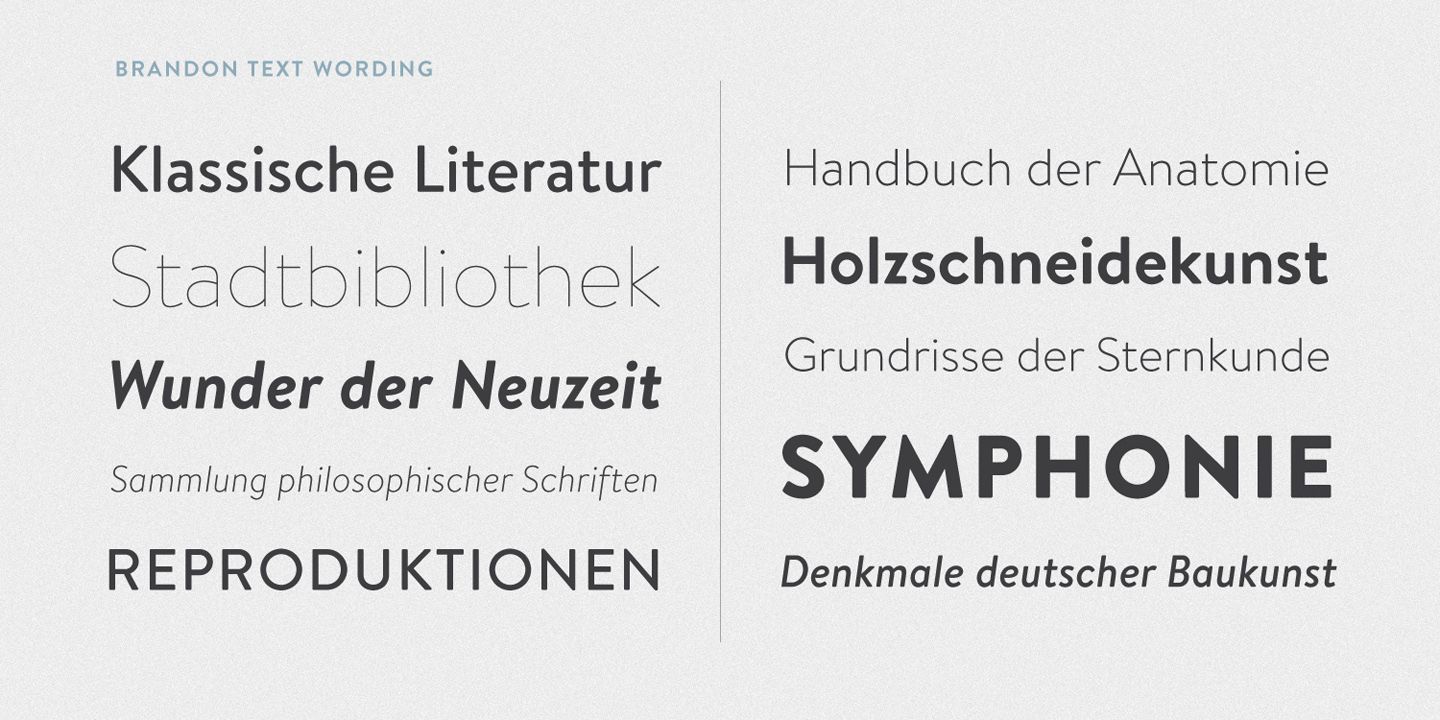 Brandon Text is the companion of the famous Brandon Grotesque type family. It has a higher x-height than the Grotesque version and is optimized for long texts, small sizes and screens. This sans serif type family of six weights plus matching italics was designed by Hannes von Döhren in 2012. Influenced by the geometric-style sans serif faces that were popular during the 1920s and 30s, the fonts are based on geometric forms that have been optically corrected for better legibility. Brandon Text has a functional look with a warm touch and works perfectly together with Brandon Grotesque. It is manually hinted and optimized for screens, so it will be a good choice for Websites, eBooks or Apps.
Indie by Lián Types
Indie is a trendy script, result of the wide range of possibilities that can be achieved using a pointed brush. Nowadays brush lettering and sign painting styles are getting a lot of attention and maybe it's due to the undeniable mark of life that is materialized when using a brush. When you see Indie, you think of skaters, rollers, surfers, hiphop dancers, street artists, summer, and California beaches!
Sant'Elia Script by Yellow Design Studio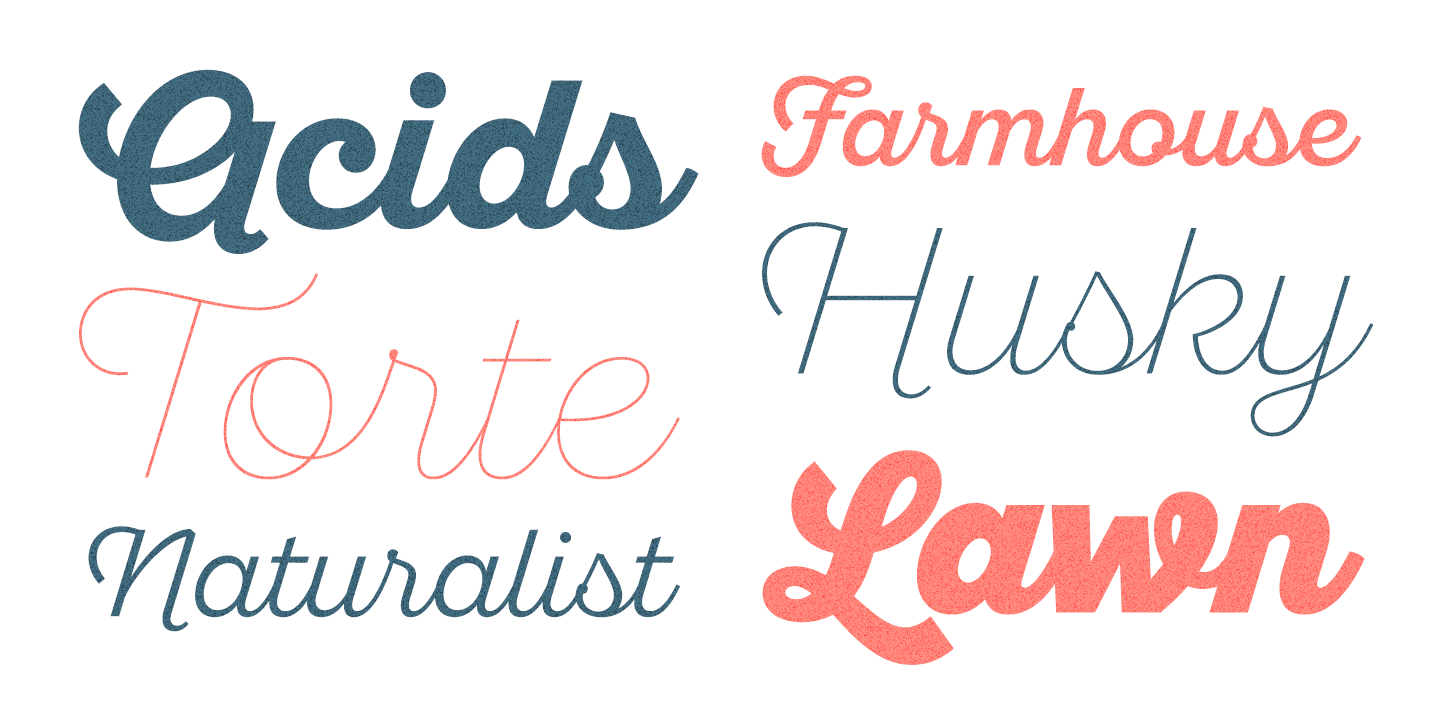 Sant'Elia Script is a robust modern type family with regular and rough versions in six weights. Its letterforms are crisp and welcoming with a splash of verve. Alternate versions feature angled strokes that inject extra energy. Rough weights include three different distress levels that can be mixed for added control and customization.