Last Updated on April 14, 2022
For many illustrators and typography artists, Procreate is an indispensable tool.
Launched in 2011 for the iPad by Savage Interactive, it's been a real game-changer for creatives who enjoy working on this device. If you already own an iPad and Apple Pencil, and you love to draw, edit, and sketch in the digital space, this could be your new go-to tool. Plus the fact that it's less than $10 and you got yourself a truly sweet deal.
Procreate has pros and cons, depending on what you want to work on as well as your personal preferences. For example: just like Photoshop, it allows layers for non-destructive editing. Plus, there's a massive library for illustration tools, like brushes and textures. So for those who love using their iPads for creating digital art, then this software is for you.
Love the app and wish you had more brushes? Check out this list of awesome Procreate brushes to add to your toolkit.
Awesome Procreate Brushes
1. Grain Shader Brushes For Procreate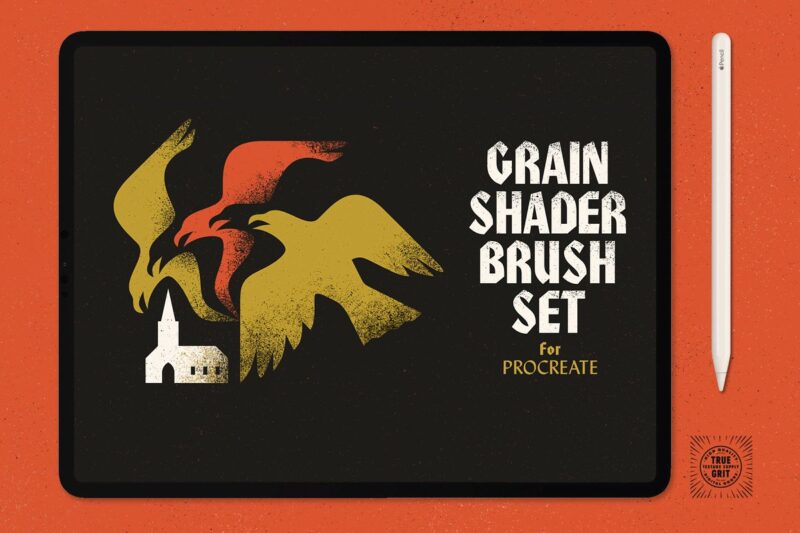 You will get 30 brushes that include fixed, variable, grain-builder, and pressure shader brushes. There are also grainy overlay textures in PNG to effortlessly achieve that vintage, air-brushed look in seconds. Brought to you by True Grit Texture Supply.
Buy Grain Shader Brushes for $10
2. Pencil Pack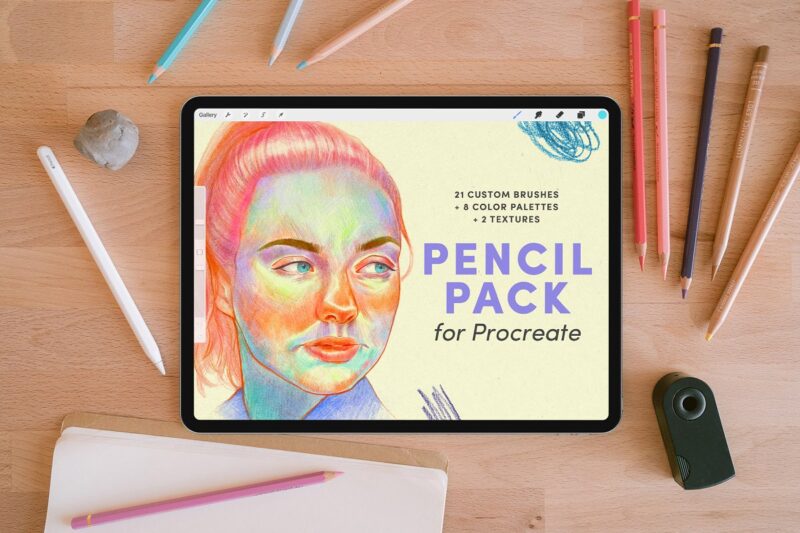 Featuring 21 custom brushes that mimic pencil on paper, Sadie Lew gives you this amazing pack that ensures you get the perfect stroke every time. The product includes 8 color palettes plus 2 textures with hues that are as accurate as the real thing.
3. Nomad V.2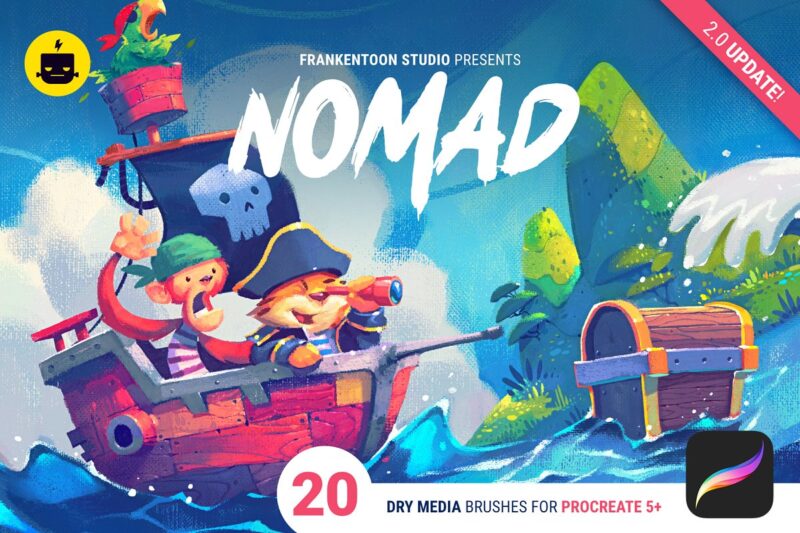 For those working on children's books or kiddie illustrations, you'll find this set of dry brushes from Frankentoon Store to be quite convenient. With 20 Procreate brushes and 30 color swatches, you can finally bring your ideas to life in full detail.
4. Lights Procreate Brushes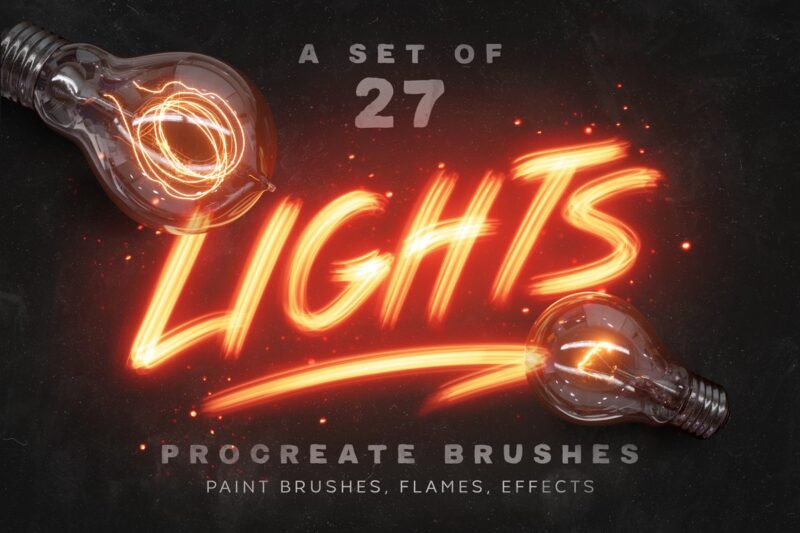 Whether it's a neon sign or a supernova, you can now make endless digital light paintings thanks to this product from MiksKS. Choose from 3 categories (Light pens, Flames, and Effects) and let the fun begin!
Buy Lights Procreate Brushes for $10
5. Halftone Brushes
From comics to vintage posters, you can accomplish all these and more with a few taps all thanks to these halftone brushes that are available in: 25 continuous tone dot, line and cross hatch in 5 shades, and 24 Shader Brushes.
6. Texturizer Pro
Frankentoon Store brings to you this handy brush pack that has 52 texture brushes you can mix and match to create the desired effect. This is recommended for illustrators who want to add just the right touch of edgy or fuzzy to their designs.
7. Crayon
Awaken the inner child in you when you use these bold, waxy, and realistic crayon brushes! It's ideal for use in children illustrations, vintage-style drawings, and visual or concept art. Have fun adding a bit of grainy texture to anything you create.
8. Procreate Vintage Comic Ink Brushes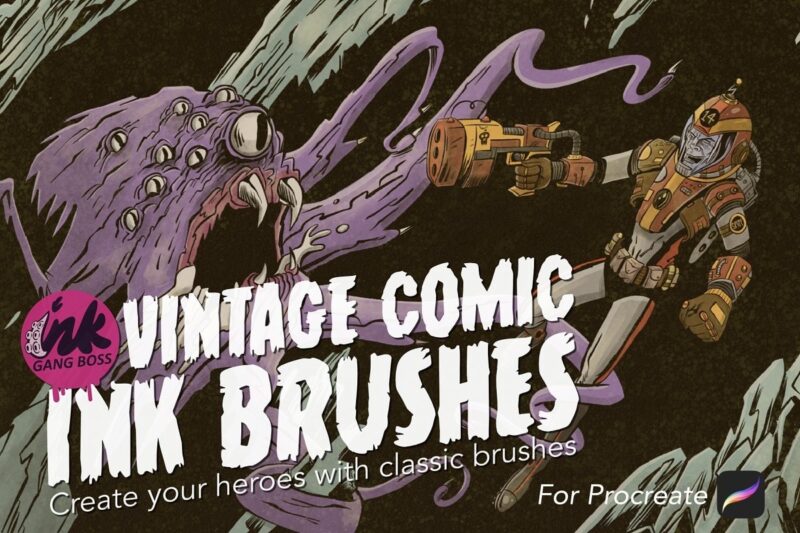 Always wish your works can have that classic comic book feel to them? Now they can with this complete vintage ink kit by Ink Gang Boss. Crafted to imitate subtle textured lines and ink bleed, it will give your drawings a sharper, more natural effect in minutes.
Buy Procreate Vintage Comic Ink Brushes for $6
9. Pen Drawer Procreate Brush Set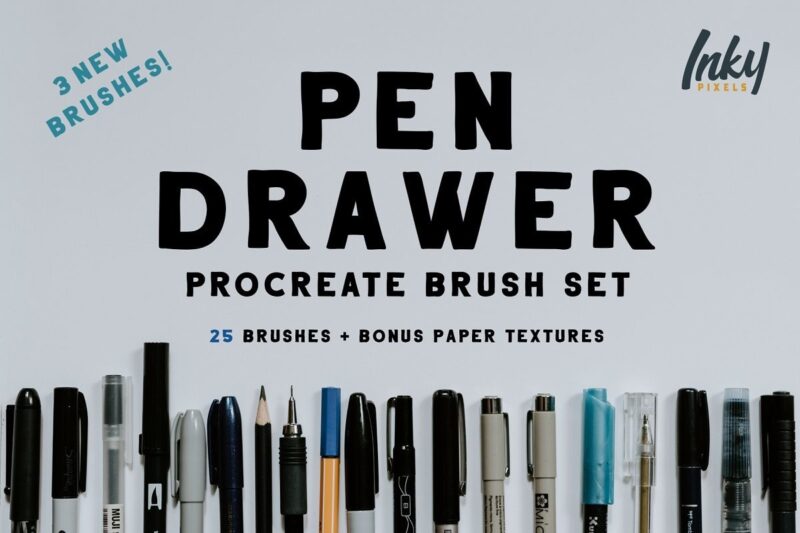 Inspired by lettering and calligraphy pens and markers, this set by Inky Pixels has 25 individual brushes, 9 high-resolution texture photos for background use, as well as a .brushset file for easy installation. What more could you ask for?
Buy Pen Drawer Procreate Brush Set for $12
10. Amazing Alcohol Ink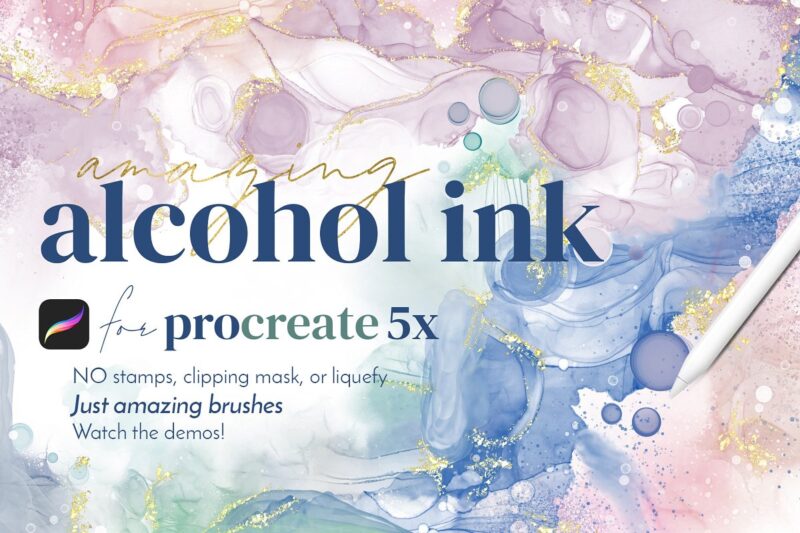 Gracefully re-create the fluidity of alcohol ink in this set from Alaina Jensen. No need to jump through hoops to get the effect you want. This 'notoriously difficult' medium can now be used to make stunning digital pieces with ease and confidence.
Buy Amazing Alcohol Ink for $19
11. Sargent's Oils
If you love painting in oil or re-creating oil paintings from master artists such as John Singer Sargent, then you will fall in love with these Procreate brushes. Included in this product are 14 custom brushes plus a seamless fabric canvas texture, to ensure you get realistic results in half the time.
12. Dry Texture Brushes
Whether you love working with pencils, charcoal, or ink, you will need a practical set of brushes to help you complete your projects in stunning detail. Enter this brush set by Trailhead Design Co. that has a total of 30 custom dry texture brushes that are easy to install and to use.
Buy Dry Texture Brushes for $18
13. Rusty Nib Inkers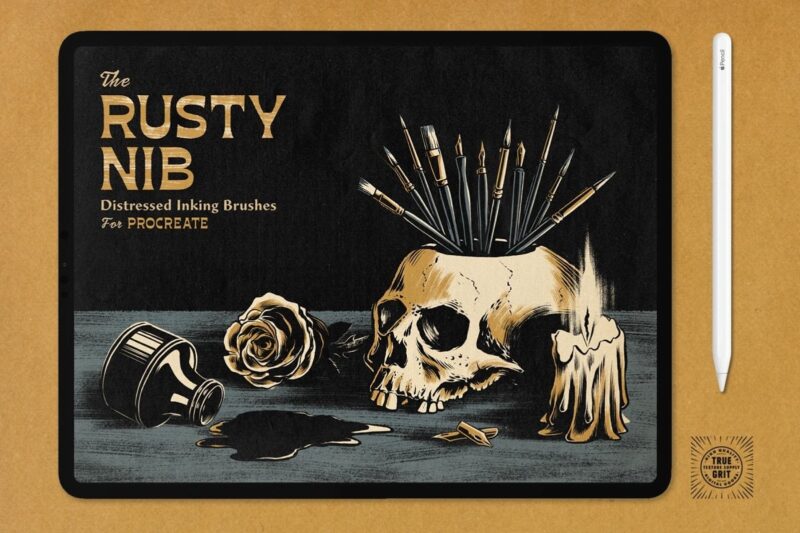 Built from scratch using original analogue brush and texture samples, this product combines the beauty of ink on paper with the contemporary digital workflow. You will get 122 distressed inking brushes and FREE updates. A definite steal, especially for those who enjoy working on dark or vintage themes.
14. Procreate Brushes Bundle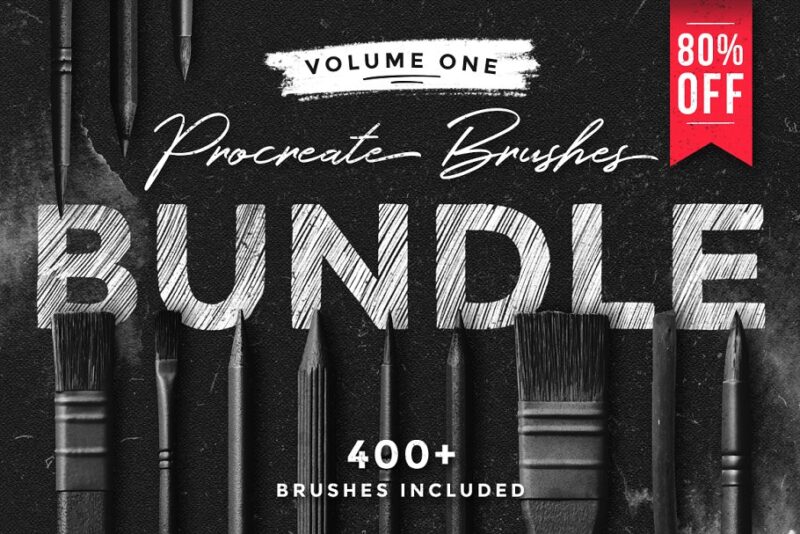 This massive set includes 400 brushes for Procreate, and free updates after your purchase. Some of the brushes that you'll find are: charcoal, grain, glitch, ink splatter, lights, lens flare, neon, paint, grunge, and engaving.
Buy Procreate Brushes Bundle for $45
15. Procreate Watercolor Kit
For those who love the look of watercolors but are not yet experienced with the Procreate app, this product from Drifter Studio PrintShop comes with extensive and professional video tutorials. You'll find yourself painting just like the real thing – except it's on iPad!
Buy Procreate Watercolor Kit for $14