Last Updated on March 8, 2022
Finding a suitable collection of cool and motivational quotes that aptly capture your life's story is not a walk in the park. It's even more difficult if the collection comes with elegant graphic elements. Well, let's just say that it largely depends on where you're looking.
Explore the following products for some of the best short quote bundles that you can use to inspire your friends and followers. These image quote collections are visually appealing and are ready to be used to grow your social media accounts. Save time and money buy purchasing these gorgeous bundles and making them your own.
1. Rose Gold Christmas Quotes
The Christmas season is fast drawing near and if you're like most people, you'll be trawling the internet looking for the best Christmas quotes to share with your near and dear ones.
Why not get a head start today by downloading the Rose Gold Christmas Quotes collection? The bundle comes with 30 PNG quotes (each complete with embellished background elements) and 30 PNG 'word only' quotes. When you download this short quote bundle, you're also entitled to one illustrator file that comes with 30 quotes inside.
2. 645 Essential Social Media Quotes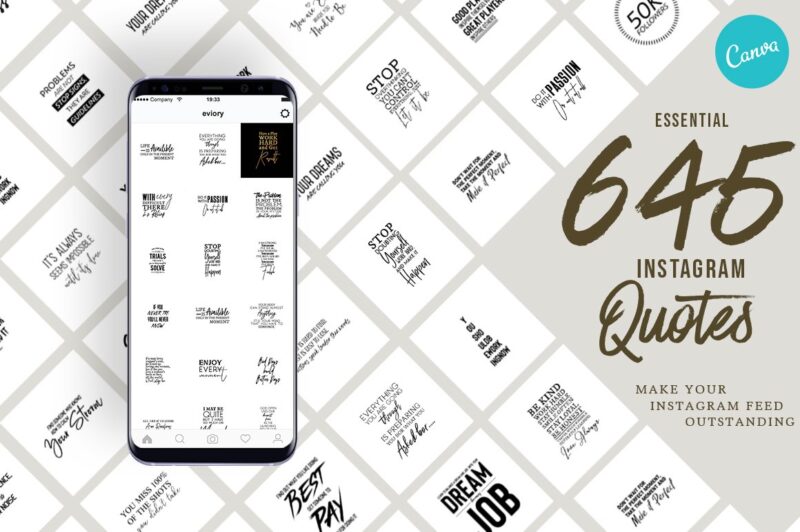 Many people struggle to find the right content to post on their social media profiles. But why ponder on what you'll write on your Facebook status when you can save your time and apply these ready-to-post social media quotes. The collection features ready-to-post quotes if you're pressed for time. Better yet, you can customize the templates using various elements to come up with a unique post.
3. 500 Social Media Quotes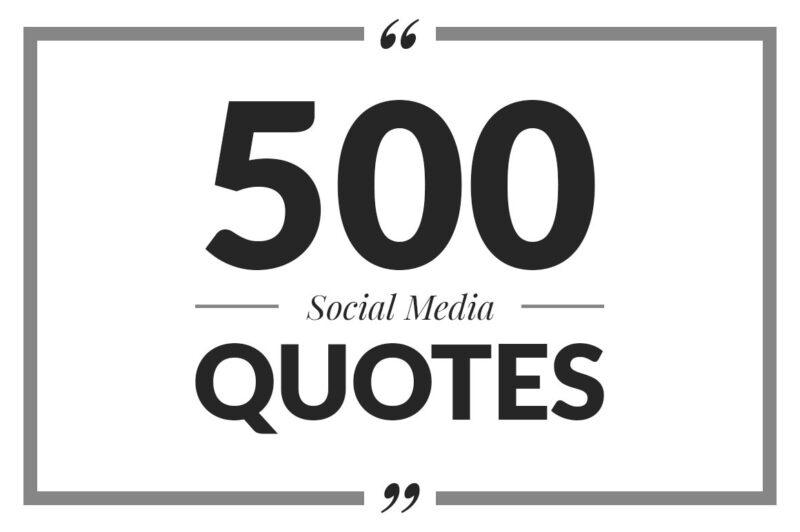 Here's another exquisite collection of short quote bundles to post on your social media accounts. The quotes are designed in square format, are ready to use, and come in a variety of editable texts, images, colors, sizes, and patterns. The package also comes with a video tutorial to help you work your way around the media files.
4. Eco Quotes 61 Quotes Pack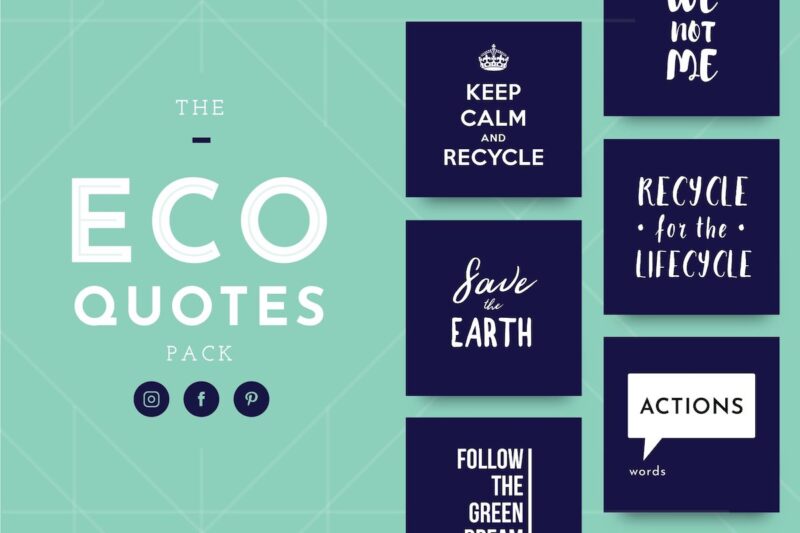 Do you have a deep passion for environmental conservation? Here is a short quote bundle to help you broadcast your commitment to the preservation of Mother Nature. You can post these quotes on your Facebook or Instagram account or stick them on your t-shirts, stickers, or posters. Each quote is printed on an elegant background, just to make it outstanding.
5. 7300 Quotes Textures Bundle
What makes this bundle worth buying is that the collection contains inspirational quotes that apply to various life situations. Whether you're looking for growth and development quotes, business and corporate quotes, or education quotes, there's definitely something for you.
The quotes are ready to post and come in high image resolutions (1000 px x 1000 px). What's more, you can personalize the text colors, modify the backgrounds, and play around with different fonts.
6. 100 Christmas Quotes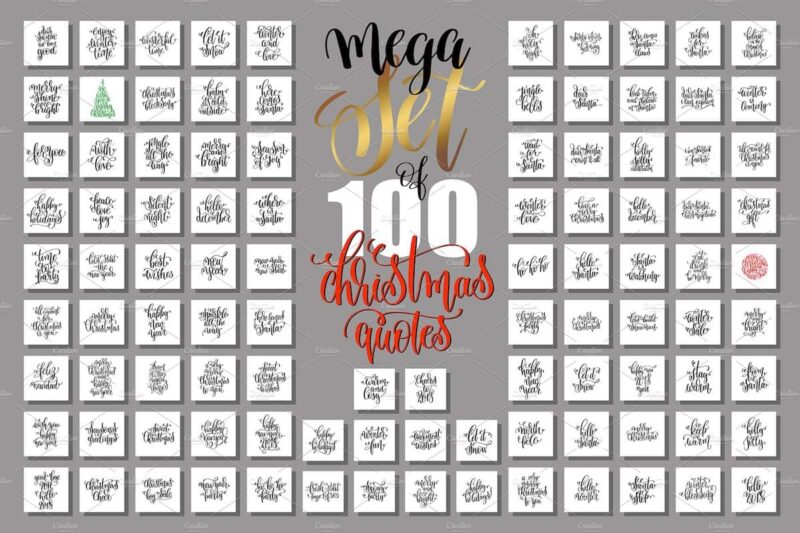 This short Christmas quotes bundle is a collection of different types of Christmas quotes, from Santa Claus quotes to Happy New Year quotes. The texts are printed in calligraphy vector illustrations that will surely add more color and light to your Christmas festivities. You get to choose between two file formats – the raster version (JPEG) and the vector version (eps10).
7. 2193 Instagram Stories Quotes Bundle
This is one of the largest ready-to-use short Instagram quotes bundle that you'll ever find. Being a photo-based social media platform, you'll only stand out on Instagram if you post and share breathtaking photos. Fortunately, that's exactly what you get when you download this bundle. The collection allows you to edit the background colors so that they're aligned with your unique style on social media.
8. 1000 + 200 Positive Quotes Posters
Explore 1000+ positive quotes posters that come in calligraphy vector illustrations for that extra layer of charm and magic. This short quote collection will help you to stay positive in various aspects of your life, ranging from love and relationships to health and fitness, self-improvement, etc. The posters are available in two file formats, namely PNG and JPEG.
9. 480 Quotes Bundle
Are you interested in building a powerful online brand? Whether you're a marketer, blogger, small business owner, or just want to increase your following on social media, this is the right short quote bundle for you. The pack contains 480 quotes that have been skillfully curated to inspire and uplift your online community of friends and followers. The collection includes both ready-to-use and customizable texts.
10. Love and Romance Social Media Quotes
Some social media quotes are meant to strike online conversations while others are simply intended to keep your friends and followers engaged. However, nothing leaves a lasting impression than an artfully delivered love and romance social media quote.
Pull a quote from this bundle, post it on your Facebook or Instagram account, and spread the message of love and hope. The files are available in two formats, namely JPG and PNG. Plus, you can edit the colors and elements so that each post reflects your true style and personality.
11. 2193 Mega Bundle Instagram Quotes
Uncover this massive collection of ready-to-post short inspirational Instagram quotes. The quotes are available in Canva Version, which speaks to their quality and resolution. When you choose this pack, you get numerous file options, including JPEG, JPG, PSD, and PNG formats. Needless to mention, you can also personalize the colors to suit your Instagram style.
12. 150 Inspirational Fitness Quotes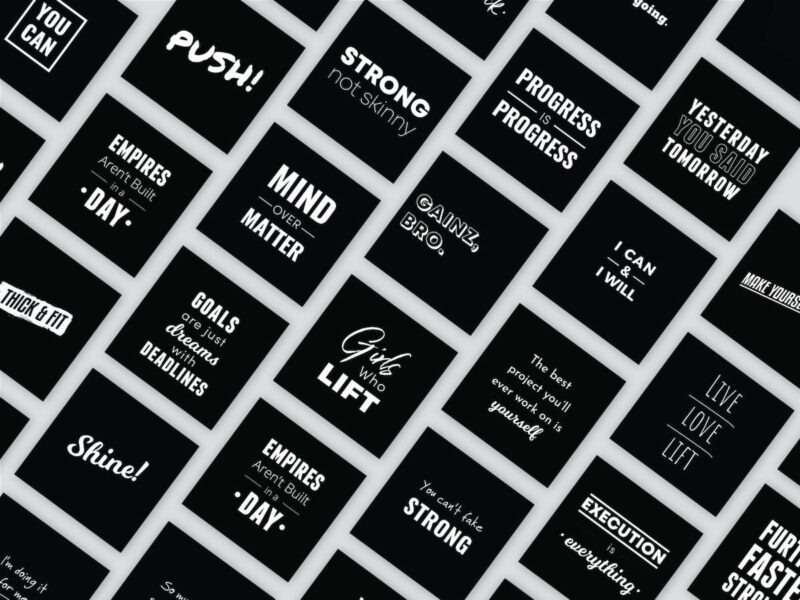 This short quote package is intended for different kinds of fitness freaks, from professional athletes to personal trainers, fitness influencers, to mention but a few. The quotes come in different backgrounds, including black, white, black on white, or white on black. You also get clean and elegant typography as well as editable text colors.
13. 406 Spiritual Entrepreneur Quotes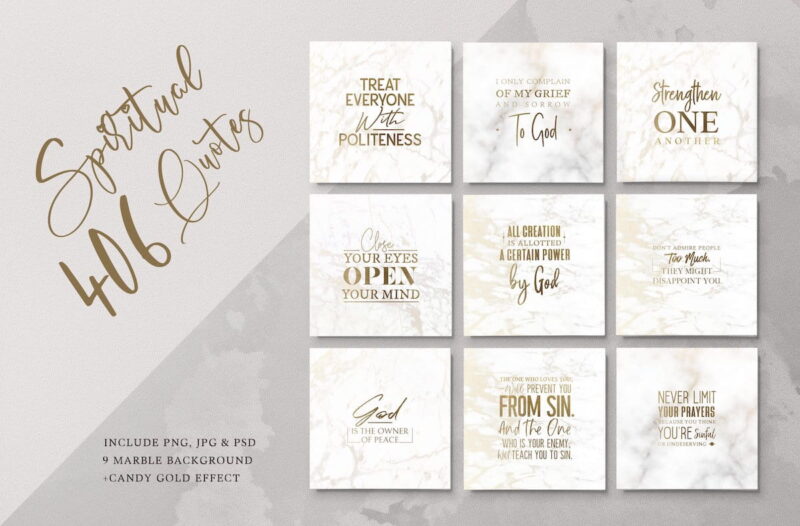 We all crave for quotes that inspire us to reconnect with our higher power and appreciate the harmony that is the universe. And that's what you get when you choose this short quote bundle.
These quote templates will help you to spread messages of healing and positive vibes on social media for more following. Save your precious time by choosing ready-to-post templates or personalize the quote backgrounds further to your desired tastes and preferences.
14. Instagram Stories Quotes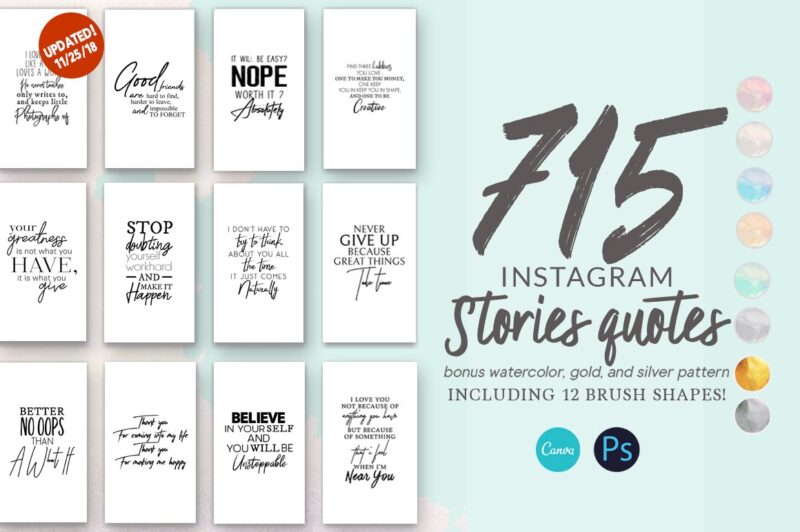 Achieve unparalleled uniqueness on Instagram by posting these short inspirational quote templates. Choose the quotes from a wide array of file formats, including JPG, PNG, and PSD. The quotes also cut across various categories, such as Business Quotes, Girl Boss Quotes, Monthly Quotes, etc.
15. Deep Quotes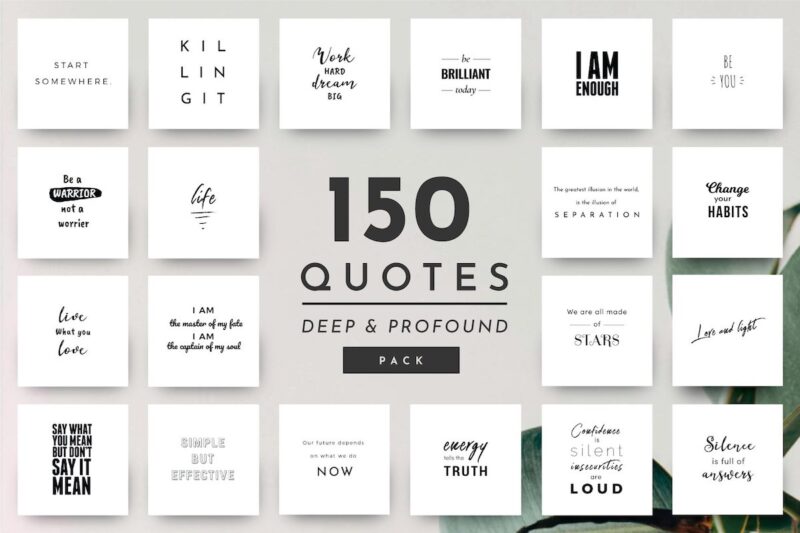 This bundle contains 150 short quotes that are ideal for self-development enthusiasts. Whether you want to grow your brand on social media, mentor a friend, or just offer words of wisdom to your social media community, these are the quotes for you. You can instantly share the photos on your social media accounts as they are or modify their colors to align with your personal brand.
16. Travel Quotes 53 Wanderlust Quotes
Bring out the wanderlust spirit in you by posting these quotes on your Facebook, Twitter, or Instagram account. The quotes are curated for both digital nomads and travel bloggers. As you post photos of you exploring charming destinations on social media, you can seamlessly throw in a quote from this list for good measure.
17. 3945 Instagram Daily Quotes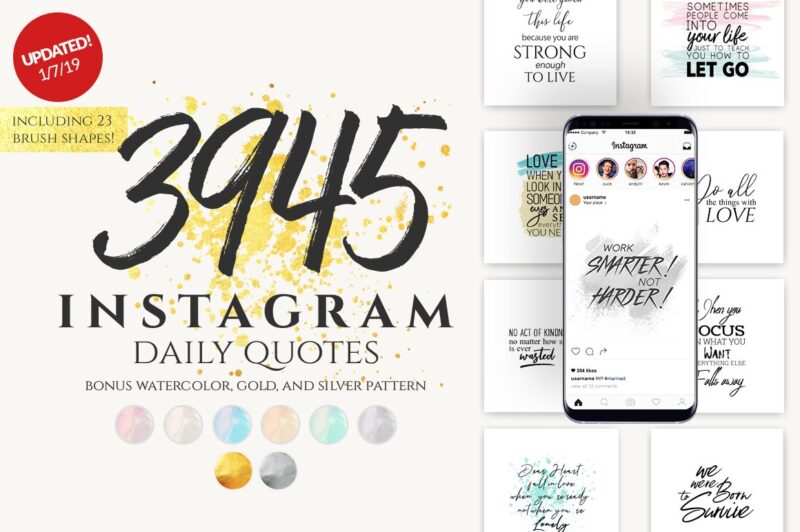 Keep your Instagram friends and followers engaged by posting a quote every day from this massive collection. With this bundle, you'll have a motivational quote to inspire your Instagram community daily for more than ten years. The pack features both editable and ready-to-post quotes designed on different backgrounds.
18. 5423 Instagram Editable Quotes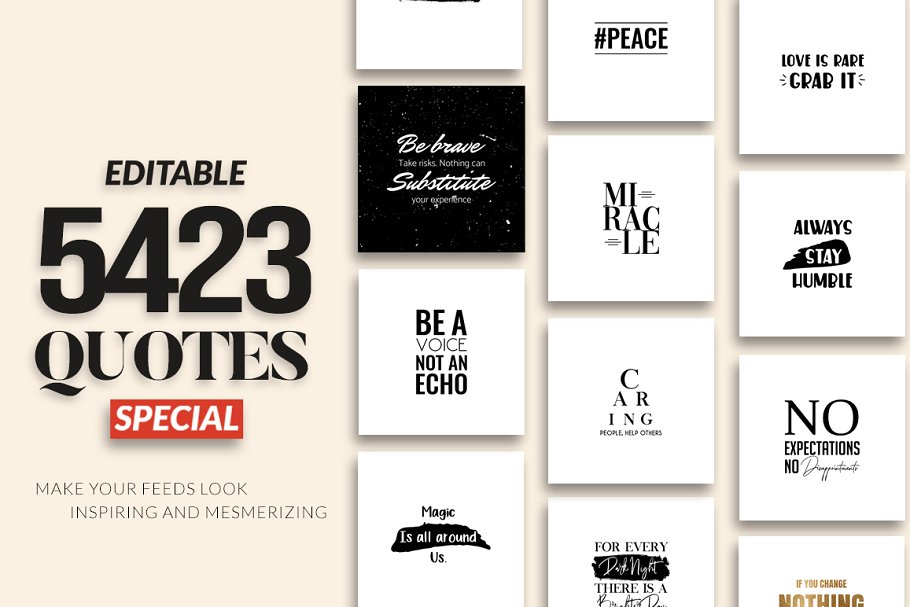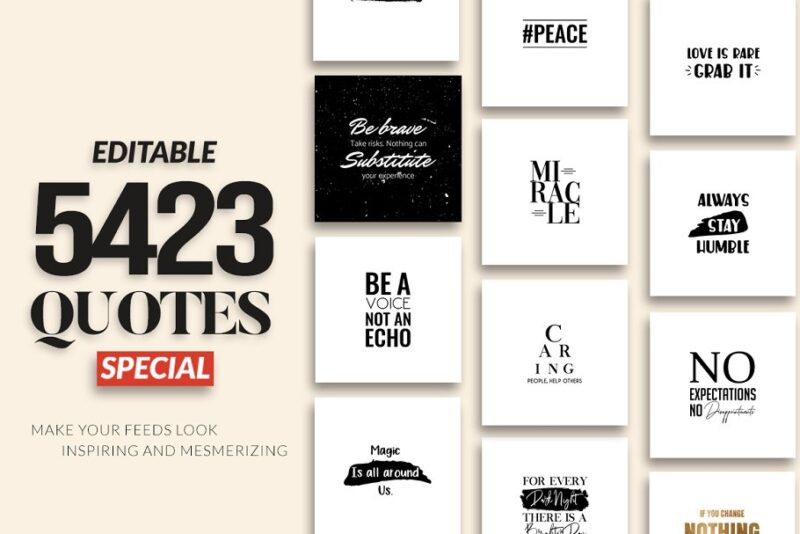 As the name suggests, this is a comprehensive list of 5000+ editable Instagram quotes that cover the full spectrum, from love and romance to adventure, spirituality quotes, etc. Though the collection largely includes editable templates, there also plenty of ready-to-post quotes if you're a bit pressed for time. You can download the quotes in several file formats, including PNG, PSD, and JPG.
19. 1350 Quotes Ultimate Quote Pack
Select from a large collection of editable and ready-to-use PNG short quotes from this huge collection. The quotes are designed in scalable vectors, making them ideal for posting on Instagram, using on your laptop, or sticking on your van. With this collection, you also get various background options, including black, white, and transparent.
20. 100 Positive Quotes
Browse this short quote bundle for the best motivational quotes to keep you going amidst the chaos and confusion of life. The quotes are printed on different backgrounds, ranging from plain to colorful, to suit your individual aesthetic preferences. Like most short quote bundles we've reviewed here, you can choose between ready-to-post and editable versions, depending on your customization needs.
Conclusion
The above short quote collections will not only motivate and inspire you as you go through life. The messages are also designed on elegant backgrounds to deliver the ultimate impact.