Last Updated on March 3, 2023
Who Is Reba McEntire?
Reba Nell McEntire, simply known by her first name Reba, is an American country music singer, songwriter, record producer, and actress.
As a musician, Reba gained initial recognition as a member of the Kiowa High School band as well as on local radio shows alongside her siblings and at rodeos. She continued honing her musical talents through college. During her sophomore year at Southeastern Oklahoma State University, McEntire shot to the national limelight following her stellar performance of the National Anthem at the National Finals Rodeo held in Oklahoma City. She subsequently signed a recording contract with Mercury Records and released her debut solo album in 1977.
As of the time of writing, Reba has released over thirty studio albums and is considered one of the most successful country artists of all time. Some publications have even dared to dub her 'the Queen of County Music.'
In addition to singing, Reba McEntire has appeared in numerous films and television shows over the years, starting with the 1990 film Tremors. She has also starred in a couple of Broadway productions, including Annie Get Your Gun (2001). Plus, she's noted for her television sitcom titled Reba, which aired from 2001 to 2007.
Quick Facts
| | |
| --- | --- |
| Full Name: | Reba Nell McEntire |
| Popular Name: | Reba McEntire |
| Gender: | Female |
| Birth Date: | March 28, 1955 |
| Age: | 67 years |
| Parents: | Clark Vincent McEntire and Jacqueline Smith McEntire |
| Siblings: | Susie McEntire, Pake McEntire, and Alice McEntire |
| Birth Place: | McAlester, Oklahoma |
| Nationality: | American |
| Ethnicity: | Mixed (English, Scottish, Irish, and German) |
| Education: | Kiowa High School and Southeastern Oklahoma State University |
| Marital Status: | Divorced; previously married to steer wrestling champion Charlie Battles (from 1976 until their divorce in 1987) and former steel guitar player Narvel Blackstock (from 1989 until their divorce in 2015) |
| Sexual Orientation: | Straight |
| Wife/Spouse: | N/A |
| Children: | Shelby Steven McEntire Blackstock (from her marriage to Narvel Blackstock) and Chassidy Blackstock, Shawna Blackstock, and Brandon Blackstock (from Blackstock's previous relationships) |
| Dating: | N/A |
| Net Worth: | USD 100 million |
| Source of Wealth: | Album & Record Sales, Songwriting, Record Producing, Acting, and Other Ventures |
| Height: | 5′ 7″ (1.7 m) |
| Weight: | 58 kg; In pounds: 128 lbs. |
Early Life and Career Information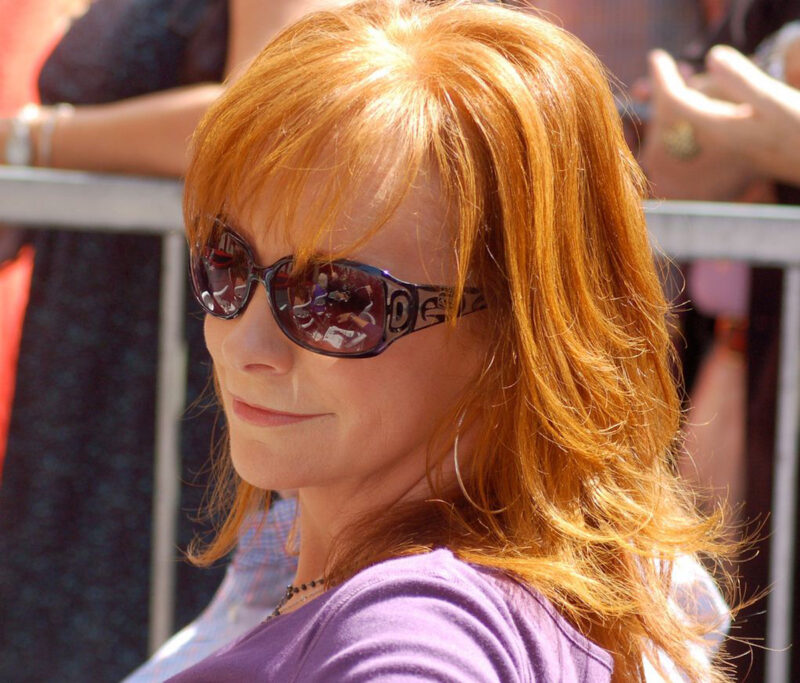 Reba McEntire was born on March 28, 1955, in McAlester, Oklahoma, to Clark Vincent McEntire and Jacqueline Smith McEntire. Her father was a champion steer roper, whereas her mother was a schoolteacher.
McEntire taught herself how to play the guitar at a young age. She teamed up with her siblings Pake and Susie to form a vocal group known as 'The Singing McEntires.' The group became popular at rodeos and on local radio shows, especially after recording Reba's song "The Ballad of John McEntire."
Reba McEntire graduated from Southeastern Oklahoma State University in 1976. She initially planned to be an elementary school teacher. While in college, Reba split her time between classes and singing at local events. In 1974, her exceptional performance of the national anthem at the National Finals Rodeo in Oklahoma City piqued the interest of country artist Red Steagall.
With the help of Steagall, McEntire signed a recording deal with Mercury Records in 1975. She released a couple of singles before releasing her self-titled debut album in 1977. The album did not make the Billboard Top Country Albums chart upon its release.
In 1979, Reba released her second album, Out of a Dream. The album was a moderate success, reaching # 19 on the Billboard country chart. Reba McEntire released one studio album every year for the next four years, including Feel the Fire (1980), Heart to Heart (1981), Unlimited (1982), and Behind the Scene (1983).
In 1994, McEntire signed with MCA Nashville Records and released two albums, namely Just a Little Love and My Kind of Country. The following year, she released her third MCA album and her ninth album overall, titled Have I Got a Deal for You. McEntire would later follow up with over 20 more studio albums, including:
• Whoever's in New England (1986)
• Reba Nell McEntire (1986)
• What Am I Gonna Do About You (1986)
• The Last One to Know (1987)
• Merry Christmas to You (1987)
• Reba (1988)
• Sweet Sixteen (1989)
• Rumor Has It (1990)
• For My Broken Heart (1991)
• It's Your Call (1992)
• Read My Mind (1994)
• Starting Over (1995)
• What If It's You (1996)
• If You See Him (1998)
• So Good Together (1999)
• The Secret of Giving: A Christmas Collection (1999)
• Room to Breathe (2003)
• Reba: Duets (2007)
• Keep On Loving You (2009)
• All the Women I Am (2010)
• Love Somebody (2015)
• My Kind of Christmas (2016)
• Sing It Now: Songs of Faith & Hope (2017)
• Stronger Than the Truth (2019)
Besides singing, Reba McEntire is also a renowned actress. McEntire made her cinematic debut by portraying Heather Gummer in the 1990 film Tremors. She went on to appear in numerous films, including The Little Rascals (1994), One Night at McCool's (2001), Charlotte's Web (2006, as a voice actress), Spies in Disguise (2019, as a voice actress), and Barb and Star Go to Vista Del Mar (2021).
McEntire has also featured in a number of television shows in different capacities over the years. Examples include WrestleMania VIII (1992, as a performer), Reba (2001 – 2007, as an actress), Malibu Country (2012 – 2013, as an actress), The Voice (2015, as an advisor), and Young Sheldon (2020 and 2021, as an actress).
McEntire's acting career also includes Broadway appearances. She appeared in the 2001 and 2006 Broadway productions 'Annie Get Your Gun' and 'South Pacific: In Concert from Carnegie Hall,' respectively.
Awards and Recognition
Reba McEntire has received several prestigious awards during her music career. Examples include:
• 4 Country Music Association's 'Female Vocalist of the Year' Awards
• 7 Academy of Country Music Awards
• 12 American Music Awards
Reba McEntire's Net Worth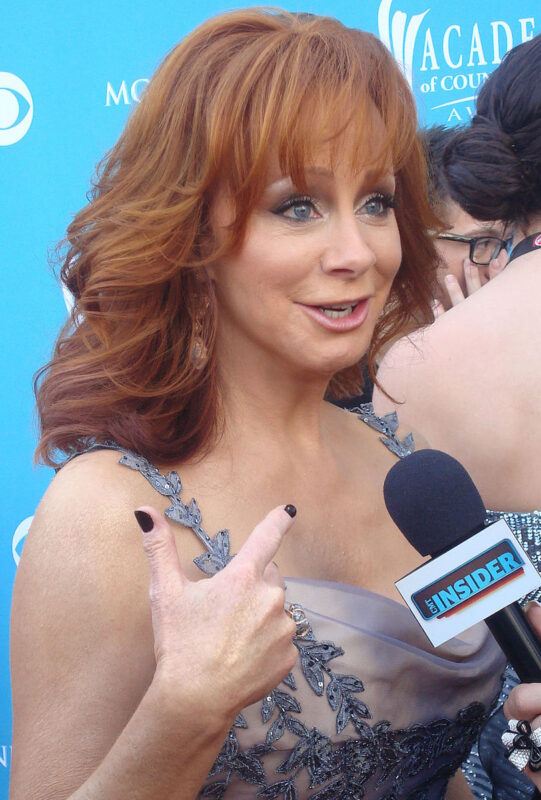 As of 2023, Reba McEntire had a net worth of $100 million. A huge chunk of McEntire's fortune comes from her various roles in the music industry, including singing, songwriting, and record producing. As of the time of writing, Reba has sold more than 75 million records worldwide. Sixteen of her albums and 42 of her singles have charted at number one in their respective chart categories.
Reba McEntire's music-related earnings also comes from touring and residency shows. Reba has since gone on 16 music tours, co-headlined five tours with other artists, and performed as an opening act in one tour. She has embarked on two residency shows, including Key to the Heart (2006-07) and Together in Vegas (with Brooks & Dunn) (2015-present).
Acting is also a major potential earner for Reba McEntire. The legendary musician has appeared in a couple of films, television shows, and Broadway productions over the years, and possibly earned huge paychecks from her various roles.
Lessons from Reba McEntire
1. Never give up despite how many times you fail
Reba McEntire's first few music projects were either epic failures or registered moderate success. However, Reba never gave up on her dreams. She kept releasing songs and got her early break with her second album, Out of a Dream.
2. Always pay tribute to the people who made an impact in your life
On March 16, 1991, McEntire lost her entire band, including her road manager, in a plane crash. The ordeal left her devastated and McEntire decided to dedicate her next album 'For My Broken Heart' to the departed.
3. Focus on making money…not necessarily on what the critics say
Reba McEntire has released tons of albums that went on to achieve tremendous commercial success despite poor critical acclaim. An example is her 1988 self-titled album, which peaked at #1 on the Top Country Albums chart and topped the charts for six consecutive weeks before being certified platinum despite poor reviews.
Famous Quotes by Reba McEntire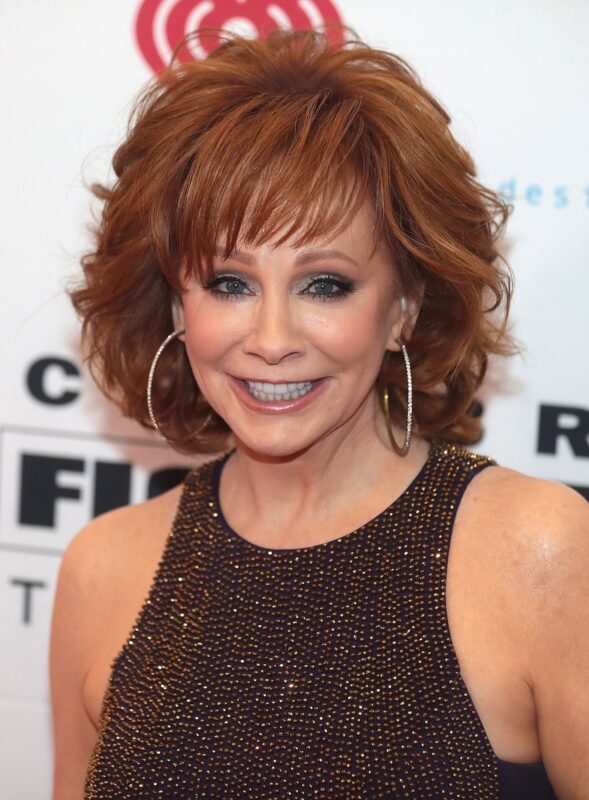 "All the money in the world can't buy you back good health."
"Be different, stand out, and work your butt off."
"I don't think quantity time is as special as quality time with your family."
"It's very important to surround yourself with people you can learn from."
"To succeed in life, you need three things: a wishbone, a backbone and a funny bone."
Conclusion
Reba McEntire is an accomplished musician who has been widely regarded as one of the best country artists of all time. She has released over 30 studio albums, 16 of which topped the Country Music charts. McEntire has also appeared in numerous movies and television series during her career. Her various endeavors have translated into a $100 million net worth as of 2023.