Last Updated on January 11, 2022
We waste a whopping third of the food produced globally, even though most of this is actually perfectly edible. This is such a devastating statistic considering 800 million people in the world suffer from food poverty. Not only that, this has a hugely negative impact on the environment seeing as food production uses an astonishing amount of energy and water. 
For example, agriculture is responsible for 80% of all water consumed in the US, while global farming and food created 16 billion tonnes of CO2 every year from 2012 to 2017.
Yes, food waste is a significant problem, however, it is sometimes inevitable — especially if something goes off before you get the chance to eat it. But you don't have to simply throw it away. Did you know that you can actually recycle food? There are many waste management businesses out there equipped to handle this specific type of rubbish. 
Take London-based company Bywaters, for instance, whose food recycling service "keeps your food waste out of landfill". This is achieved by breaking it down into biomethane, which can then be used to generate power and create high-grade fertilizer to help grow new crops. 
While recycling is a great option, there are other ways to ensure you don't throw anything anyway. And simply reusing leftovers is one of the best options, Here are three delicious recipes that will help you do just this.
1. Bread and Butter Pudding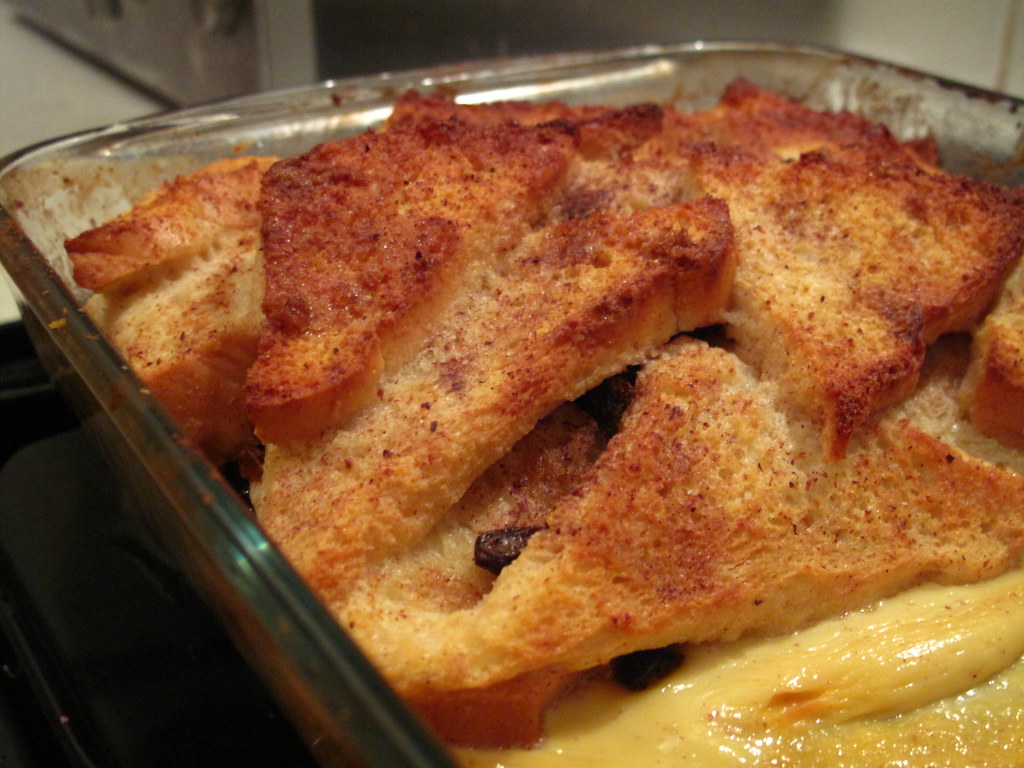 The UK bins around 20 million slices of bread a day. However, bread is such a versatile food that it can be used even if it's stale. And this bread and butter pudding recipe not only stops you from chucking too many loaves away, but it's also a very yummy, hearty dish that can be whizzed up in no time at all. 
Prep: 10 minutes

Cooking time: 25 minutes

Serves: 6-8
Ingredients:
¼ cup (55 grams) butter, at room temperature

10 slices soft white bread, cut diagonally

½ cup (55 grams) golden raisins or sultanas

¼ tsp freshly grated nutmeg

¼ tsp cinnamon

1 ½  (350ml) milk

¼ cup (50ml) heavy cream

2 large eggs

4 tbsp white sugar

1 tsp vanilla extract
Method:
Preheat the oven to 355°F / 180°C and grease a 1-liter dish with butter.

Spread one side of each bread slice with butter and cover the base with overlapping triangles of bread, butter side up. Sprinkle half the raisins (or sultanas) and the nutmeg and cinnamon evenly over the bread. Repeat this again until the dish is filled and scatter over the remaining fruit.

Then gently heat the milk and cream in a saucepan — do not boil.

In a medium-sized heatproof bowl, beat the eggs with 3 tablespoons of sugar and vanilla extract until light.

Slowly pour the warm milk over the eggs, making sure to whisk continuously until all of the milk is added.

Next, pour the egg mixture slowly over the bread and gently press it down into the liquid. Sprinkle in the remaining sugar and set the dish aside for 30 minutes.

Bake the pudding for around 40-45 minutes, or until the top is golden brown and the eggs have set.

Serve hot and enjoy!
You could even make this a boozy pudding by soaking the dried fruit in 2 tbsp of brandy, rum, or whiskey.
2. Banana Bread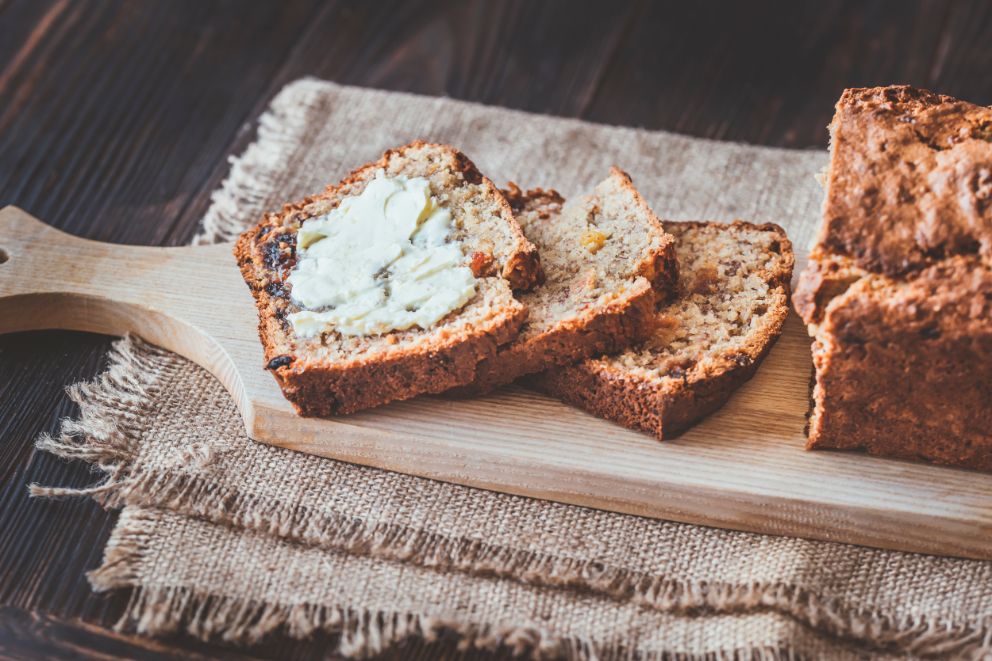 If your bananas are looking a little too black to be eaten by themselves, don't throw them away! Mash them up to make a beautifully sweet banana bread. This recipe is super quick and simple.
Prep: 15 minutes

Cook time: 50 minutes

Cuts into 8-10 slices
Ingredients:
2 – 3 very ripe bananas (about 1 ¼ to 1 ½ cups)

? cup (75 grams) melted butter

1 tsp baking soda

¾ cup (168 grams) sugar

1 large egg, beaten

1 tsp vanilla extract

1 ½ cups (336 grams) of all-purpose flour

Pinch of salt
Method:
Preheat the oven to 350°F / 175°C, and butter a 4×8-inch loaf pan.

Mash the ripe bananas with a fork in a mixing bowl until completely smooth, then stir in the melted butter.

Mix in the baking soda and salt, and stir in the sugar, beaten egg, and vanilla. Then add in the flour. If you want to jazz up this recipe, you can add items such as dark chocolate, nuts, and even peanut butter to this step.

Pour the batter into your loaf pan and bake for 50 minutes to 1 hour, or until a tester inserted in the center comes out clean.
Enjoy a thick, warm slice with custard or ice cream.
3. Chicken and Mushroom Risotto
Cooked a whole chicken for your roast dinner but got loads left? Use it up in your next dinner with a big, warming dish of risotto. This classic chicken and mushroom risotto recipe are perfect for feeding your family on a chilly evening.
Prep: 10 minutes

Cooking time: 40 minutes

Serves: 4
Ingredients: 
1tbsp olive oil

2.5 ounces (75 grams) bacon

12 ounces (350 grams) chicken, cut into bite-size chunks

13 ounces (400g) mushrooms, sliced

2 tbsp (30g) unsalted butter

2 garlic cloves, minced

1 onion, finely diced

½ cup (125ml) white wine

1 ¼ cups (250g) arborio risotto rice

4 cups (1 liter) chicken broth/stock
Method: 
Heat the oil in a large pot over high heat. Add bacon and cook until golden, then place in a separate bowl.

Leave some of the excess bacon fat in the pot, and cook the mushrooms.

Turn the heat to medium and add the butter. When melted, combine with the garlic and onion, and sauté for 3 minutes until softened.

Then turn the heat to high, add the rice and stir until the grains become translucent. This should take no longer than 1 minute. Pour in the wine and cook until the liquid evaporates, making sure none of it sticks to the bottom of the pan. Turn the heat to medium-low, pour in 3 cups of stock, and leave it uncovered, stirring just once or twice until most of the liquid has been absorbed.

Check the firmness of the rice and continue adding the stock ½ cup at a time, stirring in until absorbed. 

Reheat your leftover chicken until hot, and add this and the mushrooms to your cooked risotto.

When the risotto is ready, add a splash of chicken stock to make it slightly soupy, before taking off the heat.

To serve, garnish with reheated bacon, as well as parmesan and parsley if preferred.