The red panda is one of the most adorable wild animals. Despite its resemblance to the giant panda and sharing a common name, this animal is a distinct species.
We've prepared a definitive collection of the 30 most remarkable things to know about red pandas before they (God forbid) go extinct.
1. Red Pandas Are Not the Real Pandas
Red pandas aren't considered real pandas. That title goes to the giant panda. Despite sharing a common name, the red panda and the giant panda are phylogenetically different.
The red panda belongs in the Ailuridae family. Members of this family include raccoons, skunks, and weasels.
Giant pandas, on the other hand, belong in the family Ursidae. They share the same phylogenetic relationships with most regular bears, particularly the spectacled bear.
2. Red Pandas Are Called 'The Lesser' Pandas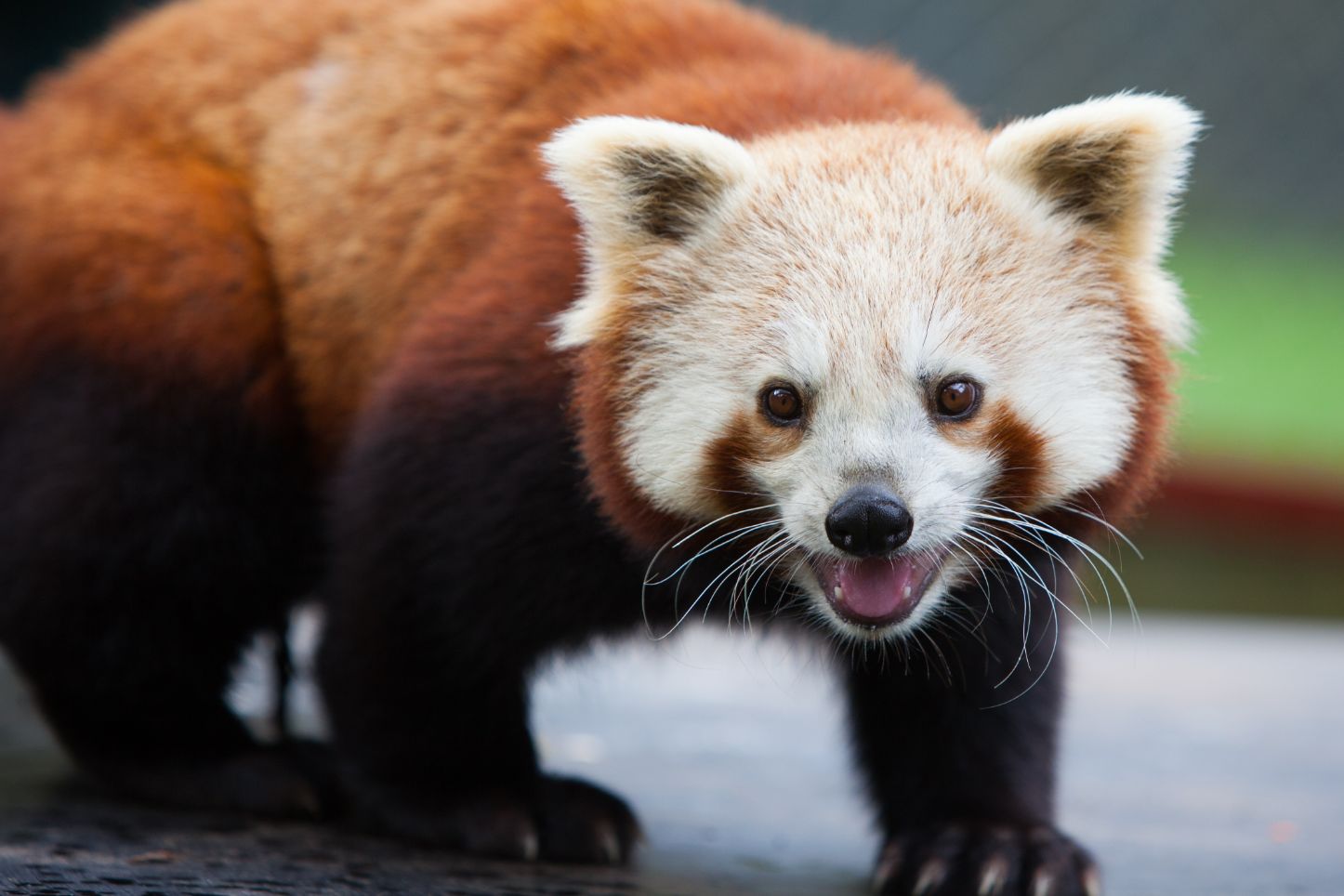 The red panda is aptly christened 'the lesser panda' due to its smaller size compared to the giant panda.
A standard red panda measures 20.1 – 25.0 inches or 51 – 63.5 centimeters and sports an 11.0 – 19.1 inch (28 – 48.5 cm) tail. Also, these animals generally weigh around 7.1 – 33.1 pounds or 3.2 – 15 kilograms.
3. Red Pandas Are So Named For Their Reddish Fur
While the name "panda" in red panda relates to the animal's similarity to the giant panda, the "red" part of the word resonates with their coat color.
The red panda's coat is predominantly red or orange-brown, with black legs and belly. Its tail also features a pattern of red while the rest of the body (cheeks, muzzle, and brows) are usually white.
4. Red Pandas Have a Fairly Small Native Range
All the world's wild red pandas inhabit the Eastern Himalayas and southwestern China. China, Nepal, and Bhutan account for over 98% of the global red panda population.
5. Red Pandas Feed Almost Exclusively On Bamboo
Bamboo makes up over 97% of the red panda's diet. That's one of the fundamental features these animals share with the giant panda.
6. Red Pandas Are Fussy Eaters
Not only does the bulk of the red panda's diet come from bamboo. These animals are very particular on the bamboo parts and species that constitute their diet.
Red pandas mostly favor bamboo leaves and shoots. And they have a preference for bamboo plants in the genera Phyllostachys, Thamnocalamus, Sinarundinaria, and Chimonobambusa.
7. Red Pandas Are Not Obligate Herbivores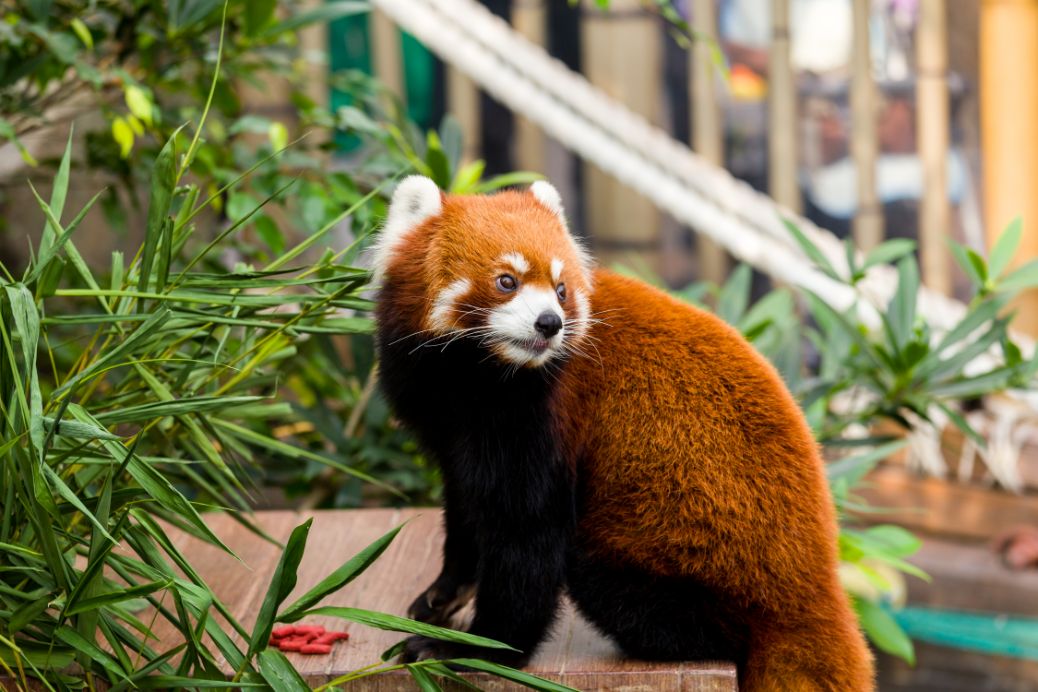 Despite their primary diet being bamboo, a plant, red pandas aren't true herbivores.
Instead, they're omnivores who'll occasionally snack on insects, small lizards, small birds, bird eggs, and small mammals.
8. Red Pandas Are Not Prolific Breeders
Red pandas breed only once annually, with much of the breeding taking place in early winter.
Besides, females are sexually receptive for just about three days during this period and won't mate with males outside the breeding season. This reproductive behavior makes the red panda one of the least prolific mammals.
9. Poaching Is a Serious Threat to the Red Panda Population
About 10,000 red pandas die annually from poaching-related activities. These critters are often killed for their fur.
10. Red Pandas Are Preyed Upon By Other Predators Too
One of the best things about the red panda's natural habitat is that it's relatively low on large carnivores. However, the Himalayan region is home to one of the world's stealthiest predators – the snow leopard.
Snow leopards will not hesitate to kill red pandas. The fact that both animals are arboreal increases the chances of deadly encounters. More unfortunate is the fact that snow leopards usually target young and defenseless red panda cubs.
Besides snow leopards, the red panda is also preyed upon by martens. Their cubs may also be hunted by large birds of prey or other smaller carnivores.
11. Red Pandas Are an Endangered Species…..
Red pandas have featured on the International Union for Conservation of Nature (IUCN)'s list of endangered animals since 2008. It's estimated that there are less than 10,000 red pandas globally and this population has been on a downward trend over the last few years.
Factors like small native range, habitat loss, poaching, predation, reproduction challenges, and limited nutrition are responsible for the ever-dwindling number of red pandas.
12. …..But There Are Heightened Conservation Efforts to Preserve the Species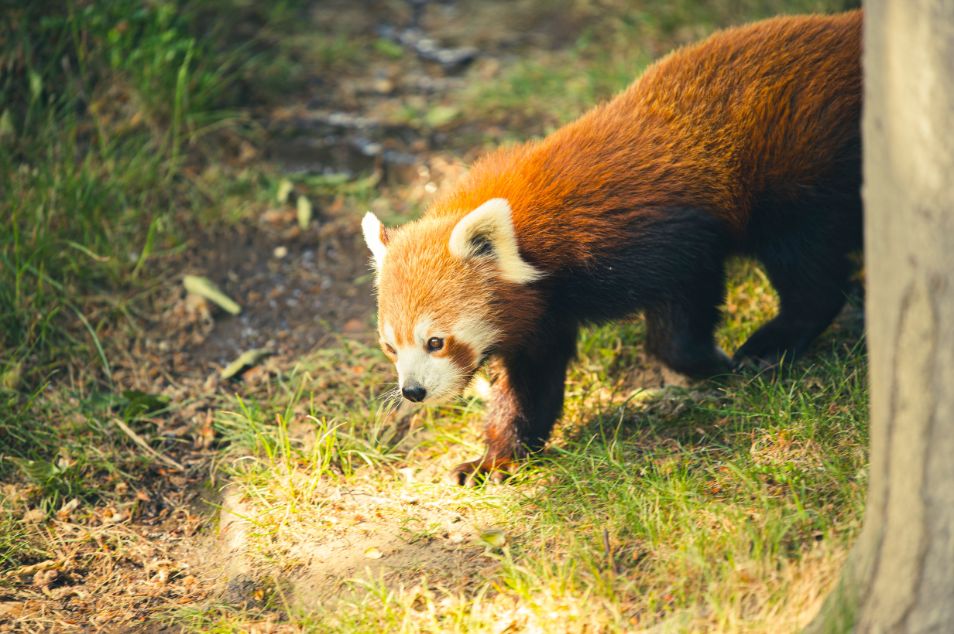 The red panda is one of the most protected animals. There are scores of organizations committed to conserving wild red pandas and their natural habitats.
Noteworthy examples include the Red Panda Network and the World Wildlife Fund.
13. It Is Illegal To Adopt Red Pandas
You can adopt most wild animals for pets, including the very wild and ferocious ones like tigers and crocodiles.
However, it's illegal to trade in the red panda. That consequently makes it illegal to keep red pandas as pets.
The illegal possession of red pandas could have you slapped with hefty fines. And depending on local animal conservation laws, you could end up serving a very long jail term.
14. Red Pandas Don't Want To Be Kept As Pets Either
Even if it were legal to keep red pandas as pets, you would still face immeasurable challenges fending for these animals' basic needs.
That's especially considering their restrictive diets. Besides, red pandas are more at home in their wild bamboo-rich forests.
15. Red Pandas Are Extremely Arboreal
Red pandas spend more than 90% of their time up in the trees. They typically curl themselves up in the trees and rest their heads against branches.
Their flexible joints and semi-retractable claws make the panda incredibly adapted for tree living.
16. Red Pandas Are Crepuscular
Contrary to popular belief, red pandas aren't diurnal creatures. They aren't nocturnal either. Instead, these adorable animals are crepuscular.
Crepuscular animals are generally more active at dawn and dusk. Hopefully, you know when to hit the woods on your next red panda sightseeing tour.
17. Red Pandas Can Sleep For Up To 16 Hours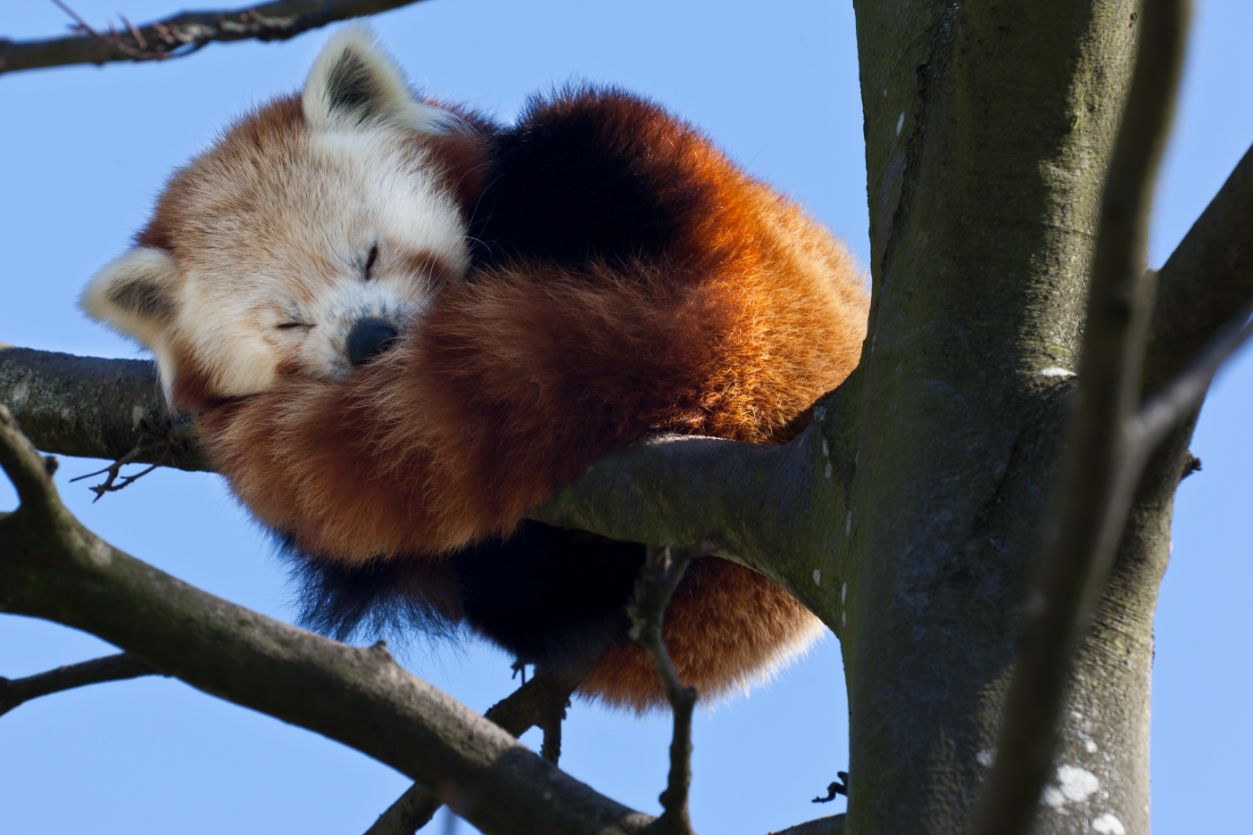 Red pandas are some of the sleepiest creatures on the planet. These animals will slumber for up to two-thirds of their time.
The bulk of their waking hours goes to feeding and migrating vertically (up and down their habitat trees) depending on the conditions of the day.
18. Red Pandas Glow in the Dark
The white markings on the red panda's face are nearly luminescent. Panda cubs are known to reunite with their lost mothers in the dark by following their glowing faces. That's a wonderful feature bearing in mind how endangered these critters are.
19. Red Panda Eyes Are Adapted To Block Sunrays
Nearly all red pandas have reddish 'tear tracks' extending from their eyes, the same feature observable in cheetahs.
The tear marks give pandas a distinctive look. But they also help keep the sun out of their eyes, a welcome feature considering that the panda spends the majority of his time high up the tree canopies.
20. Red Pandas Have a Sweet Tooth
A 2009 study appearing in The Journal of Heredity revealed a specific dietary behavior in red pandas that was largely unknown until then.
In this program, researchers served a variety of Carnivoran animals with bowls of plain water, naturally flavored water, and artificially flavored water. To their surprise, the red panda demonstrated a marked preference for three artificial sugars – sucralose (Splenda), neotame, and aspartame (Nutrasweet or Equal).
These findings made the red panda the fourth animal and the only non-primate species to be able to taste aspartame. The others include humans, apes, and Old World monkeys.
21. Red Pandas Are Quackers
Red pandas are generally silent creatures who can easily fly under the radar. However, these animals are quite vocal and can make a variety of sounds. They can tweet, squeal, hiss, grunt, and even quack.
22. Red Pandas Have Been Around For Millions Of Years…..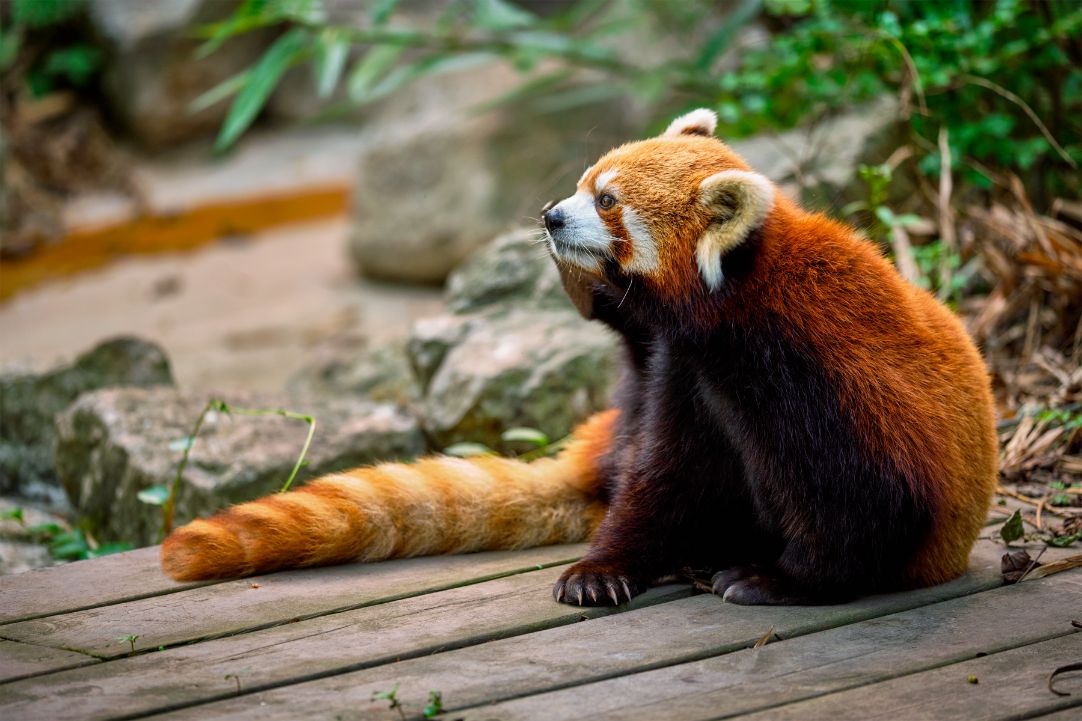 Red panda fossils suggest that these animals have been around for more than 5 million years.
The findings also indicate that the red panda once prowled all the continents before its habitat began to shrink.
23. …..But the Species Was Described More Recently
The first formal description of the red panda was in 1825 by Frederic Cuvier. That's when the animal received its species name 'Ailurus fulgens.'
Interestingly, the red panda was described several years before the giant panda. The first official description of the giant panda was in 1869 by French missionary Pere Jean Pierre Armand David.
24. There Are Two Red Panda Subspecies
The red panda falls into two broad sub-species. They include the Himalayan red panda (Ailurus fulgens fulgens) and the Chinese red panda (Ailurus fulgens styani).
The two panda species are believed to have genetically diverged some 250,000 years ago and their names pretty much denote the specific regions where they inhabit.
25. Red Pandas 'Hibernate'
The red panda's natural habitat experiences extreme conditions at various points in the year. During winter when temperatures plummet to sub-zero degrees, these critters will wrap their tail around their bodies and go into a deep slumber.
This behavioral adaptation doesn't constitute hibernation in the normal sense of the word. Rather, it's known as going into torpor, a state of physiological inactivity. It generally entails a reduction in metabolic rate, respiration rate, and core body temperature.
26. Red Pandas Can Incredibly Blend In
Since they're an easy target for humans and other predators, it's important for red pandas to blend perfectly into their surroundings. A single red panda death is simply one too many.
Fortunately, red pandas are incredibly adapted for their environment. Their reddish-orange coat allows them to disappear into fir trees when pursued by predators.
27. Red Pandas Go By Many Names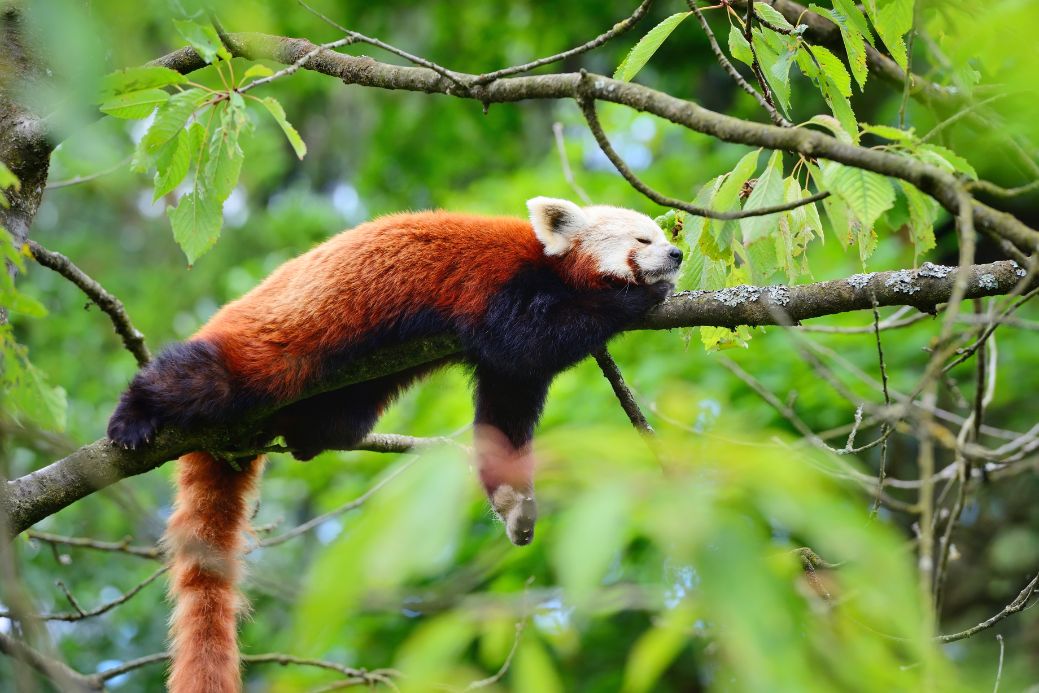 The red panda is known by numerous names, including both English and local names. These animals may be referred to as 'false panda' to differentiate them from true pandas – the giant panda. They may also be called 'the first panda' to indicate that they were described before the giant panda or 'the lesser panda' in reference to their relatively smaller size compared to the giant panda.
Other common English names for the red panda include firefox, the red cat-bear, and the red bear-cat. In Nepal, red pandas are known as bhalu biralo while in Tibet, they're called ye niglva ponva or wah donka.
28. Red Pandas Have False Thumbs
Red pandas have opposable thumb-like appendages that they use for grabbing bamboo. This is another feature that they share in common with the giant panda.
Besides, red pandas have six digits on their toes, another handy feature that enables them to scale high bamboo twigs.
29. Red Pandas Can Stand On Their Hind Legs
Red pandas are known to stand on their hind legs when provoked or threatened.
This behavior, also evident in other animals like bears, is intended to make the panda appear larger and more intimidating.
30. Captive Red Pandas Can Live For 14 Years
A red panda can live for an average of 14 years in captivity or even longer if the conditions are right.
The oldest red panda ever recorded was a male panda from the Rotterdam Zoo in the Netherlands. He lived for 21 years and 7 months.
Final Word
Numerous factors are working in favor of the red panda extinction. Therefore, it should be everyone's solemn duty to preserve what's left of this beautiful species.
The good news is that you don't need to live within the red panda's native range to play a part in protecting them from extinction. Not when you can make monetary donations to relevant conservation groups like the Red Panda Network. Besides, you could use your blogs and social media handles as platforms for speaking out against man's savage onslaught on the red panda.