Last Updated on January 24, 2023
Because of the pandemic, many people had to work from home for the past year. This means that numerous individuals had to turn their own desks, tables, or couches into their new workspace. You have to adapt to the new state of things, so you can either try to work while staying comfortable in bed or create an environment similar to the one you had in the office. 
Well, even if you try to recreate the work environment, you may not succeed. In fact, you may end up with muscle pain, which will make it hard to focus on your task or perform any other activities. What can you do to relieve it? Read on to discover some tips that will help you out. 
Find a Proper Chair
Very frequently, muscle pain appears because you don't use the right chair. If your chair is not comfortable enough, you will soon start feeling the consequences. Of course, a fluffy chair is appealing, and you might be looking forward to sinking into it while you're typing an email. Still, using a soft chair, lying down, or slouching over the laptop when you're typing will lead to pain. 
If you want to prevent pain in your neck, hips, and low back, you should pick a chair that brings you the right amount of support. So, settle for something that adds support for your hips and lower back, and make sure you don't sit too far back or too far forward. These positions would lead to back pain. 
Also, try to sit straight. This means you should balance your body using the bones under the gluteal muscles, and make sure your core is tight. If you want to improve your position, you should use a footstool, so your knees are at the same level as your hips. 
Place Your Screen at Eye Level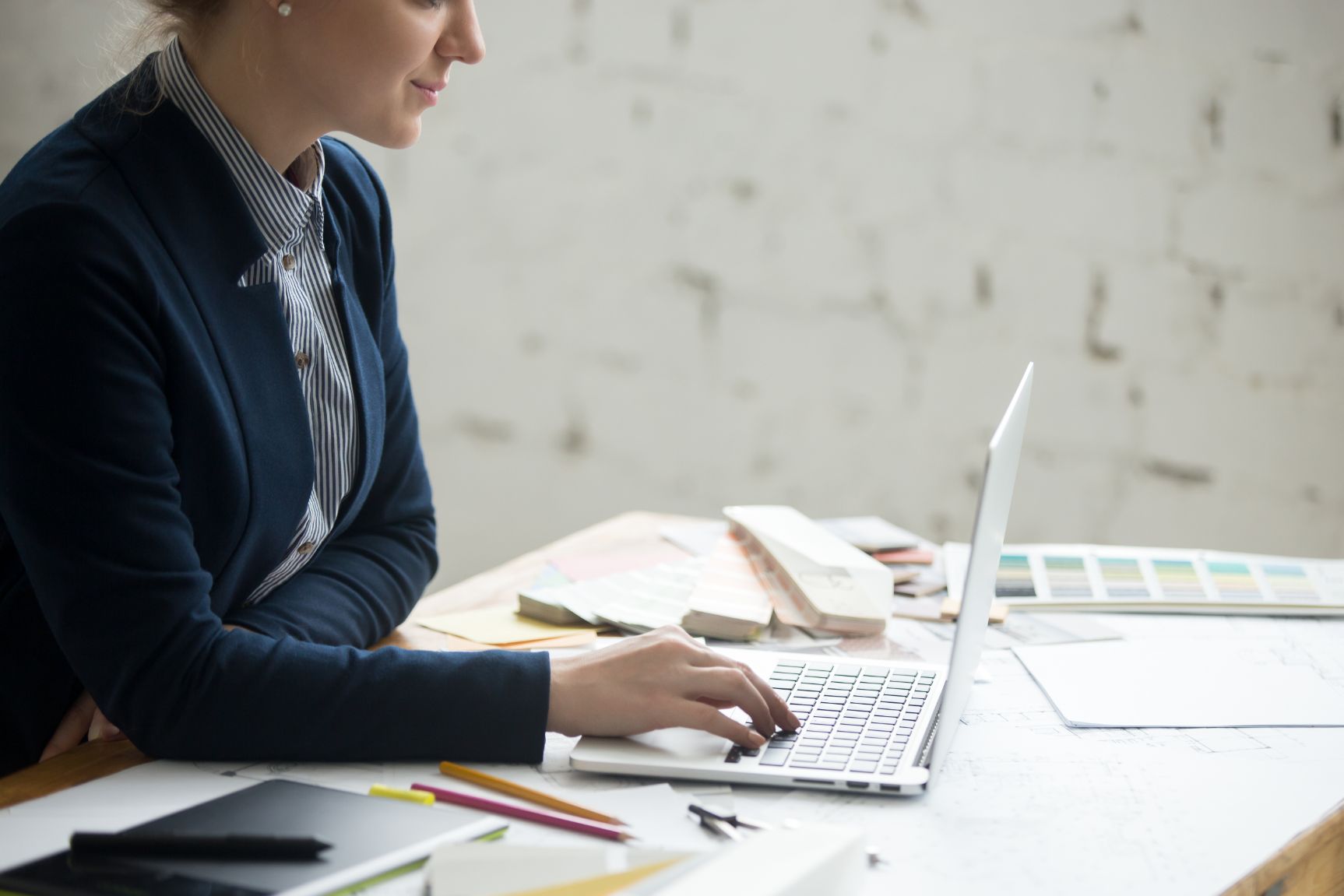 When you're dealing with neck pain and headaches, it may indicate that the screen isn't sitting at the right height in front of your eyes. If you have to look down at the screen, particularly for multiple hours, there will be a lot of pain applied to your spine. As a result, a headache will take over and you will feel discomfort for the rest of the day. Also, since the head usually weighs about 10 pounds, looking down for too long will put pressure on your neck and lead to pain afterward. 
To prevent this, you should place the screen at eye level. Basically, the screen center should be 15 degrees below the sightline. Meanwhile, in case you use a laptop instead of a computer, you can buy a separate keyboard, which will later allow you to elevate your screen. Apart from this, you should also stretch the neck muscles occasionally. 
Improve the Lighting
Another thing that very often leads to shoulder and neck pain is improper lighting. If you have very poor lighting where you do your work, you will crane your neck, and you will also put a strain on your eyes in the process. 
You should bring a lamp next to you and turn it on to provide more light. If you have enough space nearby, you should consider placing it on your desk. You can also buy a clip-on light if you think you don't have the space necessary for a lamp. 
Take Breaks for Stretching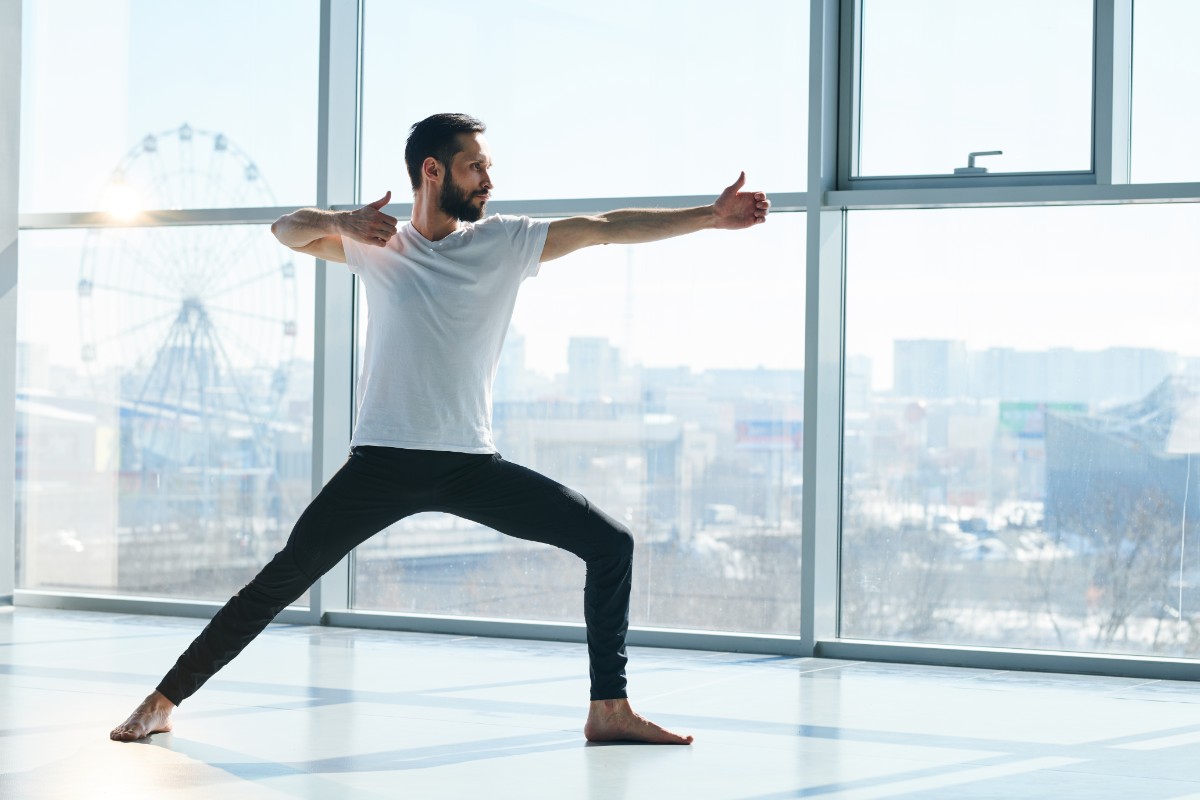 Some days require more work, or you simply have more difficult tasks to complete. As such, you will end up sitting in front of your computer or laptop for hours. You might even refrain from using the bathroom unless you really need to. Also, you might not grab something to eat until your stomach is giving you the hunger signals. 
Doing this might make your body feel painful afterward because the muscles don't have time to relax. Especially if you're not sitting properly and you put a strain on your muscles, you should give them a break from time to time. 
Therefore, now and then, you should take short breaks to stretch and move around a little bit. Even if you have a lot of work to do, it's important to make sure you feel comfortable all the time. 
Set Phone Reminders
A lot of times, people have muscle groups that activate in moments of stress. These muscles might be the shoulder or jaw ones. When you are focused on your tasks, it is easy to forget about the muscle stress, and you will keep working for several hours until you develop an annoying pain.
For this reason, you should consider setting some phone reminders. Set up timers that will ring every 20 minutes, for example. This should serve as a way to remember that you need to release tension in certain areas. 
Stretch Your Hands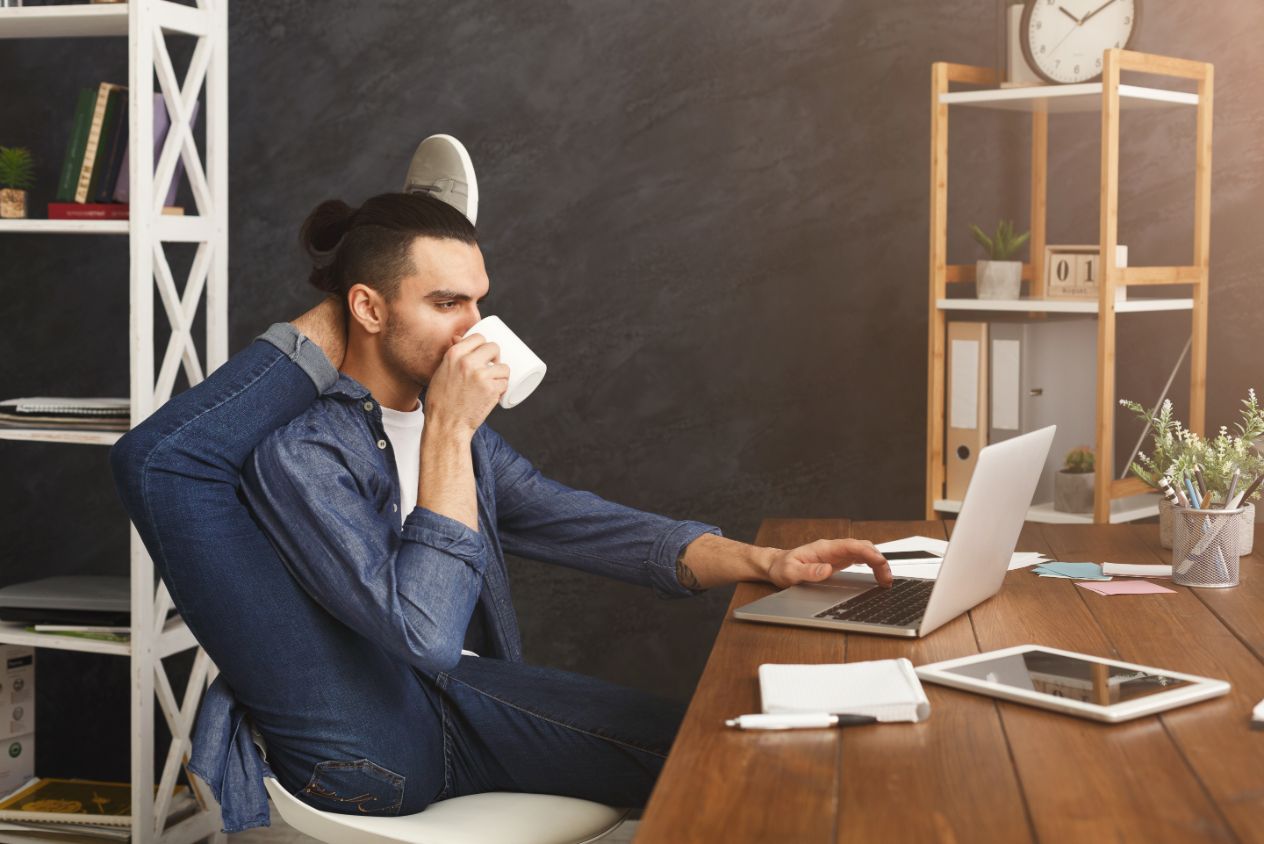 A very common pain that people deal with when working from home is wrist pain. This often happens due to the wrist position while typing. The palms get twisted to the outside, which puts a lot of pressure on their median nerve, and in return, causes pain. 
You can purchase a separate keyboard if you're using a laptop because laptops are the reason why so many people who work from home have wrist pain. A separate keyboard should help maintain a better position. 
You can also try doing some hand stretches in the meantime. One helpful stretch involves making a fist and then extending your fingers like a fan. Repeat this several times. 
Final Thoughts
Working from home often makes people sit improperly in their chairs, on their couch, or when they are typing on their laptops. This causes muscle pain very frequently. Developing better poses and stretching once in a while should help prevent these issues. 
If you are already experiencing muscle pains, you should try some muscle rubs. You can find different types, such as ointments, CBD muscle rubs, and others. Make sure to learn more about them before using any type of local treatment.