Last Updated on January 24, 2023
What Is A Remote Desktop Tool?
The coronavirus disease, also known as COVID-19, has made working from home the new normal for most people. But even before the highly-infectious, acute respiratory illness became a pandemic, millions of people around the world were already reaping the benefits of working remotely from the comforts of their homes.
And if statistics are anything to go by, more than 86% of employees actually admit that their productivity is higher when working from their homes as opposed to working in the office.
However, working from home comes with its own challenges – challenges graver than the usual distractions by children loudly catching up on their favorite TV shows or pets frolicking in the hallway.
For instance, assume you want to access your computer in the office to retrieve sensitive information. At first glance, this may appear like an impossibility. Your only chance would be to physically walk to the office to access the computer.
But what if your state or country has already declared a total lockdown as part of COVID-19 containment measures? Well, you may have to wait till the lockdown is lifted to retrieve whatever information you wanted from your office computer. By which time, you might have already lost your client or piled up a huge backlog of tasks. These challenges were the primary inspiration behind the development of remote desktop tools.
Also known as remote control software or remote access software, remote desktop tools allow you to access and control a computer from another location.
With these tools, you can manage your work, troubleshoot a family member's computer, or collaborate with your team remotely. And though their popularity has peaked in the wake of the COVID-19 pandemic, remote desktop tools have always been with us.
How Do They Work?
A remote access software, as the name suggests, works by means of a special software. This software, also known as the console, must be installed on the computer that you wish to connect to, known as the host.
The console displays a window on the host, literally bringing the remote PC in front of you. For a higher efficiency, you may also have to install various other programs on the host, such as an agent program.
After installing the console and agent on a remote desktop, you can access and control the computer remotely using another device, which is called the client.
The client only needs to have the right login credentials to access the host. Restricted access is necessary as it protects the privacy of both the host and the clients by making it difficult for unauthorized parties to connect to the host.
While you can find remote desktop tools in certain versions of Windows, it's always recommended that you opt for third-party software. The following are some of the best remote desktop tools to check out in 2020.
1. Chrome Remote Desktop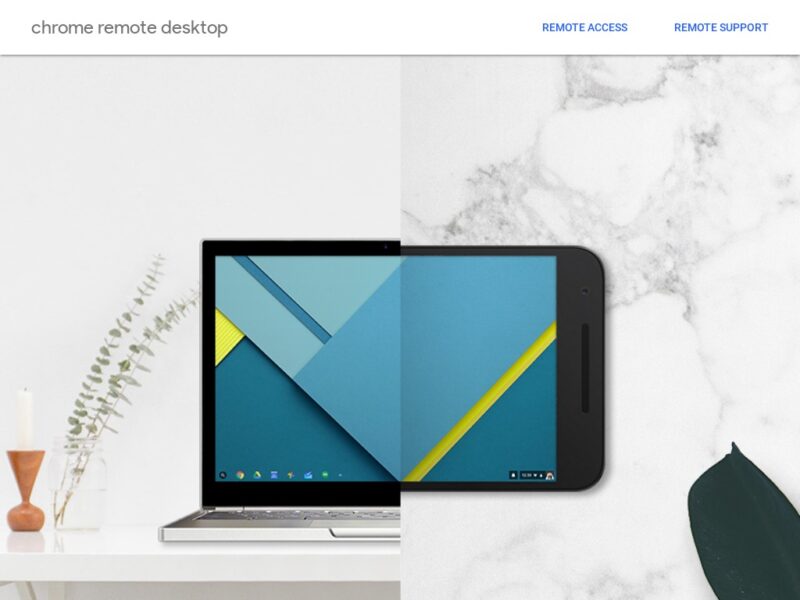 Link: https://remotedesktop.google.com/
Compatibility: Windows, macOS, Linux, and Chromebooks
Pricing: Free to use for anyone with a Google account
Chrome Remote Desktop is a remote desktop tool that allows you to log into a remote PC even when the user is offline. The app comes with a file transfer tool and a multi-monitor support, which speak to its user experience.
Installation of Chrome Remote Desktop is a quick and easy process, as the host only needs to log in to their Google account, such as their Gmail or YouTube.
After installation, the client can connect to the host using shared login credentials or a temporary access code. Besides its incredible ease of configuration, Chrome Remote Desktop also supports numerous operating systems.
However, the software comes with a few notable drawbacks. For instance, you cannot print remotely or chat with a remote user. It also works best when the host has installed the Chrome browser.
2. Windows Remote Desktop
Link: https://support.microsoft.com/en-us/help/4028379/windows-10-how-to-use-remote-desktop
Compatibility: From Windows XP to Windows 10
Pricing: Free to use
As the name suggests, Windows Remote Desktop was developed exclusively for the Windows operating system. But that's by no means a deal-breaker.
One of the best things about the software is that being a built-in tool, there's no download and installation process required. The host only has to enable connections to a client using a Windows OS.
And to do that, the host opens the "System Properties" through the Control Panel. After that, they can allow clients to access their PC using a particular Windows user via the "Remote" tab.
Clients connect to the host by opening the pre-installed "Remote Desktop Connection" and entering the user's IP address. To launch the Windows Remote Desktop, you simply press the Windows Key + R shortcut.
Windows Remote Desktop supports file transfers, and also enables clients to listen to audios from, as well as print to a local printer. Though it's free to use, this app only comes with a handful of features compared to most remote desktop tools.
3. AnyDesk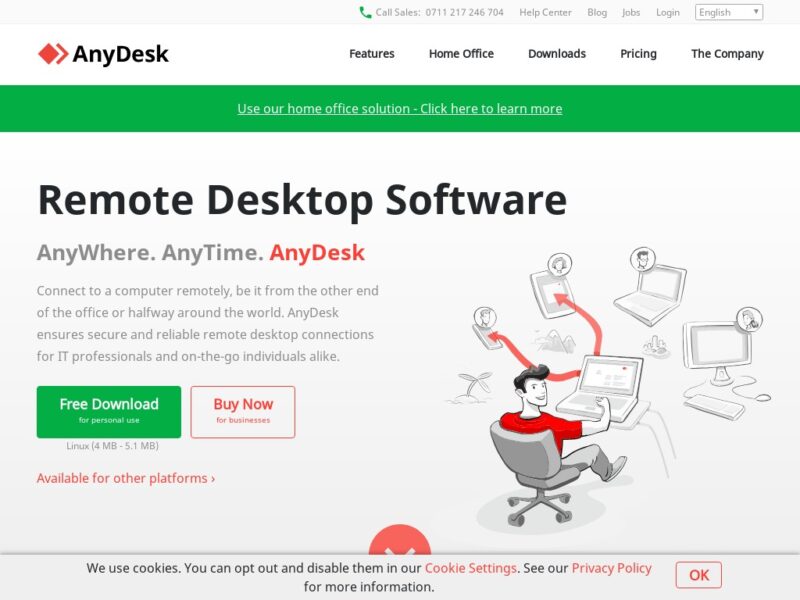 Link: https://anydesk.com/en
Compatibility: Windows, macOS, Linux, Android, iOS, and FreeBSD
Pricing: Paid plans start from $11 per month, Free plans also available
A higher compatibility, high frame rates, powerful encryption technology, and real-time collaboration are some of the defining features of AnyDesk. This app ranks among the most popular remote access software, presently enjoying more than 100 million users worldwide.
AnyDesk lets you set up your own network. That allows you to transmit data through end-to-end encryption, preventing your personal information from slipping into the hands of malicious third-party entities. Still on security, the software provides its users with the bank-grade TLS 1.2 technology, making it almost completely hacker-proof.
The tool comes with a dashboard that you can customize to reflect your personal or brand needs. AnyDesk is also one of the most lightweight apps out there. That speaks to its ease of download, installation and use. You can run it using bandwidth as low as 100kbps.
A built-in address book allows you to manage your contacts, while a copy and paste functionality makes it easy to transfer files remotely. But while AnyDesk comes with a mobile app, the mobile app isn't as stable and reliable as the desktop app.
4. LogMeIn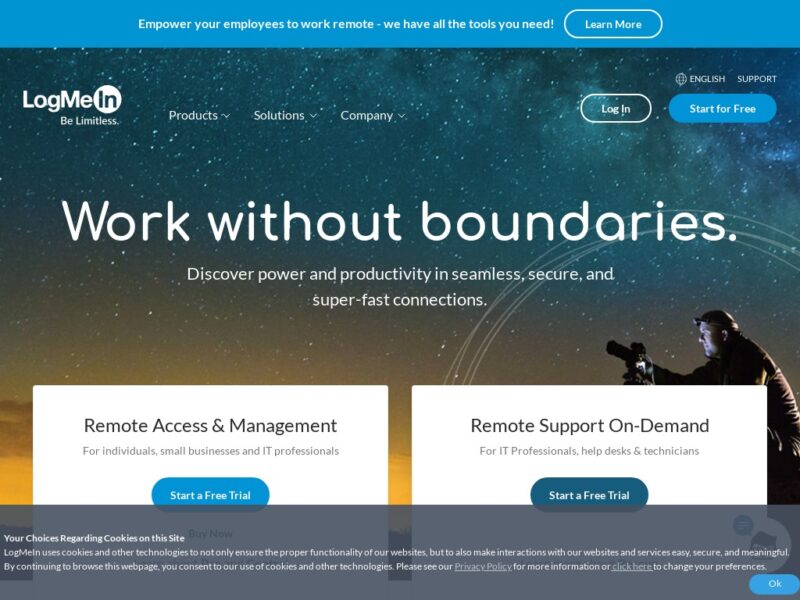 Link: https://www.logmein.com/
Compatibility: Windows, Mac, Android, and iOS
Pricing: Paid plans range between $30 and $129 per month if billed annually.
LogMeIn is a remote desktop tool that's exclusively recommended for established businesses. That's because the company did away with their free plan. But there are tons of features to enjoy when you pay as little as $30 per month.
First, you get plenty of system admin tools, through which your business can implement critical company policies as well as control sensitive aspects of the host computer. LogMeIn also offers users unlimited remote access and is one of the most powerful remote desktop tools for mobile users.
When you install the app, you're entitled to a 1 TB worth of cloud storage. For ease of collaboration, LogMeIn offers you plenty of whiteboard features and an ability to access multiple stored files. Users can also share files fast and securely using the tool's drag and drop functionality.
However, you must subscribe to any of the paid plans to enjoy all these amazing features.
5. Teamviewer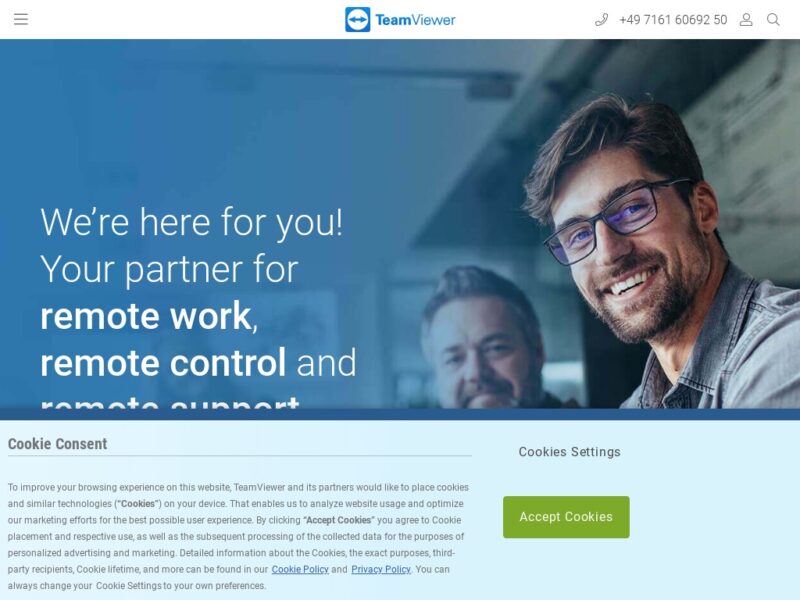 Link: http://teamviewer.com/
Compatibility: Windows, Linux, OS X, Android, and iOS
Pricing: Free for personal use
Teamviewer is another remote access software on our list that prides itself on its ease of set up and high compatibility with numerous operating systems. With Teamviewer, you can connect to a remote desktop without necessarily needing to have the remote side duly set up.
The app comes with a wake-on-LAN feature that allows users to wake up a sleeping device and put it back to sleep after they're done connecting to it.
Other noteworthy features of Teamviewer include clipboard passthrough and file transfer capabilities. There's also an option to connect to the software from your mobile devices, in which case you're entitled to support.
What's more – the tool comes with online collaboration features that allow several people to connect to a single host and have virtual meetings.
6. Remote Utilities
Link: https://www.remoteutilities.com/download/
Compatibility: Windows (XP, Vista, 7, 8, and 10), Window Server (2003, 2008, and 2012), macOS and Linux
Pricing: Free for both personal and business use
Remote Utilities may not offer unlimited remote access like Teamviewer does, but it allows you to connect up to 10 computers to a host, free of charge. And the best part is that you can connect to a remote PC without needing to change your router port.
To get started, the host installs a portion of the software known as Host on their computer. Alternatively, the host can simply run an Agent, which offers spontaneous support without necessarily having to install anything. After the installation, an internet ID is generated by the host computer, which the host shares with their clients.
Clients connect to the host or agent software using the "Viewer" program. You can either download this program on its own, or as a combination with "Host." Once you're set up, you can access the host computer using your internet ID; no need to make any changes to your router.
Some of the operations you can perform using Remote Utilities include managing your tasks, remote file transfer and launching, text chat, remote webcam viewing, and remote rebooting.
The only downside to using this app is the difficulty in its configuration.
Conclusion
There you have it. With plenty of remote desktop tools out there, you have no excuse for falling behind with your projects even when you're not necessarily in the office.
REFERENCES
1. https://www.fundera.com/resources/working-from-home-statistics