Background removal from a photo is the most frequently implemented photo manipulation technique. As the name implies, background removal entails isolating the foreground portion of a photo and making the background transparent.
It mostly happens when you wish to get rid of unwanted items from your photo and make it stand out. You might also consider removing the background from your photo if it contains disturbing details.
Other possible reasons for removing backgrounds from images include;
To reduce eye strain and allow the viewer to focus on the main photo;
To make the foreground outstanding, especially where the background contains details that might outshine the foreground; and
To limit the area of focus on the photo.
As you may have guessed by now, removing backgrounds from images requires tools that not only get the job done but also leave the focus image outstanding.
This post highlights 11 of the most recommended tools for removing background from an image online or in Photoshop.
Removal.AI is a newly launched online tool that uses AI Technology to automatically remove image background. Just simply drag and drop your image, in a few seconds you get the desired result. You can download upto 1500 x 1000 pixels image resolution for free. Like most other background removal tools, Removal.AI also offers paid subscription allowing users to buy credits, spend this credit to download high-resolution image upto 6250 × 4000 pixels, 1 credit = 1 image. 
Since the e-commerce industry has the most benefits for a background eraser tool online free, here is a quick overview of how simple it is to use the Removal.AI tool for product photos.
Step 1: Go to Removal.ai page.
Step 2: Choose a photo to edit and upload it or drag the photo into the box. Wait a few seconds to let the system process the photo.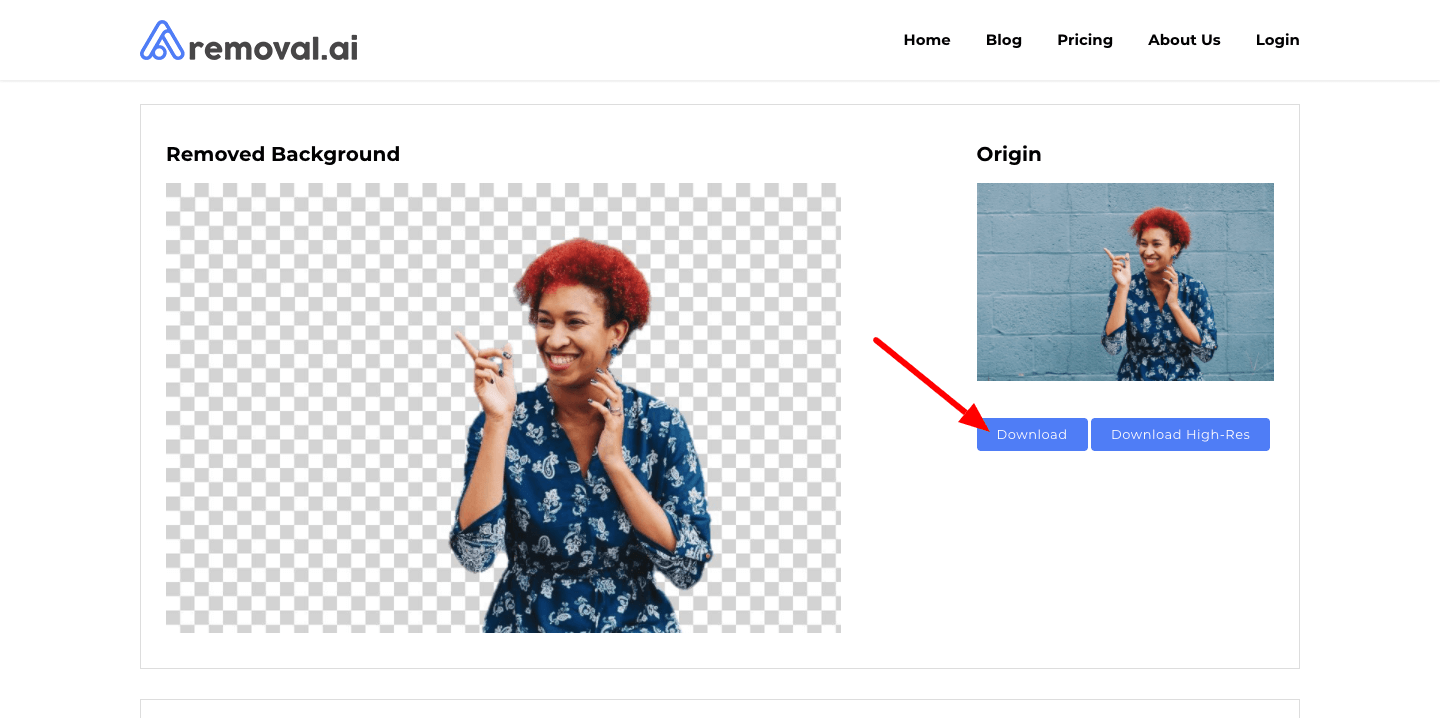 Step 3: Download the photo into your computer and 3–5 seconds.
Yes, it literally takes three steps to have amazing photos that can help boost your campaign materials. A strong marketing campaign requires enticing infographics and pictures and Removal.AI can give you that in seconds.
Removal.AI offers a lower price but for the same professional-quality results as a human editor can do. It is also constantly evolving, improving its services for easier and faster photo editing solutions. With the aim to ease the burden of the traditional methods of image processing, the team is very particular at boosting the work efficiency across industries in order to maintain the advantages that are brought about by modern technology.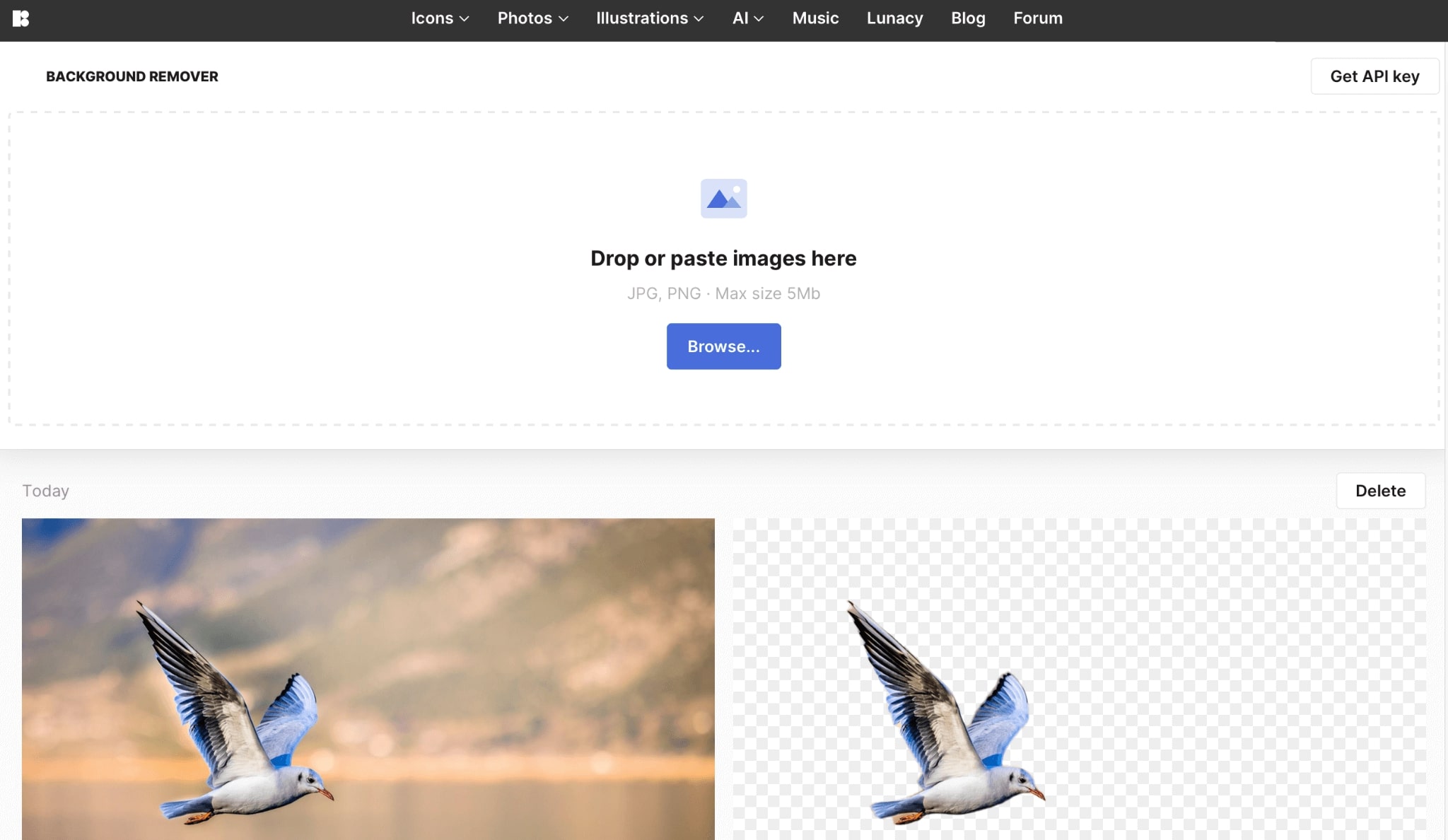 Icons8 Background Remover is another AI-powered tool that is great for automatic image background removal. It offers an incredibly easy and beginners-friendly interface.
You just upload the image and download the processed one. Its algorithm automatically removes the background in a few seconds. It provides high-quality image masking  without quality degradation. Also, it is an absolutely free tool, but you need to sign up for processing more than 3 images. 
If you need to process many photos at once, Background Remover offers bulk uploading. Simply upload your images and go to have a cup of coffee or tea. Icons8 will happily do it for you. 
PhotoScissors is another background removal tool that prides itself in its high efficiency and ease of use.
To remove your backgrounds using PhotoScissors, you start by uploading the image in a .JPG, .PNG or .WebP file. Ensure the image has a maximum size of 10 Mb and a maximum resolution of 4.2Mpx. After uploading your image, PhotoScissors algorithms will kick into action, removing the background from your photo using deep neural networks.
PhotoScissors can remove background around hair, from transparent objects, and even from images on e-Commerce listings like Amazon, Etsy, and eBay.
If you're looking for a quick and affordable tool to remove backgrounds from your images, your search ends with AutoClipping.com. The tool allows you to upload your images in three ways – browsing your computer or the internet, entering the image URL, or dragging and dropping.
After uploading your files, mark the image's foreground and background using the green and red markers for the foreground and background, respectively. Then, sit back and let AutoClipping do the rest.
Once you're satisfied, you can download your image to your PC or share an automatically-generated link to your website or social media platform.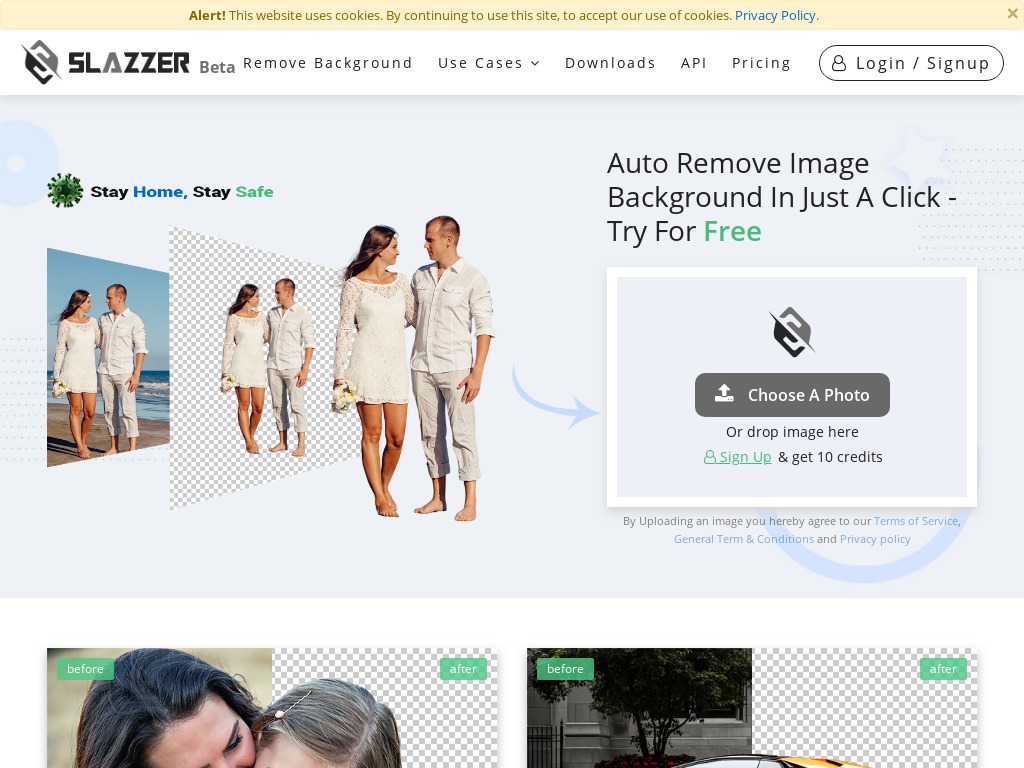 Slazzer is a household name as far as tech innovations are concerned. The tool deploys highly-effective A.I to remove image backgrounds automatically in a matter of a few clicks.
You begin by uploading your picture from whichever source. You can drag and drop the image from your PC or the internet. You can also upload a selfie directly. Next, allow for a few seconds for Slazzer's AI to remove all the backgrounds from selected images.
After that, you can use the tool's features to add graphics, colors, or new backgrounds to your image. When satisfied with the output, you can proceed to download your image.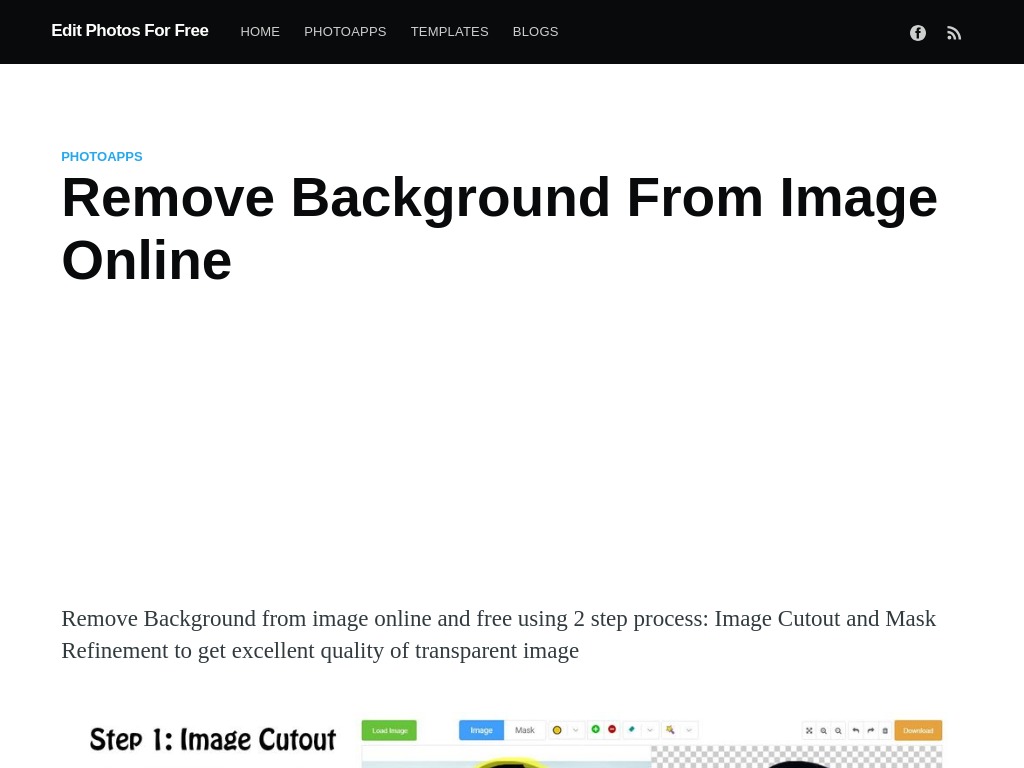 This background remover lives up to its name. But besides allowing you to erase background from photos free of charge, the tool also works in a simple process as follows;
i. Draw YELLOW on the edge of your photo.
ii. Mark the parts of the image you wish to keep by drawing GREEN.
iii. Mark the areas you want to erase using RED.
iv. Press the rectangular button located at the center to start removing your background.
v. If the results aren't satisfactory yet, enable the MASK button located at the top, then proceed as follows;
Mark the parts you want to keep using WHITE and those you want to erase using BLACK.
Preview the outcome using the center rectangular button.
Refine the outcome by adjusting BACK COLOR, OFFSET, SMOOTH, and FEATHERING tools.
Fotor removes image backgrounds by leaving the subject outstanding and the background transparent. That way, you can easily apply a fresh background to your photos.
To get started, open the Fotor's background remover and upload the image that you wish to remove backgrounds from. Next, mark all the parts on the photo that you'd like to retain using the green "Retain Brush" and mark the areas you wish to erase using the red "Removal Brush". Preview the work by clicking "Press" and make any necessary adjustments.
If all looks great, click "Save" to download your image and select the format you wish to download the image in.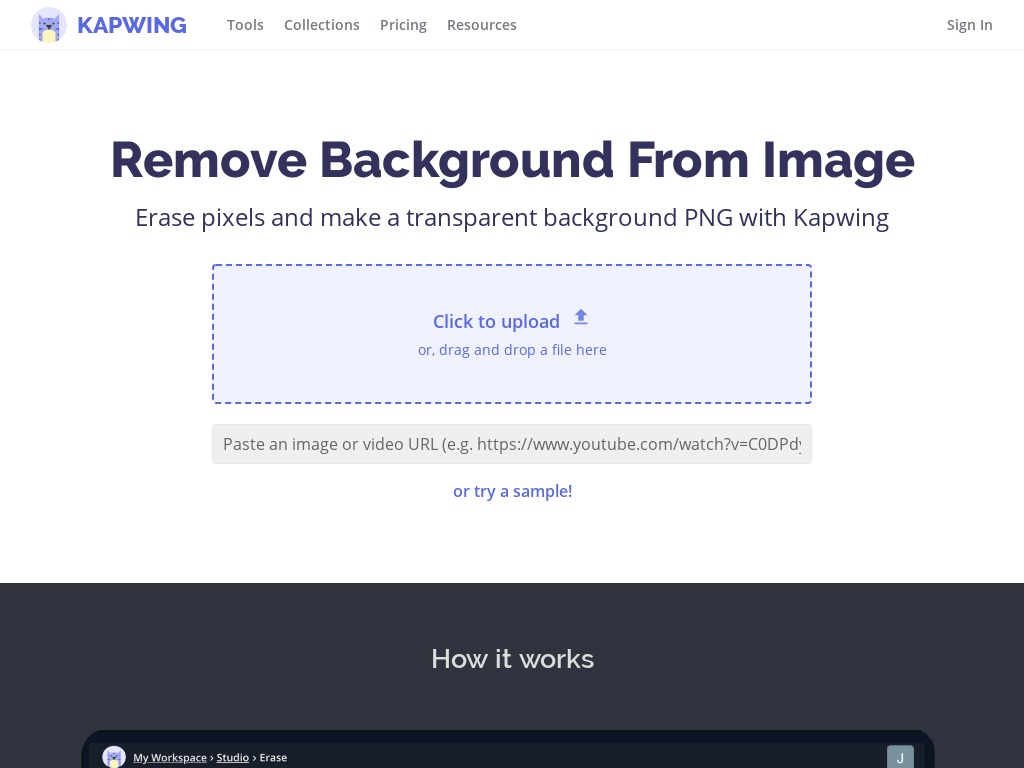 Like most background removal tools we've reviewed here, Kapwing also brands itself as a fast and efficient background remover. And the background removal process is more or less the same.
First, you upload your image using a .JPEG, .PNG, or .GIF file format. You can also paste an image link from Twitter, Giphy, etc. Then, you use your finger or mouse to drag the background eraser over the areas on the image that you want to delete. You can repeat this process until all the background color has been deleted.
When done, download your image in .PNG file format by hitting "Done."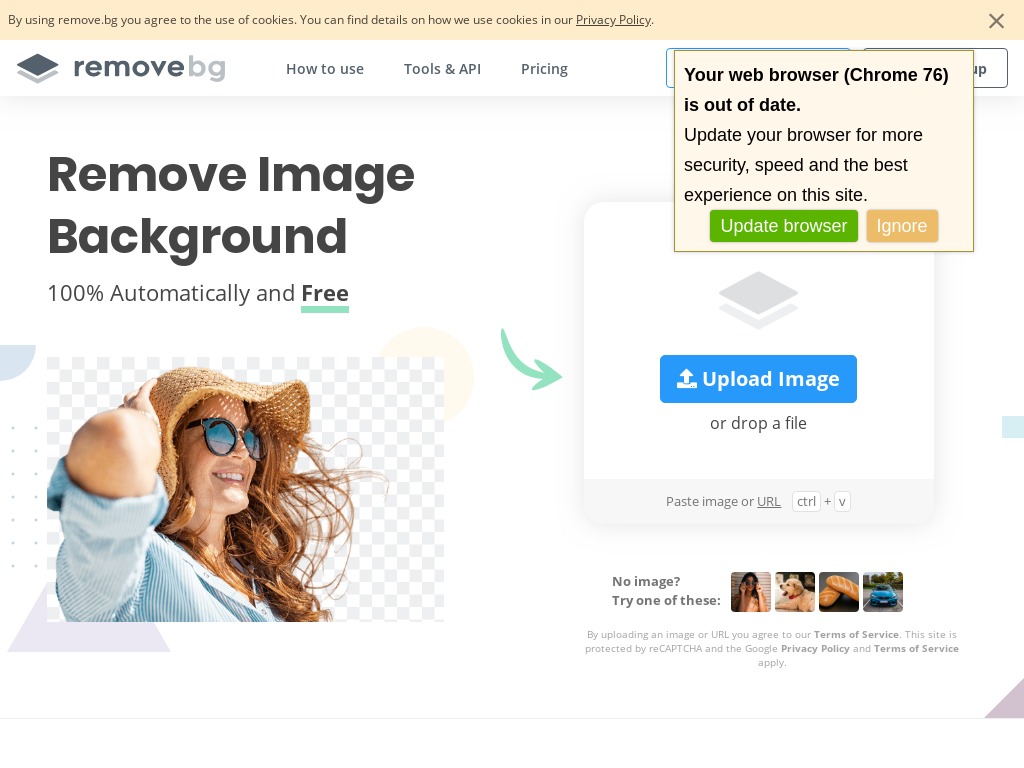 Remove BG claims to help you remove 100% of your photo backgrounds automatically in 5 seconds without clicking on anything. That's all thanks to the tool's clever AI that gets to work immediately, saving you time and ensuring the output is exactly as you desired.
The only thing you have to do is open the tool, upload your image, and allow for a few seconds for its powerful AI to do the rest.
Another excellent thing to love about Remove BG is that it readily integrates with your software workflow using its built-in tools and plugins.
Clipping Magic comes with two outstanding background removal features, namely Auto-Clip AI and Seamless Editor.
Clipping Magic's Auto-Clip AI feature handles multiple images automatically, then allows you to touch up your foreground using the app's numerous editor tools. The Seamless Editor tool uses a scalpel that provides higher precision even with challenging images. Some of its other capabilities include hair touchup, color adjustments, addition of shadows and reflections, and image cropping.
In addition to these two features, Clipping Magic offers plenty of other background removal tools, including the Graphics Mode that allows you to remove backgrounds from computer graphics.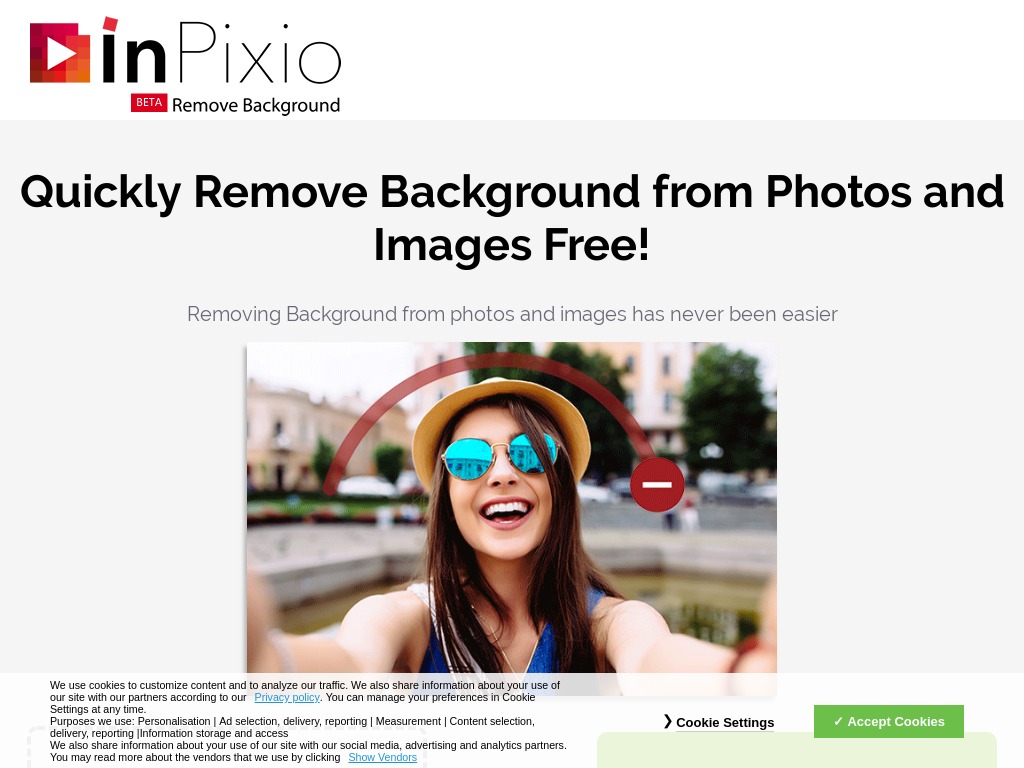 InPixio markets itself as a fast, efficient, and user-friendly background removal tool. Removing backgrounds from your images using InPixio is an easy 3-step procedure.
First, you upload the images from your computer, the internet, or any other source. You can either drag and drop the image in the tool's Drop area or enter the image URL. In Pixio also allows you to upload several images at once, which saves you time compared to having to edit each image separately. Next, In Pixio will prompt you to enlarge the photo using the slider, then select the background that you wish to erase using the site's Remove feature. The Keep tool allows you to highlight the foreground.
After removing the background from your images, the last step is to download the photo by clicking the "Save your photo(s)" and then the "Download" button.
Final Word
When looking for an image background removal tool, insist on one that integrates efficient A.I to get the work done within the least expense of time. Also, the tool should be affordable, easy to use, and if possible, should also be able to edit multiple photos simultaneously. Well, you don't need to look too hard when you can give any of the above background removers a try.