Last Updated on January 24, 2023
Who Is Richard Branson?
Sir Richard Charles Nicholas Branson is an English business magnate, investor, media personality, author, actor, film producer, and philanthropist.

Branson is best known for founding the British multinational venture capital conglomerate, Virgin Group, in the 70s. Today, Virgin Group controls over 400 established brands across various industries.
Quick Facts
| | |
| --- | --- |
| Full Name: | Sir Richard Charles Nicholas Branson |
| Popular Name: | Richard Branson |
| Gender: | Male |
| Birth Date: | July 18, 1950 |
| Age: | 72 years |
| Parents: | Edward James Branson and Evette Huntley Flindt Branson |
| Siblings: | Vanessa Branson and Lindy Branson |
| Birth Place: | Blackheath, London |
| Nationality: | United Kingdom |
| Ethnicity: | English, Welsh, Indian, German, and Irish |
| Education: | Scaitcliffe Preparatory School (now Bishopsgate School), Cliff View House School, and Stowe School |
| Marital Status: | Married . Previously married to Kristen Tomassi (from 1972 until their divorce in 1979). |
| Sexual Orientation: | Straight |
| Wife/Spouse: | Joan Templeman |
| Children: | Holly Branson, Sam Branson, and Clare Sarah Branson (deceased) |
| Dating: | N/A |
| Net Worth: | USD 6 billion  |
| Source of Wealth: | Entrepreneurship, Acting, Film and Television Production, Writing, and Other Ventures |
| Height: | 5′ 9″ (1.79 m) |
| Weight: | 87 kg; In pounds: 193 lbs. |
Early Life and Career Information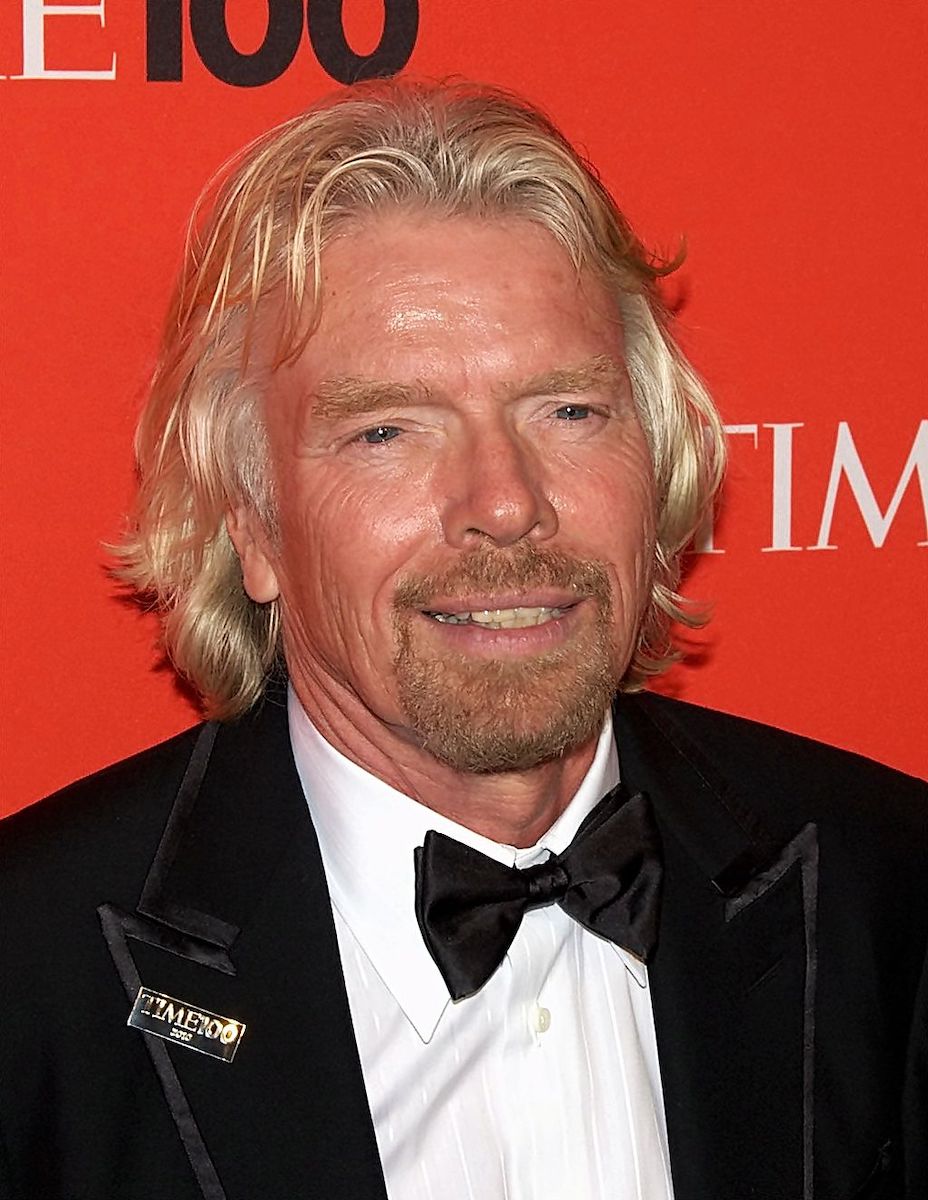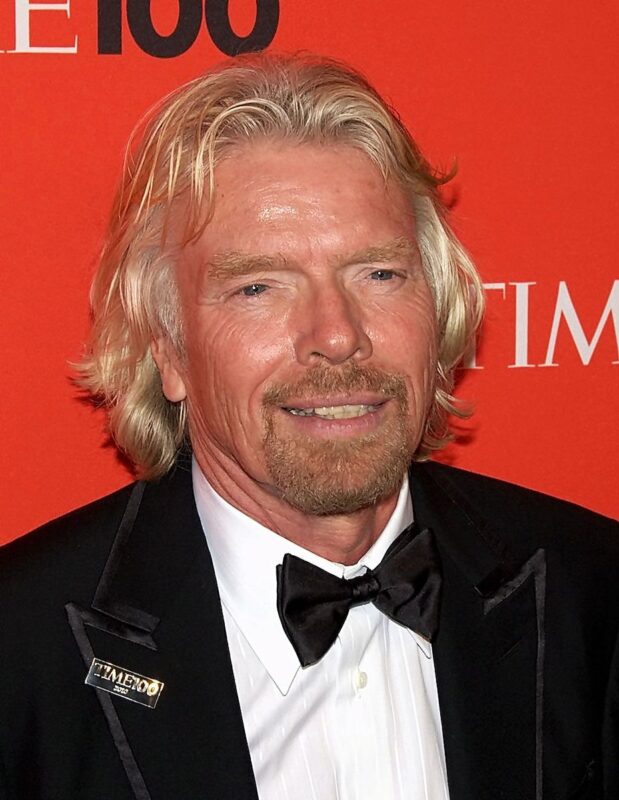 Sir Richard Branson was born on July 18, 1950, in Blackheath, London to Edward James Branson and Evette Huntley Flindt Branson. His father was a barrister, whereas his mother was an air hostess and ballet dancer.

Branson was diagnosed with dyslexia at a young age. The condition affected his academic grades, which explains why he had to attend numerous schools.

Richard Branson's entrepreneurial ambitions started to show when he was still a young kid. At the age of 16 years, he established his first venture, a magazine known as Student. Two years later, the magazine released its first issue and the following year, Branson's net worth shot to $66, 000.

Around the same time, Branson established a mail-order record company from the basement of his local church. He used the already-famous Student magazine as an advertising channel for his mail-order record services. Eventually, his record company came to be known as Virgin, referring to the fact that all the initial investors in the company had no prior business experience.

In the early 70s, Richard Branson launched his first major record store in London and went on to establish his own record label known as Virgin Records. Virgin Records embarked on an ambitious campaign to sign famous acts at the time, including multi-instrumentalist Mike Oldfield as well as popular bands like UB40 and the Rolling Stones.
Virgin Records witnessed steady growth and in 1980, it went international. From there, Richard Branson went on to diversify his investment portfolio. In 1984, he established his trans-Atlantic airline company known as Virgin Atlantic Airways. He later followed up with Virgin Expressed, Virgin America, and Virgin Nigeria.

Other businesses that Richard Branson has since establish through his Virgin brand include:

• Virgin Media, a joint venture with UK-based communications provider, NTL
• Virgin Trains, a train company
• Virgin Galactic, a space exploration company
• Virgin Fuels, an alternative fuels manufacturing company
• Virgin Healthcare, a chain of healthcare clinics focused on providing a mix of conventional medical care and homeopathic therapies
• Virgin Health Bank, a company that allows parents-to-be to preserve their baby's umbilical cord blood stem cells in stem-cell banks
• Virgin Hotels
• Virgin Mobile
• Virgin Comics, an entertainment company

Richard Branson has also authored numerous books as well as involved himself in the film and television industry. Some of the books he has authored include:

• Losing My Virginity: How I've Survived, Had Fun, and Made a Fortune Doing Business My Way
• Screw It, Let's Do It
• Let's Not Screw It, Let's Just Do it: New Lessons for the Future
• Business Stripped Bare
• Arctic Diary: Surviving on Thin Ice
• Reach for the Skies: Ballooning, Birdmen and Blasting into Space
• Globalisation Laid Bare: Lessons in International Business
• Screw Business as Usual
• Like a Virgin: Secrets They Won't Teach You at Business School
• The Virgin Way: How to Listen, Learn, Laugh and Lead
• Finding My Virginity.

In the film and television industry, Richard Branson has played the roles of both acting and film production. As an actor, Branson has mostly made guest appearances, often playing himself in numerous films and television shows. Examples include the films Around the World in 80 Days (2004), Superman Returns (2006), and Casino Royale (2006), as well as the television shows The Day Today, Birds of a Feather, Friends, and Only Fools and Horses.
Richard Branson's Net Worth
As of 2023, Richard Branson had a net worth of $6 billion. Branson credits a huge chunk of his net worth to his own 'Virgin' brand. As of the time of writing, Virgin Group Ltd controls more than 400 companies across various industries and has an estimated net worth of between $6.61 and 7.27 billion.

In 2009, Virgin Group reported an impressive annual revenue of $21.95 billion. And needless to mention, Richard Branson is the group's largest shareholder.

Besides Virgin Group, Richard Branson has also involved himself in other potentially income-generating ventures, including writing, acting, and film production. He is also a real estate mogul in his own right.

As a real estate investor, Branson is associated with three islands, including Necker Island, which has been his primary residence since 1978. Although he acquired Necker Island in 1976 for $180,000, the island's current value is estimated to be upwards of $200 million. Other islands owned by the billionaire include an island located at Noosa in Australia, known as Makepeace Island, as well as Moskito Island located in the North Sound.

Branson's net worth also includes private jets, luxury submarines, expensive yachts, and posh cars.
Lessons from Richard Branson
1. Diversify your income

This is probably the most outstanding lesson that we can learn from Richard Branson's career as an investor. Although his Virgin Group Ltd began as a mail-order record business, the venture capital conglomerate now owns over 400 companies drawn from different industries.

2. Be optimistic even in the face of failure

Despite his Virgin Group being highly successful today, Richard Branson has also been involved in numerous failed ventures, including Virgin Cars and Virgin Cola. However, he has always maintained a positive outlook even in the face of failure, which explains his ability to bounce back.

3. Find a worthy cause and pursue it diligently

Life is not all about minting cash and living in the fast lane. Sometimes, you've got to find a higher purpose. Branson has long been an outspoken advocate of environmental conservation. To that end, he has established several eco-friendly companies, including Virgin Fuels. And in 2006, he made a $3 billion pledge towards addressing the scourge of global warming.
Famous Quotes by Richard Branson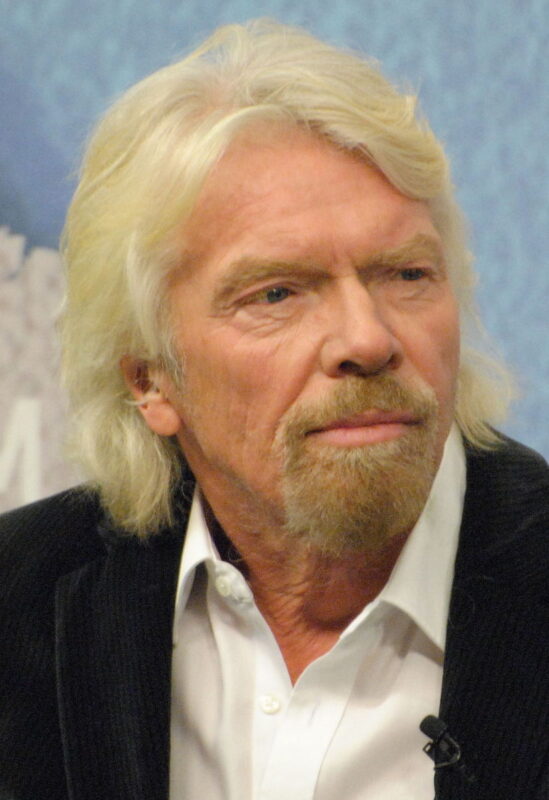 "A business has to be involving, it has to be fun, and it has to exercise your creative instincts."
"Business opportunities are like buses, there's always another one coming."
"I suppose the secret to bouncing back is not only to be unafraid of failures but to use them as motivational and learning tools."
"There's nothing wrong with making mistakes as long as you don't make the same ones over and over again."
"You don't learn to walk by following rules. You learn by doing, and by falling over."
Conclusion
Richard Branson is one of the most successful and influential investors in the world, with a jaw-dropping net worth of $6 billion. From his success story, we can appreciate the need for income diversification and the importance of staying positive even in the face of failure.