Last Updated on January 25, 2022
Who Is Rick Ross?
Rick Ross, officially known as William Leonard Roberts II, is an American rapper, songwriter, and record executive. Rick Ross began singing professionally in 2006 by releasing his debut single titled Hustlin. The song immediately piqued the interest of renowned rappers like Diddy and Jay Z.
Rick Ross would receive numerous partnership offers, including from Diddy's Bad Boy Entertainment, as well as from Irv Gotti's Murder Inc. The rapper went on to sign a multimillion-dollar contract with Jay J's Def Jam Records, a deal that saw his rapping career take off in earnest.
Quick Facts
| | |
| --- | --- |
| Full Name: | William Leonard Roberts II |
| Popular Name: | Rick Ross |
| Gender: | Male |
| Birth Date: | January 28, 1976 |
| Age: | 46 years |
| Parents: | William Leonard Roberts and Tommie Roberts |
| Siblings: | Tawanda Roberts |
| Birth Place: | Clarksdale, Mississippi |
| Nationality: | American |
| Ethnicity: | African-American |
| Education: | Miami Carol City Senior High School and Albany State University |
| Marital Status: | Unmarried |
| Sexual Orientation: | Straight |
| Wife/Spouse: | N/A |
| Children: | Toie Roberts, Billion Leonard Roberts, William Roberts III, Berkeley Hermes Roberts |
| Dating: | N/A |
| Net Worth: | 40 million (as of June 1st, 2021) |
| Source of Wealth: | Rapping, Songwriting, Endorsement Deals, and Other Investment Ventures |
| Height: | 5′ 11″ (1.8 m) |
| Weight: | 101 kg; In pounds: 220 lbs. |
Early Life and Career Information
Rick Ross was born on January 28, 1976 in Clarksdale, Mississippi, to William Leonard Roberts and Tommie Roberts. Ross grew up in Carol City, Florida, where he attended the Miami Carol City Senior High School. After graduating from high school, he won a football scholarship to Albany State University.
Though Rick Ross threw his full weight behind singing in 2006, the rapper had already been introduced to the industry way earlier. He previously went by the pseudonym Teflon Da Don before adopting the name Rick Ross, after the former drug kingpin Ricky Donnell "Freeway Rick" Ross.
In 2006, Rick Ross released his debut single titled Hustlin, which saw him become a subject of bidding war. After signing a contract with Def Jam Records, he went on to release his debut album titled Port of Miami.
The album sold 187,000 units in the first week alone. Rick Ross has since released scores of other songs and albums, most of which have been critically acclaimed.
Here are some of his studio albums:
• Port of Miami (2006)
• Trilla (2008)
• Deeper Than Rap (2009)
• Teflon Don (2010)
• God Forgives, I Don't (2012)
• Mastermind (2014)
• Hood Billionaire (2014)
• Black Market (2015)
• Rather You Than Me (2017)
• Port of Miami 2 (2019)
Rick Ross' Net Worth
As of June 1, 2021, Rick Ross had a net worth of $40 million. The singer has earned most of his wealth from his successful rapping career.
Here is a breakdown of Rick Ross' average annual earnings over the years;
2007 – $2 million
2008 – $3 million
2009 – $6 million
2010 – $5 million
2011 – $6 million
2012 – $9 million
2013 – $6 million
2014 – $7 million
2015 – $9 million
2016 – $10 million
2017 – $11 million
2018 – $4 million
2019 – $5 million
But Rick Ross doesn't just make his money from rapping, he is also an astute businessman. In 2009, he founded his own record label, known as Maybach Music Group. Some of the notable names the Maybach Music Group has since signed include Omarion, Meek Mill, and Wale. Also, Rick Ross has released nearly all of his latest albums through the record label.
Lucrative endorsement contracts have also contributed significantly to the Rick Ross empire. Some of the products the rapper has endorsed include mCog e-cigarettes and the French wine brand, Luc Belaire.
Rick Ross is also associated with his Wingstop brand of restaurants. According to reports, his restaurant business accounted for the lion's share of the rapper's total earnings in 2016.
Still on personal investments, Rick Ross has turned his YouTube VEVO channel into a cash-minting venture. The channel has more than 1.2 million subscribers.
While details are scanty on how much Rick Ross actually makes from his YouTube channel, it's safe to imagine that he takes home some hundred thousand dollars annually in monetized campaigns.
Rick Ross has also invested in real estate, as well as in luxury cars. He owns a 54,000-feet home in Atlanta, Georgia, which he purchased in 2014 at a cost of $5.8 million. As of 2016, the property was ranked as the largest single-family home in the entire state of Georgia.
It features 109 rooms, including 21 bathrooms and 12 bedrooms. The property also features other amenities like a home theatre, huge pool, bowling alley, baseball field, an indoor pool, a recording studio, and a separate gym.
In addition to this humongous property, Rick Ross is also a proud owner of several luxury cars, including the Fisker Karma, Rolls Royce Phantom, a BMW 760Li, Cadillac Escalade SUV, etc. The rapper's personal asset base also includes an Aprillia motorbike and expensive jewelry.
Life Lessons from Rick Ross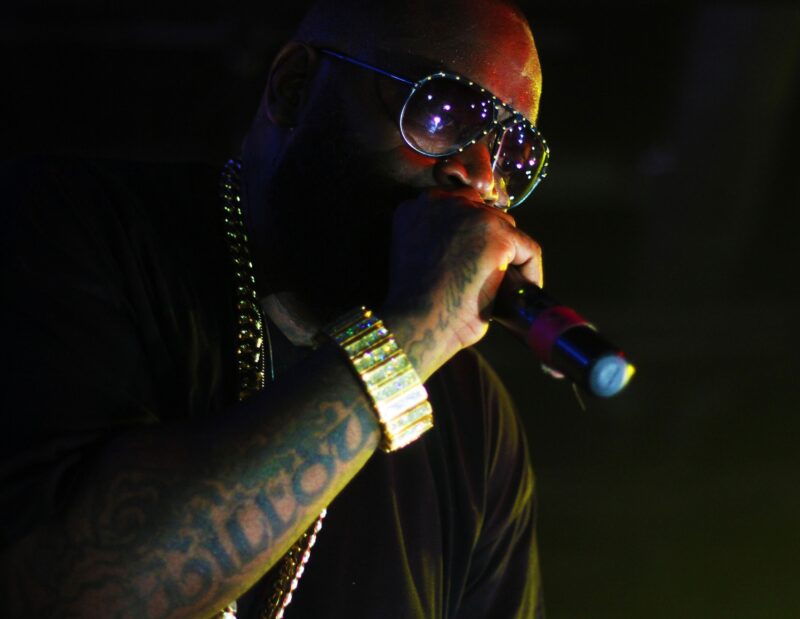 Rick Ross has taught us that saving is a fundamental wealth creation habit. After landing his first record deal, the rapper didn't go on a spending spree. Instead, he saved nearly all his music money and only began spending it when he was sure he would have more left.
Through Rick Ross, we can also learn the importance of keeping our eyes on the prize. Right from the start, the rapper had his eyes set on investing in real estate. He nurtured those dreams until he had enough money to make it happen.
The importance of collaboration is yet another crucial life lesson from Rick Ross. You can hardly make it in life without partnering with others, especially people who have been there and done that, so to speak.
Here are some of the best quotes by Rick Ross:
"Ambition is priceless. It's something that's in your veins."
"Every day is a new opportunity to reach that goal."
"How many people you bless, is how you measure your success."
"Love is for free, just expensive to shop."
"Regardless of how it goes down… life goes on."
Conclusion
Rick Ross may have been in the industry for just around 15 years now. But he has amassed incredible wealth and commands deep respect from fans and haters alike.