Last Updated on January 25, 2022
Who Is Ricky Gervais?
Ricky Dene Gervais is an English actor, comedian, producer, director, and writer. He's best known for co-creating, co-writing, and starring in The Office, a British mockumentary sitcom that aired between 2001 and 2003.
Gervais began his professional career as a musician in the 80s. He initially had plans of becoming a pop star. Some of his earliest roles in the music industry include being the singer of the new wave act Seona Dancing as well as serving as the manager of the band Suede. But after a short stint in the music industry, Gervais decided to branch out into acting and comedy.
As an actor cum comedian, Ricky Gervais gained initial recognition appearing on Channel 4's The 11 O'Clock Show from 1998 to 2000. He garnered widespread fame in 2000 after he was offered a spoof talk show on Channel 4, titled Meet Ricky Gervais. Gervais shot to international stardom the following year after creating and starring in the mockumentary series, The Office. Ricky has since appeared in numerous comedy films and television sitcoms. He has also performed in five multi-national stand-up comedy tours.
Presently, Gervais is best known for being the creator, producer, director, and writer of the Netflix comedy series After Life. He also stars in the series as Tony Johnson.
Ricky Gervais is considered one of the most influential entertainment figures in the world. In 2007, he debuted at number 11 on Channel 4's '100 Greatest Stand-Ups.' He reappeared on that list in 2010, emerging number 3. The same year, Gervais made the Time 100 list of 'the world's most influential people.'
Quick Facts
| | |
| --- | --- |
| Full Name: | Ricky Dene Gervais |
| Popular Name: | Ricky Gervais |
| Gender: | Male |
| Birth Date: | June 25, 1961 |
| Age: | 60 years |
| Parents: | Lawrence Raymond Gervais and Eva Sophia House Gervais |
| Siblings: | Marsha Gervais, Larry Gervais, and Robert Gervais |
| Birth Place: | Reading, Berkshire, England |
| Nationality: | English |
| Ethnicity: | Mixed (French-Canadian and English) |
| Education: | Whitley Park Infants and Junior Schools, Ashmead Comprehensive School, and University College London (UCL) |
| Marital Status: | In a relationship with producer and author Jane Fallon (since 1982) |
| Sexual Orientation: | Straight |
| Wife/Spouse: | N/A |
| Children: | None |
| Dating: | Jane Fallon |
| Net Worth: | USD 150 million (as of May 1, 2021) |
| Source of Wealth: | Acting, Comedy, Film Producing & Directing, Television Producing & Directing, Writing, and Other Ventures |
| Height: | 5′ 8″ (1.73 m) |
| Weight: | 72 kg; In pounds: 158 lbs. |
Early Life and Career Beginnings
Ricky Gervais was born on June 25, 1961, in Reading, Berkshire, England, to Lawrence Raymond "Jerry" Gervais and Eva Sophia House Gervais. Gervais attended Whitley Park Infants and Junior Schools, and later Ashmead Comprehensive School. He then proceeded to University College London (UCL), from where he graduated in 1983 with a degree in philosophy.
In 1983, while still attending University College London, Ricky Gervais co-founded a new-wave pop duo known as Seona Dancing, along with his friend Bill Macrae. The duo signed to London Records and released two singles – "More to Lose" and "Bitter Heart."
Gervais also worked as the manager for Suede before the band's success in the 1990s. However, he turned to acting and comedy after many of his music projects failed to take off.
Stand-up, Acting, and Other Roles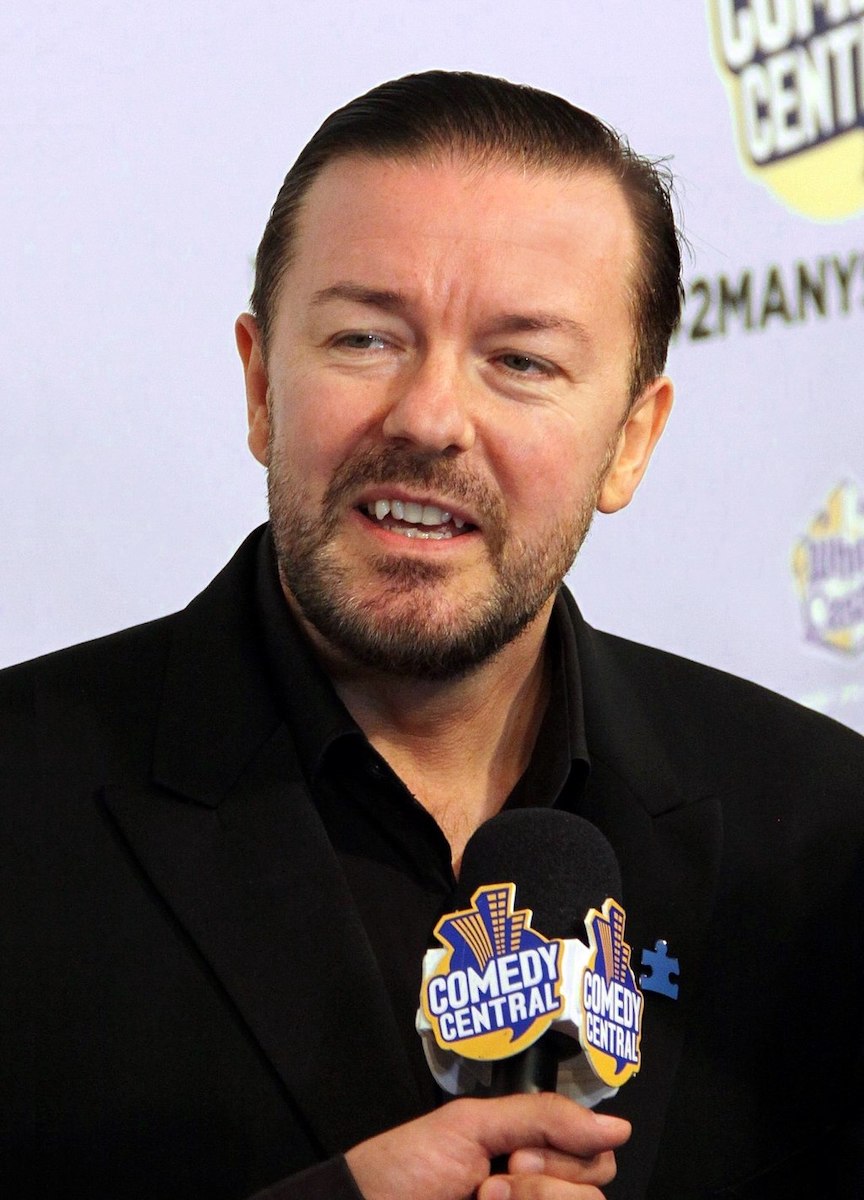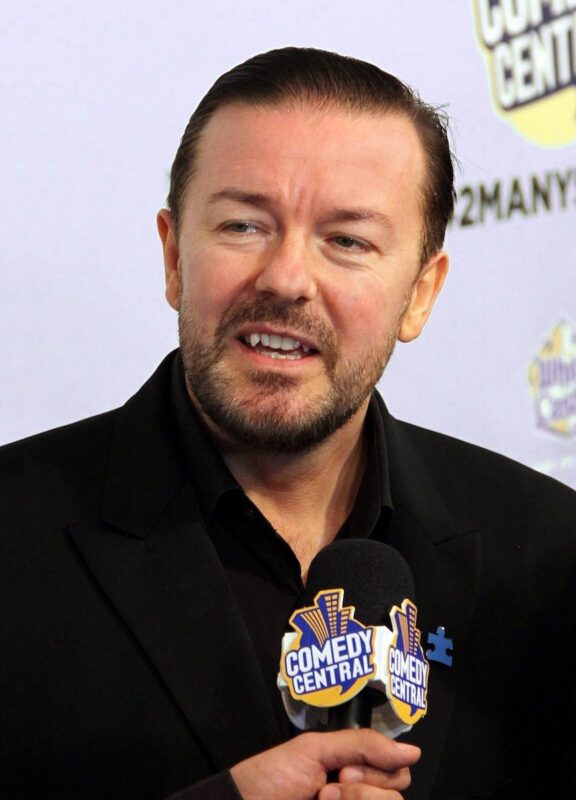 Ricky Gervais began his stand-up career in the late 90s. His first major stand-up performance, titled Rubbernecker, took place at the Café Royal. The show was part of the 2001 Edinburgh Festival Fringe. After the success of the Rubbernecker show, Gervais embarked on a series of stand-up tours across the UK, starting with his stand-up show 'Animals' in 2003 and following up with the Politics Tour a year later. He subsequently followed up with several other comedy shows, including Fame (2007), Science (2009), Humanity (2017 – 2018), and SuperNature (2019 – 2020).
Gervais also worked numerous jobs in the late 90s, including as the University of London Union (ULU)'s assistant event manager and as head of speech at the radio station Xfm. He returned to radio hosting in October 2017 when he began hosting the Ricky Gervais Is Deadly Sirius show on Sirius FM.
During the same period, Ricky Gervais hosted a couple of podcasts. He began with the weekly podcast 'The Ricky Gervais Show' on December 2005. The podcast was ranked the best podcast in the world throughout January and February 2006, before entering the Guinness Book of World Records the following year as the most downloaded podcast in the world. Gervais went on to release several podcasts and audiobooks.
Between 1998 and 2000, Ricky Gervais appeared on Channel 4's The 11 O'Clock Show. From 2001 to 2003, Gervais became widely known for his role as the co-creator, co-writer, and one of the cast members of The Office. The series became so successful that it was remade for audiences in the United States, Quebec, Germany, France, Sweden, and Brazil. Other notable television works by Gervais include Extras, The Ricky Gervais Show, Life's Too Short, An Idiot Abroad, Derek, and After Life.
Ricky Gervais has also appeared in several films, either as an actor or voice actor. Gervais lent his voice to the films Robbie the Reindeer in Legend of the Lost Tribe (2002) and Valiant (2005). He then starred in Ghost Town (2008) and The Invention of Lying (2009). Gervais has also made guest appearances in numerous television shows, including The Simpsons, Family Guy, Alias, Sesame Street, Galavant, to mention but a few.
Ricky Gervais is also an acclaimed author. He published a children's book in 2004, titled Flanimals. He has since released four sequels of the book, including More Flanimals (2005), Flanimals of the Deep (2006), Flanimals: The Day of the Bletchling (2007), and Flanimals: Pop Up (2009).
Awards and Recognitions
Ricky Gervais has received numerous awards over the years, including:
• 1 Golden Globe Award
• 2 Emmy Awards
• 5 British Comedy Awards
• 7 BAFTA Awards
• The 2017 Lord Houghton Award for Service to Animal Welfare
• The 2018 Humane Society International Cecil Award
• The 2019 Richard Dawkins Award
Ricky Gervais' Net Worth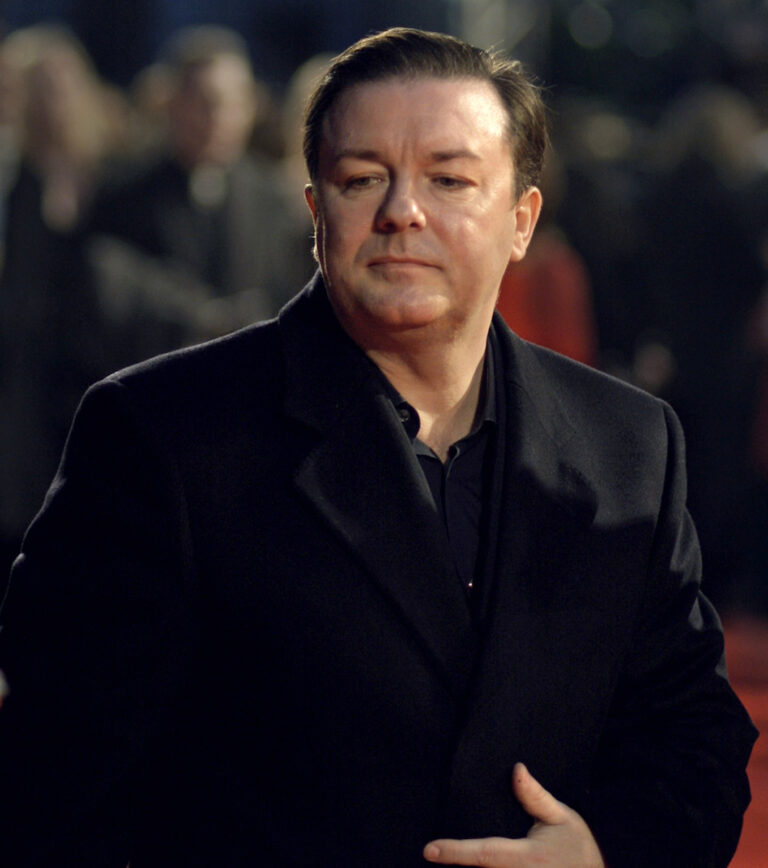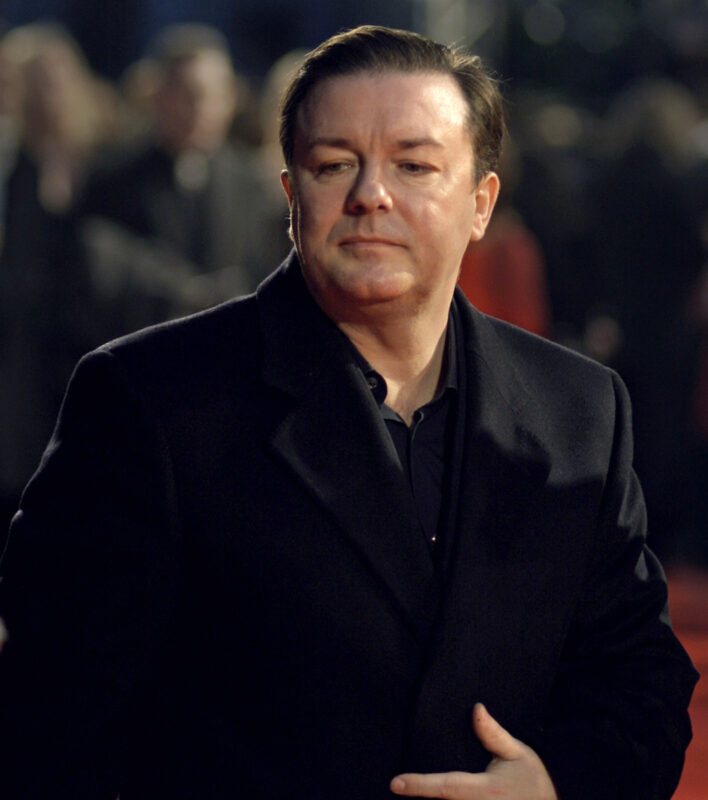 Ricky Gervais is regarded as one of the most accomplished English actors and comedians. He's also among the wealthiest.
As of May 1, 2021, Gervais had a net worth of $150 million. Acting and comedy are his greatest income earners.
Gervais has earned millions from his various roles in The Office alone. His biggest earnings from the mockumentary series came after signing a $500 million syndication and licensing deal with Comcast's NBC in June 2019. Presently, Gervais owns at least 10% of The Office syndication equity points, which means that he's entitled to 10% of all profits generated by the series.
Besides acting and comedy, Ricky Gervais also earns as a producer, director, writer, screenwriter, singer, radio & podcast host, and concert host. As a concert host, Gervais is most noted for hosting the 67th, 68th, 69th, 73rd, and 77th Golden Globe Awards.
Lessons from Ricky Gervais
1. Keep trying until you find what works
Ricky Gervais started his career in the music industry. But after a couple of failed projects, he decided to venture into stand-up and acting.
2. Pursue your happiness on your own terms
Gervais and his long-time partner Jane Fallon have never been formally married. Neither do they intend to have children. The couple has proven that it's possible to pursue happiness on your own terms without bending to societal expectations.
3. Find a noble cause and champion it diligently
Personal fulfillment doesn't always come from fame and fortune. It also comes from finding a worthy cause and pursuing it to your satisfaction. Gervais is noted for being a fierce defender of animal rights. He has donated millions in funding to organizations working towards the prevention of illegal wildlife trade.
Famous Quotes by Ricky Gervais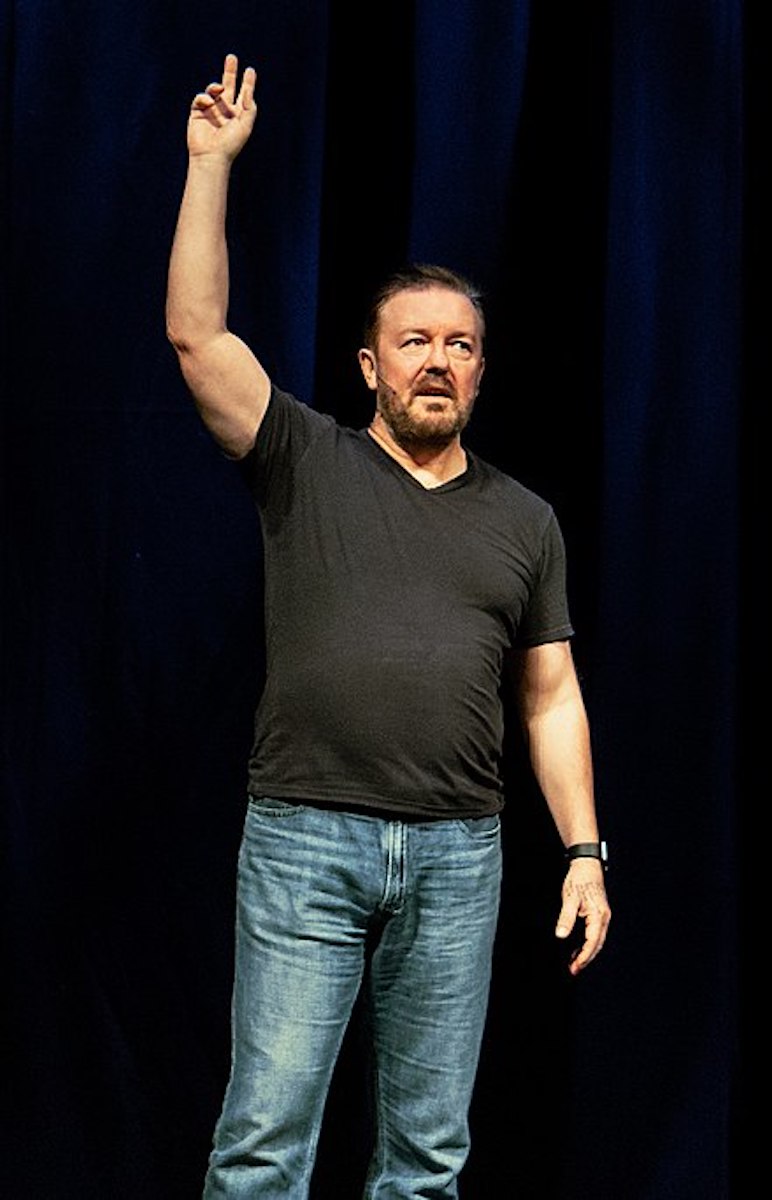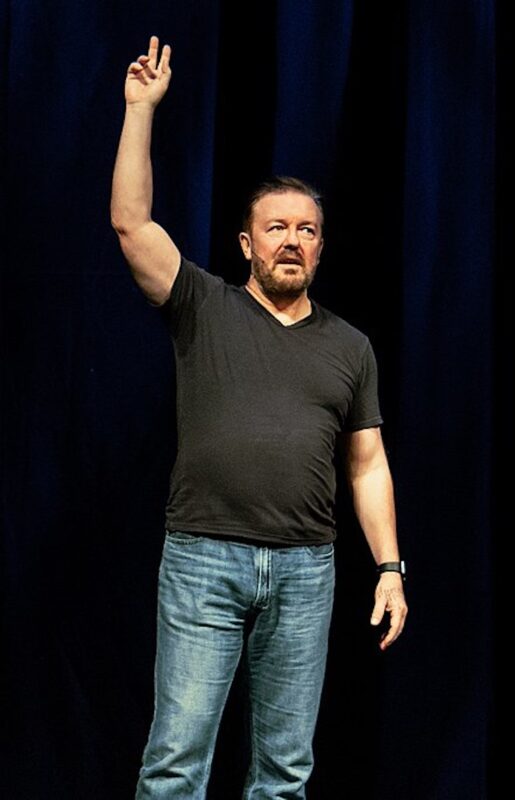 "I am not a wolf in sheep's clothing, I'm a wolf in wolf's clothing."
"People confuse the subject of the joke with the target of the joke, and they're very rarely the same."
"Science is constantly proved all the time. If we take something like any fiction, any holy book, and destroyed it, in a thousand years' time, that wouldn't come back just as it was. Whereas if we took every science book and every fact and destroyed them all, in a thousand years they'd all be back because all the same tests would be the same result."
"The grass isn't always greener on the other side!"
"You can laugh at anything. It depends on the joke."
Final Word
Ricky Gervais is considered one of the most influential English actors and comedians in the world. Although he's best known for co-creating and starring in The Office, Gervais has appeared in numerous films and television shows, as well as stand-up shows during his career. He has a jaw-dropping net worth of $150 million as of May 2021.