Last Updated on January 24, 2023
Born on February 20, 1988, in Saint Michael, Barbados, Robyn Rihanna Fenty, aka Rihanna, is a multi-awarded singer, songwriter, and actress. At age 16, she signed a record deal with Def Jam. She is the artist behind the hit songs "Umbrella," "Take a Bow," and "Diamonds", to name a few.
Early Life
Rihanna is the eldest child of Ronald and Monica Fenty. She has two siblings. Her father, a warehouse supervisor, struggled with drug and alcohol addiction since she was young. Because of this, Rihanna's parents divorced when she was 14.
During her childhood, the global superstar struggled with severe headaches. Rihanna kept her condition to herself. She hid her struggles from her friends and classmates as she didn't want them to think of her as abnormal.
Pre-Global Superstar Status
Growing up, singing became Rihanna's escape from her troubles at home. She and her two classmates formed a girl group. When they were 15 years old, the group had an audition with Evan Rodgers, a music producer under Def Jam Recordings who was vacationing on the island with his wife. In an interview with Rodgers, he said that it was Rihanna who stood out during the audition. Unfortunately for her friends, Rihanna's talent and beauty dominated the room.
Less than a year after her group's audition, Rihanna relocated to the US to pursue her singing career. She stayed in Connecticut with the Rodgers couple and worked on her demo album. Not long after, she sang in front of Def Jam's president, the hip-hop icon Jay-Z. The legendary rapper, much like Rodgers, was blown away by Rihanna's talent and commanding presence. He presented her a recording deal on the spot.
In August 2005, just eight months after her audition with Jay-Z, Rihanna released "Pon de Replay," her first single. Staying true to her roots, the single was heavily influenced by the reggae sound. It peaked at number two on the Billboard singles chart. Soon after, Rihanna was labeled as the next global pop star.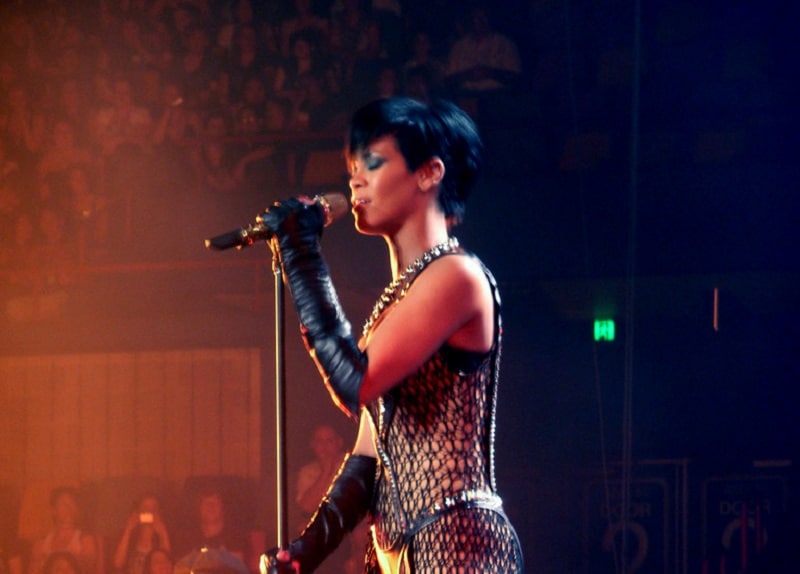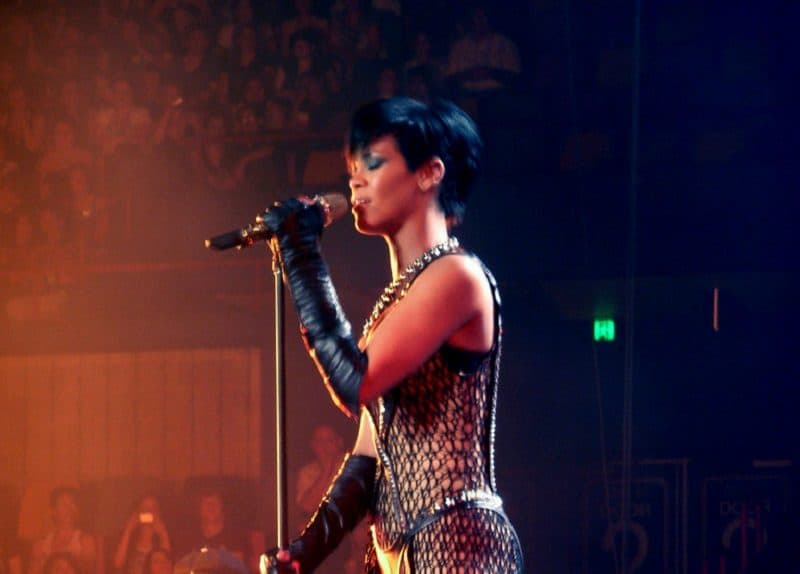 Later that month, her first full album was released. "Music of the Sun" peaked at number ten on the Billboard albums chart. But it was on her second album, "A Girl Like Me," that Rihanna gained worldwide recognition. "Unfaithful" and "SOS", two songs from her sophomore album, propelled her to superstardom.
Her third album, "Good Girl Gone Bad," showed the transformation of Rihanna from being a pop princess into a sex symbol superstar. The acclaimed album featured the smash hit single, "Umbrella." The song featured Jay-Z and led the way for her to receive her first Grammy Award.
Apart from her long list of chart-topping hits, Rihanna often sang with other artists as a featured act. She has collaborated with Jay-Z, Eminem, Maroon 5, Kanye West, and Coldplay.
Interesting Facts
Rihanna made her on-screen debut in the movie Battleship. Her role in Peter Berg's show was a Navy weapons expert. In real life, the "Disturbia" singer was an army cadet in Barbados. She was part of a sub-military program. In fact, Shontelle, another singer-songwriter, was her drill sergeant.
Singing wasn't the only thing Rihanna explored during her teenage years. When she was 15 years old, she joined a beauty pageant at her school. It was a dare made by her friends that pushed her to join the contest. She won and became that year's "Miss Combermere." For the talent portion, Rihanna sang Mariah Carey's hit, "Hero."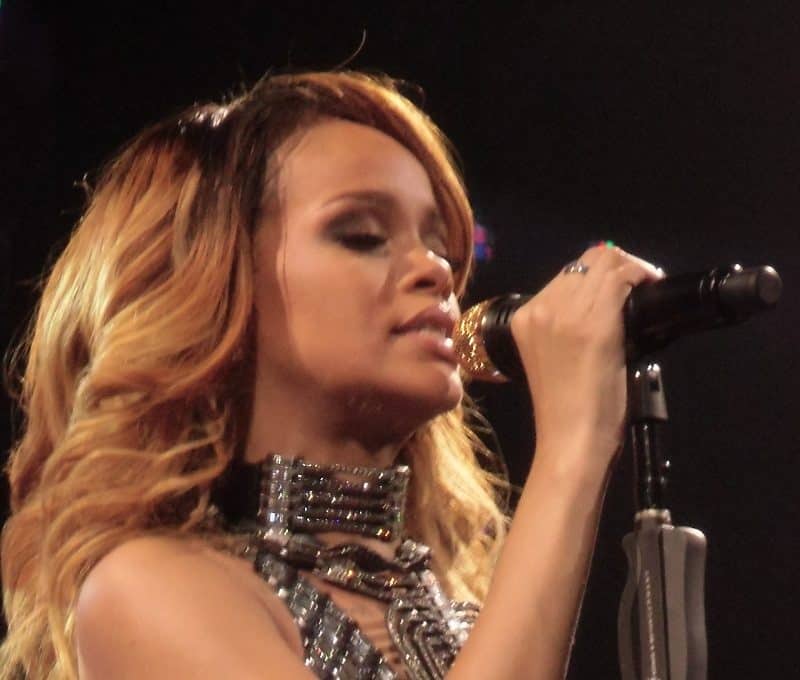 Rihanna is not just known for her talent and beauty. She is also famous for her curvaceous body. In 2007, she was named "Celebrity Legs of a Goddess" by Gillette. Along with the title, the recipient of the award also receives an insurance for their legs. As such, Rihanna's sexy pins are insured for a cool million dollars.
Much like other celebrities, Rihanna has a number of pre-show rituals. Some of them are pretty normal, others are unorthodox. To care for her voice, she eats lozenges. During makeup time, she calls her voice coach via Skype so they can do vocal warm-ups together.  The process usually takes about half an hour.
After her vocal warm-up, her PA gives her a shot of alcohol diluted with either soda water or orange juice. In an interview, Rihanna said that her pre-show drinking ritual is a necessity. The drink calms her nerves. She would often have it while watching the opening act. At times, she'd also put on a big hoodie and sneak out of the venue to watch the action with the audience.
Rihanna is included in the list of the best-selling artists of all time. She is also Billboard's youngest artist to achieve 14 number one hits. To date, she has a total of 28 awards from the Grammys, the Billboard Music Awards, and the American Music Awards.
Learn more about this pop superstar with some of her best quotes:
Rihanna Quotes
"You may never be good enough for everybody, but you will always be the best for somebody." – Rihanna
"It's tougher to be vulnerable than to actually be tough."  – Rihanna
"Hurt me with the truth. Don't comfort me with a lie." – Rihanna
"I think a lot of people are afraid of being happy because of what others might think." – Rihanna
"People are going to talk whether you doing good or bad." – Rihanna
"Let go of the things that make you feel dead! Life is worth living." – Rihanna
"Don't hide from who you are." – Rihanna
"I don't do things for the response or the controversy. I just live my life." – Rihanna
"When you realize who you live for, and who's important to please, a lot of people will actually start living." – Rihanna
"I stand up for what I believe in, and a lot of the time that can be against people's opinions." – Rihanna
"You have to just accept your body. You may not love it all the way, but you just have to be comfortable with it, comfortable with knowing that that's your body." – Rihanna
"I love reading people. I really enjoy watching, observing, and being able to figure out a person, the reason they wore that dress, the reason they smell the way they do." – Rihanna
"When it's over and it's gone, you almost wish that you could have all that bad stuff back so you can have the good." – Rihanna
"Nobody can understand what you're feeling unless they burn the way you burned." – Rihanna
"If I cry, it's because I'm very angry and I can't do anything about it because I've run into a dead end. That's when the tears would come down." – Rihanna
"I hate anything that's too straightforward, too routine, too familiar, and I get bored really, really quickly." – Rihanna
"Sure, you wish you did some things differently. But there is no sense in becoming burdened with regret over things you have no power to change." – Rihanna
"I am a child but I have to think and act like a woman, this business forces you to." – Rihanna
"You almost feel ashamed, that someone could be that important that without them, you feel like nothing." – Rihanna
"I don't do things for the response or for the controversy. I just live my life." – Rihanna
"If someone is right for you, you'll know it." – Rihanna
"I always keep my guard up with guys and I guess that can get in the way sometimes. I can make them go through hell." – Rihanna
"You don't want to live your life and then meet someone. You want to share your life with someone. That's what I'm missing right now." – Rihanna
"The bottom line is that everyone thinks differently." – Rihanna
"I'm crazy and I don't pretend to be anything else." – Rihanna
"My knees on the ground, dear father, don't let me break, please make me stronger." – Rihanna
"Don't even recognize the ways you hurt me, do you? It's going to take a miracle to bring me back and you're the one to blame." – Rihanna
"And I'll never give myself to another the way I gave it to you." – Rihanna
"And all of a sudden, you went and left. I didn't know how to follow. It's like a shock that spun me around and now my heart's dead. I feel so empty and hollow." – Rihanna
"When we first met, I never felt something so strong. You were like my lover and my best friend all wrapped into one with a ribbon on it." – Rihanna
"If you want it, you can get it for the rest of your life." – Rihanna
"I'd love to date somebody cool, fun, funny." – Rihanna
"I'm really looking forward to seeing what life brings to me." – Rihanna
"Who am I living for?" – Rihanna
"What started out as a simple altercation, turned into a really sticky situation?" – Rihanna
"I lick the gun when I'm done 'cause I know that revenge is sweet." – Rihanna
"This fragrance is about my passion for individuality being expressive and empowering – but also emotional and intriguing." – Rihanna
"Visions in my mind of the day that we met. You showed me things that I'll never forget." – Rihanna
"Release me now, because I did my time, of this cold case love." – Rihanna
"And my runway never looked so clear. But the hottest bitch in heels right here." – Rihanna
"So I surrender, to every word you whisper. Every door you enter, I will let you in." – Rihanna
"My fans like my flaws and imperfections, and that I'm rebellious." – Rihanna
"I never play the victim, I'd rather be the stalker." – Rihanna
"Don't tell me you're sorry, 'cause you're not. When I know you're only sorry you got caught." – Rihanna
"And the award for the best liar goes to you for making me believe that you could be faithful to me. Let's hear your speech, oh." – Rihanna
"Success for me isn't a destination it's a journey. Everybody's working to get to the top but where is the top? It's all about working harder and getting better and moving up and up." – Rihanna
"There's nothing that I say 'I have to make this decision'. We all make our decisions together. I'm new to this industry and these are people who have experienced it and been here and seen it all." – Rihanna
"I want to give people a taste of the Caribbean, and show them the fun side of me." – Rihanna
"People think, because we're young, we aren't complex, but that's not true. We deal with life and love and broken hearts in the same way a woman a few years older might." – Rihanna
"Eating ice cream late at night is so bad, but I love it!" – Rihanna