Who Is Rob Dyrdek?
Robert Stanley Dyrdek, popularly known as Rob Dyrdek, is an American actor, reality TV personality, television producer, screenwriter, entrepreneur, and former skateboarder.

As an actor, Dyrdek is best known for starring in the reality television shows, Rob & Big and Rob Dyrdek's Fantasy Factory.
Quick Facts
| | |
| --- | --- |
| Full Name: | Robert Stanley Dyrdek |
| Popular Name: | Rob Dyrdek |
| Gender: | Male |
| Birth Date: | June 28, 1974 |
| Age: | 48 years |
| Parents: | Gene Dyrdek and Patty Dyrdek |
| Siblings: | Denise Dyrdek |
| Birth Place: | Kettering, Ohio |
| Nationality: | American |
| Ethnicity: | White/Caucasian |
| Education: | Kettering Fairmont High School |
| Marital Status: | Married  |
| Sexual Orientation: | Straight |
| Wife/Spouse: | Bryiana Noelle Flores |
| Children: | Nala Ryan Dyrdek and Kodah Dash Dyrdek |
| Dating: | N/A |
| Net Worth: | USD 50 million  |
| Source of Wealth: | Skateboarding, Acting, Television Producing, Screenwriting, Endorsement Deals, and Other Ventures |
| Height: | 5′ 7″ (1.71 m) |
| Weight: | 61 kg; In pounds: 134 lbs. |
Early Life and Career Information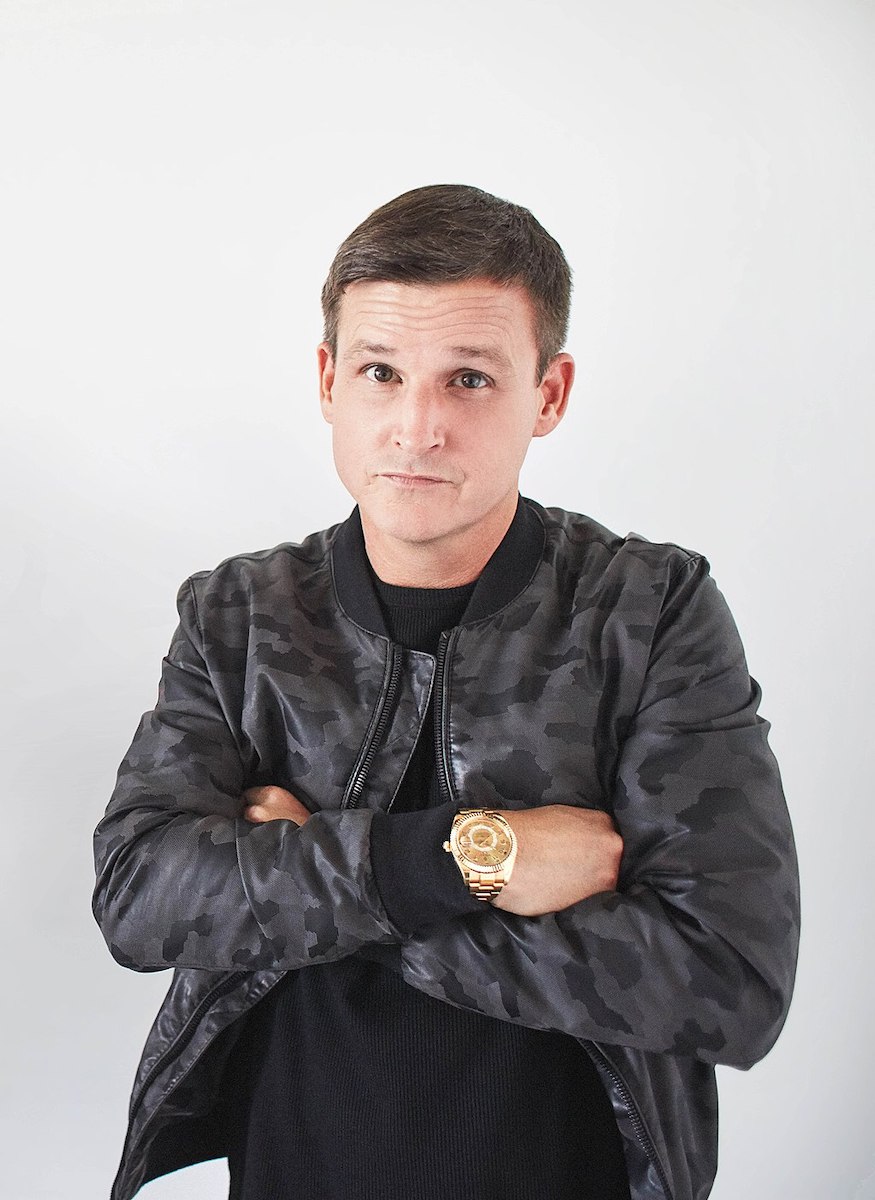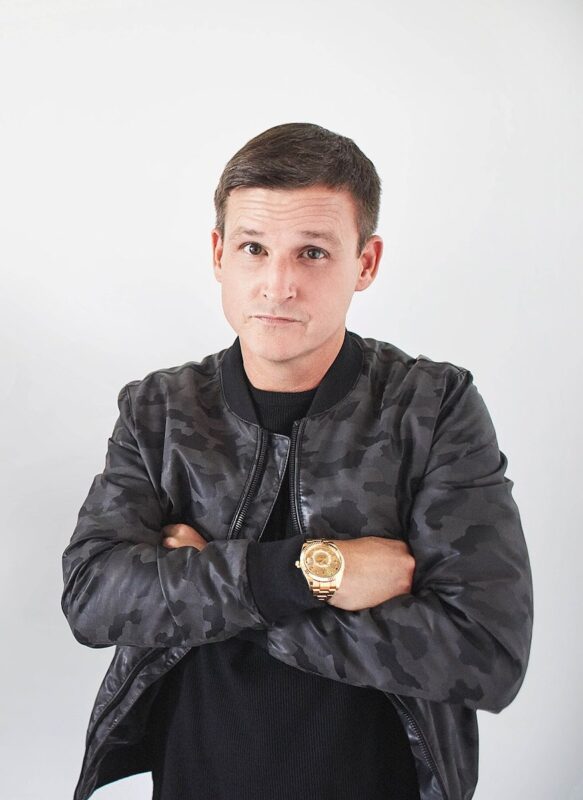 Rob Dyrdek was born on June 28, 1974, in Kettering, Ohio, to Gene Dyrdek and Patty Dyrdek. Dyrdek began skateboarding at the age of 11 years and by the time he was 12, he received his first sponsorship.

At the age of 16, Dyrdek quit high school and decided to throw his full weight behind skateboarding in Southern California. Shortly after arriving in Southern California, he started riding for the clothing line Droors. He continued riding for Droors even after the company transformed to DC Shoes.

As a professional skateboarder, Dyrdek set a few records, including the world record in 2007 for the longest 50-50 rail grind: 100 feet 5.75 inches. The same year, he set two other world records – for the longest board slide: 100 feet 5.75 inches and for the highest skateboard ramp jump into water: 10 feet 8 inches. In 2014, Dyrdek set yet another world record for the furthest reverse ramp jump by way of a car: 89 feet 3.25 inches.

In 2006, Rob Dyrdek branched out to television and accepted a starring role on MTV's reality show, Rob and Big. Three years later, he helped develop a series known as Rob Dyrdek's Fantasy Factory. In addition to his television roles, Dyrdek has also landed a few movie roles, including in 2008's Righteous Kill.
Rob Dyrdek's Net Worth
Rob Dyrdek has involved himself in numerous income-generating activities throughout his professional career. As of 2023, his net worth was $50 million. He has earned a significant portion of his wealth from film-related ventures, including as an actor, reality TV personality, television producer, and screenwriter.
1. Rob Dyrdek's Film and Television Earnings
Rob Dyrdek earned $60,000 per episode in Rob & Big. His other major television show, Rob Dyrdek's Fantasy Factory paid him $100,000 per episode.
2. Rob Dyrdek's Other Business Ventures
In addition to acting and television production, Rob Dyrdek has pursued several other entrepreneurial ventures during his career. His first business was Orion Trucks. He has since owned a shoe design company, a hip hop record label, and a skate shop. He is also associated with an animated series on Nickelodeon known as Wild Grinders, and Street League Skateboarding (SLS). Dyrdek also founded Dyrdek Machine and went on to acquire DNA Distribution, before returning the company to its original founders.

Other investments by Rob Dyrdek include:

• Investing in the UFC,
• Investing in Beach Whiskey, where he's also a member of the advisory board,
• Investing in Beatbox Beverages,
• Co-founding Ultracast, which has produced live 360 virtual reality broadcasts in partnership with NASCAR. He is also Ultracast's board member, and
• Co-founding Black Feather Whiskey

Rob has also entered into lucrative endorsement deals with other brands, including Rogue Status.
3. Rob Dyrdek's Real Estate Portfolio
Rob Dyrdek has flipped several real estate properties over the years. He has made profits in some and suffered losses in others.

In May 2008, Dyrdek acquired a home in Mount Olympus for $2.549 million. He later sold the home in November 2012 at a cost of $2.125 million, surprising taking a $334,000 loss.

In 2013, Rob Dyrdek accepted another $220,000 loss on a mid-1960s property located near Lake Hollywood in the Hollywood Knolls neighborhood. He purchased the multi-level modern home in 2005 for $1.395 million and sold it at a cost of $1.175 million.

In 2015, Dyrdek purchased a vacant 3.1-acre lot near his primary residence in Mulholland Estates neighborhood for $9.9 million. The lot was previously owned by Robbie Williams who sold it after abandoning his plans of building a megamansion there. It's also the largest property in the whole neighborhood.

In 2016, Dyrdek sold his 4-bedroom, 3-bathroom house in Laurel Hills, Los Angeles for $3.5 million. The 3,733-square-foot house is located between Laurel Canyon and Coldwater Canyon.

In 2018, Dyrdek and his wife purchased a mansion in the Mulholland Estates neighborhood of Beverly Hills for $6 million. The 7,000-square-feet mansion features four bedrooms and some of Dyrdek's neighbors include Christina Aguilera, Mike Shinoda, Vanna White, Big Sean, Paris Hilton, DJ Khaled, Tracey Edmonds, Kendall Jenner, and Charlie Sheen.
How Does Rob Dyrdek Spend His Money?
Over the past few years, Rob Dyrdek has managed to keep his private life to himself, which makes it a bit difficult to know how he spends his millions. But so far, we know that he has a love affair for horses. In one of the episodes of Fantasy Factory, Dyrdek was captured jockeying a racehorse for his friend Joe Ciaglia Jr. He eventually became a racehorse owner and is reported to have owned at least 13 horses during his career. Some of Dyrdek's horses have raced in stakes such as the Breeder's Cup.

The former professional skateboarder is also fond of dogs. He has two bulldogs named Beefy and Meaty, and a Pomeranian named Gretchen Weiner.
Lessons from Rob Dyrdek
1. Take your chances

Rob Dyrdek left Kettering Fairmont High School and traveled to Southern California to pursue a career in skateboarding fulltime. The risk was well-calculated as Dyrdek landed riding gigs as soon as he arrived in Southern California.

2. Focus on your dreams

After developing an interest in skateboarding, Dyrdek dedicated all his energy towards becoming a pro skateboarder. He has stated, "I was so focused on becoming a pro skateboarder. I would sit in school and think about all the tricks I was going to do, then I'd get out of school and skate until they made me come inside.''

3. Invest in numerous income streams

You can hardly become rich by depending on one income stream. It appears Dyrdek understands this fundamental lesson on investment, as he has since been involved in several business endeavors.
Famous Quotes by Rob Dyrdek
"Everything in life is a fantasy until you choose to make it a reality."
"I've got some alien blood in me."
"Skateboarding has given me everything I have and created who I am."
"The serious professional skateboarder doesn't have a job. They get paid enough not to."
"With success comes responsibility of playing your part, to do what you can to help not only those that helped you get to where you're at, but the future of who's going to be playing a part of your business and everything you do in your entire career."
Final Word
Rob Dyrdek enjoys a successful career as a skateboarder, actor, television personality, and entrepreneur. He is proof that with ruthless focus and unwavering passion for your job, there's no limit to what you can achieve.