Last Updated on January 24, 2022
Who Is Robert Kiyosaki?
Robert Toru Kiyosaki is an American businessman, author, motivational speaker, financial commentator, and life coach.

Kiyosaki is best known for being the founder of the Rich Dad Company and Rich Global LLC, as well as for authoring a series of books known as 'Rich Dad Poor Dad.' Rich Dad Company is a private company that offers business education and personal finance services through a series of books and videos.

Kiyosaki is also credited for creating the Cashflow board and software games with a view to teaching both adults and children valuable business and financial concepts.

As a writer, Robert Kiyosaki has authored more than 25 books. Among his book collection is the Rich Dad Poor Dad series which is currently available in over 50 languages.
Quick Facts
| | |
| --- | --- |
| Full Name: | Robert Toru Kiyosaki |
| Popular Name: | Robert Kiyosaki |
| Gender: | Male |
| Birth Date: | April 8, 1947 |
| Age: | 74 years |
| Parents: | Ralph H. Kiyosaki and Marjorie O. Kiyosaki |
| Siblings: | Emi Kiyosaki, Beth Kiyosaki, and John Kiyosaki |
| Birth Place: | Hilo, Territory of Hawaii |
| Nationality: | American |
| Ethnicity: | Japanese |
| Education: | Hilo High School, United States Naval Academy, the United States Merchant Marine Academy, and the University of Hawaii at Hilo |
| Marital Status: | Married  |
| Sexual Orientation: | Straight |
| Wife/Spouse: | Kim Meyer Kiyosaki |
| Children: | Unknown |
| Dating: | N/A |
| Net Worth: | USD 100 million (as of April 1, 2021) |
| Source of Wealth: | Entrepreneurial Ventures, Writing, and Speaking Engagements |
| Height: | 5′ 7″ (1.7 m) |
| Weight: | 84 kg; In pounds: 185 lbs. |
Early Life
Robert Kiyosaki was born on April 8, 1947, in Hilo, Territory of Hawaii, to Ralph H. Kiyosaki and Marjorie O. Kiyosaki. His father was an academic educator, whereas his mother was a registered nurse.

Kiyosaki graduated from Hilo High School in 1965. He later attended the United States Naval Academy and the United States Merchant Marine Academy in New York. He graduated from the U.S Merchant Marine Academy in 1969 as a deck officer with a B.S. degree and was commissioned as a Second lieutenant in the United States Marine Corps.
Career Information
After graduating from college, Robert Kiyosaki worked as a third mate at a Standard Oil's tanker office. However, he resigned from the job after six months to join the U.S Marine Corps. Kiyosaki became a helicopter gunship pilot while serving at the Marine Corps and was extensively involved in the 1972 – 1973 Vietnam War.

In 1973, while still serving in the military, Kiyosaki began pursuing an MBA program at the University of Hawaii at Hilo. The following year, he was honorably discharged from the U.S. Marine Corps.

In 1974, Robert Kiyosaki began attending the Erhard EST seminars. It's during this time that he developed an interest in business.

In 1977, Kiyosaki founded Rippers, a company that's credited for popularizing nylon and Velcro surfer wallets. However, the company eventually went bankrupt.

After Rippers closed shop, Kiyosaki accepted a sales associate job with Xerox, where he worked until June 1978. He then founded a retail business that designed T-shirts, hats, bags, and wallets for rock bands. But just like his previous ventures, this new business also went bankrupt in 1980.

In 1985, Robert Kiyosaki co-founded a business education company known as Excellerated Learning Institute. Through the company, Kiyosaki offered valuable tips on entrepreneurship, personal finance, and social responsibility. He sold the company in 1994.

In 1997, Kiyosaki founded Cashflow Technologies, Inc., a company that educates people on business and personal finance. The business is the sole owner and operator of Kiyosaki's Rich Dad and Cashflow brands.

Other businesses that Robert Kiyosaki has involved himself with over the years include Rich Global LLC (which filed for bankruptcy in 2012), Rich Dad LLC, Rich Dad Education, Rich Dad Academy, and Whitney Information Network.

As an author, Robert Kiyosaki is most famous for the Rich Dad Poor Dad book series. Additionally, Kiyosaki has authored at least 25 other books. Notable ones include 'If You Want to Be Rich and Happy, Don't Go To School,' 'Cashflow Quadrant: Rich Dad's Guide to Financial Freedom,' and 'Why We Want You to be Rich: Two Men, One Message.' Most of Kiyosaki's books address the topics of investment, personal finance, and financial freedom.
Robert Kiyosaki's Net Worth
Robert Kiyosaki has spent more than three decades offering sound investment and personal finance tips. Going by his current net worth, it's safe to conclude that Kiyosaki's investment tips have worked for him.

As of April 1, 2021, Kiyosaki had a net worth of $100 million. He attributes much of his wealth to his career as an entrepreneur, investor, and author.

Kiyosaki's book, 'Rich Dad Poor Dad,' remains one of his most commercially successful projects to date. As of the time of writing, the book has sold more than 32 million copies.

Kiyosaki has also earned millions from speaking engagements. He undertakes most of his seminars around North America in collaboration with Whitney Information Network.
Lessons from Robert Kiyosaki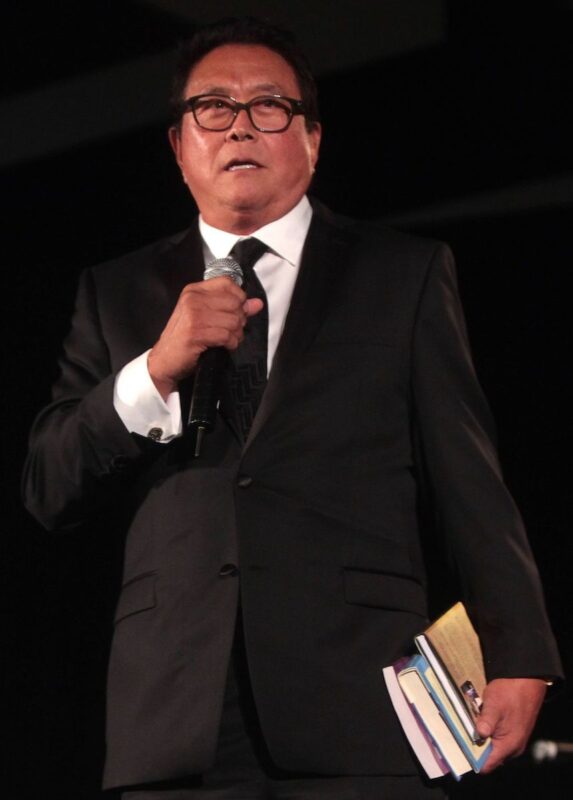 1. Education isn't the only key to success

For many years, education has been described as the ultimate key to financial freedom. However, Kiyosaki has attempted to demystify this notion through many of his books. In a book published in 1992 and titled 'If You Want to Be Rich and Happy, Don't Go To School,' Robert encourages parents to allow their children to enter the real estate business instead of sending them to college.

2. You win some, you lose some

Kiyosaki has launched numerous successful business ventures over the years. But he's also associated with a handful of failed startups, including the Rippers company.

3. If things don't work, consider a career change

Robert Kiyosaki started his professional career as a military officer before venturing into the retail business. But after several failed attempts in the retail industry, Kiyosaki shifted to the educational business where he eventually found true success.
Famous Quotes by Robert Kiyosaki
"A lot of people are afraid to tell the truth, to say no. That's where toughness comes into play. Toughness is not being a bully. It's having backbone."
"Academic qualifications are important and so is financial education. They're both important and schools are forgetting one of them."
"The size of your success is measured by the strength of your desire; the size of your dream; and how you handle disappointment along the way."
"We go to school to learn to work hard for money. I write books and create products that teach people how to have money work hard for them."
"You have to be smart. The easy days are over."
Final Word
Robert Kiyosaki is an American businessman, author, and motivational speaker who achieved incredible fame after authoring the Rich Dad Poor Dad book series. Kiyosaki has spent the better part of his professional life offering sound investment and personal finance tips. He has a net worth of $100 million.