Last Updated on January 18, 2022
Who Is Robin Thicke?
Robin Charles Thicke is an American singer, songwriter, dancer, record producer, actor, and television personality.

As a singer, Thicke is best known for his 2013 single titled "Blurred Lines," which propelled him onto the international limelight. The song reached #1 on the US Billboard Hot 100.

For some time, Robin Thicke was considered a one-hit wonder, probably because he has spent much of his music career as a songwriter and record producer. However, Thicke had already released fairly successful tracks prior to 2013, including the R&B singles "Lost Without U," "Sex Therapy," and "Magic."

Thicke is also famous for his numerous collaborations with renowned artists. For instance, he worked on the albums 'Confessions' by Usher and 'That Carter III' by Lil Wayne. He has also collaborated with Nicki Minaj, 3T, Flo Rida, Christina Aguilera, T.I., Jessie J, Pharrell, Brandy, Mary J Blige, and Jennifer Hudson, among other artists.
Quick Facts
| | |
| --- | --- |
| Full Name: | Robin Charles Thicke |
| Popular Name: | Robin Thicke |
| Gender: | Male |
| Birth Date: | March 10, 1977 |
| Age: | 44 years |
| Parents: | Alan Thicke and Gloria Loring |
| Siblings: | Brennan Thicke and Carter William (half-brother) |
| Birth Place: | Los Angeles, California |
| Nationality: | American |
| Ethnicity: | English, Irish, Scottish, Norwegian, and Welsh |
| Education: | Montclair College Prep School |
| Marital Status: | Engaged to April Love Geary; was married to actress Paula Patton (from 2005 until their divorce in 2015) |
| Sexual Orientation: | Straight |
| Wife/Spouse: | N/A |
| Children: | Julian Fuego (from his marriage to Paula Patton) and Mia Love, Lola Alain, and Luca Patrick (from his current relationship with April Geary) |
| Dating: | April Love Geary |
| Net Worth: | USD 15 million (as of April 1, 2021) |
| Source of Wealth: | Album & Record Sales, Touring, Songwriting, Dancing, Record Producing, Acting, Television, and Other Ventures |
| Height: | 6′ 1″ (1.87 m) |
| Weight: | 75 kg; In pounds: 165 lbs. |
Early Life and Career Information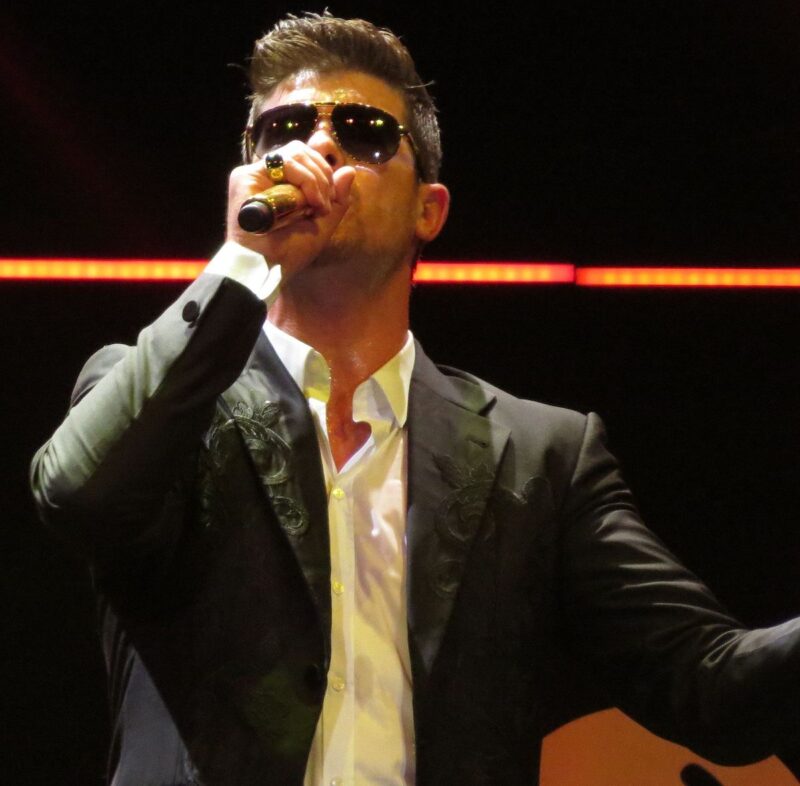 Robin Thicke was born on March 10, 1977, in Los Angeles, California, to Alan Thicke and Gloria Loring. Thicke's father was an actor who was best known for his role in the television sitcom Growing Pains, whereas his mother was an actress-singer who made numerous appearances on the NBC drama Days of Our Lives. His parents divorced when he was seven years old.

Growing up, Robin Thicke maintained a close association with Brian McKnight and helped write a couple of songs for the artist. He co-wrote the single "Anyway" on McKnight's second album. Thicke's friendship with McKnight helped him to secure his first recording contract with Interscope Records when he was only 16 years.

At age 17, Robin Thicke was already a professional songwriter and record producer. Thicke became widely prominent in the music industry as a songwriter and producer. Some of his notable songwriting works include the songs "Love Is on My Side" by Brandy and "Brotherhood" by 3T. He also collaborated on several songs with numerous artists in the late-90s and early-2000s, including Jordan Knight, Terra Lewis, Jimmy Jam, Mýa, and Christina Aguilera. Around the same period, Thicke recorded his own music as well, performing under the stage name 'Thicke.'

In 2002, Robin Thicke released his debut single, titled "When I Get You Alone." The song was a chart success, especially in Australia, New Zealand, Italy, and the Netherlands. The following year, Thicke released his debut album, titled A Beautiful World. The album peaked at # 152 on the Billboard 200.

Despite the not-so-impressive performance of his debut album, Thicke went on to release his second album in 2006, titled The Evolution of Robin Thicke. The album performed exceedingly well, selling over 1.5 million copies in the United States alone before going on to earn a platinum certification from Recording Industry Association of America® (RIAA). It remains one of Thicke's most commercially successful albums to date.

Thicke has since followed up with six more studio albums, including:

• Something Else (2008)
• Sex Therapy: The Session (2009)
• Love After War (2011)
• Blurred Lines (2013)
• Paula (2014)
• On Earth, and in Heaven (2021)

Besides music, Robin Thicke has also ventured into the film and television industries. Thicke made his cinematic debut in the movie Making the Rules (2004). On television, he's best known for being a judge on the American reality singing competition, The Masked Singer.
Robin Thicke Net Worth
As of April 1, 2021, Robin Thicke had a net worth of $15 million. Thicke has earned his wealth through a number of endeavors in the music industry, including singing, songwriting, and record producing.

Thicke's 2013 single, "Blurred Lines" remains his biggest and most commercially successful hit to date. According to court filings in which the estate of Marvin Gaye sued Thicke for alleged copyright infringement, it emerged that the song generated $16,675,690 in profits in 2013. Thicke earned $5,658,214 million of that amount, with the rest shared among co-writer/co-producer Pharrell Williams, rapper T.I., and three recording companies.

Thicke has also gone on fairly successful tours over the years. He went on a headlining tour in 2014, titled 'Blurred Lines Tour.' In 2019, Thicke embarked on a co-headlining tour with Jennifer Hudson, titled 'Jennifer Hudson & Robin Thicke in Concert.' He has also graced numerous tours as an opening act, including:

• The Once Gain Tour by John Legend in 2006
• The Beyoncé Experience Tour by Beyoncé in 2007
• Love Soul Tour by Mary J. Blige in 2008
• Freedom Tour by Alicia Keys in 2010
• Overexposed Tour by Maroon 5 in 2014

Outside the music industry, Thicke has made several film and television appearances. Whatever he makes from these ventures definitely contributes to his overall net worth.
Lessons from Robin Thicke
1. When it comes to success, age is only a number

Robin Thicke started singing in his early teenage years. By age 17, he was already supporting himself through his songwriting and record-producing ventures.

2. Keep trying until you find what works

At some point in his music career, Thicke majored in hip hop. However, he later shifted and eventually settled into soul and R&B.

3. Don't allow failure to knock you down

Robin Thicke's first album was an epic flop, peaking at #152 on the Billboard 200 chart. But Thicke never gave up on his singing dreams. In 2006, he released the highly successful album, The Evolution of Robin Thicke, and has since followed up with 6 more studio albums.
Famous Quotes by Robin Thicke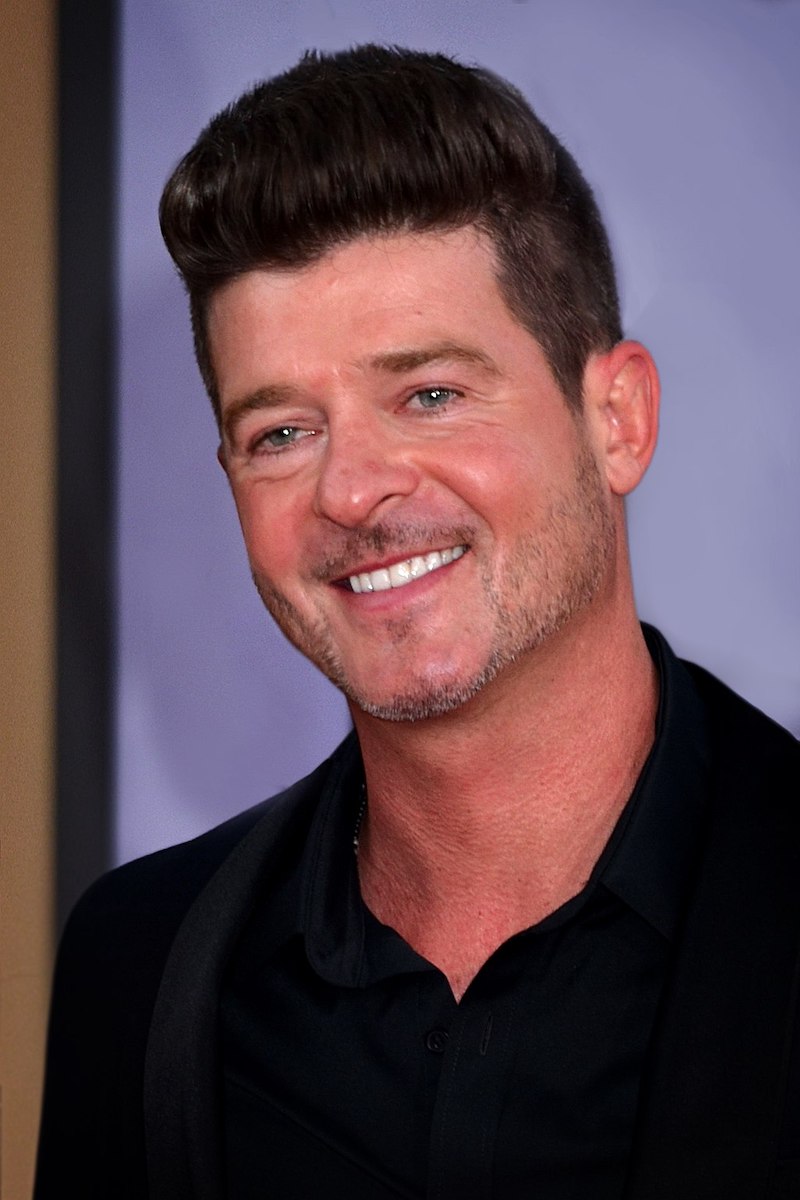 "I hate not giving the people what they want."
"I'm trying to create the world around myself to be a place of as much equality and openheartedness as possible."
"Some people go to college. For me I studied music my whole life. That was my college."
"There's an audience for all kinds of great art."
"To be a part of your biggest days – you know, your child being conceived or born, or you walking down the aisle – there's really nothing sweeter. That's the truth."
Wrap Up
Robin Thicke is an American musician, actor, and television personality who has a net worth of $15 million. Thicke gained initial recognition as a singer and songwriter before going on to pursue a successful singing career.