Known as 'the mother of the freedom movement' and 'the first lady of civil rights', Rosa Parks and her actions on December 1, 1955 sparked a chain reaction that would lead to the U.S. Supreme Court to rule bus segregation as unconstitutional. Thanks to her unwavering courage, the fight for civil rights continues and grows stronger today.
Who is Rosa Parks?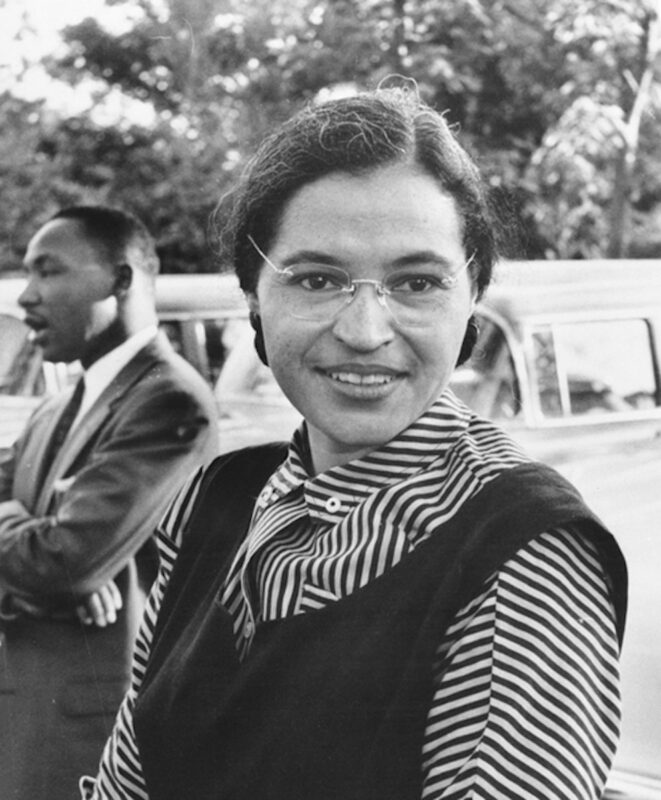 Born on February 4, 1913 to parents James and Leona McCauley, Rosa Louise McCauley lived in Tuskegee, Alabama. When she turned two years old, she and her brother would move with their mother outside the state capital, Montgomery, to a rural town.
Rosa grew up during a time when the Jim Crow laws were already in place. These were a compilation of local and state statutes that legalized racial segregation. In 1932, she married long-time member of the National Association for the Advancement of Colored People (NAACP), Raymond Parks.
The Montgomery Bus Boycott
The Jim Crow laws made daily living in Montgomery difficult for the African American community. But they didn't have a choice. Those who even attempted to defy the laws ended up fined, arrested, or jailed. Worst, you could experience violence or death.
But after her shift on a Thursday, December 1, 1955, Rosa Parks was just so 'tired of giving in', she refused to move when bus driver James Blake told her to vacate her seat. This started the Montgomery bus boycott that lasted for a year. About 40,000 African American bus riders joined in the cause, with the main demands being 'courtesy, the hiring of Black drivers, and a first-come, first-seated policy'.
Rosa Parks Legacy
Rosa Parks will always be remembered as one of the major symbols of the civil rights movement. While she wasn't the first to rebel against the bus segregation law, she became a national symbol for activism.
After the boycott, Parks along with her family, continued to face harassment and threats. So they moved to Detroit. Here she became administrative aide in the Detroit office of Congressman John Conyers Jr. from 1965 until her retirement in 1988. She co-founded the Rosa and Raymond Parks Institute for Self-Development as well.
Before she died at the age of 92, she was able to see the fruits of their fight. Not only did she witness the end of bus segregation, she also saw the rise of African Americans into the upper classes of society.
It's not easy to stand up for what you believe is right. Hopefully, these amazing Rosa Parks quotes can inspire you to do just that.
Inspirational Rosa Parks Quotes
"You must never be fearful about what you are doing when it is right." – Rosa Parks
"I would like to be known as a person who is concerned about freedom and equality and justice and prosperity for all people." – Rosa Parks
"Each person must live their life as a model for others." – Rosa Parks
"I have learned over the years that when one's mind is made up, this diminishes fear; knowing what must be done does away with fear." – Rosa Parks
"The only tired I was, was tired of giving in." – Rosa Parks
"Have you ever been hurt and the place tries to heal a bit, and you just pull the scar off of it over and over again." – Rosa Parks
"I would like to be remembered as a person who wanted to be free…so other people would be also free." – Rosa Parks
"Racism is still with us. But it is up to us to prepare our children for what they have to meet, and, hopefully, we shall overcome." – Rosa Parks
"I believe we are here on the planet Earth to live, grow up and do what we can to make this world a better place for all people to enjoy freedom." – Rosa Parks
"Arrest me for sitting on a bus? You may do that." – Rosa Parks
"People always say that I didn't give up my seat because I was tired, but that isn't true. I was not tired physically, or no more tired than I usually was at the end of a working day. I was not old, although some people have an image of me as being old then. I was forty-two. No, the only tired I was, was tired of giving in." – Rosa Parks
"I had given up my seat before, but this day, I was especially tired. Tired from my work as a seamstress, and tired from the ache in my heart." – Rosa Parks
"All I was doing was trying to get home from work." – Rosa Parks
"I learned to put my trust in God and to see Him as my strength. Long ago I set my mind to be a free person and not to give in to fear…I have learned over the years that when one's mind is made up, this diminishes fear; knowing what must be done does away with fear."- Rosa Parks
"As a child I learned from the Bible to trust in God and not be afraid. And I felt the Lord would give me the strength to endure whatever I had to face." – Rosa Parks
"Memories of our lives, of our works and our deeds will continue in others." – Rosa Parks
"To this day I believe we are here on earth to live, grow, and do what we can to make this world a better place for all people to enjoy freedom." – Rosa Parks
"At the time I didn't realize why there was so much Klan activity, but later I learned that it was because African-American soldiers were returning from World War I acting as if they deserved equal rights because they had served their country." – Rosa Parks
"Without vision, people perish, and without courage and inspiration dreams die." – Rosa Parks
"God did away with all my fear." – Rosa Parks
"I always felt that it was my right to defend myself if I could." – Rosa Parks
"That was a difference between black slaves and white indentured servants. Black slaves were usually not allowed to keep their names, but were given new names by their owners." – Rosa Parks
"The bus was among the first ways I realized there was a black world and a white world." – Rosa Parks
"One of my greatest pleasures there was enjoying the smell of bacon frying and coffee brewing and knowing that white folks were doing the preparing instead of me. I was 42 years old, and it was one of the few times in my life up to that point when I did not feel any hostility from white people." – Rosa Parks
"What I learned best at Miss White's school was that I was a person with dignity and self-respect, and I should not set my sights lower than anybody else just because I was black." – Rosa Parks
"We had a saying that we worked from 'can to can't', which means working from when you can see (sunup) to when you can't (sundown)." – Rosa Parks
"It was just a matter of survival – like getting off the road – so we could exist form day to day." – Rosa Parks
"I had decided that I would not go anywhere with a piece of paper in my hand asking white folks for any favors. I had made that decision myself, as an individual." – Rosa Parks
"I have learned over the years that when one's mind is made up, this diminishes fear; knowing what must be done does away with fear." – Rosa Parks
"I'd see the bus pass every day. But to me, that was a way of life; we had no choice but to accept what was the custom." – Rosa Parks
"Stand for something or you will fall for anything. Today's mighty oak is yesterday's nut that held its ground." – Rosa Parks
"During the Montgomery bus boycott, we came together and remained unified for 381 days. It has never been done again. The Montgomery boycott became the model for human rights throughout the world." – Rosa Parks
"Our freedom is threatened every time one of our young people is killed by another child… every time a person gets stopped and beaten by the police because of the color of their skin." – Rosa Parks
"It is better to teach or live equality and love…than to have hatred and prejudice." – Rosa Parks
"We must have courage — determination — to go on with the task of becoming free — not only for ourselves, but for the nation and the world — cooperate with each other. Have faith in God and ourselves." – Rosa Parks
"There were times when it would have been easy to fall apart or to go in the opposite direction, but somehow I felt that if I took one more step, someone would come along to join me." – Rosa Parks
"Life is to be lived to its fullest so that death is just another chapter." – Rosa Parks
"I do the very best I can to look upon life with optimism and hope and looking forward to a better day, but I don't think there is any such thing as complete happiness." – Rosa Parks
"Differences of race, nationality or religion should not be used to deny any human being citizenship rights or privileges." – Rosa Parks
"Have you ever been hurt and the place tries to heal a bit, and you just pull the scar off of it over and over again?" – Rosa Parks
"There is just so much hurt, disappointment, and oppression one can take… The line between reason and madness grows thinner." – Rosa Parks
"God has always given me the strength to say what is right." – Rosa Parks
"Whatever my individual desires were to be free, I was not alone. There were many others who felt the same way." – Rosa Parks
"I believe there is only one race – the human race." – Rosa Parks
"I paid the same fare as others, and I felt violated. I was not going back." – Rosa Parks
"People need to free their minds of all racial prejudice." – Rosa Parks
"I see the energy of young people as a real force for positive change." – Rosa Parks
"I will always work for human rights for all people." – Rosa Parks
"What really matters is not whether we have problems, but we go through them. We must keep going on to make it through whatever we are facing." – Rosa Parks
"Why do you all push us around?" – Rosa Parks