Last Updated on March 8, 2022
Who Is Ryan Reynolds?
Ryan Rodney Reynolds is a Canadian-American actor, film producer, comedian, and entrepreneur who kicked off his acting career starring in the critically-acclaimed Canadian soap opera Hillside (1991-1993).

When the series ended, Reynolds accepted several minor television roles before landing his breakout role on the sitcom Two Guys and a Girl (1998 – 2001). He has since starred in scores of other television series as well as movies.
Quick Facts
| | |
| --- | --- |
| Full Name: | Ryan Rodney Reynolds |
| Popular Name: | Ryan Reynolds |
| Gender: | Male |
| Birth Date: | October 23, 1976 |
| Age: | 45 years |
| Parents: | James Chester Reynolds and Tamara Lee Stewart |
| Siblings: | Jeff Reynolds, Patrick Reynolds, and Terry Reynolds |
| Birth Place: | Vancouver, British Columbia, Canada |
| Nationality: | Canadian-American |
| Ethnicity: | Irish |
| Education: | Kitsilano Secondary School and Kwantlen Polytechnic University |
| Marital Status: | Married. Previously married to Scarlett Johansson (from 2008 until their divorce in 2011) |
| Sexual Orientation: | Straight |
| Wife/Spouse: | Blake Lively |
| Children: | Inez Reynolds, James Reynolds, and Betty Reynolds (all from his current marriage to Blake Lively) |
| Dating: | N/A |
| Net Worth: | USD 150 million (as of July 1, 2021) |
| Source of Wealth: | Acting, Comedy, Film Production, and Other Entrepreneurial Ventures |
| Height: | 6′ 1″ (1.88 m) |
| Weight: | 84 kg; In pounds: 185 lbs. |
Early Life
Ryan Reynolds was born on October 23, 1976, in Vancouver, British Columbia, Canada, to James Chester Reynolds and Tamara Lee Stewart. His father was a food wholesaler, whereas his mother was a retail saleswoman.

Reynolds attended Kitsilano Secondary School, where he graduated in 1994. After graduating from high school, Ryan proceeded to Kwantlen Polytechnic University. However, he dropped out of college and decided to focus on his acting career, which was already taking shape at the time.
Career Information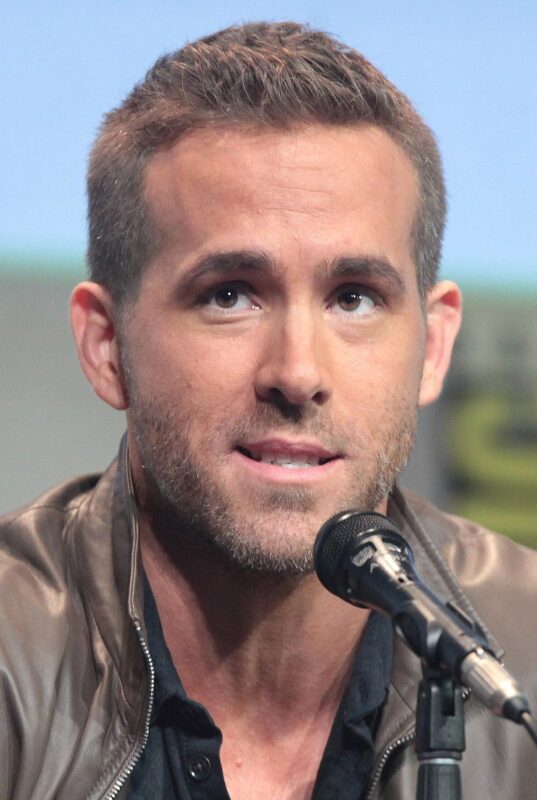 In 1991, Ryan Reynolds kicked off his acting career by playing Billy Simpson in the soap opera Hillside. Between 1993 and 1994, Reynolds landed a recurring role playing Macro in the television series The Odyssey. He went on to appear in multiple television series over the next two years, including The X-Files and Sabrina the Teenage Witch. Reynolds' earlier acting roles also include appearances in the two-part miniseries, In Cold Blood, as well as on an episode in the anthology The Outer Limits.

In 1998, Ryan Reynolds landed a role in the television series Two Guys and a Girl. He became the series' defining figure throughout its four seasons, after which he shifted his focus to the film industry.

The following are some of the notable movies that Ryan Reynolds has starred in to date:

• Van Wilder (2002),
• Blade: Trinity (2004),
• Just Friends (2005)
• The Amityville Horror (2005),
• Smokin' Aces (2006),
• Adventureland (2009),
• The Proposal (2009),
• X-Men Origins: Wolverine (2009),
• Buried (2010),
• Safe House (2012),
• R.I.P.D. (2013),
• The Voices (2014),
• The Captive (2014),
• Mississippi Grind (2015),
• Women in Gold (2015),
• Criminal (2016),
• Deadpool (2016)
• Deadpool 2 (2017), and
• 6 Underground (2019)

Reynolds' acting career also includes voice acting. He has lent his voice to numerous films, including The Croods and Turbo, both released in 2013. In 2019, he voiced Pikachu in the highly-popular animation film, Pokémon Detective Pikachu.

As a producer, Ryan Reynolds is best known for founding the production company Maximum Effort in January 2018. On April 8, 2019, it emerged that Reynolds would be an executive producer of the game show 'Don't.' The show premiered on June 11, 2020.
Ryan Reynolds' Net Worth
As of July 1, 2021, Ryan Reynolds had a net worth of $150 million. The bulk of Reynolds' wealth comes from his highly successful acting career.

Deadpool remains Ryan's most commercially successful film to date. The film garnered a worldwide opening of $264.9 million across 62 markets, as well as $27.4 million across 606 IMAX cinemas.

Reynolds earned a base salary of $2 million from the first Deadpool movie. Well, that might have come as a surprise, considering the film's remarkable success. However, Ryan successfully bargained for a lucrative share of the movie's backend points, which saw his total earnings from the film come to about $20 million. For the two Deadpool movies, Reynolds is believed to have earned between $30 and $40 million.

Reynolds' other box office hits include X-Men Origins: Wolverine which grossed $221,357,500, The Croods (208,811,400), and The Proposal ($201,724,000).

Ryan Reynolds has also pursued other ventures outside of the film industry.

In February 2018, Reynolds acquired a minority stake in Aviation American Gin. He also went on to become the brand's creative director and spokesman. Thanks to his marketing efforts, American Gin's sales grew tremendously over the next two years. In August 2020, the brand was acquired by Diageo LLC.

Mint Mobile is another company associated with Ryan Reynolds. In November 2019, Reynolds acquired an ownership stake in the company and has been featured in many of its online advertisement campaigns.
Lessons from Ryan Reynolds
1. Follow your dreams

Ryan Reynolds' acting career was already taking off by the time he joined college. He decided to drop out of college in favor of pursuing his acting ambitions full-time.

2. Be flexible

Reynolds started his acting career on television. However, he later ventured into movies, which speaks to his flexibility. Ryan is also renowned for his ability to star in films of different genres, ranging from comedy to action and even horror.

3. Take calculated risks

Instead of asking for a humongous base salary from the Deadpool movie, Reynolds opted for a paltry $2 million in exchange of lucrative backend points. And that risk ultimately paid off.
Famous Quotes by Ryan Reynolds
"Any kind of crisis can be good. It wakes you up."
"If you ask me to describe my relationship, I mean – words are too clumsy to accurately describe how I feel in that regard, particularly in an interview. It's a strange thing."
"I'm pretty good at surprising friends and family with gifts. I tend to go towards the more sentimental side of giving."
"The stunts on the ground I can do, but I've never been good with heights."
"When you have expectations, you are setting yourself up for disappointment."
Wrap Up
Ryan Reynolds made his foray into the entertainment industry in 1991 and for the next few years, he focused on television shows. However, he later ventured into the film industry and is currently considered one of Hollywood's most sought-after actors.