If you're looking for a better accounting solution that works well for either small or medium-sized businesses, you might be considering using Sage 50cloud software. With its enormous range of features including inventory, taxes, cash-flow, invoicing and budgeting, it could represent an effective all-in-one option for your company. So, is it worth the investment?
Here, we review this innovative solution so you can determine whether you should buy or try Sage 50cloud Accounting software for your small business.
What Makes Sage 50Cloud Software Different?
What sets the Sage 50cloud software apart from its rivals is that it combines the benefits of a desktop application with cloud components for storage and data storage. It can also be used for tracking vendors and purchases as well as paying bills. There are even features for expense management that allow for bank feeds and mobile payment.
This product can even connect to bank accounts enabling real-time recording of receipts and sales, the transfer of funds and the making of deposits and tracking of receivables. This makes it a great choice for business owners who need a lot of functionality in a single piece of software.
A Customizable Dashboard
One of the top features of the Sage 50cloud software is its customizable dashboard. This allows users to add more than 45 different charts and graphs so it's possible to view the precise information which matters most to your business. This saves you time and effort – putting everything you need right there at your fingertips.
Simple Project Management
Sage 50cloud offers business owners the opportunity to both create and manage projects in a highly efficient way. It's possible to add start and end dates, project descriptions and more as well as job phases which allow for easy tracking of how the project is progressing. This allows you to have a constant overview of whether you're on schedule for completion at the right time.
How Does Sage 50cloud Work With Sage Business Cloud Accounting?
If you already have the Sage Business Cloud Accounting app, you can benefit from using Sage 50cloud as an add-on service to integrate it into the cloud. This allows your business to share and store databases in the cloud along with credit card details, all completely securely. There are even add-ons that include payroll, tax computation, e-filing and EFT while enabling the acceptance of compliant and secure payments at any time once the application has been merged with Sage Payment Solutions.
This allows you to meet your security and compliance obligations to your clients while also making life simpler for you.
Seamless Integration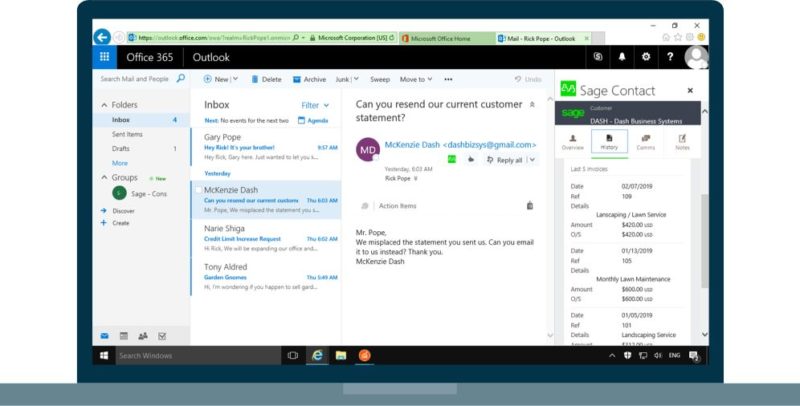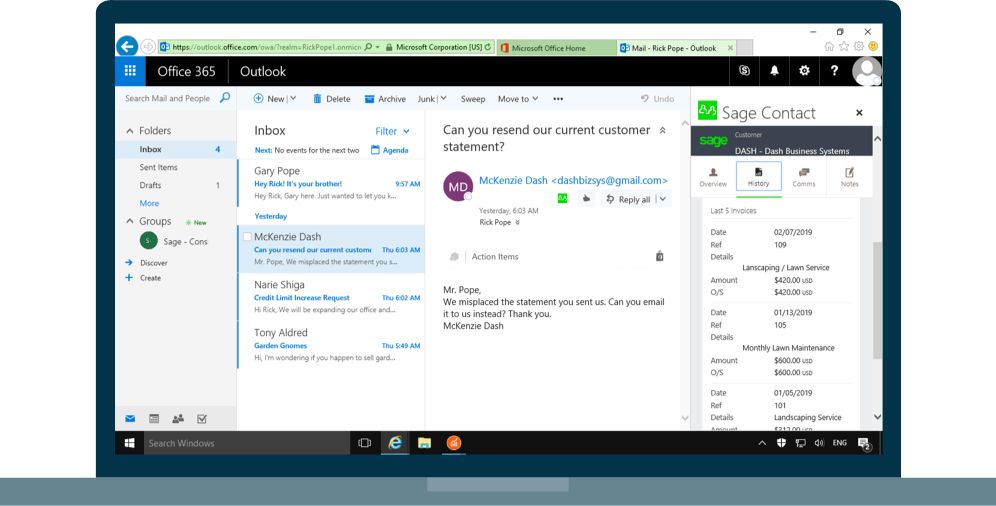 The stock management and inventory add-on allow Sage 50cloud users to update their stock levels automatically while using stock valuations and audits to effectively manage assets. It's possible to work anywhere with Microsoft tools since this software seamlessly integrates with MS Office 365. Since this platform is also cloud-based, accounting data can be synced seamlessly between the app's cloud servers and desktop computers so it can be accessed at any time.
Even better, all the data is fully backed up, so there's no need to worry about losing any information. It all adds up to a convenient and streamlined way to keeps, share and store your data without compromising on security.
Is Sage 50cloud Right For My Business?
If you're running a mid-sized business that has complex or modern accounting needs, this is the perfect software for you. It can accommodate as many as 40 different users, and since the user permissions can be highly customized, it's an effective choice for businesses that need a fully comprehensive solution.  It's especially useful for business owners and accountants with good accounting knowledge since the software can be relatively complex.
Sage 50cloud remains one of the most comprehensive online account solutions for mid-sized businesses with good accounting knowledge. Why not buy it for your business today and give it a try – it's sure to lighten the load on your accountancy team.